If you are just starting out as a freelance writer or blogger, one thing you need to have is a writer website.
If you don't already have one, you'll be hard pressed to find any clients or have an opportunity to scale your business.
But, you might be thinking,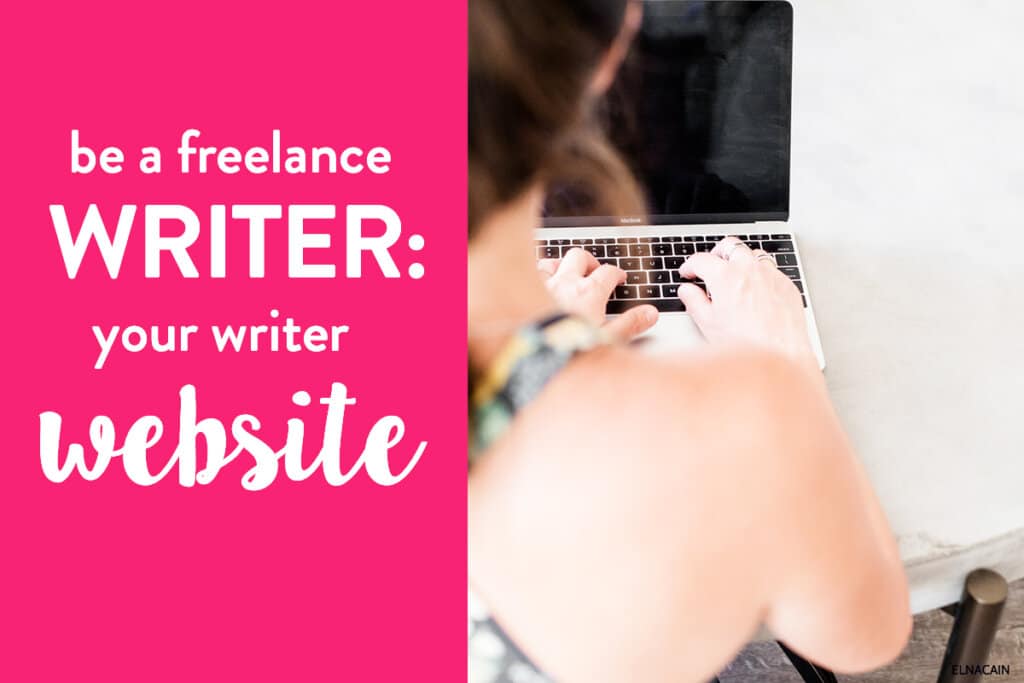 I don't need a separate website for my freelance writing – I can just use my personal blog to advertise my services.
Or,
Why do I have to put so much thought into my writer website? All I really need is a "hire me" page and a contact email, to open shop.
Both these thoughts aren't wrong, but if you want to be successful and taken seriously, having your own writer website will help you achieve this.
My series, Be a Freelance Writer will help you become a successful freelance writer step-by-step.
In Part one, I give you my first three steps to starting out.
In Part two, I give you the cold hard truth about what it takes to be a freelance writer.
In Part three, I give you the base of your business called your writer platform. It is on your writer platform that you build a successful freelance writing profession.
I also show how to start your portfolio too.
And in this post, I will give you the first level of your freelance writing business – your writer website.
With my proven techniques you will have no trouble landing your first client, building your client list and even taking your business to the next level.
So, let's get started.
Establish a Presence With Your Writer Website
Okay, so in my last post, I talked about how your writer platform is a tool to help build your brand as a freelance writer.
Your website is the tangible portion of your platform. You can see it, navigate different parts of it, create different pages and showcase it to the world.
I feel this one tool can help establish you as a legit freelance writer.
Not a blogger or a SAHM or a hobby writer, but a person who wants to get paid to write.
If you don't know what a freelance writer website looks like, here are a few websites of some freelance writers that have a powerful presence online.
Kristi Hines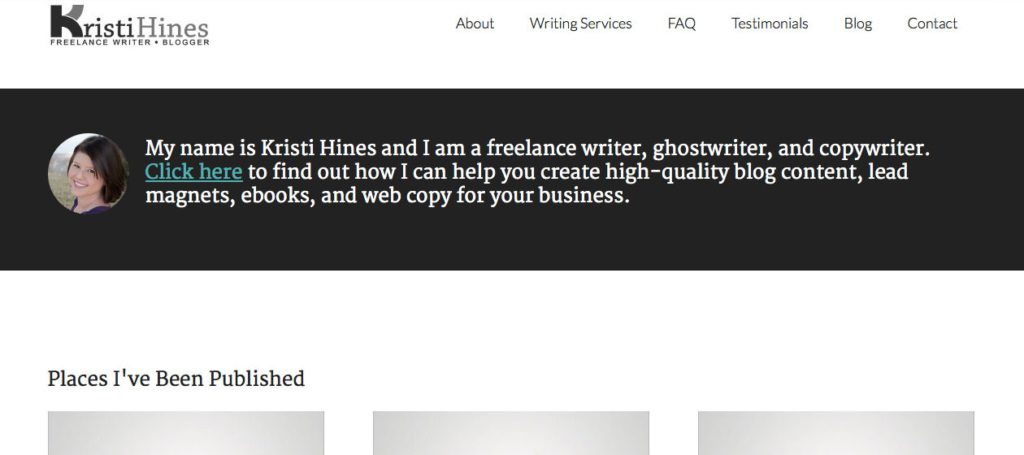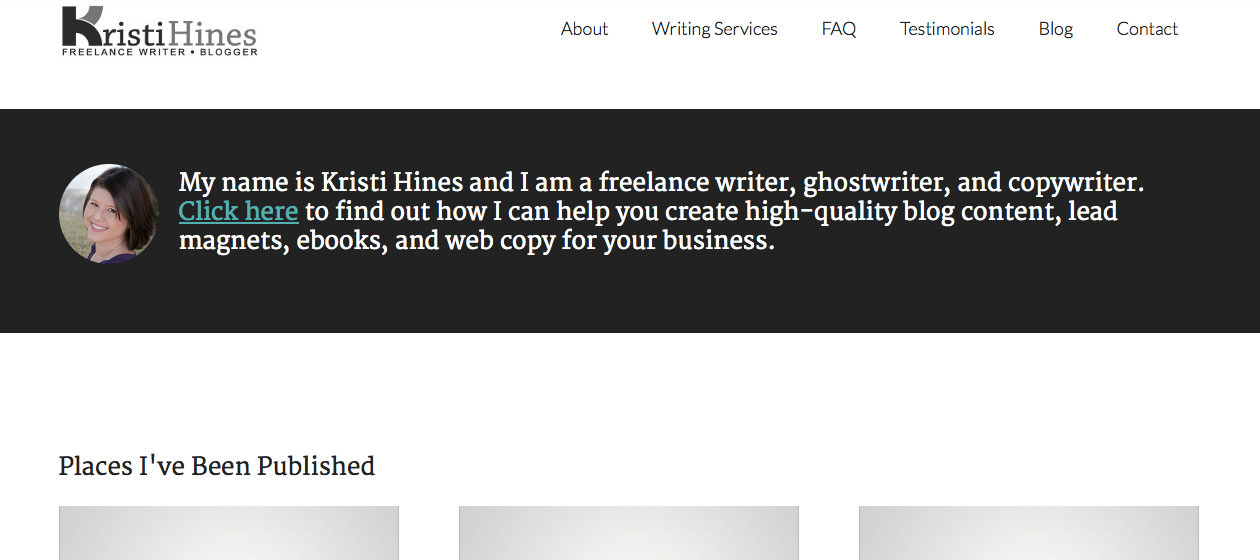 Kristi Hines is probably one of the most recognizable freelance writers out there. When I first became interested in freelance writing, her name constantly popped up on Google's search pages.
I find her structure of having a headshot on the left-hand side with a short introduction copy is a common element I've seen other freelance writers (including myself) use.
Her landing page also has a "places I've been published." This is integral to appearing credible and in demand.
KeriLynn Engel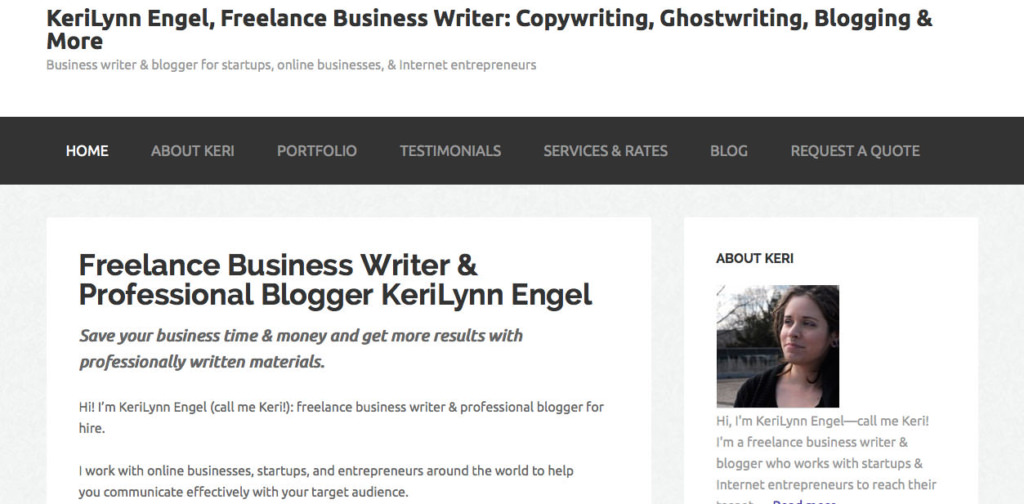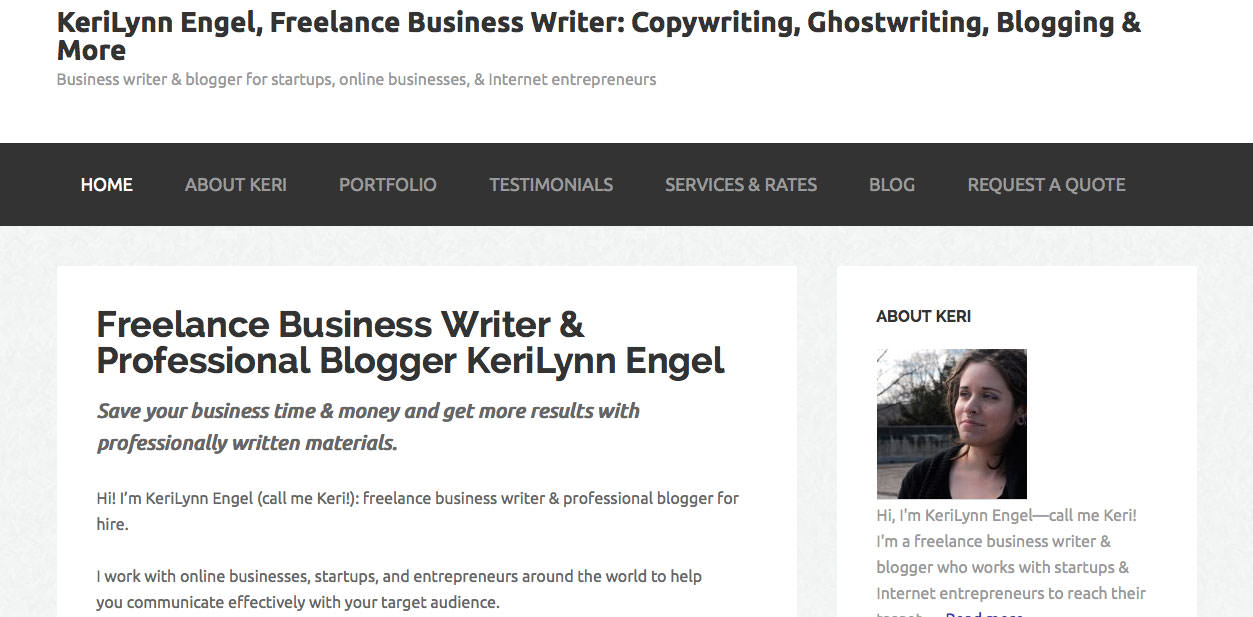 KeriLynn's page is highly descriptive and tells you in an easy to read copy, who she is and what she does. Her title, "KeriLynn Engel, Freelance Business Writer: Copywriting, Ghostwriting, Blogging & More" is SEO friendly and lets you know right away her niche.
Her menu is easy to navigate and displays the most important parts she wants prospective clients to view.
Alicia Rades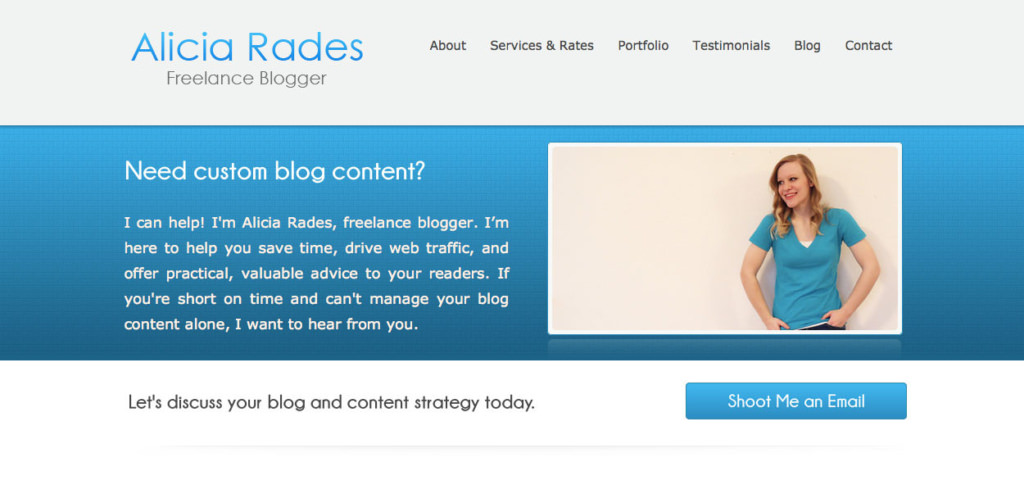 Alicia's site has a great hook, "Need custom blog content?" It makes you want to read more and see if she can deliver. She also makes use of a call-to-action which is her "shoot me an email" button below her photo. She makes it super easy for prospects to quickly contact her for their content needs.
Jennifer McKnight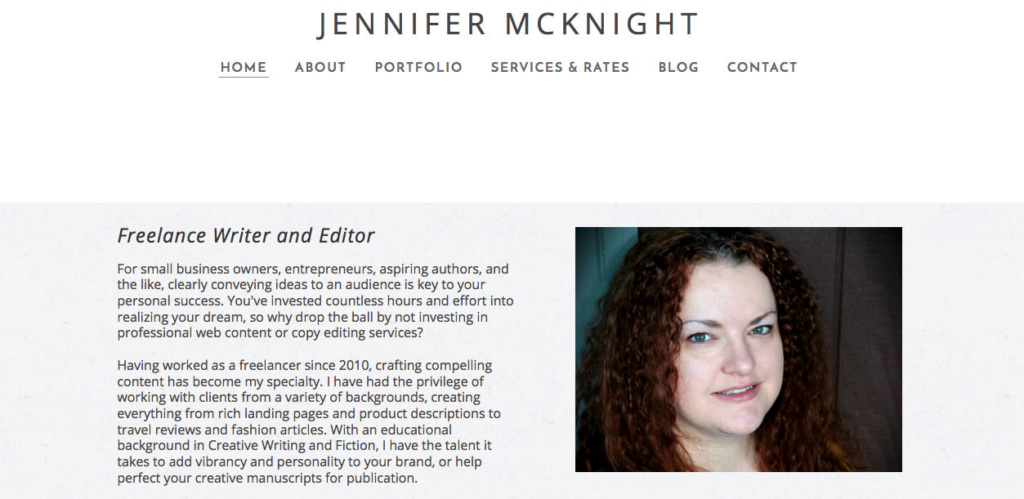 Jennifer commands authority with her simple web design. She has an easy to navigate menu and has a short write-up on who she can help and what she can provide.
Noticed any similarities between these landing pages? Each of these freelance writers have:
A professional headshot
Easy navigational menus
Simple layouts that are visually appealing
A title and description of who they are and what they do
Used industry related keywords to help with Google visibility
Compelling copy to encourage new clients to consider them
On top of all this, these ladies have paid for their hosting instead of opting for a free hosting website.
Let's explore four elements your writer website must have in order to attract the right client– the high-paying client.
1. Free Hosting vs. Paid Hosting
While you might think free hosting is easier and readily available, it won't help you secure high-paying clients.
Free hosting looks unprofessional and it will only hurt your credibility and authority status as a writer who wants to get paid. Not only will your URL have a third party domain name attached to it, but having free hosting also:
Makes you look like you don't take freelance writing seriously. Creating a Blogger or free WordPress site seems like you aren't ready to commit to being a paid writer.
Makes you look less credible. How can you expect clients to pay you top-dollar if you don't even want to cough up some cash for paid hosting?
Makes you appear less knowledgeable. Not knowing how to set up your own blog using paid hosting can turn off future clients. They may not think you're credible to manage their blog content needs.
So, if you want to appear professional and demand professional rates, opt for paid hosting when you sign up for a domain. It isn't expensive – you can get hosting for as little as $50 for an entire year.
*Check out my easy step-by-step tutorial on starting your professional service-based blog to land clients.*
Don't let the expense stop you from realizing your true potential.
2. A Compelling Landing Page
Think of your home page as a business card. Business cards usually have a logo, services provided and a contact number.
Essentially, you want a prospective client to get to know you and navigate your website. In order to do this you need to provide compelling copy. You can do this by:
Stating a problem you think prospects have. This can be anything from 1) no time to blog 2) not knowing how to attract customers with a blog 3) business needing a copywriter to take them to the next level.
Presenting a solution to their problem. This means you! How will you help alleviate their problem?
Mentioning what type of clients you work with – (start-ups, tech companies, or entrepreneurs)
Visit several freelance writer websites to see how they make use of their landing page.
Other elements a dynamic landing page should have are:
A "Where I'm writing" Section
By copying and saving logos of the places you've written for or the clients you have, you can create a fun collage of your best work. This is what mine looked like on my professional home page when I first started: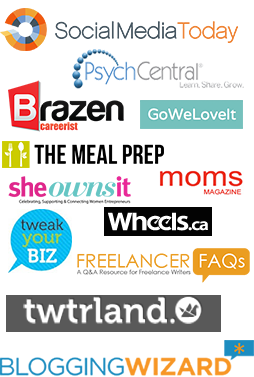 You can easily do this yourself using the Kiwi Logo Carousel plugin.
A Call-to-Action
Your home page should have a call-to-action (CTA). You want a prospect to hire you right? So, why not make it easy for them with a simple CTA?
A call-to-action is asking your visitor to do something like contact you or explore your site.
Here are some CTAs freelance writers often use:
Contact me today
Let's collaborate
Get a quote
Ready to get started?
Where do I start?
Let's talk
Drop me a line
You can simply create a link on you home page (like I did), or create a button like Alicia Rades has on her writer website. You can create your own with ButtonOptimizer.
Ways to Contact You
A prospect looking for a blog writer lands on your homepage. They read your copy and decide they want to get a hold of you.
But, you don't have anything on your page telling them how they can contact you. The prospect, frustrated, gives up and moves on to another freelance writer site.
Do you want that to happen to you?
A good rule of thumb is to prominently display all ways of contacting you throughout your website – not just your landing page.
So, make sure to include:
Your social media profiles
A phone number
Skype ID (if you have one)
Email address
Link to your contact page
3. Hire Me Page
A hire me or services page will be one of the most looked at pages on your site. Many prospects go to your landing page and either go to your About page or your Hire Me page.
Both of these pages are extremely important. Your About page should showcase how your background will help future clients with their content needs.
Your Hire Me page, on the other hand, should detail the services you provide. Do you provide blog writing? Copywriting? White pages or eBooks? How about ghostwriting?
Do you also do editing or social media marketing?
You should also mention the topics you have expert knowledge in. If you primarily want to write about finances or weddings, then make sure to mention this in your service page. But, if you have a knack for more than one topic, go ahead and mention all the different areas you like to write about.
You might be thinking about displaying your rates on your freelance writer website.
Some freelance writers do, but many don't. I personally don't because I have different rates for all my clients. There are many factors involved such as:
The turnaround time: How soon do they need the content? Usually clients who have a 3-5 day turnaround pay a much higher rate than those who have a 7-10 day turnaround time.
How many clients I currently have: The more clients I have, the more my time is worth.
The topic: If it's a topic I'm not too familiar with, my rate reflects this.
Whether it's ghostwritten or not: I typically have a higher rate for ghostwritten content than for content written under my own name.
If you do end up making your rates public you will find that you will only get prospects that are aligned with your rate.
But, for me, I don't mind getting queries from prospects that can't afford me. Sometimes I can negotiate a fair rate and other times prospects seek me out again (down the road) with an adjusted budget.
4. A Portfolio Page
Your portfolio page is a place to showcase your work. In the beginning you may not have any published work to show off.
So, you may find you don't need a portfolio page right away. But, once you start building up your portfolio you need a place to keep track of your best work.
An ideal place is on your writer website. There are WordPress plugins that you can use like the OTW Portfolio Lite plugin (note: I use the WP Portfolio plugin but it sometimes has issues, so I no longer recommend it).
If, for some reason, you feel it's not necessary to have your portfolio on your website, there are other ways to display your work.
Some ways include:
On LinkedIn – you can upload your posts and article right to your LI profile.
On Pinterest – you can create a special board that shows all your best work.
On Contently – you can display your work easily on this platform for freelancers
Make Your Writer Website Shine
A writer website has much more than a compelling homepage, a hire me page and a portfolio page. Besides your About page and Contact page, you should also have a blog.
I equate a freelance writer having a blog to a dentist with a great smile. Would you trust a dentist with a not so hot mouth?
Most businesses need a blog writer and what more proof do they need, then to see you're a credible writer with an active blog?
So, what are you waiting for? Get started on your freelance writer website today.
Please pin me!