When you're a freelance writer, especially one who is starting out, you are probably looking for the best writing strategy that will get you more business at higher rates.
I know I talk a lot about the importance of having a niche when it comes to marketing your writing services so that you can stick to one area of expertise and focus on it for the best results.
However, I want to talk about casting a wider net across a variety of topics and how it can benefit your freelance writing business.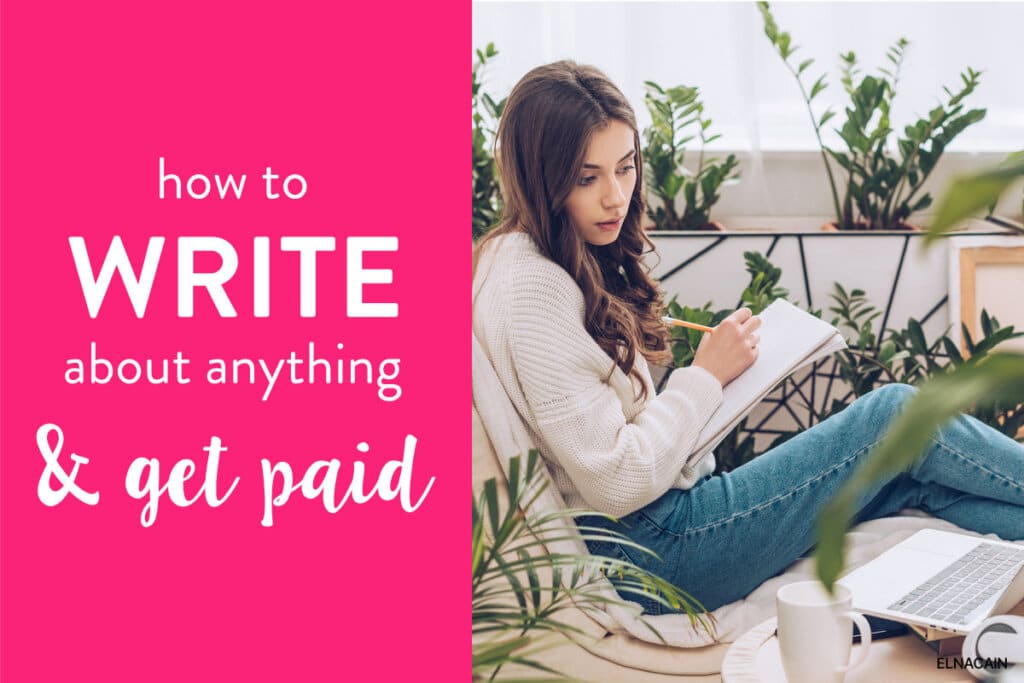 Those who get paid to write about anything are known as "generalist writers" and they don't adhere to one specific niche.
They write content for a variety of niches and industries, writing for all kinds of businesses.
Rebels, right? Well, they may be onto something since there are some pretty cool benefits to being a niche-less writer.
However, if you are finding success in your writing niche, by all means, keep going!
But if you're itching to branch out and try something new, being a generalist writer that writes about anything may be the way to go.
Let's look at exactly what a generalist writer is and how you can become one so you can get paid to write about anything.
What is a Generalist Freelance Writer?
Most freelance writers focus on building their business around a specific niche. This is something I did once I FOUND my niche (it's digital marketing by the way!).
Generalist writers, on the other hand, are a sort of "jack of all trades" who will take on any writing assignment – no matter the topic.
I know I've written before about the importance of having a niche but for freelancers who are just starting out, being a generalist writer is a great way to get paid to write about anything.
You might be wondering what I did before I found my niche. Well, I wrote about anything!
I wrote (and got paid) about:
Dentistry
Virtual Effects
Careers
Allergies
Meal prepping
Internet of Things (IoT)
Relationships
Self-care
Social media (this is what helped me find the right niche for me since I loved exploring this niche idea)
As you gain some experience and skills, you can niche down and start charging more for your work!
There are also some other benefits to being a generalist writer:
Because you have to be adaptable, you can take on more writing jobs and opportunities.
You'll always be learning something new and you'll never be bored.
You're a valuable asset to digital marketing agencies that provide services to businesses of all kinds.
You can diversify your income and never worry about a shortage of work.
There are some things you should take into consideration before you ditch your niche and become a generalist writer.
First, the competition is stiffer for generalist writers.
You're up against not only other generalist writers but niche writers depending on the particular area of focus.
Second, generalists usually can't charge rates as high as niche/specialist writers because they don't have the expertise to justify the higher cost.
These are reasons why you need to be careful if you are a working freelance writer in a particular niche.
You don't want to lose momentum, money, or credibility by switching to writing about multiple topics.
Again, if you're new to the freelance writing game, generalist writing is a great way to get your foot in the door and get paid to write about anything!
The Skills You Need to Write About Anything
It goes without saying that a good freelance writer needs to have a strong grasp of spelling, grammar, and punctuation as well as formatting and word flow.
However, being a generalist writer requires another special set of skills!
Thankfully, these are all skills you can easily develop and grow as you gain more experience as a generalist writer.
1. Research
As a niche writer, I am all too familiar with the need to research. Even if I am an expert in my niche, I want to make sure I'm providing solid and accurate information.
As a generalist freelance writer, however, research is crucial!
It's unlikely that you know everything about everything so you need to have good research skills to find the information you need to complete a piece and ensure it is accurate.
When you have good researching skills you have a better chance of standing out against niche writers who have experience with the subject matter.
You need to show clients that you can delve into a topic and write content as if you are an expert.
Just to let you know I have some lessons in Freelance Blogging for a Weekend on how I write about anything even if I don't know anything about that topic!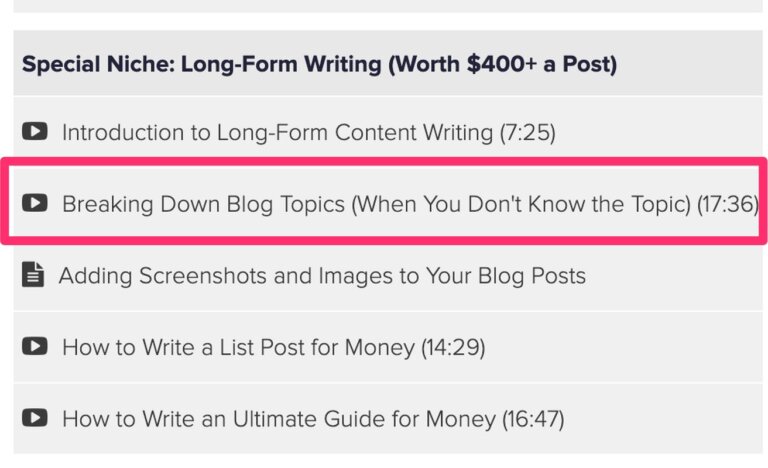 2. Flexibility
Generalist writers also have to be flexible. At times, you may find yourself ping-ponging between a variety of topics and, the more quickly you can wrap your head around new topics, the more productive your writing will be.
Being able to research also makes you more flexible and valuable to clients since you are more likely to say "yes" to opportunities in different niches.
This widens your potential market so you're not limited to waiting for writing jobs from clients in a particular niche.
3. Adaptability
As a freelance writer, especially if you are a ghostwriter, you need to be able to adapt the tone and voice of the content to your client.
When it comes to generalist writing, being able to adapt quickly from client to client is a necessary skill.
One day you could be writing for a doctor's office in a serious tone and the next crafting content for a parenting blog in a conversational voice.
The key here is getting to go your clients as well as the overall tone of the niche.
Visiting their sites, or similar sites in the same niche will give you an idea of how the content should sound.
How to Get Started as a Generalist Writer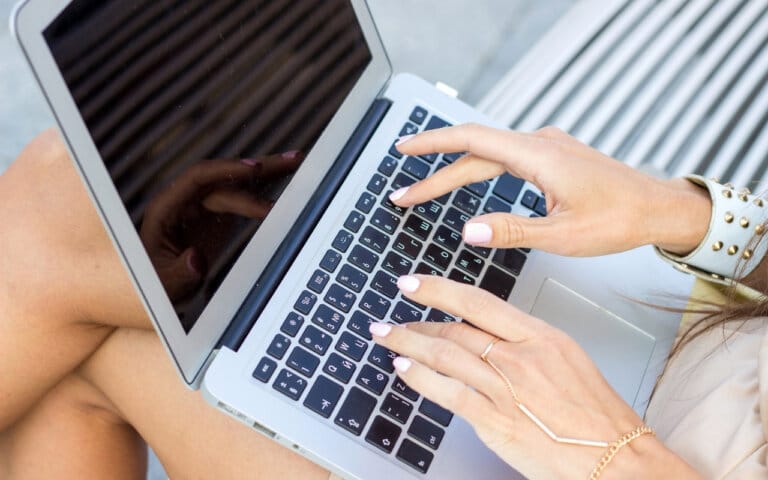 One of the benefits of being able to write about anything is that you will be able to find that one writing niche that you enjoy learning and writing about.
This is what happened to me when I landed a social media client. I wrote about social media tips and email segmenting tips and more and loved learning about this topic.
On my off time I would spend hours reading digital marketing blogs and learning how to be a digital marketing freelance writer.
So, if you are struggling finding that one niche, try being a generalist writer first and let your niche discover YOU.
Here are the steps you should take to get started as a generalist writer.
1. Understand Content Marketing (So You Can Market Yourself Easily)
Content marketing is the idea of using marketing tactics online. This means using platforms like Google or Twitter/LinkedIn or other sites as a way to market your freelance writing business.
Once you understand why content marketing is the way to make your successful you will know how to market yourself without being cringy.
When you're a generalist writer, you can't market yourself by saying, "Hey! I'm an expert writer in [topic], [topic], [topic], [topic], [topic], [topic], and [topic]!"
The key to marketing yourself as a generalist writer and getting paid to write about anything is picking one thing and going with it.
For instance, you can lead with a specific service (SEO writing, social media writing, etc.) or start with a niche and offer more if the opportunity arises.
Just remember that you don't always have to lead with the same thing – context is important.
Look at who you are pitching to a mold the services you offer to their needs.
So if you are pitching to an online business, you can stress your ability to write SEO-optimized blog posts. If a business doesn't have a blog, you can offer to help get them started.
This also goes with your author bio.
I have a lot of different author bios based on the topic of my clients. If I write about blogging I will stress this, or if the audience is moms I will share more of myself as a parent to twins.
By being a generalist writer, you can easily become a one-stop-shop for a client's writing needs.
This means you could get paid to write blog posts, landing pages, lead magnets, emails, newsletters, social media posts, etc.
Basically, market yourself as a writer who can get it done.
Over time, as you start to recognize your writing strengths, you can start niching down your services and charging more for your writing.
2. Build a Varied Portfolio
When you start out as a generalist freelance writer, you can build up a writing portfolio quite quickly since you will be doing a variety of work for a variety of clients.
Use this work to build up a collection of samples for your portfolio to show off the different niches you have written for.
However, if you are a ghostwriter, it can be hard to use paid-for content since clients do not want to advertise that they paid someone to write it.
In this case, you can write up what are called "spec pieces" to show off your skills.
Simply come up with some different topics in different niches and write sample articles.
When you do this, try to touch on as many broad niches as you can such as health, food, finance, lifestyle, etc.
For example, one of my Writeto1k students, Chelsy, is a generalist writer and writes about coding, parenting, relationships and more.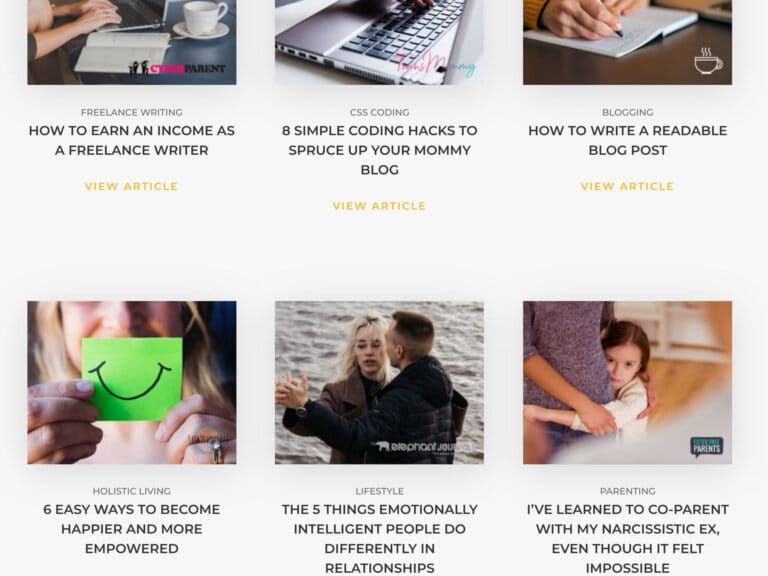 She's a single mom and because she's a generalist writer, she can pick up many gigs in different niches and make a healthy income for her family.
3. Start a Writer's Website
While it's possible to have a portfolio site as a way to gain clients when you write about anything, the best way to make a living as a writer is to have a home online.
This is a writer website.
Having a writer's website is important in establishing your professionalism and presence in the world of freelance writing.
Clients are more likely to think you are a legit freelance writer if you have your own website.
Here's my writer website!
Having a writer website also will help you show your expertise and credibility as a paid writer. A writer website has a portfolio page to share your writing samples, a hire me page to share your experience in your niche and a contact page to get a hold of you.
I have an entire course that will walk you through the process of creating your own writer's website! You can check it out here.
Overall, you want your website to describe who you are and what you are capable of doing.
Your home page of your writer website will speak directly to the client as a way to highlight your value and skills and lead them to the rest of your pages on your site.
4. Create an Online Presence
As a freelance writer, you are basically running an online business.
Most potential clients will likely Google your name or email address to see what they can find out about you.
For me, if you Google my name you get rich content regarding my online presence. From my blog to my writer website to my social media and client pieces and more.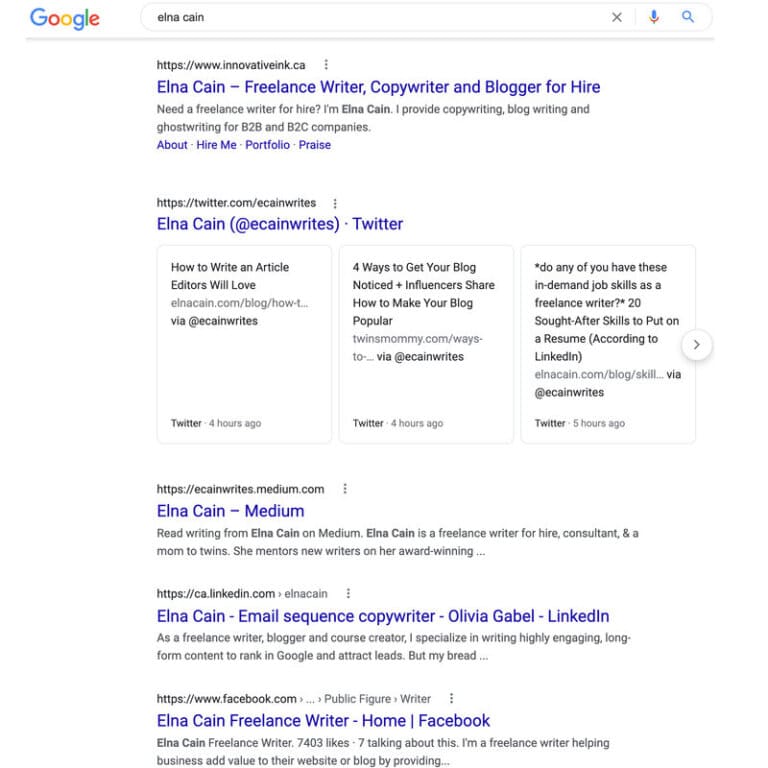 When you're active on social media and have a website, there are more results attached to your name (as you can see) – and this helps build a sense of trust with potential clients.
Setting up a portfolio and website is part of creating an online presence but you can also leverage social media platforms such as LinkedIn and Facebook.
You can optimize your profiles to help draw clients through search results and add sample pieces to showcase your work.
It also helps if you let your unique personality shine through on your social media accounts, just avoid massage red flags to potential clients such as offensive content, spamming, and online arguing.
5. Network! Network! Network!
Networking is super important in the world of freelancing, especially if you are a generalist writer! Networking leads to job opportunities but also connects you with a community where you can seek advice and support.
You can start by joining Facebook groups for freelance writers or start following other writers on Twitter.
Guest posting and featuring other writers on your blog is another great way to network and make those connections.
Just make sure you have a content marketing strategy when you start networking.
This means you have a goal when you network.
If it's landing freelance writing jobs then by following brands on social media, signing to their email list, featuring them in your content and commenting on their latest articles, you are starting to get on a brand's radar and this can lead to gigs.
Are you looking to land clients?
Exchange support and advice with other freelancers?
This is all going to determine where and how you start networking as a generalist writer.
6. Write an Effective Pitch to Clients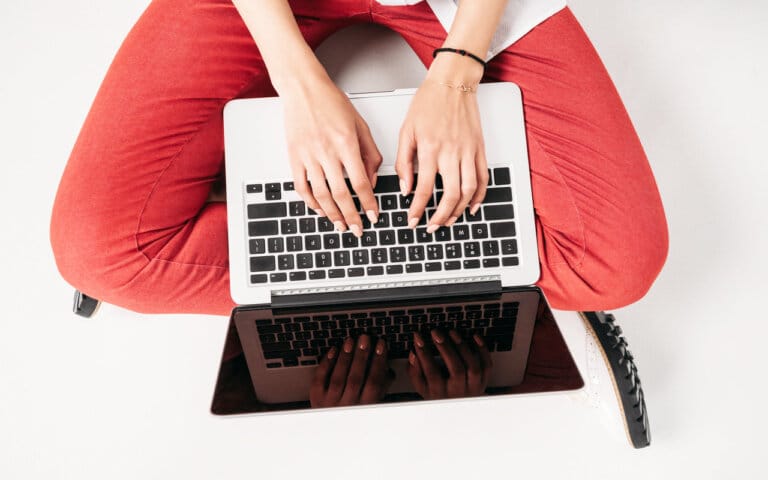 Although you can get paid to write about anything as a generalist writer, the clients aren't going to fall into your lap.
You may get lucky with a job or two being offered to you but, for the most part, you're going to have to pitch.
The great news here is that, because you are writing about a broad variety of topics, there is a wider variety of clients to pitch to!
When you start pitching, remember how you are marketing yourself and who you are pitching to.
This is where those adaptability skills are also going to come in handy since you want to tailor each pitch to the client you are contacting.
Just make sure you're not positioning yourself as an expert in a niche if you're not.
Focus instead on your writing abilities and flexibility when it comes to adopting the tone and voice of the client.
When it comes to finding online jobs as a generalist writer, a good tip is to start with digital marketing agencies.
These are companies that create websites and manage content for other businesses. Oftentimes, they are always looking for writers to join their team!
Keep in mind that the pay in these situations may be lower since the client is technically acquiring the clients for you – but this does cut out a lot of legwork!
And it gives you more time to take on more writing projects!
7. Write First, Sell Later
Another strategy you can use to get paid for your content is to write an article first and then pitch it to a paying site.
This gives you the freedom to write about whatever you want!
I wouldn't suggest this as a long-term strategy for making money with your writing – but it's a great way to refine your skills while having fun with different topics and niches.
If worst comes to worst and you can't sell the article, you can always add it to your portfolio. And, if your article is rejected, you may receive some useful and constructive feedback from the person you pitched it to.
8. Learn to Write Fast
Look –
As I've said the writing jobs for generalist writers are lower paying than if you were a niche writer.
For example, if I was a breastfeeding coach and wanted to write about breastfeeding techniques I could command a high rate if I'm qualified as a coach.
However, if I'm a generalist writer and found a parenting site and pitched my breastfeeding techniques ideas as a post, the pay may be less than $100.
Because of this, it's imperative you learn to write fast (i.e. type fast).
When you type fast this means your bottom rate looks better. What I mean is if you landed a $50 writing gig on breastfeeding techniques and you can write that 1200 word post in 30 minutes, you are now earning $100 an hour for your time.
To improve your writing speed, take some typing tests and optimize your time researching (i.e. instead of reading a post, check out a Youtube video).
Write About Anything = Get Paid
If you're comfortable in your niche and making a good income, it may not be worth the risk to lose momentum by becoming a generalist writer.
However, when you're just starting out, or you're bored with your niche, casting that net wider can be beneficial in helping you reach more clients and develop new skills!
All in all, it's a great way to find out what niche may work best for you.
How about you? Are you a jack-of-all-trades writer?
Do you enjoy getting paid about writing about anything?
If you have any tips and tricks, I'd love to hear about them in the comments!