Want to know the one struggle most new freelance writers face?
It's deciding on a writing niche.
They have no idea how to choose a freelance writing niche. So what happens?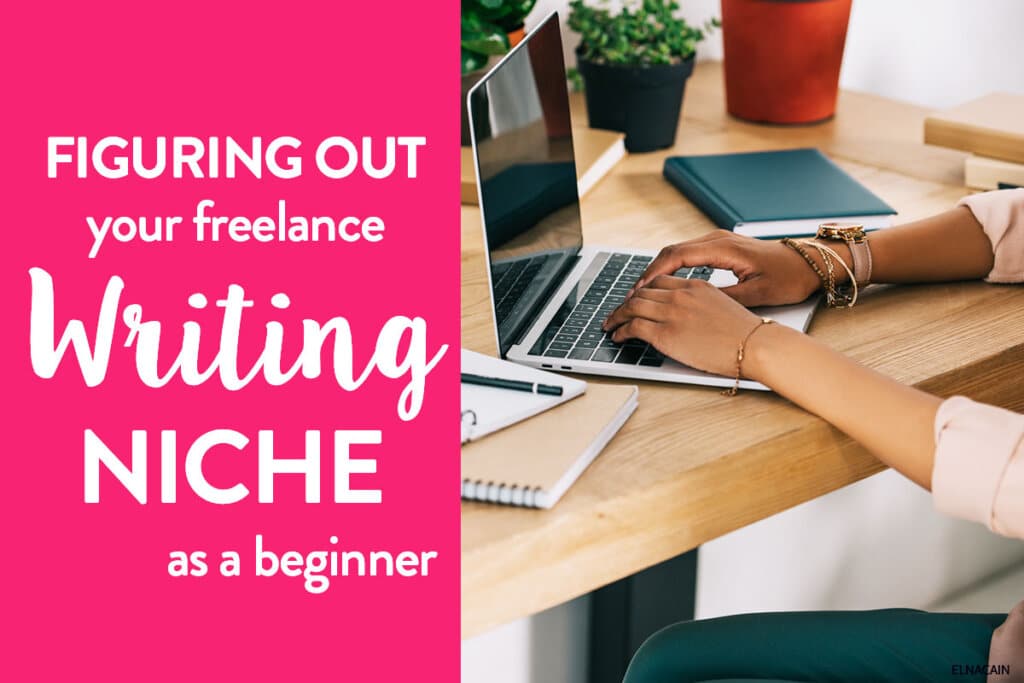 Well, from helping thousands of new freelance writers, I've learned that some do nothing.
They don't progress with finding freelance writing jobs or have a hard time starting a website or crafting the perfect writing pitch.
Others decide NOT to pick a writing niche and then realize that they have no idea who to target their marketing strategy to.
What copy do they write on their writer website?
As a generalist freelance writer, what types of services do you provide? Are you a jack of all trades?
And the rest of the new freelance writers? What do they do? They pick any freelance writing niche. It could be the wrong writing niche, a writing niche that doesn't make a lot of money, or one that they actually hate writing about.
Ouch!
I don't want that for any new freelance writer!
Figuring out your freelance writing niche doesn't have to be this hard. This post will share some easy ways to discover your writing niche, how I picked my freelance writing niche (you might be surprised) and a cool trick to find a high-paying freelance writing niche.
Use What You Already Know Or Want to Know
The key to finding a freelance writing niche is to pick something you already know or want to know more about.
It's that simple.
If you are a nurse and want to quit nursing (because you hate the long hours and it's draining), you can do medical writing as a freelance writer.
Medical writing is profitable, and it will be easy to break into freelance writing since you have a medical background.
Here's a medical freelance writing job on Contena, a premium job board that I use.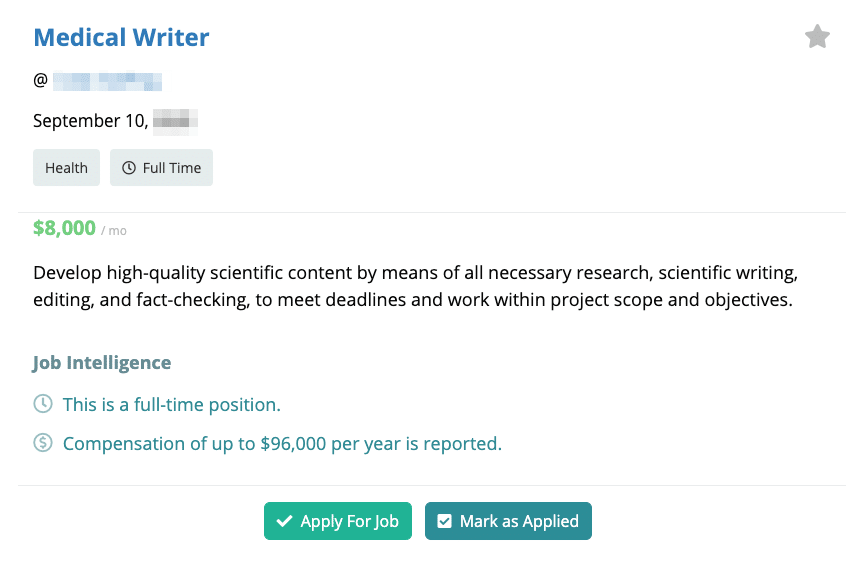 What if you are a stay at home mom and have been out of the workforce for many years?
That's okay! Look at your hobbies as a freelance writing niche. With the pandemic, more and more entertainment niches are popular. Puzzles, crafts, DIY, and more are booming right now.
Over on Contena, here is a parenting freelance writing job that pays up to $6,000 a month!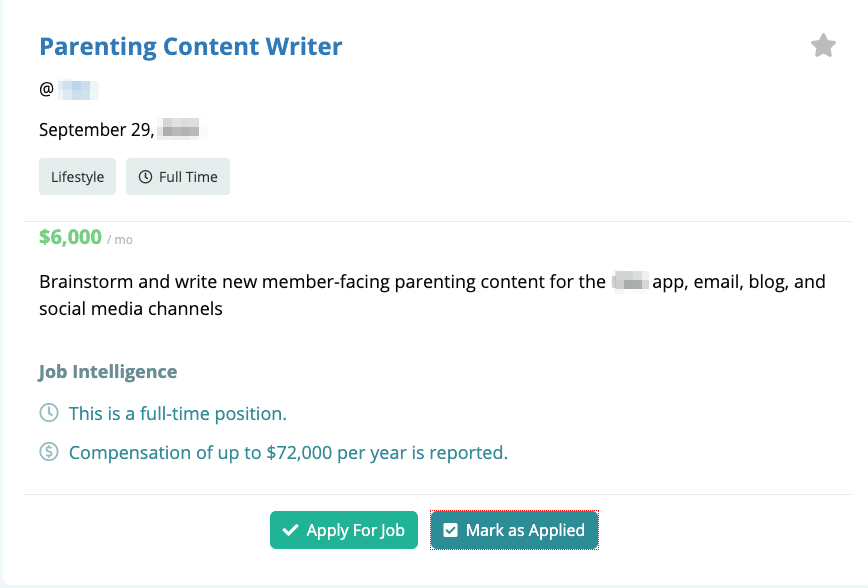 If you want to learn more about using Contena to find freelance writing jobs, check out my comprehensive guide here.
Okay, so I shared with you how you can look to what you already know (work experience, life experience, hobbies, volunteer work, etc.), but what about wanting to learn something new?
Can you be a legit freelance writer in a brand new writing niche you know nothing about?
Yup!
I did it!
Well, I learned my niche as I picked up writing jobs, and if I can do it with twin toddlers at home, then I know you can do it too!
As a new freelance writer, you can pick a new topic – like Cannabis writing or Fintech writing – or a new writing service – like press releases or white papers.
You might already be interested in a topic, which is great because you can learn more about it while building your portfolio and creating your writer website.
To show credibility in a new writing niche, write a writing sample, and share it on Medium or LinkedIn or on your blog!
When I landed my first legit freelance writing job, I had to write about Canada's gas prices.
I had no idea what was going on with gas prices so I spent a day or two learning about it and I was able to write my first paying article easily!
How I Picked My Writing Niche
When I first started freelance writing, I had no idea what my niche would be.
To fix that, I just picked three different topics to try out – parenting, career/education, and health and wellness – and wrote writing samples in those topics.
I chose those topics because I was familiar with them:
Parenting – I was a new mom to twins. I felt my unique situations (being a twin mom) could lend well in the parenting niche
Career/Education – I heard that writing about careers could be profitable, so I decided to write a writing sample about culinary arts.
Health and Wellness – When I became pregnant, I made sure to have natural products and eat as healthy as I could. What little knowledge I had was enough for me to feel confident to market that topic as a freelance writer (and I did pick up a few health clients at that time!).
You might be reading this and wondering, "Elna, I thought you had to be an expert in your freelance writing niche, but you weren't? How did you land work then?"
Good question!
Know that you don't have to be an expert in your niche. I'm still not an expert in my current niche, but that's why we have Google!
You can fill the "holes" in your niche with Google.
Okay –
So I picked these niches and wrote samples. During this time, I was also learning more about being online.
Up until that point, I only had a personal Facebook account. I did not do Twitter, didn't know what LinkedIn was, and wasn't interested in Pinterest or Instagram.
So, I spent most of my time learning about social media and blogging. This was a completely new world for me.
During this process, I learned that I absolutely LOVED learning about blogging and marketing that I started writing about it on my Elna Cain blog.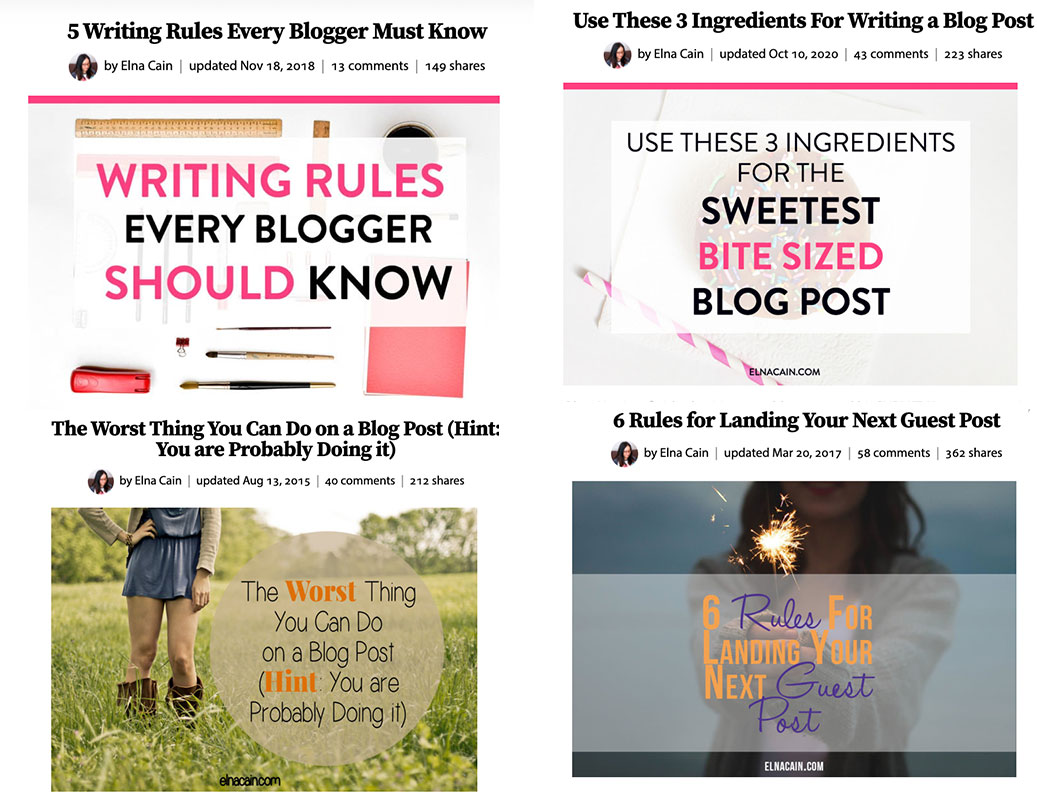 I was also having fun with graphic design too!
So, this niche – digital marketing – revealed itself to me after learning about it for my own business and then writing about it as a new blogger.
I started to guest post on this topic as well, and in a few short months, I landed a great gig with a social media marketing business and a content marketing blog.
There ya go – how I discovered my freelance writing niche! Let's look at a cool hack to finding a profitable writing niche.
Reverse Engineer Your Freelance Writing Niche
If you are struggling to find the right writing niche for you, why not sidestep that entire process of just pick a high-paying writing niche?
Yes, they do exist!
When you pick a high-paying niche, you know that:
There are thousands of businesses in this niche that need writers
The topics may be more complex, and the writing may be long-form
There might be specialized types of writing like case studies
Gigs might include other things besides writing – social media content, email content, editing, proofreading
Writing jobs are usually recurring or ad hoc
So, which writing niches are lucrative and need writers? Here are some for you:
If you end up using the Contena job board, you will find many jobs in all of these writing niches.
Practically All Writing Niches are Profitable if You Know This
Look –
To tell you the absolute truth, practically any writing niche you end up choosing has the potential to be highly lucrative.
How? By the client you seek.
It's the CLIENT that dictates how much money you make in a writing niche.
If you want to be a parenting writer, you will find many parenting writing jobs on the lower end of the pay scale.
This is an oversaturated writing niche, and many mom bloggers take these jobs for cheap. So, you may think parenting isn't a lucrative niche, but you're wrong!
My gig with Walmart wasn't a cheap writing job! I was paid thousands for this parenting blog project.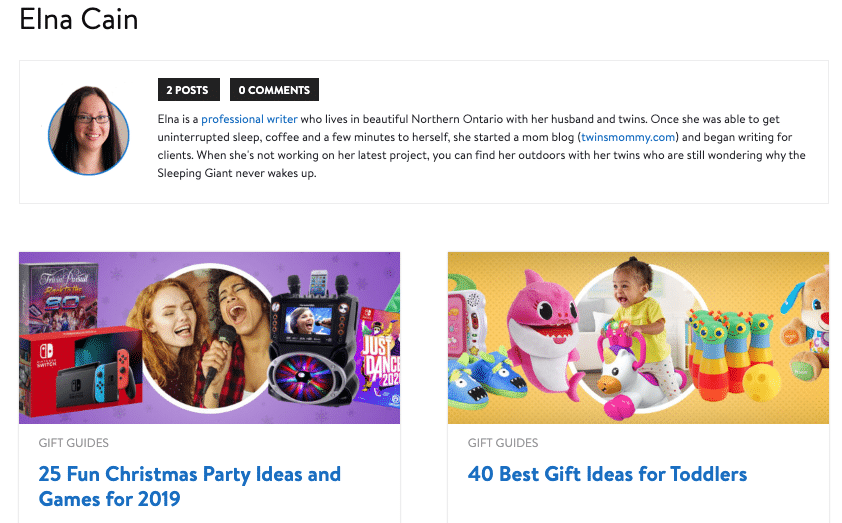 So if you know all about house cleaning because you were or are a house cleaner, then where are the high paying clients?
Think of cleaning supplies, restoration companies, startups with new cleaning products, etc..
Take the time to list out different types of clients, and from there, you can target your niche to them and find these companies on Google.
You may even look around your house to find products. For example, I own a Dupray Neat steam cleaner.
They have a website but no blog. As a product user and writer, I can pitch them my services, and who knows?
Picking a Freelance Writing Niche
So, what I'm saying is, don't make picking a writing niche difficult for you!
Look around your home for ideas, look at your past work experience for different industries, check out hobbies and things you want to learn more about!
Over to you – what's your writing niche? Please share with me in the comments!