Look –
I've done this type of post before on how to land your first client as a new freelance writer.
But that was years ago, and things have changed.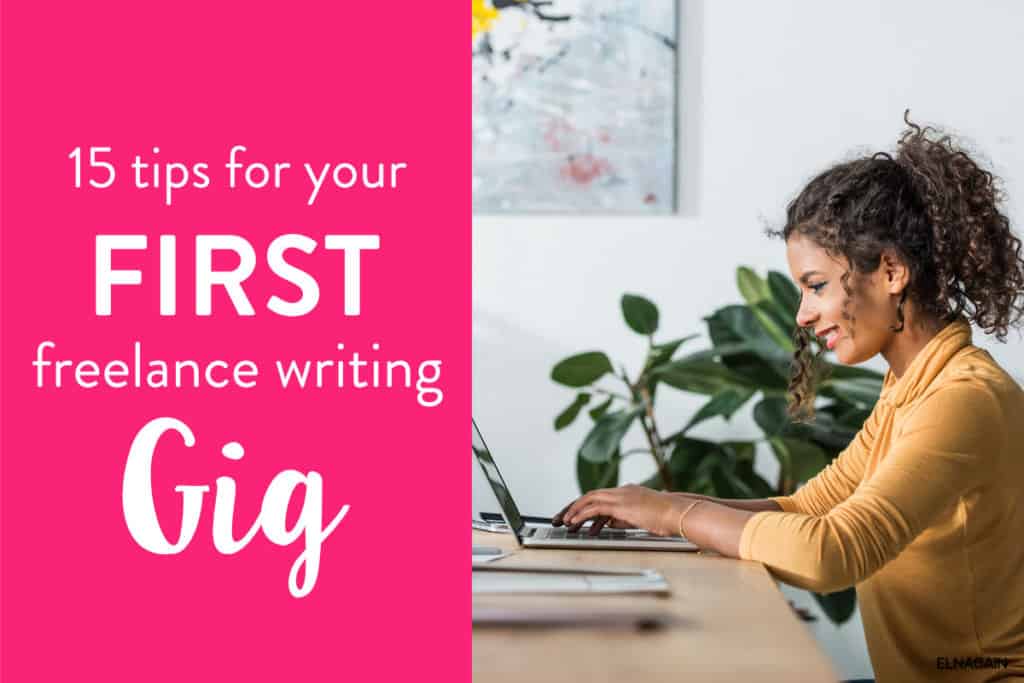 I've been a freelance writer since 2014, and over the years, I have seen the content landscape change and, only recently, dramatically shift in content production.
If you are interested in getting paid to write online, then what you may be hearing from other places might be outdated information.
Content consumption grew 13% globally in the last year, and it's no wonder blogs are thriving, and businesses are still hiring writers for their content strategy.
So, as a new freelance writer yearning for that first freelance writing job, what should you know to be successful?
Let's go through these highly relevant tips for RIGHT NOW, so they can prepare you for gaining those freelance writing gigs. I'll then end with proven ways to find your first freelance work project from actual writers doing this!
I feel this is more valuable than a list of "general" ways to find online writing gigs.
1. Being a Generalist Writer Isn't Going to Cut it Anymore
It's the End of the Generalist Writer As We Know It (And I Feel Fine).
Don't you love that R.E.M. song? I thought the title is fitting for this first piece of advice.
See, back in the day – let's say around 2014 when I started – being a generalist freelance writer was fine and a way to gain many clients in a short amount of time.
I was able to pick up clients in different niches:
Allergy niche
VFX niche
Dentistry industry
Career niche
Social media niche
HR niche
Businesses back then just needed a writer for their blog content. Blogging was gaining popularity, and businesses needed a dedicated writer to create consistent content every month.
And that meant they needed content writing remote jobs that could be handled by anyone anywhere in the world.
And while you still CAN pick a few writing niches to start with, the goal for any freelance writer is to pick one main niche and, within that niche, narrow it down.
I have a Youtube video explaining how to narrow down your writing niche.
Watch it if you need help, and subscribe to my channel!
But, if you find yourself just picking up any freelance writing job – a blog writing job for a construction company, a social media writing gig for a new tech start-up or an SEO writing job for an eCommerce clothing company – you'll soon suffer burn out.
This is what happened to me.
I was tired of:
Trying to come up with content ideas in all types of niches
Having to constantly remember all the different types of audiences I was writing for
Spending too much time researching each content piece
At the time, I thought my pool of clients would be infinite if I were open to ANY writing project. But I found that clients were willing to pay me more once I narrowed down a writing niche (digital marketing).
And for you RIGHT NOW, generalist writers are being paid less ($.02 – $.03/word) and are phased out by A.I. writing tools (more on this in my next section!).
You'll need more than your fantastic writing skills to make substantially more money – enough to write part-time and make a full-time living.
2. Your Expertise Will Make You More Money
Before we get into what you need to make more money with your writing, I want to talk about a new contender in the content landscape.
It's A.I. (artificial intelligence), and is here to stay. More specifically, OpenAI's ChatGPT is the latest iteration of this type of technology, and it's turning a lot of heads.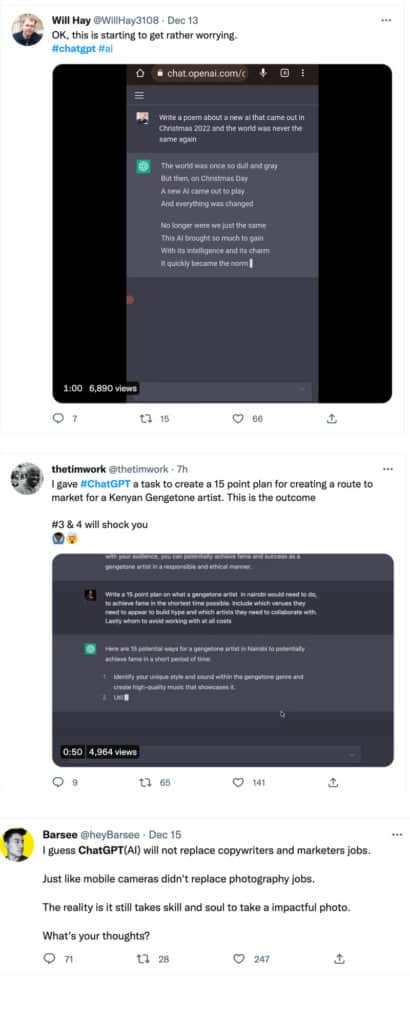 This highly advanced writing tool JUST recently blew up (in the last month).
I'm not going to get into the technology behind A.I. writing tools, but I want you to be aware of this new tool and how it affects freelance writers.
Take a few minutes to check out ChatGPT or another A.I. writing tool like Jasper, and you can see the level of output these devices have.
Here's an example of ChatGPT.
I give it an instruction, and after a few seconds (15-30 seconds of waiting), it spits out copy. This is the result.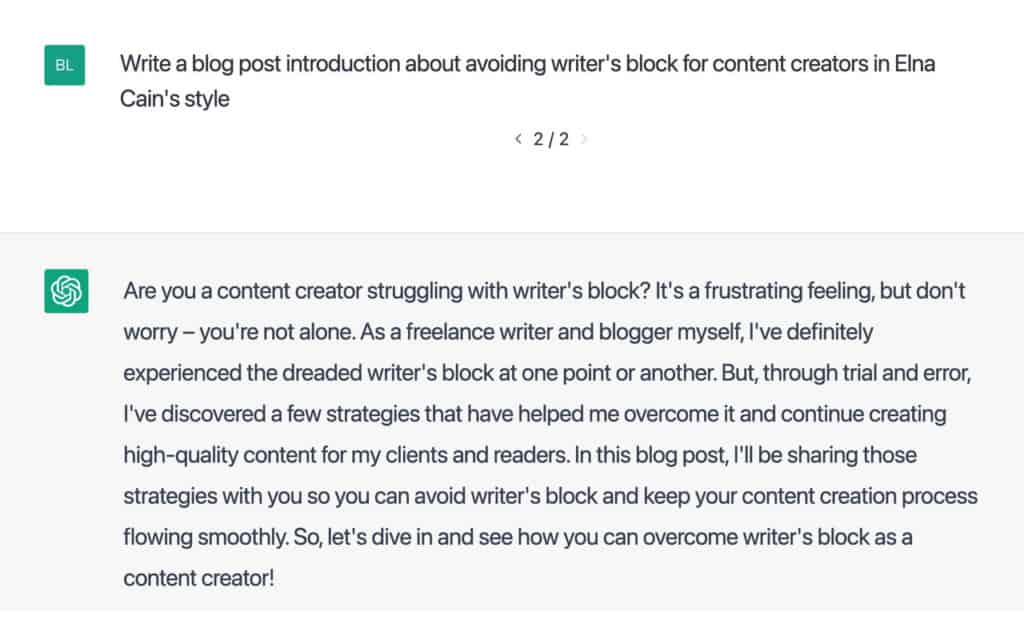 Are you scared?
Does it read well?
Sound good?
Sure…it's a very typical introduction that's – in my opinion – dull and general.
While there is a hook in the introduction, the build-up is too fast and doesn't create a sense of curiosity to keep you reading.
Compare this to my introduction to writer's block.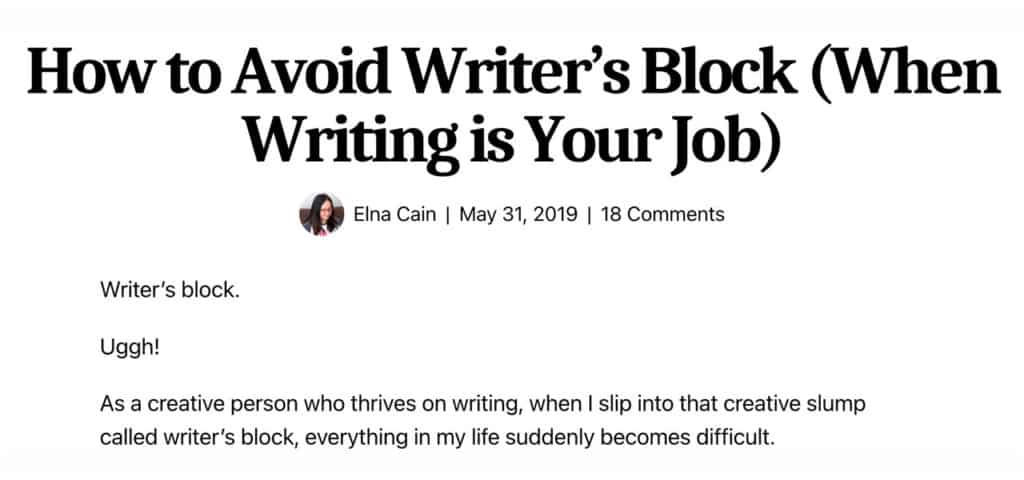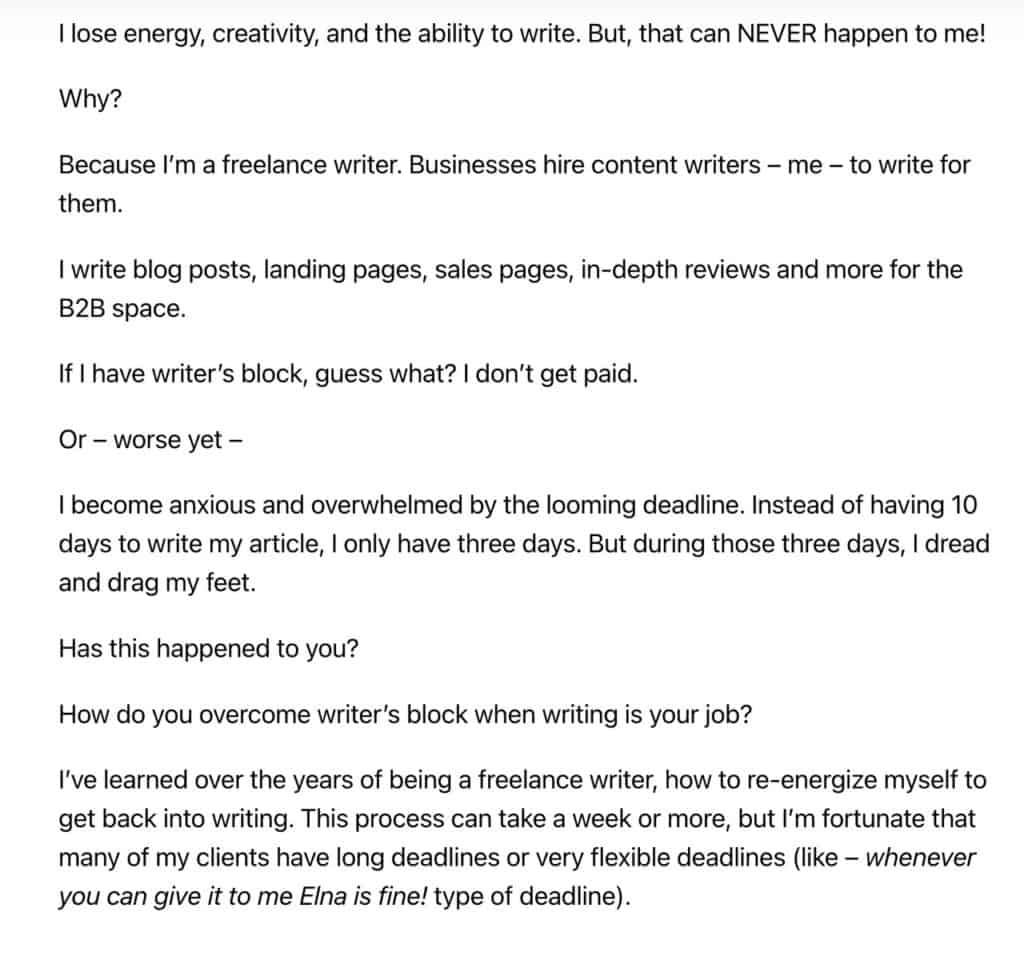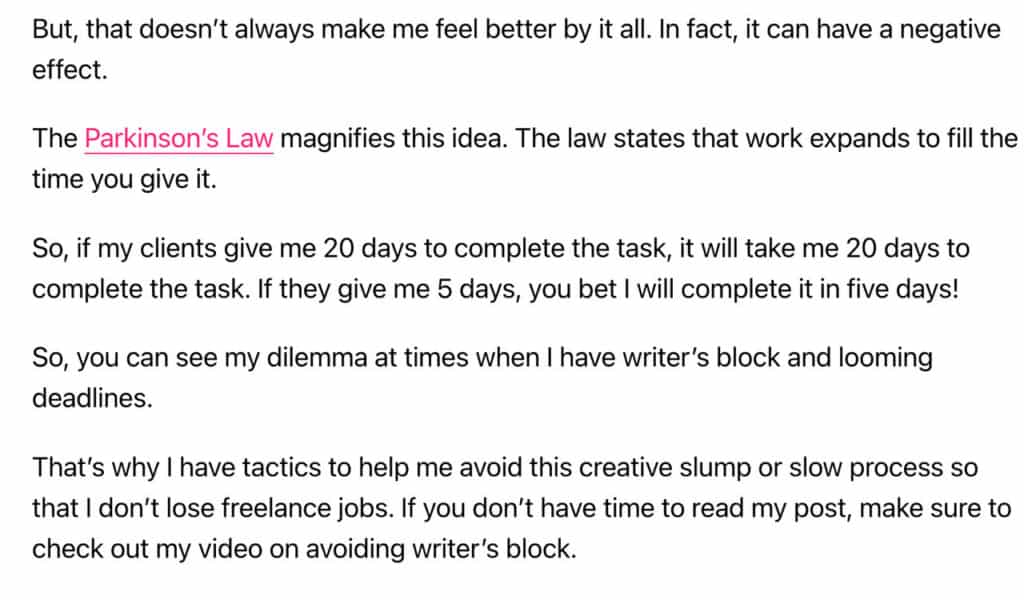 As you can see, my introduction has a storytelling element to help the reader connect with my story.
ChatGPT doesn't do that.
And if you want to freelance write for a living, then your expertise will make you the MONEY as a writer.
You WILL need a writing niche, and you WILL need to become the expert in that niche topic.
This will take a while (a few years), but if you use your background or past job, you can shave some time off and have no problem landing high-paying writing gigs.
When you do all these things, you become safe from an A.I. writing assistant tool taking over your job.
The generalist and content mill writers will have a hard time competing for a freelance writing gig or a remote job in writing.
Instead, you COULD use A.I. writing tools to your ADVANTAGE.
If you want to know how to use A.I. writing tools the right way, check out my latest masterclass Jasper AI Writing Prep Class.
Over the years, I've become an expert in the digital marketing niche.
I do real-world digital marketing, and businesses know this when they find me on Google and see my email list and my products.
And because of my real-world experience, I've become a subject matter expert, which helped me more than double my freelance writing rate for content.
Another reason you should definitely have a writing niche you're experienced in is that Google will notice if you aren't an expert.
Google has E-E-A-T as a measure for content. This stands for:
E: experience
E: expertise
A: authoritativeness
T: trustworthiness
Google also wants to see bylines from contributors or journalists that have the experience to write what they are writing.
This doesn't mean you have to be a CPA if you want to write about audits; it just means you need to have enough in your writing portfolio and online that signals to Google you are a credible person to be writing about audits or accounting methods.
3. A Focussed Portfolio is Essential to Landing Freelance Remote Writing Gigs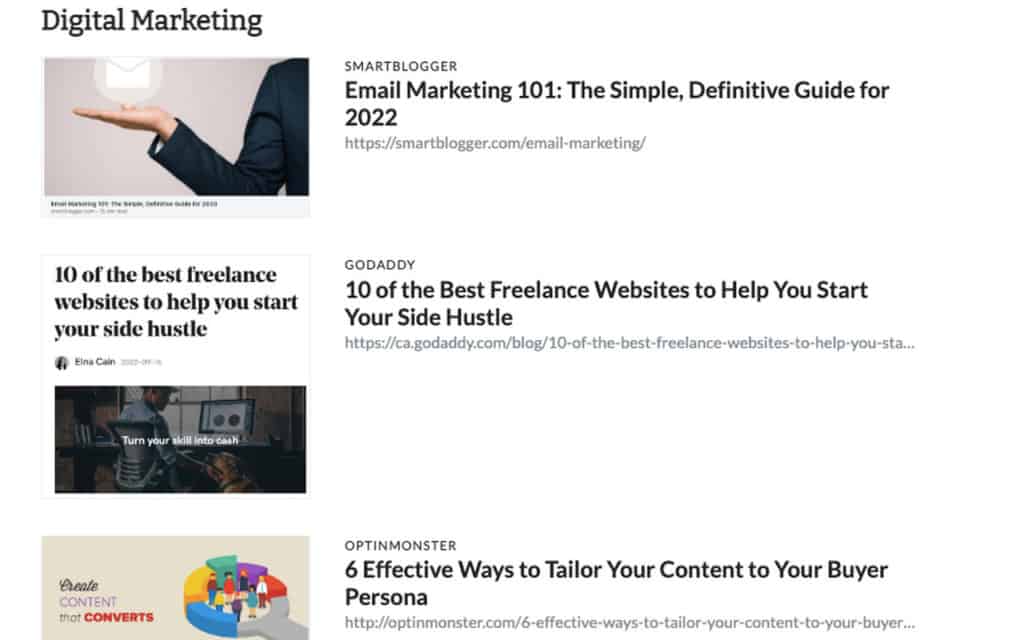 Part of becoming a freelance writer as a beginner in 2023 is having an online portfolio to show your stellar writing.
But it's not just any old portfolio where you dump all your latest guest posts or client pieces onto.
You need to stand out more than ever and show your expertise and the writing niche you picked. And that means having a focussed portfolio.
These are hand-picked sample pieces representing the best writing in your chosen writing niche.
Think about it from the prospect's mind:
A website owner that needs a finance writer checks freelance writer Ann's portfolio and sees content in various topics: pet, travel, lifestyle, finance, and tech.
They see Ann has two finance pieces in her portfolio, but the website owner overlooks that because all they see are different topical pieces.
The website owner then goes to Sara's portfolio, and every single piece in her portfolio is on finance topics. The website owner is immediately relieved knowing Sara is an expert in her niche and feels confident she can deliver the right content for their business.
And guess what? Because of her focussed portfolio, Sara can command higher rates than Ann.
4. Your Samples Are Like Your Resume
Freelancing isn't like having a job where you're an employee. You collaborate with businesses.
And as an independent contractor, you don't need a freelance writer resume.
Sure, it doesn't take long to create one yourself or even use your LinkedIn profile as your online resume for jobs.
But your sample work really seals the deal for businesses hiring writers.
What have you written?
Where do you have your bylines?
These are important factors when a marketer is trying to find the right writer.
And just like I mentioned in my previous point, your samples will do the best job for you when they are on one industry, topic, or service.
This means all pieces are blog posts, landing pages, and emails about sales technology or mental health.
If you need help writing your first writing sample, I have a 1-hour masterclass and over 200 writing prompts to help you!
5. Stick to Your Rate (And Don't Falter)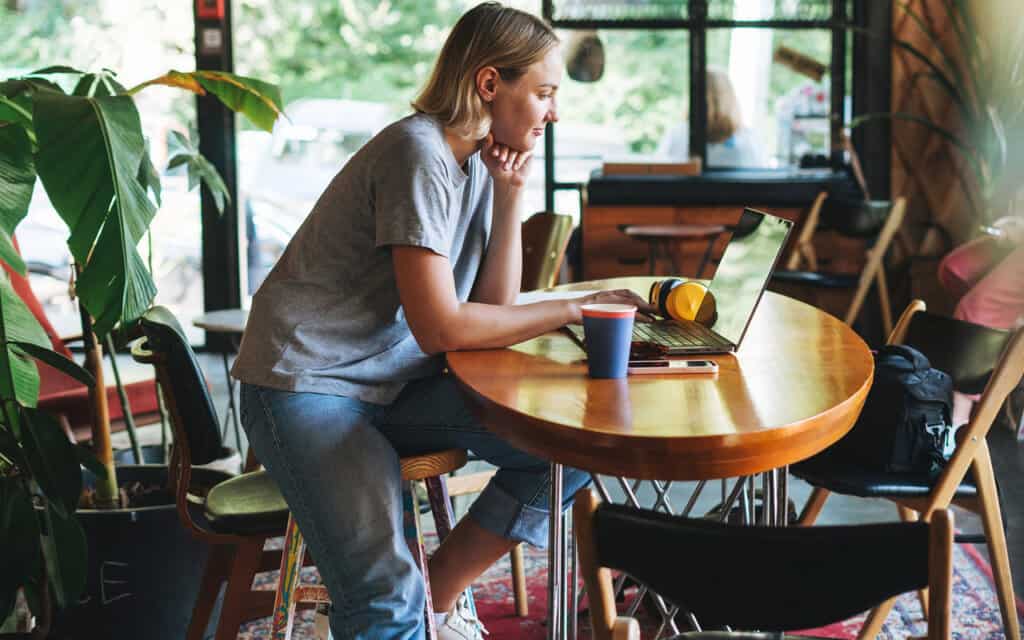 Part of finding your first freelance writing gig is turning down work that isn't a perfect fit for you.
Sure, you need the money RIGHT NOW, but you HAVE to stick to your rate because your ideal client WILL hit you up.
In the beginning, you may not know your worth or the going rate for a blog post, email, or Facebook ad.
That's okay! You can pick up the latest Writer's Market to see a rate sheet for all the types of online and print projects are worth.
And you can check the online freelance writing stats to see what real writers are charging.
But, if you want to start with blog writing jobs (the BEST content writing jobs you can have since blogs need recurring posts every month), you can set your rate at between $.15 – $.20/word.
I like to do a per 500-word rate. So something like $75 per 500 words. Prospects seem to handle this type of rate better than per word, so they don't nitpick your post and instead look at the total value you give them when you submit your article to them.
What happens when a prospect doesn't take your rate and offers you something lower?
This is totally up to you what you want to do next.
If the client is a well-known brand or it's one you REALLY want to write for, and it would look good in your portfolio, then I would take it.
I've done this even NOW after several years of writing. If a brand is a-calling and their rates aren't my normal or top rate, heck, I'll still write for them as long as I get a byline!
Do you know why?
Having that client means I can leverage them for a better client with higher rates. I'll talk about this more in tip #8!
6. Set 10-15 Hours a Week for Prospecting
If you don't have your first freelance writing job, then your job is to find a job!
That's what my dad told me when I was 16 trying to find a job.
It was sound advice then and it's the perfect advice for new writers now.
Clockify ran a study to see how freelancers spend their time with billable and nonbillable hours and follow up with payments.
The results?
Over 30% of freelancers spend between 10-20 hours managing their business.
So, with no job to manage, you can spend 10-15 hours or more prospecting and marketing to find a writing client.
It may look like this: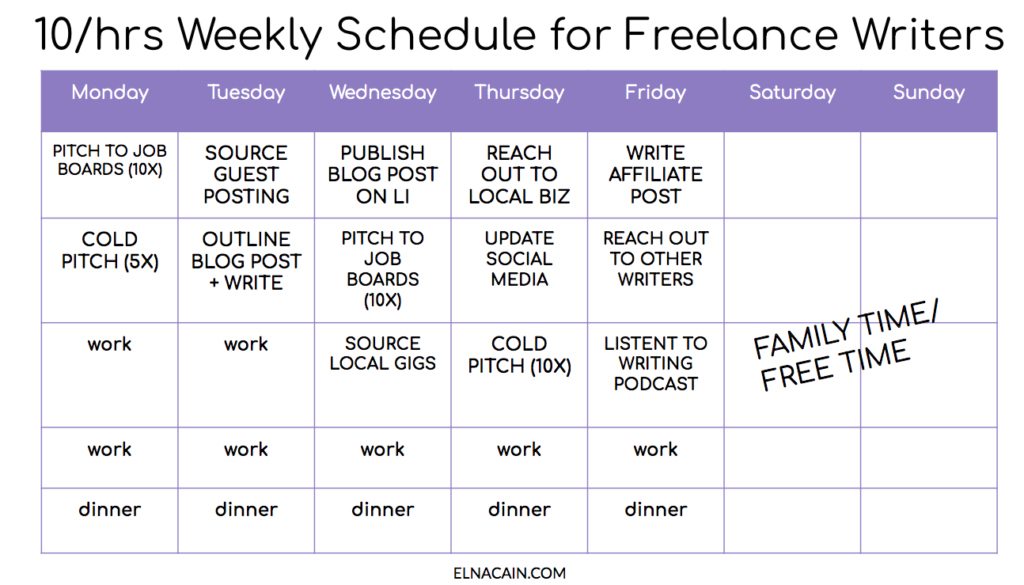 Each block doesn't constitute an hour but just a block in your day to dedicated to landing a job when you also work full-time or have a family.
So the front half of the week is dedicated to pitching to job boards and cold pitching to companies.
This might mean:
On Monday
Go to the best job sites you like and scour the jobs to see if you can apply.
Look at the content schedule (1x/week or 3x/week, for example), the pay (if noted), and the job responsibilities.
Pitch to at least 10 jobs you see on job boards.
Go on LinkedIn and check your feed. By this time, you should have a LinkedIn profile and have been following businesses, entrepreneurs, and other freelancers. Find a few companies you resonate with.
Go to LinkedIn Jobs and search for your title.

It might be copy writing, content writing, entry-level, or

blog writing g

igs

.

Pick a few more companies that are hiring writers.
Craft your cold pitch and send at least five unique cold pitches.
On Tuesday
Go to Google and search for guest posting sites in your niche. You can search for, "Write for us + (niche)."
Read the guest posting guidelines and get a feel if this is a good site to guest post for (i.e., you see many contributors, and each has an author bio).
Outline a blog post idea or two and start writing so you can publish this somewhere or with a guest posting site.
On Wednesday
Edit and publish your blog post on LinkedIn or Medium or on your blog (or send it to a guest posting site).
Visit the job boards and websites you looked at earlier in the week and note any new gigs. If there aren't any, check other job sites.
Send your pitch to at least 10 job ads.
Also, start looking locally for writing jobs.
Thursday
Reach out to these local businesses either through calling, on their Facebook page, or Instagram profile. Introduce yourself and let them know you're a content writer interested in partnering with local businesses.
Spend a few minutes updating your social media accounts. Post your latest blog post to Twitter and LinkedIn. Tweak your Instagram bio.
Find 10 more companies you want to write for (either through LinkedIn Jobs, Writers Work, or Contena).
Friday
Practice writing for money by writing an affiliate-based blog post. This can be a review of a product you have or a tool you use. You can post this on Medium or your blog, and it can act as a writing sample.
Join a Facebook group for freelance writers and connect with them.

Be helpful in the group, check their website, and sign up for their free guides.

Find some freelance podcasts to listen to!
7. Have the Right Freelance Writer Title to Gain a High Paying Freelance Writing Job
Did you know it's okay to call yourself a copywriter right out the gate….even if you have no experience with copywriting?
All this writing online is learning on the job, and it's okay if you title yourself an SEO writer or blog writer if you've never written a blog post.
But, of course, do you and what you feel comfortable titling yourself. There are many titles you can use, like:
Content writer
Email sequence writer

Transcriptionist

Blog writer
Long-form writer
SEO writer
Copywriter
Ghostwriter
The titles that will gain higher paying writing gigs are copywriter and ghostwriter.
Copywriting is the form of writing that businesses use to help them make money. So the words you use for copywriting materials are usually formulaic.
Ghostwriting means your name isn't attached to your writing, which means you can charge more since it will be hard to land writing opportunities when you can't market your client's work.
You can usually get away with asking 50% more than bylined work.
8. Create an Income/Client Ladder for Goal Setting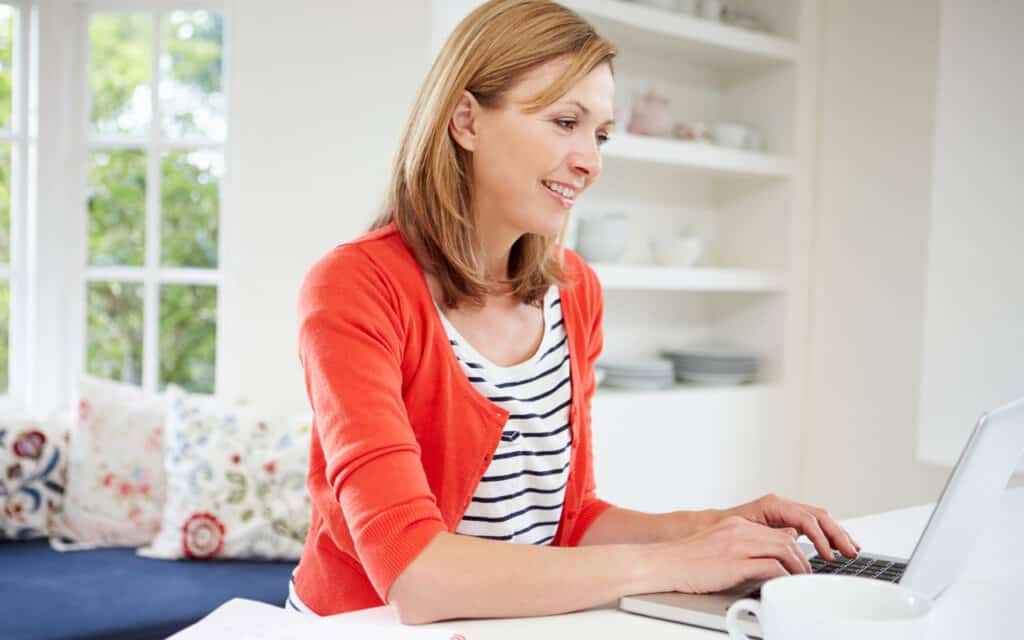 I was alluding earlier in this post about sticking to your rates.
The point of sticking to your rates is so you can stop taking on cheap writing work and start taking some high-paying work.
And you can start this process by creating a client ladder. It's also an income ladder since you can work your way up to different tiers of clients.
For example, the bottom rung of your ladder is the cheaper clients like start-ups, bloggers, or solopreneurs like coaches, and then the next rung might be a small business or mom-and-pop store. They pay better, but it's not the best rate for you.
The next rung might have more niched clients, like ones focusing on technology writing or needing white papers. You can leverage past clients and ask for a higher rate.
Finally, the top rung is your ideal client. This might be a global brand with 50 or more workers, or it might be top magazines. Your top rung is unique to you, and it's where you are satisfied with your rate.
9. Know Where the Writing Jobs Are
Look –
When looking for entry-level remote writing jobs, you need to know which sites and job boards have the best gigs.
But, one thing I know from writing online all these years is that you can find writing opportunities in the least possible ways.
I want to share some proven methods for finding your first remote writing job from actual writers that landed their job that way!
So, let's get started.
10. Job Sites
I landed my first REAL freelance writing job from a job board.
Now I say real because before this, I landed a low-paying content mill job that I absolutely hated, so I don't count that as a legit job.
I found this job for a writer that was a mom living in Canada for automotive content and emailed my pitch to them.
I talked to the editor on the phone, and a day or two later, I was hired to write for Wheels – a division of the Toronto Star newspaper!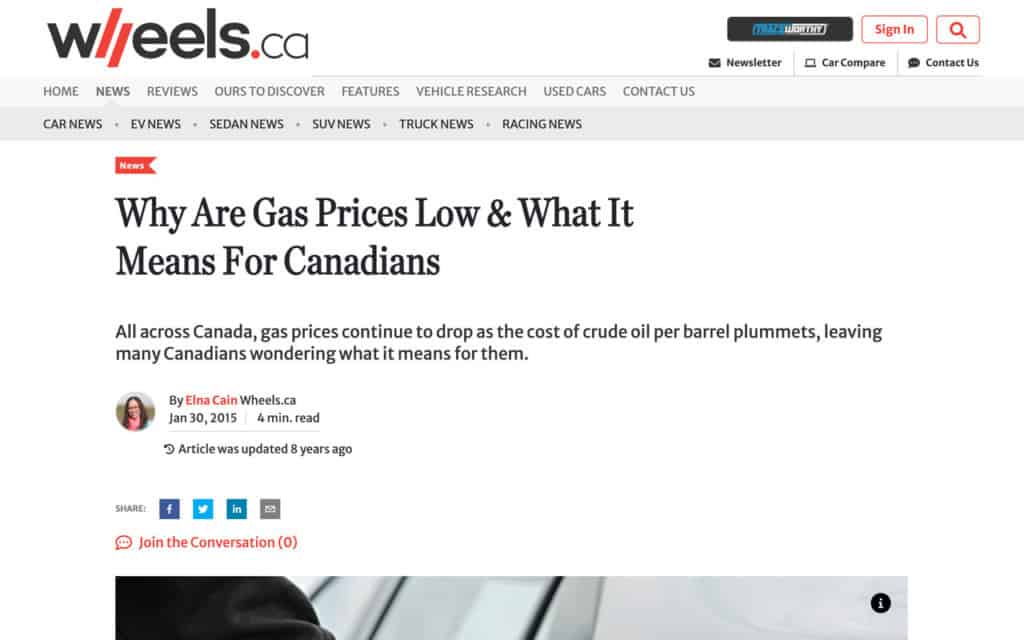 11. Cold Pitching
Cold pitching means finding a company that isn't actively looking for a freelance writer and pitching them your services. This is a popular method for many freelancers and can help you land better paying opportunities than the ones you see on a job site.
Anggi Pradhini says she landed her first client from a cold pitch email.
I found business owners in the Facebook group, check on their websites and if they fit my ideal client profile I sent them a cold email. After sending a lot of emails (I mean, hundreds, I dedicate a few hours each day to do it), I sign my first client. At first, I give a discounted rate to give it a try (I was nervous as heck!). Then the client like my work. We keep working for months after the first pilot project 🙂
12. Networking/Referral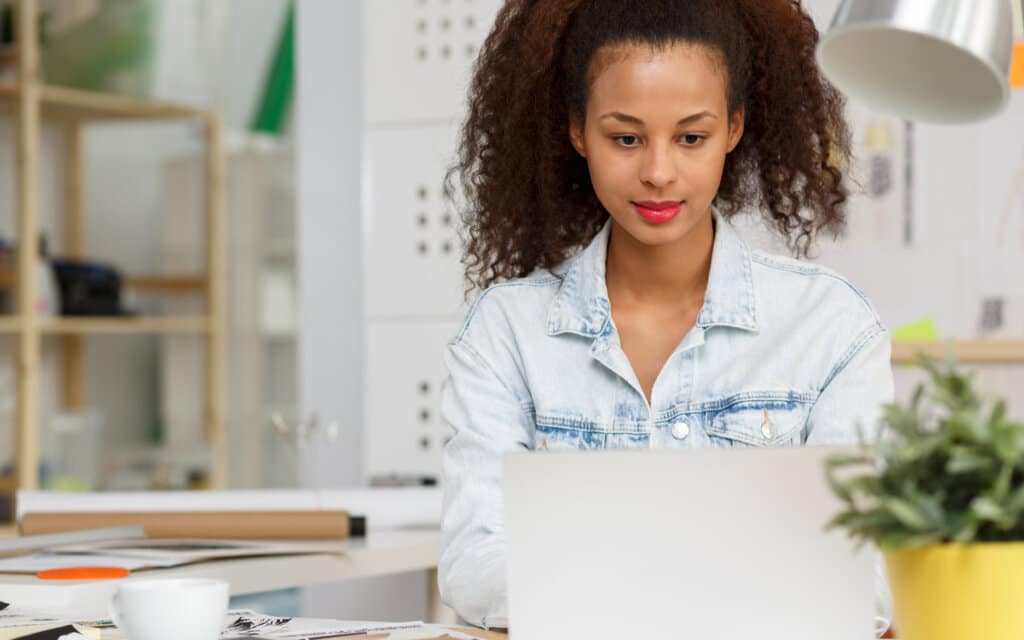 Many of my students in Writeto1k used their network to land remote entry-level writing jobs.
And if you want to make a living as a writer, networking and referral-based work is your bread and butter!
Writeto1k student Andrea Frey landed her first writing job through a friend.
"I landed my first client through a fellow online business owner friend. I told her that I was starting to add freelance writing services to my offerings and she mentioned a friend had been struggling to find a good writer. She introduced us and I started working with her shortly after!"
Another Writeto1k students Deana Weinheimer also landed her first client with networking.
I landed my first post through a warm network. My friend is a business owner and he had a partner that was looking for a copywriter. He referred me and a week later, I was on their freelance writing team!
13. Social Media
Thousands of content writing gigs of all types are promoted on social media.
An editor could create a post on LinkedIn saying they need to hire three more writers or a marketer Tweets they are starting a new podcast and need a transcription writer. As a new freelance writer, it's a good idea to be on social media and pay attention to all the social chatter!
Esther Akinsola put all her eggs into using LinkedIn to find her first client. To increase her chances of finding the right type of client she decided to do a specific type of search – boolean search.
I got my first client through "boolean search" I search for publishers and editors in my country, got their contacts, explained what I do and I will be a valuable hire and I got it. I got several clients from this method before I made a couple of changes to my services.
14. Medium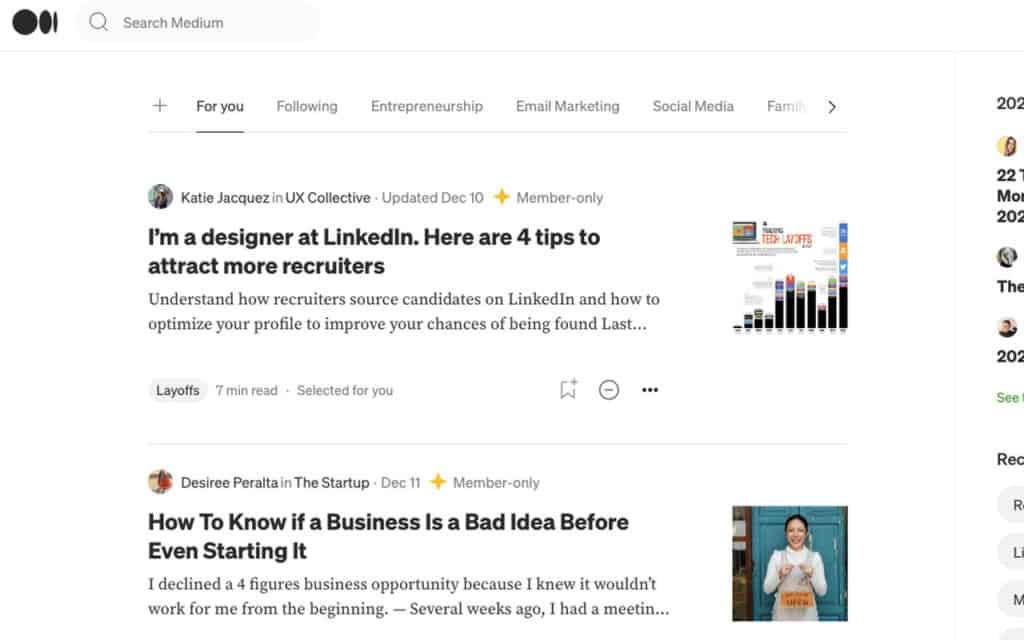 It's entirely possible to gain writing clients by using Medium!
Medium is a free content platform for writers, authors, and bloggers. You can sign up for free and use Medium for free writing or to create writing samples to help you land remote writing work.
This is how Tasha Salam was able to do it.
I got my first client by writing a review on Medium of a platform that I used. I then shared that post on LinkedIn and tagged the platform company. They saw it and reached out to me saying how much they liked my blog about their platform! After that, they reached out to me for my writing services that they needed.
15. Writer Website
The best way to land your first writing job online is with a dedicated service-based website. This is your writer website. Treat this like your business card.
There's no doubt that I wouldn't be where I am without a website showcasing my portfolio of writing, testimonials of satisfied clients, and what type of content I create for businesses.
If you need help setting up your writer website and have no tech skills (that's okay! Neither do I), I have a Writer Website in a Weekend with step-by-step tech tutorials for you!
It's Time to Make Money With Your Writing
Remote writing jobs have helped me stay home with my twins and enjoy the comforts of my life. I don't own expensive things or take expensive trips.
I have a family, a new kitten, and a house that needs renovations. But what I love is the freedom I have – the freedom to do what we want as a family.
That is why I do what I do!
Tell me in the comments, are you excited to become a freelance writer? Let me know!
I'm here to help!