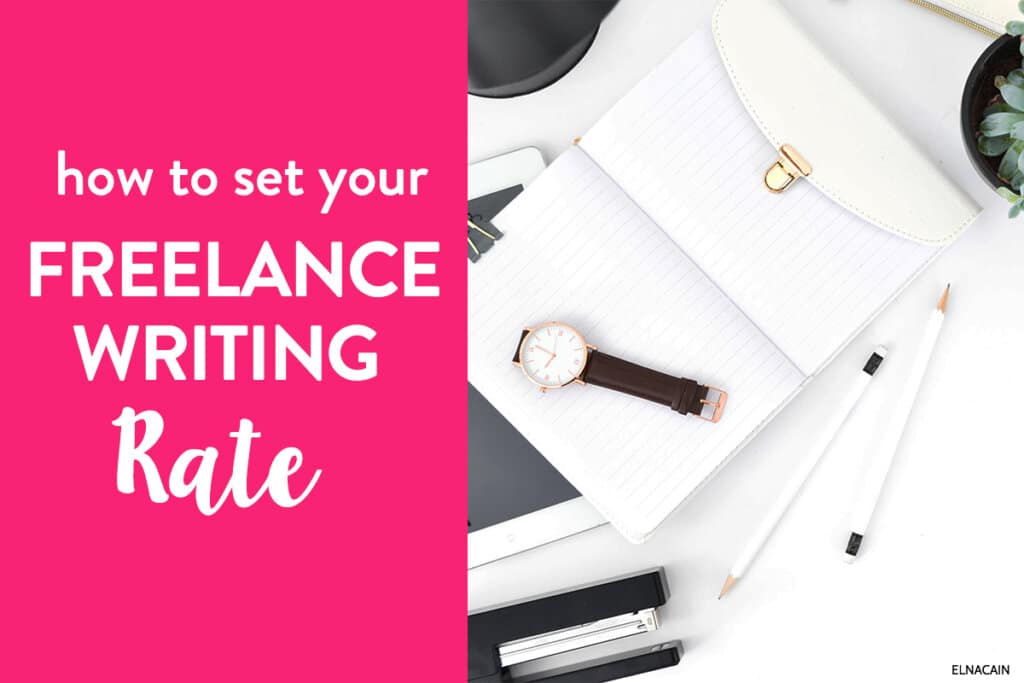 Did you recently land a new freelance writing job?
I've been a freelance writer for a few years now, and I'm at a good place right now with my workload and my freelance writing rate.
But, I didn't start out like that. I had to figure out what my freelance rate was as a new writer.
If you were like me when I first started out, I had no clue what were freelance rates. How do you decide what your writing is worth to prospects?
What is a good hourly rate for a freelance writer?
I asked other freelance writers, but they couldn't tell me what MY writing was worth. So, the only thing I did was pick a freelance rate, and I thought $.04/word was a good freelance rate as a starting point.
Boy, was I wrong!
I quickly learned that any freelance writing jobs that came my way, were low-quality and low priced. Why was that happening?
It was because I was telling everyone that's what I was worth!!
To check out what you need to set your freelance rate, check out my YouTube video and make sure to subscribe to my channel!
Freelance Writing Rates
Some things to consider when setting your freelance writing rate are:
What your niche is – some niches are more profitable than others
The level of your writing skill – you need to have some basic understanding of the English language and forming engaging content
How you define yourself online – you can do this easily by starting a service-based blog
Your network – you can land some sweet gigs if you have a network to fall back on
What others say about your writing – by guest posting you can find out what others are saying about your work
Where you live
With those in place, you can decide the value of your writing. For my course students, I suggest to start at around $.10/word.
This is standard for blog posts of varying niches.
How to Grow Your Freelance Writing Income
You can't make a living at $.10/word. You have to grow your business so that you can start making a living as a writer.
How Do You Price a Job?
For brand new freelance writers stick with my recommendation of at least $10/word.
As I established myself as a freelance writer, I set my freelance rate on a per 500 words.
Currently, my freelance rate is $150 per 500 words to $200 per 500 words, which gives me an hourly rate of $150.
I had to learn to type fast and to work efficiently like creating outlines and understanding my topic for my writing jobs.
Should I Go With an Hourly Rate?
For writing jobs I wouldn't suggest going with an hourly rate. You can make less money if you are a fast typer right?
Instead, think of it for other online jobs.
I you're still wondering, what is a good hourly rate for a freelance writer, what I can advise you is that if you do editing work to charge a minimum of $45/hr or $50/hr is good. Here's a good hourly rate calculator to calculate your hourly wage.
Typically, this is a progression of a freelance writer: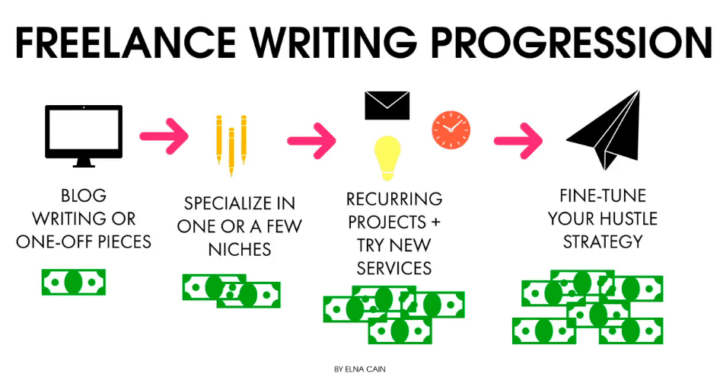 1. One Off Pieces
In the beginning you might land a freelance writing job that's only one project or one blog post. This might even be a paid guest post.
These types of gigs are fun and exciting and it helps you figure out your niche.
2. Specialize
Once you have a handle on freelance writing, you soon start to realize where the money is. And that is with your niche.
From the one-off pieces you learn which topics you enjoy writing about and which ones give you the most income. You also learn what type of clients you enjoy working with.
At this point you can be a bit choosy on which freelance writing jobs you pick.
3. Recurring Work
When you're in the "thick" of freelance writing, you will try to find ways to sustain this workflow. So that means finding recurring work.
You also might explore other services to diversify your income. Some extra services you might offer are:
Editing
eBook writing
Ghostwriting
Copywriting
Social media marketing
Virtual asisting
4. Fine-Tuning
At this point – probably a year into freelance writing – you start to really fine-tune your hustle strategy for marketing your freelance writing business.
This might mean optimizing your pitch so that you land the right type of client. Or, it might mean using cold pitching as a new tactic for high-paying projects.
As a more established freelance writer, you will learn what to do to land more projects and raise your freelance writing rate.
Work From Home As a Freelance Writer
It's up to you to set your freelance writing rate and learn how to negotiate a higher rate when the time comes. It's also up to you to pick the right jobs so that you can turn this into a livable income.