Does the thought of having to "sell" yourself rub you the wrong way?
You decided to work from home as a freelance writer and thought all you had to do was show prospects a few of your samples and poof! they hire you.
Somehow you got the idea that you don't need a website or blog or even be on social media to freelance write.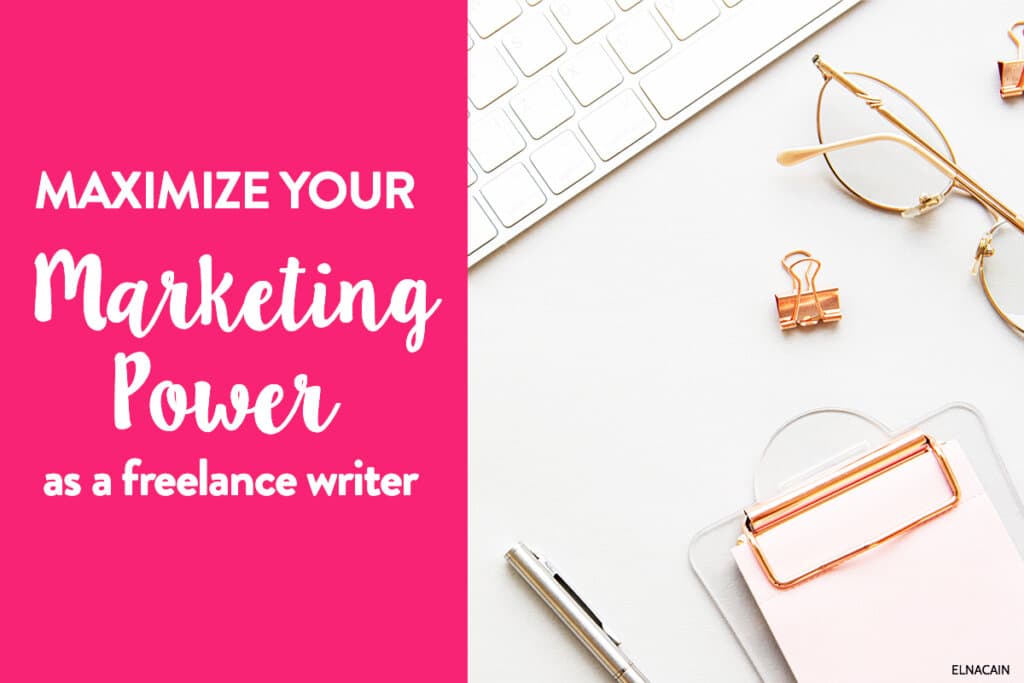 But, I've got something to tell you – if you want to make a living from writing and be able to stay home and control your own destiny, you gotta market yourself.
Don't confuse that with selling yourself. Marketing is just a fancy way of saying you need to let others know that you are for hire.
You need to also let them know why they should hire you.
But, what if you're just a budding freelance writer? You don't have any samples to show, a website and heck, you don't have any clients either.
To truly maximize your marketing power, here are three things you can start doing to increase your chance at landing your first client.
1. Rely On Your Network
Everyone has a network of people they can ask for help. It can be your co-workers, your friends, family, neighbors, extended family, online bloggers or even past bosses you've worked for.
When switching to a new profession the best thing you can do is tap into your natural market. Do you go to the gym? See if they have a website and ask if they need someone to spruce up their copy.
Going to a school function for your child? Let the teachers and other moms know you've made the switch to do some online writing.
Volunteer at a church? Ask if they need a writer for their newsletter.
There are endless opportunities just outside your door. Your clients don't all have to be online for you to get started as a freelance writer.
One freelance writer I coach told me she's going to local businesses and bartering with them – she'll do some writing for free in exchange for a testimonial. This kicks your marketing strategy up a notch because not only will you secure a sample, but also a testimonial – and social proof is a powerful indicator of your credibility as an effective writer.
2. Start Guest Posting (On High Authority Sites)
Okay.
This may be a tough one for brand new writers but it isn't impossible. New writers can definitely score a guest post on big sites like Problogger, Kissmetrics or Scary Mommy.
When I first started, I didn't think I could land a guest post on a popular site, so you know what I did? I did nothing! I didn't even TRY to pitch to big sites because I just psyched myself out.
And you know what else? It wasn't until one of my course participants told me that she landed a contributorship to the HuffingtonPost that I actually thought, wow, she's a new writer and landed an awesome guest post, so what's holding me back?
Learn from my mistakes and don't think you can't land a guest post on a high-ranking site! Go ahead and pitch to Huffington Post or SmartBlogger. What's the worst that could happen? They could say no, or not even say anything.
But imagine if they said yes.
3. Always Be Marketing
This is the difference between writers that are just doing this for fun and writers that are doing this to pay the bills.
All freelancers are hustlers, whether you have a full client list or not. You learn quickly that even though you have enough clients to pay the bills, this doesn't mean you'll have enough clients next month.
Freelance writing can be stable – I've been writing for a year for several of my clients and I have many more that I've been writing for almost a year – but that doesn't mean you should stop marketing yourself.
I encourage you to start blogging. This is the best way to start marketing your content. Of course, to market your content you need to be on social media.
So, get a Twitter and LinkedIn account and start sharing content to get noticed.
There are even other ways to market yourself if you're new to writing:
Link to your portfolio or website in your author bio (and make sure to say your are for hire)
Advertise on your Twitter bio that you are a freelance writer for hire
In blog comments mention that you are a freelance writer
Create a writer website!
Join Facebook groups of where your ideal clients hang out and contribute to the discussion
Be Seen
There are thousands of writers out there hustling hard. It's your job as a new writer to shine brighter and be seen clearer.
Whether it's advertising in your local newspaper or starting a blog and sharing your content on social media, if you're a new writer your job is to land a client.
Once you pass that first hurdle, your second job is to wow your client and continue to land more clients until you are making a living from writing.
Sounds easy eh?
If you definitely want to freelance write, then consider taking my course Write Your Way to Your First $1k. It's made for new writers like you and will walk you step-by-step to get your first client and first $1,ooo as well as help you succeed beyond that.
Over to you – what's holding you back from landing that first client? Tell me in the comments and please Pin me 🙂