Are you thinking about starting a career as a freelance writer?
Did you know that in 2020, the freelance economy contributed $1.2 trillion to the US economy – during the pandemic?
And what's more impressive is that 84% of companies outsource their content.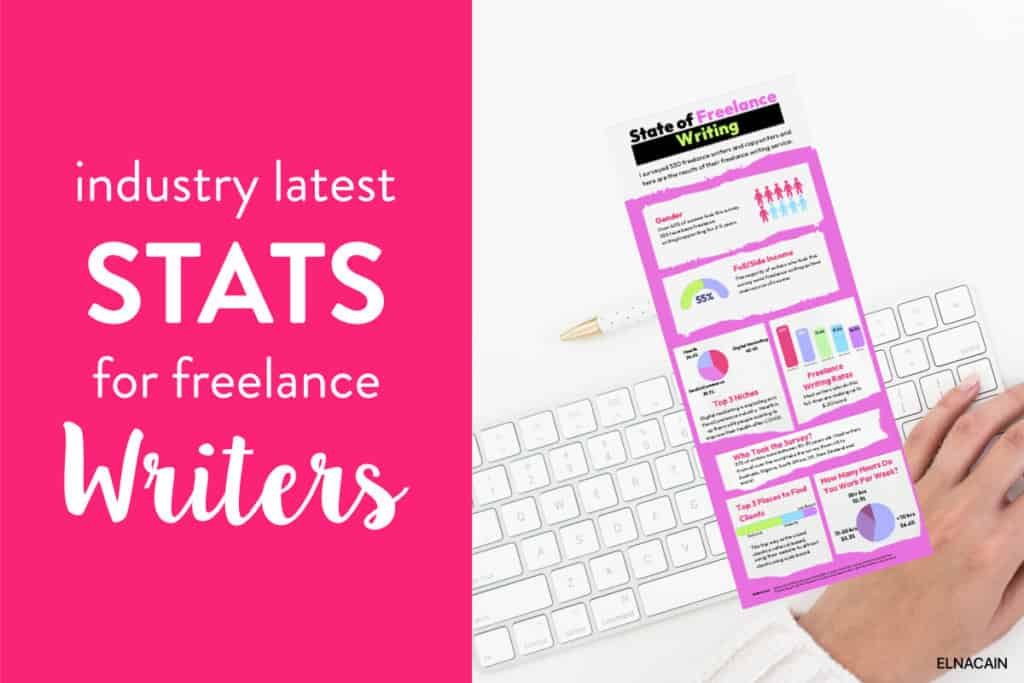 Content is in demand and businesses need writers.
If you've ever wondered if you can make a living as a freelance writer, my 2023 Freelance Writing Stats & Facts Survey will give you a glimpse of how freelancers are fairing right now.
I surveyed 530 freelance writers and copywriters on the state of freelance writing.
Here are some quick facts before I dive into the top writing niches, what people are getting paid for, and so much more!
60% who took the survey were women
55% use freelance writing as their main source of income
45% have been freelance writing for 2-5 years (25% for 1-2 years, 16% for 5-10 years, 14% for over 10 years)
60% work on freelance writing 10 hours a week (33% 10-30 hours a week and 10% for 30+ hours a week– full time)
The majority of freelance writers were from the United States, UK and Canada, but I also had freelance writers from South Africa, New Zealand, Australia, Nigeria, Pakistan, France, Netherlands and more
The survey was anonymous
Top 3 Writing Niches for 2023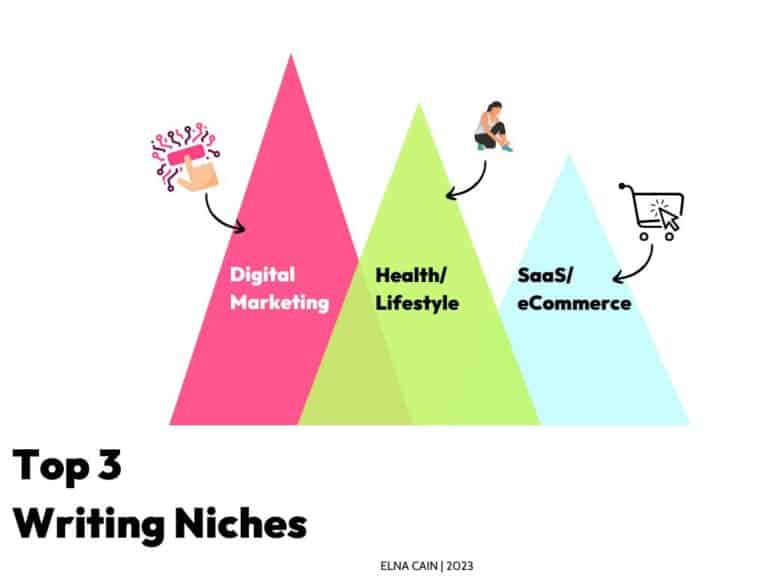 According to my 2023 Freelance Writing Stats & Facts Survey, the top three niches are:
Digital marketing
SaaS/eCommerce
Health/Lifestyle
A close contender was technical writing.
First, digital marketing – my writing niche – is the top niche. Many of my followers and students who took the survey also write about digital marketing.
According to Semrush's Content Marketing Survey, 70% of marketers use traffic as their performance measure, 38% of marketers use social shares, and 31% use backlinks.
As a digital marketing writer working with B2B marketing companies, you'll see that most of these businesses value content to help them rank in Google and generate traffic back to their site.
SaaS (Software as a Service) and eCommerce is next in the top three writing niches from my survey.
I started to promote my writing service as a SaaS writer because many of my clients are SaaS and it makes sense for me to not only provide digital marketing content but also provide SaaS content.
eCommerce has been exploding since the pandemic, and it's not dying down. There are plenty of high-paying writing jobs in the eCommerce – or product description – niche.
It's no surprise that health and lifestyle writing is becoming a very popular writing niche and is one of the top 3. Up to 5% of all searches on Google are health related.
The Most Popular Types of Content Freelance Writers Create

From my 2023 Freelance Writing Stats & Facts Survey, 77% of content most freelance writers create are blog posts.
This makes sense because content marketing will be worth more than $600 billion by 2024.
The content I create for clients is a marketing tool for them. They use my content to bring in a new audience, and by sticking around on their SaaS website or marketing website, they may sign up to join their newsletter. My content made a conversion.
As you can see, blog writing is the start of the onboarding process for many businesses, and it's a highly valuable piece of content that all writers should know how to write.
The next three popular types of content freelance writers produce are:
Website copy – 30%
Copywriting – 24%
Emails – 22%
From this short list, all three are actually a form of copywriting, but I added "copywriting" to the list of content types because, as a copywriter, you are mostly focussed on ad writing. Many freelance writers only do web copy or only do emails, while a copywriter may also do landing page copy, Facebook Ad copy, LinkedIn Ad copy, brochure copy, etc.
Top 5 Ways to Find Freelance Writing Clients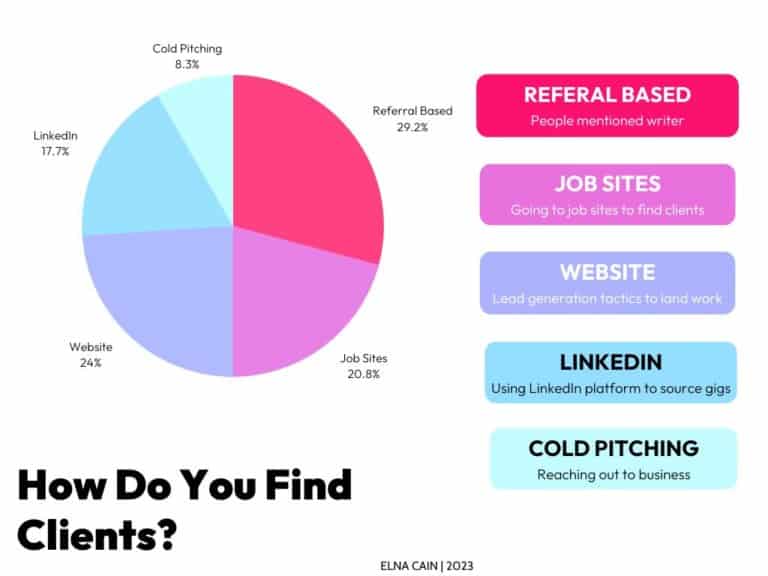 I was slightly surprised by the outcome of this part of my 2023 Freelance Writing Stats & Facts Survey.
I suspected website or cold pitching would be one of the top three methods to finding writing clients. This is what you hear from writers all over the place, right?
That cold pitching is the best way or that LinkedIn is where you have to be to find work.
From my survey, however, the top method is referrals, which is a big part of how I can make a living as a writer.
The biggest clients I first landed – Optin Monster, Sendible, Pagewiz – were referral based.
This meant an editor, another writer, or a past client referred me to another business (or I asked them for a referral).

The following method used to find clients are job boards, which I expected but was still surprised.
Since most writers have been doing this for 2-5 years, I wouldn't have thought that job boards would still be a part of their pitching efforts.
I know a large part of people who took the survey were also in their first year, so this may have influenced the outcome of my survey.
In either case, using job boards is still a valid method. I recently talked to Preston Lee of Millo, and he told me he still uses job boards and he's been freelance writing since 2006!
Next are websites, and this is a top method I use to land client work.
I honestly believe having a "home base" online that details what you do and who you serve is a great marketing tool to have.
Having a website is also what I teach in my course since it's one of the main ways to make a living as a freelance writer.
The last two – LinkedIn and cold pitching – are still great methods to find writing jobs.
While cold pitching isn't a tactic I use much (since it's time consuming), I've had a lot of success with using LinkedIn to land freelance writing gigs.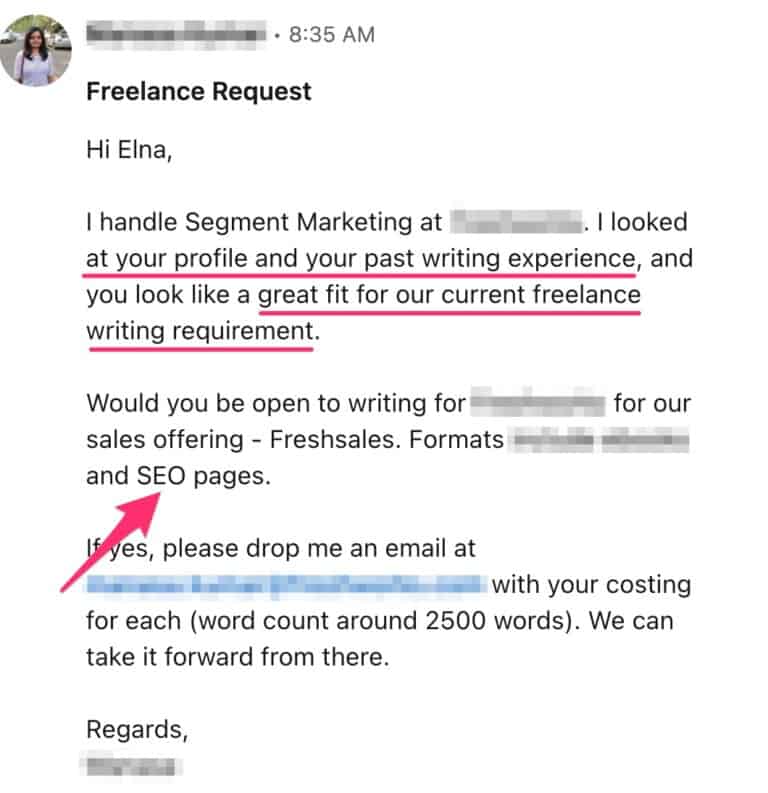 If you're a new freelance writer, make sure to get on LinkedIn to increase your chances of landing a writing job.
How Many Freelance Writing Clients Do You Have?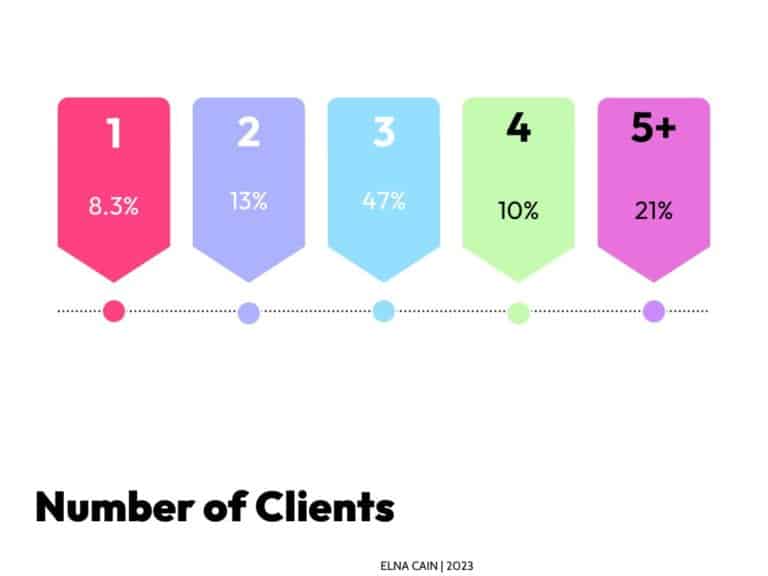 The number of clients freelance writers have is all over the place! It seems that the norm is either three clients or five clients.
I have no more than three clients at a time, since I run other sites and have course students, but three also seems to be a comfortable number for many other freelance writers.
You might be wondering, well, how can they make a living with only three clients?
This depends on many things like their niche (the top three niches from my 2023 Freelance Writing Stats & Facts Survey are high paying niches), their rates and quality of writing.
Since writers who took my survey were also students of mine and copywriters, I understand the varied results. Since copywriting projects are short (writing bios, emails, or landing page copy), I can see that it's easy to pick up five clients and not have it be overwhelming.
Freelance Writing Rates in 2023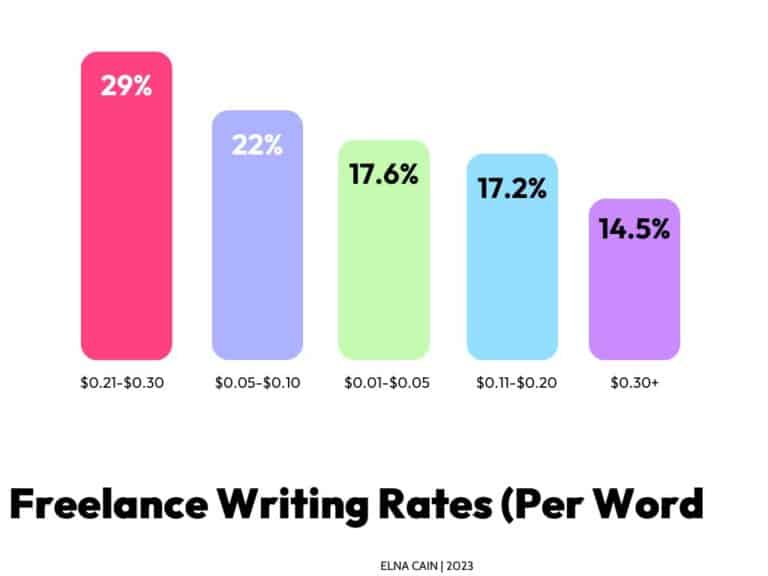 From my 2023 Freelance Writing Stats & Facts Survey, it looks like rates vary as well, with $0.21-$0.30 at 29%.
However, thirty-four percent of writers have rates between $0.05/word to $0.20/word.
Your freelance writing rate is partly subjective and is contingent on where you live and the quality of your life.
Someone in Argentina can live on $300/month, while that doesn't cover rent for a one-bedroom where I live.
So, it makes sense that in Argentina, a writer would be happy making $0.03/word, whereas I wouldn't have the time to write content at that rate to make enough money to live on.
How Much Can You Make Freelance Writing in 2023?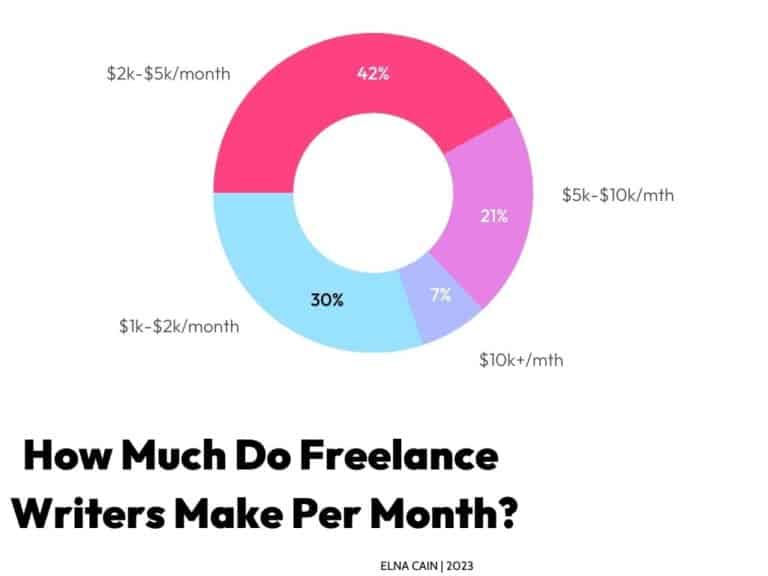 Anyone who decides to freelance write always wants to know how much they can really make.
I asked 530 freelance writers and copywriters and 42% earn up to $5,000/month, while 30% earn up to $2,000/month.
I'm happy to see that 21% make between $5,000 – $10,000/month.
Since 60% of those who took the survey are are only working on their freelance work 10 hours/week, it's cool to see the potential if you want to make that much and more doing this part-time (psst…I'm still freelance writing part-time!).
I hope you liked this survey! Let me know in the comments below what you're doing for freelance writing!
Freelance Writings Stats and Trends 2023 Infographic
Please use this infographic in your own content (easy HTML code is below the graphic)!
And don't forget to share my infographic! 🙂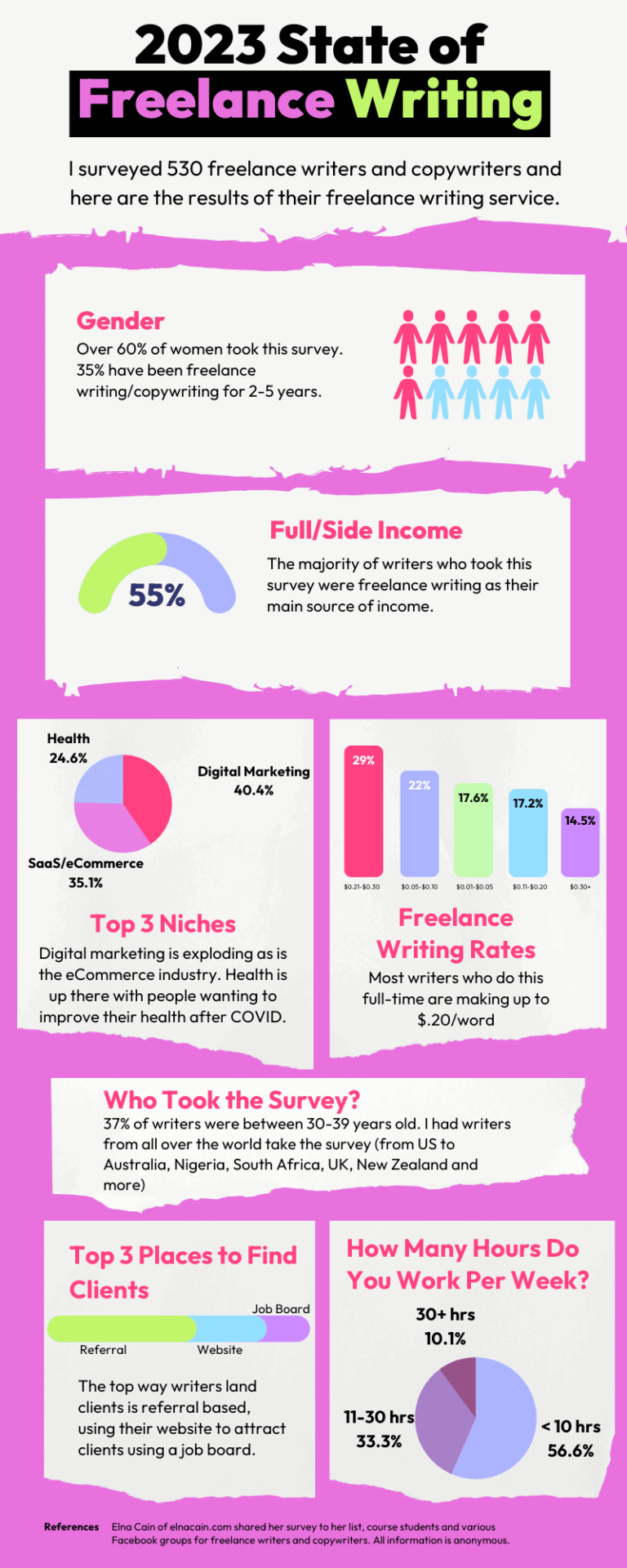 Copy and paste the HTML code below to display this infographic in your blog post:
<a href="https://elnacain.com/blog/freelance-writing-stats-facts/"><img src="https://elnacain.com/wp-content/uploads/2023/02/state-of-freelance-writing-and-copywriting.png" alt="freelance writing stats"></a>