Do you listen to podcasts?
I do and I love how I can multi-task while listening to educational podcasts or some fun gossip kinds!
Audio and video content has gained incredible popularity over recent years, and this means there is a need for writers to help support those podcasters. This is where podcast jobs for freelance writers come in.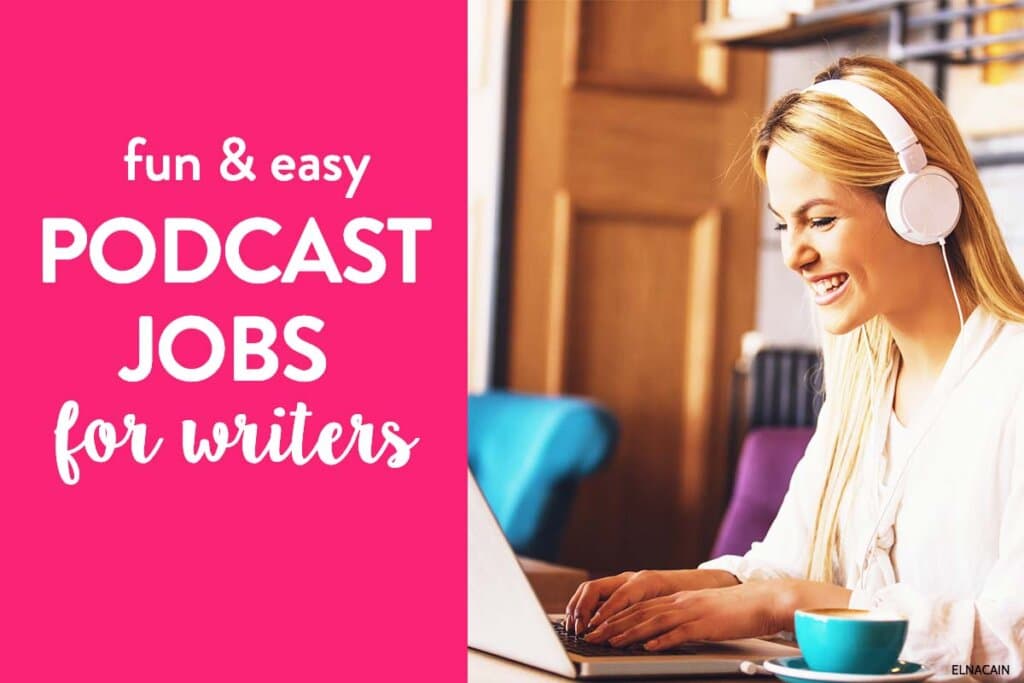 Whether to help provide written assistance for the hearing impaired or for lead generation purposes, there are several different podcast jobs that don't involve talking on a mic or being the "face" of the show.
And there is no shortage of podcast jobs! Here is a job ad on Contena – a job board for writers.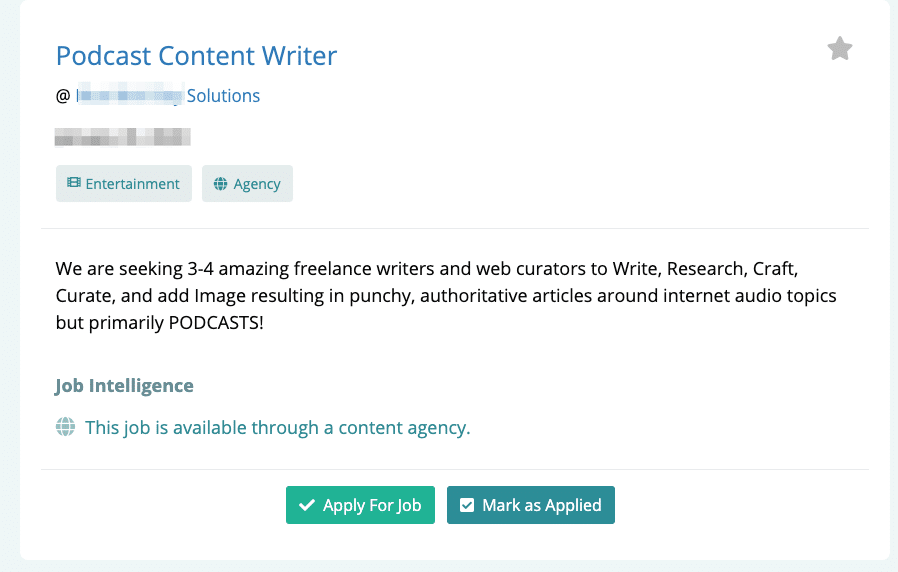 Just like with any other content creator, you don't just write (or record) one thing and call it a day.
There are multiple touch points for the podcaster's audience. While we have discussed each of these as separate roles, there are many that overlap with one another.
Here are ten podcast jobs for writers that you might want to consider.
1. Podcast Research Writer
Before the mic is ever turned on and they hit the record button, there is research that needs to take place for a podcaster.
With very few exceptions, I don't think there are many podcasters that just turn on their mic and start talking. They have a plan, they do research about the people they are interviewing or the topics that they are discussing, and need to present those topics to their audience in a certain format or be sure to include certain facts.
I know from the other end of this process, when a podcastor invites me to an interview on their podcast they always set up interview questions beforehand and lets me know these questions so I can come prepared for what will be discussed.
Here are a few things that podcast research writers would research and write about for those actually doing the podcasts:
Researching guests' backgrounds that are on the podcasts
Listening to others podcasts and pulling out key facts
Distilling down important news and current events for listeners
Reading books, listening to interviews, watching videos
Identifying the need to know points and audience takeaways
This is obviously a good position for those that enjoy doing research and writing.
The research position may or may not also be the script writer.
2. Podcast Script Writing
Many podcasters use scripts when recording their podcasts. This holds true for interview type podcasts as well as individual and group type podcasts.
While many podcasters won't read a script word for word, it is very helpful to ensure that they cover all the points they wanted to cover or to be sure they include specific facts when discussing each topic.
Again, these types of writing jobs takes place before the microphone is ever turned on. The podcast script writer and research writer can often be the same person or two different people, depending on the size of the operation.
The podcast script includes several segments to ensure that there is flow to the podcast. For those podcasts that include a sponsor message, it's very important to include that in the script as sponsors generally want the podcaster to say something specific, which ensures they get paid for their sponsorship.
The script should also include intros, an explanation of what the episode is about, topics with main points and supporting ideas, data, and quotes, seques to other topics, outros, and a call to action.
The script writer needs to have all the main points in the script and that there is a good flow to the script. They also need to be sure they follow the requirements set forth by the sponsors.
3. Audio/Video Transcription/Show Notes
It's very common for podcasts of all kinds to have show notes. If they aren't already putting together show notes for their audience, they should be!
This is a great service to offer as a freelancer and also the easiest type of writing on this list. If you see podcasts that don't already have show notes, you can reach out to the podcaster and offer your services.
Show notes are often written with a bit of flair and in the podcast host's voice and style. They are there to provide highlights of the show and a quick snapshot of what was covered in that episode.
Show notes are also meant for adding resources and links talked about in the show for listeners to explore further. This can include but are not limited to affiliate links, links to a guest's website or resources, links to other related podcasts or articles, books, and other resources.
Writers for show notes need to be sure that their writing is enticing and IS NOT just a word for word transcription of the show. That's what the transcriptionist is for.
4. Transcription
Every audio or video should have some type of transcription. This can be a PDF of the entire show or close captions that overlay a video. Transcription should be done for both audio and video podcasts.
Transcribing a podcast is helpful for several reasons.
First of all, those who have auditory impairments are able to read what is being discussed in the episode.
Secondly, sometimes people prefer to read rather than listen (or aren't able to listen to a podcast but can get away with reading something-like at work).
Lastly, they can also help with SEO purposes if the podcast is trying to rank for certain keywords. The most text that is on a page, the more opportunity to place keywords and key phrases.
5. Social Media Writer
Podcasters need to be on social media just as much as any other type of content creator. Writing for social media is almost like a condensed blog post. You need to be able to capture people's attention quickly.
The goal is to get them from the social media platform to a particular website or video or to encourage them to share the content with their audience.
Social media writers need to be good at capturing the audiences' attention with enticing copy.
Some of the responsibilities of a social media writer include:
Writing social media posts that include calls to action, news, historical info, quotes, infographics, and general FAQs.
They need to be engaging and appropriate to that particular audience.
Put themselves in the position of ghostwriter and make it sounds as if the podcast host was writing the content.
Adhere to the social media's platform requirements for word and character count.
6. Email Broadcasts
Podcasters are business owners, and like all other business owners, they need to keep in contact with their audience and customers.
One of the most effective ways to do that is through email. Once they capture their audiences' email address through lead pages (more on that in a minute) they need to stay in contact with them through email.
I'm sure you see this all the time in your own email inbox from bloggers, podcasters, influencers, and other businesses that you follow.
Here's an example of an email from Kate Doster mentioned her latest podcast episode.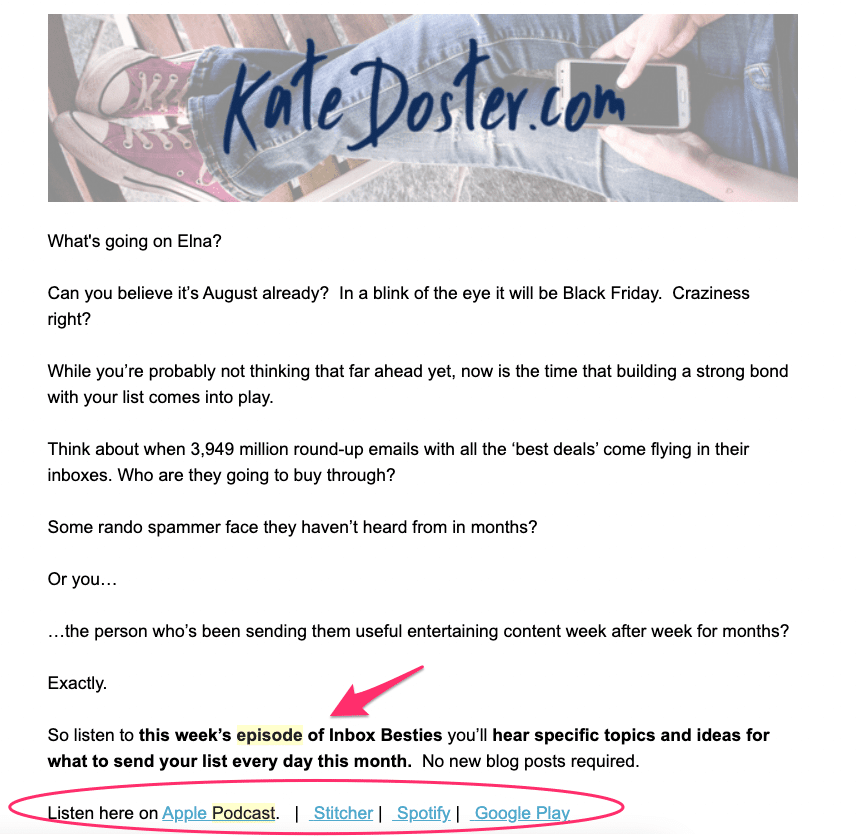 Through email you can share stories, details on newly released or upcoming podcast episodes, deals and special offers, as well as their own products that they might be releasing.
Many entrepreneurs will agree that their email list is their most valuable asset, so this is a very important position.
7. Ad Copywriter
While this might not apply to all podcasters out there, there are a good portion of podcasters that do run ads on one platform or another. They might run Facebook ads to certain episodes, Instagram ads to a new product they are releasing or a webinar they are holding.
No matter the type of ad, they need a copywriter to write effective ad copy that gets their audience to click and move towards a goal, most likely a landing page of some sort.
8. Landing Page Copywriter
The most common goal of a landing page is to capture someone's email address. Once someone has entered their email address, it gets stored away in the podcaster's autoresponder for later use.
The best part about capturing someone's email is that you can market to them over and over again through email marketing (email broadcasts like we mentioned earlier).
You can make a landing page for just about anything. A podcast episode, a webinar, a product, a live event, really anything. Podcasers, like other creators, use landing pages to grow their audience by capturing their email address so they can remarket to them for the foreseeable future.
And once you have this valuable skill, you can market your landing page writing to any type of business in any type of industry! Win-win.
9. Editor
While sometimes the editing role might be combined with the writer or proofreader position, the larger the team, the more likely they are to have a dedicated editor.
The role of an editor (or often referred to as a copy editor) is to be sure all content is:
Free from any and all spelling, grammar, and punctuation errors.
All facts and details are correct.
The text is properly formatted with heading, subheadings, and so forth.
The text maintains a good level of readability and readers can easily skim the text.
The content maintains consistency throughout all publications.
It's free of plagiarism and any copyright infringements.
10. Proofreader
The proofreader is the last line of defence before you hit the publish button.
Depending on the size of the operation, the writer might take on all of these positions.
However, generally the larger the business, the more hands the final product has to pass through. The proofreader is responsible for ensuring:
Any and all text is free from errors that the copy editor may have missed.
The text is correctly structured and laid out in accordance with any given content briefs.
Has a high level of readability and easily skimmable for the audience.
Content and style are consistent.
Podcast jobs for freelance writers are abundant – this is just a short list of writing jobs for you.
Many times podcasters will put out to their audience that they are hiring for writers, so don't be afraid to reach out to podcasts hosts and ask if they are looking for any freelance writers! You never know, right?
Check them out to see if there are any gaps in their content that you might be able to fill-as we mentioned with the transcription services.
Here's to your writing success!
Over to you – are you interested in some podcast writing? Share with me in the comments below and don't forget to share this post! Thanks!