Did you decide today you want to be a freelance writer, or content writer, or even a copywriter?
Maybe you've had the inkling for a while now, but you just don't know what to do, where to go, or how to start.
I got your back new freelancer!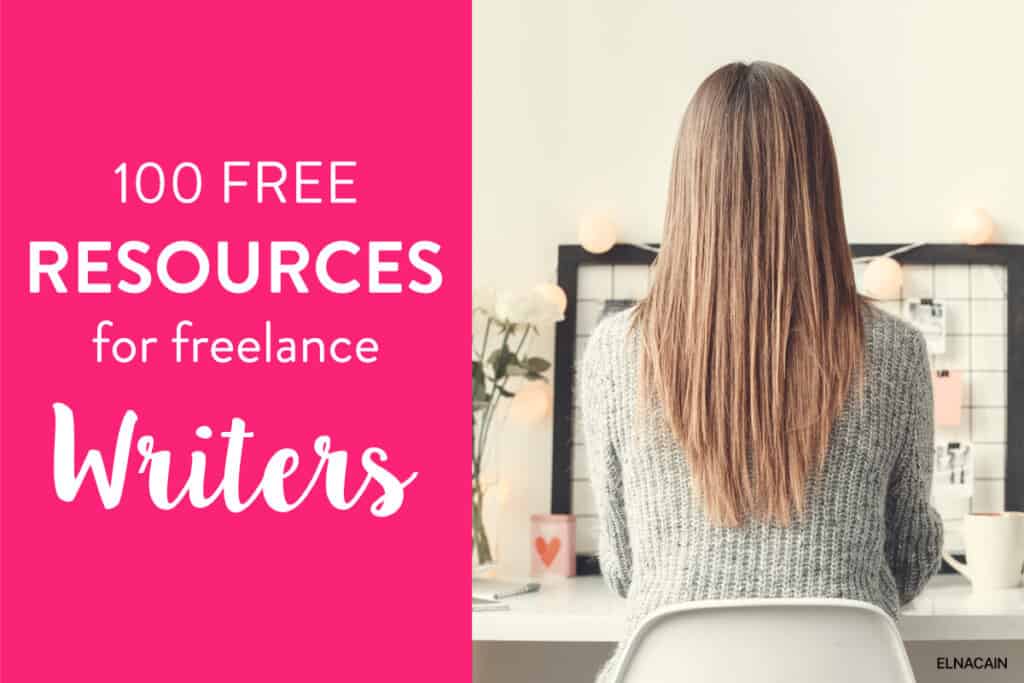 I have rounded up the freelance resources you absolutely need to be successful with online jobs.
These freelance writing resources will help you understand the future landscape as a content writer.
For starters, learning how to write online or marketing yourself can help you gain the extra skills for working online, making you more effective.
If this is a new writing career, you want to know more about writing, right? The business side of content writing is important to help you start and grow your writing business.
Get the best blogs to follow, podcasts to listen to, guides to consume, entrepreneurs to follow, Youtube channels to subscribe to, online tools you need, and let's end it with some free stuff!
20 Blogs to Follow – Resources for Freelance Writers
Take your time with these blogs as they are for the future 🙂
Check them out, bookmark the ones you want to read first, and then go from there! Have fun reading these blogs!
1. FreelancerFAQs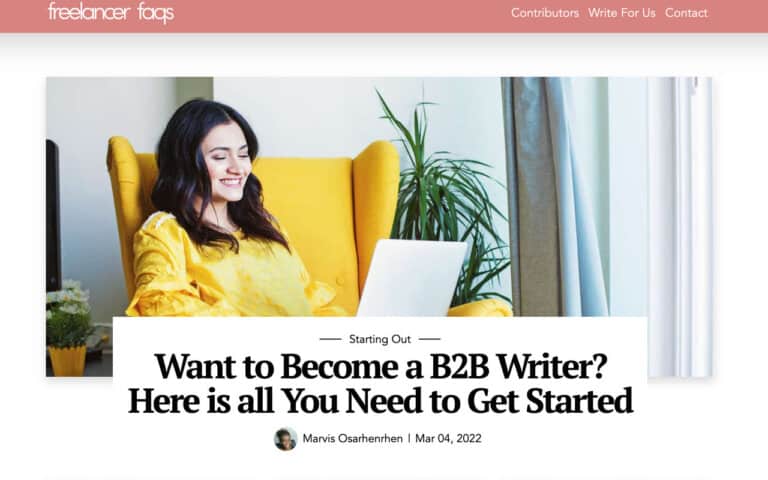 FreelancerFAQs is the other site I own, but it's also a contributor site, so you gain a lot of insight about freelancing advice from different voices.
From learning about taxes to self-publishing to figuring out lesser-known services to offer, FreelancerFAQs has your most pressing questions answered!
2. Pew Research Center
The Pew Research Center is a great news site for finding relevant sources. I like to cite studies for digital marketing, and your freelance writing clients will benefit from this credible source.
So, make sure to bookmark this or create a swipe file for these studies.
3. Content Marketing Institue
This contributor site has some of the best and most up-to-date information about content marketing. Part of your research as a content writer relies on understanding the marketing side of business. Big influencers like Neil Patel and Ann Smarty contribute to this site.
4. The Write Life
The Write Life, started by Alexa Grant, is a website for authors and freelancers. Contributors write on this blog and talk about places to write, writing contests, grammar tips, and more.
I've been following The Write Life since I started as a beginner freelance writer!
5. Be a Freelance Blogger
Be a Freelance Blogger was one of the first writing blogs I visited as a new freelance writer. Sophie has contributors on her blog, but I really enjoy her pitch contests, and her free resources, like her BAFB Facebook group.
Go ahead, peruse this blog, and get some different opinions, advice, and tactics from online freelance writers!
6. Hubspot
Hubspot is a digital marketing blog that can help you understand the online world as a freelance writer. From email to social media to content and copywriting, there is something for the budding freelance writer.
7. Copyhackers
Joanna Wiebe is a copywriter you should know, learn from, and follow.
Her platform, Copyhackers has valuable case studies, a step-by-step process, and overall precious help for new copywriters. She even opened up her blog to guest contributors. Go ahead and pitch yourself and build your portfolio right now!
8. Social Media Examiner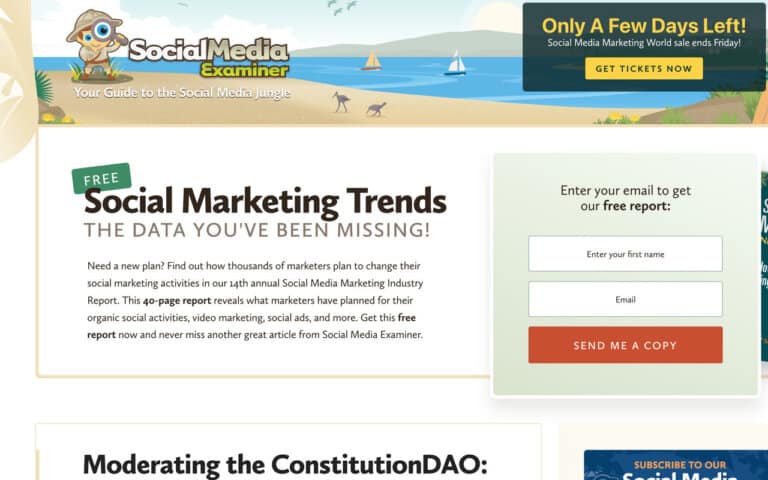 Social Media Examiner was one of the FIRST sites I explored to help market my freelance writing business. I had no idea about online marketing, digital marketing, or social media marketing.
I learned the easy steps to start a profile on Instagram, what Reels were, and much more. Even if your online writing niche isn't digital marketing, you should check out this site to help you navigate social media, email, and more.
9. The Persuasion Revolution
Bushra is the woman behind The Persuasion Revolution. What I like about her blog is the psychology of selling and intention and marketing. In all honesty, I haven't read her blog lately, but I know that it was invaluable to me as a new online writer when I did years ago.
10. Express Writers
Julia McCoy is a growth-focussed content creator and marketer, and at 19, she founded Express Writers. Her writing agency, over the years, has provided content for big brands, resulting in a successful seven-figure business. Her blog has great information about SEO, online writing, and marketing help.
11. OkDork
OkDork is from Noah Kagan, founder of AppSumo and Sumo. As a copywriter or content writer, you can gain insight into how he built his business and learn marketing tactics to help you grow!
12. Freelance to Fortune
The lovely Jessica Pereira is a Writeto1k course student, and her blog Freelance to Fortune is a journey blog. She is chronicling her journey to get to 10k/month with her paid writing skills.
She's in the B2B space and loves working with SaaS businesses, and I love the content she creates, especially ones that go through her journey with challenges.
13. The Garage by Go Daddy
I found out about the Go Daddy blog from doing ghostwriting for an influencer.
I had no idea that The Garage catered to freelancers and small business owners. I found their blog highly informative to help online content writers.
14. Contena Blog
The Contena blog is a must-have for online freelance writing resources. From understanding taxes to setting your rates to the tech behind your business and more, this blog has everything to help you be successful online.
I also like Contena since it's a premium job board filled with high-paying freelance writing jobs.
15. Marketing Insider Group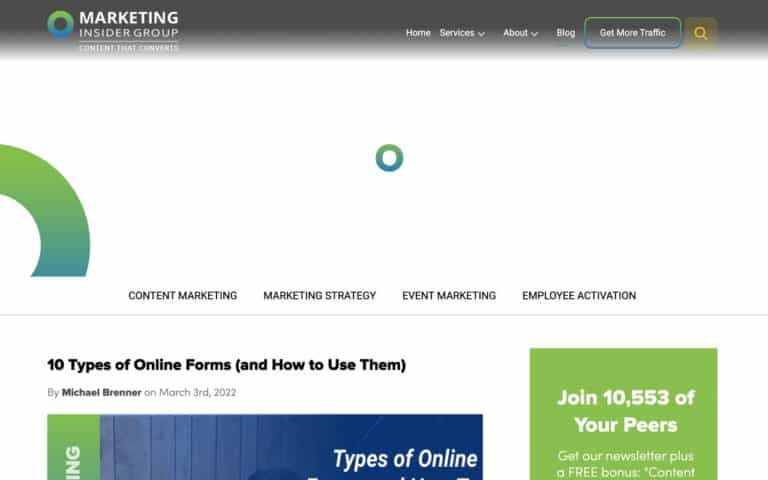 Michael Brenner is a world-renowned thought leader in the marketing industry.
I didn't know about this blog when I started with content writing, but I'm glad I found it now! To understand content marketing and the digital world, check out these resources for the future.
16. The Story of Telling
For some serious life-changing stuff, the Story of Telling by Bernadette Jiwa is for you.
This is a top resource for the future – even Disney, Adidas, Microsoft, Nike, and more rely on for their business.
17. Become a Writer Today
Bryon Collins is a fellow writer friend, and I enjoy his blog for reviews and writing tips.
Get to know his blog and sign up for his list for help as a new content writer.
18. The Content Strategist (by Contently)
Contently is a marketing platform that also has a portfolio platform for writers. This blog provides stellar writing from journalists and freelancers that you should check out!
19. Elna Cain
Of course, this wouldn't be the resources for becoming a freelance writer post if I didn't mention this little ol' blog of mine!
I started my freelance writing blog, Elna Cain, in 2014, right when I began my online content writing journey.
My content centers around helping new writers with writing, marketing, and jobs!
20. Sumo Blog
Sumo is a social media sharing plugin, but they have an awesome blog! Whether you're a blogger, freelancer, or have an eCommerce business, you can learn more about social media marketing to help market your business and land some amazing online jobs.
20 Podcasts to Listen – Resources for Creative Freelancers
What's great about podcasts is listening to them while folding laundry or preparing dinner.
As you get ready to be a freelance writer, check out these online freelance resources!
21. Copy Chatter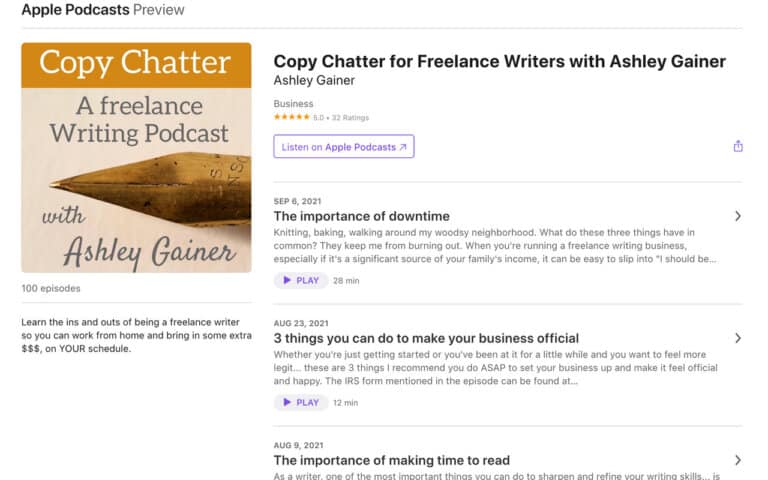 Ashley Gainer has an excellent podcast for freelance writers! She's also a Writeto1k course student and is kicking it as a successful writer!
What I like about her podcast are all the personal stories she shares about her journey to becoming a writer.
22. High Income Business Writing Podcast
Ed Gandia is a successful online writer, and his podcast focusses on the business side of writing. If you need help earning more and finding the right online jobs, then check out this highly resourceful podcast.
23. Online Marketing Made Easy
Amy Porterfield is a highly successful entrepreneur, and her podcast is filled with awesome interviews of top business owners (psst…a great way to find online writing clients!) as well as smart marketing tactics and advice.
24. Grammar Girl
Mignon Fogarty is the most well-known grammar teacher online.
If you aren't confident in your writing skills, then make sure you check out the Grammar Girl podcast. Your confidence will soar from simple grammar tips to pop news and fun history lessons.
25. Double Your Freelancing
Brennan Dunn is a well-respected freelancer teacher, and successful entrepreneur. His blog and podcast are filled with wonderful advice to help the budding freelancer. While this information isn't specific to writers, his episodes will still help you navigate the freelance world.
26. Problogger Podcast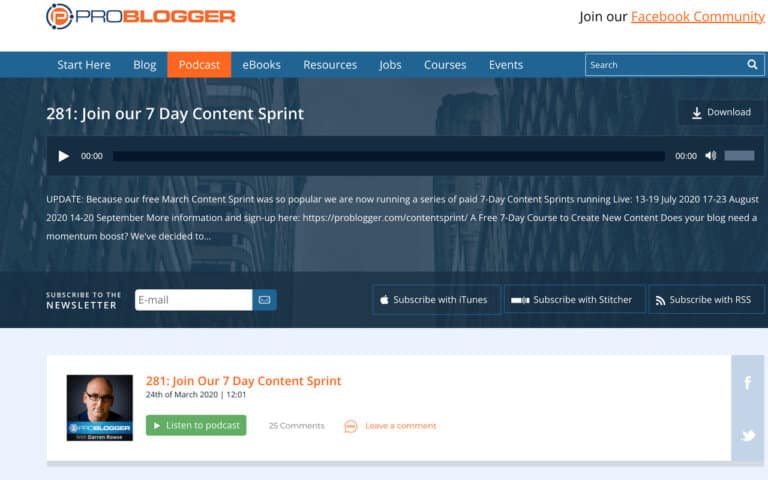 Problogger is a resource to help you find an online job, writing gigs, and blogging help. Darren Rowse is a long-time blogger, and on his blog and podcast, he shares his advice to help bloggers succeed.
As an online writer, you can listen to his advice to help you improve your blog writing, SEO writing, and long-form writing!
27. Inbox Besties
Kate Doster is an amazing copywriter, and her podcast is all about email marketing and writing.
She gives highly practical and amazing advice for email writing, marketing, blogging, and more.
28. The Fizzle Show
Made for entrepreneurs and other creatives. The Fizzle Show shares excellent ideas to help you get paid and grow your audience. Instructors include Pat Flynn, John Lee Dumas, Brennan Dunn, and more.
29. The Side Hustle Show
Nick Loper has a fantastic blog to help grow your side hustle. His podcast is an extension of then but with experts doing it for real. From learning how to monetize Tik Tok to knowing different side hustles that make money, don't miss checking out this podcast.
30. Freelance to Founder
Touted as coaching calls for freelancers, this podcast from Preston Lee shares advice to help people start a freelance business.
31. The Six Figure Freelancer
Juan Campos has a podcast to help new freelancers get paid. The Six-figure podcast is a helpful resource, from finding high-paying freelance clients to learning from successful freelancers.
32. Being Freelance
Steve Holland is behind Being Freelance. This podcast is for creative freelancers but can help you learn about building your business from hundreds of freelancers.
33. The Goal Digger
Jenna Kutcher is a very profitable and highly-respected influencer. Her Goal Digger podcast is for entrepreneurs, but as a freelancer, you can learn and strive to be one.
Jenna's podcast is an excellent freelance resource to devour, from scaling your business to having the right mindset for growth.
34. Beyond the To-Do List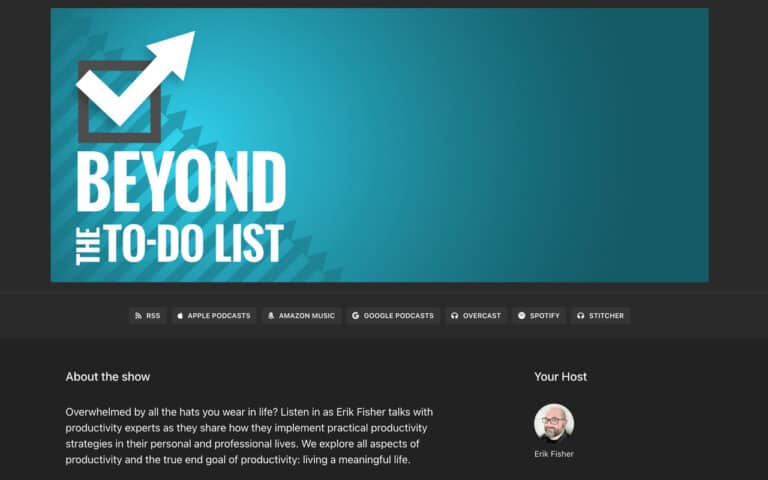 As freelance writers, we wear many hats. Erik Fisher talks to business owners about how they are productive and can easily crush their goals.
35. 10 Minute Entrepreneur
Sean Castrina hosts the 10 Minute Entrepreneur podcast. His podcasts speak to small business owners and entrepreneurs.
His episodes will help you negotiate better, how you can have better relationships with clients, and more.
36. Side Hustle Pro
Nicaila Okome hosts the Side Hustle Pro, which features black women who have turned a successful side hustle into a profitable business.
37. The Content Transformation Podcast
Julia McCoy is a content marketer and a friend of mine! We've connected online, and whenever I read a blog post of hers or the book of hers, I'm immediately inspired!
I'm excited that Julia launched her Content Transformation Podcast recently!
Make sure to check it out! She helps entrepreneurs and freelancers with growing their businesses!
38. Screw the 9 to 5 Podcast
Jill and Josh are forces to be reckoned with! They help people quit their job and start a business. Their Screw the 9 to 5 podcast shares success stories that will inspire you to quit your full-time job!
My favorite episode was when Jill interviewed Nick Wolny.
39. Transform With Kirsty Carden
Kirsty's podcast helps people transform their lives and businesses to be the best they can be. With goal setting, intentional thinking, and self-development, make sure to snack on Kirsty's podcast as much as possible!
40. The Freelance Friday Podcast
Latasha James hosts the Freelance Friday podcast to help freelancers make a living and make money doing what they love.
20 Guides/Articles to Read
To get to the best resources for freelance writers, you need to sit and read all the things.
Education is what will help you be successful. You need to set aside time to learn everything to help you be a freelance writer, copywriter, or entrepreneur.
So to help you get started, check out these articles and guides.
41. 20 Ways to Find Freelance Writing Jobs
I couldn't start this section without featuring one of my articles!
My post, 20 Ways to Find Freelance Writing Jobs for Beginners, gives you actionable tips you can start using today to land a writing gig.
But, if you enjoy HEARING what I say, check out my video with 10 bonus tips too!
42. How to Write Better Headlines
Elise was a past coaching client of mine, and I thoroughly enjoy her writing.
Check out her post, How to Write Better Headlines for Your Copywriting Projects, to level up your copywriting skills.
This is one of the best types of freelance writing job resources you can have! When you improve your writing skills, you can gain some amazing jobs!
43. How to Know If You're Writing Is for Publications
Nick Wolny is a prolific writer on Medium, Entrepreneur, Fast Company, and Business Insider.
You can learn a lot about being published on big sites from him. His post, How to Know Your Writing Is Good for Big Publishers, will help you hone your skills for the big sites.
44. Top 11 Challenges of Content Outsourcing
Semrush is an SEO tool, but they also have a wonderful blog about SEO, online marketing, and blog writing tips.
I enjoyed this post on, Top 11 Challenges of Content Outsourcing, and I even shared it with my course students.
It shows what clients lack from their writers and can help you beat the competition (although I don't feel there is competition, you get the gist!).
45. What is the Buyer's Journey? How to Create Content for Every Stage
Ahrefs is an SEO tool I use, and I love their blog! They also talk about SEO, as does Semrush, and I like both their blogs.
This post on What is the Buyer's Journey? How to Create Content for Every Stage, is a good introduction to conversion writing or copywriting to sell.
It will also help you what and how to write for a specific part of the buyer's journey for clients.
46. Twitter for Bloggers: 15 Twitter Tips to Improve Your Blogging Success
Moss Clement is a fabulous writer, and his post on Twitter for Bloggers: 15 Twitter Tips to Improve Your Blogging Success is helpful to bloggers and freelance writers.
If you have a writer website and a blog, Moss's advice will help you succeed on Twitter!
47. How to Write a Blog Post Outline: A Step-By-Step Guide
The Zapier blog has some wonderful writers (including me!), and one post that got my attention was from Rochi Zalani.
Her guide on how to create a blog outline is genius!
48. 25 Simple Social Media Content Ideas to Post (+ Increase Engagement)
Over on my other blog, Twins Mommy, I created a blog post on 25 social media content ideas to post.
I don't know about you, but being on social media can be a goldmine for writing job opportunities!
So hopefully, my post can help you get some social content to work for you!
49. How Can Creators Build a Copywriting Swipe File?
Writeto1k student Rebecca Noori wrote a blog post on Freelancer FAQs to help you build a copywriting swipe file!
If you are a copywriter or freelance writer, check out Rebecca's post!
50. How to Improve Client Retention
Contena – a premium job board and content platform – has a wonderful blog filled with helpful and actionable advice for freelance writers.
Bookmark Leila Mooney's post on how to improve client retention. It's a doozy!
51. The Impact of COVID-19 on Women in the Workplace
As you transition from your 9-5 job to your side hustle, the Monster blog is a deep resource to help you out.
I particularly enjoy their research-based content on the workforce, and this post on how COVID-19 on women in the workplace is a must-read.
52. What You Need to Know About Writing Product Reviews
Laura Spencer has been a long-time freelancer.
I started reading her blog, Writing Thoughts, when I FIRST STARTED in 2014! She's been around, and her advice is solid and practical!
Her post on what you need to know about writing product reviews is a good one!
53. You're Daily Schedule for Content Writers So You Feel Like You're Doing Something
The Freelancer's Hub is a Medium publication, and I wrote a post for them called about your daily schedule for content writers.
54. 10 Publications That Pay $1,000 or More Per Article
This Medium article popped on my home feed, and I immediately clicked on it. Usually, these "clickbaity" titles are just that.
But this was not. The author is a well-known freelancer that writes for top publications like Ask Men, Forbes, etc.
Make sure to bookmark this post.
55. How to Become a Successful Content Creator
Here's another post on Ahref 's blog about becoming a successful content creator is a great starting guide for new freelance writers.
It dives down into the technical aspect of content and how to develop your strategy too!
56. Become an SEO Freelancer in 7 Steps
Go Daddy's Garage has a good framework on how to be an SEO freelancer.
For more help, check out my masterclass on the Fast Track to SEO Writing.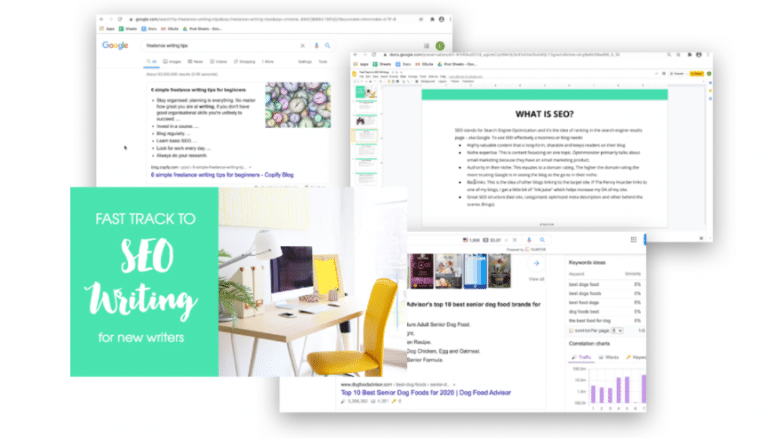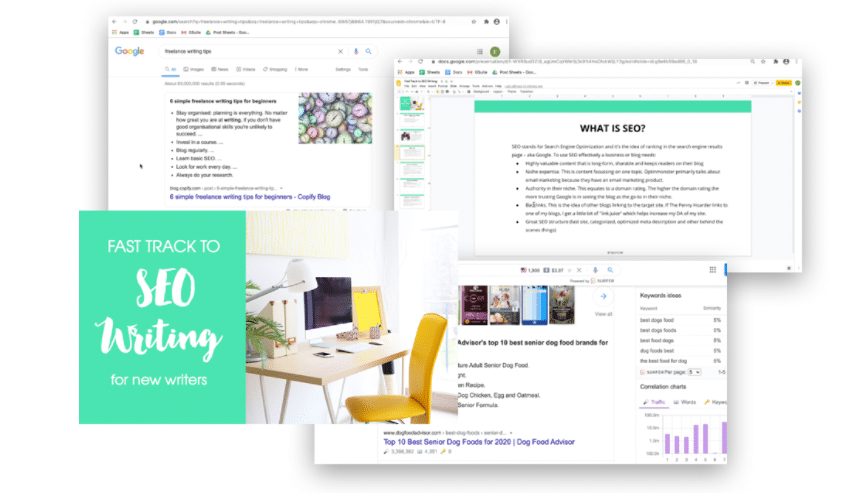 57. The Freelance Blogger's Guide to Doubling Your Productivity
One of my first clients as a freelance writer was Blogging Wizard. I've worked for Adam for many years, and he has helped me jump-start my career in more ways than one!
Here's a post I wrote about doubling your productivity!
58. How to Quickly Customize Headers in WordPress
If you want to optimize your writer website, check out this post on OptinMonster's blog.
59. What are the Best Facebook Networking Tips to Gain Clients?
This post on FreelancerFAQ's looks at how to network on Facebook to gain clients.
I have gained high-paying freelance writing jobs on Facebook, so this post is worth reading!
60. How to Create Your Writing Portfolio from Scratch
And to round out this resource section is my post on how to create a writing portfolio when you're a new freelance writer.
One of the most asked questions I get is how to build a portfolio, so make sure to bookmark that post!
20 Entrepreneurs to Follow
To help you out, I thought I would add resources on entrepreneurs to follow.
Most of these entrepreneurs are people I follow too!
61. Elna Cain
Of course, you can follow me!
Instagram and Youtube are my two favorite places to hang out!
62. Marie Haynes
Go right now and sign up to her newsletter Search News You Can Use. Marie shares SEO tips on her Podcast/newsletter.
She also loves to play Fortnite!
63. Amy Porterfield
Amy Porterfield is a speaker, marketing expert, and social media content creator. She also has a podcast filled with wonderful information to help you with your online business.
64. Joanna Wiebe
This wouldn't be a resource for freelance writers unless I mention the wonderful – also Canadian like me – Joanna Wiebe.
Joanna is a popular copywriter and shares her expert advice on her blog, Copyhackers.
65. Neil Patel
Neil Patel is one of the most popular online marketers I know. I've been following him for years and enjoy his easy-to-read content for freelancers and small business owners.
66. Seth Godin
Seth Godin is an author, speaker, and businessman, but I mostly know him as an author (The Purple Cow).
67. Michelle Schroeder-Gardner
Michelle's blog was one of the first I read when I became a blogger/freelancer. She shares money advice, and I resonated with the way she wrote.
Check out her family on Instagram.
68. Julia McCoy
I recently learned about Julia and have been an avid follower ever since!
She also became a mom and started a podcast!
69. Cathrin Manning
Cathrin isn't a writer or freelancer, she's a content creator on Youtube, but I love her Youtube advice and how she shares her life.
If you want to be a full-time online creator, follow Cathrin.
70. Nick Wolny
I was introduced to Nick by a Writeto1k alumni student, Wendy Coop. She follows Nick for his writing advice, and I was interested in how he could get onto prominent publications like Forbes and Business Insider.
Make sure to check out his resources and follow him on Instagram!
71.
Kimanzi Constable
Wendy also told me about Kimanzi and his great information about publications, jobs, and helpful advice to writers. He also has a Medium account where he shares great resources to help new freelance writers!
72. Adam Connell
Of course, I have to mention Adam. He was one of my first clients and has helped me along my blogging journey. He always answers my questions and is just a great person to know!
73. Ann Smarty
I've seen Ann around for many years, and she's a staple in the content marketing space. Ann is a brand manager and helps bloggers create successful online businesses.
74. Adam Enfroy
If you don't think you can make money blogging, then you should definitely look at Adam Enfroy. He makes six figures a MONTH from his blog. Learn from him so you can diversify you income stream as a freelance writer!
75. Neville Medhora
I learned about Neville in my first years as a freelance writer. He wrote for the Sumo email newsletter, and his blog had tips for writing and copywriting. He's the real thing and has been in this business for many years, so he's a trusted source!
76. Brandon Gaille
I recently learned about Brandon from his podcast Blogging Millionaire.
His story is amazing and UNREAL. He's a great person to learn perseverance, dedication, and marketing information.
Listen to his unbelievable story.
77. Brian Clark
Brian Clark is the founder of Copyblogger and other businesses like Unemployable.
Copyblogger was one of the first sites I read as a beginner freelance writer, and I enjoyed learning tips from Brian.
78. Pat Flynn
I learned about Pat Flynn when I started as a freelance writer. His site, Smart Passive Income, shared his story of how he became successful online. His business has grown to include a podcast, books, other sites, and products.
79. Marie Forleo
Marie is an entrepreneur, author, and speaker.
She's Oprah-level popular and has even been on Oprah's podcast!
80. Tim Ferriss
I'm sure you've heard of Tim's popular book, The Four Hour Work Week. I haven't read it, but I hear it's a great book! Tim is an all around-entrepreneur, investor, and speaker.
Tim also has a popular podcast!
10 Youtube Channels to Subscribe To
I only have a few helpful channels you can check out! I try not to go on Youtube too much (just to do my videos).
Enjoy these content creators!
81. Elna Writes
Feel free to check out my freelance writing Youtube channel!
I have guides for pitching, finding your niche, improving your writing, and so much more!
82. Catherin Manning
For many years Cathrin was creating videos about Youtube marketing and video marketing.
Her channel has evolved into a lifestyle channel, but she's a great person to learn about Youtube and create binge-worthy videos.
Cathrin Manning Youtube Channel
83. Zulie Rane
Zulie is a prominent Medium writer. Her Youtube channel has some helpful advice to help new Medium writers.
84. Alex Cattoni
Alex is a popular copywriter with a huge Youtube channel! Learn some copywriting tips from her!
85. Sunny Lenarduzzi
I found Sunny's channel for Youtube advice, but her channel has also evolved. She now helps content creators make more money and offers tips for boosting productivity.
Sunny Lenarduzzi Youtube Channel
86. Elna Blogs
I have another Youtube channel! It's for mom bloggers, but I know many freelance writers also do blogging! I share tips on blogging, Pinterest, and making money!
87. Design with Canva
If you are new to graphic design, and are looking for some cool free resources for freelance graphic designers then check out this channel.
Canva is a free editing tool, and you can do soooo much with Canva to help your business and your clients too!
Design with Canva Youtube Channel
88. Aurelius Tjin
This guy RULES! His Youtube channel shows you many free methods to make mockups and other cool design features using Canva.
89. Jessica Stansberry
I've followed Jessica for many years and love her bubbly Southern personality! She's an entrepreneur and Youtuber, and she shares business advice to help new entrepreneurs!
Jessica Stansberry Youtube Channel
90. Gillian Perkins
I've enjoyed Gillian's practical and honest advice for new creators. She's grown a large Youtube audience, and her Youtube tips are golden! She also has a blog and podcast!
Gillian Perkins Youtube Channel
Online Tools for Freelance Writers, Content Writers, and Copywriters
If you are new to freelance writing, check out my video on the top 24 tools to succeed.
10 Free Courses/ Printables to Check Out
Let's not forget some amazing free resources for you!
91. Freelance Writing Business Plan
Don't start your freelance writing business without a solid plan. Steal my free business plan for you!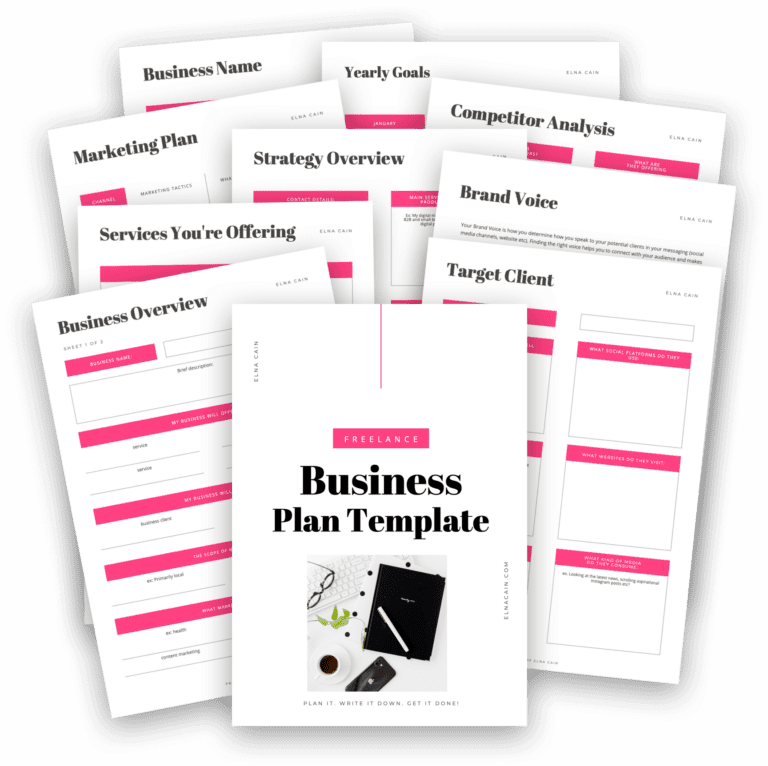 92. A Freelancer's Guide to Setting Rates
Freelancer Katie has a wonderful FREE resource to help you set your rates!
93. Article Writing Tool Kit
Nick Wolny has a great free tool kit on article writing. I picked it up and found some great writing tips!
94. Content Marketing Fundamentals
Get a FREE course from Semrush on content marketing.
95. How to Write an Ebook (and Other Free Resources)
Jennifer Mattern has many free resources for freelance writers!
96. Instagram Marketing Training Course
Hubspot offers a free Instagram course. Use it to help you learn about Instagram and how to market your new freelance writing business on that platform.
97. 100 Ways to Make Your First $1k
Over on my other blog, Twins Mommy, I share proven strategies to make your first $1k blogging!
98. Ultimate Blog Planner
On Twins Mommy, I share my Ultimate Blog Planner for brand new bloggers!
99. Promote Your Business With Content
Google offers many free online classes. Make sure to check out the others ones, but this one uses content to promote your business.
100. Yes! You Can Write
Bryan Collins of Become a Writer today has a wonderful free eBook to help you gain confidence in being a writer!
100 Freelance Resources!
There ya go!
Bookmark this post and over time, visit each link and consume the information! This will help you navigate your freelance writing career!
Let me know in the comments if you enjoyed this resource!