So you want to be a freelance writer.
That's great news to hear! According to Spendmenot, freelancers can account for 80% of the workforce by 2030! That's amazing!
One thing's for sure, as a new freelance writer that wants to get paid to write, you need more than just being a writer to succeed. From tools, sites, services, and more, using these essential resources will help you navigate freelance writing and online writing better.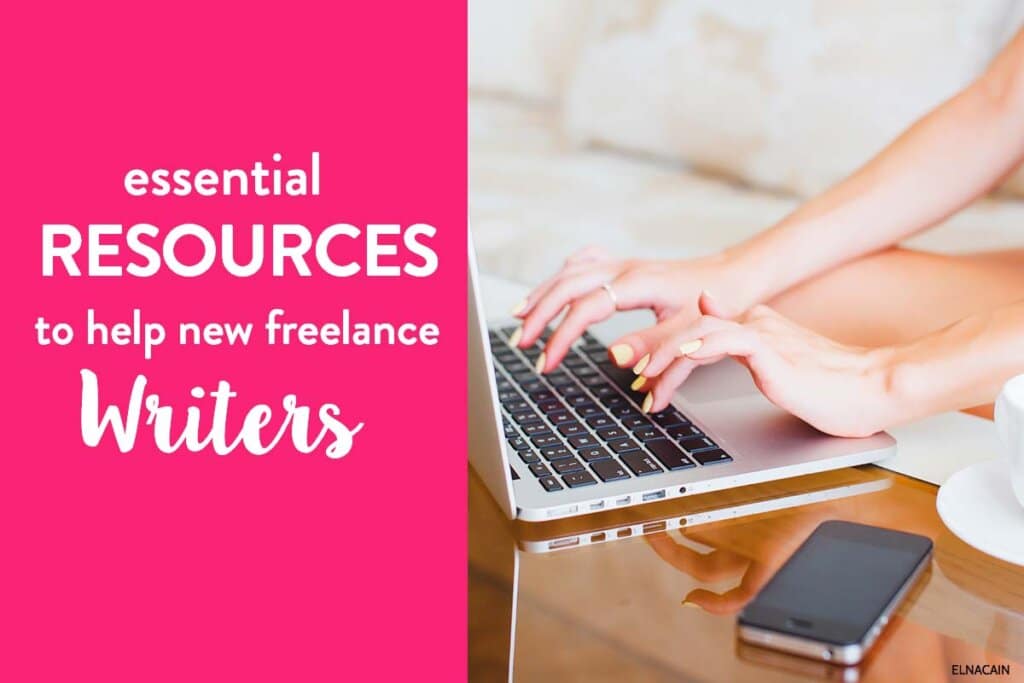 I wish I knew about all of these resources for writers when I first started way back in 2014. I was soo brand new and soo excited that I ended up making a ton of mistakes along the way. And, I don't want that happening to you.
There is no need to fail before you succeed as a freelance writer. With these fifteen essential resources, you'll be on your way to landing good-paying freelance writing jobs in no time.
Top Essential Resources
As a new freelance writer, there is a time and a place to invest in your business.
I'm sure you've heard the saying, to make money you need to spend money.
While this is true, you don't have to spend money on every resource or tool out there – just the important ones. Many of these essential resources for freelance writers on this list are free to try and use, but I also added paid tools as well since these are ones I use and recommend to my students and ones I personally use.
1. A Website
A website is an essential resource and it makes you look professional quickly. I found that my students who start a website and use it to market their writing business gain more clients and make more money writing.
Here are some website examples from some of my students:
I like to think of your writer website as a storefront. This is what "strangers" will see when they come to your "store."
What does your store sell? Why is it better than the store down the street?
Your writer website needs to show prospects who you are, what you do, and why you are the right fit for them! It's a tool to help sell your services.
If you need help starting a writer website make sure you check out Writer Website in a Weekend.
2. A Money Management Book
As a beginner freelance writer, you need to know if you really want to succeed at this you need to treat it as a business.
And with a business, there are a host of things to figure out like saving for retirement, taxes, and more.
That's why I was ecstatic to learn that Alexis Grant for the Write Life and her dad (who is an accountant) created an ebook called The Money Guide for Freelance Writers.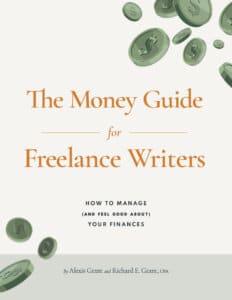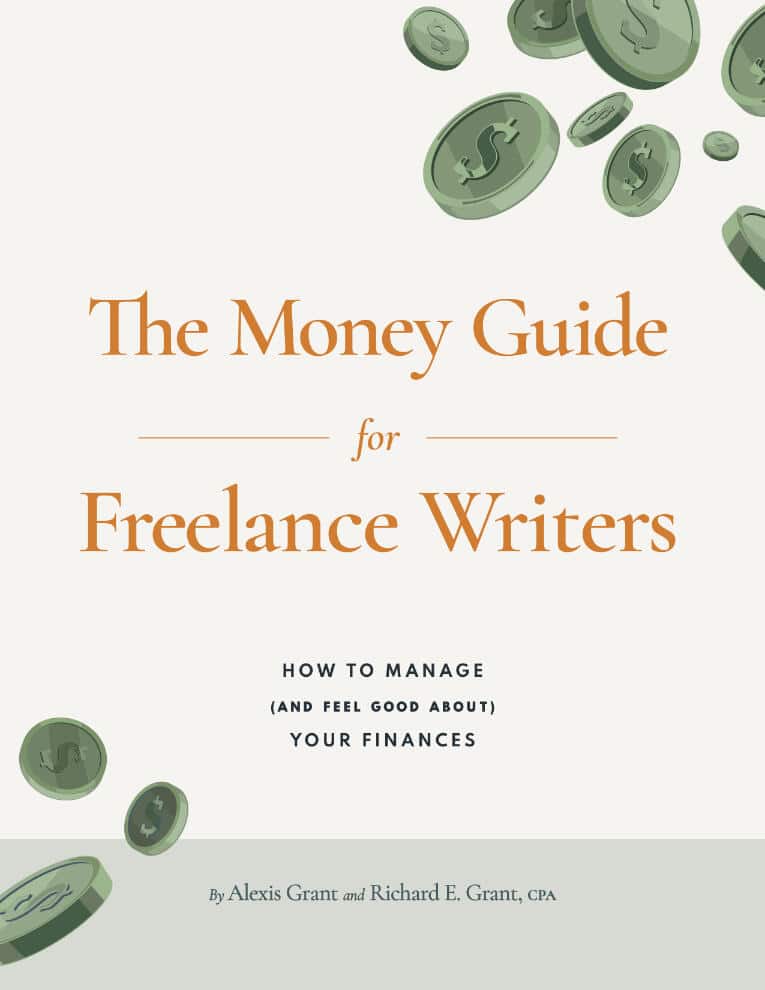 This is a MUST for any new freelance writer and is an essential resource. To learn more about this resource, check out my post on managing your money.
3. Job Boards
Have you visited job boards for freelance writers? I'm not talking about Indeed, FlexJobs, or Monster job boards.
Those are for anyone seeking a job. What I mean are specific job boards for content writers. These share blogging jobs, copywriting jobs, and other freelance writing jobs.
There are free and paid job boards available for writers and I recommend using both types! The next five in the list are job boards you can start using today!
4. Writers Work
Writers Work is a budget-friendly job board and an essential resource for freelance writers that gives you access to their curated job board, some educational lessons, and a platform to work on your client work and writing goals.
I like this job board because it's intuitive, easy to use and they have exclusive jobs from Writers Work.
To learn more about it, check out my review video on Youtube.
5. Problogger
Problogger is a free job board and a platform for bloggers.
They not only have a job board section but they also have a blog section and a podcast section to help new bloggers grow their blogs.
What I like about their job section is that they have the most up-to-date jobs out there for writers. Every day there are new jobs so it's in your best interest to check Problogger twice a day – in the morning and before going to bed.
6. Glassdoor
Glassdoor is a job board that not many freelance writers know about, but they should!
It's a free job board but the one thing to know is that it's localized to your location. Of course, you can put any place to search for jobs, but for me, when I searched on Glassdoor I received writing jobs from Toronto.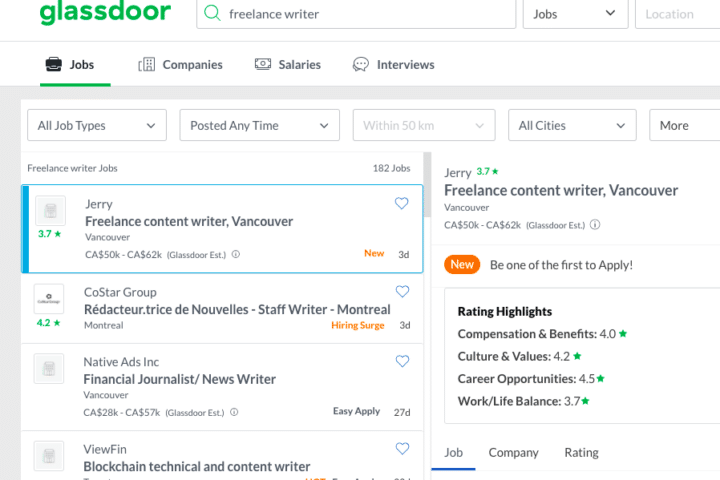 7. Blogging Pro
Blogging Pro is another popular and free job board for blog writers and content writers. When I first started out, I checked Problogger and BloggingPro the most out of all the free job boards out there.
What I like about Blogging Pro is that it's concentrated on blogging gigs than anything else. Since I enjoy blog writing and love picking up blogging jobs, I like using Blogging Pro for this reason.
8. All Freelance Writing
All Freelance Writing is a wonderful site by Jenn Mattern, a seasoned freelance writer. I used her site when I first started and love her curated job board. It's a small job board but I know she sources all the gigs and vets them for us.
9. Contena
Contena is a premium and exclusive job board meant for freelance writers that have exhausted all other free resources and can't succeed.
When I wasn't gaining gigs via cold emailing, I started using Contena and found a goldmine of leads. Not only do they have a job section, but they have a leads section and they offer coaching and courses to help you succeed.
Here are the results of just one of the thousands of niches and jobs on the platform.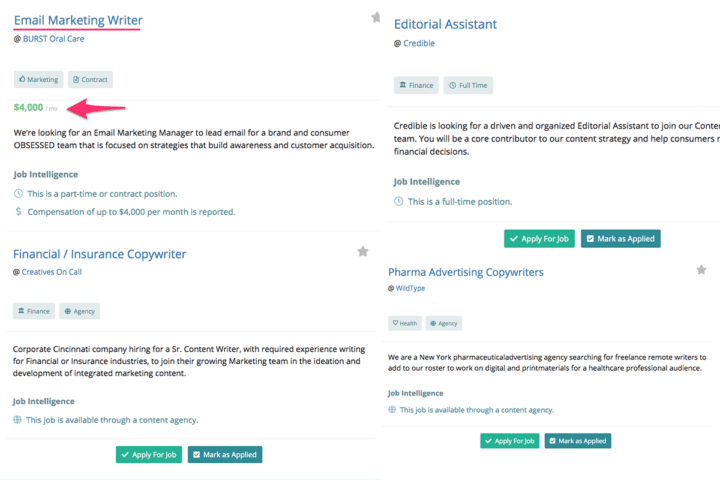 10. More than One Portfolio
A portfolio showcases your best writing samples to help you gain online jobs. But, did you know that you can have more than one portfolio in your arsenal of essential resources?
I learned this early on as a freelance writer when I saw other writers I looked up to and found alternate portfolios of theirs!
I was intrigued and investigated different portfolio sites. Now, I make sure to let anyone that wants to be a successful freelance writer know they can use more than one portfolio.
So, where are the best portfolio sites out there? Make sure to check out my video on this and subscribe to my channel to get the secrets and tips to succeed as an online writer!
11. A Good Editor
No, you don't need to hire an editor or proofreader when you are first starting out!
What I mean is you should invest in a good editing tool and editing process.
I personally use Grammarly and recommend it to my students as it's a robust editing tool that integrates nicely with Google docs, WordPress, and social media.
As for an editing process, I share that in my course for writers, but what I can share here is to make sure to let your writing breathe before you edit it and try not to self edit as you are typing.
12. A Project Management System
Do you have a system to keep your clients in order and where and when you pitched? I've used many project management systems over the years but what I like and keep coming back to is my freelance writing planner.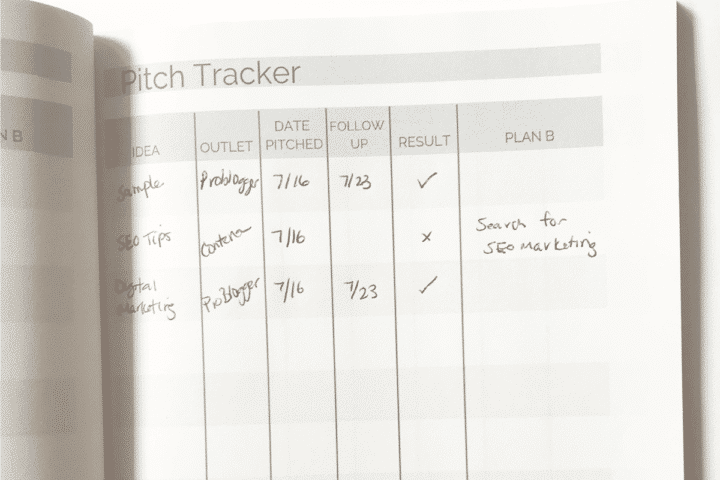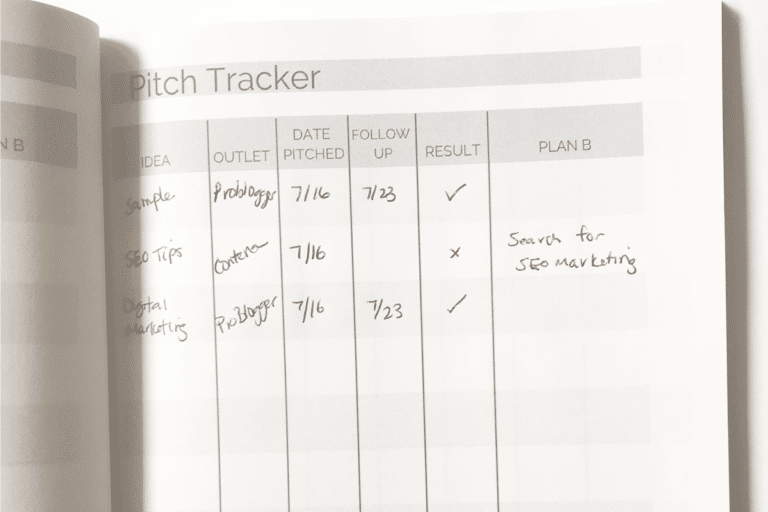 13. Knowing These Freelance Writing Terms
The top essential resource you probably need to know is the vocabulary freelance writers use. These are freelance writing terms and if you don't know them, they may confuse you.
For the longest time, I didn't know what a kill fee was or what even a byline was. Make sure to check out my post on the ABC's of freelance writing!
I also share some in my Instagram post:
14. Who Pays Writers
Who Pays Writers is a freelance database of the rates for publications. If you want to write for Teen Vogue or Cosmo you can check Who Pays Writers and see if other writers mentioned them and for what rates.
15. Another Freelance Writing Friend
Look –
You can't do this alone! You have to network and "meet" other freelance writers. When I first started I began connecting with Alicia Rades. She advised me on many things about freelance writing and over the years we have collaborated on projects.
I became a better writer and freelance writer simply from knowing her and networking with her.
It's in your best interest to get to know other writers and even other freelancers online so that you can pass on gigs, learn from them and collaborate with them in the future!
16. Keyword Surfer
If you are interested in SEO Writing, then make sure you grab this free Chrome Extension called Keyword Surfer.
What this Chrome extension does is helps you see the search results and ranking potential of certain phrases that you plug into Google.
This can help you source blog topics for your freelance writing clients that are optizmed for Google ranking.
For more SEO help, check out my Fast Track to SEO Writing course.
17. Contact Out
A struggle many new freelance writers have is finding the contact email for editors, content managers, or CEO of businesses when cold pitching.
How do you find emails for these important people so you can tell them you are the writer for them? Easy! Use Contact Out.
This is another Chrome extension that works only on LinkedIn. You can find anyone's email on LinkedIn and this is a HUGE time saver for you!
You're welcome!
18. Google Trends
An easy way to wow your clients is to include trending topics in your blog post. You can use an essential resource like Google Trends to check whether or not your topic or a subtopic is trending.
This lends well to lifestyle writers, entertainment writers, and even business writers.
19. Swipe File for Cold Pitches
Okay!
These next few are free resources of mine! This isn't my post without some free essential resources from me!
In this post, you can grab my free Cold Pitching Swipe File.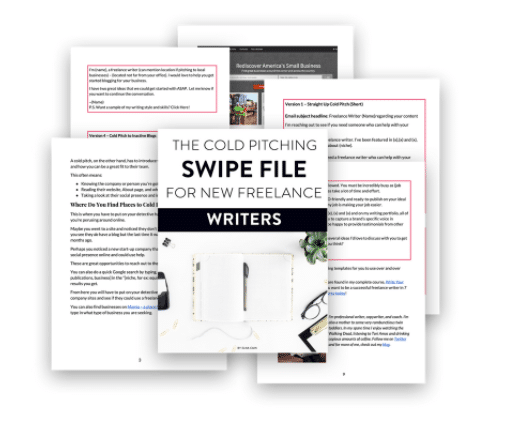 In this free guide, you'll get proven cold pitch templates you can use and swipe from me! This can help you start your cold pitching strategy.
20. Writing Niche Guide
If you're struggling with finding that right writing niche, why not focus on the niches that need writers?
In my free Booming Writing Niches guide, I give you 72 profitable and in-demand writing niches! So make sure you pick that up!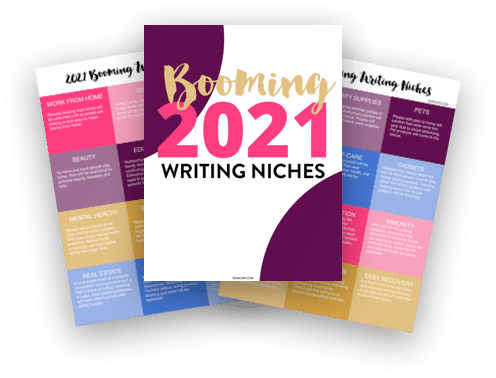 21. Your First Client Guide
And finally, if you need a more step-by-step process to land your first freelance writing job, why not try my free six-day email course?
This course has helped thousands of writers learn the steps to landing clients! You can enroll in this course at the end of this blog post!
Essential Resources for the Budding Freelance Writer
There ya go!
Twenty-one essential resources you need to succeed as a freelance writer. Of course, there are writers out there that didn't use all these resources and still succeeded, so use what you want from this list and see how it goes!
And if you want to see this in video form, check out my video where I share 24 tools for you!
There are even more resources you can check out to level up your writing business.
Over to you – which tool or resource are you going to try first? Which ones were new to you? Share with me in the comments below! I read each one of them!