Have you been searching on Google about freelance writing?
You may have heard of this from a podcast or on Instagram and want to learn more.
When I first learned about freelance writing, I wanted to absorb as much as I could about freelance writing terms.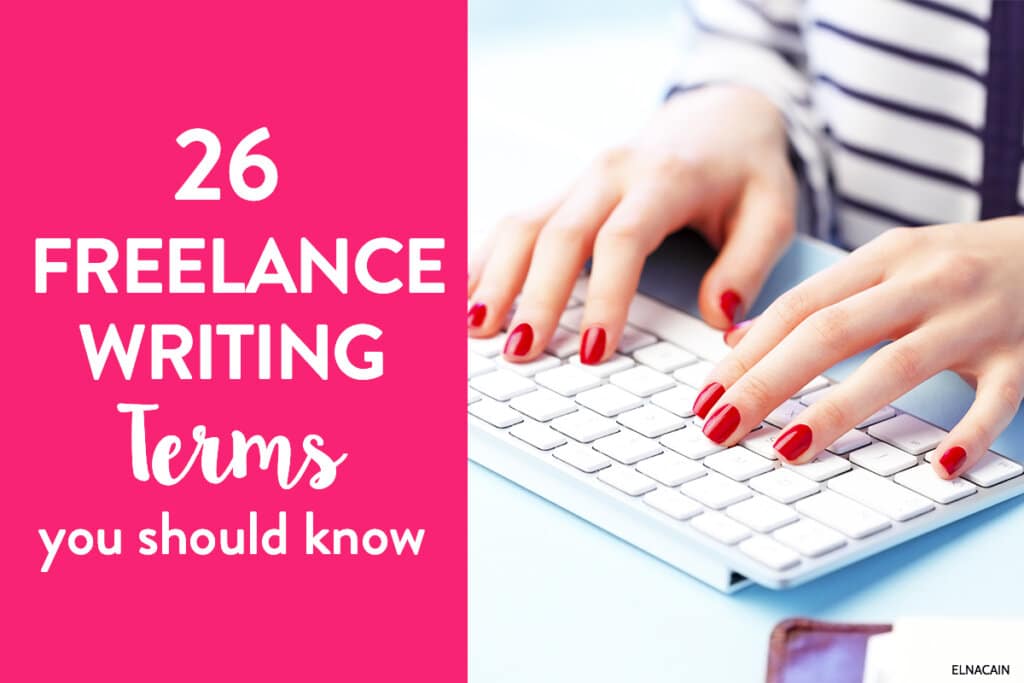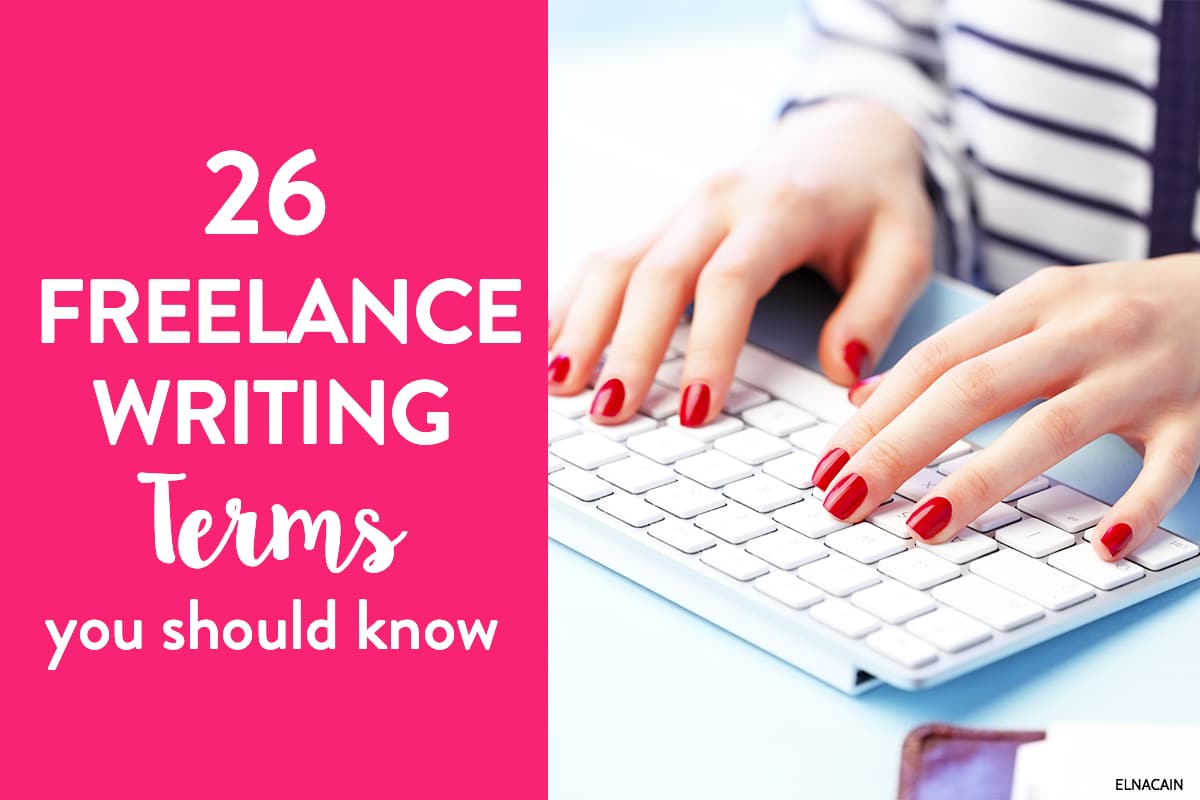 Everything was so new to me and I kept running into freelance writing terms I knew nothing about.
I basically had to waste time learning these new terms instead of writing a pitch or finding a writing job.
There is a learning curve for sure, but not only did I have to learn the marketing aspect of being a freelance writer, I also had to learn the ins and out of what freelance writing really is.
I don't want that struggle for you.
I want my blog to be the go-to for all your freelance writing terms so that you can get started right away.
To help you out, I decided to help you learn all these freelance writing terms as the ABC's of freelance writing!
If you don't have time to read this post, make sure to bookmark and and watch my YouTube video (and subscribe to my channel!)
The 26 Freelance Writing Terms You Should Know
For easy access, I'll list out all the terms I mentioned in the video and then dive deeper into each freelance writing term to help you understand them.

As you can see, not every item is an actual freelance writing term, but they are important to know.
Let's dive deep into these terms on what is freelance writing.
1. A is for Action
To start freelance writing you need to take action and put yourself out there.
This is the hardest part. What ends up happening to many new freelance writers is analysis paralysis.
This means they are stuck in the "getting ready" phase and become too overwhelmed and quit before taking action.
Taking action is scary, but you won't succeed otherwise.
Start by taking with simple things like:
2. B is for Byline
A byline is your attribution on your piece of content.
This is also called your author bio that you can have at the end of your blog posts, guest posts and client pieces.
Here is my author byline for one of my client pieces:

In your author bio make sure to state who you are and who you help. This can make it easy for potential clients to know what type of writing you do.
3. C is for Clips
Clips is another way to say your writing samples.
This is what you show to prospective clients.
Ensure your clips are the best writing you have. This might be a guest post, a post on Medium, a piece of content on LinkedIn or a blog post of yours.
4. D is for Deadlines
As a freelance writer, you can set your deadlines or your clients can set them for you.
You can also set an internal deadline yourself so that you can ensure the work for your clients is done earlier than expected.
For my first real freelance writing job, the client gave me the topic idea and deadline. I felt this was a great entry way to freelance writing and helped me focus on wowing the client rather than scrambling to find content ideas and getting them approved.
5. E is for Editing
Every writing piece you do needs to be edited for any grammar mistakes.
This is especially true for your client pieces. Some freelance writers like myself, have hired copyeditors to ensure their work is free of errors.
But, you can use tools like Grammarly to help you improve your writing.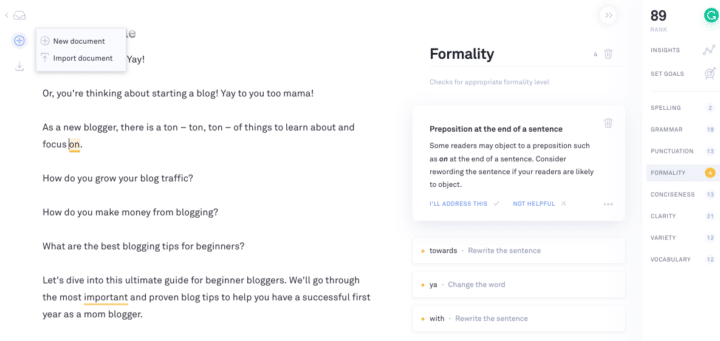 I personally use Grammarly for my client pieces as part of my editing process for my freelance writing jobs.
This is only one part of that process but it's important to ensure your writing is error-free.
6. F is Fear of Failing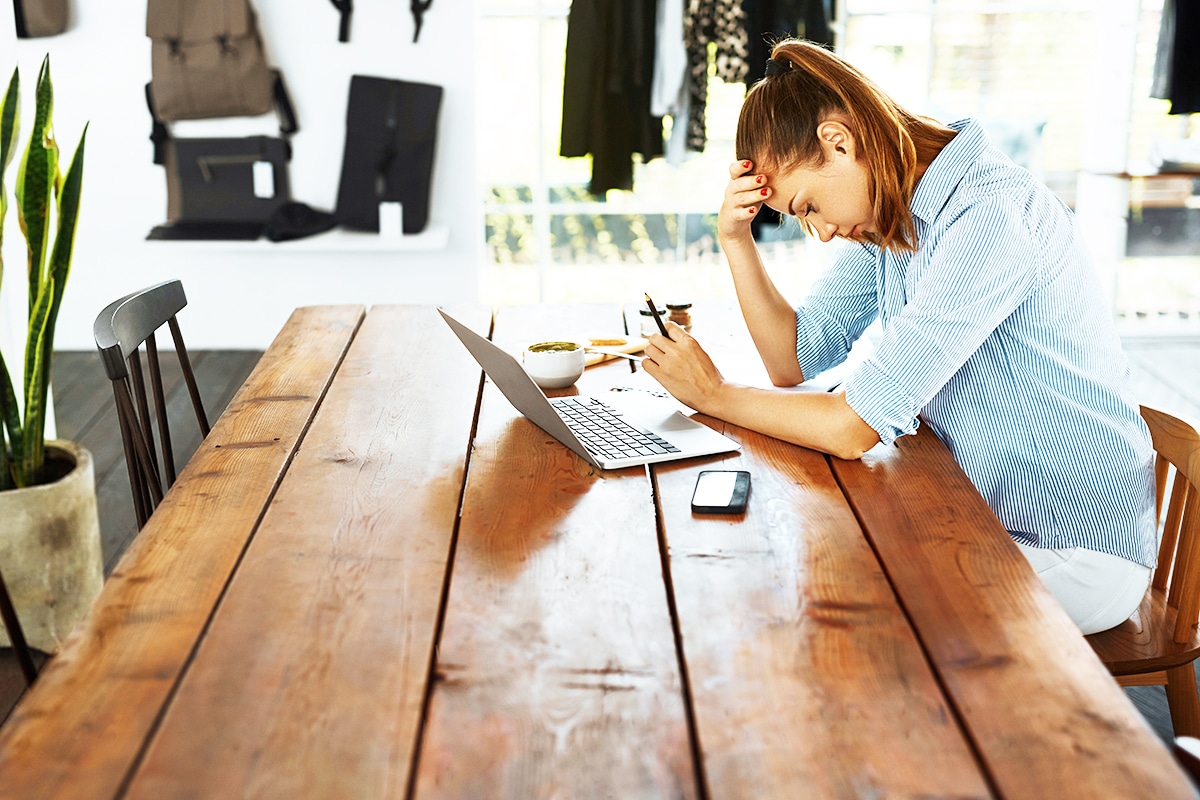 With anything new you try there will always be that fear.
It's how you cope and respond to that fear that will set you apart from other new freelance writers.
I had a lot of fears when I first started writing and it almost made me quit.
If you face your fears and work towards crushing your fears, then you will be able to take action and land some gigs.
7. G is for Ghostwriting
A ghostwriter is someone that writes copy like articles or other forms such as emails or books and aren't credited for writing that piece of content.
The credit goes to your client or someone in that company or business that hired you.
This means none of your work is credited to you. You cannot publicly share your client writing anywhere (unless your ghostwriting client gives permission).
8. H is for Healthy
It's important as writers they we remain healthy – especially if you work from home.
Sitting is seen as bad or worse than smoking so it's extremely important to take frequent breaks standing up or walking.
As well, it's important to get enough sleep. Entrepreneurs often suffer from anxiety and depression and the culprit usually is lack of sleep.
Personally, as a family we have Fitbits and we use this as an incentive to see how has the most steps in a day. Sadly, my kids outstep me and my husband! So this shows that we really need to get out of our seats and walk or do an exercise video.
9. I is for Invoicing
As a freelance writer, it's your job to keep note of each of your projects and send invoices to your clients.
There will be some clients that will give you instructions on how to invoice them, but generally it's up to you.
You can draft an invoice using Gdocs, MS Word or other tools like Zoho or Freshbooks.
To keep track of your projects, you can use an Invoice Tracker like the one I use in my Freelance Writer Planner.
10. J is for for Job Boards
One of the easiest ways to find your first freelance writing job is to use job boards.
There are many free job boards you can use like Problogger and paid ones like Contena.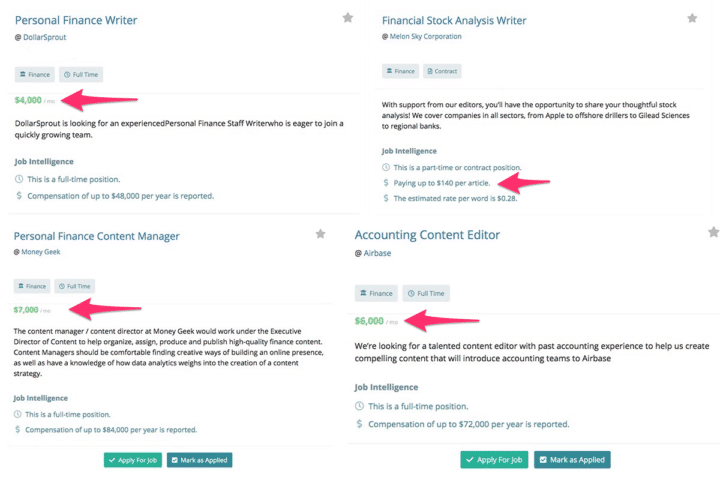 The reason why you would pay for a job board is to get exclusive curated listings in a variety of niches. Contena also has other perks like coaching, courses and a giant list of companies that have hired writers in the past.
11. K is for Kill Fee
This is a freelance writing term I didn't know about when I first started.
If you want to write magazine articles, you might want to have a kill fee in your contract.
You use a kill fee when a publication doesn't publish your piece. You can request that they pay up to 20% (sometimes 50%) of what you would've been paid if they published your piece.
I personally don't use kill fees as I feel this is with journalists or magazine writers.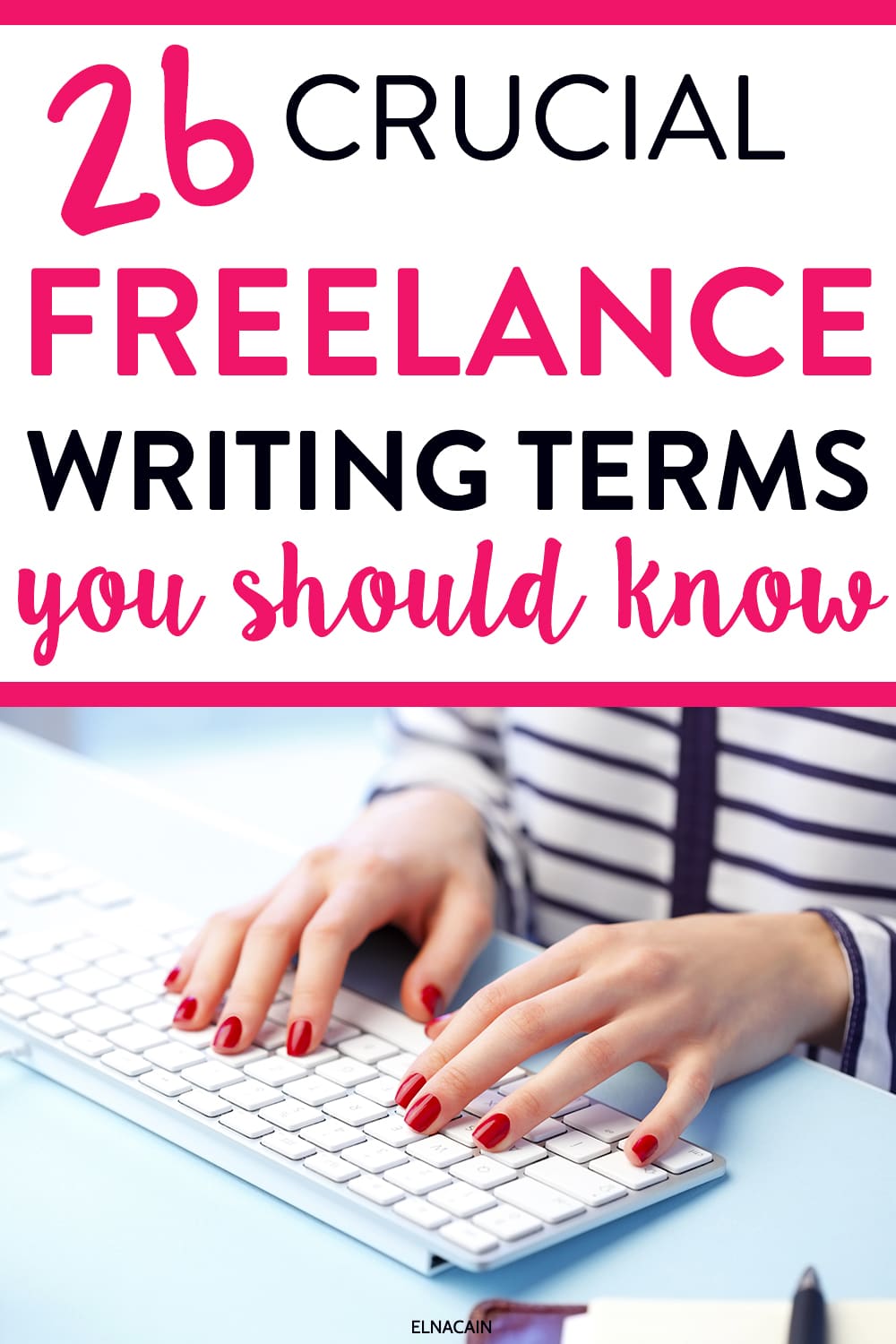 12. L is for Learning
It's important that you spend a good chunk in the beginning with educational learning.
Find resources to learn the in's and out's of freelance writing.
As well, established writers should also continue to learn about how to write certain pieces like:
Having the writing skills for these types of projects can open the doors for more freelance writing jobs.
If you need more help with specific writing like SEO writing or long-form writing check out Freelance Blogging in a Weekend.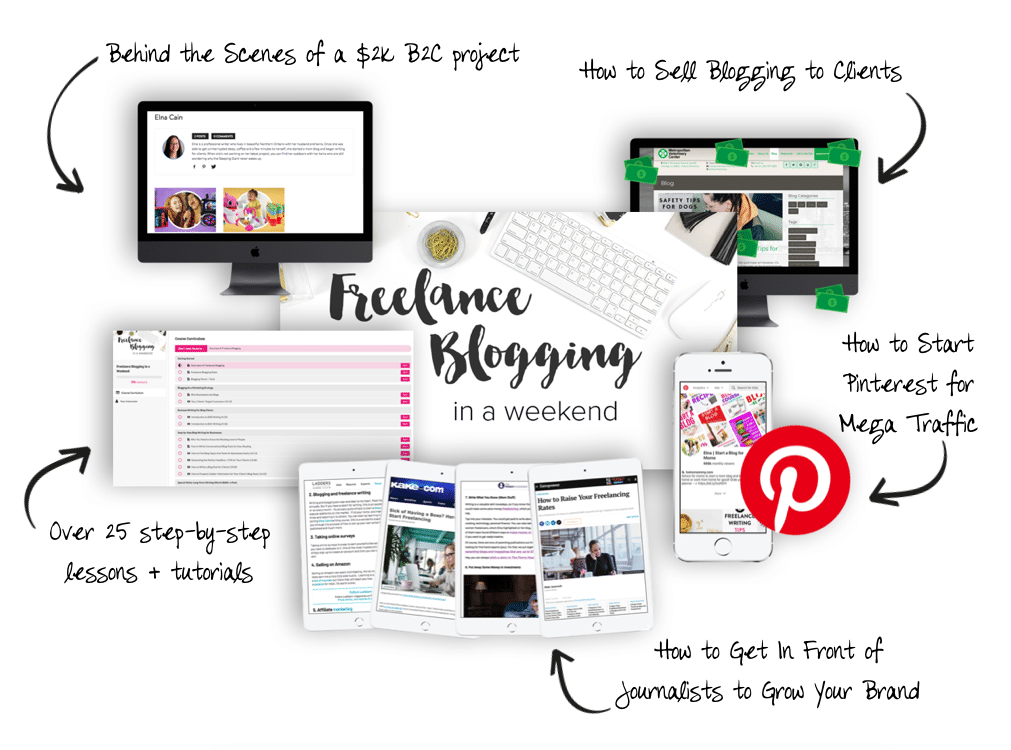 13. M is for Market Yourself
To get yourself out there, you need to market your freelance writing business.
This is the way to attract clients to you as well as find some freelance writing gigs.
Find ways to get in front of your ideal clients. Some easy ways to start are:
14. N is for Niche
To really make it as a freelance writer you need to exclusively write on one topic.
This is your writing niche and not all niches are created equal.
Some niches aren't that profitable but can be a way to break into bigger high paying niches.
As well, most writing niches do have high-paying clients, you just have to find them.
It's okay as a new freelance writer to pick up to three writing niches. This can help you break into freelance writing quicker and figure out which topic you enjoy writing about the most.
15. O is for On Spec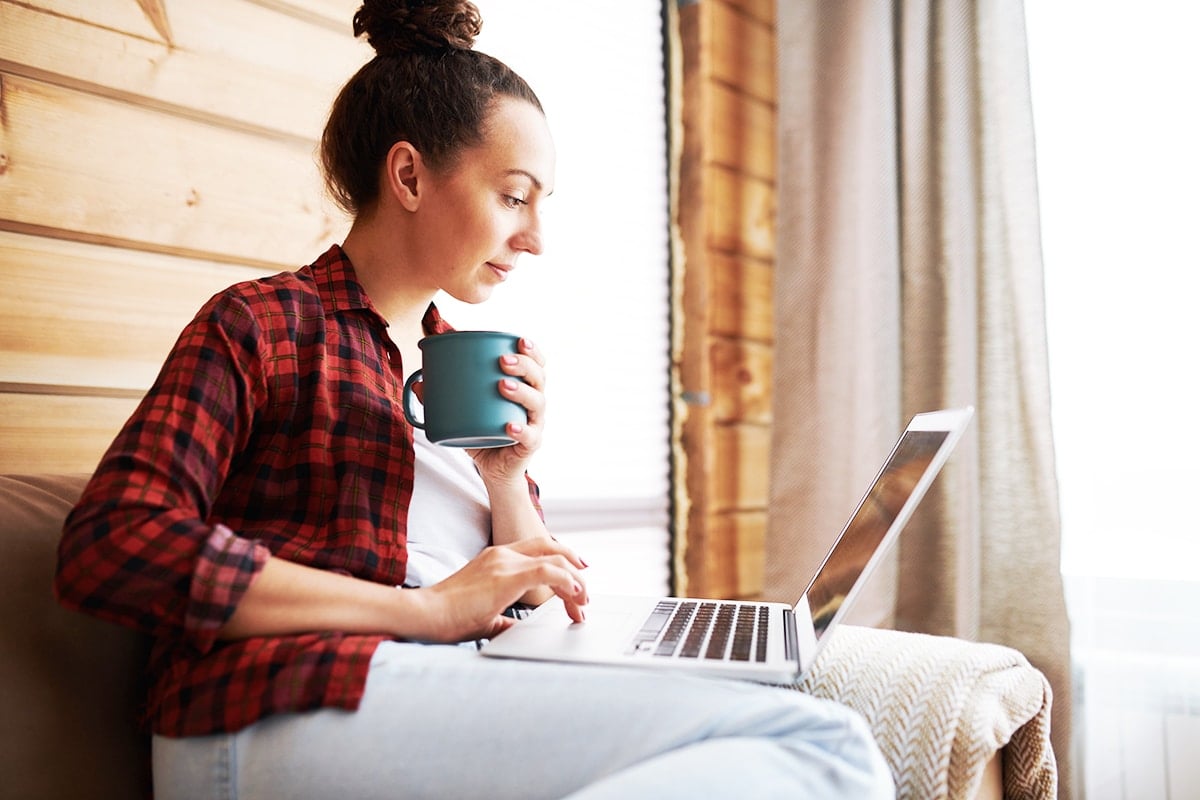 You might see in a negotiation that a client says, "submitted on spec."
What does "on spec" mean? When you hear this freelance writing term, it means that the client is expecting you to submit your content piece according to what you and them determined were the project details.
This should be something you always do for a client, since changing the content piece without notifying the client isn't best practice.
If you feel that the content is changing as you write your article, then notify the client and you can update the project details so that you can submit your piece on spec.
16. P is for Pitch
If you are seeking freelance writing jobs, then you need to have a converting writing pitch.
This is a pitch that is optimized to land a job.
These writing pitches share who you are and what your service is and demonstrate how you can help that potential client.
Your writing pitch should be short and to the point since many marketers get pitched all the time.
Don't make your pitch too general or businesses owners may just chuck it in the bin.
For more help, check out this Youtube video on how to write a pitch.
17. Q is for Quality
To make big bucks as a freelance writer your writing needs to be high-quality and highly engaging.
Brands, publications and small businesses seek this type of writing. This is writing that will hook readers and help them convert them into leads.
And you know what?
Clients will know when they see this type of writing.

Quality writing is conversational with storytelling features and copywriting principles.
You can definitely learn this type of writing, but there are resources, like this one, that can help you learn how to write engaging content faster.
18. R is for Research
It's up to freelance writers to do proper research and find credible sources for their client pieces.
These are sources that are industry-specific and are widely known or popular.
You can also use Google Scholar to find official documents like government sources or medical journal pieces.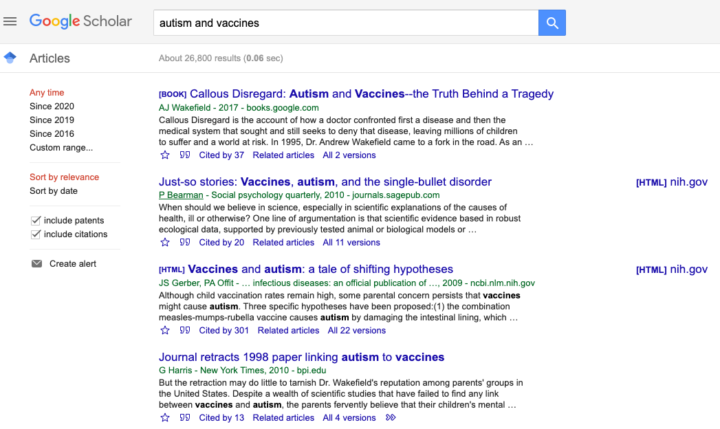 19. S is for Style Guide
A freelance writing term I had to learn was style guide. Since I was new, I didn't know that businesses use style guides for their content.
Some of your clients will have a style guide to help you with your article. This style guide can have formatting tips as well as writing style and voice instructions.
Not all of my clients give me a style guide and assumes that I have looked over their content for what they need. This is fine by me but bigger brands want assurance that all of their writers are writing in the same style and tone.
For example, Walmart has a style guide for all of their writers.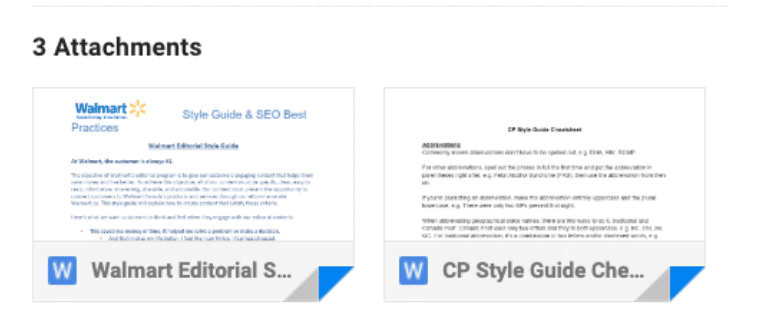 20. T is for Testimonials
A testimonial is when someone shares how happy they were with your work.
This can act as social proof and can help prospects take the plunge and hire you (because they see others are satisfied with your writing).
Many writers are encouraged to display their testimonials on their writer website. This can immediately show you are a professional writer and not a hobby writer.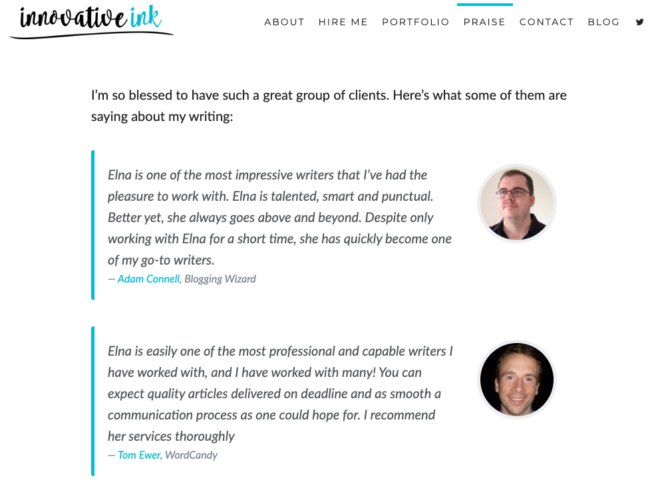 21. U is for USP
A USP is your unique selling point.There are thousands of freelance writers out there and many in the same niche as you – how will you stand out?
You stand out with your USP. Think about personality qualities and skills that you can point out to help you find your USP.
For me I like to say that I'm a millennial mom to twins or that I run 8+ blogs. This defines me and helps prospects remember who I am and what value I have.
22. V is for LoVe
I could have used V for Voice, but I really wanted to let new freelance writers know or those interested in learning more about freelance writing is that you really have to LOVE what you are doing.
Sure, in the beginning you might find yourself writing about topics you don't like, but you have the choice to change that.
I loved blogging for my clients so much that I decided to start Twins Mommy. I also took over FreelancerFAQs and over time have started and maintained other blogs.
I absolutely love blogging. It is a passion of mine and I'm using this to make a living and work from home.
If you don't love freelance writing, then it may not be for you!
23. W is for Writer Website
Every freelance writer online needs to have a writer website! I honestly believe this is your BIGGEST tool to land client after client after client.
To start your writer website, check out my post on how to start a blog!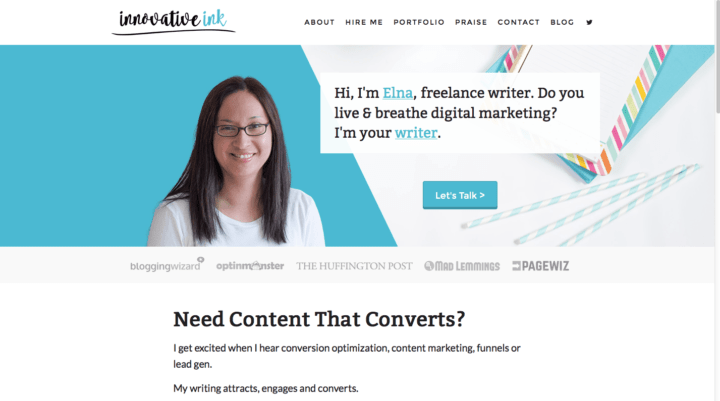 24. X is for eXcellent Work
If you find you're struggling to land client work, take a look at your writing style.
Are you producing stellar work? Is your writing conversational?
Will another blogger publish your content?
To find out, try writing on Medium and submitting your posts to their publications.
This can help you gauge the quality of your writing and if you produce stellar work.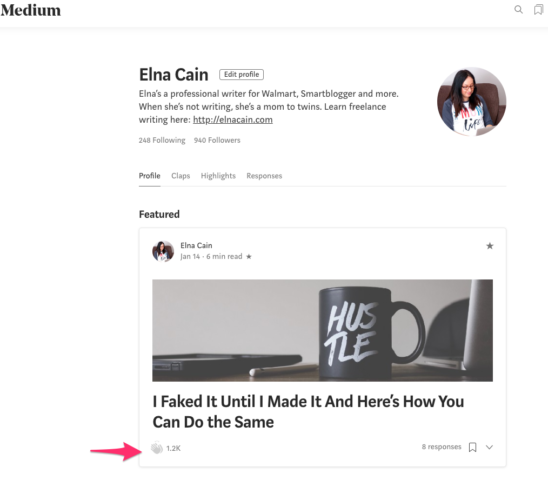 25. Y is for Youtube
Did you know there are some awesome Youtubers?
You can learn about a lot of different topics as a freelance writer.
Youtube is also great platform to learn more about freelance writing.
Some channels to check out based on your niche:
26. Z is for Zone of Genius
Your zone of genius is the place where you can write thousands of words in hours. It compasses your expertise in a topic, where you write and when you write.
When all of this is perfect, you have entered your zone of genius!
You can write faster and can gain more money this way!
Freelance Writing Terms To Learn As a Newbie
There ya go!
Twenty-six crucial freelance writing terms you should know if you want to break into freelance writing.
There is a lot to learn but take it one-day-at-a-time!
I would love it if you looked over my blog content to find answers to your burning freelance writing questions!
I'm here to help you succeed!
Please pin me 🙂
Over to you – share any freelance writing terms I didn't mention in my list! I'd love to read them!