Are you new to freelance writing? Want to start but not sure if you need a writer freelance website?
One of the first things I did when I wanted to become a freelance writer was start a blog for my business.
This one thing helped me land gig after gig, project after project and freelance writing job after job.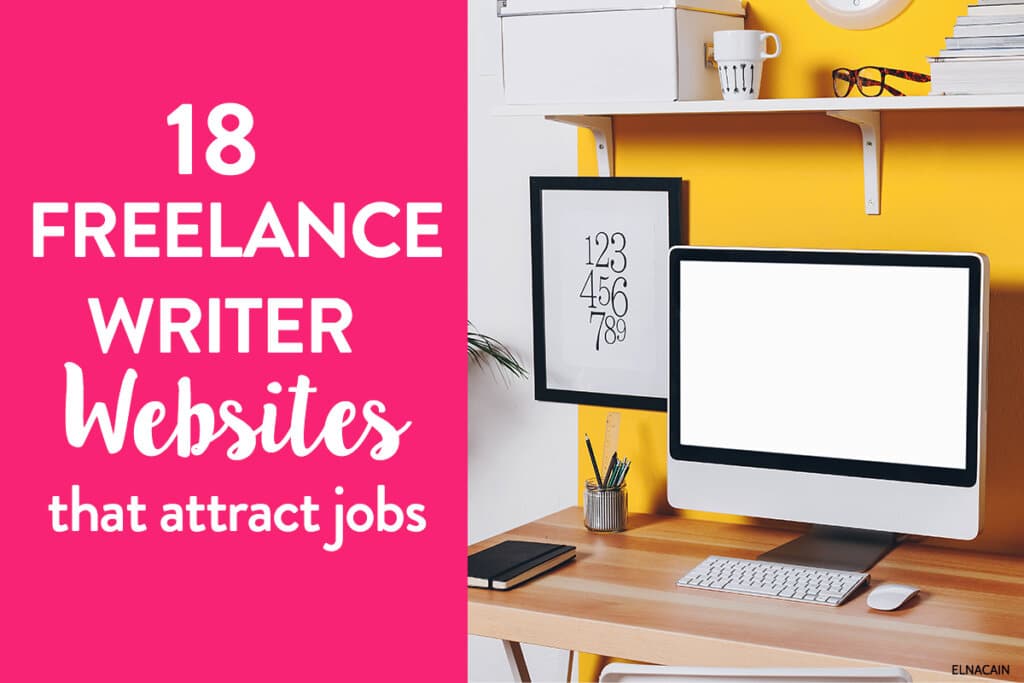 Even today, after three years as a freelance writer, I get weekly inquiries from my contact page of prospects wanting to hire me for my digital marketing writing.
Having freelance websites is the way to make a living as a writer.
It's true, and I know many of you are unable to do that right this moment.
That's okay. You can get started quickly without a website (but, as I mentioned, it's almost impossible to make a living without a website).
To help you out, I created a non-techy step-by-step tutorial on how to start a business blog for your freelance writing business.
I even included a video! Super simple! Go check it out!
For right now though, check out these 18 writing websites that attract clients every day!
Use them for inspiration, learn from their copy and create your blog from these examples.
18 Writing Websites
1. Francesca Nicasio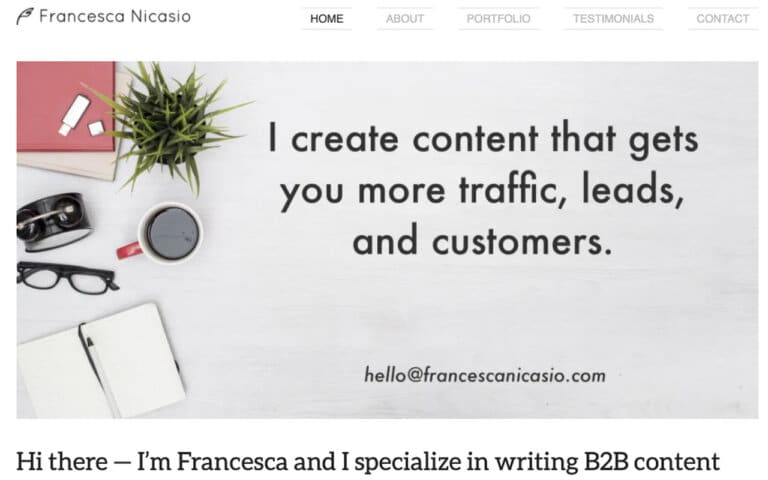 Francesca Nicasio's site is a very optimized writing website for her service- retail writing for the ecommerce industry.
When landing on her site you knew that she is a paid freelance writer. If you're a business looking for a blog writer for your ecommerce store, Francesca is your gal.
2. Ashley Gainer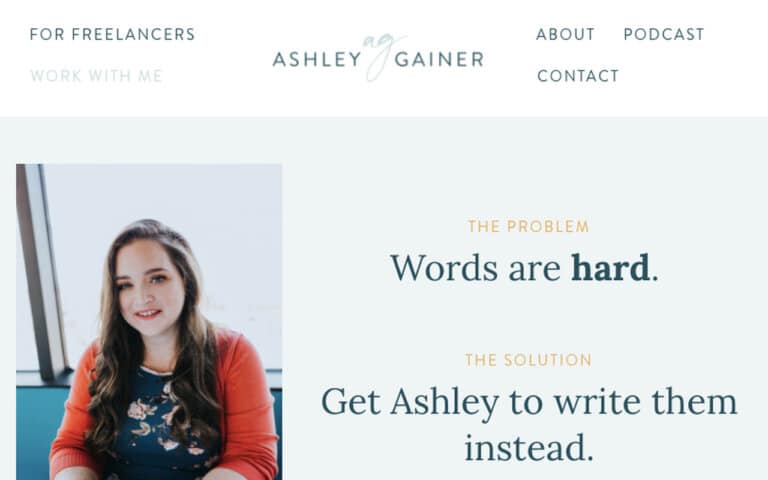 Ashley Gainer has a great introduction to her service and is one of the best in this list of writing websites. It immediately tells you that she's experienced in freelance writing and that entrepreneurs seek her out for her strong copy skills.
She also is marketing to other freelance writers and tells them how. Her writing website is easy to read and navigate, making the decision to hire her easier.
3. Samar Owais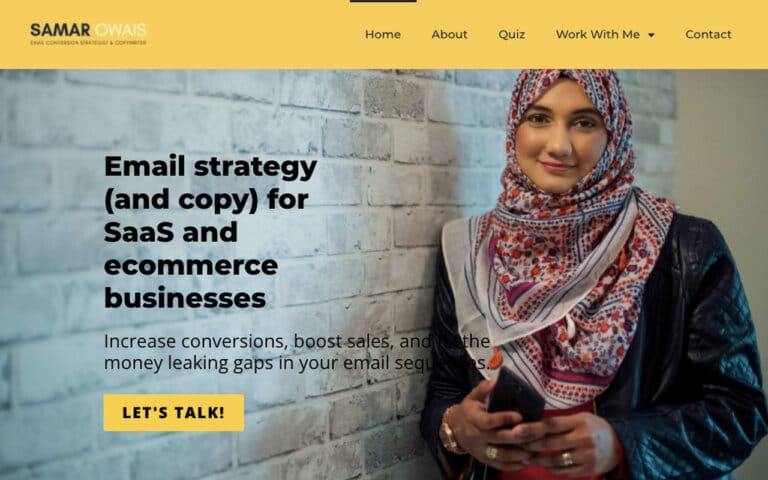 Samar Owais' writing website is right to the point. It takes less than 3 seconds to learn what she does: does email copy for SaaS and ecommerce brands.
And for clients with an online business, this is exactly what they seek in a writer!
4. Colin Newcomer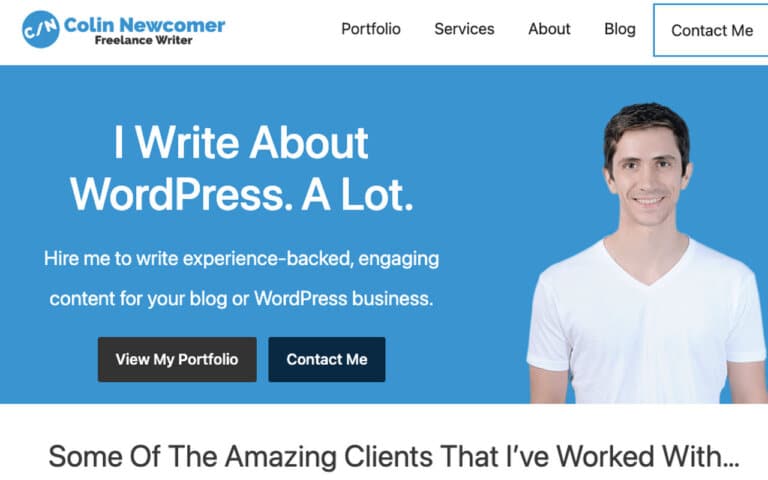 Colin Newcomer has a lead generating site which shows how writing websites can be profitable. We are immediately introduced with his welcoming smile when you land on his freelance website. Next to him, he has a blurb asking specific questions to help prospects identify what they want.
What I like is the social proof right underneath of where he has been featured.
5. Deevra Norling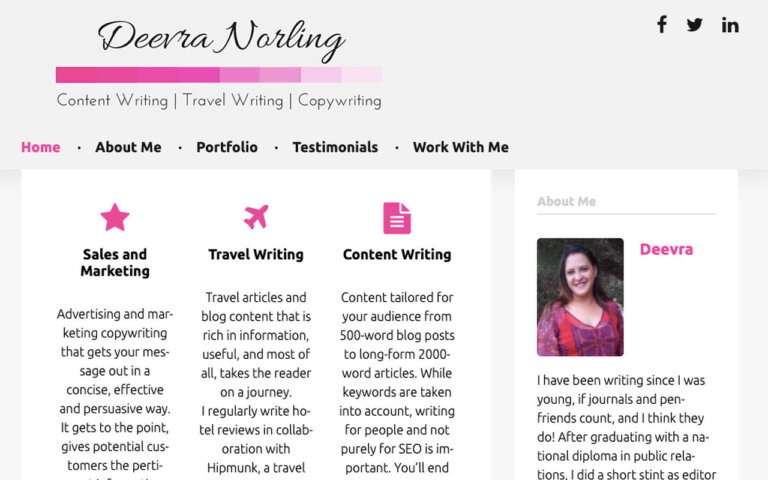 Deevra Norling shows you what type of writing she does as well as her niche (travel). I like how she featured one testimonial to help prospects trust Deevra as a great writer.
Another thing I liked about her writing website is her blurbs about her writing services. This can help prospects figure out if Deevra is their writer!
6. Lizzie Davey
Lizzie Davey is a freelancer friend of mine and I really love her writer website. It's quirky and get's my immediate attention when I land on her site. Her neon colors work with her copy and I just love her little profile pic!
7. Cyrus Vanover
Cyrus has a very streamlined writing website that's easy to navigate. I like his tagline, "persuasive writing that achieves results."
It hits a pain point for many entrepreneurs and shows them that he can help.
8. Michael Keenan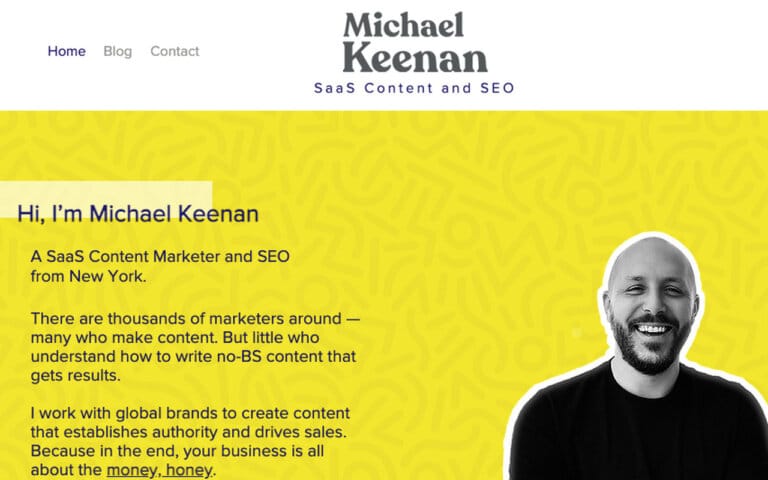 Michael Keenan's coloful and bright writer website captures his personality as an SEO writer.
He opens his page with being highly personable and introducing his himself as a friendly content writer. While he doesn't have a traditional writer website with a hire me page and a portfolio page, he is using his blog exclusively as his portfolio, which works for hime.
9. Jessica Pereira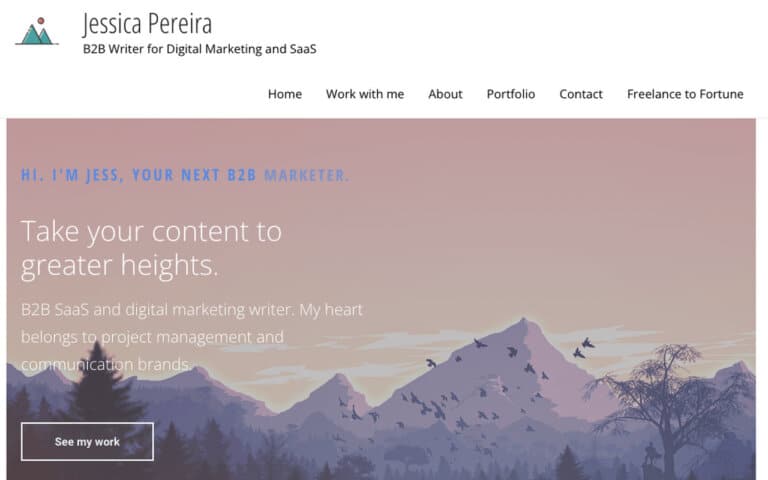 Writeto1k course student, Jessica Periera has a highly optimized writer website. She is attracting B2B SaaS digital marketing companies and direct prospect to immediately see her writing quality.
I also find her "work with me" page informational about her industry to help companies see the value in her writing service.
10. Wendy Coop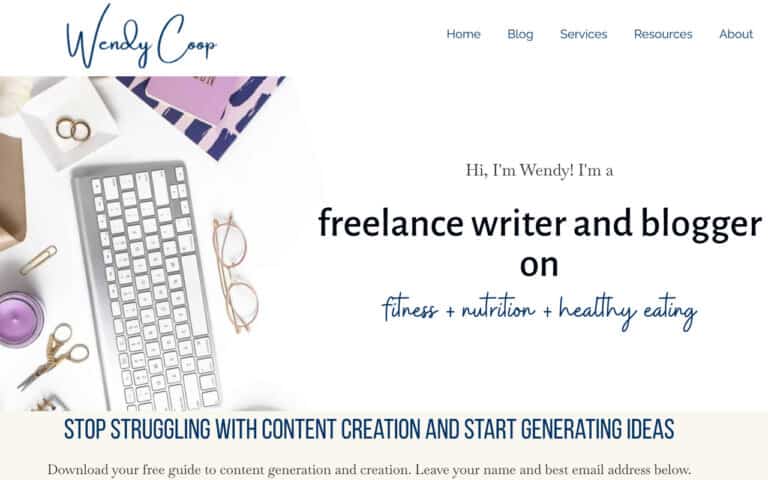 Wendy Coop's writing site tells you exactly what type of writing she provides: fitness/nutrition and healthy eating.
I really like her homepage as it sort of reads like a pitch you would send to a prospect.
She tells you her niche topics, her experience, and links to what her clients say as well as her samples.
11. Flash Fit Trainer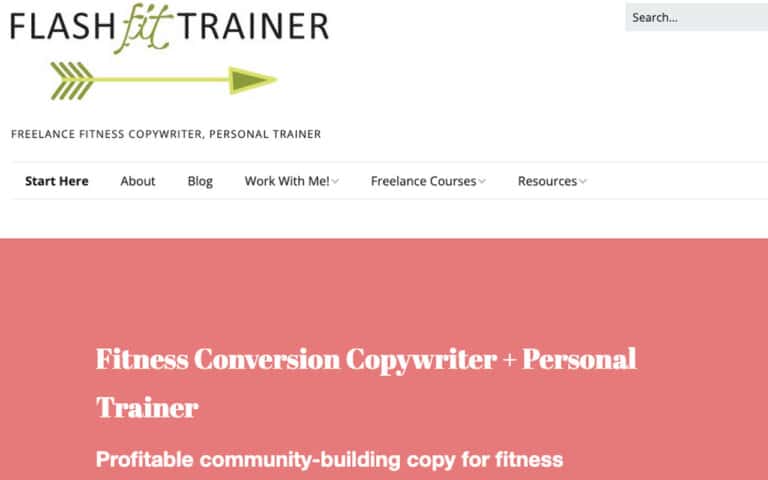 Flash Fit Trainer is Jessica Collin's blog. I decided to include a blog because I know a lot of bloggers want to do freelance writing.
And you know what? You can use your blog to attract freelance writing jobs!
12. Elise Dopson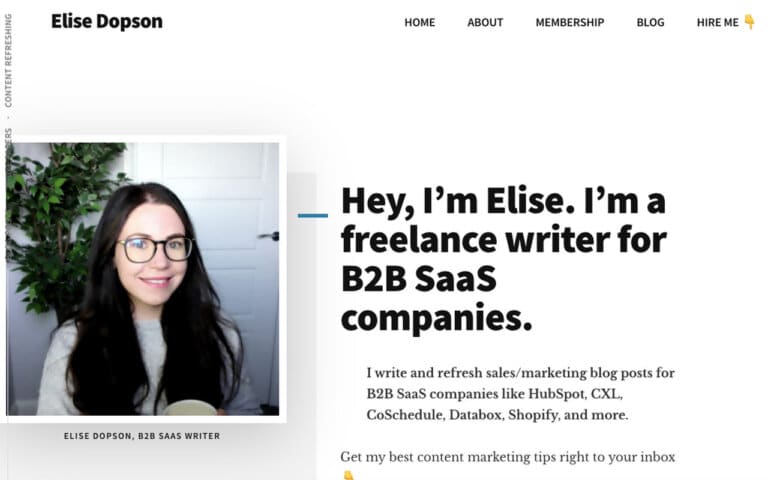 I love Elise Dopson's website.
Elise clearly states on her site that she is a B2B SaaS writer and she cleverly shows her credibility by listing out popular SaaS brands she's worked for.
13. Azahar Media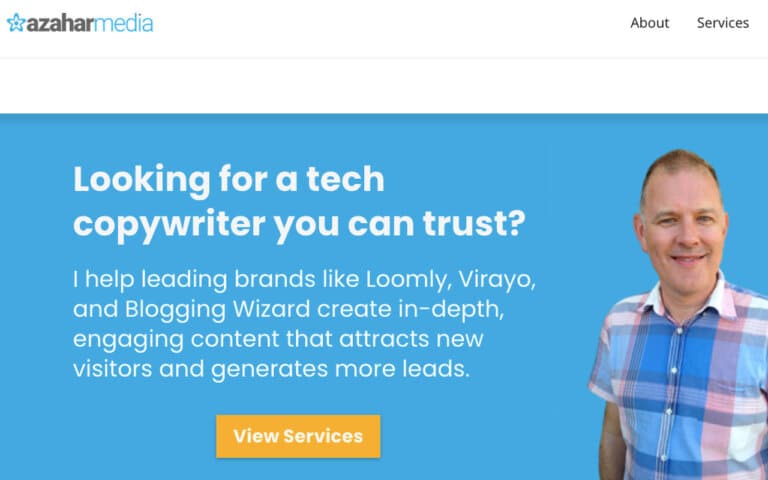 David Hartshorne has a professional writing website. His niche is highly specific and centers around tech copywriting. He shares highly credible portfolio sharing his clients in his niche.
14. Aisha Preece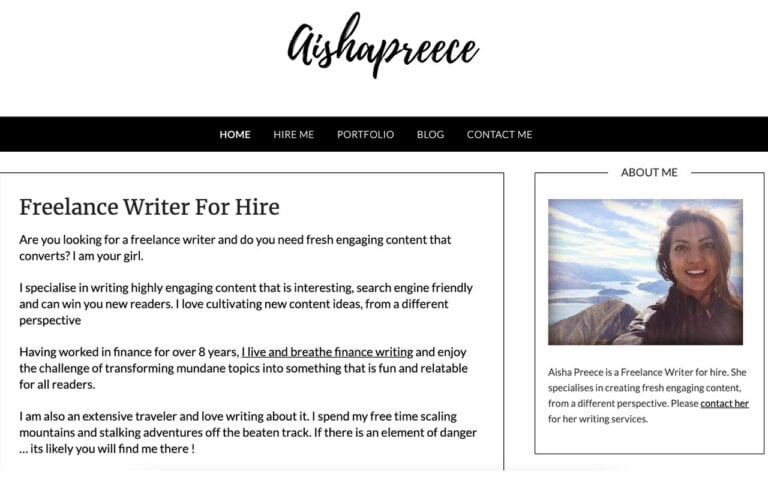 Aisha Preece is a freelance travel and finance writer.
Her website is simple but effective in letting users know what she's all about.
15. Sally Aquire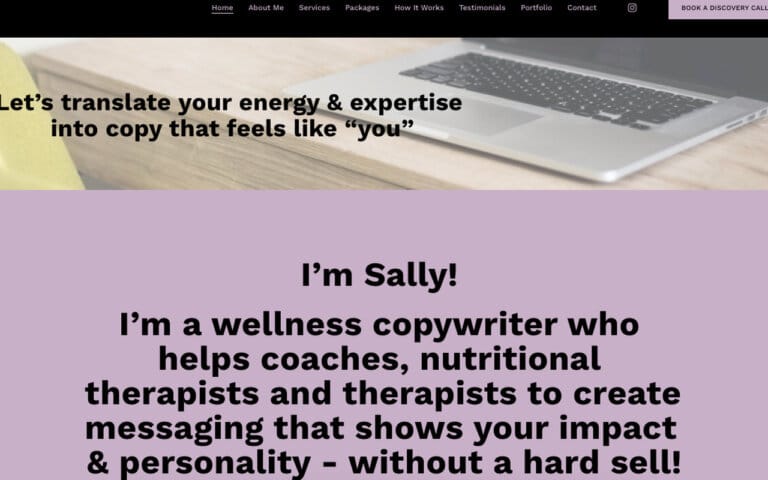 Sally Aquire's freelance website tells you her writing niche as well as the types of clients she works with. Way to go!
She also makes sure to show prospects what her content can help with their business (build their brand, improve SEO etc..).
16. Bree Brouwer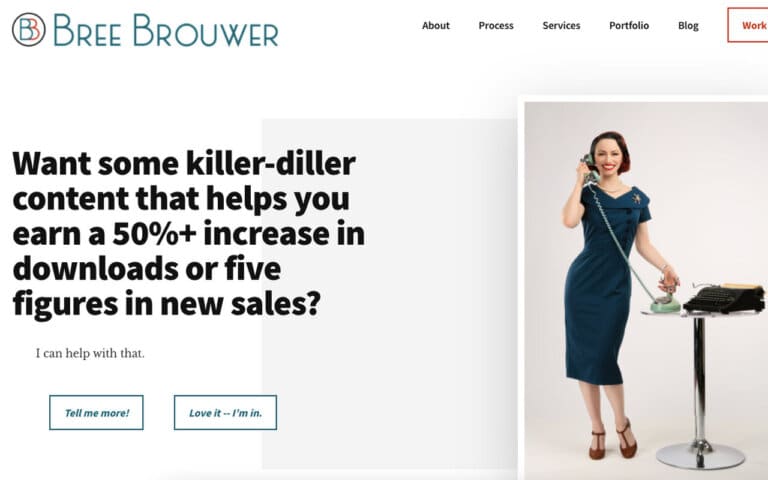 I love Bree Brouwer's writing website. Her headline is highly powerful and let's business owner's know that her writing is effective.
She introduces herself as a professional content marketing writer letting prospects know her experience in her niche.
17. Jennifer Locke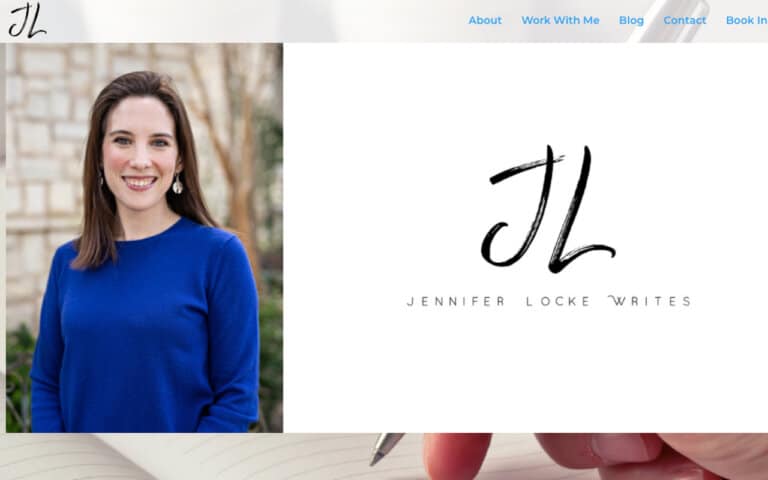 Jennifer Locke's website is simple yet effective. Her copy sells her service and her headshot is very inviting. I like that the font size is large (makes it a cinch to read) and her menu isn't flooded with choices.
Writing websites should be easy to skim and read. Having a large font is an easy way to allow skimming and quick reading.
18. Innovative Ink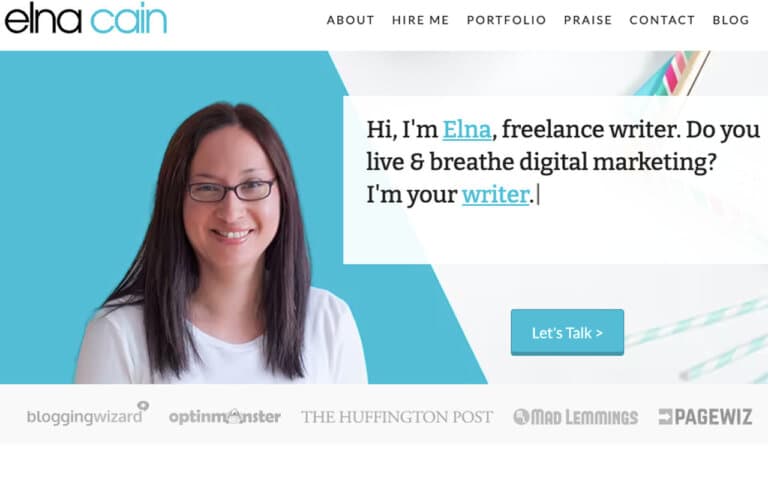 Innovative Ink is my writing website. I'm sort of in love with it. My service-based website has had a lot of facelifts, but this one is sticking so far.
I love the copy, the design and the voice on this website. As soon as I honed my niche and spoke to my ideal client, I ramped up my freelance writing business and income.
That's the power of a writer website.
Writing Websites to Get Inspired By
If you don't yet have a blog for your business, I highly suggest you start one today! I have a super simple tutorial with a video to boot to help you get started quickly!
I hope these freelance websites inspired you to become a freelance writer! Yay!!!
When you have your new blog, please comment on this post and tell me your website! I'd love to support it 🙂
---