Let me guess –
You just started freelance writing and have no clue what you're doing.
And when you think of all the freelance writer responsibilities you need to know, you suddenly have analysis paralysis and don't know where to begin.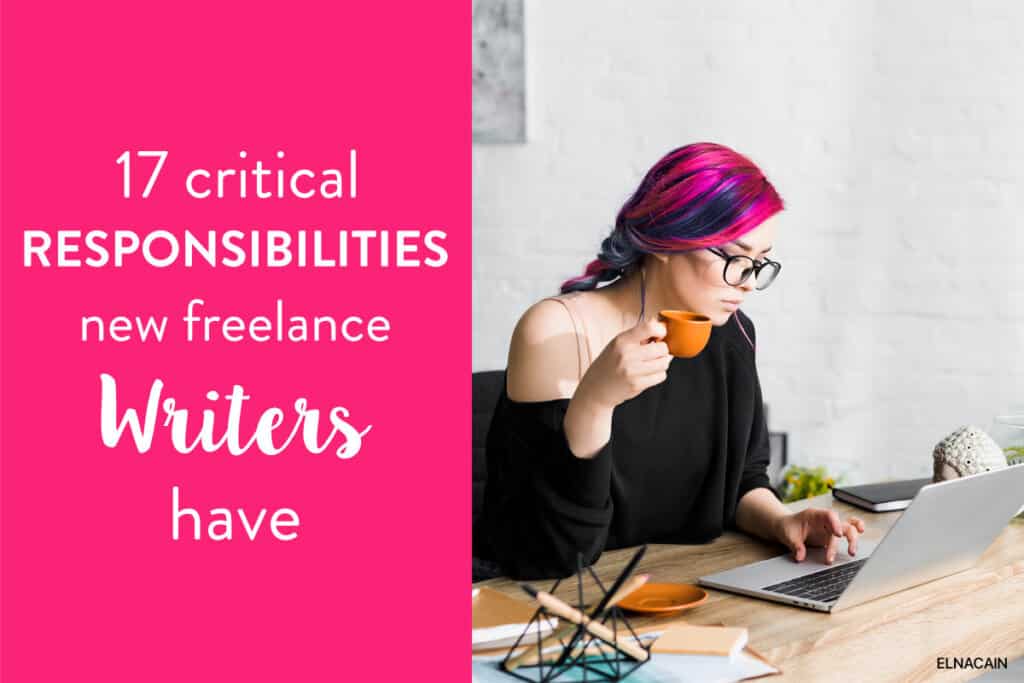 What if a job description mentions tools you never used, or you must continually develop blog post topics?
Or, in your freelance writing business, you don't know how to structure your day or what tasks are the most important to grow your client base?
When I first learned about freelance writing, I made many mistakes.
I know I forgot to invoice a client, and I clearly remember mismarking my rates for several clients.
It took a lot of trial and error to get everything in order. But that doesn't have to be you!
In this post, I'll share the top seventeen freelance writing responsibilities you need – with a job description, your business, and any other responsibilities I missed!
Freelance Writer Responsibilities from Job Descriptions
Have you ever read a job description for a freelance writer gig and went, "Uh, no! I don't know how to do that!"
But then scramble to learn ALL THE THINGS?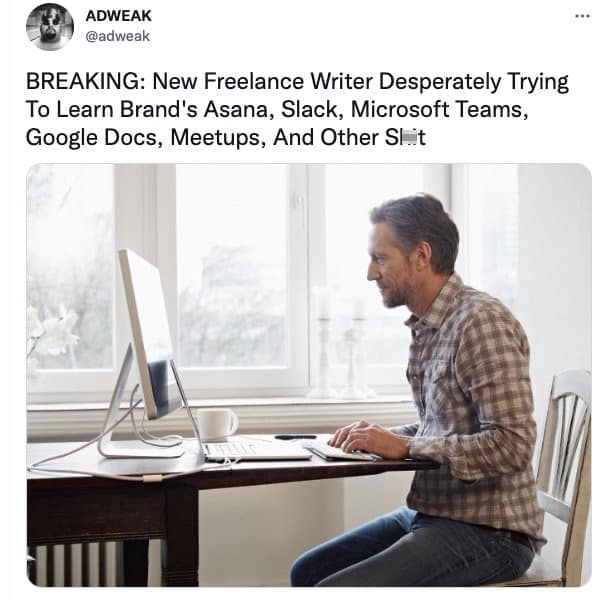 That's okay! Let's go over exactly ALL the things you might see in freelance writing jobs and what you are responsible for.
What is a Freelance Writer Job Description?
You'll notice a pattern if you visit any of the dozens of free job boards online.
Most job ads will state the company and what they are known for, what the job entails, and then have a section on the responsibilities of a freelance writer.
Here's a sample job description you might see for a freelance writer.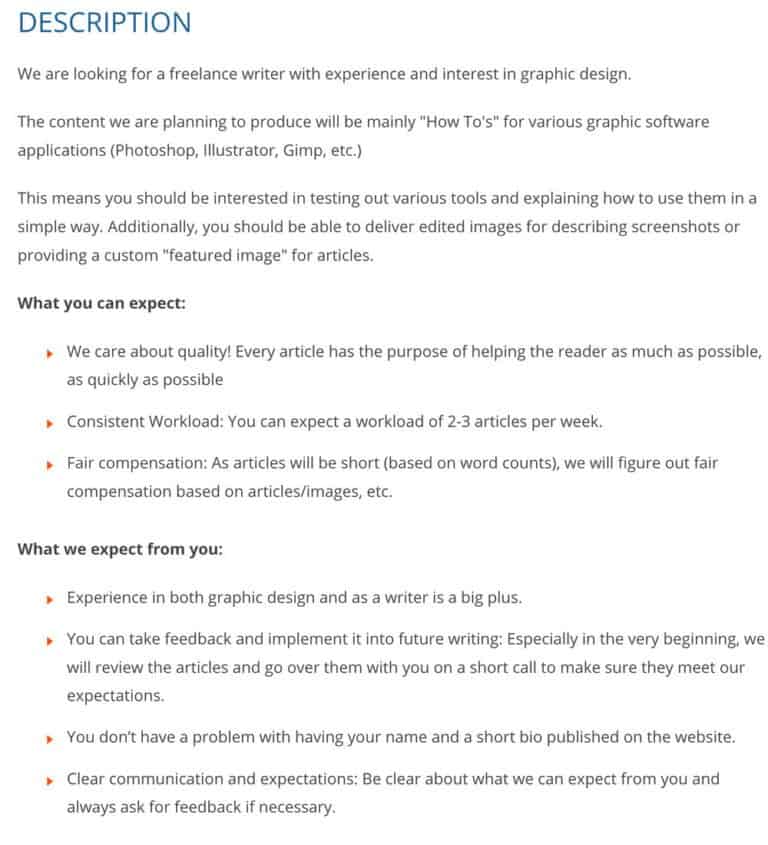 For this job ad, the freelance writer's responsibilities include the following:
Experience in graphic design
Takes feedback
Has clear communication
Knows client expectations
Most of these responsibilities carry over to most freelance writing job descriptions, but being experienced in graphic design isn't one of them.
Let's go over these responsibilities you will see in job ads.
1. Being a Great Researcher
LinkedIn is a goldmine for finding client work! It's great for cold pitching, warm pitching, and prospecting!
In the jobs section on LinkedIn, I found responsibilities on being proficient in researching. This came from a freelance writer's LinkedIn job description from ShoutVox.
"Proficiency in researching and crafting thoughtful and engaging blog content, articles, landing page content, email copy to targeted audiences to help increase conversions."
While ShoutVox requires email copy, landing page copy, and blog articles, the main responsibility you need to provide is copy that is research-driven.
This means you need to be a great researcher!
Finding credible sources to cite in your articles is key for a high-paying content writing job.
This is a learned skill, so the more you write and find resources, the better writer you will become.
2. Follow a Set of Formats for Writing
Some freelance writing jobs will have a content marketing strategy.
They have a dedicated person to create the posts and have done the keyword research for you.
If that's the case, the client will give you a content brief outlining the post, intent, keyword, and so on. When Smartblogger hired me, they gave me a very detailed content brief.
This helped me immensely when writing my article for them.
Over on the Problogger Job board, I found a job ad detailing this freelance writer responsibility.
"Writing for us, you will need to follow specific templates that we will provide. This is not SEO-type content. All posts must be well-researched and useful for your reader."
This is what freelance writer Victoria says is one of her top writing responsibilities for clients.

3. Pitching Article Topics to Client
There will be many writing gigs that will require you to pitch articles for the client.
When I began freelance writing, I had fun doing this. I would read other competitor blog posts, check out what other blogs are writing about, and then pitch blog topics for my current clients.
This is a learned skill and something that all freelance writers must know how to do.
RentHop needs a freelance writer and details that part of their responsibilities is to be adept at proposing new ideas for blog posts.
"[W]riters should also feel comfortable proposing their own content ideas."
Here's a video that details this process:
4. Takes Feedback (Graciously)
Receiving and applying feedback is definitely something a freelance writer needs to know and handle graciously.
But it's hard. As writers, we are invested in our content, and when it's been hacked apart (I mean, properly edited), it can sting a little.
The last time this happened to me was with a new blogging client. The editor changed and edited my work.
The editor made all her edits on the Gdoc, which were a lot, and it took me aback for a bit!
Most of my client work doesn't come back for revisions (I can only think of one other client), so when I saw the Gdoc, I had to sit with it.
It was around 3 hours before I could calmly read the feedback, apply what the editor said, and respond in a friendly manner.
Because this is a critical skill to learn, you will see this freelance writing responsibility in many job ads. Here's one from a Writers Work job ad for a video game writer:
"Report to Lead Editor and implement feedback efficiently."
This is hard, I tell ya!
And I'm not the only one who thinks it.
Victoria asked me how I handle constructive criticism in a Tweet.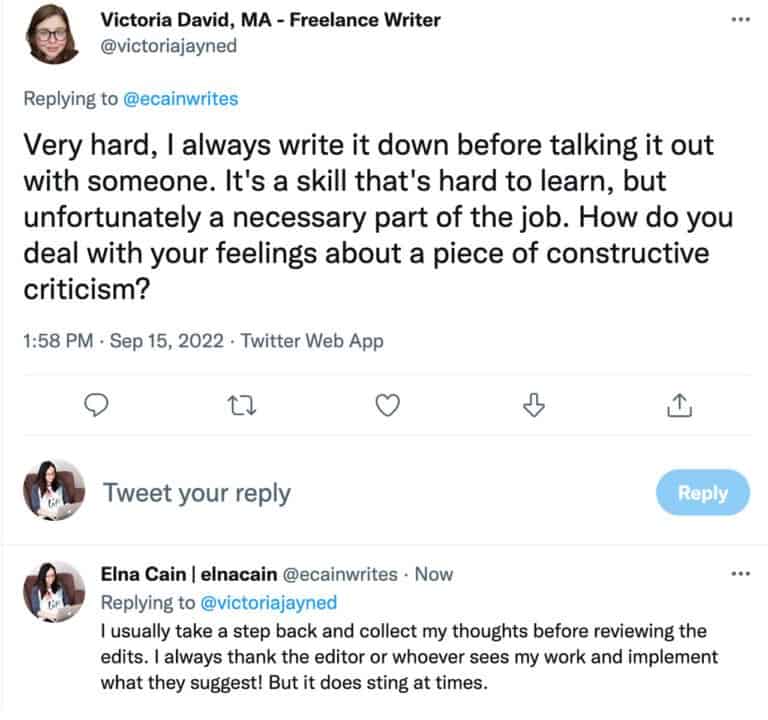 5. Turn Complex Ideas Into Conversational Writing
If you haven't noticed, the writing you do online – for clients or blogs – is easy-to-read and conversational.
We are not writing a term paper for college here. We don't need a thesis statement or detailed, muddled sentences that convey we learned the topic from the teacher.
Instead, we must ditch academic writing and write in a more friendly, down-to-earth way.
And, you know what? Clients desperately need this type of writing, especially for complex niches like technical writing, medical writing, and legal writing.
Over at the All Freelance Writing jobs section, there is a job ad detailing this responsibility.
"The ability to explain complex tech topics in an informed yet accessible tone."
For more job boards, check out this guide.
6. Write in the Voice of the Client (if Ghostwriting)
Understanding the client's voice and brand message is key if you decide to do ghostwriting work.
Freelance writer Benjamin takes the idea of his client as a leader in their industry.
It's up to Benjamin to portray that through his ghostwriting – whether it's an eBook or email newsletter.

7. Produce Error Free Writing
This is an absolute must as a freelance writer.
If you are getting paid for writing, you must submit error-free writing.
Now, don't worry, you don't have to hire an editor or proofreader, and you don't have to spend hours nit-picking your writing.
Instead, invest in a grammar tool like Grammarly.
What's nice about using Grammarly is that it gives you a score. I like to give this score to my clients to show them I used Grammarly and achieved a high score (making my writing appear more valuable).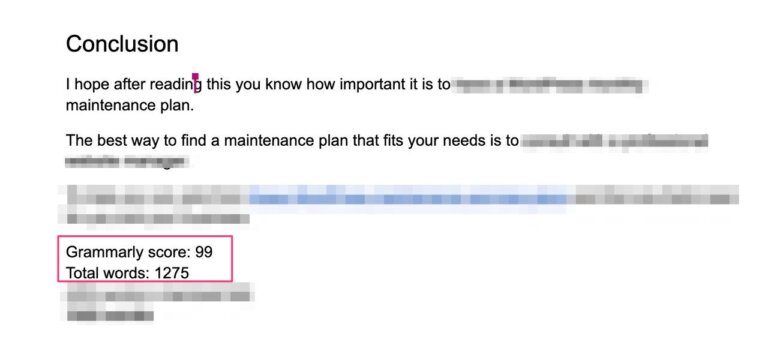 8. Meeting Deadlines
This is a big one for me. I even wrote about it.
It's important to not only turn your work in on time but to turn it in earlier than expected.
This is wowing your clients.
I always set an internal deadline a few days before the actual deadline to work better and more proficiently (this is Parkinson's Law at work).
Alle, a freelance writer, mentions three writing responsibilities, with meeting deadlines a #2 priority.

Responsibilities in Your Freelance Writing Business
A well-run freelance writing business will take up most of your time, so even though you may be swamped with client work, always pay attention to the big picture.
If you are disorganized, forgetful, messy, or just lack time management, it will be hard to be a freelance writer (not everyone is cut out for it).
So, to help you prepare for amazing freelance writing jobs, check out these responsibilities.
9. Developing an Onboarding Process
How do you welcome new potential leads?
Do you have a contact page? A form?
Do you set up a Zoom call?
For me, I had to have a/n:
Email signature title
Response template
Flexible schedule if I want to do a Zoom call
My onboarding process for copywriting clients is different, but for typical B2B blog writing clients, I may or may not jump on a Zoom call and ask interview questions.
Now, don't feel overwhelmed if you have no clue what to do!
You can develop this onboarding process over time. I rarely did Zoom calls when landing client work. It's only recently that I started adding them to my client acquisition process.
10. Developing a Pitching Process
Another process you can start honing in is your pitching process.
You'll soon learn that hustling will be part of your freelance writing responsibilities.
But only for the beginning! The goal is to create a lead generation strategy where clients come to you (I teach this in Writeto1k).
This is when your freelance business works for YOU, not the other way around.
In the beginning, however, to save time, resources, and headaches, create a system around pitching.
You can do cold pitching, warm pitching, job board pitching, and more if you want, as long as you have a consistent to-do list of pitching.
For more help, I have a post on how to write a pitch!
11. Optimizing Social Media Bios
Not on social media?
You're missing a goldmine of high-paying freelance writing jobs.
Isaac shares his success in landing a writing job on LinkedIn.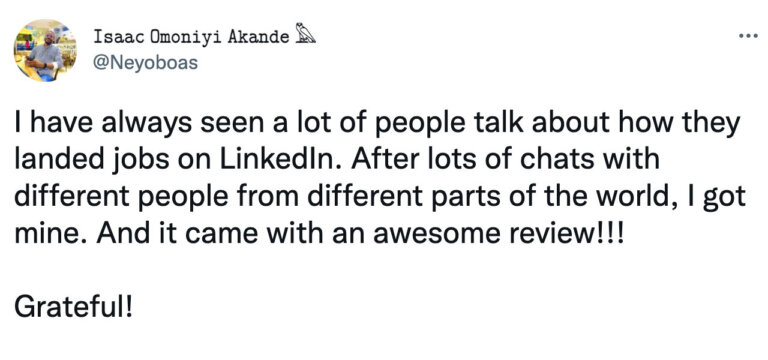 Start tweaking your bio and profile to ensure you get continual leads from your social media efforts.
For example, customizing my LinkedIn profile banner led to some freelance opportunities.
Simply adding "for hire" on your Twitter bio or "professional" on Instagram can help garner more inquiries!
12. Being Responsible for Updating Your Portfolio
Part of your freelance writer responsibilities is ensuring your writing portfolio is up-to-date.
With every new client piece, add it to your portfolio. Don't wait until the end of the year to do that!
For example, one of my newest clients, GoDaddy, just published my post, and it's my responsibility to add it to my portfolio.
Don't slack on this writer's responsibility!
13. Performing Website Maintenance Tasks
Look –
I know many writers out there aren't tech-savvy. One crucial thing is to make sure your writer website is running at top-notch.
Performing maintenance tasks like fixing broken links, checking plugin updates, backing up your site, updating your legal policies, and more should be done weekly to monthly.
You don't want your writer website to be down because you forgot to back up your site! This is your #1 tool for helping you land writing gigs, so don't ignore this crucial freelance writer responsibility.
14. Being Organized
I'll be the first to tell you that I'm not that organized. I would be lost if I didn't have my freelance writing planner, Trello, and Google Sheets to track my invoices.
If you are an apps-type of person, find the right writing apps and software programs that will work for you.
I like both written and digital, so I use both, but that's me!
If you need more help, check out my project management system post.
Other Important Responsibilities of a Freelance Writer
So, these last three important responsibilities of a freelance writer are also crucial to know and do.
To always be booked and never run out of clients, ensure you are on top of these responsibilities.
15. Being On Top of Taxes
I'm not a tax expert, but you must set money aside for your taxes as a freelancer. If you are using PayPal (which you should for invoicing and getting paid), just know that their fees are tax deductible, so set those aside.
As such, you are an independent contractor (sole proprietorship), which means you're self-employed, and any work you do is as a non-employee.
So, when doing your taxes, if you're in Canada/US, fill out an extra "business income/self-employment income" form/schedule.
You can enter your gross revenues, expenses, etc., to calculate your net income.
Those are your expenses like hosting, domain, and training.
Freelance writer John Grimley said,
"Provide those to your accountant at tax year-end, and write-offs will be itemized as deductions in your tax return. Your accountant will have an updated list of current itemizable deductions."
For more help, grab this book, Working for Yourself: Law & Taxes for Independent Contractors, Freelancers & Gig Workers of All Types.
16. Improving Your Skills
To raise your freelance writing rates, you must improve your writing and business owner skills.
I didn't start receiving $900+ a post in 2014. I started out getting $150 a post, which steadily grew to what it is now.
But it all happened because I became:
This all translated to a higher freelance writing rate.
And that is why I continue to start new blogs, write on Medium, and have two email lists.
I'm writing every single day!
17. Communication
Lastly, communication!
Learning what to say to clients isn't always intuitive. You might be talking to an editor, a CEO, a marketer, a coach, or a solopreneur.
These people may have just started or been in their role for decades. You, the freelance writer, must know how to communicate well with a potential client.
What do you say when you receive an inquiry for a writing job?
What about once you share your freelance writing rate and they come back with an objection?
Take the time to plan out an onboarding system where you are in charge of the conversation.
I do have more help with what clients say after you enroll in my Writeto1k course!
The Responsibilities of Freelance Writing
There you go!
Seventeen important responsibilities all freelance writers need to know to be successful.
Let me know in the comments if you think I missed any other ones! I'd love to know!
Please pin me and share this on Facebook!