Recent research from Forbes and Upwork indicates that 1/3 of the workforce in the U.S. is now freelancing.
This research also shows that it's entirely easy to land a job in a day when a skill is sought after or fast-growing. And, according to SEMrush, 81% of content writing jobs were outsourced in 2020, making writing a highly valuable job skill to have.
So, it's no wonder that freelancing and the gig economy contributed to over $1.2 trillion dollars in 2020.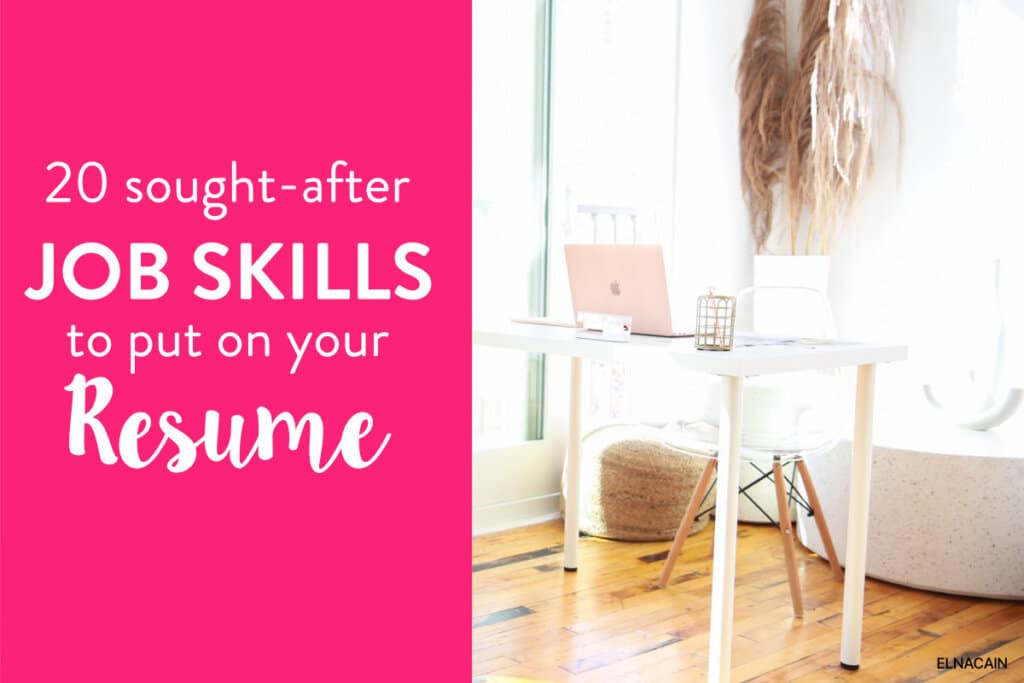 The marketing landscape is moving online, and as freelance writers, it's up to us to adapt to these changes. Learning what skills to put on a resume can give you an edge when looking for freelance writing jobs and open you up for new services to offer.
Luckily, LinkedIn published a report on the top marketing jobs in demand, and I wanted to go through it to show how writers may want to add these skills to their resumes.
LinkedIn is an online marketing platform where you can connect with businesses, business owners, and freelancers. It's also a place to land jobs.
What's surprising is how fast the market for digital services is growing. There were 63% more marketing jobs in the last six months, telling me that it's crucial for freelance writers to gather a jobs skill list and work on acquiring these skills.
If you want to know the difference between successful freelance writers and those that can't find a writing gig, it's having these sought-after skills.
So, what are these skills you can put on your resume to land more jobs?
Fastest Growing Skills To Know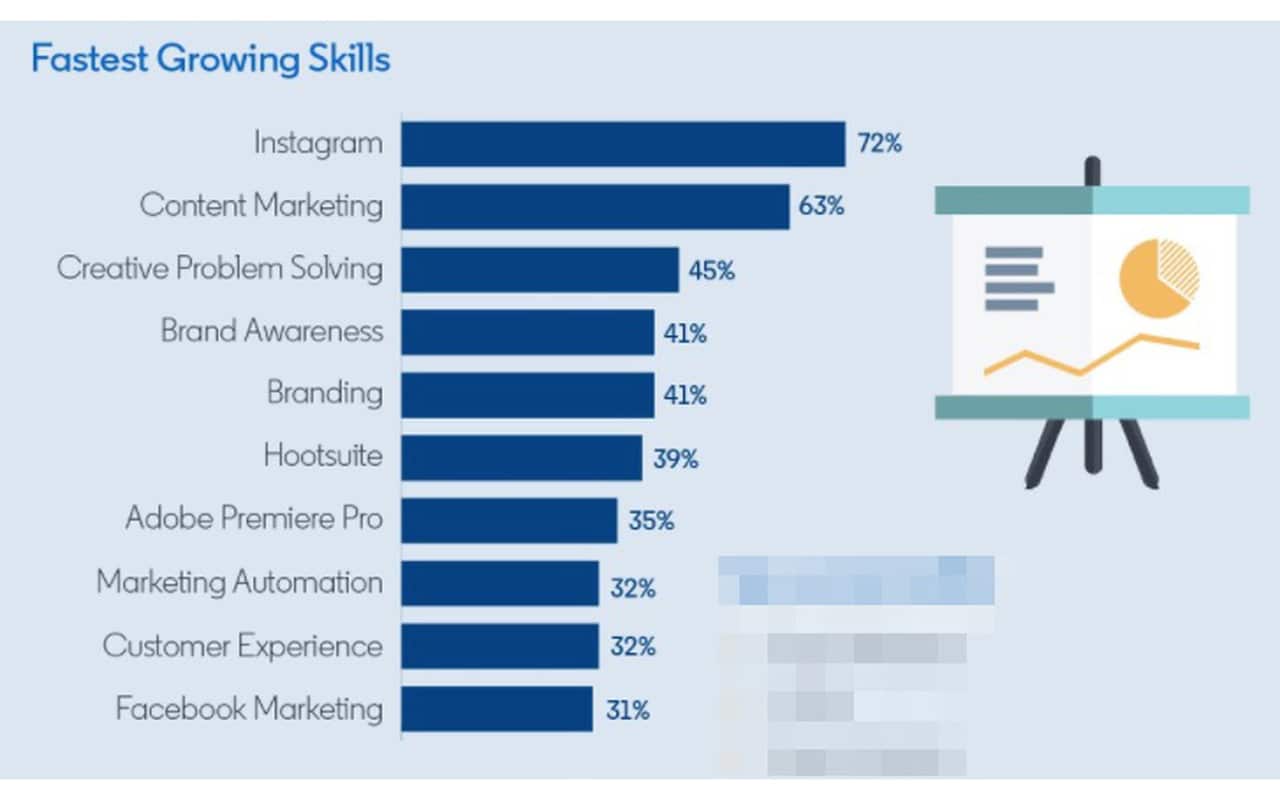 LinkedIn's report provides an infographic (that you can download here) showing the job skills with the fastest growth.
You may be looking at that graphic and think, "Oh no, I'm just a writer and want to get paid for writing, and I don't know anything in this jobs skill list!"
Know this – it won't take you years to learn these digital services. Within a few months, I learned how to use Instagram marketing, and with a few blog posts and videos, I learned more about how Medium's publishing platform is changing.
As writers, our greatest skill set is creative problem solving, and that's the top three most sought-after skill you can put on your resume!
So, let's go through each skill and see how you can use these to make your freelance writing more attractive to potential online writing jobs.
1. Instagram
As of July 2021, there are slightly more men on Instagram than women, but the average user on Instagram is 34 years old.
With being the sixth most visited platform and with over a billion people using Instagram every month, it's no wonder that marketers, companies, and freelance writers are looking at emerging skills and how to use this platform to their advantage.
Top Instagram job skills to learn are:
Instagram business account set up – profile and bio
Content marketing – create Instagram posts, Reel ideas, and Story ideas (creating captions for brands is a top job skill to have)
Community management – managing your client's Instagram marketing efforts
In addition, it's a good idea to learn a social media automation tool for Instagram such as Tailwind, Social Pilot, Instavast, or Gramto.
So, as a freelance writer, where do you fit in with Instagram marketing?
The top two job skills for Instagram require copywriting and they are something a freelance writer can offer. Writing bios and social media posts can be an excellent side service to offer on top of your freelance writing or copywriting service.
For example, Krista Bugden is a freelance writer who offers blog writing, web copy, AND social media captions for Instagram and Facebook.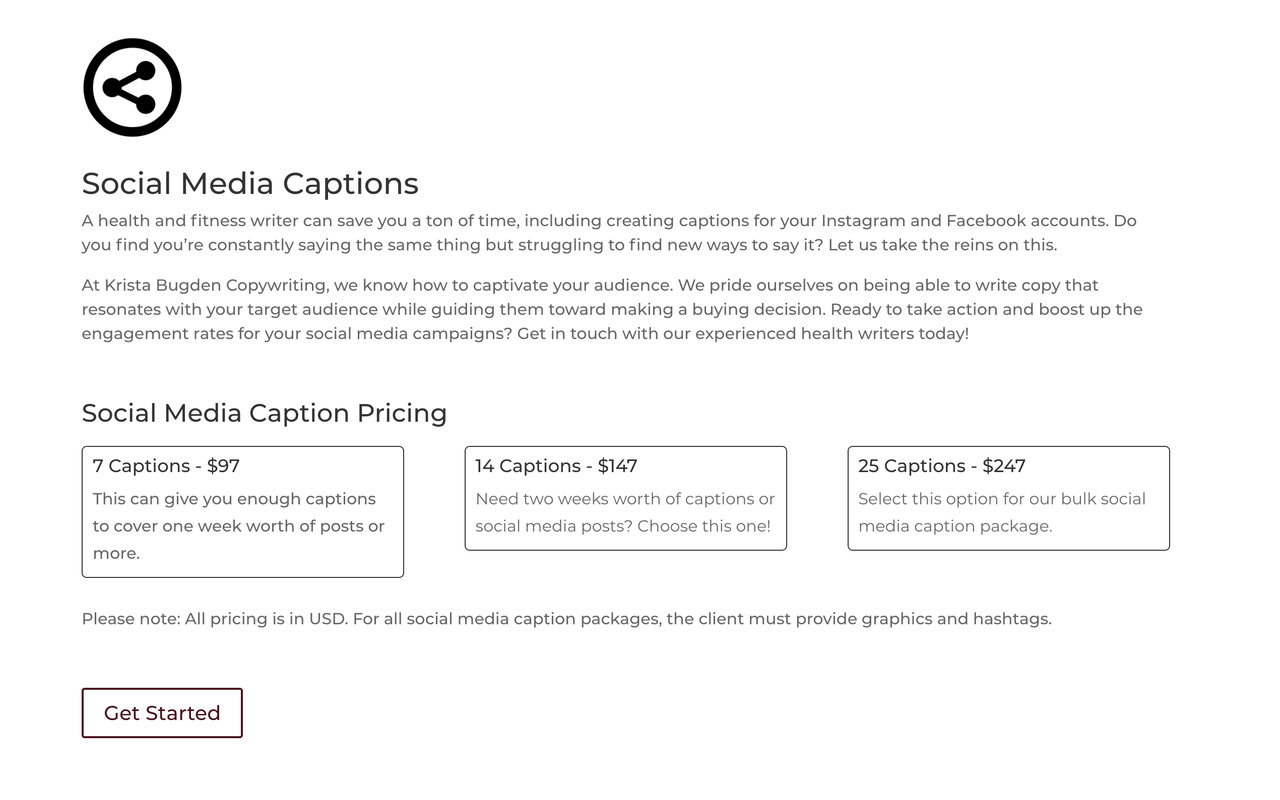 It can be as easy as adding a section on your writer website offering a jobs skill list as part of your resume online to land jobs quickly.
What if you never tried using Instagram or Facebook, or Twitter for your job hunting efforts?
Take the time to sign up to Instagram and create a profile. Start learning from Instagram influencers like Vanessa Lau or, if you're a mom – like me – from Masha Goins.
I recently revived my Instagram profile and doing all that I can to learn how to use it effectively for my copywriting services, and I'm finding it easy to market on Instagram.
So, what are you waiting for? If LinkedIn is saying this is the #1 fastest growing and most sought after job skill, take note and start updating your writer resume.
2. Content Marketing
Content marketing – using content to market your business – has seen steady growth year after year with record-high growth months – recently a 4x higher ROI than ads (paid traffic).
But, consumer trust is low and, because of the pandemic, consumers are starting to distrust media more than ever before.
With more "bro-marketing" tactics pushed in front of consumers or half-effort marketers scrambling to create a sales page only to learn it isn't converting, it's no wonder that creating highly valuable content is on track to be worth more than $600 billion by 2024.
Top content marketing job skills to learn are:
Long-form writing
Storytelling
Lead generation content (lead magnets)
Facebook ad copy
Video creation
Sales funnels
Social promotion
Digital tech skills such as using Google Analytics or other analytic tools
From this list, becoming a content marketing writer is in the best interest for you right now!
This is my digital marketing writing niche and I incorporate many of these job skills as an effective content writer.
If you need help learning how to create these types of content, check out my course Freelance Blogging in a Weekend! The course lessons dive into long-form B2B SEO writing for brands and businesses.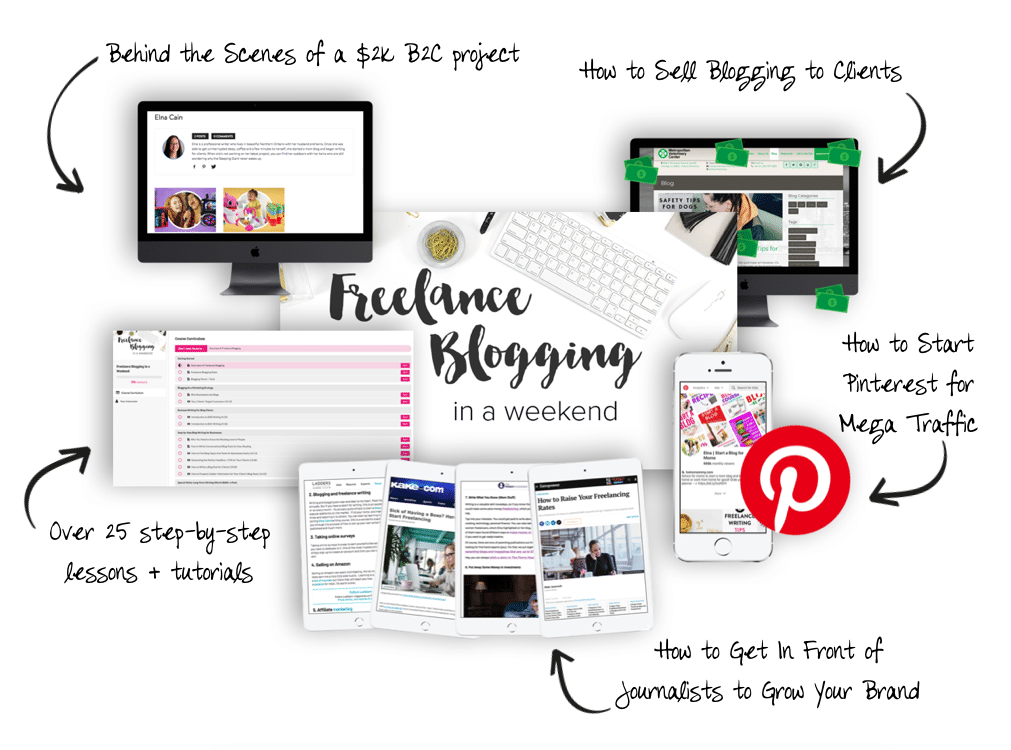 3. Creative Problem Solving
If you're reading this article and thinking of ways to incorporate these in-demand skills, you are doing some awesome creative problem solving!
As an online freelance writer, I honestly feel that our greatest strength – aside from writing – is our problem solving skills. This means brainstorming ideas and, more importantly, having those creative ideas flow easily and put to use for your business and your client's business.
To strengthen your creative problem solving skill, make sure to use these steps:
Clearly identifying the problem
Research the problem – Google is your best friend as well as Youtube!
Devise creative challenges to help you understand your problem – this might look like asking, "How could I…?" or "How might I…?"
Brainstorm ideas
Evaluate ideas – weed out poor ideas or ones that don't make sense
Create an action plan – with the answer, devise an action plan to implement this new solution
Many freelance writers may be interested in not only writing for a business, but also helping them with their content marketing and promotion strategy.
This will use your creative problem solving skill to help find content ideas, new promotional tactics, form an email strategy, or analyzing keywords for SEO for your clients.
For example, Samar Owais is an eCommerce email writer, but she also performs other services, including creating an email strategy for eCommerce business.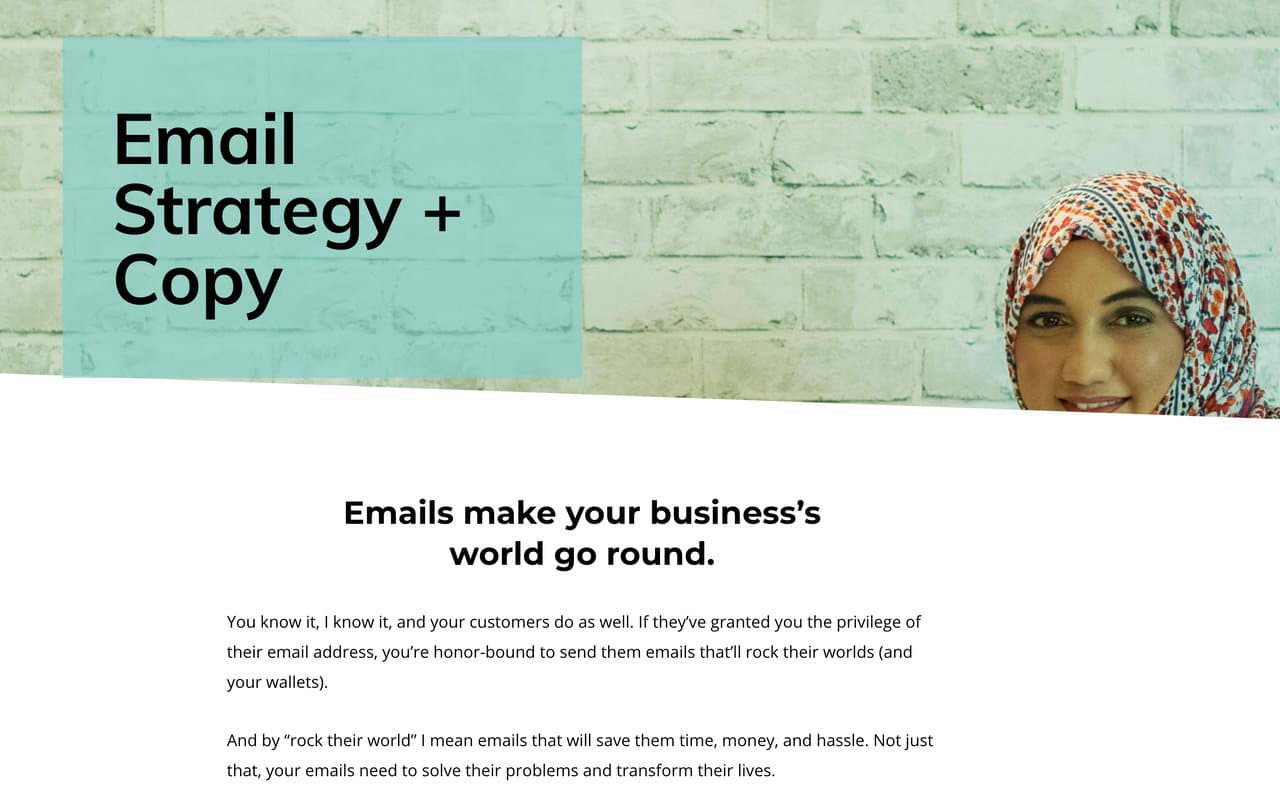 Samar can make more money because she's added this highly sought-after job skill to her email writing. Currently, her rates start at $8,500.
So, you see, adding creative problem solving as an all-in-one package for your clients can help you increase your rates, have steady work, and transform you into a must-have writer!
4. Brand Awareness
Brand awareness centers mostly around promotional tactics including social media marketing, content marketing and email marketing. The goal is to help people recognize a company's brand and the feeling associated with that brand.
Many of the top jobs skills I listed here are all to help with brand awareness.
So, how can a freelance writer incorporate this skill to help them land better freelance writing jobs?
The first way is to talk about brand awareness on your writer website.
For example, Kayleigh Toyra is a Finnish copywriter and translator. She uses her knowledge on Finland and the culture to market brand awareness, specifically with Finnish products.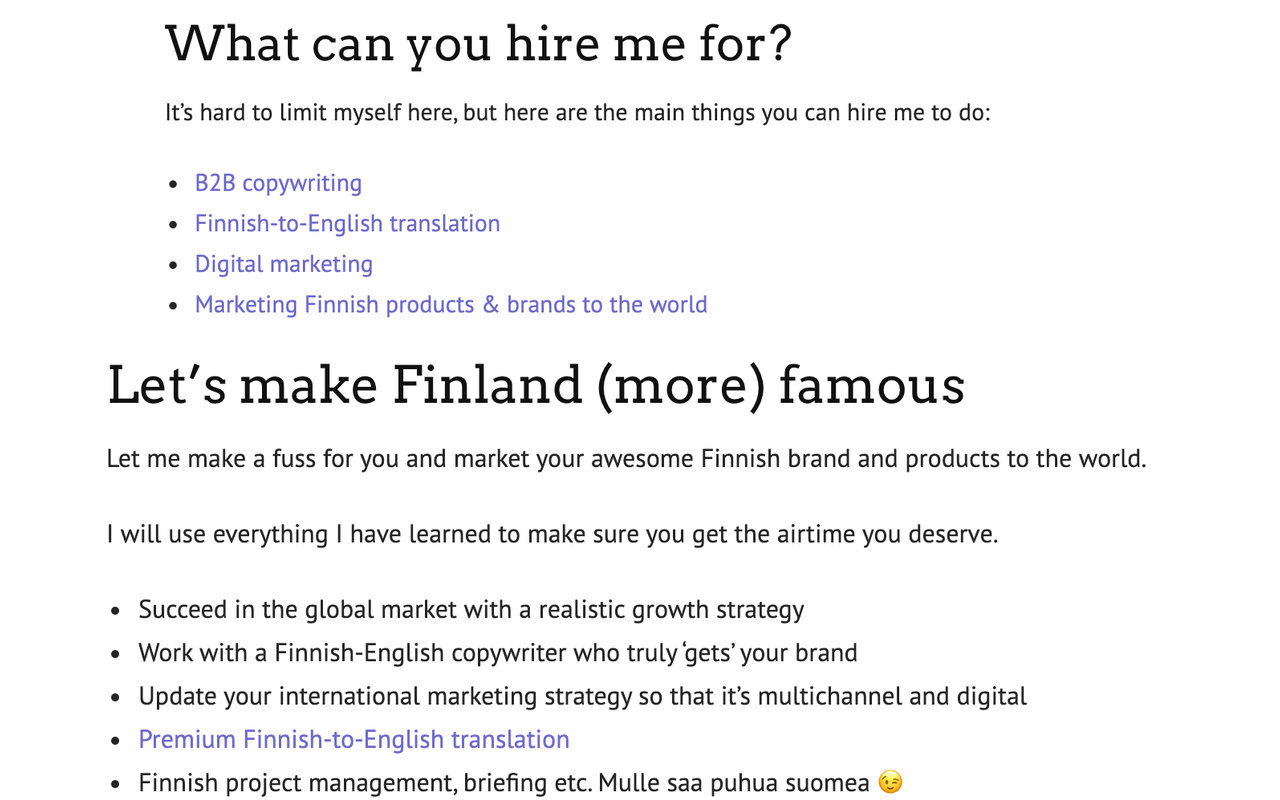 When you do brand awareness for your clients, you can do this with your blog writing service.
Make sure to write in the brand's voice if you are a ghostwriter. This will take into consideration the tone of voice for the brand. Is the brand hip and trendy? Well, then slang is something that might be used in their copy.
Or, is the brand well-known, family-friendly, and faith-based? The writing for that type of brand might be conversational with a positive spin.
Another way to add brand awareness in your writing is with your call-to-actions. An old freelance writing job I had was for an IoT smart remote company.
I was told that for each piece of content I created I had to add the brand name and a link to their service at the end of each post.
Finally, if you market copywriting services, you will need to understand the brand's message and use this for your marketing campaigns, such as sales pages or emails.
5. Branding
If you're like me, then you're a creative person at heart. I love anything creative, and that includes designs.
When I started another blog, I loved working on the brand. From the color palette to the type of font to the overall tone, it was a fun, creative outlet when I was stuck with writer's block or just didn't have the time to write.
As a freelance writer, why not look at branding and designing as another service to offer?
There will be no shortage of work from Pin creation to blog image sourcing to mood board creations and more. Over the years, I've had several clients ask me to create pins for them or other social media graphics for them.
Part of branding is your copy, and this comes into play with media kit writing. A media kit is a page on a site that details stats about that business and is used for sponsored collaborations.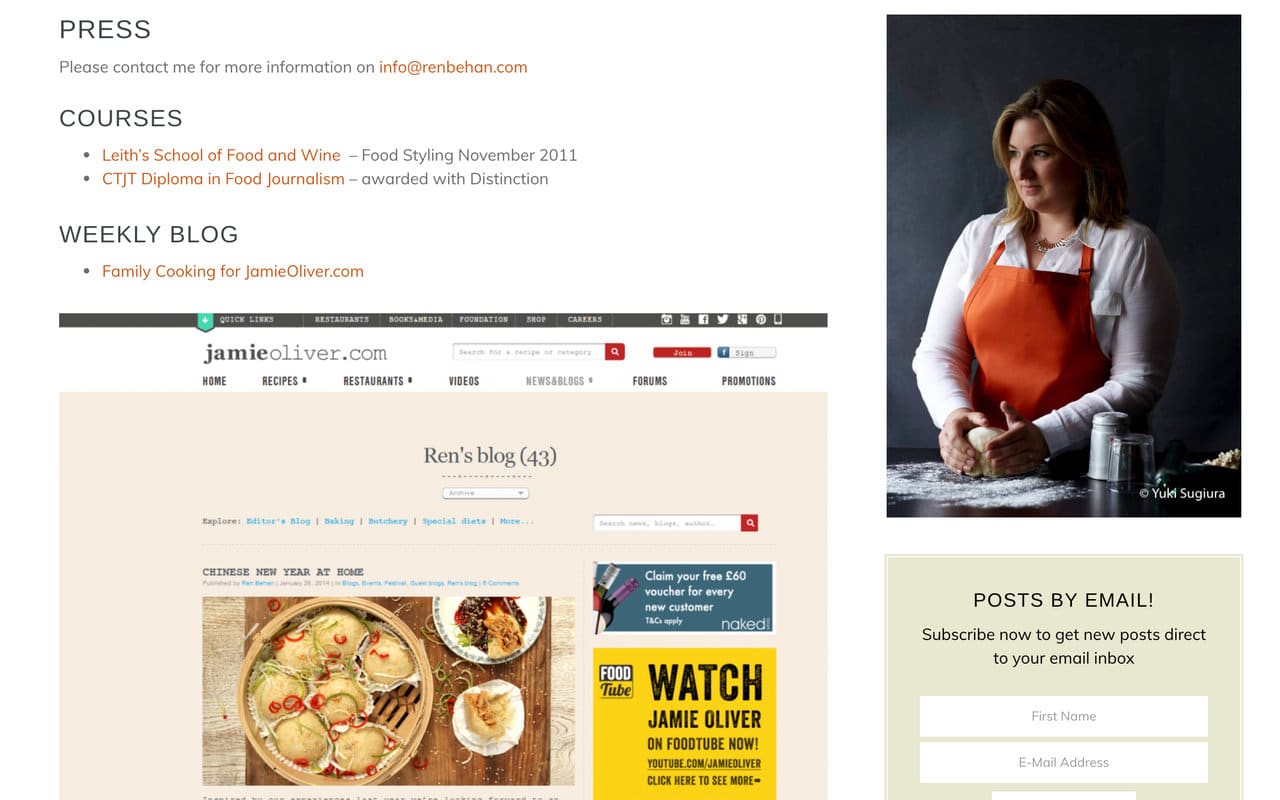 6. Hootsuite
Hootsuite is a social media automation tool and management platform, and I was surprised to see this one tool as a top job skill.
As a freelance writer, become familiar with this tool and use if for your own promotional strategy.
For my niche – digital marketing – it's a valuable feature if a writer has or knows how to use online tools and services.
I use Tailwind, Ahrefs, Conversion AI, Marketmuse, Trello, Buffer, and Grammarly when writing, and having these skills helps me land high-paying writing gigs.
7. Adobe Premiere Pro
Adobe Premiere Pro is a video editing tool and is similar to Final Cut Pro – another tool I use when I create Youtube videos.
While this isn't a MUST job skill to have on a resume, it can set you apart from other freelance writers.
I know my extra services of eBook creations and lead magnet creation wowed my clients and helped me increase my rates easily.
8. Marketing Automation
Marketing automation leans more like a virtual assistant task. If you want to brand yourself as a virtual assistant who offers writing, marketing automation, video editing, and more, then go for it!
This job skill uses software to automate a brand's marketing efforts. While businesses can use these tools if you are a freelancer, why not offer this service instead?
Typical tasks include repetitive tasks like social media posting, sending out emails, and ad campaigns. As a freelance writer, you can write the emails and send them through Drip or Mailchimp.
Social Media Manager Stacey promotes her marketing automation with the help of HoneyBook – an automated onboarding system for businesses.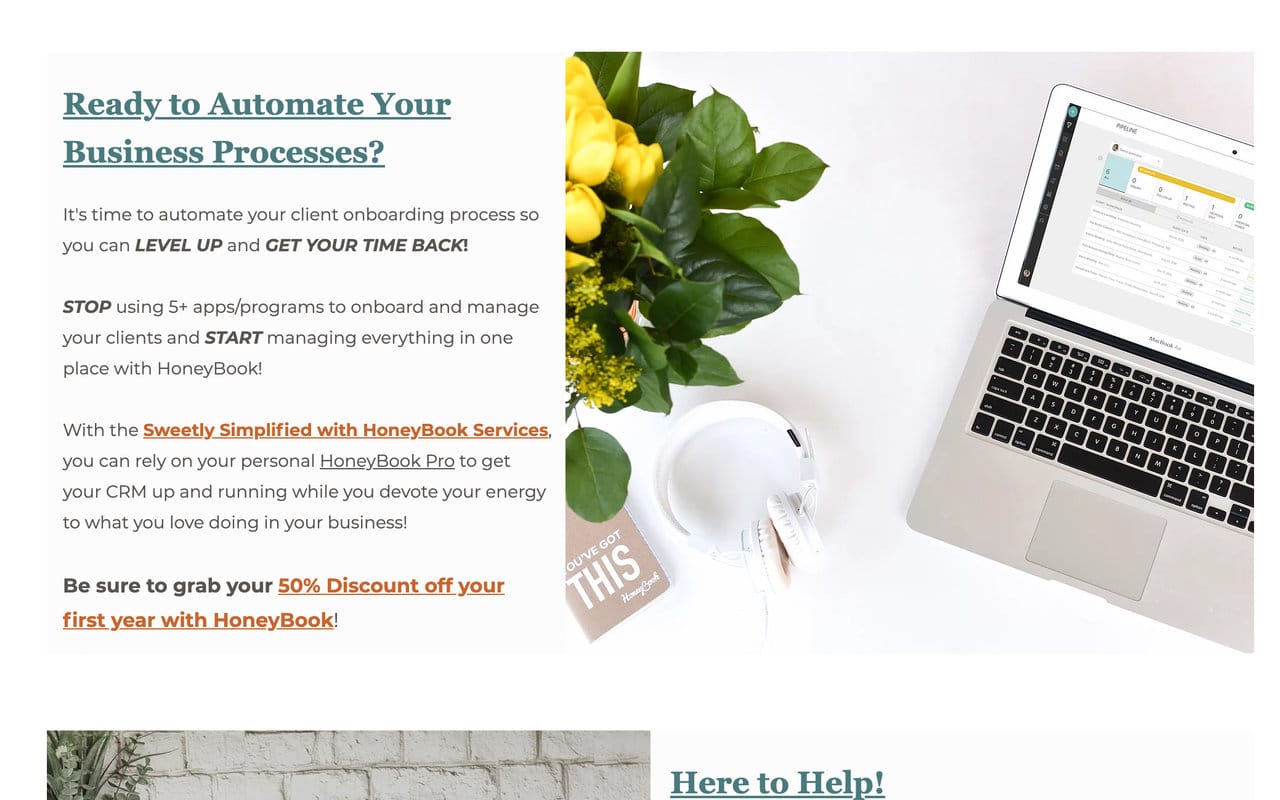 9. Customer Experience
While doing customer support is more of a virtual assistant task and doesn't rely on your writing skills, you can still use this job skill for your resume.
How? With testimonial writing and case study writing.
Testimonials make for powerful social proof for any new startup business. One way to capitalize on this fast-growing skill is to offer testimonial writing services. I wouldn't make this your entire writing business niche, but it can be a nice side addition.
When I ask my new clients for a testimonial I always offer my help to write it for them and all they have to do is approve it!
Another way to add customer experience to your freelance writing business is to market case study writing.
According to Hubspot's State of Marketing Report 2020, up to 13% of marketers use case studies as their primary piece of content for marketing purposes.
As a freelance writer, you can practice writing a case study and then offer that on your Hire Me page. Many writers charge $200-$500 per case study and can be a nice way to make a living as a writer.
10. Facebook Marketing
Facebook is the third most visited site, with Google and Youtube ahead of the pack.
With an advertising audience of 2.14 billion, Facebook marketing should be a top strategy for online, offline, and local businesses.
It can be easy as promoting your social media services and get tons of leads like Writeto1k student Caitlin is getting right now!

If you want to be a copywriter, you can niche down to writing Facebook ads for different businesses or a specific industry.
One thing I would do is invest in learning about creating a Facebook ad. Last summer I took a course on Facebook ads, and I learned highly valuable copy and how to set up my own Facebook ads (the tech behind it). When you learn these parts, you can make your Facebook marketing service much more valuable and charge a premium!
Top Current Skills Businesses Seek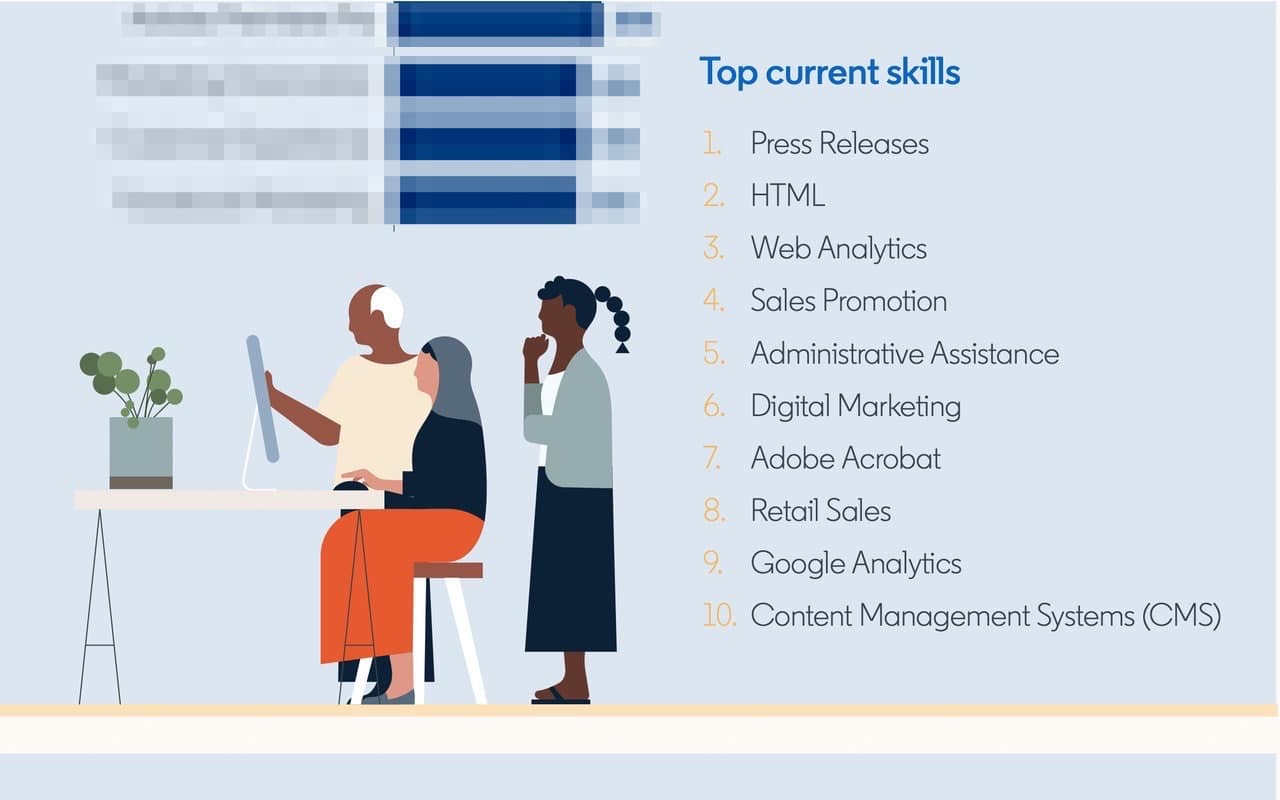 Along with the fast-growing job skills, LinkedIn also reported on the top current job skills still in demand.
So, let's go through these ten job skills in this list and see if we can see if a freelance writer can offer that skill as a service.
11. Press Releases
A press release is a form of press statement businesses use to cover a new feature or product to the media. If a media outlet picks up the story, they will run the story in their publication. So, think of a press release as a notification you tell journalists, and journalists use press releases to find key information to use for their newstory.
Learning how to write a press release isn't hard and can be a highly valuable job skill you can have as a freelance writer. Press releases go for $200-$2,500 to write!
12. HTML
If you're a tech writer, you can write about HTML/web development.
According to LinkedIn, this is a top skill to have in your resume, even if you're a writer.
This can open the doors to new jobs, but in any case, it can help you form your writing niche and write about HTML or web development.
Some sites you can write for are:
13. Web Analytics
Web analytics is an important measure for businesses. They want to know if their SEO marketing efforts are working or if their ads or promotional content on Instagram brings leads.
Many businesses can do this by setting up goals in Google Analytics. Some common goals are: visit duration, pageviews, events (i.e., using social media buttons or widgets on the page), newsletter signups, and more.
Google Analytics isn't the only web analytic tool. Companies may use Kissmetrics, Mouseflow, Mint, or ClickMeter.
This job skill is best suited for a writing agency. For example, Content Bacon provides content services, and one of them is analytics and reporting.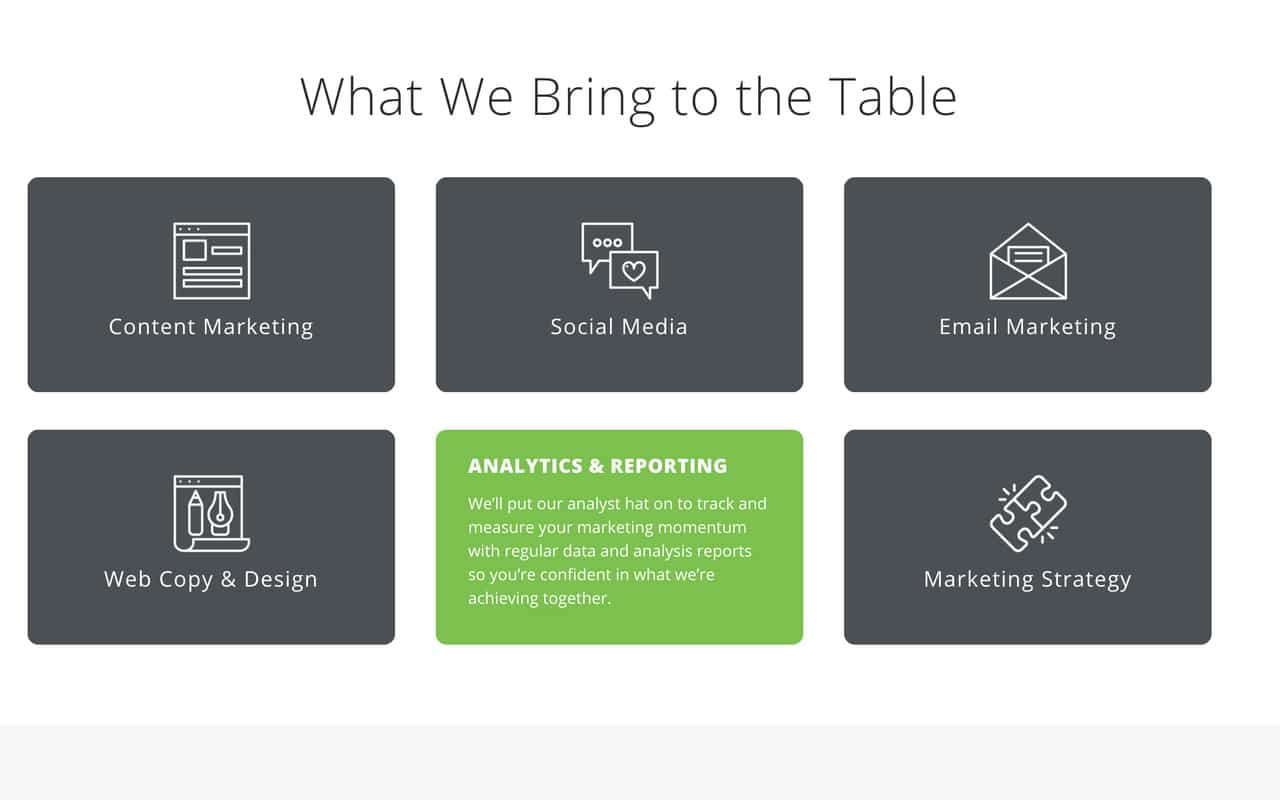 If you are still trying to figure out the best writing career for you, starting a content agency might be your thing!
14. Sales Promotion
Sales promotions are short promotional campaigns to boost conversions, share a new product or gain more leads.
Copywriters excel in this type of copy, and businesses seek this service. I recently wrote a sales promotion email for a client because she just started a subscription service.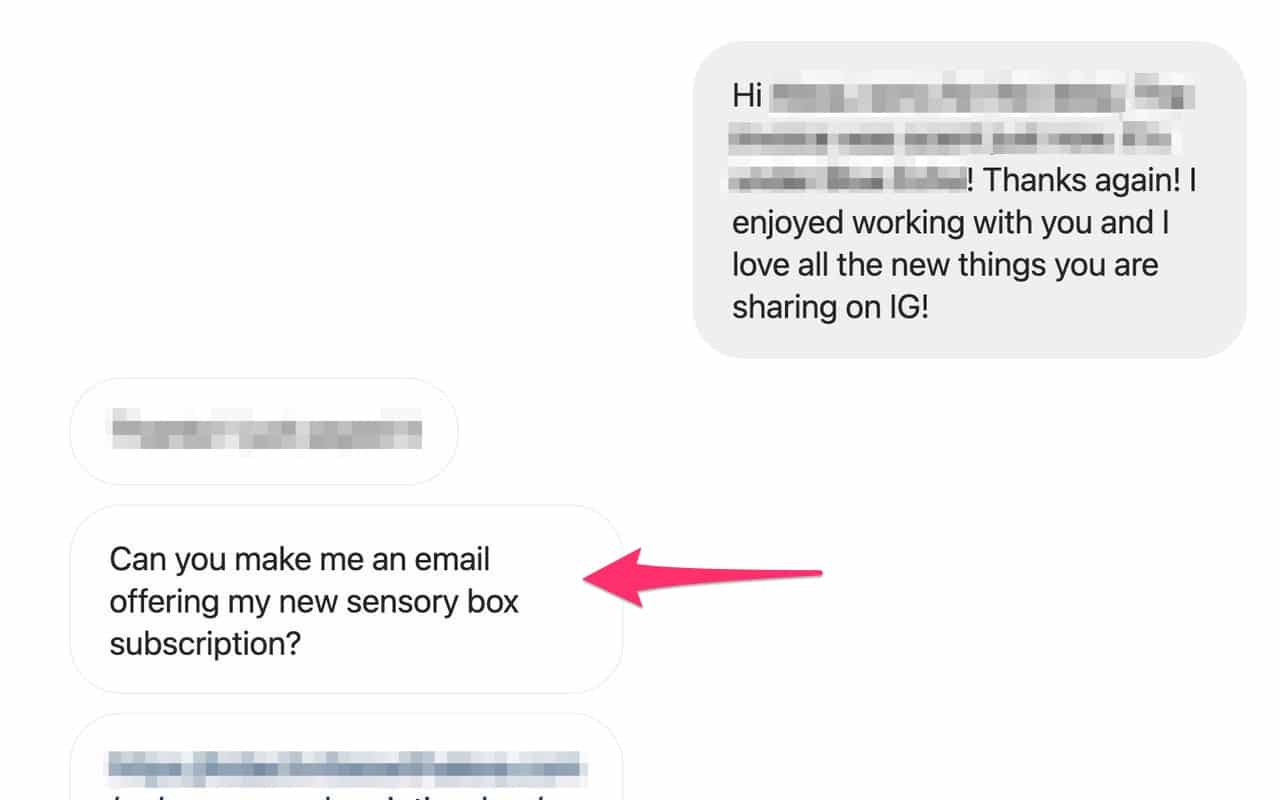 If you enjoy copywriting, then you can offer email writing, sales pages, lead magnets, social media posts, and more.
15. Administrative Assistance
Admin work is something a virtual assistant does, and if you want to dabble in offering multiple services like administrative assistance, then you can act as a VA!
Personally, as a freelance writer, I try to draw the line of the types of job skills I will do, and admin work is something I don't like doing!
But, to each their own!
16. Digital Marketing
Digital marketing is a broad term for any online marketing effort. It encompasses content marketing, social media marketing, and email marketing. This is also my writing niche, and it's a profitable type of job to have!
As a digital marketing writer, you can write about blogging, email marketing, Pinterest, Instagram, Twitter, lead generation, branding, and more. Here's a snippet of my writing portfolio.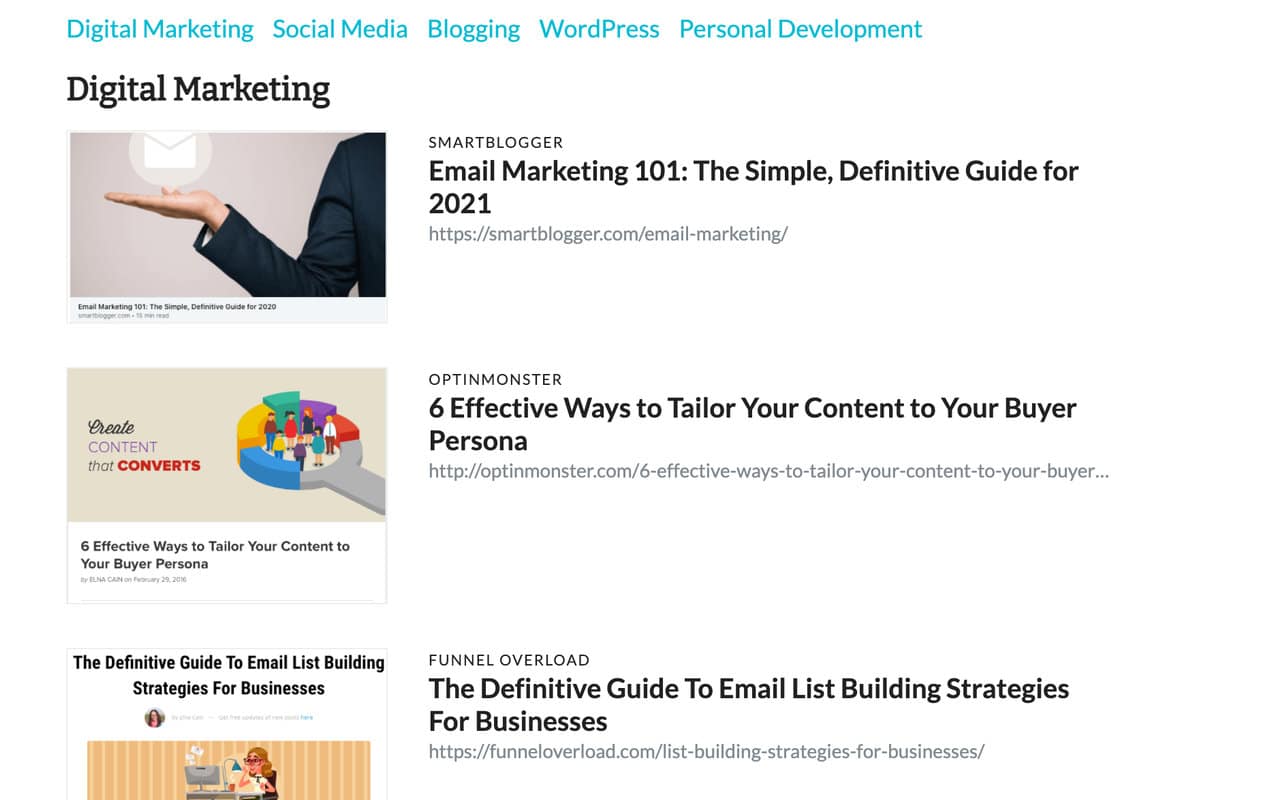 17. Adobe Acrobat
Printable guides are hot right now. People are creating printable templates and selling them easily. You can definitely create printables using Adobe Acrobat and start marketing this service to businesses mentioning you use Adobe Acrobat to create your products.
Personally, I have used other tools like Keynote and Canva, but it's always good (as you see from this job skills list for your resume) to know and use tools as it helps you make more money as a writer.
18. Retail Sales
While being in retail sales isn't a type of digital job, you can write about retail!
This is exactly what Francesca Nicasio does, and she has even written a book about it, helping you diversify her income streams!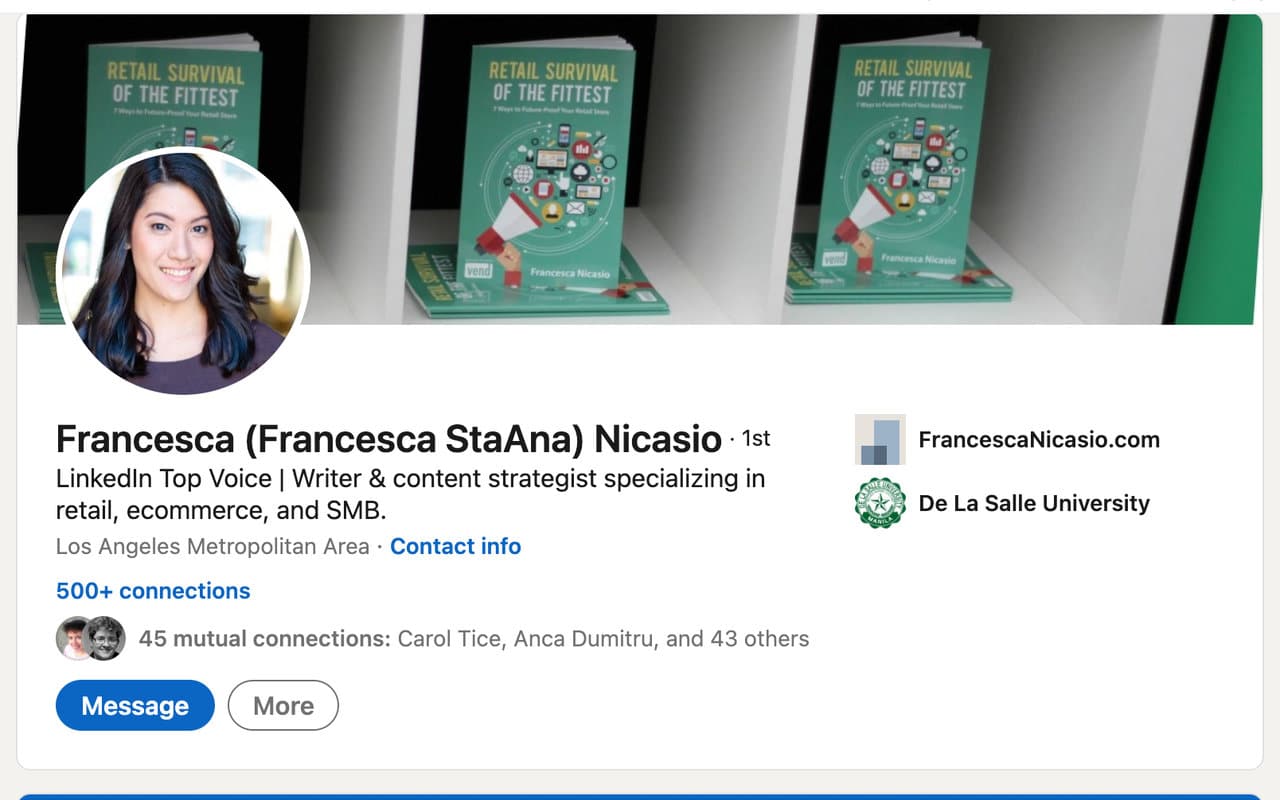 The type of content she provides to retail software companies include:
Retail staff training tips
Round up of quotes from successful retailers
Tips and hacks to make counting physical inventory easier
19. Google Analytics
Part of web analytics is knowing Google analytics, and you can see the importance of this since it's a separate list item!
If you have a writer website or a blog, then you are familiar with using Google Analytics. This is a service you can provide as a freelance writer, but as I mentioned, it's best suited for writing agencies.
20. Content Management Systems (CMS)
The last skill to put on a resume is knowing (and using) content management systems. If you are a blogger or a freelancer, then you are using a CMS. Examples include WordPress, Squarespace, Wix, and WordPress.com.
You can write about WordPress or other content management systems. This is what I wrote about when I first started as a freelance writer.
Some WordPress sites I wrote for include:
LinkedIn's Skills for a Resume
Are you excited yet?
Offering a service like writing opens the doors to many different digital jobs. There is no better time to start a freelance writing business than right now!
Tell me in the comments which job skill you're going to add to your resume!
Please pin me!