Have you landed your first freelance writing client and need to manage your projects?
Or, maybe you have several freelance fclients you're trying to juggle, only to "lose your senses" when a client asks you to update a project you did three months ago?
Having a freelancing project management system isn't a sexy topic. There's no way you can make money from it and it actually can be a big time waste if you're disorganized and don't have a proper system in place for your projects.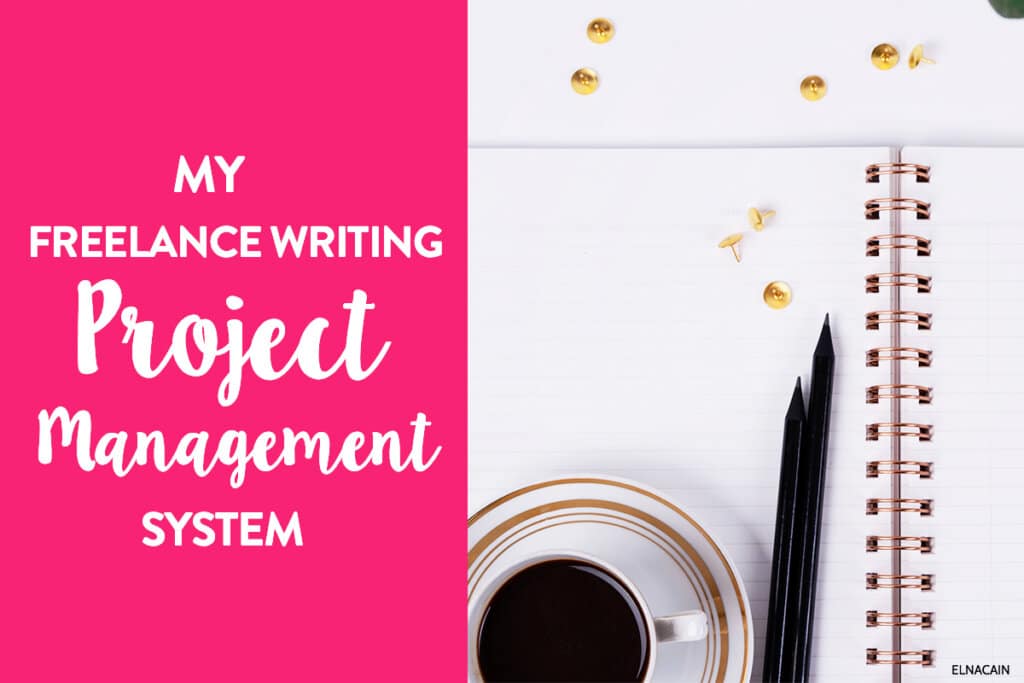 Well, that was me not too long ago. As I was landing more and more clients, I found my current project management system at the time not working for me.
A lot of steps happen from the moment a client has a topic idea – or I pitch an idea – to submitting the completed work.
I found I was missing steps – like running my pieces through Grammarly – and there was always a lag time between finishing the piece and having it edited. And for some reason, this confused me and I would spend more time than necessary checking to see if my pieces were ready to be submitted.
So, I made a change, found a project management systems that's working at the moment and thought I'd share it with you all!
My Previous Freelancing Project Management System
From the moment I landed my first client to recently, I was using a basic Excel sheet. It did a great job at keeping my projects in order and I could instantly tell when I submitted my work and when a client paid me.
For this freelancing project management system I kept both my bookkeeping information and projects on the same sheet. So, my Excel sheet had spots for:
Client
Writing piece
Invoice number
PayPal address
Date submitted to client
Date received payment
This worked for many months. But, once I landed more clients and clients who only needed content on demand, I found there were holes in my system.
For example, I wasn't tracking deadlines on my Excel sheet. Instead, I was either tracking them on my calendar or in my head. I also wasn't keeping tabs of ongoing work.
So, for example, when I landed my first recurring gig, I had to email the client a month's worth of topics. Once they were approved, it was my responsibility to keep them in order.
Oftentimes, I was looking in my email – or my trusty notebook – trying to find the approved topics that I pitched.
I'm sure you can already tell, my previous system wasn't that organized. And it was more apparent that as my client list grew, something had to change.
Figuring Out What I Needed to Track to Manage Projects
Before finding an alternate freelancing project management system, I had to break down my projects into the required steps.
I don't know about other freelance writers, but this is what I need to keep track of:
Date topic was assigned
Internal deadline – this is my personal deadline I set
Client deadline – this is the deadline the client set – or, if flexible deadline – I also set
Finished project
First edit
Run project through Grammarly
Run project through CopyScape
Have a peer edit project
Final proofread
Submitted to client
Invoiced sent
Payment amount received
On top of this, I also need to have a sheet on all my clients and their information as well as tracking the lifetime billing for each client. I also needed a sheet to track my financials on a monthly basis.
Finally, I also have to keep tabs on my sub-contract writers, their projects, and their payments.
My Current Freelancing Project Management System
For my freelancing project management system, I usually use Trello. This is one of the many freelance management tools you can use. I like Trello though, since it's easy to use and uses a visual system to help with organizing your day-to-day tasks.
With my Twins Mommy blog and this blog, I use this system to keep track of my blog post ideas.
For the client-side of business, I looked into using some online project management tools such as Asana, but found it too constricting and wasn't able to really customize it for my business. Plus, those tools encourage collaboration with your team, and since I am a one-woman show, I found those notices annoying.
So, what I ended up using were Google sheets. It's pretty similar to Excel and the great thing about it is, it's customizable.
Here is a small snapshot of what fields I have (click the image to see a better view):

What I like about this system is it's easy for me to see:
What needs to be done – when I type DONE into the appropriate fields it turns green.
If an invoice is outstanding – the Deliverable piece will turn red
If I haven't issued an invoice – the Deliverable piece remains yellow
So, now, once a client gives me a topic, or it's time for me to work on a new project I put in the start date – today's date – and fill in the areas up to Internal Deadline.
Once the piece is finished, I log in the date under, Draft Date, and work on the editing part of the process.
What to Take Away From This
When you first start out, you may not need such a detailed project management system, but don't be fooled into thinking you don't need any project management system.
As soon as you land your first client, start keeping track of:
The client's information – PayPal address, scope of project, rate negotiated
Topics assigned and ongoing work
Client deadlines and, if you want, personal deadlines – this helps once you have multiple clients and need to prioritize your writing pieces
Invoice submission date and payment date
Earnings and expenses
Tax deduction amount
Freelance writing isn't a hobby – it's a business and you're not just a writer, you're a solopreneur! Honor it and be excited that you've taken this leap to control your own future!
Tell me in the comments what project management system you are using and what important steps you keep track of!