Interested in gaining freelance writing jobs easily?
While it's possible to land writing gigs without social media, over the years I've landed amazing and high paying writer jobs with ease simply by being on social media.
When I started freelance writing in 2014, I created a LinkedIn account and Twitter account. I was NOT on social media at all before I started writing online.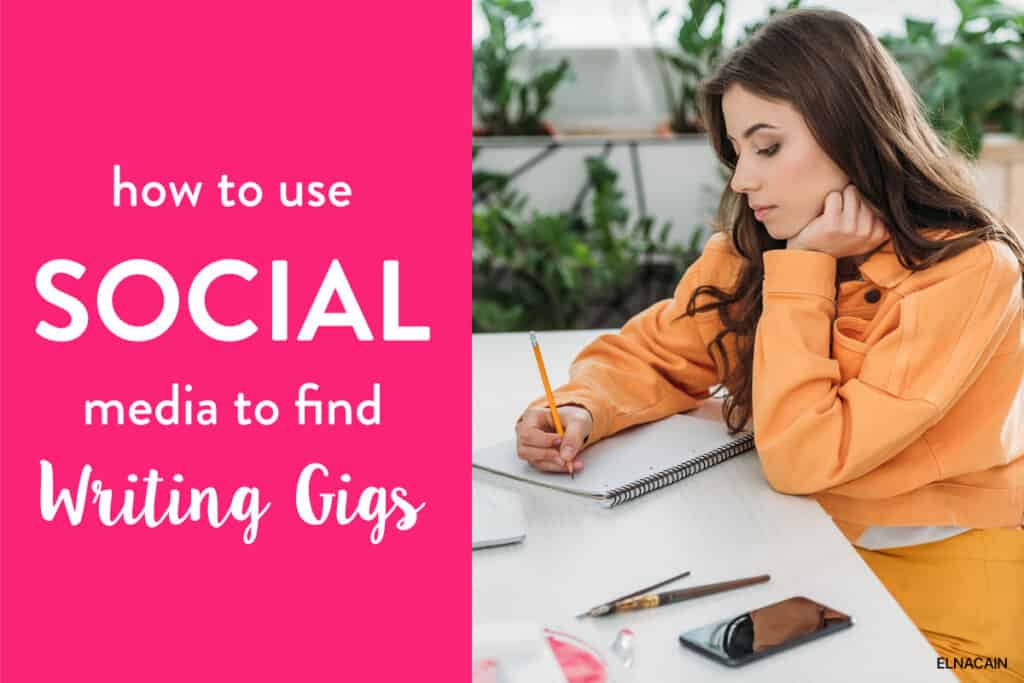 I was a new mom with twins, and before that I worked in the school system with no need to have a social media profile.
But once I started looking into a side writing gig, I found that everyone was on social media.
Bloggers, entrepreneurs and companies with a blog would put at the end a link to their Facebook page or Instagram profile.
I know at that time social media would be a way to find some writing clients.
And guess what?
With over 91.9% of businesses on social media today, there's no better chance than now to find paid freelance writing jobs.
So, if you are interested on finding jobs using social media, check out my tactics.
1. Using LinkedIn to Find Writing Jobs
LinkedIn was one of the first social media platforms I used to market my freelance writing business.
I filled out my LinkedIn profile and optimized my header image to help me land high-paying work.
And, guess what?
I started getting LinkedIn notifications of businesses wanting to hire me for their blog or website.
I was surprised at first but now it's a recurring message in my LinkedIn inbox.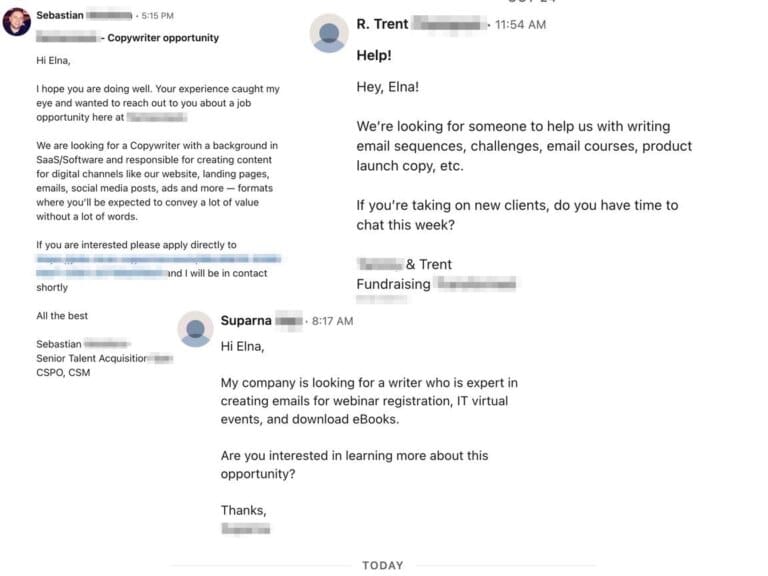 So, how did I get potential clients coming to me right from social media?
Well, first you need to BE ON social media to start!
I know for many new freelance writers, the thought of starting a LinkedIn or Twitter or even Instagram account is silly and you don't want to do it.
I get that.
But realize you are losing amazing and profitable writing jobs on social media!
So my suggestion is to first start a LinkedIn profile.
When you fill your profile out remember not to use that profile to promote your current job (that isn't freelance writing).
This is a freelance writing LinkedIn profile and that means you only put your client jobs or guest posting jobs.
So yes, in the beginning it will be bare, but you can start creating writing samples using LinkedIn or on a blog (if you start one, which you should!).
This is exactly the steps I took when starting a LinkedIn profile.
Remember, I wasn't on social media at all before starting a freelance writing business.
Here is the very first article I published on LinkedIn.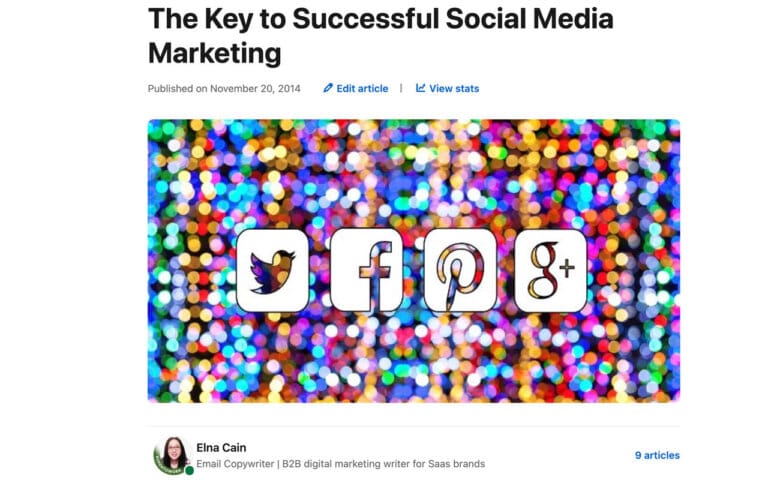 With every article you write on LinkedIn you will have a picture of you and your LinkedIn title.
As you can see, mine is: Email Copywriter | B2B digital marketing writer for Saas brands.
This title changed over the years but as long as you state exactly what type of writer you are, your LinkedIn profile will start getting views and eventual leads.
This approach is a slow approach because you are building your online job.
With time, that time you took will lead to potential writing gigs.
But, you can also use social media to cold pitch.
For LinkedIn you will have to connect with people and companies since you can't reach certain profiles in the 2nd or 3rd connection unless your 2nd degree connection can connect with 3rd degree people (yes, it's confusing).
I have over 500 connections and have been on the profile since 2014, so I have 1st, 2nd and 3rd connections.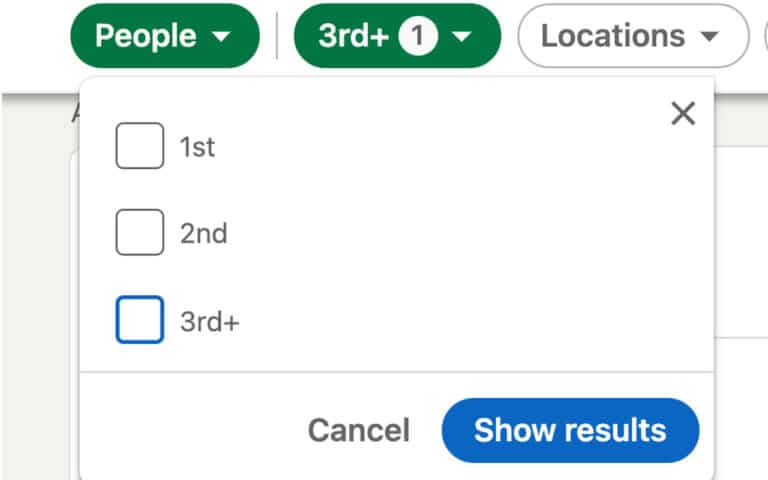 By this time, you will have connections on LinkedIn and a few articles published on LinkedIn.
I'm also hoping by this time you have taken the time to start a writer website as this is your #1 tool to lead potential clients to.
So it would go like this: you message a brand and let them know you're a freelance writer.
They respond back that they are interested.
Then you respond with your link to your site or your portfolio and if your website is optimized it will easily land a client for you!
Another social media profile you should try out is Instagram!
2. Using Instagram to Find Freelance Writing Jobs
Are you on Instagram?
For many years I wasn't on Instagram, but recently I've realized the potential Instagram has on landing clients.
It's so important that job seekers are wanting Instagram on your resume.
But, not just any clients – coaches, course creators, and solopreneurs.
I do know that big brands like ABC or Sephora are on Instagram, but for a new freelance writer, pitching to coaches or other solopreneurs is a better way to secure online jobs quickly.
As I'm new to Instagram, I don't know all the ways you can land a client but this is what I did to secure email clients!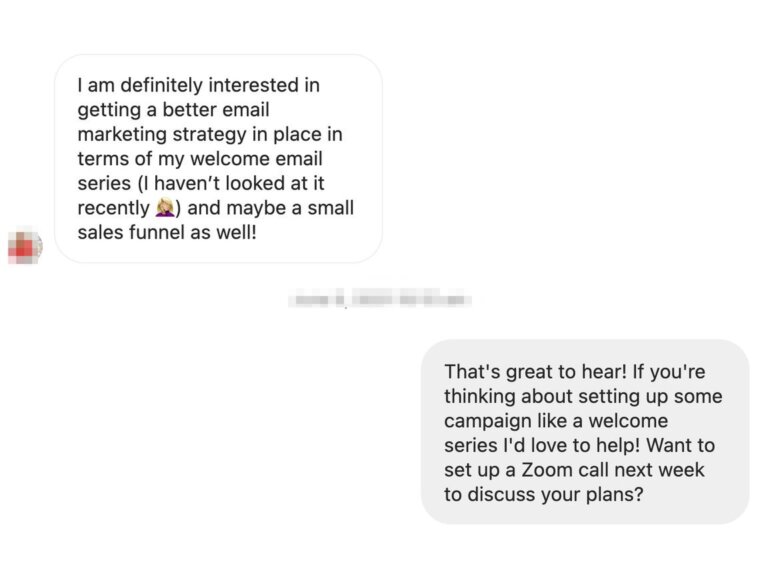 So far, I've landed three clients on Instagram and this is with very minimal marketing.
In the beginning, I made sure to share personal posts and curated Stories to show my business.
For me, posting and Stories were important to connect with an audience with AMA's or sharing new Youtube videos or blog posts.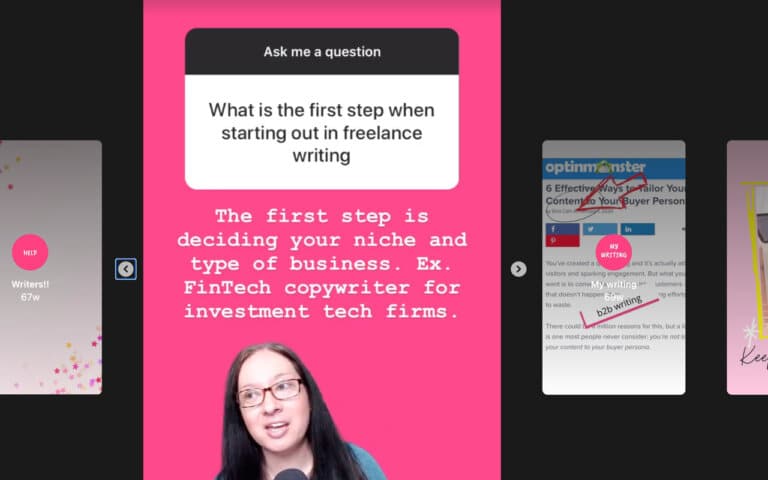 These types of posts helped me grow my following and engagement on Instagram.
This is important to connecting with the right people/clients.
I also made sure to like or comment on posts of my followers (and potential clients).
Then I made the ask – I DM'd a follower and asked them if they wanted an email writer.
Because these are people I've known for a year or more and have connected with them on Instagram, it helped me secure high-paying writing jobs in a brand new service – email writing.
It's important on Instagram to develop a following and for this to happened you do need to be consistent.
This might mean posting 1x a week and doing a Story every day.
Or, it could mean doing 3 Reels a week.
Find something you can do to reach out to your potential freelance writing clients.
To help you with posting on Instagram, look to using Canva.
Canva is a free graphic editing tool. I use Canva to create my Youtube thumbnails, my pin images and my Instagram posts.
For more help on using Instagram to cold pitch, check out my Youtube video.
3. Facebook to Find Freelance Writing Jobs Easily
Facebook is still a great platform to share your freelance writing business.
Having your own Facebook page to share your content and let others know your writing service can actually attract the right client.
But, there's something you should know.
If you don't put all your efforts into Facebook (which I think you SHOULDN'T) you won't get many legit gigs.
It was years before I found a potential writing job for Walmart (yes, big brands are on Facebook).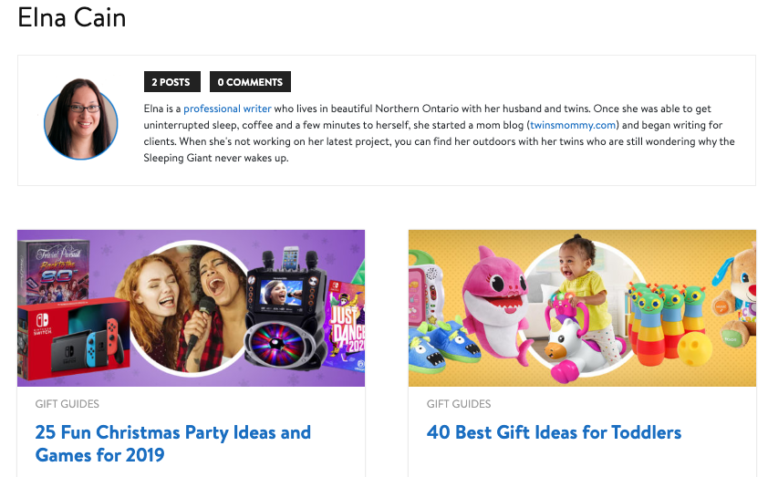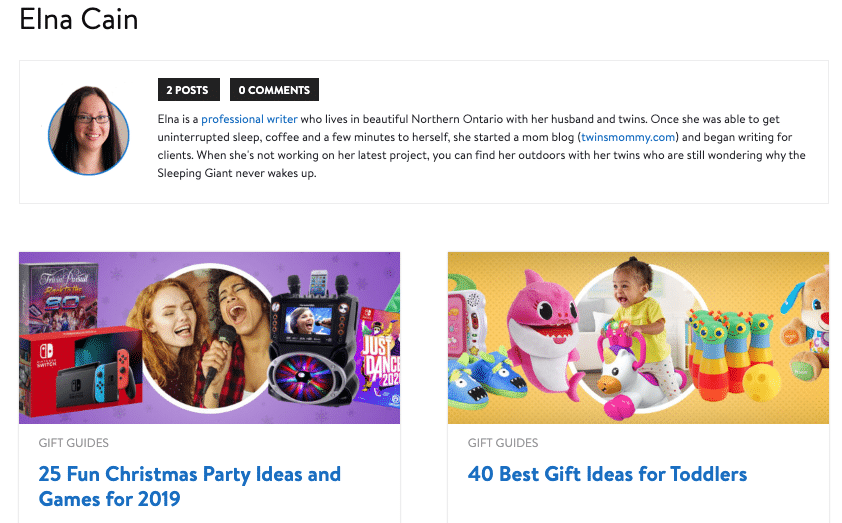 What you should do with your Facebook page is to connect with other writers and potential businesses you want to write for.
This might mean sharing guest posts that you wrote for your writing samples, create polls about your business, and share your blog content.
When you are somewhat consistent with Facebook, you WILL get messages for potential freelance writing jobs.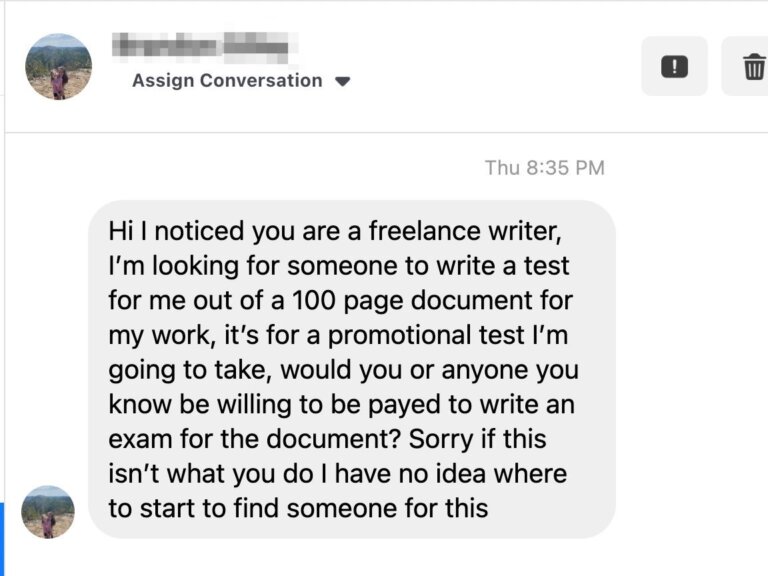 To be honest, Facebook isn't my main social media platform to land gigs, but I do know many people have success finding gigs on Facebook.
I have a Facebook group and many mompreneurs ask for copywriters to help them with content.
So, with your Facebook page, promote your business and expertise and join some Facebook groups where entrepreneurs hang out.
4. Twitter for Freelance Writing Jobs
Twitter has been a long-standing social media platform to find amazing, high-paying freelance writing jobs.
And, along with LinkedIn, Twitter should be one of the social platforms to join as a new freelance writer.
To optimize your profile, make sure you state that you're a freelance writer or a freelance writer for hire. It's also a good idea to link your writer website so that potential clients can peruse your site to see how you can help them.
And, don't forget to create a Twitter header image to show you are a freelance writer.
Check out Aubrey Campbell's Twitter header image: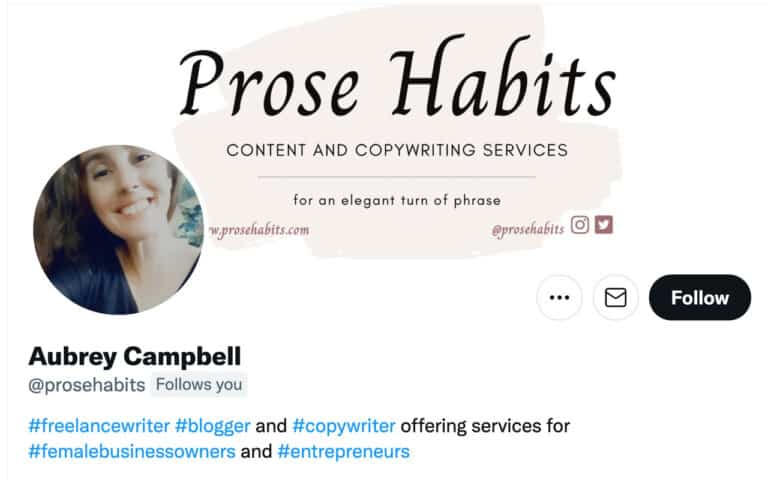 I can immediately tell she is a copywriter for female business owners and that her business name is Prose Habits. A potential client that needs a promo campaign or a sales page written can hire Aubrey!
Use Canva to find a Twitter header and customize it to fit your brand and message.
Once your profile is optimized to land clients, you can go ahead and start following the brands you like and what to write for as well as other freelancers, entrepreneurs and coaches.
And make sure you start sharing your content, guest posts and posts from brands you want to write for.
When you do this you will hopefully get some leads in your messages. This is what happened to me and helped land some of my first writing jobs.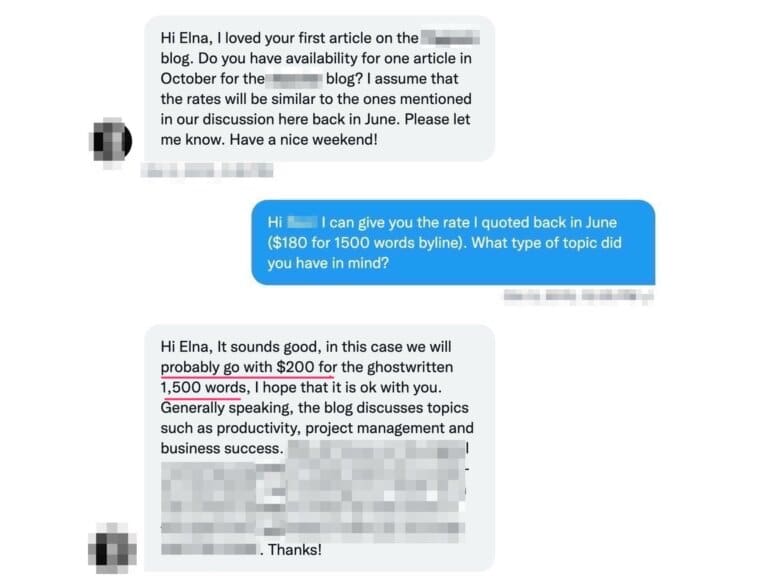 From experience, being consistent on Twitter and LinkedIn will give you the most gigs.
Second is Instagram and last is Facebook.
But that's just me! Maybe you have a thriving Facebook presence that you can leverage for your freelance writing business.
In either case, if you are new, consider getting on social media to start making money writing!
Considerations for Social Media
Before you get on social, you need to be clear with your message.
What is your writing niche?
Who are your clients?
What service can you provide?
By answering these questions you can form your brand and look to promote on social media.
Let me know in the comments if you found clients on social media!