Do you find yourself devouring John Grisham novels?
Do you follow the latest court cases to soak up every detail?
Then maybe you should think about becoming a freelance legal writer!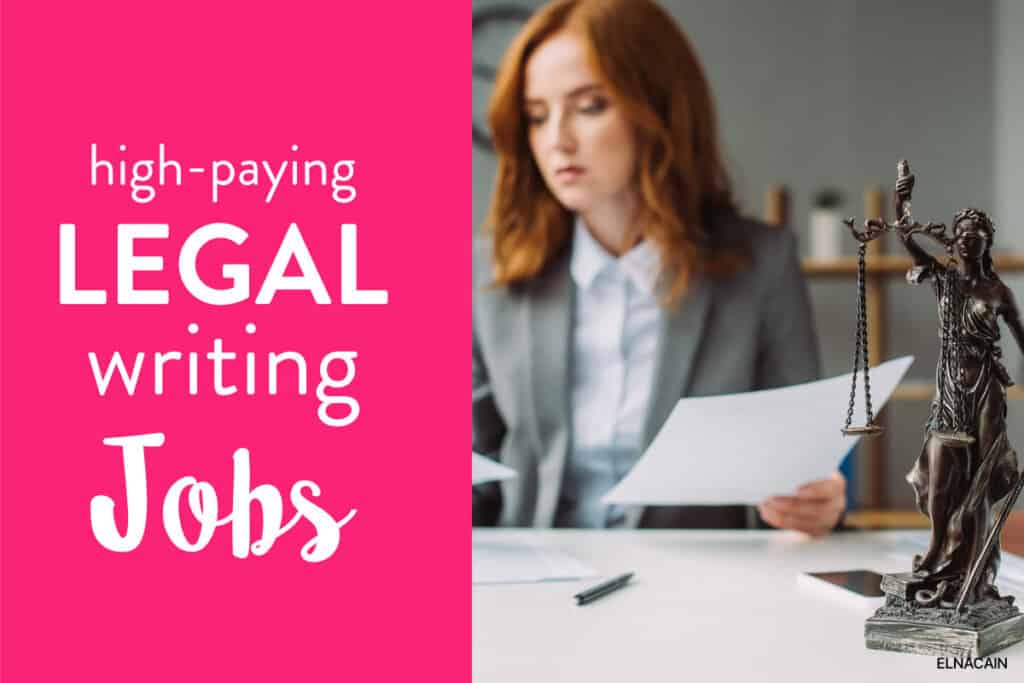 This is such an exciting niche to write for, especially if you have a passion for law.
The content can be technical at times but there is definitely a need out there for blog articles and marketing content geared toward those who are not fluent in legalese.
So whether you have a formal education in law or simply a deep understanding of the legal system, you can definitely consider offering your writing services in the law niche.
But how do you get started? Where do you find these jobs?
What type of writing services should you offer? How much can you make as a legal writer?
Worry not!
I've got you covered. Keep reading to find out more about writing jobs in this exciting and fascinating niche.
What Are Legal Writing Jobs?
Legal writing jobs include any form of written content that is used in the legal industry and often involves technical writing by lawyers, judges, and legislators when it comes to writing laws, briefs, motions, analysis, and news.
However, there are less technical forms of legal writing such as:
Web Content: Law firms, law-related websites, and other online publications
Features: Online and offline legal-related publications
Corporate: Wide-scale legal industry content such as press releases, brochures, and academic material
So if you're worried about having formal experience or education in the field of law, don't be!
While this is useful when it comes to technical writing, it's not always necessary for the less technical forms.
Where Do You Find Legal Writing Jobs?
Finding legal writing gigs is much the same as finding any freelance writing job.
You can start by hitting the job boards and submitting your application for legal writing work.
If you're just starting out in the legal niche, there's nothing wrong with starting small.
For instance, you can offer law-related writing services on gig economy sites such as Fiverr where you sell articles one at a time.
This is a great way to build experience and expand your portfolio so you can start pitching to law firms and other legal websites to offer your writing services.
Here are some job boards you should check out to get started.
Contena – here's my review on this job site.
Problogger
Freelance Writing
BloggingPro
All Freelance Writers
For example, on Writers Work there are many legal writing jobs for you.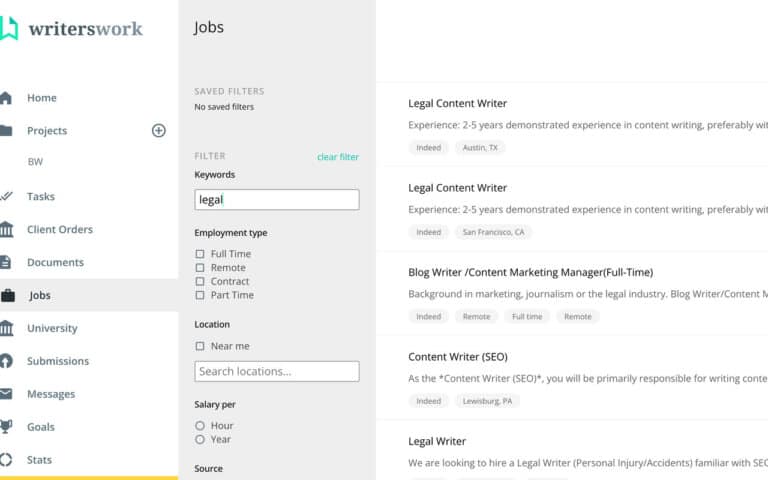 You can also visit these sites that are geared specifically toward legal writing jobs.
You can also pitch to law firms in your area or search around for law firms online.
Pay particular attention to websites that have little to no fresh content.
Don't forget that you can pitch more than just blog articles! Consider offering your writing services for landing pages, case studies, emails, and more.
Let's focus on types of legal writing jobs that you might want to try out.
Legal Writing Jobs That Pay Big
As I stated, if you are new freelance writing, you can start legal writing right away. This niche will be high-paying but only if you are well versed in legal terms and terminology.
As an attorney, you can freelance your services like Mariam Tsaturyan, a Writeto1k course student did.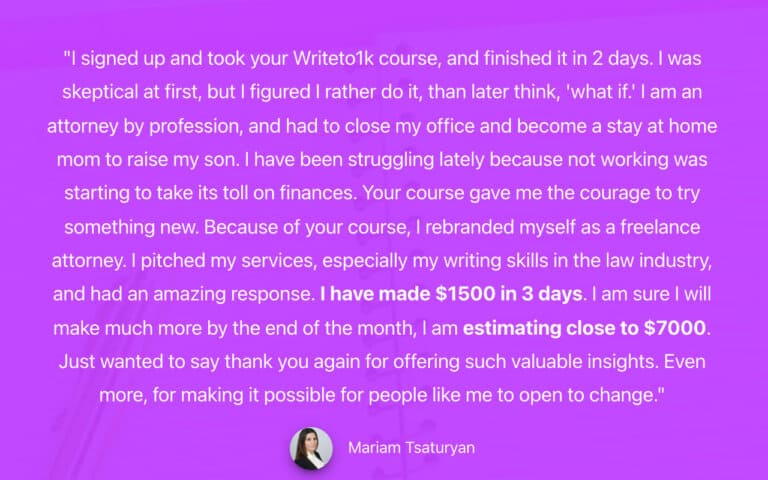 For more help check out these legal writing jobs that pay big for freelance writers.
1. Legal Editor
As a legal writer, you can make money by offering copyediting and content editing services for organizations and law firms.
This involves making sure the content, online or otherwise, is written to a high standard.
This is different than proofreading which is more about fixing typos and errors.
Editing involves reworking word flow and fixing content for clarity.
2. Legal Copywriter
Copywriting in the legal niche is pretty much the same as in any other niche.
Legal copywriters produce content for web pages, advertisements, social media posts, emails, and more.
Law firms operate like any other business – they need to draw in clients in order to sell their services.
They will pay copywriters to craft persuasive content as part of their marketing strategy.
3. Blog Writer
Most law firms nowadays have a website but in order to draw in new clientele, they need to ensure their site is relevant on Google.
To do that, they need to post fresh, SEO-optimized content on a regular basis.
This is why many law firms will pay freelance legal writers to produce their blog articles.
The best part? This often becomes a regular gig with an ongoing income!
4. Feature Writer
Feature writers write content for larger publications such as magazines, newspapers, and academic journals.
These are much longer than a blog post and require a deep knowledge of the legal niche.
To become a feature writer in this niche, check out industry-standard publications such as The Lawyer Magazine and The ABA Journal.
5. Brief Writer
Not all legal writing jobs have to do with web content.
Lawyers will pay writers to compile legal briefs, which are documents that are used in court to argue why a case should be won or a motion granted.
Briefs include supporting arguments and statement of facts and requires a lot of research and knowledge in this field.
6. Legal Analyst
Legal analysts are often known as paralegals or legal assistants and have a solid knowledge of laws and legal documents – but they do not have to be licensed attorneys.
As far as writing goes, legal analysts draft contracts, filings, memoirs, discovery material, and other documents required for court cases.
They may also take on other writing job required by the firm they are working for.
7. Corporate Writer
As a corporate writer, you could make money writing and editing a wide range of communications such as press releases, memos, newsletters, reports, presentations, and other marketing copy.
This type of legal writing job requires a basic foundational knowledge of the legal industry as well as experience with this type of writing – but it's a great service to offer once you have some experience under your belt!
8. Ghostwriter
So the term "ghostwriter" can really apply to any of the legal writing jobs I've mentioned above but it's definitely worth mentioning on its own.
Ghostwriting can be quite lucrative since you are doing all of the writing and allowing someone else to take the credit.
Sure, you don't get the glory but lawyers are willing to pay money to put their name to well-written content!
How to Become a Freelance Legal Writer
Now that you know what legal writing is, where to find jobs, and what type of jobs are available, let's look at what it takes to become a freelance legal writer!
While having experience as a generalist content writer is a great place to start, it's often not enough to succeed in this very specific niche.
But that doesn't mean you shouldn't try!
Success as a legal writer comes from perseverance, passion, and experience.
That's why, as I mentioned above, there's nothing wrong with starting small.
To get started as a legal writer, you should have some knowledge of common legal terms.
If you want to get into more technical writing, it helps to have some law classes under your belt.
When it comes to making exceptionally good money writing in this niche, things like a law degree, paralegal certification, or a related college degree are definitely beneficial.
Make sure you have a freelance writing planner to track your pitches, clients and give you a schedule you can follow as a new freelance writer.
Overall, as long as you have a general understanding of the content you are writing as well as solid research skills, the content you produce will speak for itself when it comes to pitching to clients.
What Skills Do I Need to Become a Freelance Legal Writer?
Let's talk a little more in detail about the skills you should develop in order to become a freelance legal writer.
First of all, as with any freelancing writing job, you should have excellent writing skills in English (or whichever language you plan on offering your services).
You should also have a knowledge of basic legal terms.
For example, here are US legal terms you might have to know:
Acquittal
Adversary proceeding
Bench trial
De jure
Executory contracts
Liquidated claim
Petty offense
Reaffirmation agreement
Sua sponte
Undue hardship
Writ of certiorari
Most legal writing jobs will require you to take complex ideas and legalese (technical legal lingo) and translate it into content that is easy to understand.
Lastly, you do need excellent research skills so that you can cite reputable sources as well as ensure that the information you are providing is accurate and up-to-date.
How Much do Legal Writers Earn?
In the world of freelance writing, it's hard to pin down exactly what you can learn – especially when it comes to legal writing where the pay range is quite broad.
However, according to ZipRecruiter, legal writers can make an annual salary as high as $102,500 and as low as $20,000.
What you earn as a legal writer depends entirely on a variety of things, such as:
The type of content you are producing. Technical documents fall into a higher price range than blog content, for example.
Your expertise. You can charge a more premium rate if you have some formal experience or education.
How much work you get. If you can get consistent work from a client, you can earn more than taking one-off jobs as you get them.
How much time you can dedicate to your writing. Many writers start off working part-time and increasing their earnings as they increase the amount of time they work.
Overall, the highest paying jobs in the legal niche are going to require a law degree – but that doesn't mean you can't earn a living with legal writing jobs.
Legal Writing Jobs – Get Started!
There you go! Everything you need to know about legal writing jobs and how to get started.
Remember that, even though some of these jobs are best suited to those with a law education, simply having a strong portfolio and experience in this niche can be enough to land you some awesome legal writing jobs.
Take your passion, broaden your knowledge, gain some experience…
And get out there and pitch!
If you need more ideas check out these job writing posts:
Your turn – Which legal writing job would be your dream job? Let me know in the comments!