I recently checked out my online writing portfolio, and guess what I found?
A dead link!
Ouch.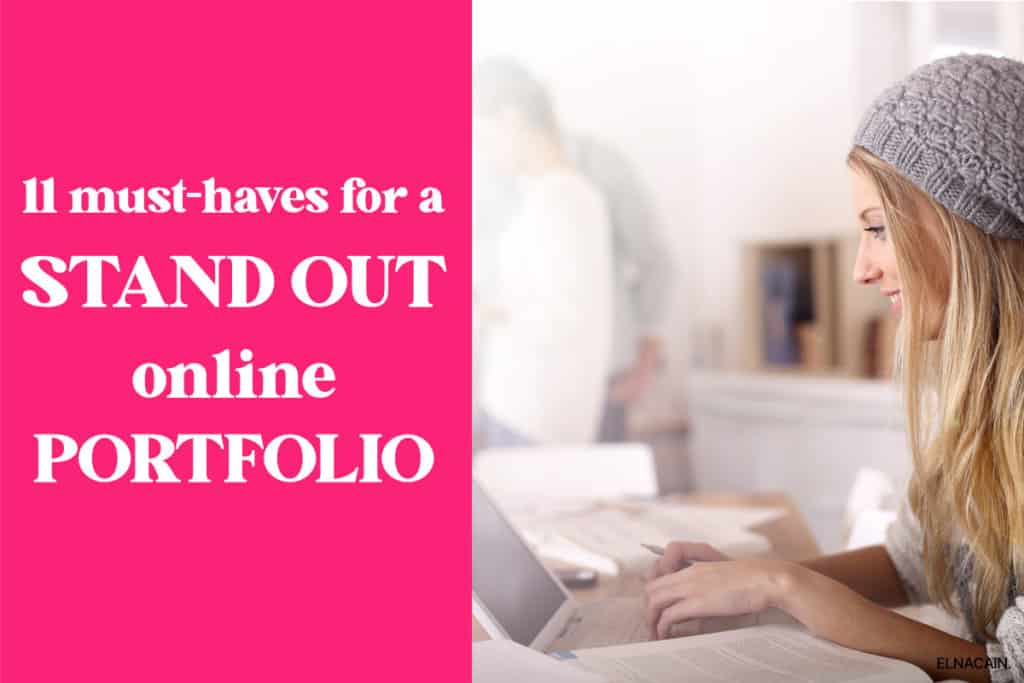 Since I've been freelance writing for almost a decade, for some reason I wasn't paying too much attention to my portfolio.
But, not anymore. I'm still actively landing writing jobs, and I need my writing portfolio online to act as a tool to help me land amazing jobs.
If you're new to freelancing, having proof of your skill is crucial in landing consistent work.
But, how do you make your portfolio stand out, then?
Is it the actual clips (businesses) you wrote for?
What about having a link to a guest post rather than a Medium blog post?
Does any of this make a difference?
Yes and no.
So let's look at how to create a writing portfolio with online posts (and examples) that actually help you stand out.
11 Things an Online Writing Portfolio Must Have to Stand Out
First off: do you know what a portfolio for freelance writing is?
It's a collection of writing samples demonstrating your knowledge of a particular subject or topic.
It can also showcase different types of writing you do as a copywriter, like email copy or sales copy.
So, how do you create an easy online writing portfolio?
You do this with a writer website and a portfolio page filled with writing samples. You can create samples on Medium or your blog.
It's as simple as that!
But, since it's that simple, any new writer can create an online portfolio of their writing. You want yours, though, to stand out.
Let's check out 11 things you can do to have a portfolio everyone envies!
1. One Main Writing Niche
If you want high-paying freelance writing jobs, your writing portfolio must target one main client.
This can be:
B2B businesses in an industry
B2C companies in an industry
Solopreneurs
Coaches
Magazines
Publications
Brands
And to attract high-paying clients, the writing samples in your portfolio should be around one main topic or industry.
So, if you want to be a copywriter for B2B tech – specific to beauty – you might have samples about: the best beauty tools, virtual makeovers, and creating a sustainable beauty product using technology.
But what if you have several niches you want to write in, like finance, sustainability, and tech?
I suggest narrowing down your niche so you can find one overall writing niche you can promote on your online portfolio.
Check out my Youtube video if you need help narrowing down your niche!
This will be your best way to stand out overall.
Just think about it –
Would a client hire someone with a portfolio having samples in:
Beauty
Motherhood
Tech
Pets
Or someone with a streamlined online portfolio that has articles around:
Personal finance
Credit cards
Banking
Budgeting
I don't know about you, but I'd rather hire someone with expertise and experience over someone that was a jack of all trades.
So, it's best to create a freelance portfolio highlighting one main writing niche!
Look –
I'm not going to lie.
When I started freelance writing in 2014, I had many niche topics in my portfolio.
Here's my online writing portfolio example from April 2015.
From digital marketing to health, to career, and education, I was all over the place.
But, back then, it didn't matter as much. I could still land a health client with that portfolio or a digital marketing client.
But, as I narrowed down my niche and stuck with digital marketing, my online portfolio demonstrated consistency and expertise on one topic.
This helped me go from making $100 a post to $1,000 a post!
So, take it from me, showcase one core writing niche in your freelance portfolio page, and you'll make an impression with potential clients.
2. Your Online Portfolio Should Be on Your Writer Website
When you put together an online writing portfolio, the best place to have it is on your writer website or service-based website.
This is a website that promotes your writing or copywriting services.
So, you would have an About Me page, Hire Me Page, Portfolio Page, Testimonials Page (optional), Contact Page, and Blog Page (optional).
This is your business card online. When you pitch, you link or add your website or a specific page like your portfolio.
I just added the URL and a link to my website for my first freelance writing pitch.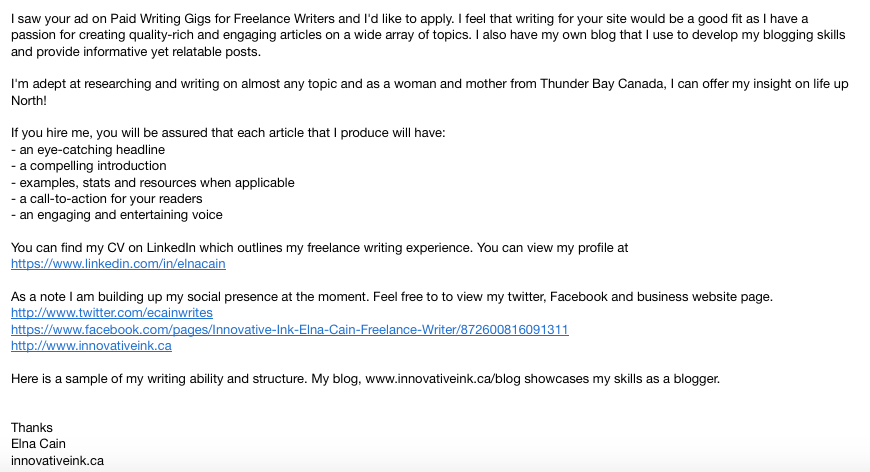 This immediately makes you look professional, and not a blogger with a side hustle.
And, if you don't know, a page on your website is the way to create a quick online writing portfolio. When you are in the backend of your website, go to Pages > Add New.
From there, add a title and a Media & Text block and fill in the information.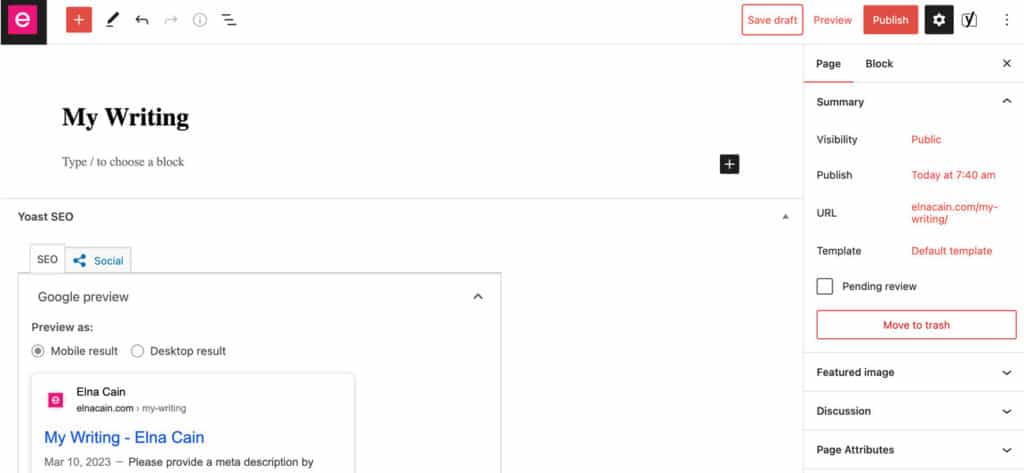 When you are done adding your writing samples to your freelance portfolio, hit publish and make sure to add the page to your menu, and there ya go!
Create a professional writer website that shows exactly your writing type.
Here's an online health writing portfolio example to check out from Jessica Farthing.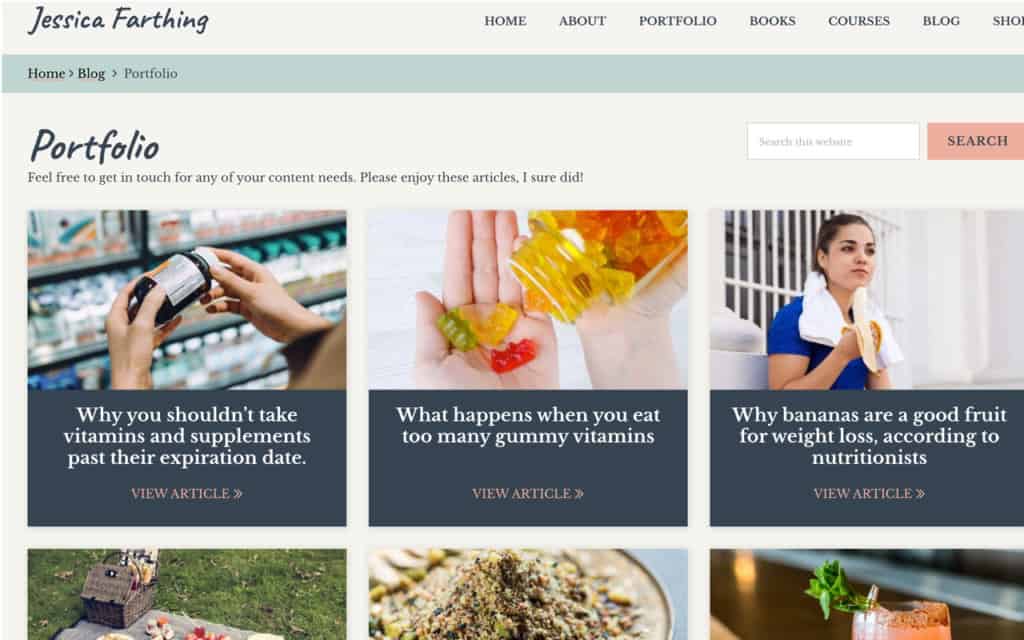 I like this portfolio example as it's highly niched to healthy eating and the layout – grid style – makes it stand out.
You can see from this example how experienced she is in talking about health on a business website.
If you need a breakdown and step-by-step tutorial on creating a portfolio page, check out my course, Writer Website in a Weekend.
Check out my Youtube video about having a portfolio that stands out.
3. Each Piece in Your Online Portfolio Has an Author Bio
It's important to demonstrate YOUR writing skill by only sharing samples with an author bio.
If you do ghostwriting, you have to get permission from your client to publish their content on your website or LinkedIn profile, saying you wrote it.
Otherwise, your ghostwriting content aren't good writing samples and they won't help you stand out.
Clients appreciate it when they visit your portfolio, click on a sample, and immediately see your name as the author.
There is cohesiveness between your website and your client's website and that helps a client trust you more.
For example, you can check out my recent online portfolio and see my name as the author when you look at the feature image next to the title of my client articles.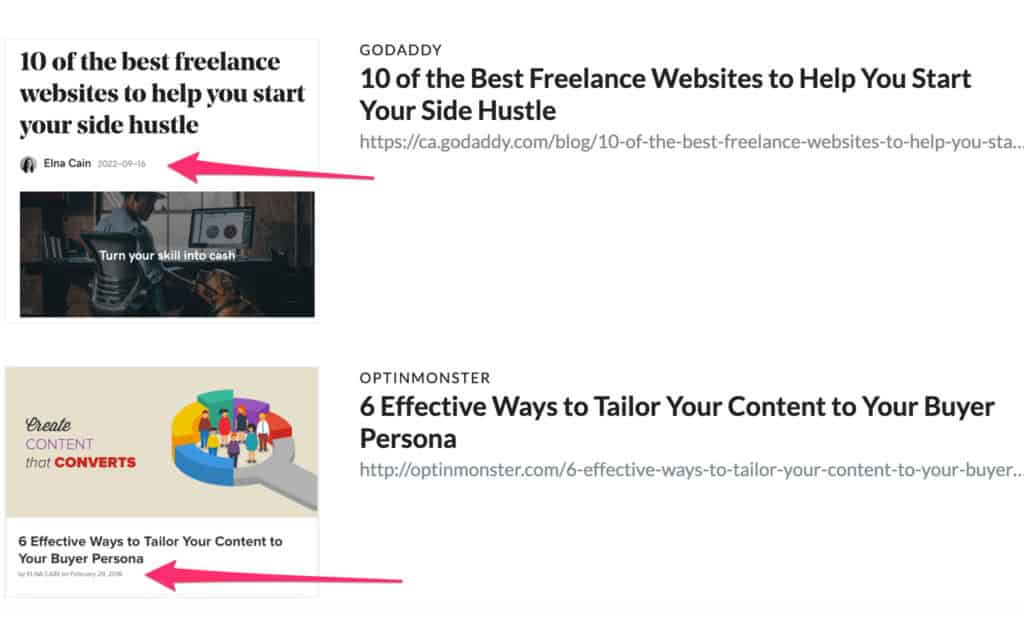 Prospects don't have to click over to know that I wrote this piece and it wasn't under someone else's name.
And to stand out even more, instead of linking to individual articles with your author bio, link to your entire author bio page!
Many clients will have a bio page for their writers. If your client has this, link to your entire page. This dramatically makes an impact with prospects seeing ALL the relevant content on one page.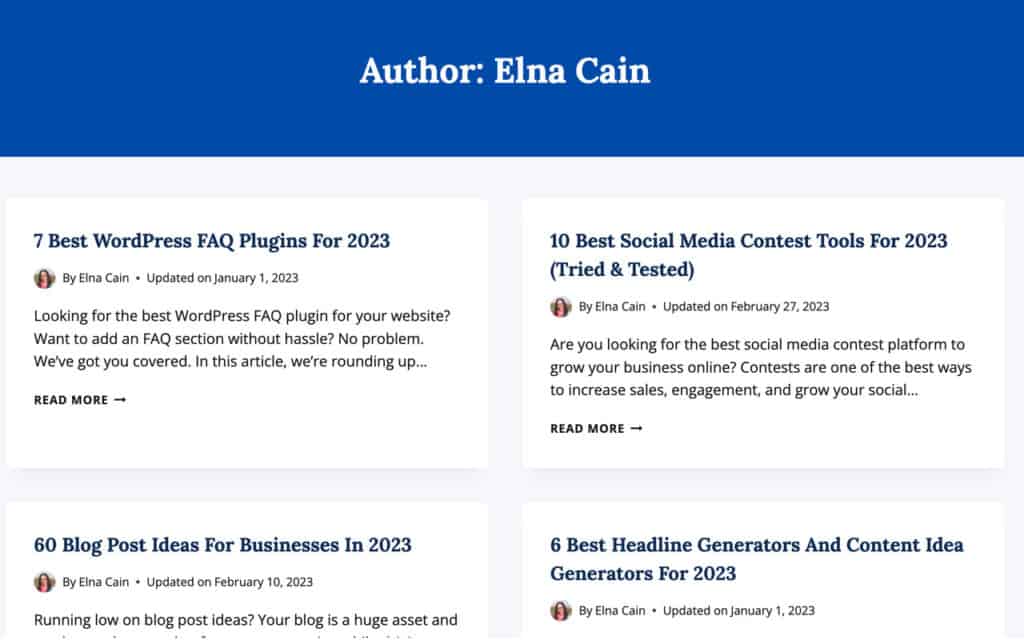 If you can't create a thumbnail with your name as the author, then that's alright.
Just make sure that each link that a prospect clicks has your name on the article, either under the title or at the end of the post.
4. Online Writing Portfolio: PDF vs. Link?
If you are entirely new to freelance writing, you may not have any links to show on your portfolio page.
This is the EXACT predicament I was in when I first started.
But you know what?
That didn't STOP me from pitching.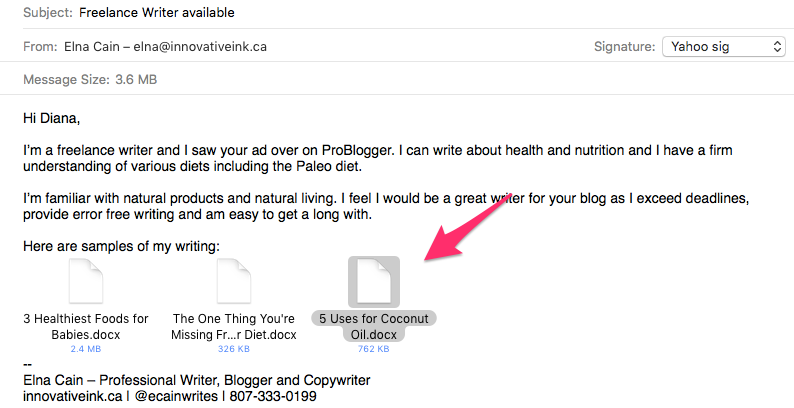 While I don't recommend this NOW, if this is the only thing stopping you, use those PDFs for your portfolio and pitches.
You can create an online writing portfolio with Google Docs easily.
Go do Docs and create your mock-up case study, sales page, welcome email series, or blog article complete with images and research links.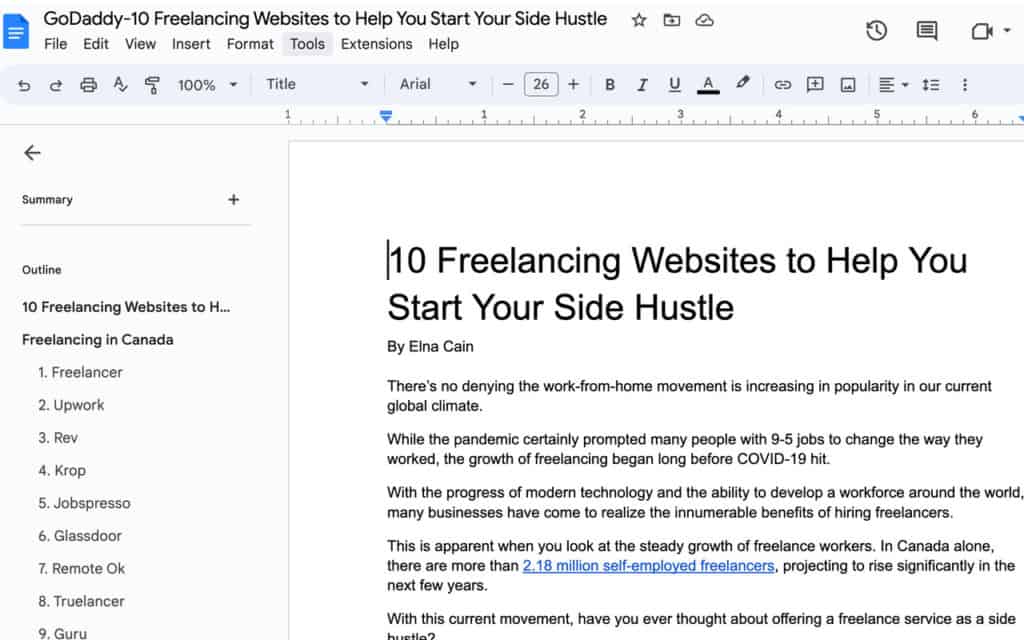 Once you finish your writing, go to File > Download > PDF.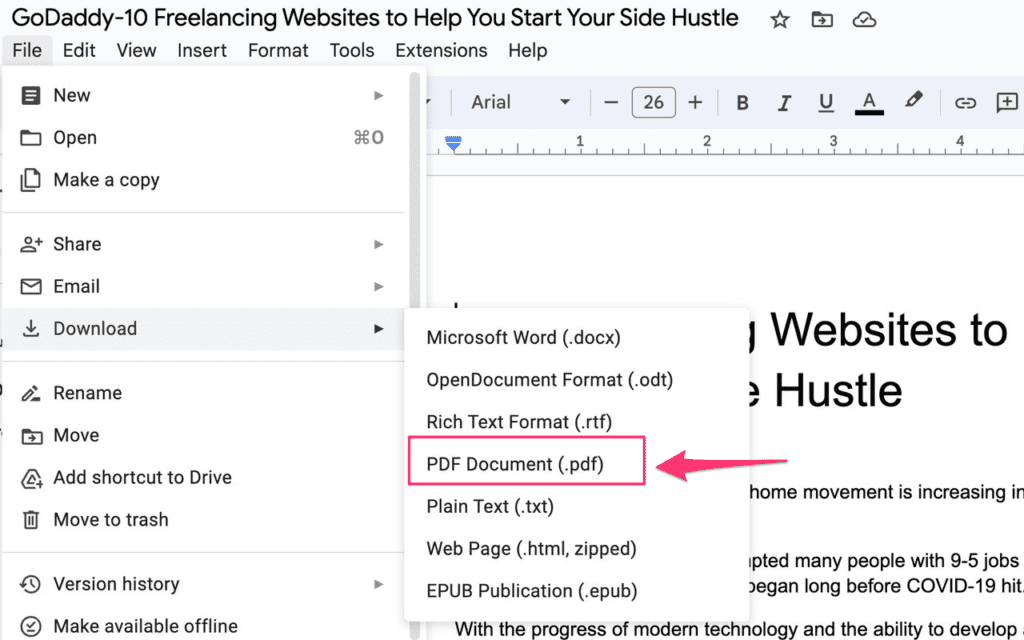 Once it's downloaded onto your computer, you can upload it to your online portfolio for writing.
I suggest you use another place like Contently for your online portfolio, as they do have an option to upload your PDF.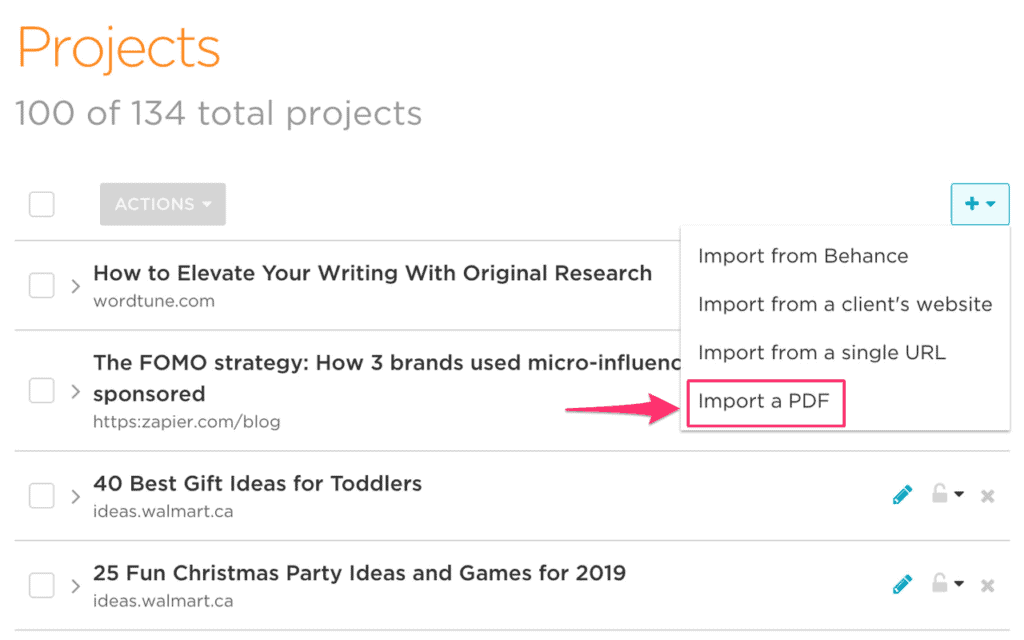 Another advantage to creating a PDF portfolio for your articles and content is that you can track how many blog posts, emails, or articles you've written each month. Then, at the end of the year, you can post how many pieces you've written so far.
Content creator Eve Arnold provides helpful tips for writing part-time and uses how much she writes to motivate other creators.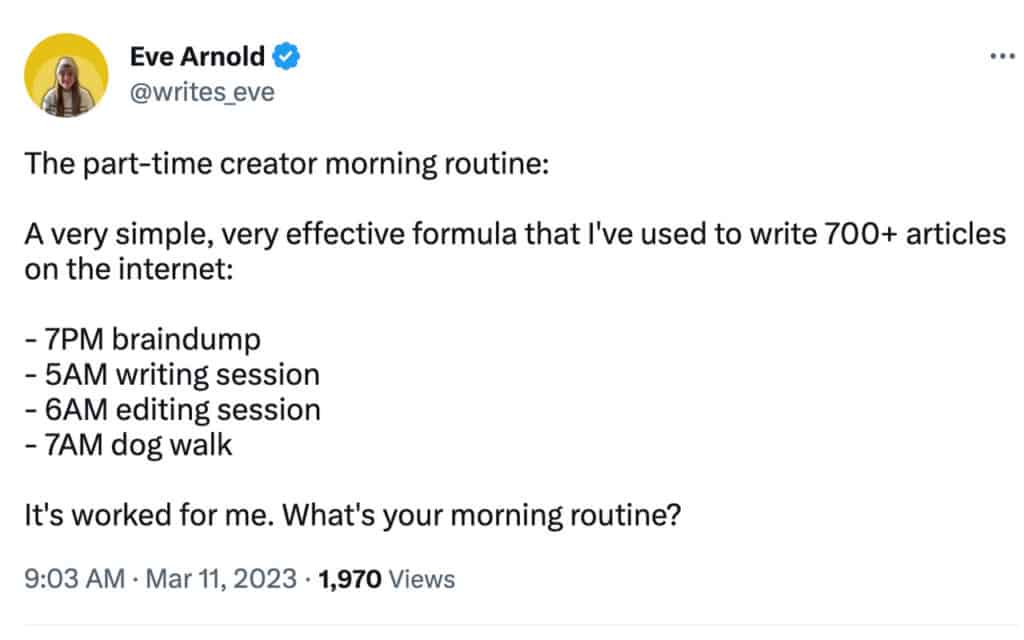 But, if possible, while a PDF might seem easier, it won't be the way to stand out and gain a writing job.
Nowadays, it's not hard to guest post or publish an article on LinkedIn, for example.
So take that extra step, and publish a piece to create your online writing portfolio with links instead of PDFs.
5. Topics You Want to Write More Of
As a beginner, you may not know what you want to write about (i.e., your writing niche).
That's okay. Sometimes it's best when your niche reveals itself to you.
That's what happened to me!
As you saw from my GIF, I had several categories on my online portfolio.
I wrote about different industries to find out what I enjoyed.
And through that process, I loved writing and learning about digital marketing.
So, what did I do to share that love on my online writing portfolio?
I put all my digital marketing content on top, so it was the FIRST thing prospects saw when they clicked over to my page.
So, if you write for eCommerce AND SaaS, which industry do you want to write for the most?
Maybe with eCommerce content, it's all product-led, and all you are doing is describing each product your client has. And well, you aren't fond of this type of writing.
Well, put your eCommerce blog posts at the bottom of your portfolio and your SaaS content on top!
And make sure you have more of your favorite topic filling out your portfolio.
This will help prospects see your expertise in one subject area or subset.
6. Your Best Writing Sample as the First Item
To stand out, you must stress quality, not how many pieces you have.
I think it's better to have five solid pieces that show your absolute BEST writing than to have a page with 20 links to ALL the client pieces you've written.
It's hard in the beginning.
I mean, I was proud with EVERY SINGLE article I was paid for and wanted to publish that on my online portfolio.
But, over time, as I narrowed down my niche and I started attracting better and bigger clients, I had to remove a lot of my older content as it was no longer my best writing.
So, edit as much as you can and be ruthless!
7. Correct Writing Portfolio Format
The best way to post an online writing portfolio is to have the correct format for easy scrolling and reading.
This means having:
Thumbnails of your sample pieces (or some image to break up your page)
The title of your article's name
The URL structure that is linkable (or the link)
Optional: the category or subcategory
Look –
Over the years, I've looked at many portfolio pages and still see many mistakes.
For example, many writers just write out their portfolio pieces without links, or it's hidden, so you don't know which text is linkable.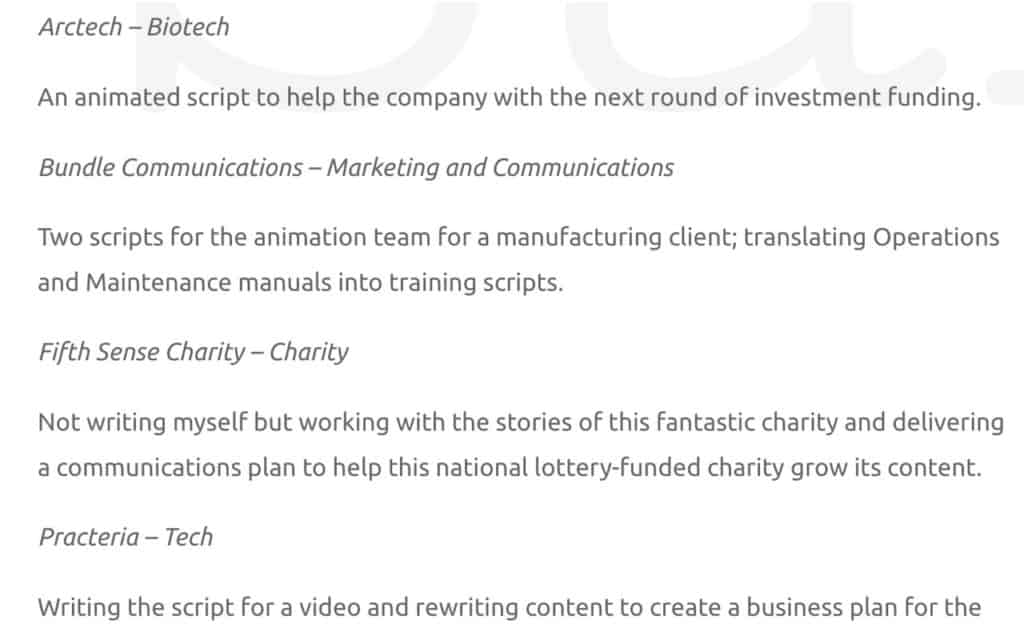 If you don't want to provide a thumbnail for each portfolio item, then format your page with some images and line breaks.
For this online writing portfolio example, Ashley Cummings showcases her extensive online writing portfolio with links and a few custom images.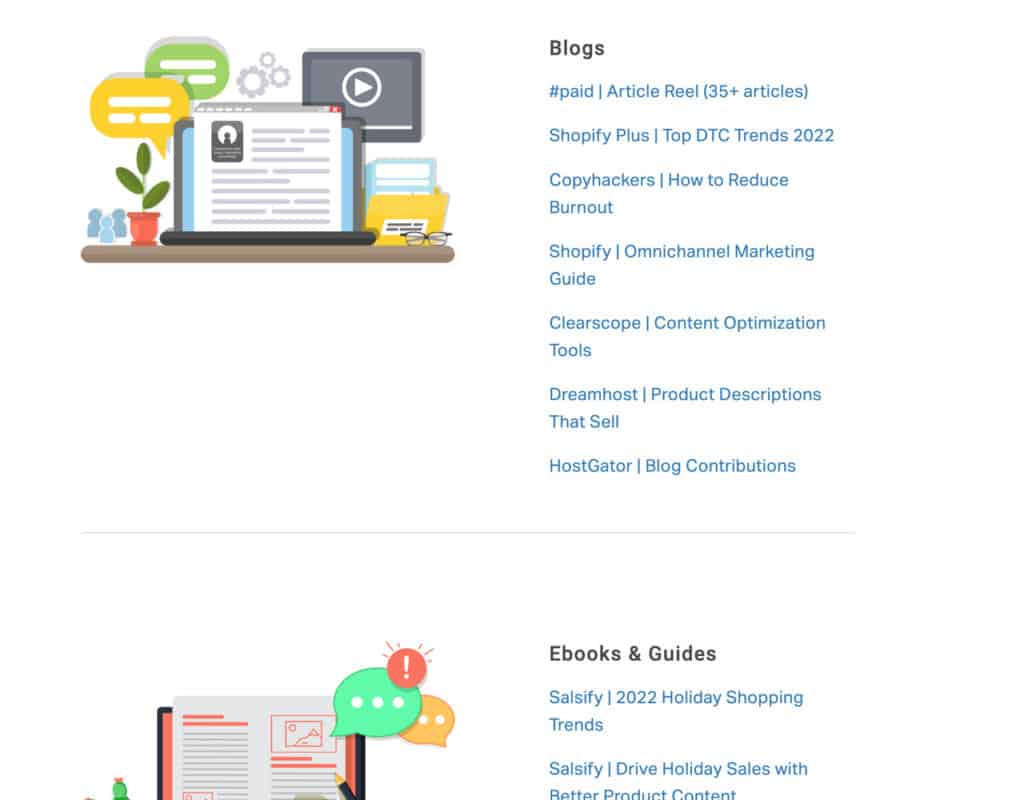 8. Prospects Can Find Your Portfolio and Writing Samples
Now don't forget to make your portfolio easy to find and navigate!
This means having your portfolio on your menu, in your author bio, and your email pitches.
Make sure you name your portfolio something similar, so people know what they are viewing. You can name it other than portfolio, like:
Working samples
Where I write
Articles
Collection of My Writing
Client Articles
My Writing
But, to make it simple, name it portfolio, as this is what most businesses use when talking about hiring a freelance writer.
9. Is Up-to-Date
This one is important, but it can rely on your clients too.
Since I didn't visit my portfolio often, I had a dead link.
When this happens, you must remove and replace that item with newer client articles.
Sometimes though, clients may not update the date of your freelance articles.
So, if you wrote a piece in 2021 and the title had the year (ex: 45 Influencer Marketing Tactics for 2021), it's up to you to check if the client updated the date every year.
If they don't, you can't do anything except change the order of that portfolio piece and add a newer one in its place. You can also title that piece without the year to make it easier!
Fortunately, my clients have updated my content pieces with the year in the title and the year it was published.
10. Has a Clear Call-to-Action
Your online writing portfolio is selling your writing skills.
To stand out, add a call-to-action button at the bottom of your portfolio.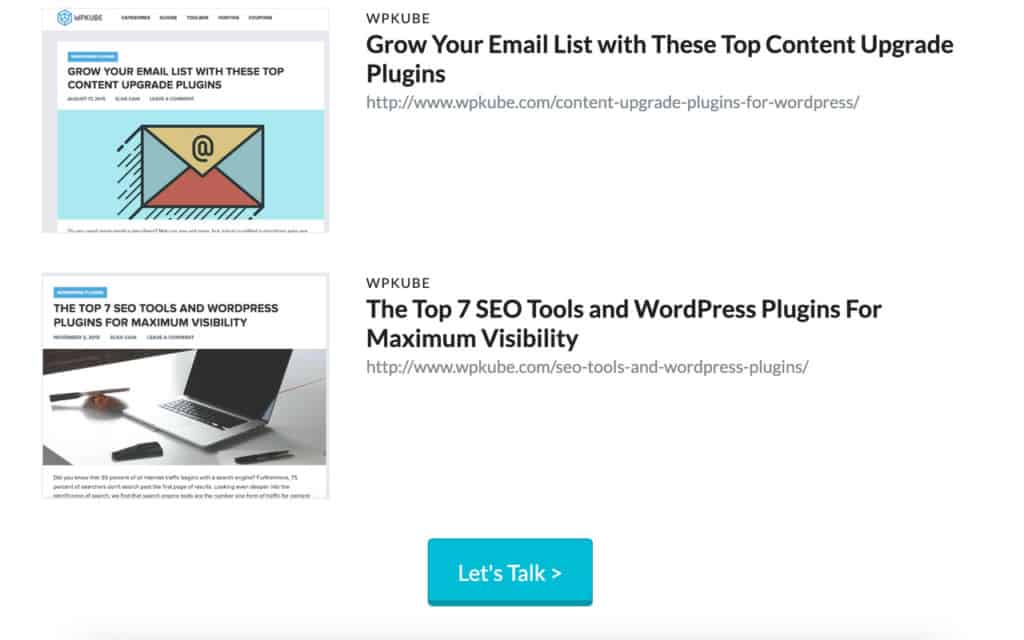 This just nudges prospects to keep on moving and go ahead and contact you!
11. It's Best to Have More Than One Online Writing Portfolio
But aren't there many online writing portfolio websites like Contently, Journo Portfolio, or Clippings.me?
Yes, and it's in the best interest to be on all or most of them!
I have a:
Clearvoice portfolio
Medium portfolio
Having portfolios all over the place helps me stand out by having a bigger writer platform.
You want to be all over the place, and many online writing portfolio websites are free to use.
So, why NOT try them out?
What About Big Name Brands?
Is it necessary to have big-name brands in your portfolio?
Seeing other writers' portfolios filled with notable brands like Shopify, Parents Magazine, or Walmart seems demoralizing.
I know it did for me…
That's why I created a goal to land some big-name brands; this happened over time.
But, when you are new, you may not have those notable and recognizable brands in your online portfolio.
So, gaining high-paying clients with a portfolio filled with businesses that aren't brands or well-known is unnecessary.
It's only in 2019 that I snagged a huge brand for a client. Up until then, I was still raising my rates and landing client work in my writing niche.
How Can You Protect Your Online Writing Portfolio Samples from Others Stealing It?
Does this happen?
I haven't had this issue happen to me, but you might have some questions on how to protect your online writing author portfolio, so it's not stolen.
Protecting an Online Writing Portfolio
Here are simple things you can do to maintain your professional credibility while preventing unauthorized use of your hard-earned work.
1. Add a Copyright Notice
When you start your writer website, you have control of customizing your footer bar.
In Writer Website in a Weekend, I show you how to do this and to modify the copyright notice that WordPress provides.
You can add your blog name and the year or just the year. It's up to you.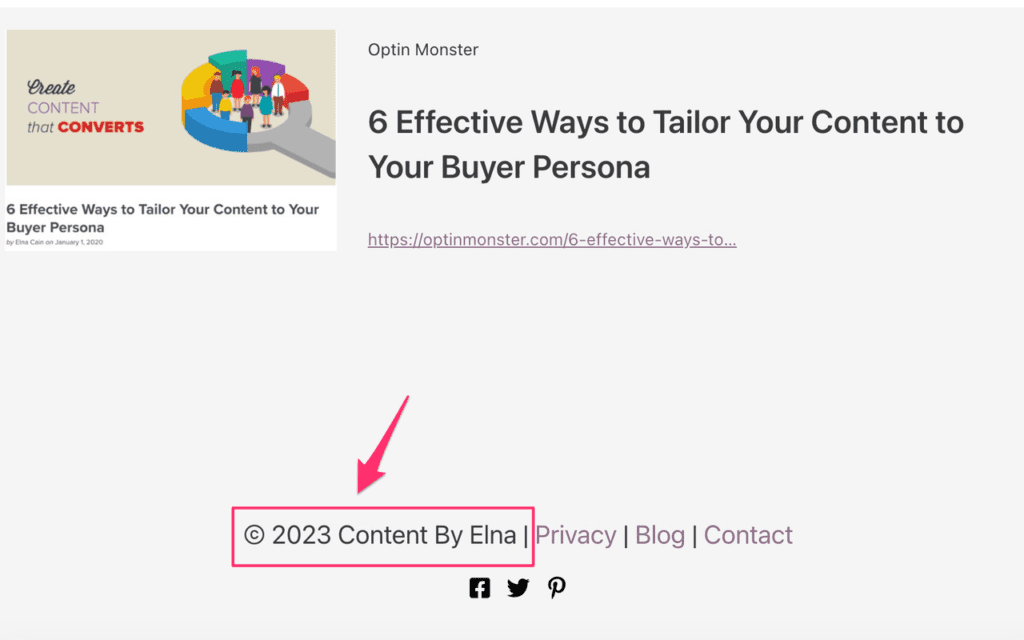 2. Watermarking
You can add a watermark to your samples that aren't published on other people's websites.
So, this would be your blog posts, and is a good option for PDFs.
This would be just faded text over the writing sample.
But honestly, just ensuring your name and URL at the bottom of each PDF page should be sufficient.
3. Link to Articles With an Author Bio
I've already mentioned this, but if you publish ghostwriting articles as your online portfolio, you risk others stealing that article.
Remember…
The thoughts and things you post online is your intellectual property.
If your portfolio items have an author bio directing readers that you write this article, then the likelihood of it getting stolen is less.
Should Your Online Writing Portfolio & Physical Writing Portfolio Have the Same Pieces?
I say not really!
Many of my email subscribers tell me they were a journalist 20 years ago and now want to do some online writing.
If your physical portfolio is decades old, I wouldn't share those on your online portfolio.
Instead, I would start from scratch and create an online writing portfolio with your blog posts, guest posts, LinkedIn posts, and Medium posts.
But maybe you're thinking, "how do I include a copy of a newspaper article in my online writing portfolio?"
If your newspaper article is recent, you can check to see if they have an online version of the newspaper or magazine.
Nowadays, this is the case.
You might find the issue cover online. Take a screenshot and link to the newspaper or magazine article online.
If there is no online version of the newspaper, you can scan each page of the newspaper article and then upload it to your Media Library on WordPress.
On your portfolio page, you would use the magazine cover as the thumbnail and then link to your media library article.
This is what magazine writer Jane Bianchi does.

Do's and Don'ts for an Online Writing Portfolio
Let's look at some do's and don'ts for when you create your online writing portfolio.
These tips for your online writing portfolio aren't set in stone, so it's okay if you are or not doing these things!
1. Don't Wait for Your Clients or Guest Post Sites to Publish Your Work
Instead:
2. Do it Yourself!
In the beginning, you are pitching to guest spots, and this could take weeks or even months for them to publish your work.
Instead of sitting and waiting, be active and create your own writing samples on Medium or your blog!
Then use those to start building your portfolio.
3. Do Use an Online Writing Portfolio Builder
While it's best to use your writer website to host your portfolio, experiment and try out some portfolio builders.
Check out my Youtube video for more ideas.
4. Don't Include Irrelevant Content
Just because your article was published doesn't mean you NEED to add it to your portfolio.
I know SaaS writers who have clients that write about writing tips, and those writers don't publish them on their portfolio even though the client is HUGE.
Why?
Because it's irrelevant. They want more SaaS clients not author or writing clients.
Work On Your Writing Portfolio Online
It's time to work on your portfolio. As Komal said: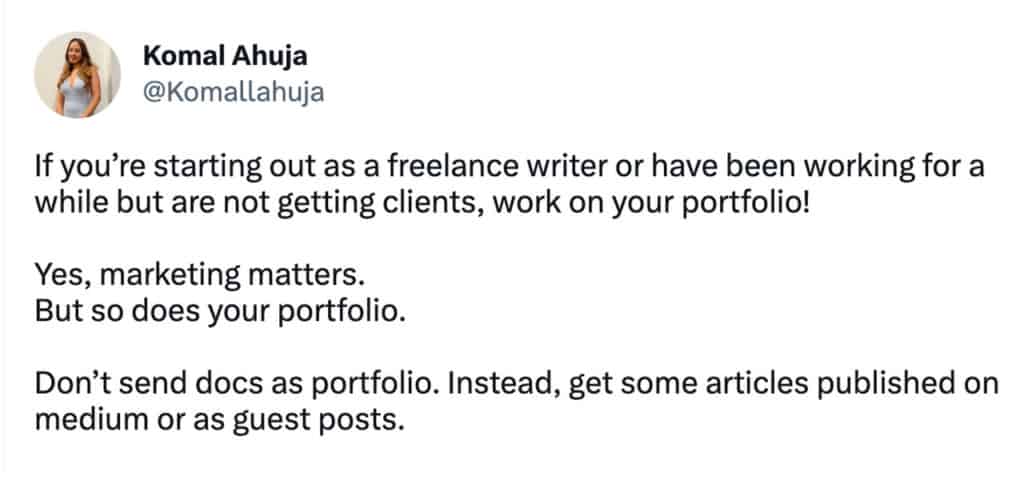 Marketing matters writers!
Tell me in the comments below what ways you will start implementing to stand out and be the go-to writer!