As a new freelance writer, did you know there are tons of available freelance writing gigs out there?
When I first started, I had no idea of this and felt my writing services were limited to only blog posts and articles.
Don't get me wrong –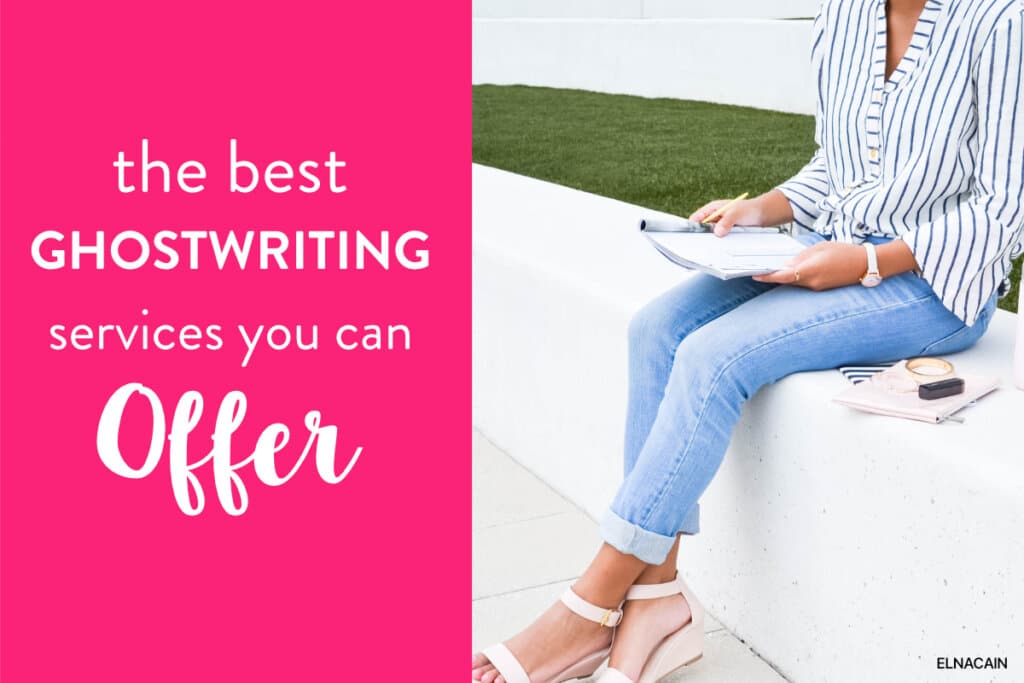 I LOVE blog writing, but it took me years to realize there were other services I could offer, like ghostwriting.
Many freelance writers often don't consider offering ghostwriting services when they first start out – I certainly didn't!
See, many small businesses know they need to hire a freelance writer for their content marketing strategy.
But, many want their customers to feel they are reading content from the owner or from their small team rather than just some random freelance writer.
Seeing a random name could decrease the know, like and trust factor for that business.
So, to solve this many companies use ghostwriters.
The ghostwriter takes on the responsibility and the voice of the entrepreneur or company they are writing for.
While this might sound difficult to do, it's really not.
Ghostwriting shares many commonalities as other writing niches.
Plus, there are a plenty of different ghostwriting services you can offer, helping you make money writing.
In my post, I'll go over why you should consider being a ghostwriter over being a freelance writer, the rates for a ghost writer, different types of services to offer and common red flags and pitfalls to avoid.
Why Be a Ghostwriter
Ghostwriting can be overlooked as you don't actually get credit for what you are writing.
The work is not published with your name on it, it's published with the "author's" or business name on it rather than the person that actually wrote it.
Besides the fact you can make substantially more money, why would anyone agree to write things for other people if they don't get any credit for it?
You Focus on the Writing – That's It
The great thing about offering ghostwriting services is that the only thing you have to focus on is the writing and making your clients happy.
You don't have to worry about all the marketing strategies for your writing business.
There is no extra effort that goes into marketing and the other parts of running a business or publishing content. Such marketing efforts include promoting your client piece on social media and updating your LinkedIn profile and writing portfolio.
Once you get the assignment, you focus on the writing and that's IT.
Think about this…
You connect with a kid's book author and they mention a new children't book they need a ghostwriter for.
So, they hire you – the ghostwriter – to writes the book for them.
When you're done, your business with that client is over (unless they hire you for more ghostwriting projects).
But, for that author, to make money with that book they have to spend more money marketing the book and running ads for it only to sell.
This is similar to freelance writers writing under their name or pen name.
As a freelance writer they may have to guest post, write on Medium, go on Twitter or Instagram and more just to get in front of their ideal client and land more writing jobs.
But, if you're a ghostwriter, you're going to rely on implicit marketing, referral business and networking as your main strategies to land more writing projects.
The Freelance Writing Client is a Terrible Writer
While it's been proven that small businesses with blogs attract more clients, not everyone should be writing and posting on a blog.
Have you ever read a webpage or blog and immediately thought "this person is a terrible writer?"
Being a good writer might come naturally to some, but just like any other skill, you need to work on it and actually know what you're doing.
While professionals, such as plumbers, dentists, and salon owners might be really great at running their businesses and interacting with their customers, they might not have great writing skills.
And for them, hiring a ghost writer makes sense.
You Feel More Creative Writing In Someone Else's Voice
I don't know about you, but I enjoy flexing my writing skills and adopting someone else's voice and personality.
It's a great writing exercise for all wanting to be a freelance writer as it will help them become a better writer and ghost writer.
Ghostwriting Services Rates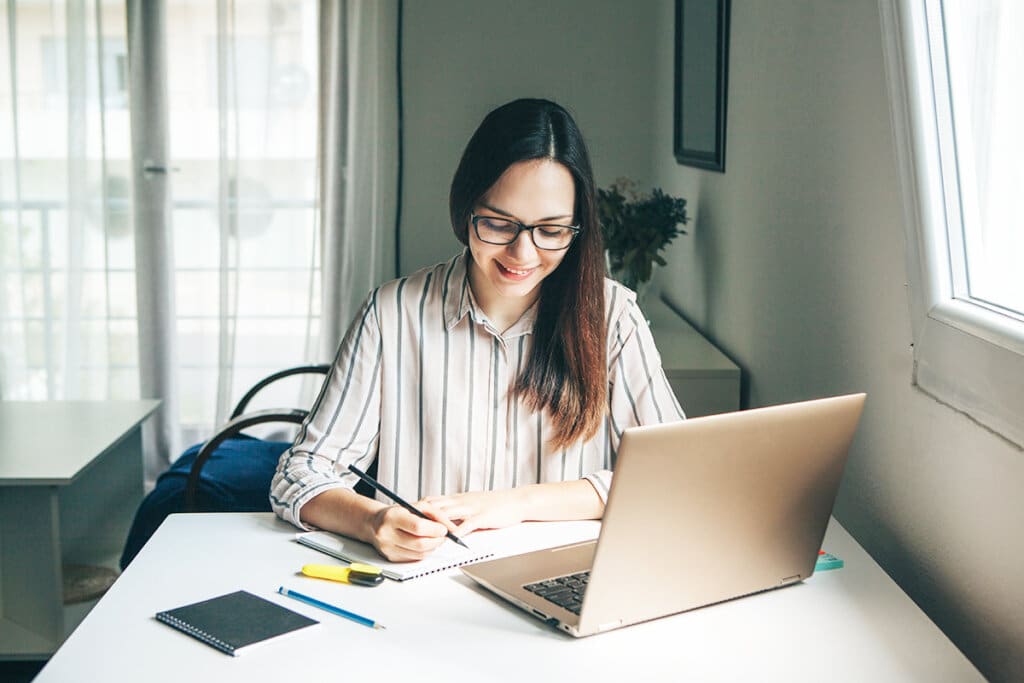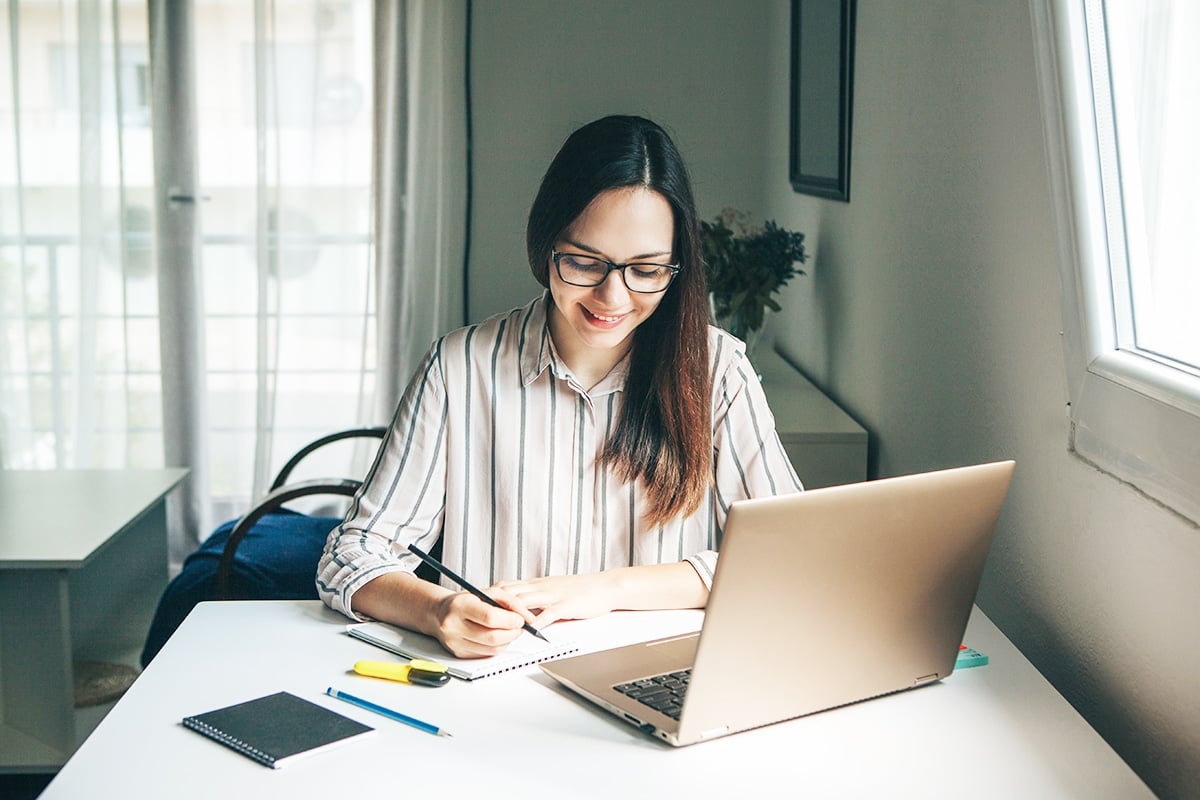 Professional ghostwriter service rates vary greatly depending on what the writing project entails.
Oftentimes the rates businesses charge are similar to other freelance writing services.
Again, depending on the service, ghostwriters might charge by the hour, by the word, or by the project.
They can also charge more or offer add-on ghostwriting services for things such as research, formatting, rewriting, proposals, and so forth.
Overall, ghostwriters can charge anywhere from $30-200 per hour, around $1-3 per word, and $5,000 or more per project.
What you are able to charge as a ghostwriter will also depend on your level of experience and expertise.
Obviously, having more experience and more technical knowledge as well as targeting specialized content writing jobs, the more you are able to charge for your services as a ghostwriter.
Best Ghostwriting Services to Get Paid
While ghostwriters are perhaps mostly known for writing fiction and non-fiction books, there are plenty of other professional ghostwriting services that they can offer.
If you look on social media or job boards, you may find ghostwriters offering services for ghostwriting books – fiction and nonfiction.
When ghostwriting for books, or any other kind of content, the writer might have an active or passive role in the process of putting the book or content together.
They might just get a snippet of what the book or blog post is going to be about and have to do all the research and develop it out from there.
On the other hand, they might be presented with a complete content brief and outline of the project with keywords to include and everything.
1. Fiction Books and eBooks
There are so many different ideas for fiction books and ebooks. Some of these include:
Kids books
Novels
Romance
Young adult
Science fiction
Fantasy
Action adventure
Ghostwriters often specialize in one type of writing and work within their niche for years.
If an author is interested in writing across several different genres (with a pen name of course), then hiring multiple ghostwriters can help them to achieve that.
2. Non-Fiction Books and eBooks
Non-fiction books are in the same boat as fiction books. The biggest difference with non-fiction versus fiction books is that they require a different kind of research and expertise to be successful.
Some of the ideas for non-fiction books include:
Biography
Christian
Memoirs
Health and wellness
Financial
Travel guides
Self-help
Guides and how-to manuals
Academic texts
3. Book Descriptions
For those ghostwriters that are writing books, it would also make sense to offer ghostwriting services for book descriptions.
Book descriptions are critical to book sales as this is what the prospective reader will base their judgment of the book on. They will make the purchase decision based on how well the book description is written and if it appeals to them or not.
Even if the author wrote the book themselves, they might have a difficult time writing an eye-catching book description.
4. SEO Optimized Blog Posts
One of the main reasons people use ghostwriters for blog content is to help the blog owner look more credible as a leading expert in their field.
And that's where SEO writing comes to play.
What is the main goal for most blog posts?
To get seen by the author's ideal audience. One way to do this is to create SEO focused blog posts.
While SEO is a long game, it can be very lucrative for the business.
Whether they want to rank first on Google for a local service or drive traffic to their site as a means of lead generation for a software, this can be done through SEO focused blog posts.
SEO can be very overwhelming for someone to learn that isn't familiar with writing, marketing, and SEO tactics.
For more help, check out my Youtube video on SEO writing skills.
As a ghostwriter who offers SEO focused writing, you can also offer complementary services such as SEO research, competitor analysis, and keywords to target.
5. Content Translation from One Language to Another
This is a ghostwriting service that is gaining popularity.
As business owners are trying to target more people on a global scale, it's helpful to have their content translated into other languages.
While there are artificial intelligence programs that can handle this, they are not always accurate.
The nuances of foreign languages can be too complicated for these programs to fully understand.
6. White Papers
White papers are essentially a fancy report. They are used a lot by tech companies as a way to communicate authoritative information.
White papers are a great lead generation tool and can be used in landing pages as a means to accumulate email addresses.
They are also great for building trust with your audience. White papers help to develop the author's or business' expertise and authority within the industry.
White papers use marketing through education rather than talking about how great their product or service is.
Once the white paper establishes them as an authority, their audience will want to follow them, listen to what they have to say, and buy into their products or services.
7. Guest Posts
One way that bloggers and small businesses can grow their audience is to guest post on other relevant blogs and websites.
However, if they suck at writing, this can be a bad idea.
As a ghostwriter that writes guest posts, you are writing content for other blogs in the voice of the owner of the collaborating blog or business.
Now as this type of ghostwriter, it is not your responsibility to go out and land the guest post spots.
While you might have some connections, they are only paying you for your content, nothing more.
8. Email Sequences
While most people think of books as the main ghostwriting service, email sequences are becoming ever so popular with more and more businesses heading online.
Practically all emails that are hired out are done by ghostwriters. It's rare for the ghostwriter to "oust" themselves in emails but I've been on email lists where this has happened – on purpose.
In either case, email sequences is a lucrative ghostwriting service to offer and it's not uncommon to land your first $1k as an email sequence writer in the first month freelance writing.
Red Flags to Avoid as a Ghostwriter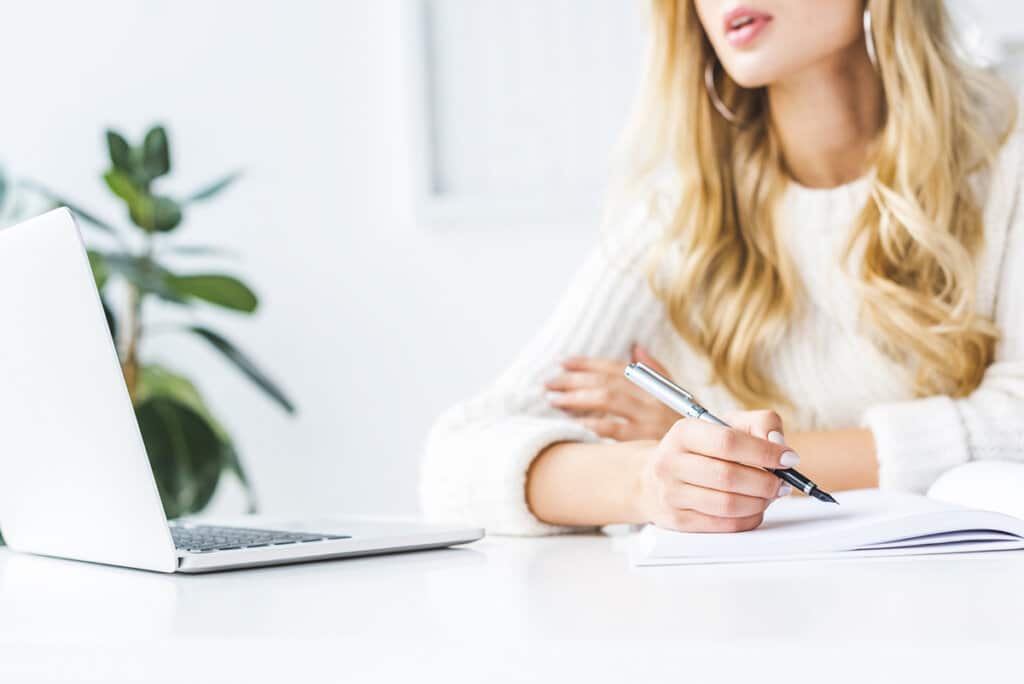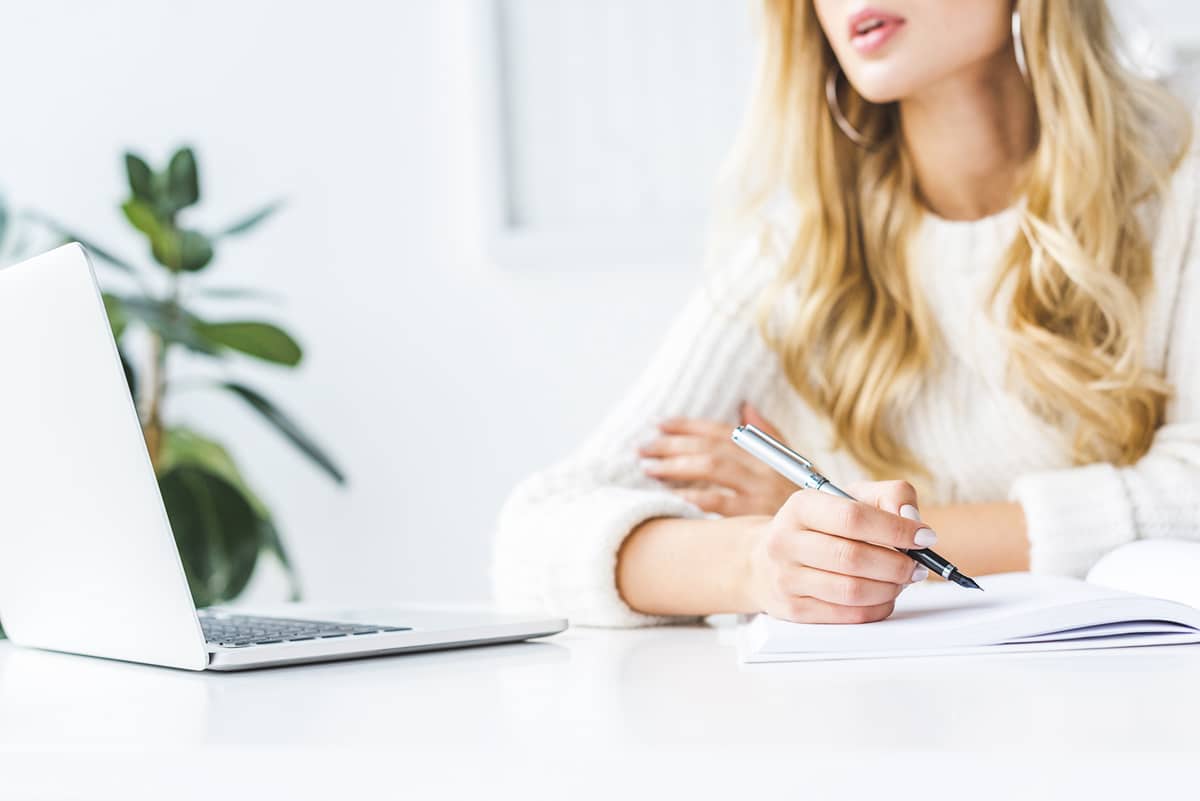 While you research more about different ghostwriting services, you might come across suspish clients or gigs.
Here are the most common red flags to avoid.
1. Client Not Paying More for Ghostwriting Content
Some clients may nickel and dime writers and object to paying more for ghostwriting content. In their eyes, writing is writing whether it's for a landing page, blog post or email.
It's important – right off the bat – to lay out the project details and ghost writing rate.
First, make it clear it's ghostwriting content and then let the client know your rates for that project. In my case, I usually tell prospects it's around 30% more than my standard freelance writing rates.
2. Client Forbidding You to Share Your Ghostwritten Content
Some freelance writing jobs won't allow you to share your ghostwriting articles to anyone. You can't place these projects on your portfolio page, or on LinkedIn or even mention them in your pitches.
What do you do then?
My suggestion is to first ask the client if you can (or at least privately with a prospect) and if they still say no, then the only option is to vaguely mention it on your website like, "I have many ghostwriting clients in the fintech space where I write about x, x, and x."
You can also draft up mock samples of the type of writing you do as a ghostwriter.
3. The Ghostwriter Misrepresents the Client
Ghostwriter Tony Schwarz painted Donald Trump in his books as a cutthroat expert negotiator. When he was president of the US, this was far from the truth.
As a ghostwriter, it's your job to accurately represent your client in your writing. If the client is asking you to bolster their personality or the things they did, it's in the best interest to walk away from this type of writing project.
4. Ghostwriting for Students
This is an unethical practice that is seen in schools– particularly universities.
"The ghostwriter is a resource frequently used by university students who must present a piece of written work to enable them to graduate, a Masters and even a post-graduate thesis, and for this they contract professional writers who do the work for them. As a result of this practice, "paper writing factories" have come into existence which levy a charge to write all kinds of academic works."
My suggestion – don't take on these ghostwriting gigs!
There You Have It!
There are many well-known bloggers and businesses that use ghostwriters. Don't be afraid to go out there and pitch to people either!
Over to you – are you a ghostwriter? Let me know in the comments!