When it comes to being a freelance writer, you've probably come across many freelance writing terms being thrown around to describe different aspects of the job.
One common term that you should definitely know about is a byline.
But what is a byline?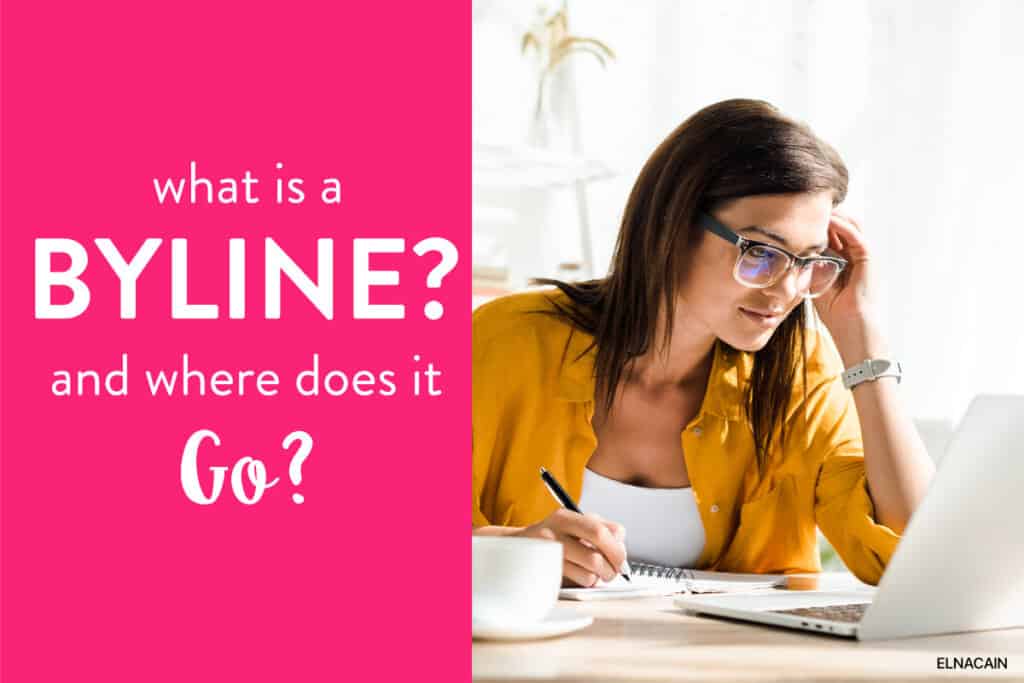 When you're getting paid to write articles for clients that feature your name as the author, or you are guest posting on other sites, a well-written byline is key to adding legitimacy to the article to show you are an expert!
And it can also be used to incentivize readers and clients to check out your site.
This little piece of copy is important for your business so that you can make a living as a writer online so it's important to know what is a byline for an article.
If you don't have a byline already, or you are looking to spruce up the one you have, let's get into what bylines are and how you can write one that rocks!
What is a Byline in Writing?
Simply put, a byline is the name under the title of an article that indicates who wrote it.
This is also called an author bio.
You can use bylines that include a selection of articles to show who you have written for and build your portfolio.
What is a byline example?
Here is mine for Zapier.

Many freelance writing jobs, including big publications, will want to see a strong byline that matches their target audience and style of content.
Clients feel more confident commissioning a pitch from you if they know you have published similar content elsewhere.
Having a good byline builds trust with potential clients!
Bylines are also helpful when it comes to building a professional portfolio and showing the world that you are an expert in your niche.
And if you're trying to drum up some traffic to your own site, bylines are a great way to catch the reader's attention and encourage them to read more of your content.
While bylines are short and sweet, you need to put some thought into them to make them effective.
How to Write an Author Bio for Your Byline
Overall, bylines should only be 2-3 sentences or 40-60 words. This does depend on the publication or client you have.
This may not seem like a lot, but it's enough room to include all of the key components of an amazing byline.
Let's take a look at how you can write an author bio for your byline that will snag writing clients and pique the reader's interest.
1. Say You Who Are and What You Do
When people are interested in your content, and what to learn more, they really want to know who you are, what you do, and why they should care.
You can use your byline to answer all three questions!
Try to make this section of your byline engaging and not just a matter-of-fact spewing of details.
Think of powerful words to describe what you do. Do you rock content marketing? Do you offer sanity-saving services for busy clients? Do you provide proven SEO optimization?
Doing this exercise can also help you figure out what type of writer you are.
2. Establish Authority
In order to boost your trust with clients, you have to establish authority as a writer in your writing niche.
You can use your byline to establish authority by highlighting information such as your experience, any awards you've received, or any major publications you have written for.
For example, in my GoDaddy byline I mention how I help my ideal client SaaS businesses in gaining traffic for leads.

Make sure you stick to accomplishments relevant to the content's audience.
For example, if you are a financial writer, your audience isn't going to care if you are a black-belt karate master.
3. Always Link to Your Portfolio
When you're looking to attract readers and potential clients, it's important to include a link back to your website or portfolio page.
In fact, you can even directly link to your site's Hire Me page!
If you don't have a writer's website yet, don't worry – I have you covered! Click here to check out Writer Website in a Weekend.
4. Link to Something Free (If it Makes Sense)
If you're going to put links in your author byline, you have to give readers a reason to click on them!
Giving an incentive is more of a way to attract readers to your content, but curious clients may want to check out what you have to offer as well!
But just be careful. Some client will not want incentives in their bios so always look at other writers and see if they link to an inventive.
For Smartblogger I know that his authors link to incentives so I did the same in my byline.

Think about what you can offer the audience based on the niche you write for. You can offer a free guide related to something you mention in the article.
Just make sure you stick to one incentive in your byline. You don't want to overwhelm your readers.
5. Tailor Byline to the Publication
When I say to make your byline unique, I mean to make it unique to the site you are writing for.
This means you can write a separate author bio for each site you write for!
Even though my writing niche is SaaS, as you saw with my SaaS clients – Zapier, GoDaddy and Smartblogger – each byline was tailored to the brand.
For instance, when I started as a freelance writer, I used one byline for all of my posts – then I started noticing popular freelance writers' author bios on different sites and noticed that they weren't all the same.
That's when I started tailoring my byline to highlight my expertise depending on the site I was writing for.
So go ahead and change up your byline but try to stick to the same title or tagline.
6. Use Storytelling to be Personal
Even though you have such a short space to nail who you are and how awesome you are, it's still important to add some personality to your byline either through storytelling or adding an interesting fact about yourself.
You can do this by mentioning what you do in your free time or giving a little tidbit about who you are.
It's all about finding a nice balance between showing potential clients what you can do and showing them that you are a human being.
I often mention my twins or my Youtube channels or multiple sites as a way to differentiate myself from other writers.
You can also add some personality to your byline by including a picture that shows you are a professional but that you are also unique.
A Simple Byline Formula
If you're staring at your computer screen, unsure of what to write for your byline, here's a simple formula that will help spark your creativity:
[First Name Last Name] is [Title]. [Explanation of Expertise]. [Incentive/Link]. [Personality Sentence].
So, for example:
Elna Cain is a freelance writer specializing in digital marketing, branding, and general marketing tips. When she isn't writing, she's chasing around her kids, cat, and husband (and not necessarily in that order). You can find more information and view her profile on Innovative Ink.
From there, I can add in some more accomplishments and an incentive – but it's the perfect place to start!
Byline Examples to Get You Started
You have the basic formula, but now you need some ideas!
Here are some real-life examples of bylines to get you started:
Rover
Rover is a blog for dog people, encouraging their writers to have fun with their bylines!
Here's what a byline for creative writing elements from one of their authors, Elisabeth Geier looks like:
Elisabeth Geier is a writer, teacher, and animal advocate with extensive animal handling experience and a soft spot for bully breeds and big orange tabbies.
It's short and sweet but hits on everything the author has expertise in – plus a cute little mention at the end about big orange tabbies!
GetResponse
Check out this byline from the site GetResponse (an email-sending tool):
Marya Jan is a Facebook Ad Strategist. She works with coaches, consultants and service-based entrepreneurs to build their email lists, fill up their webinars with Facebook ads and generate big profits in their businesses. Read more about Marya
Not only does the photo scream personality, but the information nicely highlights the author's achievements, experience, and connects her writing to the brand she's writing for: email.
ClearVoice
ClearVoice is a platform for clients to connect with freelance writers.
Their writer Jorden provides this interesting byline:
Jorden Roper is a fuschia-haired freelance writer and found of the Writing Revolt blog, where she writes no-BS advice for freelance writers and bloggers. When she's not working, you can find her traveling, playing music in her band, or hanging out with her Chihuahuas.
In this byline, not only do you get a very clear picture of what she does but also of who she is as a person.
Be a Better Blogger
I really love Beth Hayden's byline on Be a Better Blogger:
Beth is a copywriter and content writer who specializes in ghostblogging, email marketing campaigns, and sales pages. Download Beth?s free report, The Ultimate Guide to Creating a Warm Welcome Message to get the step-by-step process she uses to create magical welcome messages for her clients.
The picture is warm and friendly and doesn't look like a staunch professional photo.
She clearly states what she does and what she specializes in. She also included a link to a guide she offers as an incentive – which is perfectly related to her specializations.
Copyhackers
Lianna Patch is an author on the site Copyhackers, which focuses on copywriting. Here is her byline:
Lianna's greatest dream is to make your customers pause, smile, and click (in that order). She does this through irresistible emails and shockingly effective landing pages. Conquer campaigns with her at Punchline Copy or get quick copy jobs done at SNAP Copy.
How many power words did you see in there???
Dream. Irresistible. Shockingly. Conquer. Quick.
This author nails it when it comes to writing a byline that grabs your attention and elicits an emotional response.
Globe & Mail
What is a byline in a newspaper?
For these types of bylines they are mostly comprised of a headshot, email address and a link to their main social media profile. For Globe & Mail bylines also mention the type of writer they are and location.
Here is an example: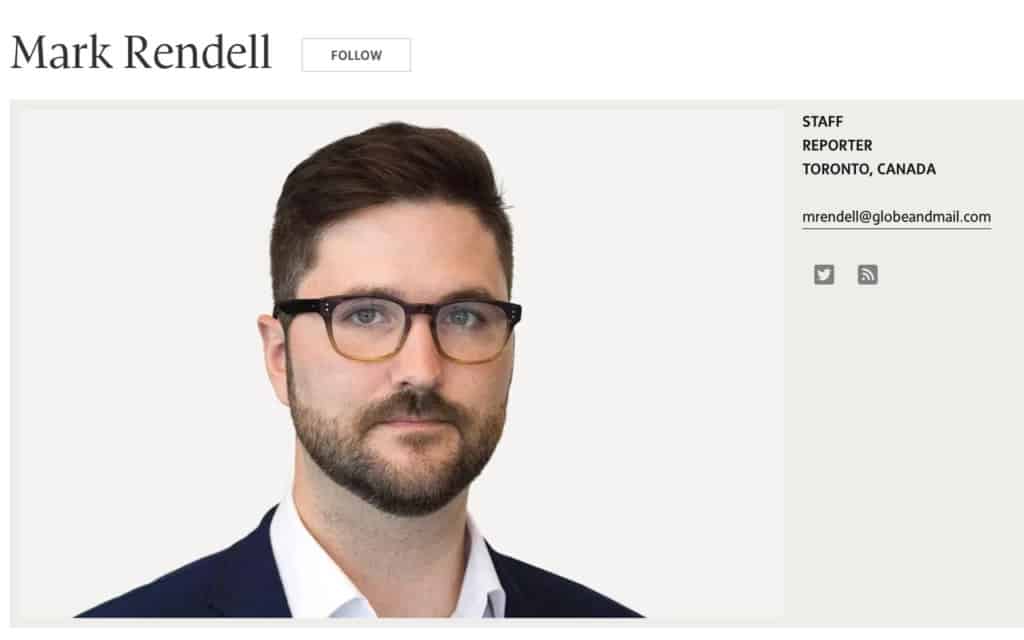 Men's Health
And what about what is a byline in a magazine look like?
These types of bylines are similar to website bylines like I would have for Wordtune or Blogging Wizard. They state the type of writing they do and where they have bylines.
Here's one from Erica Sweeny.
Erica Sweeney is a writer who mostly covers health, wellness and careers. She has written for The New York Times, HuffPost, Teen Vogue, Parade, Money, Business Insider and many more.
So, Where Does a Byline Go?
To understand where an author byline goes, it's important to understand how bylines are added to online content.
In many cases, the client or site you are posting for will give you WordPress login credentials so that you can post the content for review directly from the site.
You would then go under "Users" in the WordPress dashboard and include your byline in your profile.
Writers often do this when they guest post on FreelancerFAQs.com and add their own byline in the backend of WordPress.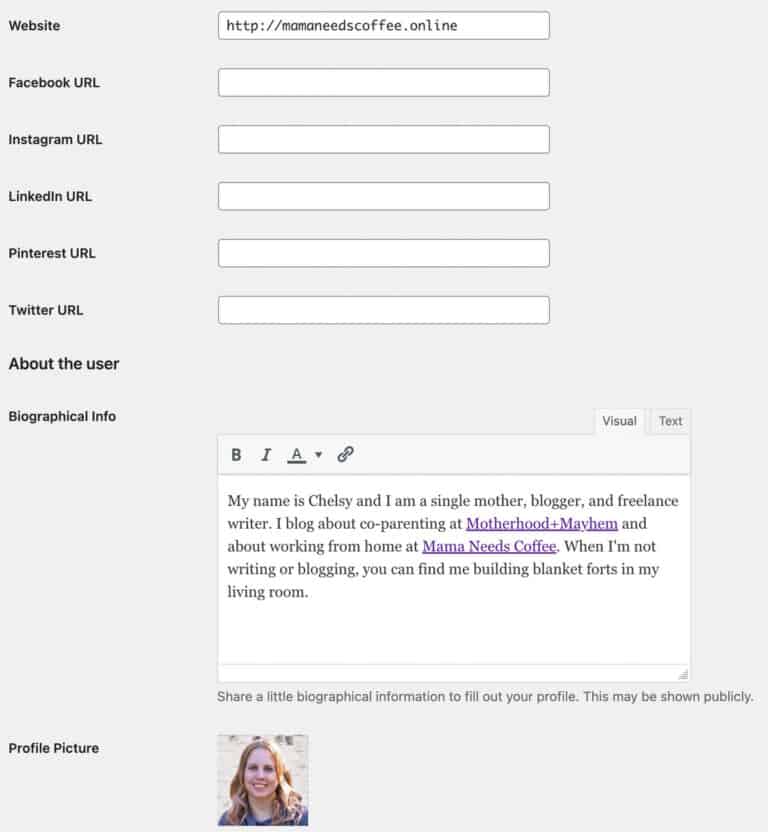 Then, it will appear wherever the site owner has decided it will appear in the layout – usually at the end of the content, but sometimes right under the article title.
The other option is to include your byline in your written content when you send it to the client.
You can always ask the client where they prefer the byline to appear (before or after the content) before sending off your finished piece.
Otherwise, it's most common to include the byline at the end of an article, so you can always paste it there.
I don't always ask and just put the my byline at the end of the piece if this is the FIRST piece I give to a brand new client.
For example, when Zapier hired me this is what I did for my first article in Google Docs.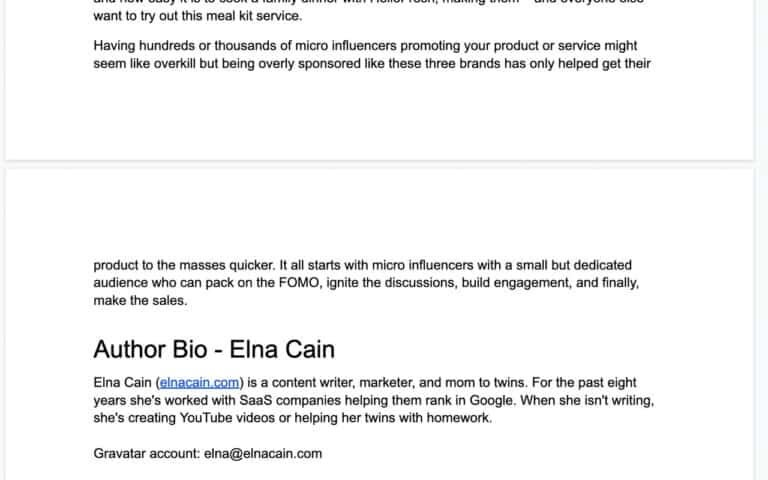 This is more beneficial in a way since your readers are more likely to want to know more about you after reading your content.
What is a Byline? Now You Know!
Yes, bylines seem to take a lot of work for something so short, but don't worry if you don't nail your byline on your first try.
I went through many bylines before I found the ones that worked for me!
Overall, it's better to have any byline than none, so make sure you start including one with all of your written content.
And don't forget to check out these other posts for more help:
Do you have a byline you want to share?
Drop them in the comments below, and let's have a look!