Whether you've always been good with money or just enjoy learning about finances and investing, financial writing jobs can pay big bucks.
Money touches every aspect of our lives, from how we negotiate our career positions to the cost of groceries.
Oftentimes, when we think of financial writers we think about Wall Street gurus talking about the latest and greatest in cryptocurrency or stock market investing.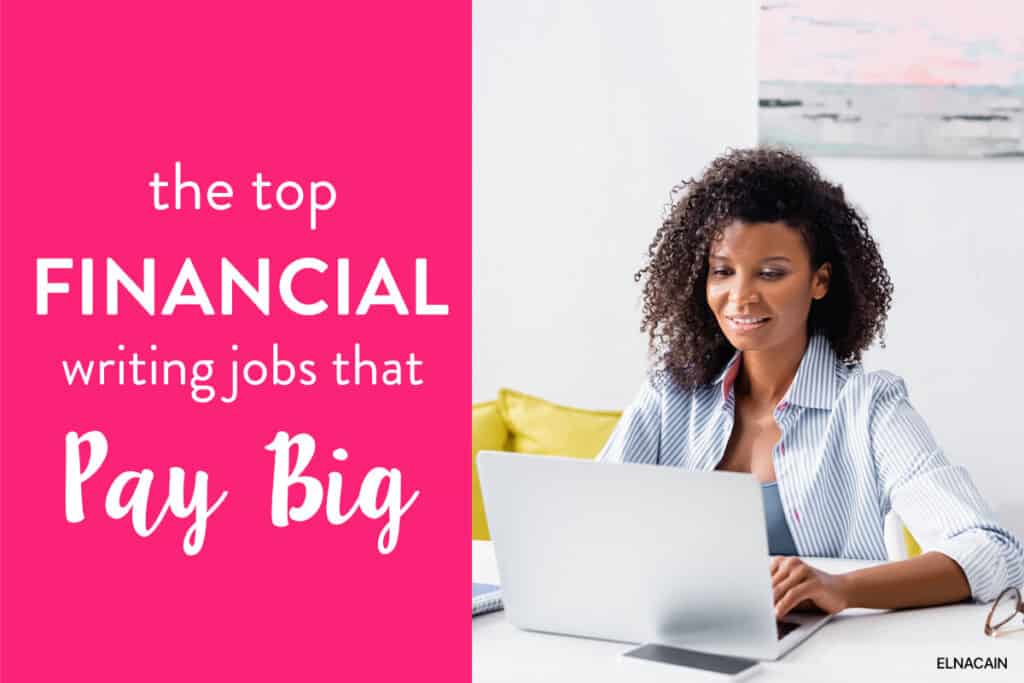 However, there is so much more to financial writing than just high level investment strategies.
In this article I will cover how to become a financial writer, what a financial writer actually does, the different topics that financial writers can write about and other job duties, the various types of financial writing jobs, and how much you can actually make as a financial writer.
What is a Financial Writer?
But before we get into the fun topics like how much you can make as a financial writer, let's first talk about what a financial writer actually is.
A finance freelance writer is somebody who works within the finance industry and writes content for print or web publications about all topics surrounding finance – investments, business plans, personal finance, budgeting or saving money.
As this type of freelance writer, you can work for a company or agency or on a freelance or contract basis.
For example, MoneyGeek – a finance and credit card website –hires editors, writers and copywriters.
As a finance writer for financial sites such as MoneyGeek, you will receive a nice author bio when people click on your name (or it may be featured at the bottom of the client post).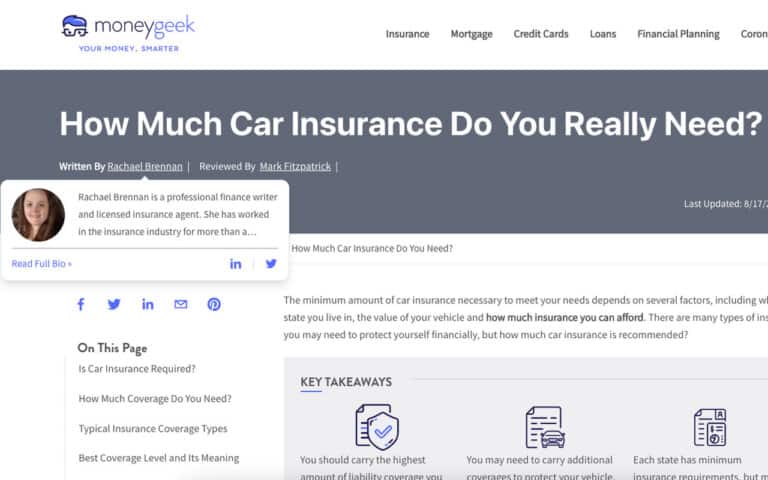 The goal is to produce educational content for a business' audience.
You will most likely need experience/degree or a journalism background.
Kristi Durham, a personal finance writer, says clients want someone with a background in finance.
"In my experience companies want a background in finance for writers. It's a ROBUST topic. I've written lead gen campaigns for mainly investment and retirement planning and some insurance products."
Business Plan freelance writer Anam An has experience with clients requiring a degree and those that don't ask their writers.
"For writing business plans clients always ask me if I have a degree. For blog posts, it doesn't seem a compulsion or requirement, but I prefer telling about my educational background and showing my portfolio to be on the safe side. I think having a degree helps in securing all these gigs!"
Having a four-year bachelor's degree in either journalism or a related topic like finance, economics, accounting or another related field will ultimately help you land better paying clients.
As you can see, the financial industry is highly varied topical wise and what they seek in a writer in terms of experience or educational degrees.
How to Become a Financial Writer
Much like with any other type of writing, in order to get into the field you need to start and develop your writing portfolio.
You can do this by writing for your own website or blog, writing articles for sites such as Medium.com, or volunteering to write for free for various types of publications (more on this later).
For example, personal finance website, Wise Bread offers free guest posting opportunities.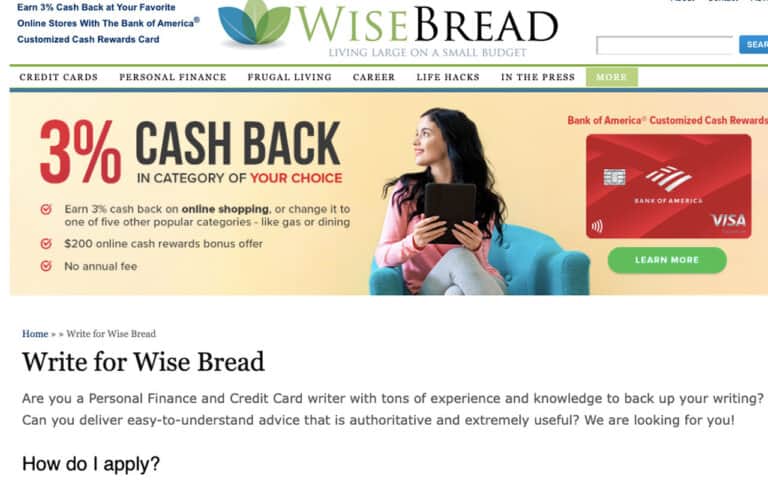 Finance writers also need to be very good at researching as well as interviewing others. This means having good interpersonal communication skills.
Typical interviews are done via written – email communication – or video – via a Zoom call.
Speak with other financial writers within the field to learn about what it is really like to be a financial writer. I have many Writeto1k course students who are in the finance writing industry!
Kristi Durham, for example said she was able to get started from taking a finance related course.
"I got my first financial writing gig because I took a course [a Canadian Securities Course] and the person who ran it found out I had a background in finance. He referred me to a company he worked with….I don't really advertise as a finance writer, but when people find out you're a copywriter with a background in finance, the jobs sort of find you."
Cryptocurrency finance writer Gloria Chimelu, also expresses the value of taking a finance related course in helping with landing client work.
"I'm a crypto finance writer and although I didn't have a background in journalism or finance, I took courses to brush myself up."
Working as an independent personal finance blogger versus working as a staff writer for a large investment company are two very different types of careers.
From experience and from talking with other writers, it's best to be an independent contractor and have several clients as a finance writer because you can charge more and make more money in the long run!
One thing to note: if you have done any type of technical writing this could also lend itself well to being a financial writer.
How? Top technical writing jobs have a financial slant – cryptocurrency, fintech, and software documentation.
What Does a Financial Writer Do?
It is the goal of the financial writer to create content that is both informative and engaging while taking rather complex financial concepts and breaking them down into easier to understand and bite-sized pieces of information.
This is similar to the tech writing niche, where you would be taking complex forms or documents and turning them into easy-to-read pieces of content.
It's your responsibility to maintain a current understanding of the finance industry as well as how the current state of the economy to deliver relevant and adequate information to the layperson.
Go ahead and take a look at financial blogs to see how their writers write a blog post for example.
Over on Dollarsprout, they have writers and ghostwriters for their blog.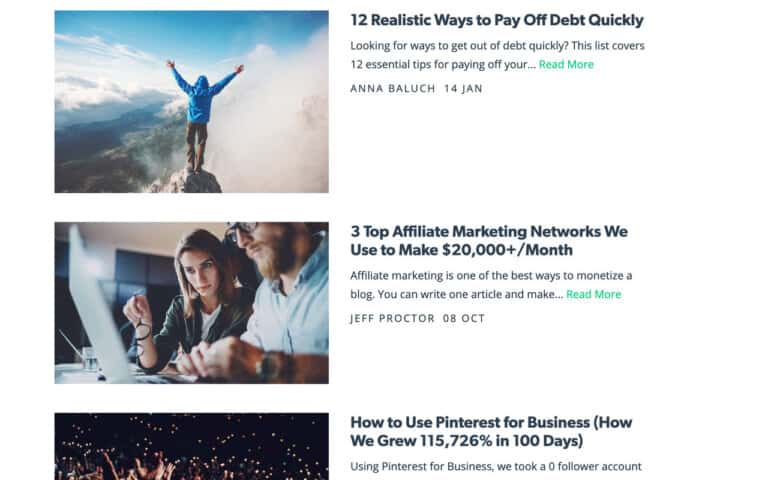 An easy way to get into any writing niche is to write blog posts. The freelance writing rates for financial writing is upwards to a $1 per word, depending on where you are writing (ie format – magazine article, publication, university reports, etc.).
You can click on Anna Bauluch's post on paying of debt quickly and see her author bio.

As you can see, she positions herself as a finance expert and shares where she has been published, showing her credibility in her writing niche.
She also makes it known her degree and where she went to school.
A financial writer must also have a solid understanding of search engine optimization (SEO) practice and optimization practices and how to create engaging and original content that their audience will actually want to read and will come back to again and again.
Many freelance writing clients will give you a brief and in that brief will be the keyword and some other keywords if necessary.
Here's is what GoDaddy gave me for a brief.

With SEO, you need to understand more than just the keyword and secondary keyword.
You need to know where to place your keywords, how often to use a keywords, what other ways you can say that keyword and more.
If you need help with SEO writing, make sure to check out masterclass Fast Track to SEO Writing.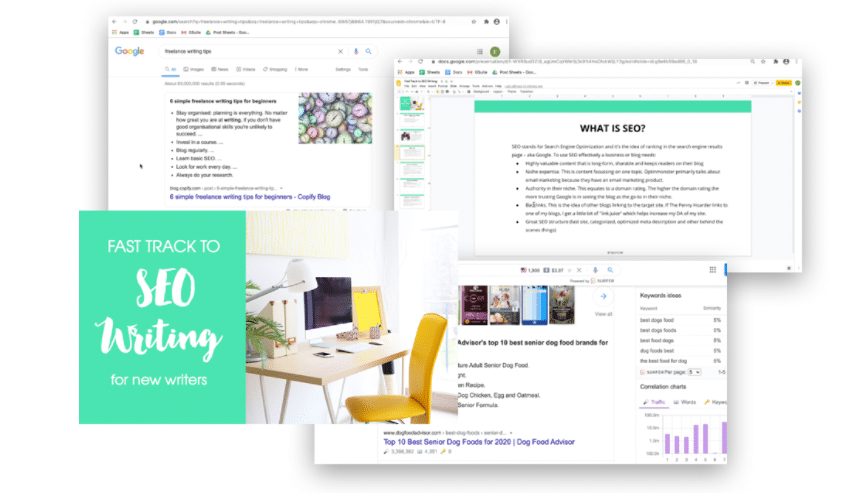 Financial writers also need to be able to ensure brand consistency throughout all media and content.
This holds true whether you are writing for your own blog or you are writing for a company.
But, what does this mean?
Brand consistency when writing means understanding the overall message of the finance brand and the type of writing they have on their website.
This might mean:
What credible sources do they site – publications, white paper, journals?
Do they use first person writing?
Is the writing conversational or more practical and to-the-point?
This can help you when crafting content for a financial blog.
Types of Finance Jobs
Just as with other types of writing jobs there are different writing niches within the job title of finance writer. Below we will explore a few different types of finance writer gigs.
1. Personal Finance Freelance Writer
Personal finance continues to be a hot topic – especially with the Pandemic and world shortages happening.
Individuals are always looking for more ways to save more money, make more money, or to make their money work for them.
As a personal finance writer, you don't need any type of professional degree or certification.
Many of the top personal finance bloggers and writers have gained an immense following from simply sharing their experiences and their personal ideas on how to handle finances.
For example, Michelle from Making Sense of Cents makes over 6 figures per month from her blog talking about how to make more money, save more money, and how to best use the money you already have.
She did not come from a professional finance background nor does she have any degrees in personal finance. However, she is one of today's top personal finance bloggers due to her relatability and easy to read and implement articles.
And there's also Cat Alford. She started with buying a $10 domain and learned how to write a blog post. From there she connected with people needing blog writing.
Over time, she was able to scale her business and write for better clients.
"A few years into my freelance writing career, I started writing for The Huffington Post and U.S. News and World Report."
Some of the other top personal finance blogs that you can draw inspiration from include :
Start following these successful entrepreneurs and learn the personal finance niche (if you are a beginner).
2. Investment Writer
Investment writers often talk about wealth management and how individuals can take money that they are saving and make it work for them by placing it into various investment strategies.
Investment writers need to have knowledge in areas such as:
Credit

Securities

Private equity

Assets and liabilities

Hedge funds

Legal side of finances like trusts and probate
Often, investment writers work for a specific investment company to help promote their various securities and investment opportunities.
The main goal of the investment writer is to get readers to become clients through education in order to purchase their investment products.
Investment writers can make suggestions for different types of investment products based on the audience's circumstances.
3. Stock Market Writer
Stock market writers are similar to investment writers however they look at the stock market as a whole. Rather than discussing various investment strategies from a specific business they may talk more about investing into specific stocks.
Stock market writers should also be well versed at looking at the analytical side or the political side of stock market cycles. People want to know what the next big stock they should be investing in, and while stock market writers don't have a crystal ball to predict the future, they can use their analytical skills to help recommend potential hot stocks or other trending investments.
Stock market writers need to be on the ball and write about topics quickly, as they can potentially change very quickly.
4. Financial Data/Report Writer
A financial data writer or financial report writer is a writer who helps organizations to gather and organize financial data. Financial data writers aren't so much writing content for the public but disseminating the company reports and analyzing budgets.
5. Content Writer/Editor
A content writer or editor in the finance industry can take on a host of various roles. The content writer may work independently or work as a staff writer. A content writer can be responsible for a written piece from inception all the way to publication. Considering they wear many hats they need to be good at not only writing but possess strong interpersonal communication skills and be able to work with other colleagues at all levels of the organization.
6. Crypto Writer
Cryptocurrency is a hot topic and a popular one. Many writers I asked to contribute to this post were crypto writers. Since this is a new financial sector, most of the writing you will do is information and educational.
You are teaching the readers about cryptocurrency. So you may write about terms, about using Bitcoin safely, about crypto schemes and more.
How Much do Financial Writers Make?
When it comes to salaries for financial writers, they are on the higher end of the spectrum.
As I mentioned you can make up to $1 per word as a financial writer.
According to ZipRecruiter, "While ZipRecruiter is seeing annual salaries as high as $141,000 and as low as $69,500, the majority of Financial Writer salaries currently range between $94,500 (25th percentile) to $127,000 (75th percentile) with top earners (90th percentile) making $135,000 annually across the United States."
However, just as with any other type of income from writing the pay range can vary drastically.
While it's certainly possible for finance writers to make a 6 figure salary, it is also very common for them to get paid hourly and/or on a per word basis.
The amount they charge depends on the amount of work that they have to put into the project, in terms of research or interviews. Of course the more experience they have and the higher level of publications they possess, the more they can charge for their work.
Where to Start as a Financial Writer
As mentioned, one of the first things you need to have for any writing niche is a portfolio of the niche industry.
Yes, it's better to have a portfolio about financial writing than one about travel writing or pet writing.
For example, here is Leah Golob's Contently portfolio and it's filled with financial types of specs.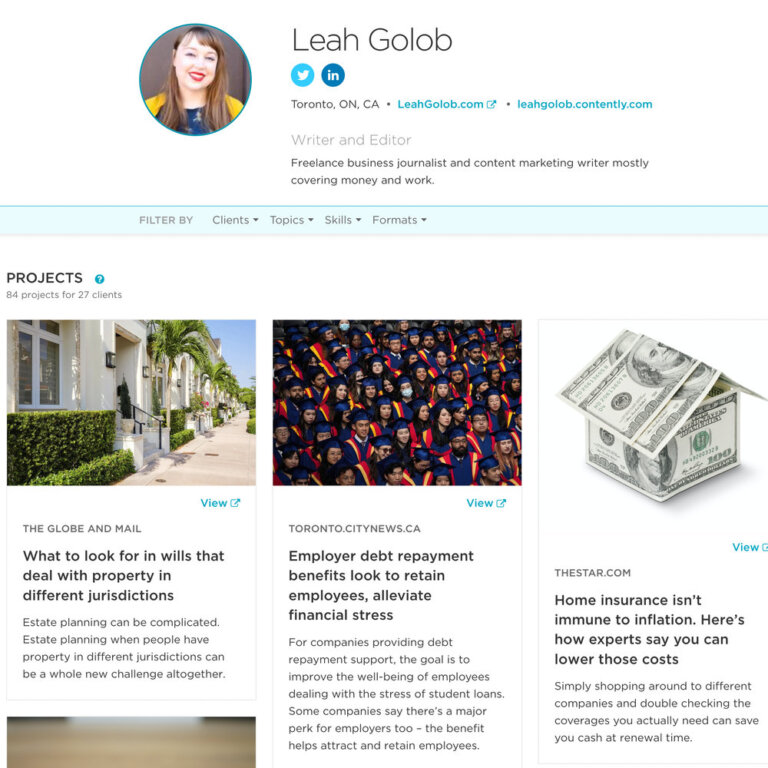 If she wants to pitch to financial firms or companies, she can easily link to her Contently portfolio and a prospect can immediately see that Leah is:
Credible – she has several posts about finance and that is what she's marketing her self as knowing
Experienced – the topics she writes about shows her experience and knowledge in the finance industry
What's even better is having more than one portfolio online.
Go ahead and have a writer website with a blog. Directing prospects to your site and then having them toot around your blog can be a great way to land client work easily.
And while you're at it, get onto Medium and start a profile so you can post on Medium or submit posts to publications to appear more credible.
There are a handful of other sites where you can submit for paid guest posting opportunities. Not only can you potentially make a few bucks from your writing on the sites, it's also great to add to any type of resume or portfolio.
Each one of these websites offers an opportunity to get paid per article and/or the opportunity to become a long term or recurring contributor.
Once you have a few specs under your belt, you can start pitching and be confident that you have the "look" and "feel" of a financial writer.
You obviously have writing samples in the financial niche, perhaps you created a writer website with a strong call-to-action and shows you are a finance writer and you started a LinkedIn profile.
With LinkedIn, you can know find companies and see who is in charge of content. From there you can pitch your services to them. This is called cold pitching.
You can also use LinkedIn to find financial jobs.
For more help with pitching, check out my post on how to write a pitch.
Wrapping It Up
I hope you are excited about becoming a financial writer! This is a great type of writer that pays big!
Have fun exploring all the different types of financial niches you can be in!
Please pin and let me know in the comments what type of finance writer you are!