Are you new to freelance writing?
Congratulations! You are on your way to having a flexible and rewarding career!
But getting started as a freelance writer isn't always easy.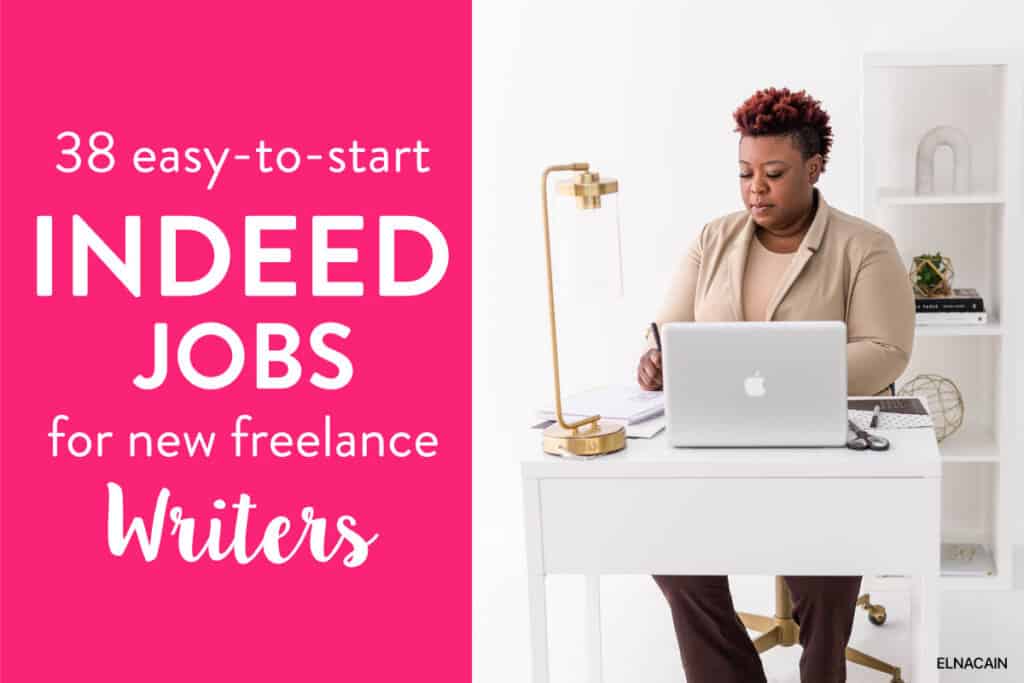 Setting yourself up involves a lot of moving parts but the one question I hear most is:
"Where do I find jobs?"
With hundreds of job boards out there posting gigs for freelance writers, it can often be confusing to know where to start and what to look for.
I've used many job boards to find freelancing work when I first started out but one I always found myself coming back to is Indeed.
Before you get lost in the confusion of scouring every job board out there, here's what you need to know about using Indeed as well as some amazing jobs for new freelance writers:
Why Use Indeed Jobs?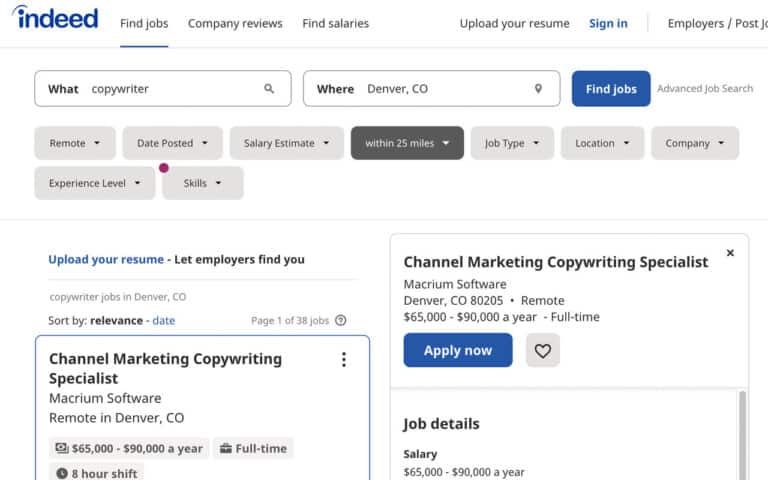 Indeed is a free website where job seekers can upload their resumes, search for jobs, create job alerts, save job postings, and apply directly to job postings.
Indeed compile their job listings from all over the web but also allows employers to post jobs directly to their platform.
While Indeed does include jobs from many different industries, it is especially useful for freelance writers looking for writing gigs.
Plus, Indeed has a blog with helpful advice for freelancers and workers.
How Can I Optimize Indeed to Get More Work?
Of course, it's one thing to apply to a bunch of different job postings and another to know how to use the platform to increase your chances of getting a job.
First of all, make sure you are using the right keywords in your search. Try enclosing your search term with quotation marks to ensure the results are relevant to the position you are searching for.
You can also try searching for specific skillsets. For example, if you are interested in social media writing, you can try including "social media" in your search.
For example: "freelance writer" "social media"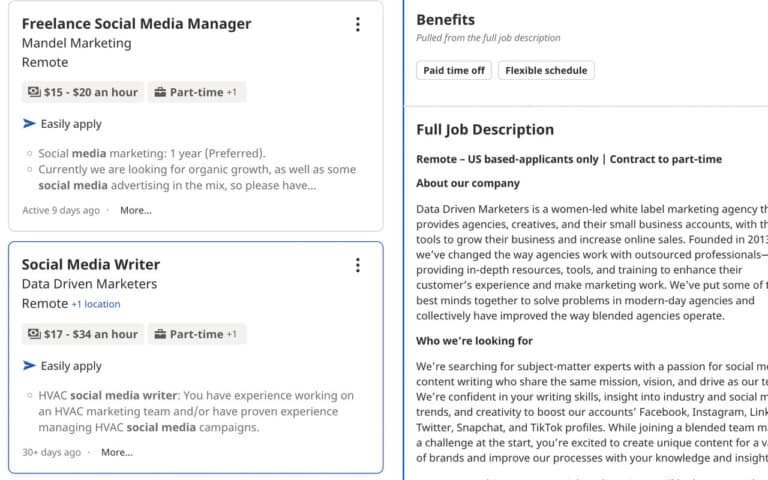 You can use this for different industries too: "freelance writer" "parenting"
Secondly, when it comes to applying for jobs, use the "Apply Now" button accompanying the job posting. If there isn't one, look for the "Apply Directly" button to send your application directly to the employer.
Be sure to also post your resume – this will make it easier for employers on Indeed to find you!
Not sure how to write a resume as a freelance writer? Check out my post here.
Lastly, set yourself up to get job alerts and notifications.
Look for an input box that asks for your email address and hit "Activate."
You will then receive job notifications for similar positions!
Do I Have to Look For Indeed Jobs Near Me?
As a freelance writer, you can work for any client no matter where they are!
When searching for jobs on Indeed, just make sure to remove your location from the "where" box if you want to find remote job postings.
Otherwise, you're going to only get results for "Indeed jobs near me" and this will narrow the scope of jobs available.
You can also use the search filters to specific "remote" under the location tab (if there are any remote jobs available) or type "remote" into the "where" box.
However, there is nothing wrong with wanting to work with local companies!
This can be a great way to start networking and helping your community out as well.
What About Scam Jobs on Indeed?
Sadly, nothing online is completely safe from scams and you need to be exercise some caution when using Indeed to find freelancing writing jobs.
Usually, people will post scam jobs on Indeed in order to get your personal or financial information.
To keep yourself safe while using Indeed, here are some tips:
Look for vague titles such as "Assistant Job." Scammers will use these titles because they are highly searched.
If an "employer" asks you for any financial information or personal information (driver's license, credit reports, etc.), run in the opposite direction.
Pay attention to what they are offering. If it's too good to be true, it probably is.
You can verify that an employer is legit by checking their email address for a legit domain associated with the company (not Gmail or Yahoo) and doing a quick web search.
Employers that are hard to track down on Google may be scammers.
Likewise, be careful of employers that insist you only communicate through apps like Google Hangouts and Whatsapp.
Communication from a legitimate employer is done face-to-face, by phone, or via an official company email address.
What Types of Jobs Are On Indeed?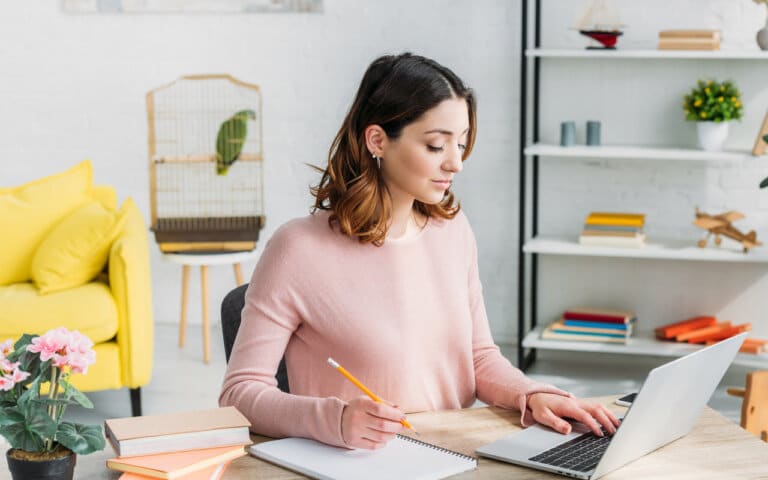 When you start searching on Indeed, you'll find that many freelance writing jobs wear many different hats.
What we may think of as simply a "blog writer" can be posted under numerous different job titles!
To help you sort out what is available on Indeed when it comes to jobs for new freelance writers, here are the types of jobs you should check out:
1. Digital Writer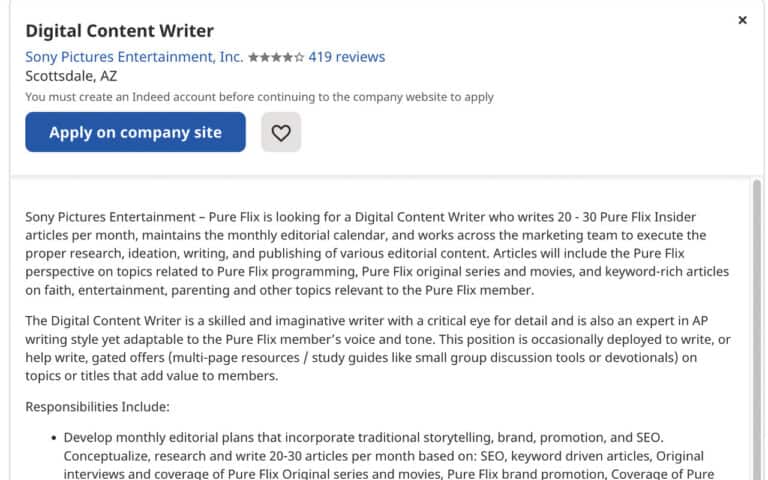 Digital writers are responsible for creating, developing, editing, and publishing content for a wide variety of digital platforms.
This can include blogs, videos, emails, websites, advertising campaigns, marketing campaigns, social media posts, infographics, and more!
On Indeed jobs, here is a digital content writing job for Sony Pictures. How great would that look on your portfolio!
2. Blog Content Writer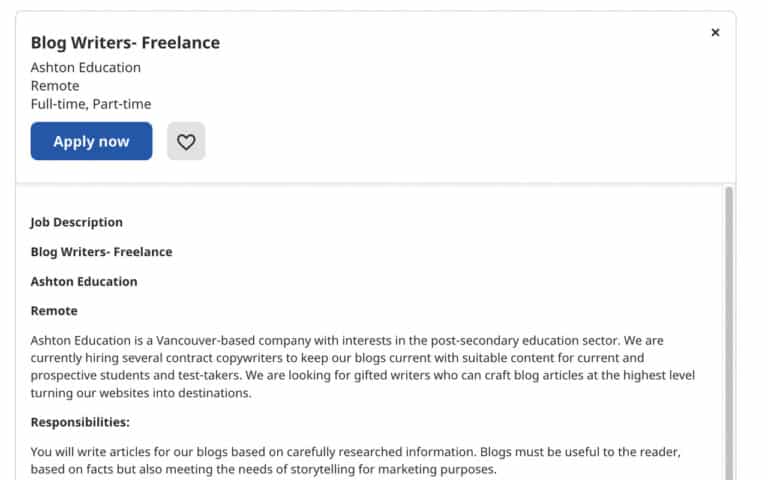 When it comes to Indeed work from home jobs, you can always offer your freelance services as a blog content writer.
These writers write content specifically for, well, blogs.
Blog content writing involves creating relevant and fresh content that is informative and well-researched with an understanding of SEO and a hint of storytelling.
3. Technical Writer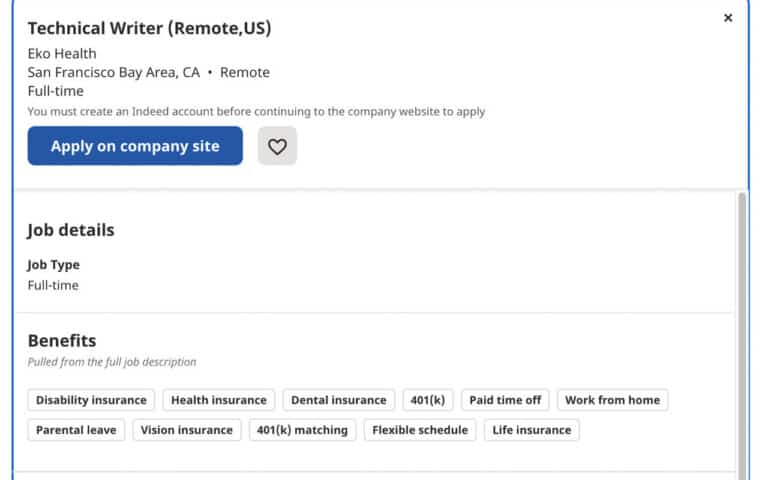 If you have a good understanding of technical languages and processes, you can use Indeed to find jobs as a technical writer.
Technical writers are skilled in taking technical information and presenting it in a way that is easy to understand. This can include explaining the functionality of a product or sharing information within organizations.
4. PR Writer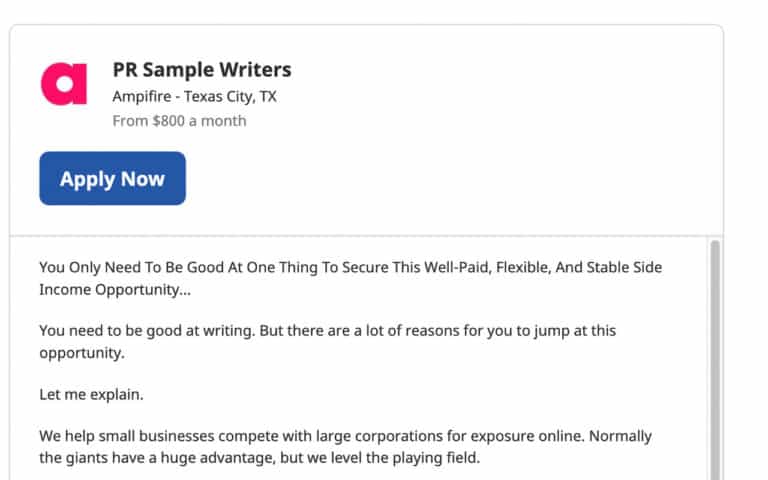 PR writers create content specifically for internal documents and articles that are released to the media.
This involves writing press releases, creating internal communications, and monitoring social media accounts.
Over on Indeed, there are plenty of PR jobs available!
5. Ghostwriter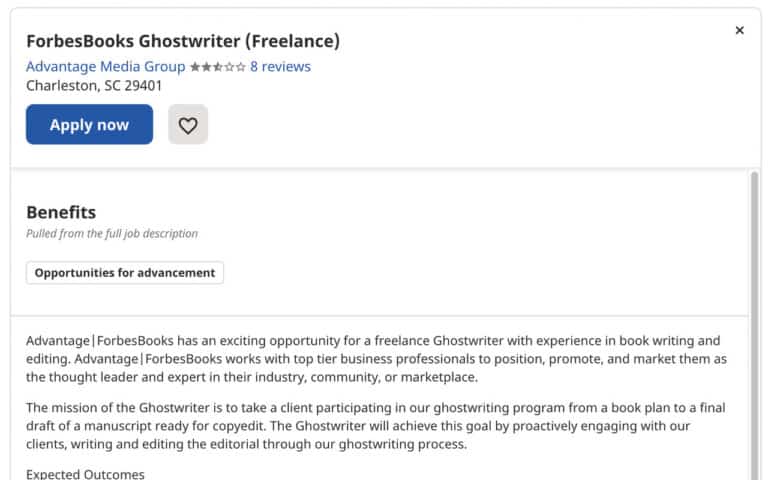 There are many Indeed stay-at-home jobs as a ghostwriter!
As a ghostwriter, you will write something and another person will be credited as the author.
For instance, you could be hired to write articles, speeches, books, courses, and more!
6. Sports Betting Writer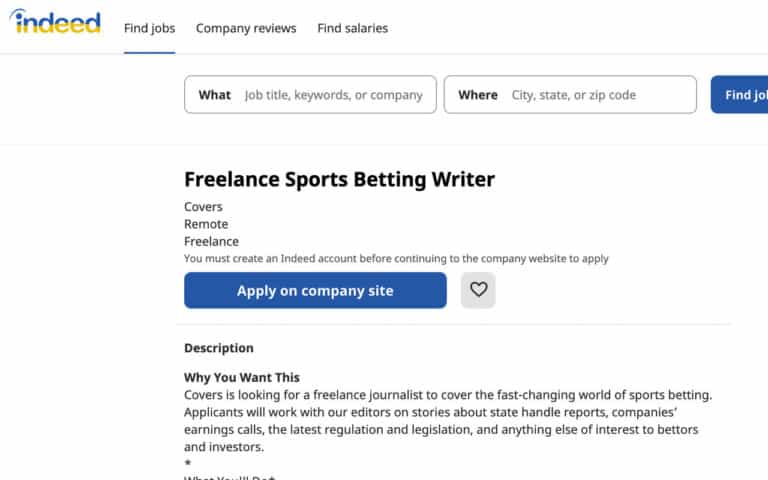 You never know what kind of freelance writing jobs you will find on Indeed! There are sports magazines and websites looking for writers to cover the world of sports betting.
These writers write about state handle reports, regulations and legislation, and anything that may be of interest to both bettors and investors.
7. Copywriter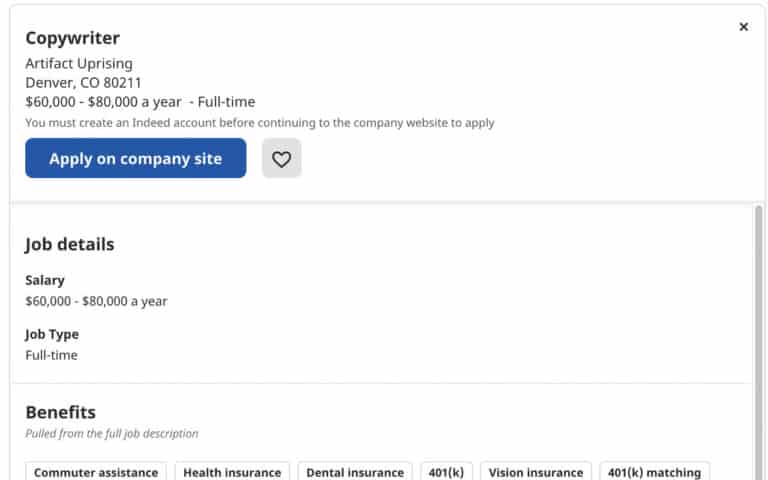 Copywriters are writers that create content that is compelling in order to sell products and services. This can involve selling to customers or selling to other companies.
The writing has to be convincing and poignant, focusing on both the consumer experience and the benefits of the product.
8. Content Creator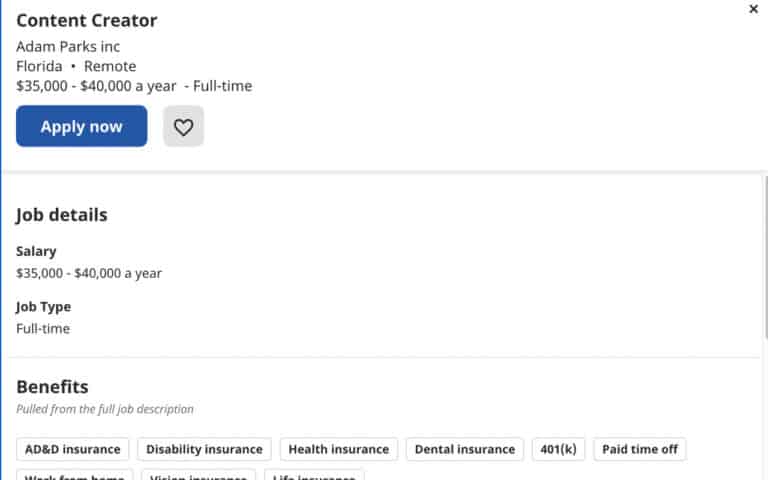 So this may sound like an umbrella term for freelance writing, but there are many Indeed jobs for writers that can create catchy content that converts.
This isn't limited to "selling" to consumers. It can include creating social media posts such as Instagram reels or crafting weekly emails for a subscriber list.
Some of the content creator jobs I saw on Indeed were for TV shows and educational software programs.
9. Crypto Content Writer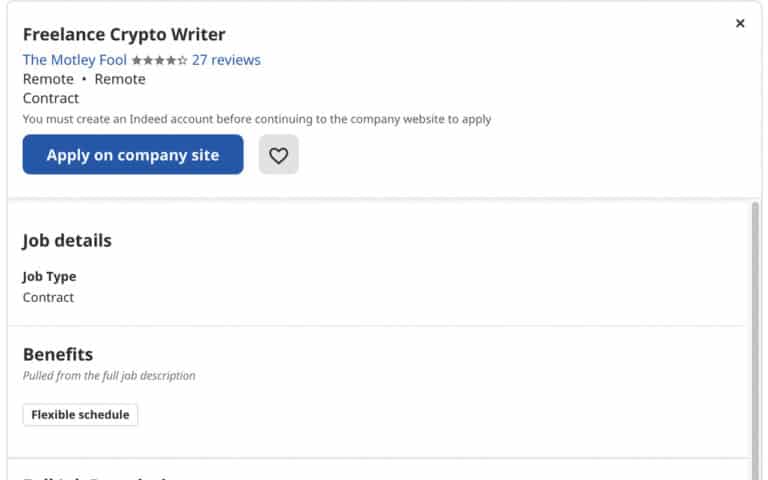 The crypto industry is growing in popularity and many companies are looking for crypto content writers.
This Indeed jobs posting shares that you can make six figures as a crypto writer and that this company has long-time writers on their staff, indicating that those writers enjoy writing for that company.
You have to have solid knowledge about cryptocurrency and be able to write in a way that is persuasive and informative – there are lots of jobs out there for this type of writer!
10. History Content Writer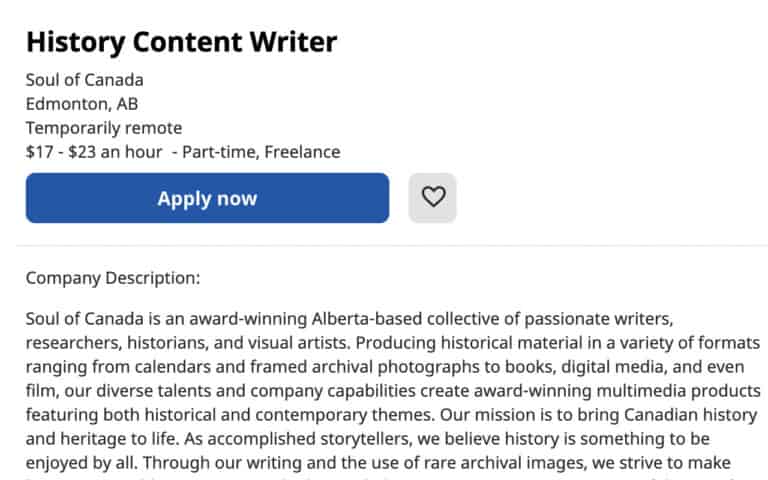 If you're a history buff, you can definitely find Indeed jobs for history content writers.
History content writers produce historical material in a variety of formats such as digital media, film, books, online content, and more.
11. Entertainment Writer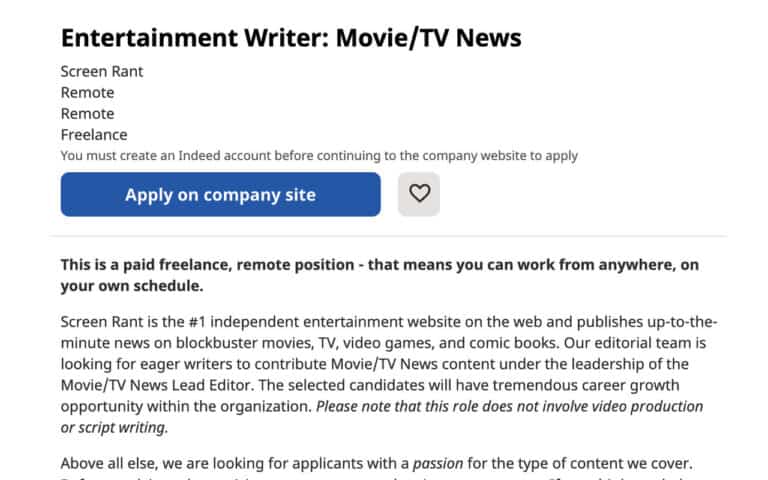 There are lots of sites out there looking for entertainment writers to create fresh content related to movies, video games, TV, and comic books.
So if you're in the know when it comes to the entertainment world, you can definitely find these work-from-home jobs on Indeed.
12. Resume Writer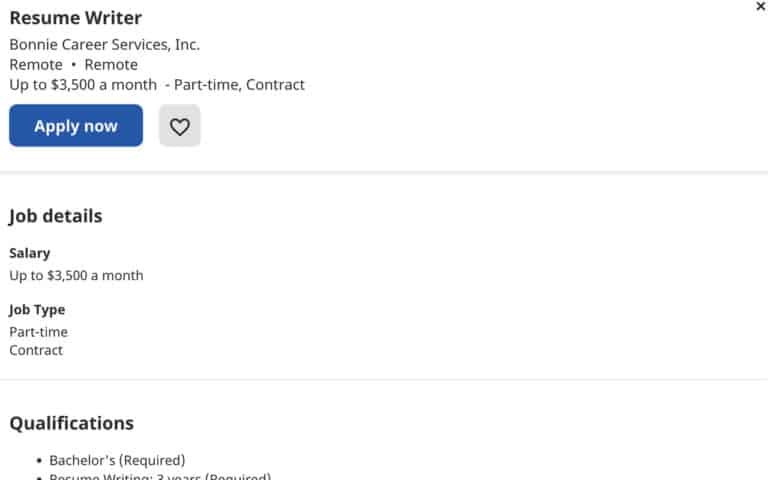 Resume writing involves editing and writing both resumes and cover letters.
Resume writing companies will hire freelance writers to write resumes, cover letters, Linkedin profiles, and other career-related documentation for those looking for work.
13. Corporate Writer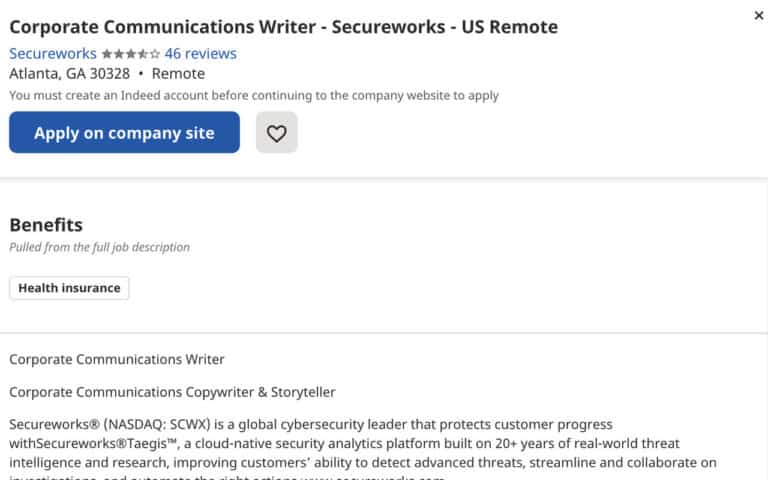 The term "corporate writer" encompasses a variety of business-related writing but there are quite a few Indeed jobs for this type of writer.
A corporate writer may be asked to write press releases, company-wide memos, sales material, and more.
14. Finance Writer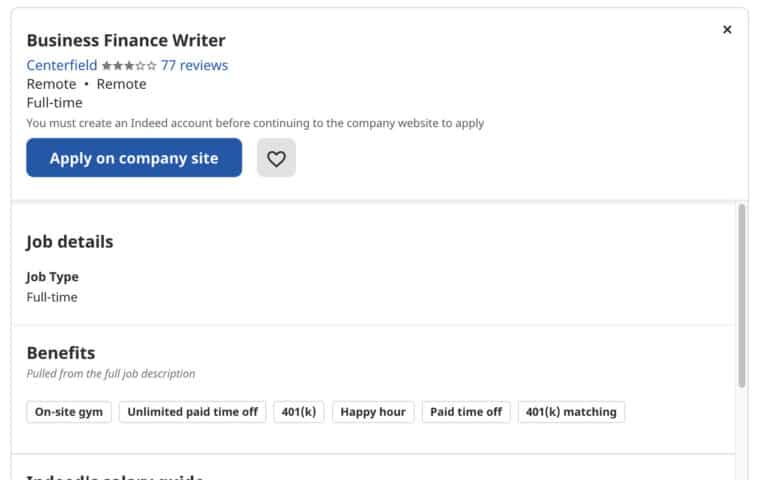 Financial writers are hired to create all kinds of written content such as educational material, social media posts, commentary pieces, and marketing materials.
A lot of this type of writing is focused on relevant business news, earning releases and trends, articles on various financial topics, and even textbooks for college courses.
15. Grant Writer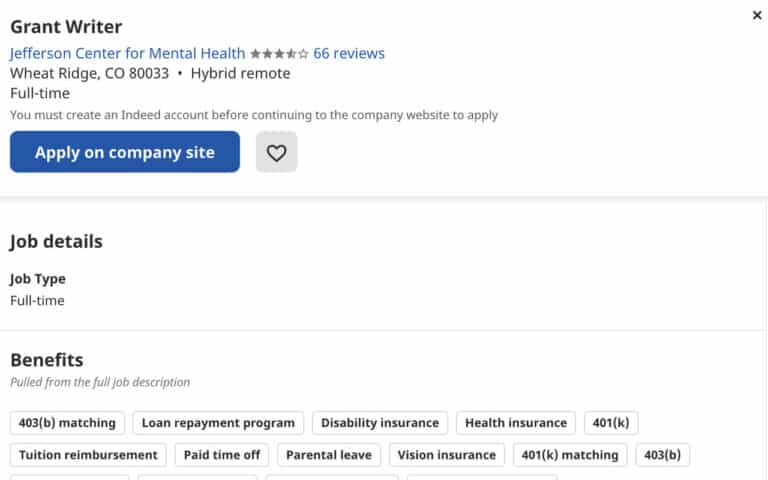 Grant proposals are high-quality documents and applications used to request funds to financially support an organization.
Grant writing involves identifying opportunities and needs and developing these proposals by gathering relevant information and presenting it in a compelling way.
16. E-Commerce Copywriter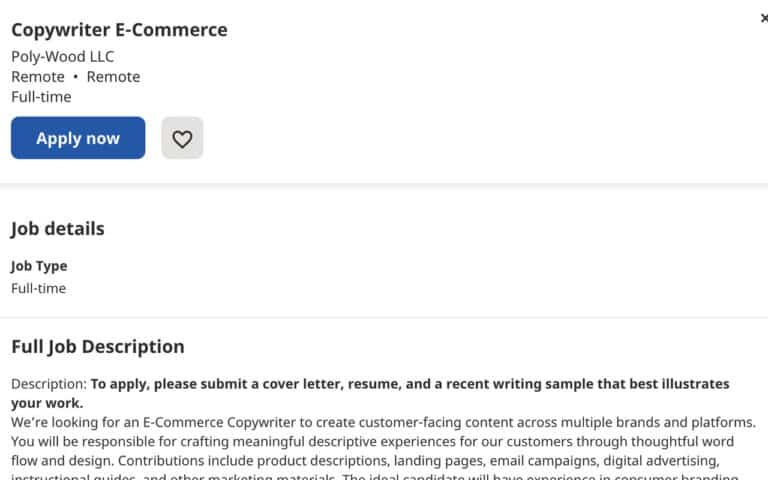 Again, copywriting is a form of writing that is compelling and attracts consumers to purchase a product or service. You can further specify your copywriting services by focusing on the e-commerce industry.
When it comes to using Indeed to find jobs in this niche, many companies are looking for an e-commerce copywriter that can develop copy for marketing campaigns, social media, scripts, and other forms of communication.
17. Story Telling Copywriter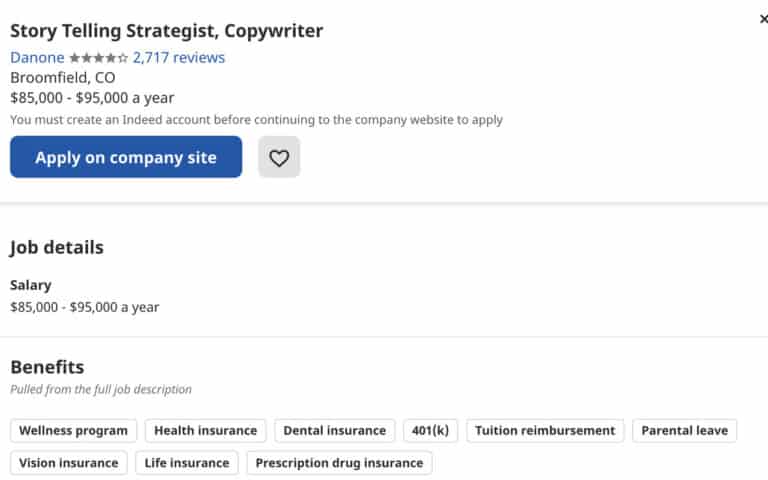 Story telling copywriters use their skills to bring a brand to life – not only online but also when it comes to product packaging and marketing materials.
This requires understanding the brand and finding ways to personify it through story telling.
Indeed has a few job listings for this type of freelance writing.
18. Communications Writer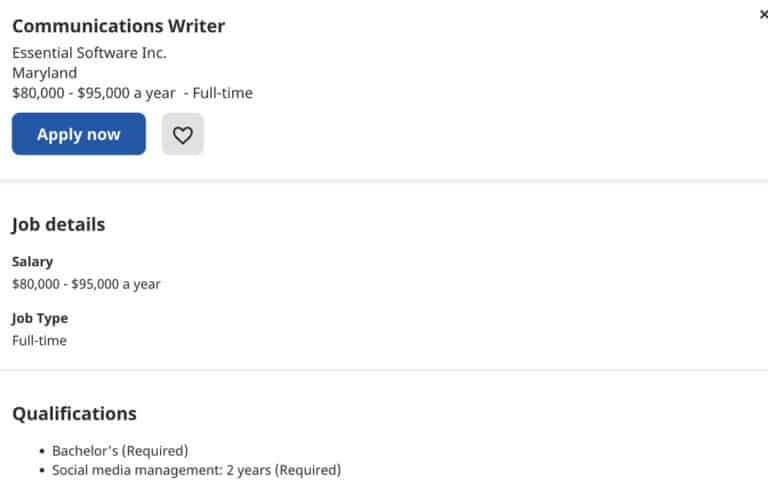 Being a communications writer is all about, well, communication!
Indeed work-from-home jobs include posts for communications writers who can write press releases, social media posts, speeches, and any other content that is related to public relations.
19. Script Writer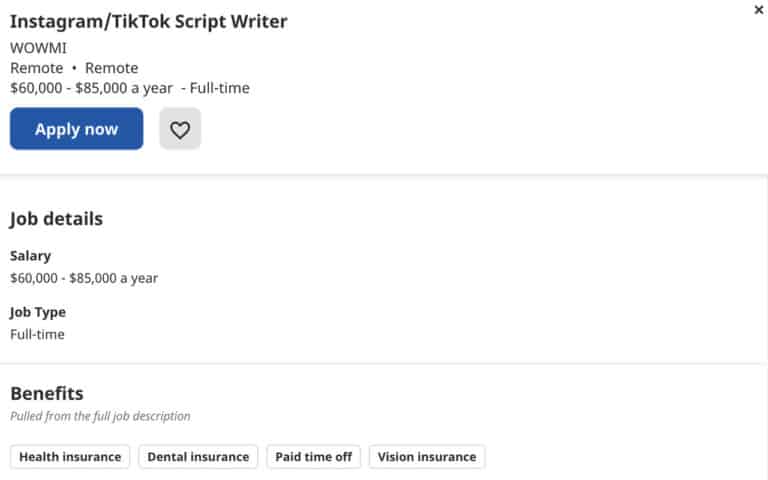 Writing scripts isn't limited to mediums such as film and TV. Freelance scriptwriters are hired to also create scripts for YouTube videos, commercials, and even social media platforms such as TikTok, Facebook, and Instagram.
Companies will also hire freelance writers to write scripts for online courses and sales page videos.
20. UX Copywriter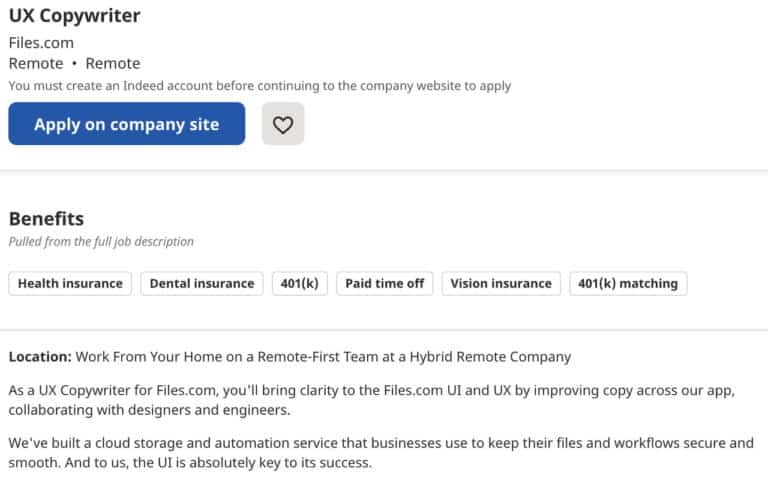 UX stands for "User Experience" and is all about maximizing websites and content to make it more accessible to the average person.
As a UX copywriter, you could be paid to write copy for mobile applications and websites while collaborating with design teams to ensure each product is user-friendly.
21. Medical Writer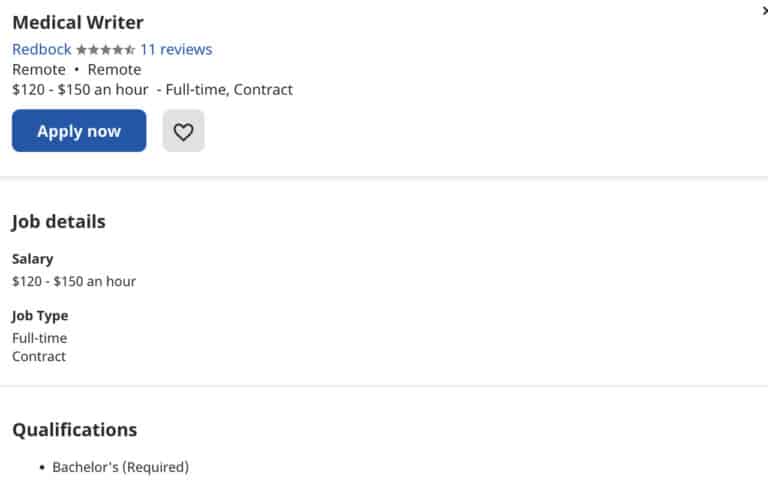 Being a medical writer can be a fascinating Indeed work from home job!
You may find yourself creating content for education programs, meetings, and manuscripts for publication in medical journals.
You could also be involved in conducting background research and crafting pitches for pharmaceuticals and therapies.
22. Proposal Writer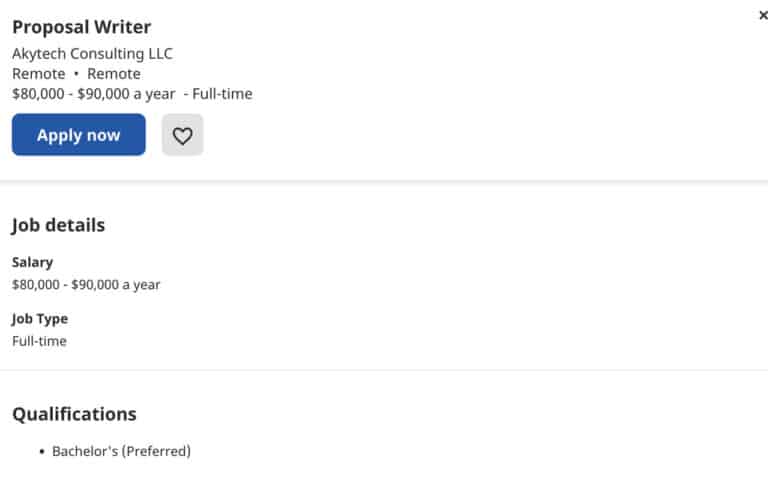 As a freelance proposal writer, you can make money writing documents to convince others to support a project or agree to a business arrangement.
Usually, proposals are written for non-profits and businesses and there's quite a few jobs to be found on Indeed!
Check out my guide on how to write a proposal for the first time!
23. B2B Content Writer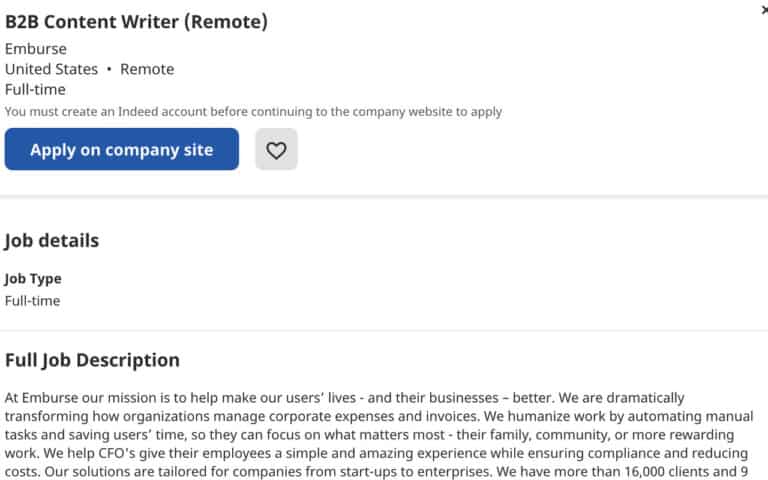 B2B stands for "business to business" and involves writing emails, articles, and white papers to help companies sell their products and services to other companies.
This is different from B2C writing that focuses on selling to customers.
A B2B writer has to have the skills to be part journalist and part salesperson.
24. Bilingual Digital Content Writer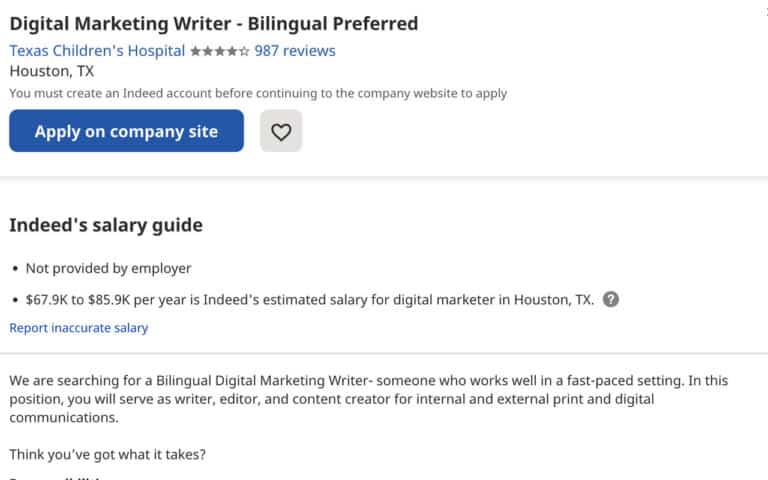 If you are fluent in two or more languages, you can easily find Indeed jobs for writing, editing, and publishing content in different languages for websites, email marketing, and social media campaigns.
Knowing more than one language can help with your unique selling point and command higher rates.
25. Web Content Writer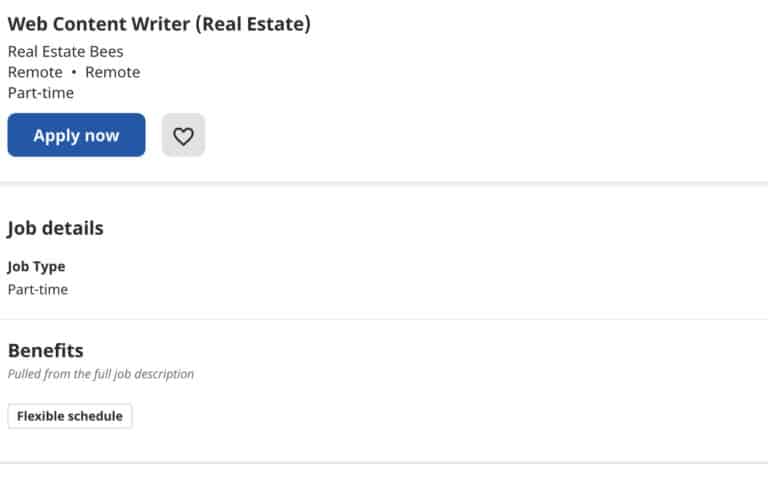 So being a web content writer may sound the same as being a general freelance writer, but there are many job postings on Indeed for this type of position.
Web content writing entails writing digital content for a business. This requires an understanding of SEO, formatting, and how to write content that is clear and concise.
26. Content Marketing Writer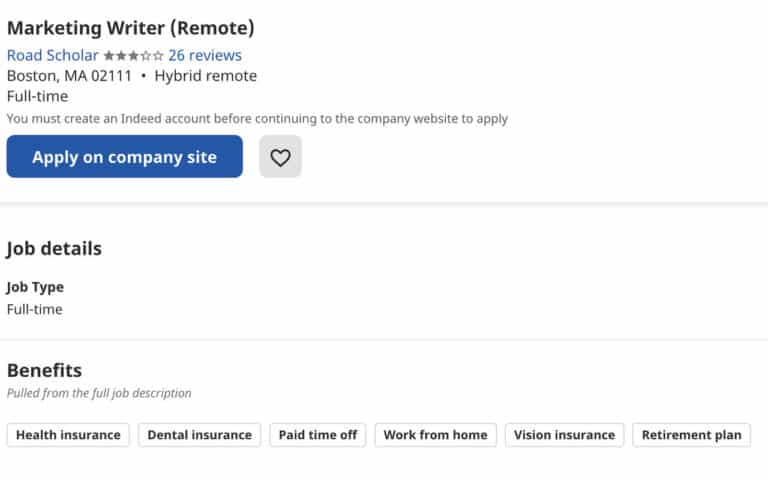 Content marketing writers develop engaging content strategies that generate leads and drive demand.
Businesses often hire content marketing writers to work with their marketing team to create and update content to suit their needs.
27. Sponsored Content Writer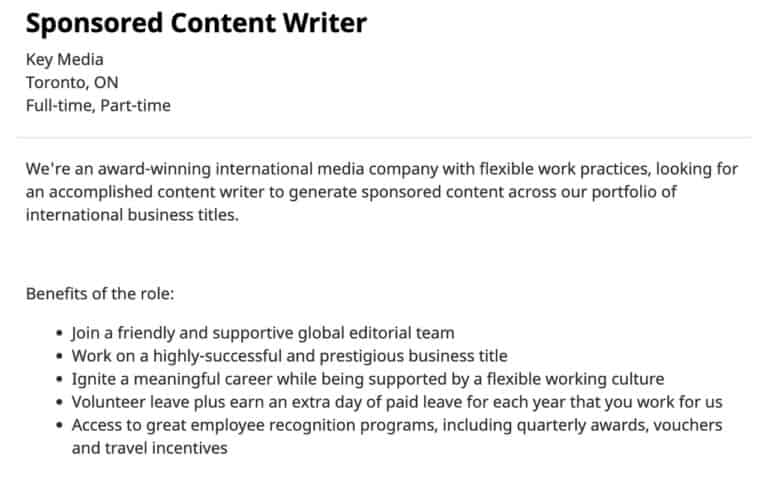 Sponsored content is content that brands pay for to promote their products and services on different digital platforms.
These are typically informative articles that focus on the customer's pain points and highlight the benefits of the product or service.
28. Instructional Writer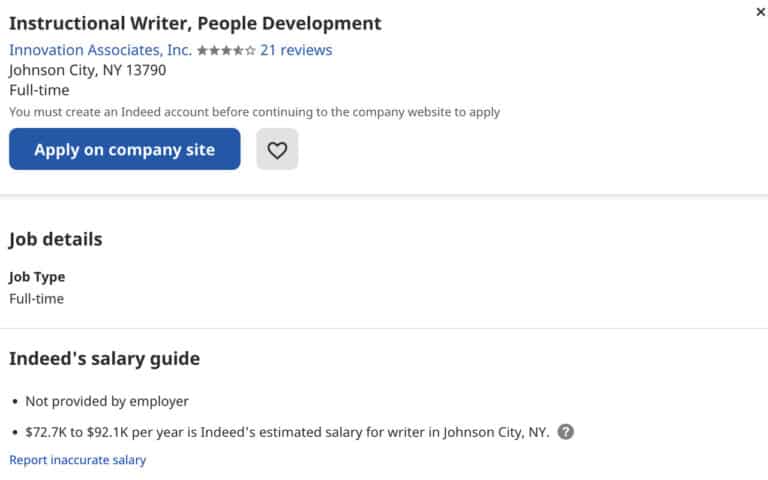 Instructional writers are hired by companies to develop training programs including in-person and online content.
As an instructional writer, you'll work closely with a company in order to translate the way they operate into material that is easy to learn and understand.
29. Correspondence Writer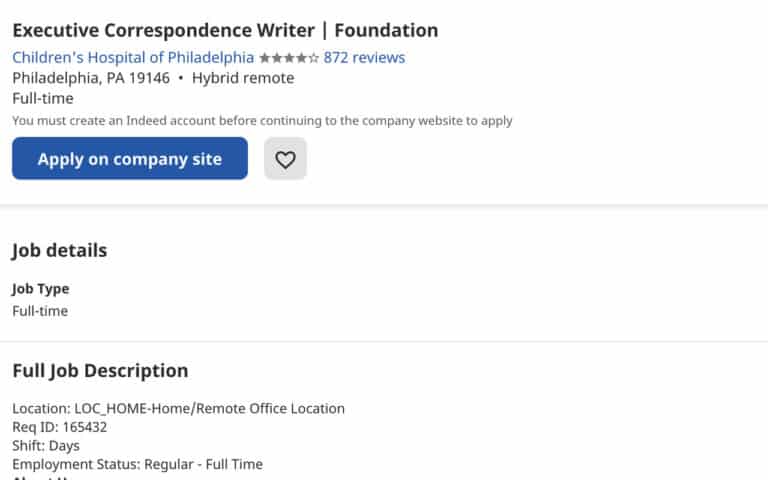 Correspondence writers are responsible for drafting letters and responses that are informative and well-researched, paying attention to the audience it is being written for.
It can also involve developing and editing presentations, media releases, fact sheets, and newsletters.
30. Technical Marketing Writer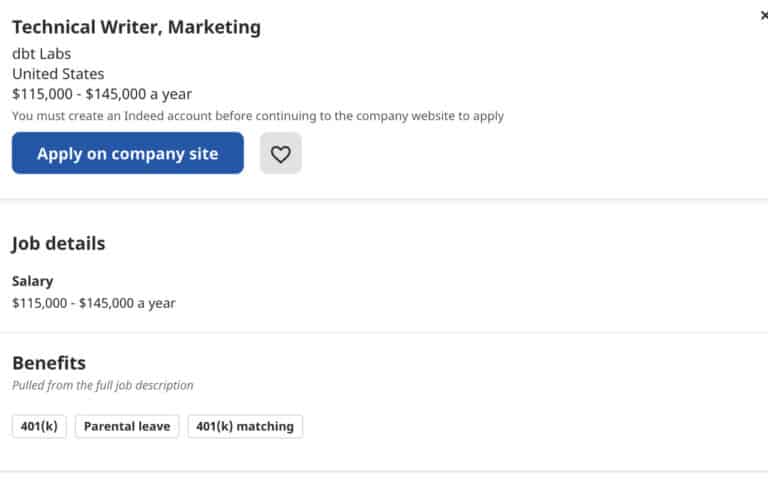 Technical marketing writers produce content that is focused on the technical niche and supports the sales and marketing initiatives of the client.
You can find yourself writing case studies, blog posts, new releases, white papers, and more.
31. Game Writer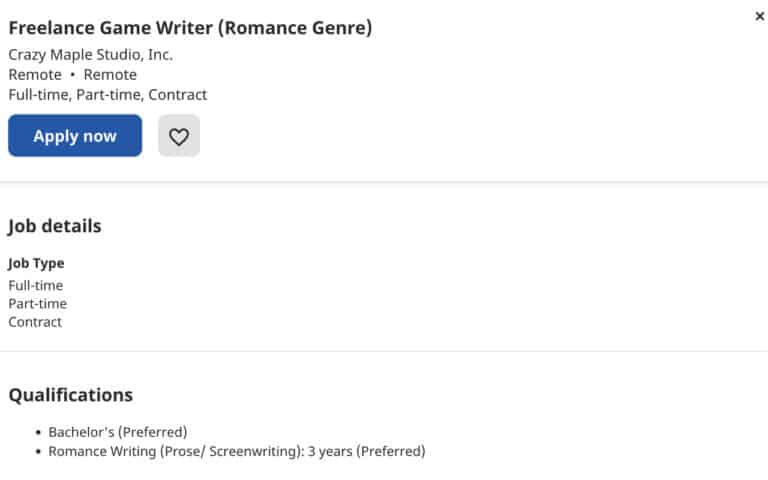 Do you love video games?
Then you can find job postings on Indeed looking for game writers!
Game writers are responsible for crafting interactive narratives, dialogue, scenes, and other text used in video games.
32. Multimedia Writer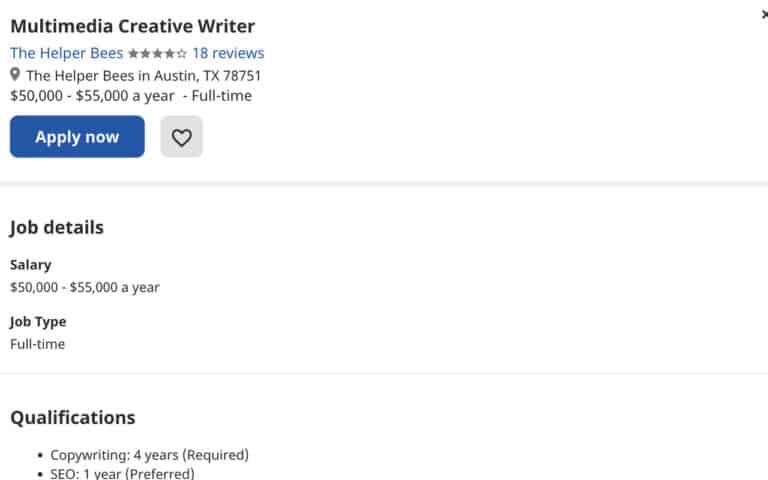 A multimedia writer writes and edits advertising copy, proposals, and press statements used in online marketing and promotions.
This content is optimized for websites using graphics, animation, and other software.
33. Speechwriter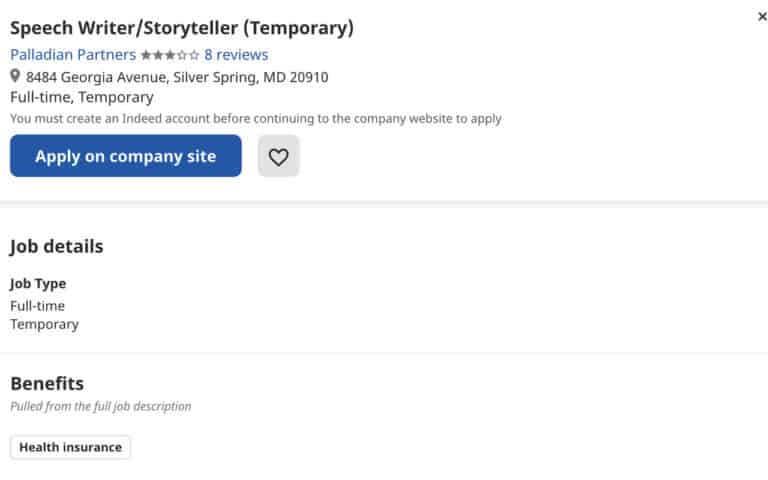 Many individuals and companies are looking to hire speechwriters to write their speeches – and there are many Indeed stay-at-home job postings for this!
These writers are responsible for writing speeches, talking points, and remarks as well as developing presentations that are articulate and coherent.
34. Development Writer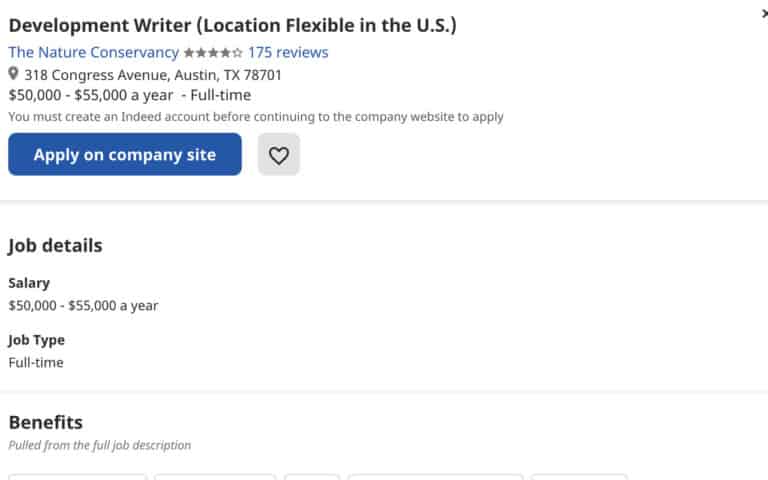 Development writers help companies and businesses secure funding by writing fundraising proposals and grant applications – combining the roles of proposal writer and grant writer.
This also involves creating reports and maintaining communication with donors.
35. Documentation Writer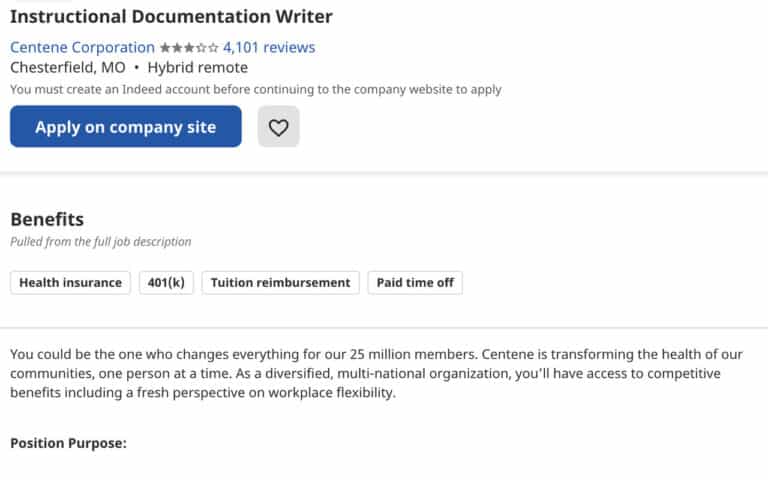 If you like getting technical, then check out Indeed for documentation writer job postings!
Documentation writers create and edit documents such as policies and procedures manuals, handbooks, and emergency plans.
36. Arts and Crafts Writer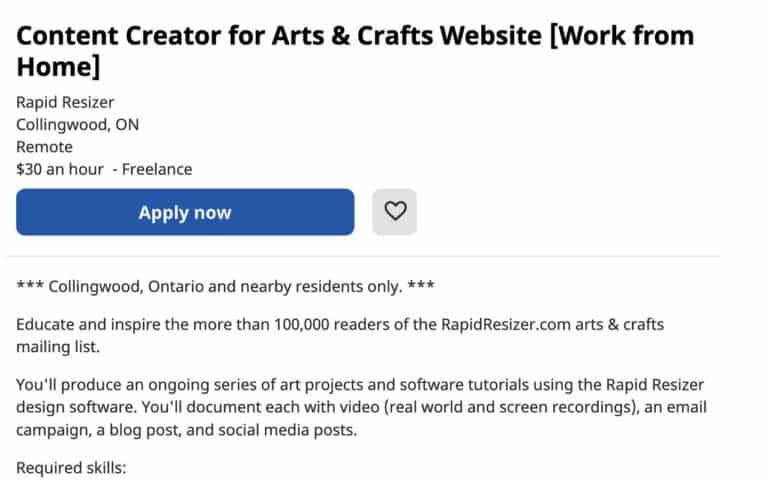 One of the best parts of being a freelance writer is that there is no shortage of niches you can write for!
You can use Indeed to find jobs writing about arts and crafts including art projects, tutorials, email campaigns, videos, and more.
37. Science Writer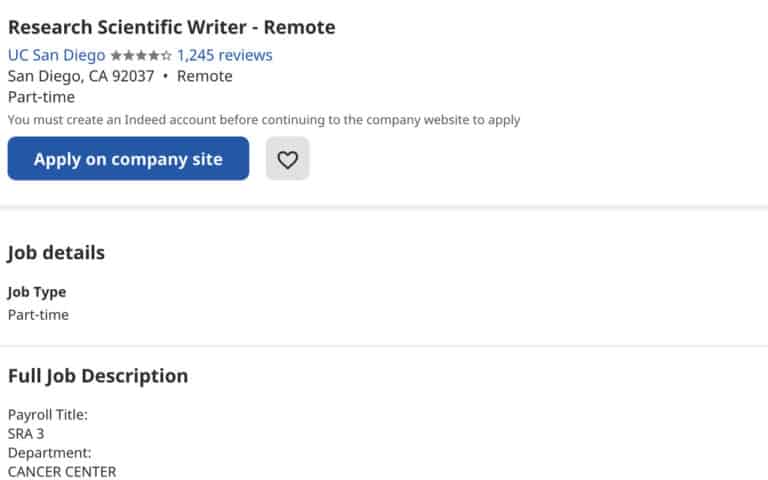 If arts and crafts aren't your thing, maybe science is!
You can offer your writing services in the science writing niche to create media content related to science and technology.
38. Automotive Copywriter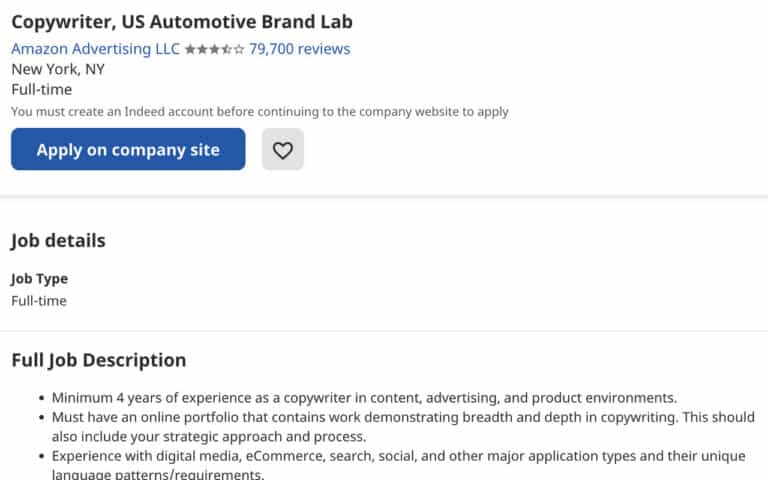 Lastly, here's another niche job you can find on Indeed. Automotive copywriters produce content such as training resources, video scripts, marketing campaigns, and event materials.
Other Indeed Jobs for New Freelance Writers
Not all freelance writing jobs have to involve writing content! Here are some other jobs you can find on Indeed that will utilize your amazing skills:
Marketing Jobs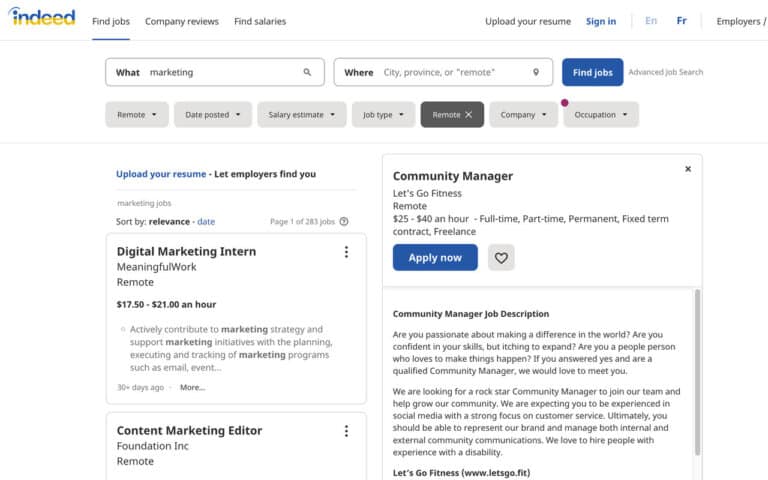 You can find many remote marketing jobs on Indeed that involve more than writing marketing campaigns. Look for job postings for marketing coordinators, social media strategists, and community managers.
Transcription Jobs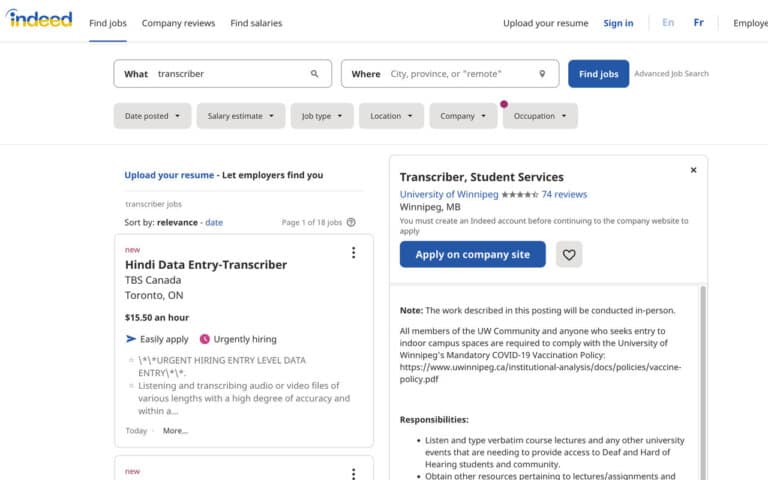 Transcribing jobs aren't just limited to writing out the content of videos.
You can find jobs on Indeed for transcribing course materials, Braille, and even data entry for foreign companies.
Online Teaching Jobs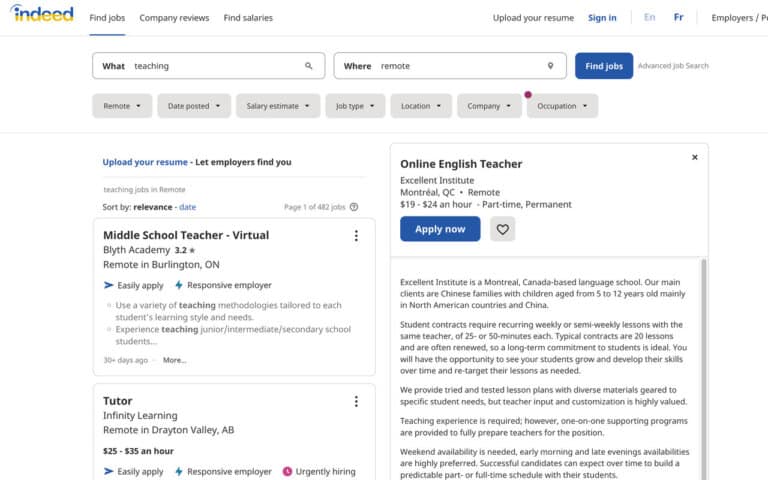 There are many job postings on Indeed for online teachers such as teaching English to foreign students, tutors, and bilingual teaching assistants. You can use Indeed to find teaching jobs that are remote and flexible.
Proofreading/Editing Jobs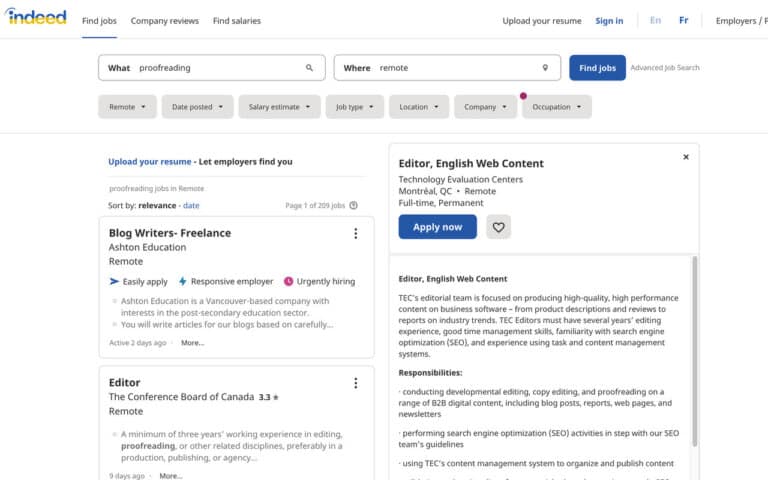 Many businesses create their own content, whether it is for the web or print, but hire freelancers to proofread and editor their work.
On Indeed, there are plenty of job postings for proofreaders and editors.
Virtual Assistant Jobs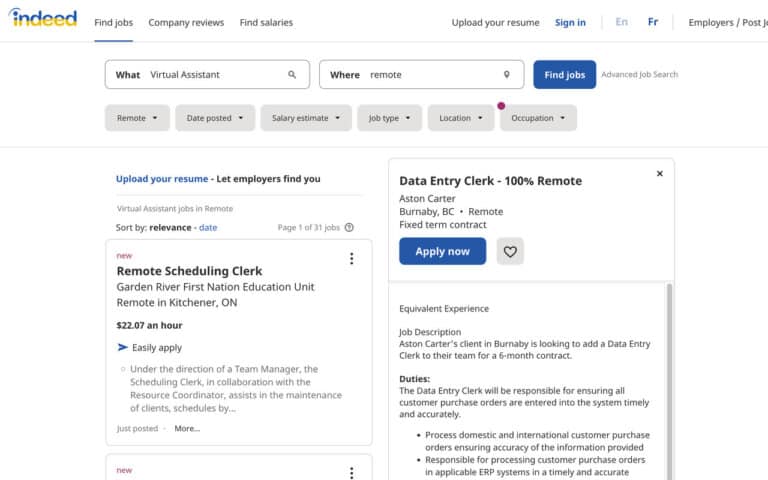 From data entry to responding to emails and managing social media accounts, virtual assistants do it all! For administrative tasks that can be completed remotely and online, many companies hire virtual assistants.
Use Indeed to find postings for this flexible stay-at-home job.
There You Have It!
There are so many jobs available on Indeed for new freelance writers!
Just remember that not every job application you send out is going to be a winner. Instead of giving up, you can always focus on building your skills and experience so that your resume and application are irresistible!
Landing a freelance writing job as a beginner is not impossible, it just takes some time.
Good luck with your job search and, if you have used Indeed to find work before, let me know about your experience in the comments!