Even before the current economic situation, online jobs were a hot topic.
Employers have quickly learned that transitioning their full time and part time employees to work from home positions can save them a ton of money. However, finding legit online jobs can be tricky if you don't know where to look.
I know it was for me when I first started out!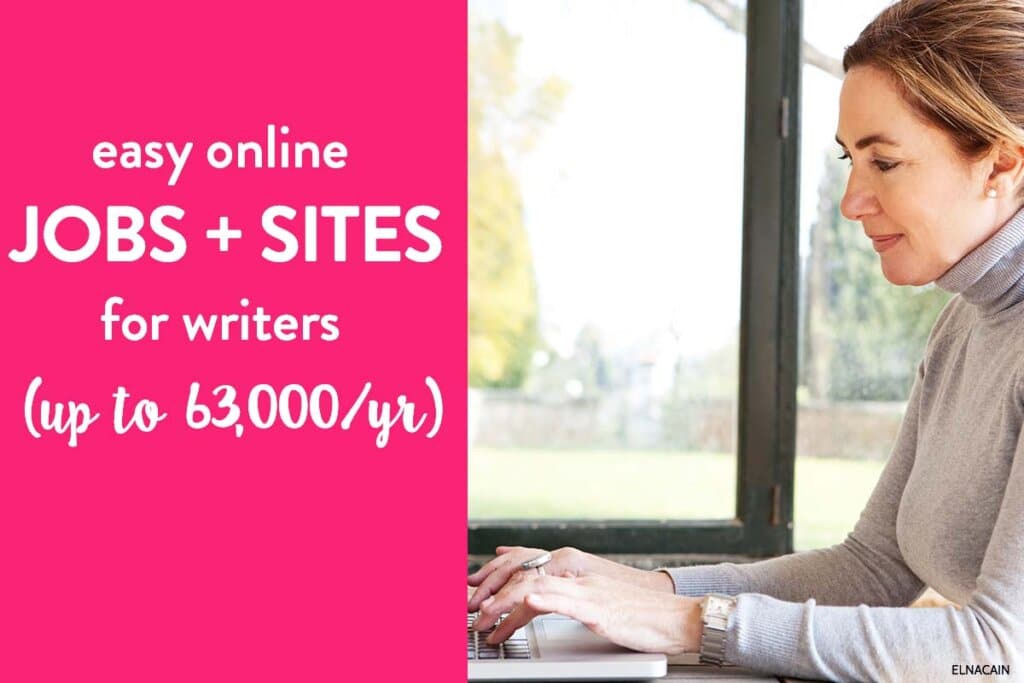 In this post I want to help you to find online jobs that will work for your schedule that can make up to $63,000 per year!
Whether you are looking for full time jobs or a remote part time job to do while the kids are napping, there are so many great options!
I'll first share my story of working from home as a mom to twins, then give into how to set up your home office for work from home jobs and then share with you easy online jobs that moms, teachers, college students and more can start today!
Working from Home
I started working from home in 2014, when my twins were around 15 months old. This was the time that life was predictable as a new mom to twins.
My twins had a schedule, naps and I had a handle of pumping and keeping my home tidy. It was also at this time that I wanted more out of my life. All that my husband and I talked about were the twins, or diapers or how much milk I was pumping!
I was submersed in motherhood and lost my identity as a wife, sister or friend.
Fortunately, my husband told me about other moms online doing online jobs, typing jobs, freelance writing jobs and more.
This was soo new to me but I dove right in and learned all about working from home and freelance writing.
While I made a ton of mistakes when I first started, I kept at it and found how to be successful with online jobs. I could stay home, make money writing and take care of my twins.
Win-win!
If this is something you're interested in – working from home online jobs – then keep on reading!
Setting Up Your Home Office for Online Jobs
Before you dive into the online jobs world, you need to be sure you are prepared to work from home. While working from your couch sounds like a great idea, it's not ideal, for your mental or physical health.
First and foremost, you need to learn how you can create a healthy home office setup as a remote worker.
Whether you are working with a small space for your home office or a larger area, there are a few core things to keep in mind when designing your office space for max productivity.
You want to create a dedicated work space that is ergonomic and promotes a healthy work/life balance.
A proper workspace is free from distractions (family, kids, pets, tv, noisy neighbors, etc.) and is really vital to your online job success. Whether writing or taking phone calls, you will be more productive with a dedicated work area.
Here is what my home office looks like: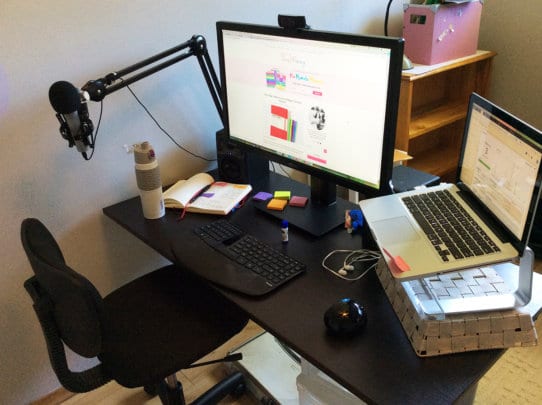 It's not that pretty but it's functional. Not only do I do freelance writing, but I also blog and create Youtube videos so I require a microphone.
There are many reasons why you should have a dedicated and ergonomic workspace:
It puts you in the working mindset.
It helps to keep things organized, on track, and productive.
Having an ergonomic workspace is better for your physical health.
Being free of distractions will help to lower stress levels.
But, the biggest reason is that it helps you turn your mindset from hobby to working. Working from home is hard – there might be a load of laundry to be put away next to you or the kitchen 10 steps away – so having that dedicated work space is imperative to a highly productive day.
Now what about your home office supplies?
Supplies for Your Online Job
Realistically the only thing you need to get started with jobs you can do from home is a computer.
But there are a few other things you should have and get in order before you jump on with a full time or part time online job.
For starters, you'll need some type of planner or project management system.
I personally use the Productivity Planner for Freelance Writers for all my client work and writing goals.
You want to be sure that you are keeping track of all the things related to your online job in one place. This can be a physical planner, like a bullet journal, or any online project management system. Some free and easy to use ones include:
Having an online project management system helps to keep you organized with projects and due dates and your clients happy.
The next thing you need is a PayPal business account.
It's never a good idea to mix personal and business finances. While this won't be a necessity for every online job, if you are doing any freelance or contract work, it's a good idea to have a PayPal business account.
This allows you to send professional looking invoices and collect client payments with ease.
The last three things you need to work from home are:
Online resume or portfolio
A professional email address
An onboarding process
When searching for online jobs, it stands to reason that you should also have an online resume or portfolio to show to potential employers or clients. An online resume can be as simple as a PDF that you can electronically send to employers or a website with a couple pages that includes samples of your work.
Or, if you want to use a portfolio, you can use a portfolio website like Contently or LinkedIn to showcase your writing work or graphic design work as a freelancer.
Here is my Contently portfolio: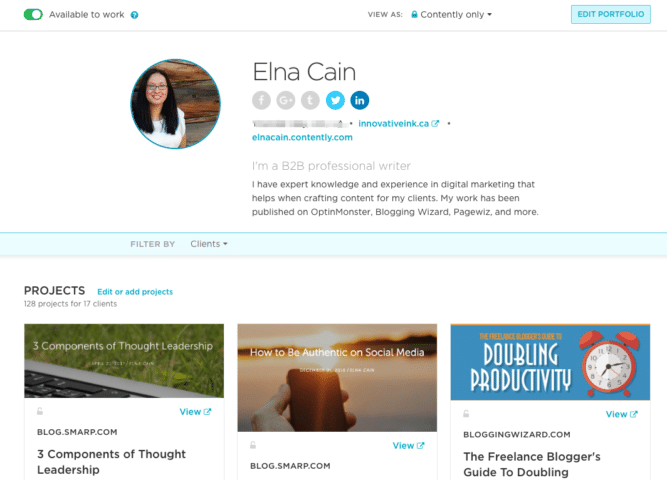 It's free to set up and easy to use in your pitches to land more online jobs from home.
Next is having a professional email address. While having an @gmail.com (or other email address) is becoming more and more acceptable, you still want to be sure that your email looks professional.
So nix your old email from highschool (bye bye [email protected]) and pick something more professional, such as [yourname]@email.com.
Finally, having an onboarding process will help with retention and responses for jobs. You don't know how many times I've reviews other writers' onboarding process only to be a two sentence email stating their rates and nothing more.
While it might take a try or two, you want to be sure that you have an onboarding process for any type of freelance client.
This is simply a process by which you ensure that the roles and expectations from both parties are in line with the desired outcomes. In short, you want to be sure that you and your client are on the same page and everyone is happy.
Some things to have on hand during this time are:
Set of questions to ask about the job
Links to your work
Your rate for specific jobs
Easy Online Jobs so You Can Work From Home
There are so many different types of online jobs that you are sure to find something that will fit your talents and schedule. These online jobs mostly rely on your love of writing, since I'm a freelance writer and that's what I know the best!
You don't have to be the best writer out there, but you do have to enjoy writing.
1. Online Teaching Jobs
Did you know that you don't need a teaching degree to teach online?
As long as you have a Bachelor's degree you can teach English to kids online through companies like VIP Kid, Preply, and Magic Ears.
These platforms pay anywhere between $20-26 per hour on average with the ability to earn more through bonuses and incentives and set your own hours.
2. Typing Jobs
For typing jobs you can expect around $17 per hour, however, there are several factors that can contribute to pay.
While some companies might pay hourly, others might pay by word or page, so the pay can vary.
Typing jobs generally include a data entry and or customer service as a main portion of work. These types of jobs are great for entry level individuals that are just looking to get started and are looking for easy online jobs.
To get started with typing jobs, make sure to check out my post!
3. Proofreading Jobs
If you are a self proclaimed grammar junkie, then proofreading would make a great fit for a remote part time job.
Proofreaders can expect to earn anywhere between $23,000 to $94,500 per year, depending on their workload and experience.
While some online proofreading jobs might require an Associate's degree or similar in English or Communications, there are many opportunities for total newbies as well.
To learn more about proofreading jobs, check out my post!
4. Editing Jobs
The average salary for an online editing job is around $51,051 per year, or about $25 per hour.
Editing is a step above a proofreader, they are responsible for making sure the writing has the correct style and is completely free of any errors before publication. You don't need a lot to get started with this online job either!
To learn more about editing jobs, check out my post!
5. Online Writing Jobs
There are a plethora of online writing jobs all over the internet.
According to ZipRecruiter, the average salary for an online writer is around $34 per hour, or $70,597 per year. However, this can vary depending on your writing niche, how many clients you have, how fast you can write, and so on.
Since writing is my speciality, I know that there are tons of industries that need writers right now since more and more companies are moving online since the pandemic.
6. Blogging
Whether you are writing posts for other bloggers or your own blog, I have to say, this is my favorite online job (although I might be a little biased seeing I have half a dozen of them 😏).
According to ZipRecruiter, bloggers make an average of about $38,440 per year, however, I can tell you from personal experience and from my blogging buddies, that number can vary drastically!
There are bloggers out there that make six figures PER MONTH! However, they have built up a large audience over many years, it doesn't happen overnight.
I do have a course to help you gain income from your blog writing and writing blog posts for clients.
7. Quiz writer
Say what now?! How many times have you been scrolling through Facebook or reading an article on your favorite site and come across a quiz that you just had to take?
Find out your love language…
Which Kardashian are you?
What dog breed would suit you?
Even if you don't want to admit it, we've all taken one of those silly quizzes at one point or another.
But wouldn't it be fun to write those silly quizzes?
According to ZipRecruiter, "test questions writers" make on average around $48,500 annually.
This is a fun online job you can have and doesn't take much time out of your day if you have little ones to take care of!
8. Author (Writer)
There is a huge pay range for authors of all types. Nationally, they can expect to make an average of around $63,000 per year.
Although this can vary greatly based on their genre of writing, how their work is published, and how they are getting paid. Some of the writing jobs that you can expect to find listed on various job boards are:
Technical writer
Content writer
Ghostwriter
Health writer
Of course, if you want to do fiction writing there is money to be made with self-publishing your book!
9. Ghostwriter
Ghostwriters and writers are often lumped into the same category.
While at its core, the job is the same, the biggest difference is that the ghostwriter does not put their name on the piece or write in their own voice.
Other than writing, the main duty of a ghostwriter is to help out the author who either doesn't have the time or the skill to write.
Places to Find Online Jobs
There are dozens of different sites, probably even hundreds, where you can find legit online jobs. However, there are a few things to keep in mind when you are looking for online jobs hiring freelancers or contractors.
For the writers out there…avoid content mills!
While if you don't have any experience you might think content mills are a good way to get your foot in the door, they are a waste of time! $13 per 1,000 words with tight deadlines is only going to burn you out and make you hate sitting down at the keyboard!
Network! Join Facebook groups for writers and freelancers, get to know people in your industry. Generally people are willing to share information with you about where to find good gigs.
Now, where to start looking…some of the best freelance writing sites.
10. Freelancer
Freelancer is a great place to find online jobs for freelancers – it offers flexible jobs, remote work and other freelancing gigs to help you earn an income.
It is the internet's largest crowd-sourcing marketplace with thousands of jobs you can opt into from graphic design to SEO and writing jobs.
Once you register, you can create your profile and browse job categories. When you find a project you want to apply for simply send in a bid to the client. If the client is happy with your bid, they will hire you for the project.
Once completed, you will get paid for your work!
11. Indeed
Although Indeed is a massive job board for all kinds of work, it can also be helpful for freelancers seeking online jobs.
With Indeed, you can upload a resume and cover letter so that you can apply to jobs with only one click.
To cut down on the time you're spending looking for freelance work on Indeed, use search terms such as "remote", "work from home" and "freelance". You can also filter the search results by salary, time period and location.
You'll probably come across some job postings that seem perfect for you but they're over 30 days old. Don't write them off! It could take months for a company to fill a freelance position so it's worth sending in your application.
12. LinkedIn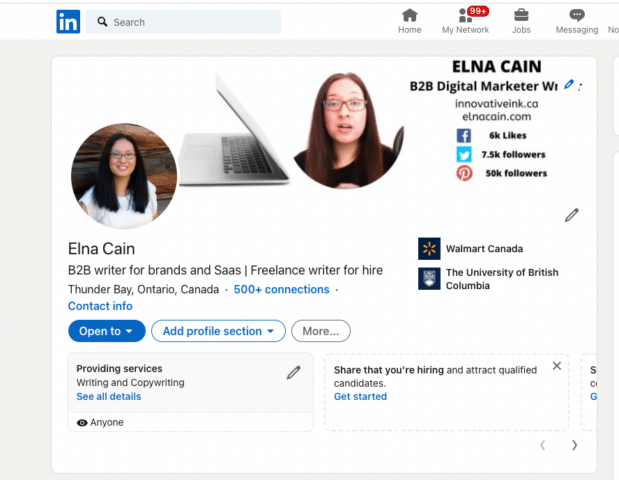 LinkedIn is an amazing networking platform that allows you to connect with individuals across the world and throughout all industries.
Not only that, but LinkedIn also hosts over 20 million job postings at any given time which makes it a great place for freelancers to seek online jobs.
To ensure success on LinkedIn, start by creating a standout profile. Be sure to use keywords related to your services and niche in your headline and upload a professional-looking headshot.
You can also create a digital portfolio, post your resume and include a short bio detailing your services.
From there, you can start networking with other freelancers and brands you would like to work for as well as apply for available freelance jobs.
13. Facebook Groups
Facebook is so much more than a social media platform for sending birthday wishes and posting cat memes! You can leverage this expansive community in order to find freelancing work.
Facebook groups are full of potential clients who are using social media as a networking tool. They will post looking for freelancers which means you can jump in and pitch your services.
The best part is that these clients are already looking for freelancers, so you're not going in cold!
This means that all you have to do is send your pitch showcasing why you are the best person for the job.
Joining Facebook groups is also a great way to get yourself recognized in the freelancing world and establish a good reputation.
14. ProBlogger
ProBlogger is a free job board that is very popular among freelance writers looking for online jobs. It can be a bit competitive but it's also a great place to get started when you're new to freelancing.
No matter your level of writing skill, there is always a job to be found on ProBlogger.
The trick to landing a gig is to check the job board frequently and try to be the first applicant – just make sure you're applying for jobs that fit your skills and niche.
The site has been updated so now you can search for jobs by keywords (i.e., your niche) to more quickly find relevant ads.
15. Contently
Contently is a unique platform for finding online jobs since it is designed to join writers with some big national and international brands – think Walmart, GM, Google and Coca-Cola!
Although writing opportunities like these are amazing, as a freelance writer you have to be contacted by the client in order to get work.
But while you can't actively search for work on Contently, the site has talent scouts that look through company portfolios and writers' portfolios to find the perfect match.
Because this relationship is so carefully curated, rates can be negotiated and you could stand to make some really good money by writing for big brands!
16. Who Pays Writers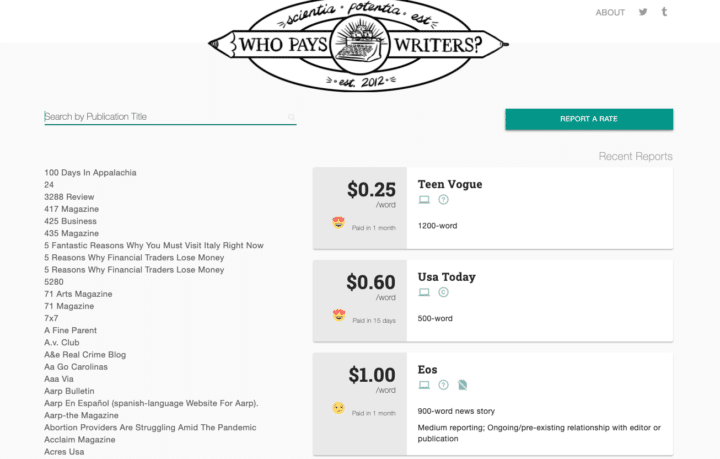 Who Pays Writers is an anonymously crowdsourced list of which publications pay freelance writers – and how much.
While this is not a site for finding work, it can certainly be helpful when it comes to determining the right rate to ask when applying for freelance work.
It can also help focus your job search but targeting your applications and pitches to companies who pay within the rate range you are looking for.
When you visit Who Pays Writers, you can sift through the publications are you are thinking about pitching to or search specific publications by name. Reported publications will display a per-word rate or flat rate fee as well as some feedback about the experience.
All the information you will find on this site was submitted by freelancers just like you! So you know you're getting first-hand information.
17. Flexjobs
Flexjobs is paid service but has one of the largest numbers of active job postings organized into industry categories, full-time and (most importantly) freelance opportunities.
Because this is a paid service for finding online jobs, the competition is significantly lower than on free sites. The monthly cost is minimal and they don't take 20% of your earnings like other platforms.
Once you're signed up, you'll be able to search through a multitude of flexible work options as well as set up your profile and customize the type of work, availability and level of experience you would like to search or be notified about.
18. Creative Circle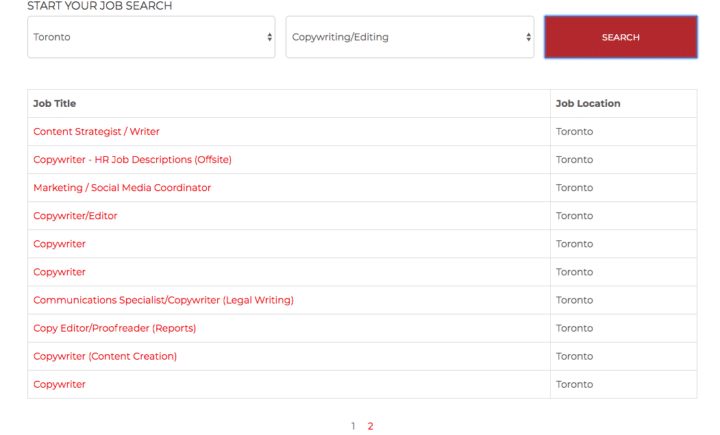 Creative Circle is a recruiting site that connects digital creatives together on their platform.
Even though they do have a job section, the results are location-dependent, which means you can search by city or state/province to find available freelance work.
You can also set up job alerts which are great for those who don't have time to sit and sift through job ads for freelance work.
Online Writing Jobs to do from Home
There you have it! Nine easy online jobs that you can do from home.
No matter what type of online job you are looking for, there are legit online jobs for all types of work that you can do from the comfort of your home.
For more help on working from home with jobs online check out these posts:
Over to you – do you want to work from home as a freelancer? Share with me your story in the comments! I'd love to hear them!