So you want to be a freelance writer?
That's awesome! You don't have to know much about me to know that my passion lies in freelance writing.
But getting to where I am wasn't a story of overnight success.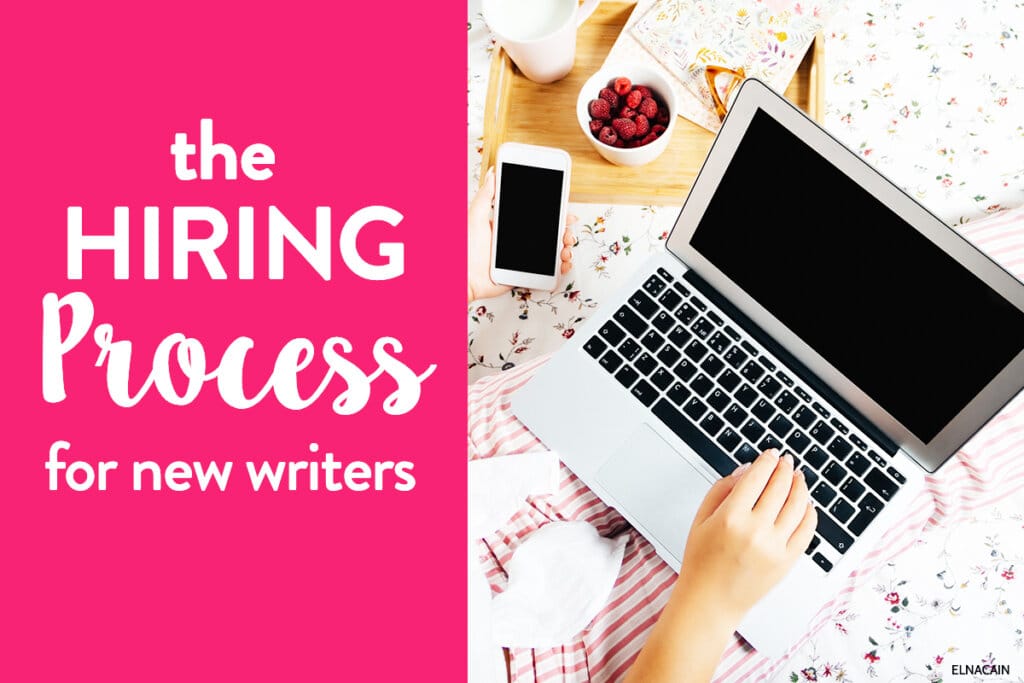 Getting your foot in the door when it comes to being a freelance writer takes perseverance and patience.
I should know! I made a lot of mistakes when I was first new and I didn't figure my writing niche at the beginning. But one thing I wanted to know when I first started was the hiring process.
This is the first step – understanding how the hiring process works before you land that job.
Once you have a better idea of how to find writing jobs and what to do once you land them, your journey as a new freelance writer will seem less intimidating and mysterious.
One of the keys to building up your clientele and keeping the jobs rolling in is to create a good relationship with those clients right from the start.
When you understand the hiring process, you can make entering that relationship smooth and professional. You'll know exactly what to ask and expect, clearing away any confusion and miscommunication.
So if you're curious as to how the whole thing works, here is the hiring process for your first freelance writing job:
The Hiring Process Steps
Before we get into this nitty gritty of this post, I wanted to let you know that it's okay to feel scared or like you're an imposter.
As writers we are introverted and we hold our writing to our hearts. Thinking about writing as a business takes a big mental shift and once you do that imposter syndrome sneaks in.
Letting go of that fear takes time but one thing I know for sure is that if I am prepared for the unknown, that fear or imposter syndrome lessons. So take notes and get ready to become a freelance writer!
Step 1: The Pitching Process
One important step in gaining work as a freelance writer is to send writing pitches to writing jobs outlining your skills, article ideas and providing samples of your work.
Pitching is primarily done through email and is essentially a cover letter introducing yourself and your ideas. Here are the main steps in the pitching process for freelance writing jobs.
Types of Pitches
One of the most talked-about methods of pitching is the "cold pitch."
This involves reaching out to brands, businesses and site owners that you've never contacting before and have not posted a job ad looking for a freelance writer.
Check out this Youtube video to learn more about cold pitching.
There's also the warm pitch, where you connect with potential clients before pitching your idea. You can do this by following them on social media and commenting on the posts. That way, your name becomes known to the potential client before sending them your pitch.
I personally prefer warm pitching as it's a longer strategy but I find that the jobs pay more using this method.
You can also send pitches via job boards by responding to job ads seeking freelance writers or network with friends and family to find writing leads.
Writing a Pitch
In order to write an eye-catching and informative pitch, keep it short and sweet. Make sure you research the recipient and their business to get a sense of the type of content they may need.
Give them a quick overview of your experience via writing samples and a brief idea of what you would like to write for them.
To get an idea of how to write a successful pitch, check out my post on the proven pitching process for new freelance writers.
Getting a Client Response
When you get an initial response back from a potential client, it can be very exciting! Even if they politely decline your services, a reply means that your pitch caught their attention in some way.
Any sort of response is definitely motivating when it comes to sending out more pitches!
If a business or individual is interested in working with you, they are going to request more information such as your rate of pay or how many articles you can produce in a given timeframe.
They may even request a virtual meeting through Zoom or Skype to discuss these details.
From here, you can go over the details and expectations with the client and decide if you want to accept the project or not.
For more information, check out my post on how to make your writing pitch stand out.
If so, you'll move on to the next step of the hiring process and finalize the particulars as well as create an agreement with the client.
Step 2: The Onboarding Process
To avoid miscommunication and misunderstanding as to what the client wants and what you can provide, the onboarding process clarifies all expectations so that everyone is on the same page.
This all starts with a proposal letter, which outlines exactly what you can do for the client in order to improve their business.
The Proposal Letter
A good proposal letter takes into consideration the client's needs, your experience in relation to those needs and the associated costs of fulfilling those needs.
Instead of simply listing your services and costs, a proposal letter highlights the value you can offer to the client.
To learn more about proposal letters, check out my article about proposal letters and how to write them!
Once the client receives and reviews your proposal letter, they may request changes or additions to what you are offering. All of this information will be compiled into a contract and service agreement.
The last thing I want to say about proposal letters is this: While it's a good starting point to creating an agreement between you and the client, it also shows the client how dedicated you are to their business needs.
Proposal letters are a great way to stand out in the world of freelance writing!
An Example of What to Say
Here is the onboarding process of one of my clients for a freelance writing job project.
This client reached out to me and emailed me their interest in hiring me.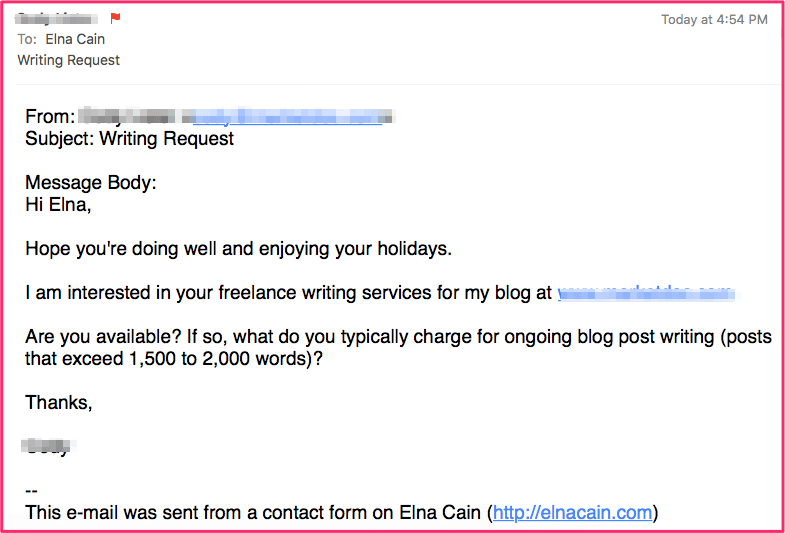 Long-form content was a service I was getting into, but at that time I knew this was a big project for me and I wanted to ensure that I showed my value and credibility in writing for this client.
Here is my response to this initial outreach email.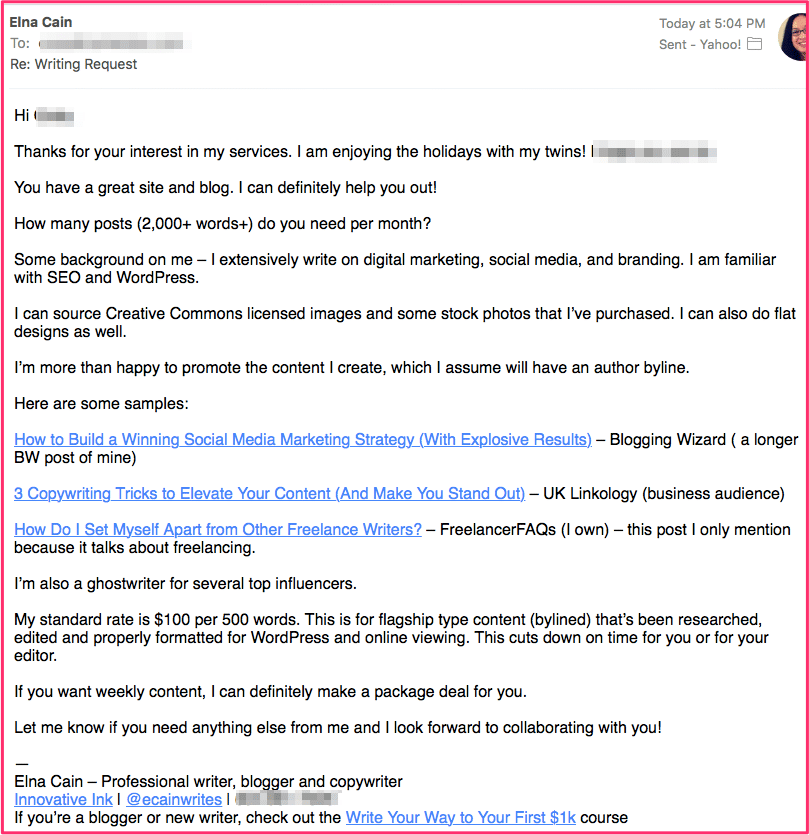 This response was a mix of a writing pitch and some questions to ask the prospect.
I wanted to convey my experience as well as my "clout" in the freelance writing world. I also shared my writing rate and told them what that rate entails.
Here is the prospect's response: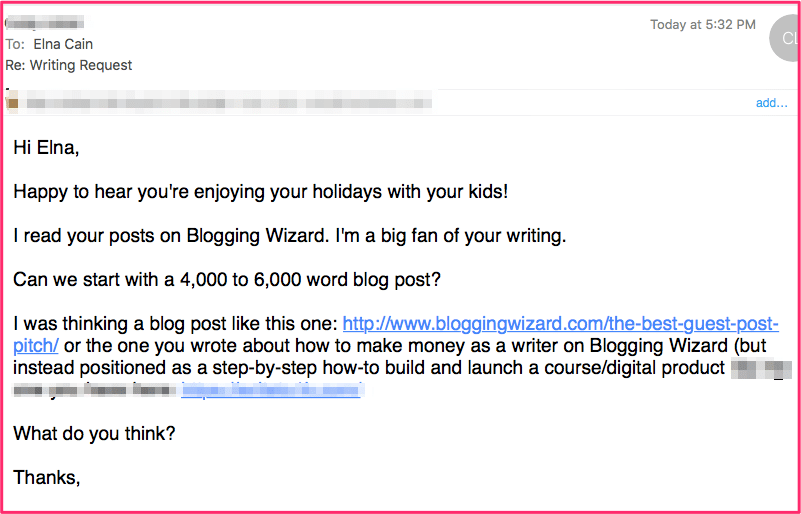 Boom! My onboarding process worked and in the end this prospect specifically asked me to write content for them!
All I had to do was finalize this deal.
Step 3: Finalize the Project Details
Contracts and Service Agreements
If a proposal letter opens the door to gauge exactly what the client needs and what you can provide, the contract and service agreement clearly outlines the scope of the project.
Before your fingers hit the keyboard to write the article or post, you want to make sure you understand exactly the type of content you'll be writing, the word count, the deadline and the number of revisions included in the overall cost.
A contract and service agreement can be one entire document or a series of emails finalizing the project details.
No matter how the agreement is created, be sure that it includes the following factors:
Project Scope
Laying out the scope of the project also protects you from having clients expanding the project without notifying you of any changes. This way, you can indicate any cost increases in relation to the changes.
You'll also want to clarify who owns the rights to the content you produce. Some businesses may allow you to write under your name or request the content be "ghostwritten," meaning that they post it under their name.
Rights and Ownership
Clients may allow you to write under your name but request that you do not republish the content elsewhere.
Understanding who owns the rights to the content early on in the hiring process will help prevent confusion and misunderstanding down the road. Typically, however, the content you give to the client becomes theirs – they paid for it – and they can do what they want with it like change it or use it for guest posting or other puposes.
Project Timeline
You'll want to determine a deadline with the client to know when the content will be due. This will also help you develop a timeline to organize your writing process.
Included in the deadline clause of your agreement should be a mention of client feedback. If you offer revisions as part of your writing service, you'll want to make sure that waiting for client feedback does not compromise the agreed-upon deadline.
For instance, you may agree to have the article written by Friday and you submit it on time. The client may not respond until Monday indicating any changes they wish to make.
It may take you a day to complete the revisions and deliver the article on Tuesday.
This way, your client can't make an accusation that your work is late.
Payment
When you enter an agreement with a client, you want to make sure you get paid – especially at the rate you quoted to the client earlier in the hiring process.
An agreement should indicate when and how you will get paid and at what rate.
Some publications and businesses may only payout once a month while others may pay you upon completion.
Apart from when you get paid, you want to make sure you know how you will be getting paid.
Some clients use PayPal to pay their freelance writers while others prefer cutting a cheque or e-transferring the payment through a bank account.
Make sure with all of this information you have it all in a project management system like a G-sheet or planner.
Step 4: Write the Article
Now that the agreements have been made and you understand what the client is expecting, it's time to write that article!
Writing an article for a client is different than writing an article for your own blog – you have to mindful of the client's tone, voice and niche.
Commercial Writing
You also have to be familiar with a more commercial style of writing, especially when it comes to SEO and the use of keywords.
You can always ask your client what their target keyword is and incorporate it naturally into the content. Keep an eye on keyword density – you don't want to mention the keyword too often.
Make sure the article is also well-researched. You want to make sure the information is concise, informative and accurate.
Check out my post on using credible sources for your articles.
In that vein, ask the client how many links they want in the content. They may request to have a certain number of inbound links (linking to existing content on their site) and outbound links (linking to reliable outside sources). – but don't ask too many questions in the beginning!
I made this mistake early on and scared off a potential writing gig!
You can always just write the post and get feedback after.
Proper Formatting
The format of online writing can differ greatly from the essays you used to write in school.
For instance, blog posts tend to have shorter paragraphs to make it easier for the reader to skim through the information. Many online readers do not take the time to read huge chunks of text.
However, if the content your client has requested is for a magazine or newspaper, they may want larger paragraphs.
Again, this is all information you can clarify with the client to ensure that you create the perfect piece of content for their business.
If you want to know how to write a blog post for writing jobs, check out my Youtube video.
Proofreading
Lastly, make sure your content is free of spelling, grammar and punctuation errors.
Clients want to pay freelance writers for good-quality content – either because they don't have the time to write it themselves or they don't have the writing skills.
You can always download an editing tool such as Grammarly to proofread your work. This handy plugin works with Google Chrome and will indicate errors in real-time – and it works with Google Docs and WordPress!
When you are finished writing the piece, read it over to ensure that the information flows and makes sense before submitting it to the client.
Once the piece is submitted, you can expect to receive your payment as per the agreement. I personally use PayPal to invoice my clients!
Congratulations, you are now a paid freelance writer!
The Hiring Process for New Writers!
While not a complicated one, knowing the hiring process as a freelance writer will help you avoid confusion and navigate your way to your first paying client!
For more help, check out my post on remote working tips as a beginner.
Good luck!
Now it's your turn – Have you already landed your first freelance writing job? What was the hiring process like? Let me know in the comments!