Are you struggling to stand out in the world of freelance writing?
Freelance writing is a lucrative business but getting the attention of potential clients can be a challenge.
The key to standing out lies in how you approach these clients and offer your services. While you can reply to job postings or pitch cold emails, I have a secret to landing good-paying freelance writing jobs: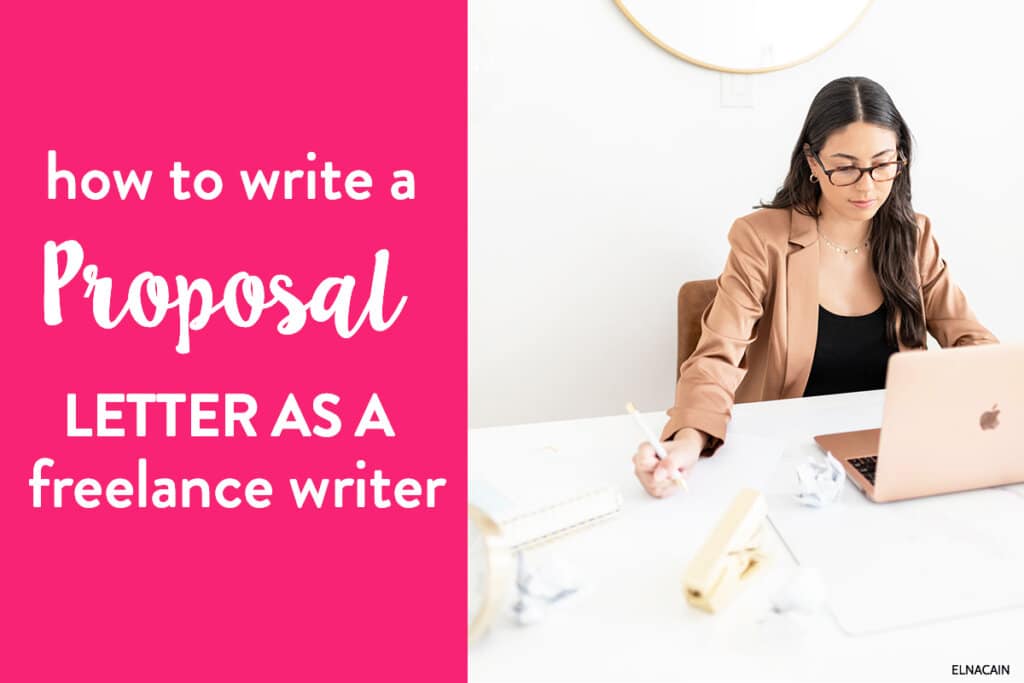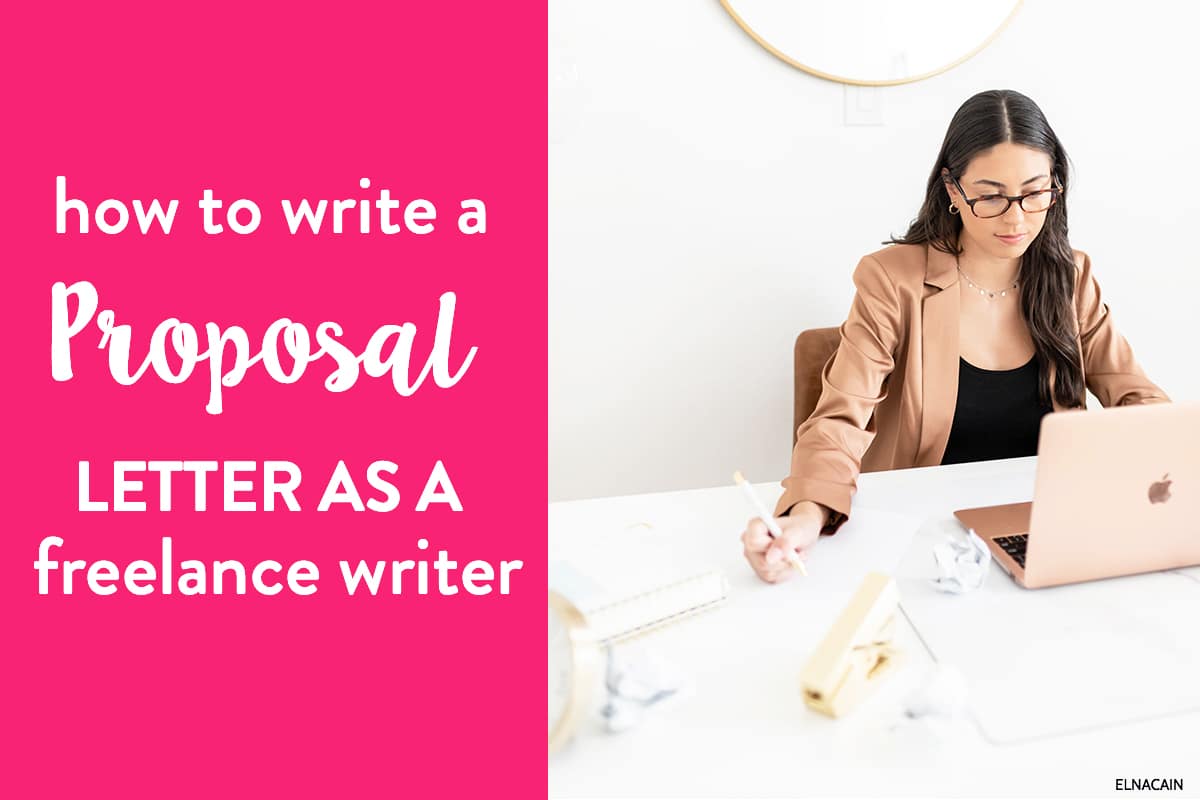 The proposal letter.
Proposal letters are different from pitching emails or cover letter since they lay out exactly what you can do for a writing job to address a client's needs – and does so in a visually attractive style that is sure to gain attention.
It works by presenting your services in the form of a project and outlining the steps you can take to help potential clients achieve their goals.
It also highlights the fact that you have taken the time to look into their needs which creates a connection to the freelance writing job right away.
Keep reading to find out how you can write a proposal letter for a job.
What is a Proposal Letter?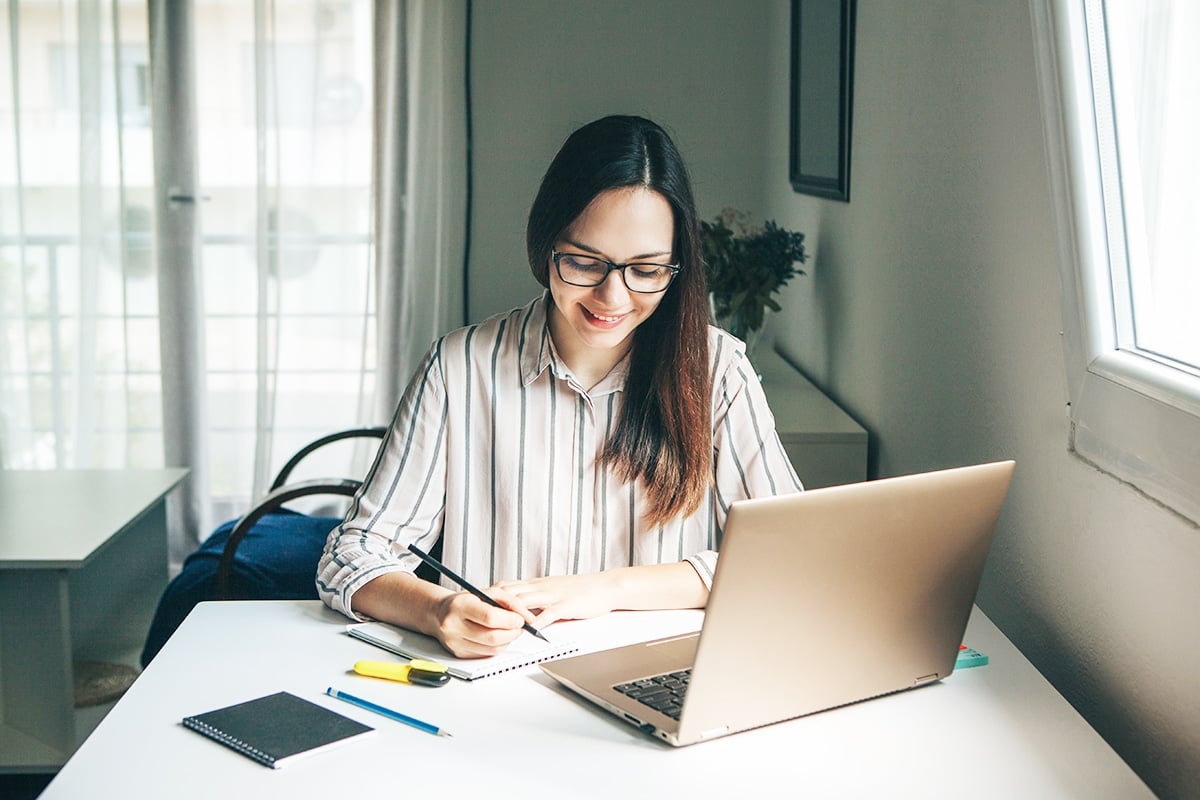 A proposal letter is a way of providing meaningful solutions for potential clients instead of simply listing the services you offer.
It should be written in such a way to demonstrate the client's needs, your experience in relation to those needs and the associated costs of fulfilling those needs.
A survey conducted in 2019 determined that there were 57 million freelancers in the United States alone.
That's a lot of people wanting freelance writing jobs!
And this makes it difficult (though not impossible) to stand out of the crowd when it comes to gaining clients.
Being a successful freelance writer is all about diversifying the way you approach finding writing jobs.
One such way you can catch a client's attention is by creating a proposal.
A proposal letter for a job is your way of showing the client that you have taken the time to get to know their business, mission and values.
Not only that, but that you are also making the effort to help them improve their business!
A proposal letter also allows you an opportunity to optimize your services by offering add-ons and extras.
By leveraging your other freelance writing skills, you are highlighting the value you can offer to potential clients.
For example, as a freelance writer you are obviously offering your writing services to a client that likely doesn't have time to create content themselves
If they don't have time to write, they may not have time to come up with topic ideas, source images, optimize the post for SEO or even post it to their site.
These are all extras you can offer in your proposal letter.
If you want to add SEO writing to your freelance writing skills, make sure to check out my masterclass on SEO writing.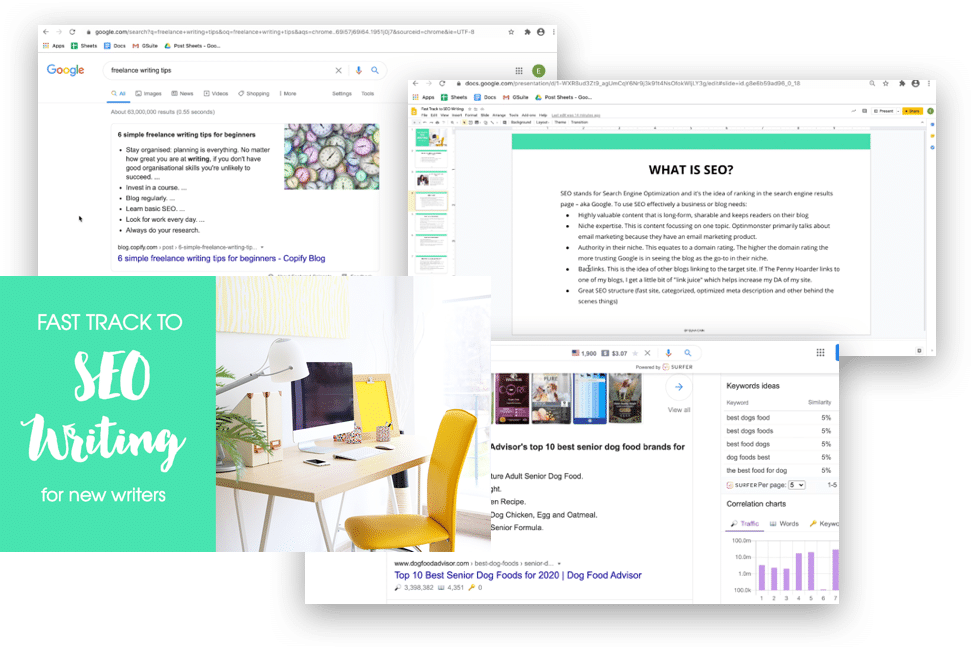 Yes, this is definitely a great way to increase your earning potential, but it also makes you valuable in the eyes of the client.
Research Before You Write Your Proposal Letter
Before you begin writing a proposal letter for a job, you need to take a close look at the job description of the project you are applying for.
Make note of what the freelance writing gig is looking for and their budget.
Read the description thoroughly to see if there are any clues as to why the client is requesting this service.
For example, a web designer may be looking for a freelance writer for their site. From this you can guess that the individual knows how to design but may not have strong writing and content-creation skills.
That is something you can focus on in your proposal letter.
Next, visit the website and take a look at what they already have.
If the client is looking for a freelance writer, pay attention to the content that is already on the site (this could be blog posts, landing pages, about pages, etc.).
Lastly, think about writing samples in your portfolio that align with the client's niche
This will give you enough information to begin writing an irresistible proposal letter for a freelance project!
How to Write a Business Proposal Letter
Basic proposal letters are structured in a strategic order in order to break up the information and maintain the client's attention.
You want the client to absorb the information and understand your proposal as easily as possible.
Here is a simple project proposal template:
Your Name, Business Name, Logo
Client's Name and Address
Subject Line
Introduction
Offer of Solution
Samples
Services and Costs
Call-to-action
The first two aspects of the proposal letter for a job are pretty straightforward, but let's look at the rest in more detail.
Subject Line
You don't want your proposal letter to get lost in a sea of emails, so it's important to include an attention-grabbing subject line.
One way to do this is to use the client's name or business name in the subject line. This makes it personable and more likely to catch the client's attention.
Also, keep it short and relevant to your message. You can use a "pain point," question or offer to draw attention to your email, directly addressing the issue you want to help the client resolve.
A simple subject line you can start with is, Client, have you thought about hiring a freelance writer for your site
Subject lines directly address the client and clearly outline exactly what you're about to offer in the email.
Introduction
The introduction is where you address the client's problem and show that you understand their needs for their freelance writing job.
Try to avoid simply repeating the client's job description or project requirements. You want to show a deeper understanding of their needs.
So if a client is looking for a content writer, check their blog to see how often they post. If their articles are posted infrequently, it's likely they don't have the time to write blog posts – you can address this in your introduction.
Or, if they do have articles but little traffic, it could be that they require someone to write SEO-optimized content to boost traffic to their site.
Otherwise, clients may just come out and explain what their challenges are and why they are seeking a freelance writer for hire.
Because you want to keep your proposal letter for a job short and sweet, you can simply list these needs under the heading "Client Needs." For example:
Client Needs: Well-written and fresh blog content that is SEO-optimized to boost traffic, generate leads and build a loyal connection with clients and customers.
You can also write your introduction in paragraph form:
It's no secret that passionate business owners often don't have time to write informative and compelling content for their sites to drive traffic and engage readers. As a freelance writer, I understand the time and care it takes to create informative and concise content.
You'll see in the templates below how you can implement either one of these styles.
Offer of Solution
You've addressed the problem – now it's time to offer a solution in your simple proposal format.
This portion of your proposal letter should focus on offering business solutions and not just freelance writing services.
You can do this by tying your skills and expertise to client benefits:
The Solution: Creating well-researched and conversational weekly posts of approximately 1500 words to increase ranking on search engines and generate reader engagement by encouraging them to share the articles across social media.
Or:
I would recommend weekly posts on [Business Name's] blog of approximately 1500 words per post. When it comes to ranking on search engines and generating reader engagement, this length has been proven ideal
By using a conversation tone in these posts, readers will be encouraged to share articles across their social media accounts. The posts would also be well-researched to ensure readers are gaining valuable and accurate information.
Writing Samples
Now that you've offered the client a solution, it's time to show the client how you can make that happen.
You can link directly to your online writing portfolio or provide relevant links to written work. Either way, you want to make sure what you give as samples aligns with what the client needs:
Samples: Samples are available via an online portfolio which you can visit here.
Or:
I would love to show you some examples of my work. Feel free to visit my online portfolio or take a look at these articles that I have written:
Services and Costs
Although you want to keep your proposal letter short, you also want the information to be clearly displayed. There's nothing wrong with using a table to describe your services and their costs:
Service
Cost
Basic Blog Post (1500 words)

Researched
Formatted for WordPress
SEO-optimized
Sourced image

$$$
Social Sharing Images (1 per post)

Pinterest or Facebook
Unique template design

$$$
Landing Page (500 words)

One service/product
SEO-optimized

$$$
Remember that offering multiple services increases your value to the client – and gives you the potential to earn more money!
Call-to-Action
At the end of your proposal letter for a project, you want to sort of nudge the client into responding. You can do this by asking them to respond to your email:
Contact: Please reply to this email address if you have any questions or are ready to get started.
Or:
If you have any questions, or are ready to get started, I would love to hear from you.
Okay! Now let's put it all together!
Simple Proposal Templates for Freelance Writers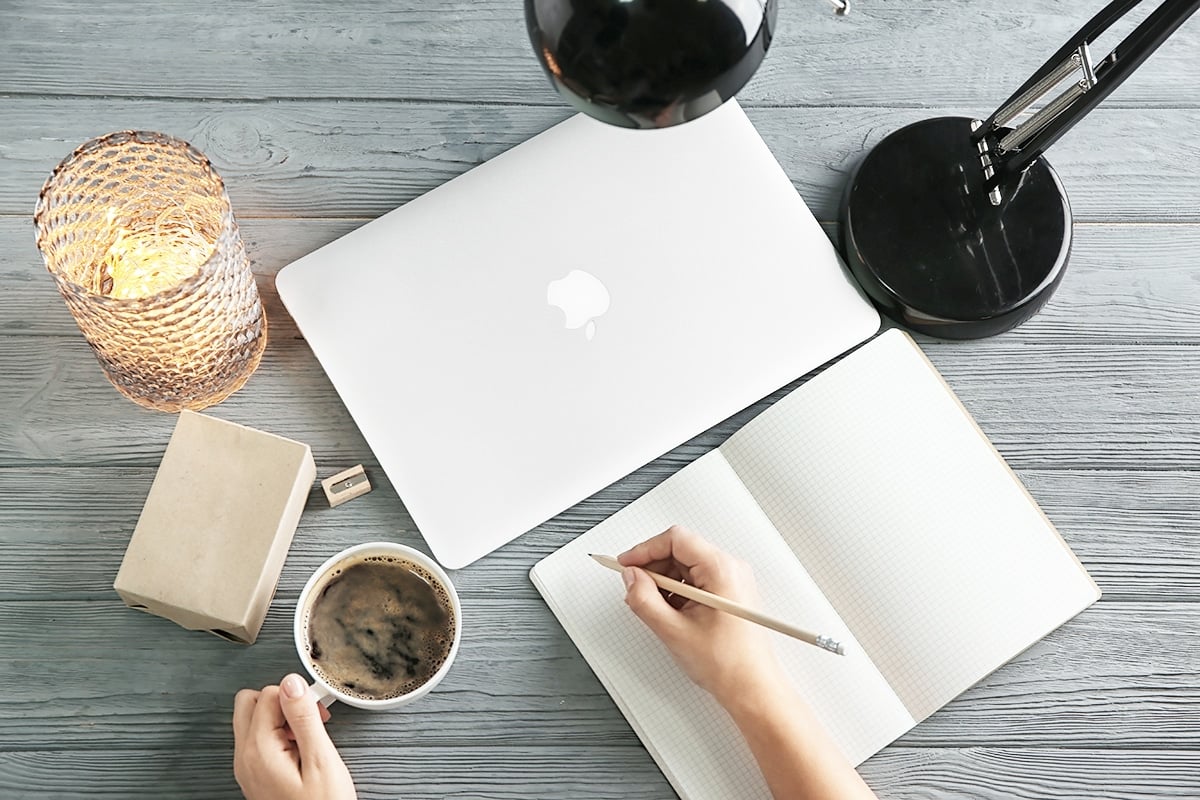 Now that you understand what information should be included in a proposal letter for a freelance project, it's time to look at how you can present this information in creative and unique ways.
The first step is deciding what design platform you want to use to create your proposal letter.
To create a visually stunning proposal, you can use Canva or Venngage.
Here are proposal letter templates in Canva: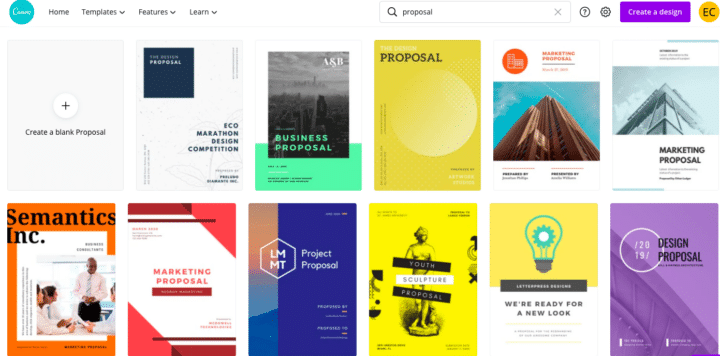 Next, you'll want to choose your proposal format. You can create a one-page proposal, a letter-form proposal or a slideshow presenting your information.
No matter how you present your proposal, the overall look should be clean and simple.
You don't want to complicate it by over-doing it with graphics, fonts and colors.
Here are some templates in various formats.
Simple Proposal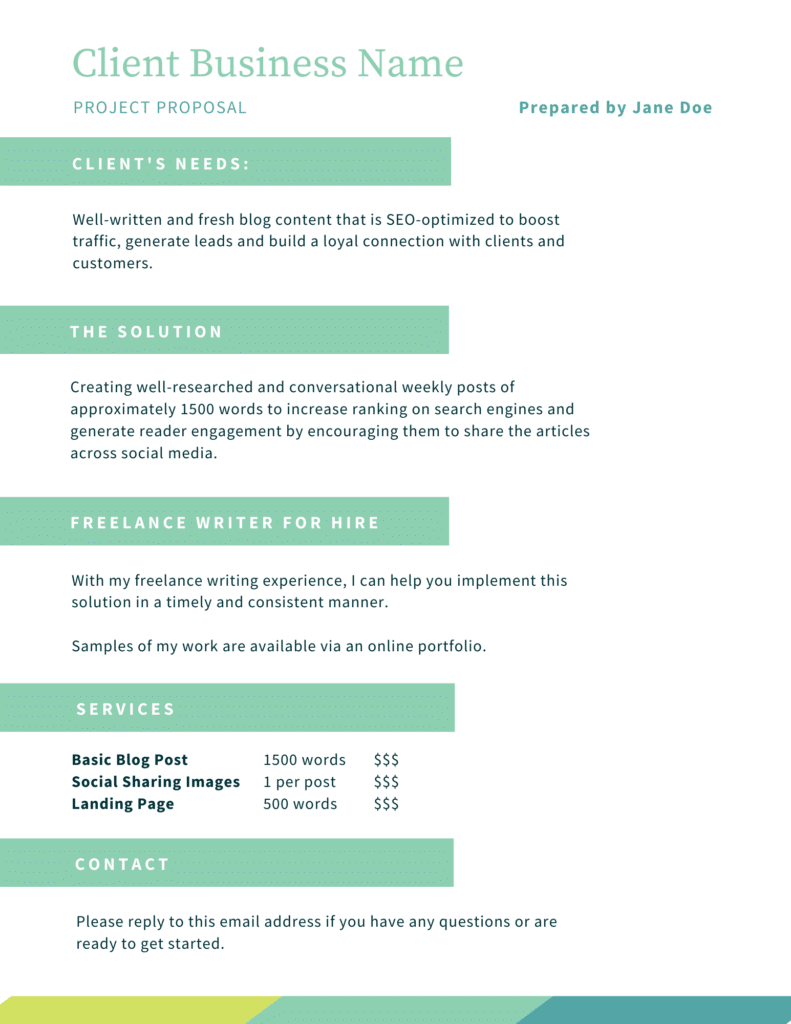 This proposal is very basic and doesn't really try to create a relationship between the writer and the client.
However, it comes off as professional and straightforward so, depending on the client, it could be quite effective.
Letter-Form Proposal
You can be more personable in your proposal by writing it in a letter form while still using headings to keep the information organized.
Page One: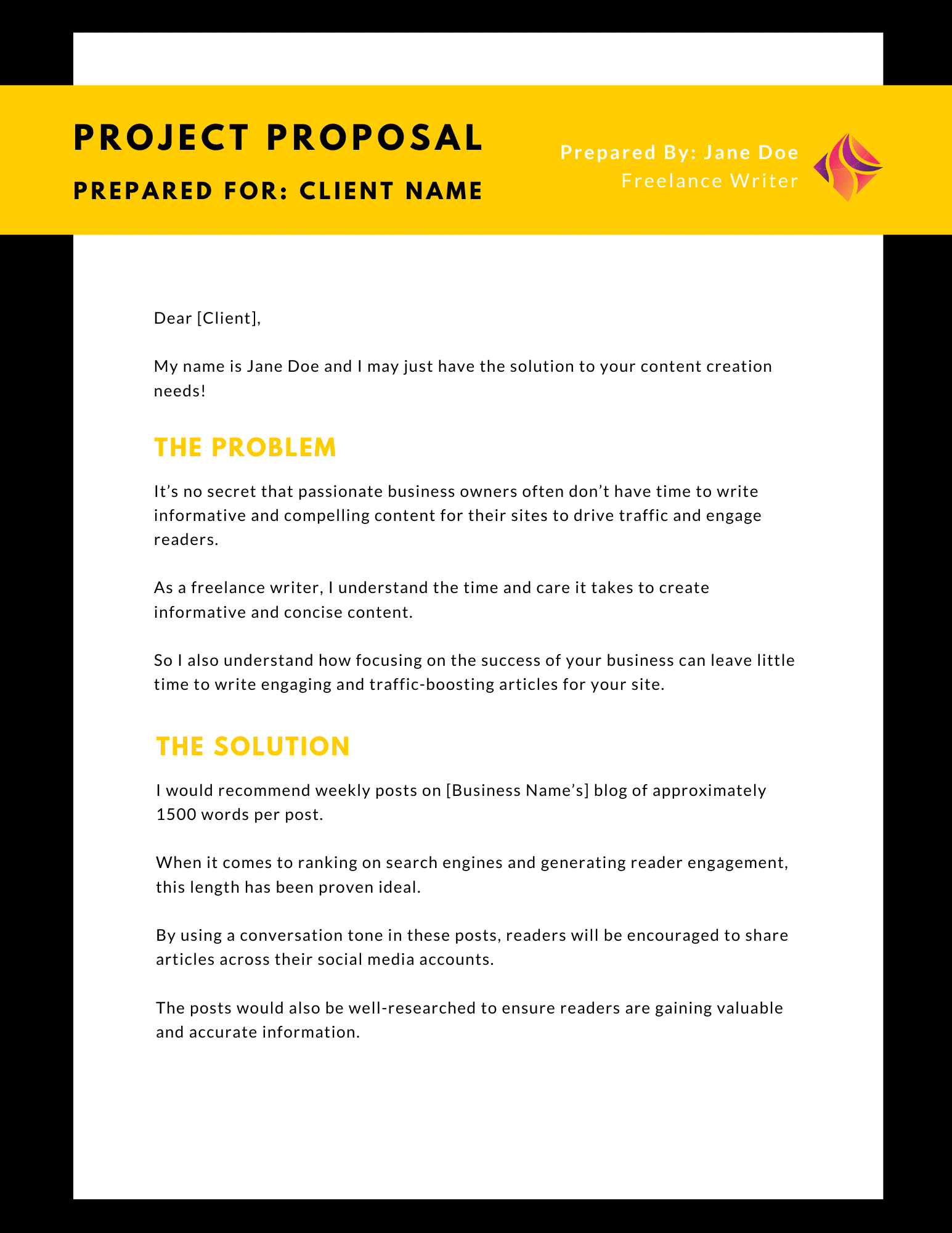 And here is page two: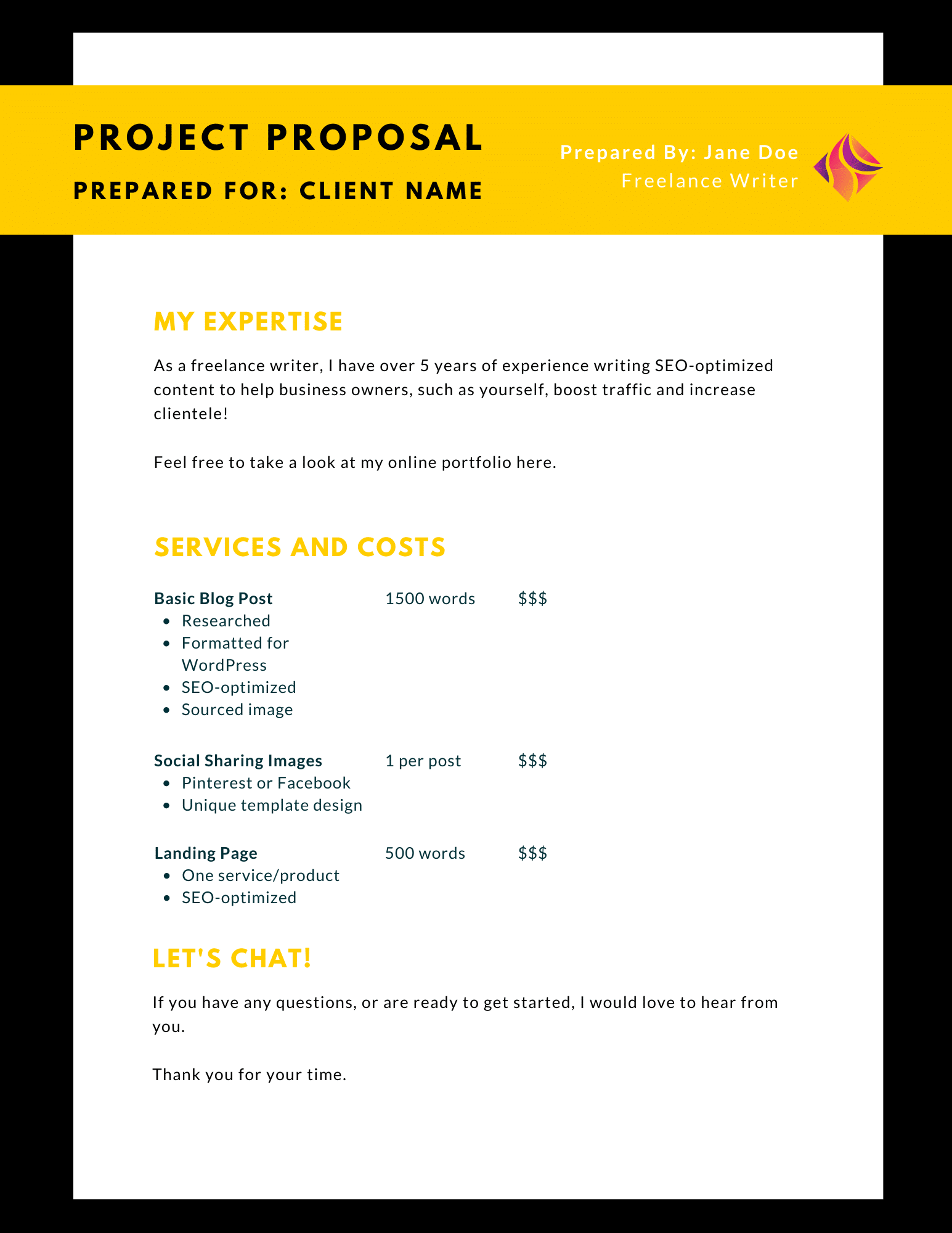 Slideshow Proposal
Using a slideshow fr your proposal can be a risky move – but it could really pay off in the end!
It's risky because you are expecting potential clients to take the time to view it, but its uniqueness can really be attention-grabbing!
I created a slideshow proposal letter template you can view here.
That's It That's All!
Learning how to write a proposal letter for a job is not a complicated process. It's all about approaching the client by offering solutions to their problems.
And not only offering a solution, but detailing how you can implement that solution to meet their business needs.
Just like any sales process, pitching your writing services in a proposal letter is all about creating value for the client – so that, after reading what you have to say, they feel compelled to employ your freelance writing skills.
Doing so will start you on a path to landing some high-paying freelance writing jobs and clients!
To help you with landing some awesome jobs, check out more of my How to Write series:
How about you?
Have you ever sent off a proposal letter for a project? Was it successful?
Share your story and let us know!