Are you interested in working from home (because of the pandemic or losing your job…to the pandemic) and becoming a freelance writer?
I hope so because you're on the right blog! I help people like you who love to write, find some amazing freelance writing jobs so you can stay home for good. I've been doing this for six years now, am getting ready to move (before the second lockdown, hopefully), and my writing income is helping me and my husband stay home too!
Over the years of being a freelance writer for hire, I've learned how to show credibility in what I'm doing and build trust so that clients know exactly what I can do for them and feel comfortable paying me.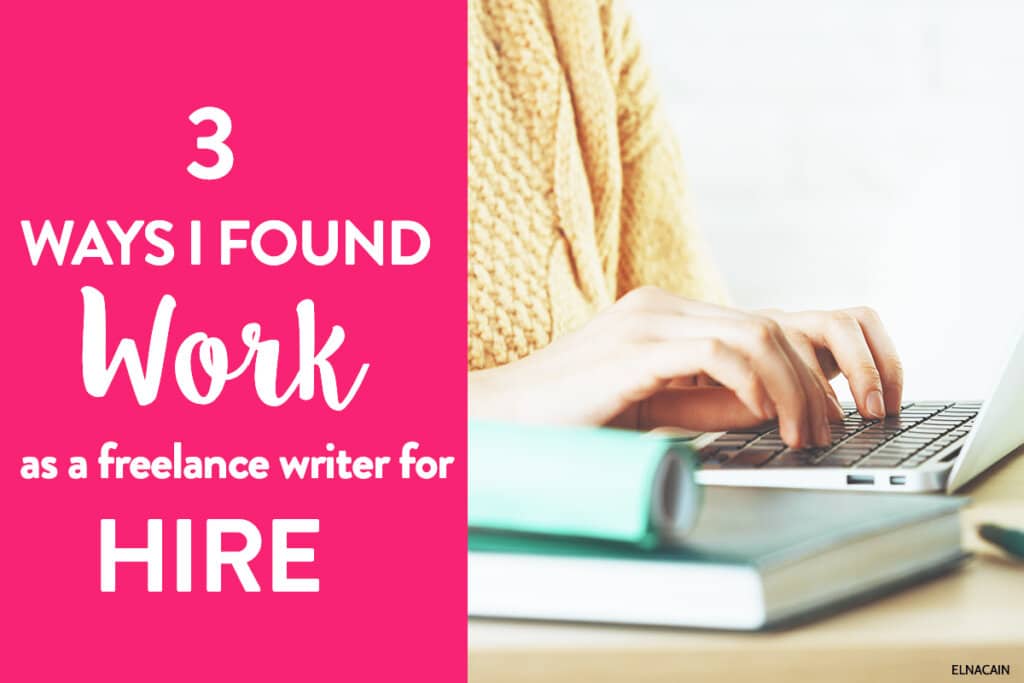 Do you want that also?
I wanted to share my top three ways I found work as a freelance writer for hire in this post.
I can't guarantee you that you will make a living writing if you do these exact three things. What I can assure you is a framework to go by.
My blog, my free courses, and premium courses teaches you a framework to build off of.
Other writers may have different frameworks, but I know thousands of writers have used mine with success!
While I can't share my complete framework (you can find the full version here), I can share the top three ways I used to find some awesome writing jobs.
So, let's get to it!
Freelance Writer for Hire – My Top Ways for Finding Work
Before I share my top ways, I want to mention that my niche as a freelance writer is digital marketing. My service as a freelance writer is long-form SEO blog writing.
These methods, however, can be used for any writing niche. However, they may not be the best for writing services like white papers, fiction writing, landing page, or email writing.
But, don't knock down blog writing jobs! They are flexible, fun, and recurring! So, let's get to it!
1. Guest Posting
What is guest posting?
Guest posting is the idea of publishing your writing on someone else's blog.
For example, I recently guest posted on Sarah's blog to show my credibility and knowledge (as a mom blogger).
But that guest post helps me as a mom blogger, not as a freelance writer (unless another mom blogger hires me to write parenting content for them).
So, how did I use guest posting to land writing jobs?
Guest Post in Your Writing Niche
It's important to find guest sites in your area of expertise. As a freelance writer for hire, I found digital marketing sites that offered guest posting.
These sites were also very popular (i.e., have millions of readers) and that will help you, as a new freelance writer, get in front of potential leads.
If you have a new blog, not many people are reading it, right? So, by having your post on someone else's blog – that's more popular than yours – there's a chance your ideal client is reading that blog and click over to view your writer website.
You can easily find sites to guest post simply by searching in Google your niche, "wine blogs write for us" or "wine blogs contributor."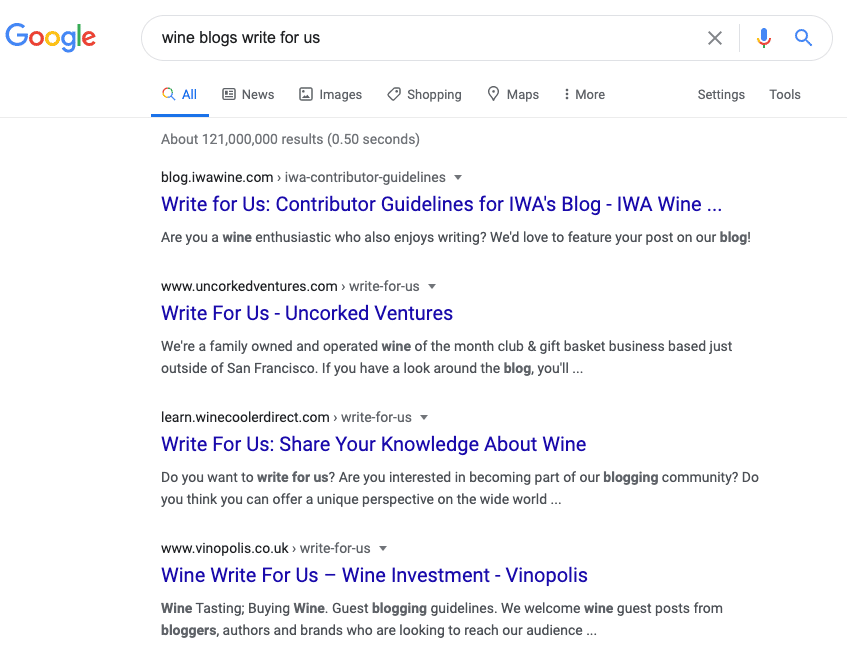 Practically any niche will have a guest platform.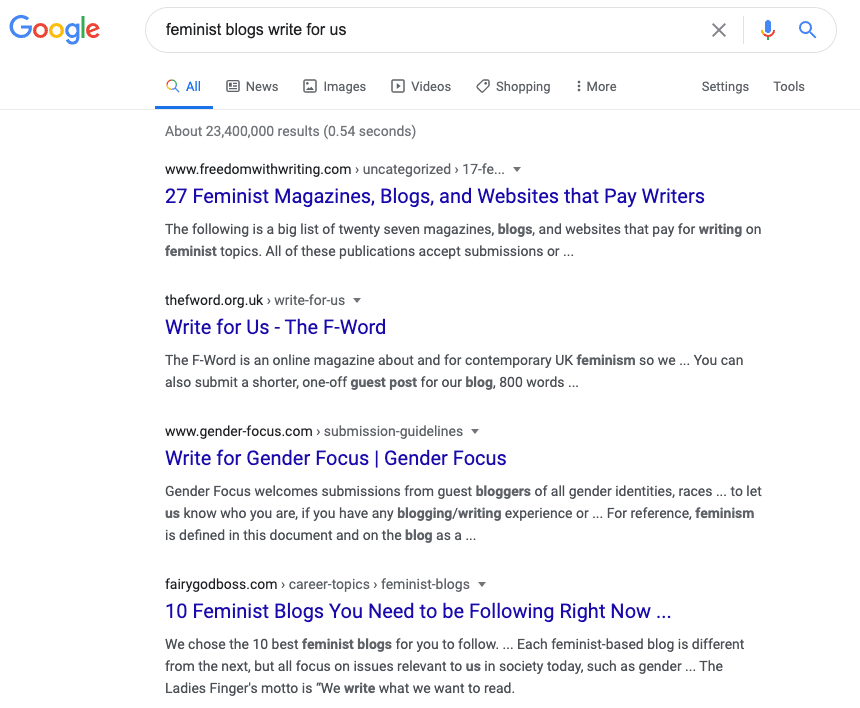 So have fun finding the right guest posting platform for you.
Writing the post
Once you found the right site, you need to pitch your story to them! How do you know what topic they want?
One easy way is to put their site into Buzzsumo. It will spit out their most popular pieces of content based on social shares.
For example, here is the result (after I signed up for a free trial) of a digital marekting blog's most popular posts based on social shares.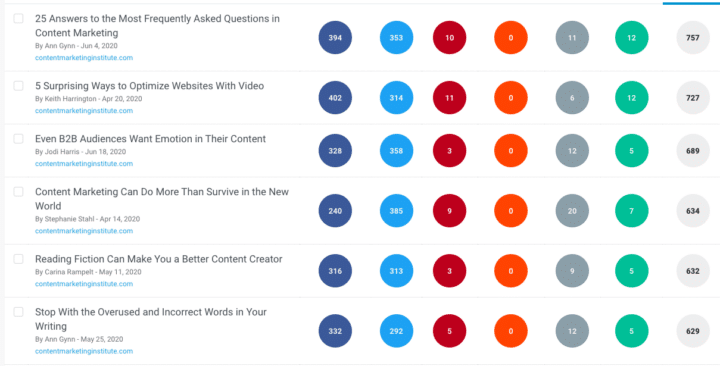 From this list, I can see that a list post would do well because they are shared the most on that blog.
As for topic it seems that optimization and content marketing are the best topics to use in my pitch.
So, I would probably pitch something like, "45 Ways to Optimize Your B2B Content Marketing Strategy in (Year)."
I can pull from the top three popular posts (optimization, B2B audience, and content marketing) and create a post that I'm sure they would love to have on their platform.
For added pizzaz, I opted to add a year to make this piece more relevant and useful for right now.
Take the time to research the contributor blog and Buzzsumo to find the best guest post topic.
Showing off your credibility
By guest posting in your niche, you can show credibility that you are the expert in that niche topic. This means you understand industry trends, jargon, and top places in your niche.
So, by using all of that in your guest post, you immediately show credibility. So, how do you do that?
Stats and facts in your industry
Quote experts
Case studies
Have a stellar author bio
The #1 way to land freelance writing jobs via guest posting is with your author bio.
If a guest post doesn't have author bios for their contributors, it is of no use to you to guest post. So, please make sure the blog has author bios when you browse the site.
Or, the guest post guidelines may state what you will get as an author:

Build your portfolio
Once your guest post is published, you can now place it on your portfolio page.
This is a great lead generation tactic and proof that you are a freelance writer for hire.
When I first started freelance writing, my portfolio only had guest posts and blog posts I wrote. It wasn't until months later that I had my client pieces on my portfolio.
2. My Writer Website
My writer website is actually my #1 tool to landing consistent freelance writing jobs.
Can your writer website be a blog? Yes and no.
If you have a passion blog (from college or one you started years ago), it may not convey that you're a legit and professional freelance writer for hire.
Instead, it will portray a hobby writer or blogger.
While it's true you can turn a blog into helping you land writing work, I've found it isn't always consistent or very professional.
I know if I wanted to hire a Pinterest Manager, I would want to go to a business site and not a blog with blog posts about the life of being a mom and Pinterest manager.
So, to help you land consistent and high-paying writing jobs, invest in a writer website!
How can your site help you land work?
Have the right pages
Make sure your writer website has the basics to help you sell your services. These pages are:
About me page – show prospects how you will help them
Services page – list out what you do for businesses
Portfolio – share your writing samples to convey industry knowledge
Contact – have an easy way to contact you!
If you need help with your pages, check out other freelance writers' sites!
Have a title
It's important as a freelance writer to share that you're a freelance writer for hire!
This is an easy way for prospects to immediately know whether you are taking on more freelance writing jobs. So state this in your title on your writer website and social media.

Have your CTA above the fold
When prospects are looking at your writer website on mobile or desktop, you want to have your CTA – a button that links to your contact page – to be above the fold.
This means everything a person sees before they start scrolling.
I make sure my button is above the fold for mobile and desktop version on my writer website.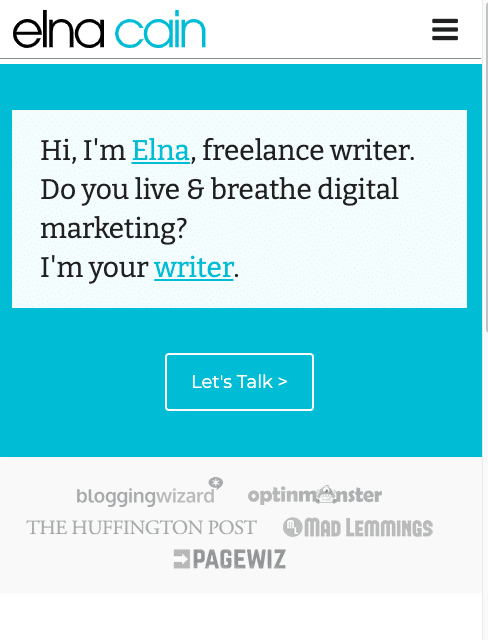 These little things can drastically improve your writer website conversion rate.
For more help, check out Writer Website in a Weekend.
3. Using Job Boards
Look –
For brand new freelance writers, it's easy to get the "low-hanging" fruit. What I mean is, job boards are an easy way to find freelance writing jobs.
They may not be the BEST type of jobs, but you will get your foot in the door, and that will help you build confidence as a new writer.
My first success as a new freelance writer for hire was not freelance marketplaces like Upwork, but rather, writing job boards.
These job boards helped me land a blog writing gig for $100 a post!
So, how do you use these job boards?
The first thing to consider is using free sites vs. paid ones.
Free job boards do offer a lot of jobs, but also some competition.
That amazing pet writing job you saw on Problogger this morning may not be available three hours later (if you didn't pitch right when you saw the ad).
A paid job board, like Contena, offers some exclusivity because it's gated. Contena also makes it a cinch to find high-paying jobs with their filters.
After you decide which type of job board you want to use, the next is ensuring that the jobs you see are legit.
Some red flags you might see in a job board posting are:
The job ad stipulates they need a writer to do EVERYTHING from social media to managing the blog, writing posts, emails, and more. If you see this, run!
The job ad wants writing just like Neil Patel or – insert influencer – some other writing. The catch – they don't want to pay for that type of writing. Writing long-form, highly optimized for SEO (search engine ranking) costs hundreds of dollars ($400-$800 starting). To learn more about this type of writing, check out Freelance Blogging in a Weekend.
The job ad wants its own writing sample. They don't care if you have a portfolio; instead, they want a unique writing sample just for them – unpaid. Nope, not for me!
Finally, to find the right job posting, research on Google the company that's requesting the writing.
If it's anonymous, that might be a red flag and you should not pursue that writing job.
But, if this business has a Facebook page, a blog, an email list and you see they even do Facebook Ads, then you know they are a legit business that has MONEY for content marketing.
Once you find the right job ad, try to be the first one to pitch to that ad. This means checking the job sites in the morning and right before you go to bed.
It also means having a pitch template to use for those times.
Now, it's best not to make your whole pitch a template; rather, use parts of a pitch template to incorporate into your pitch.
This way, your writing pitch will be unique for each job ad posting.
Become a Freelance Writer for Hire
There ya go – my top three ways to find jobs as a freelance writer for hire.
I feel these ways are easy to try for any new writer, – even if you fear this new venture – and I hope you give them a try.
Tell me in the comments your favorite way to find freelance writing jobs or which method you'll try first!
Please pin me!