Are you a fast typist and want to work from home? You might be thinking about doing data entry jobs from home, but to be honest, they pay pennies for all the work you do.
There's a better option – typing jobs from home – that yield better income and can help you work from home for good.
I've been using my sweet typing skills to land typing jobs like freelance writing work for the past six years. I get to use my creativity, my story at times and my skills to gain income from my typing!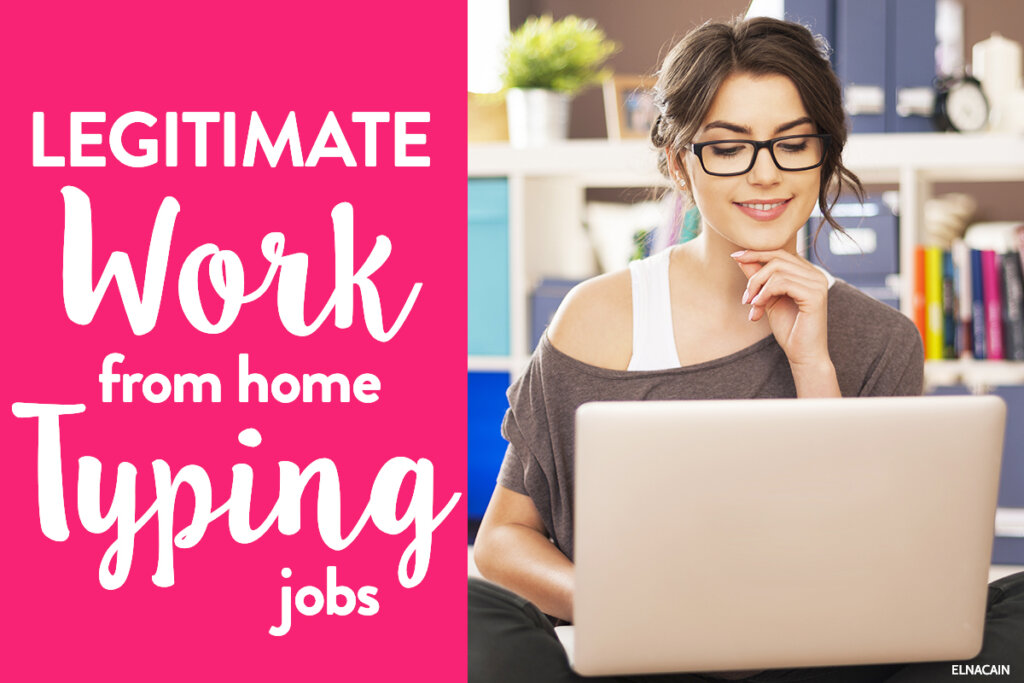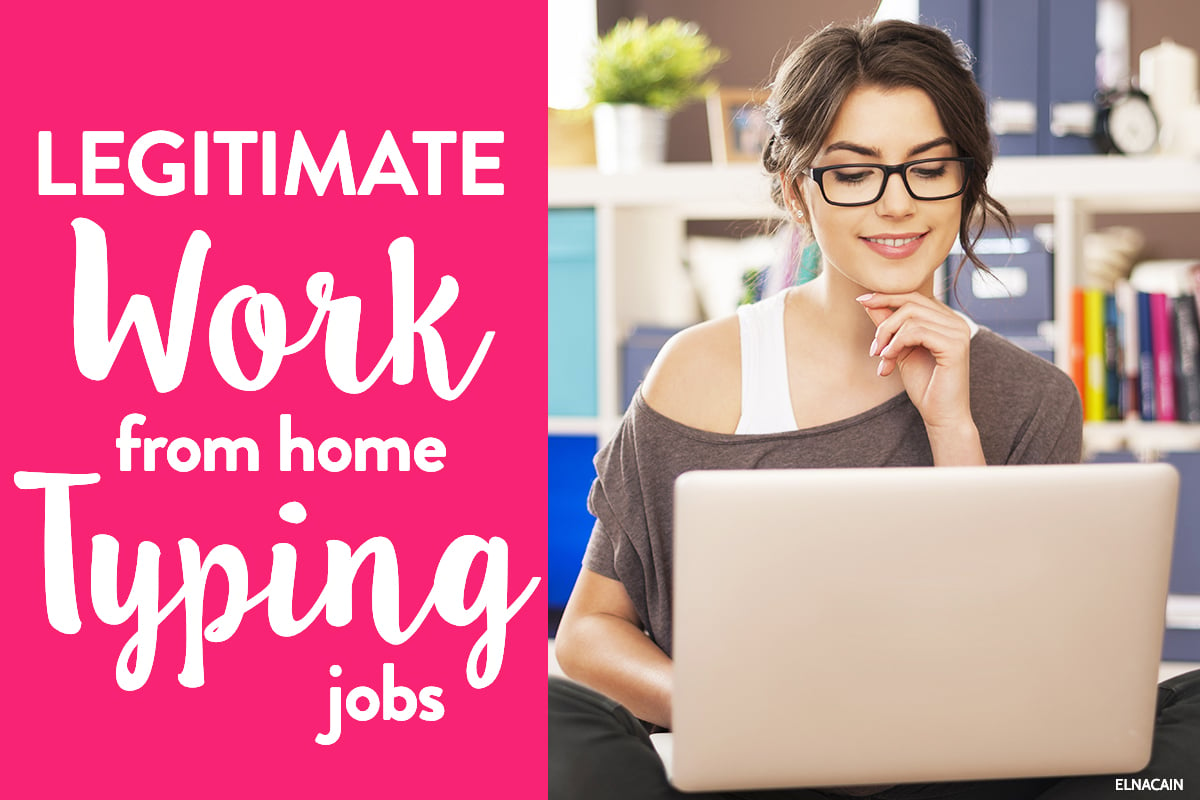 That beats data entry jobs from home any day (plus, data entry is one of the most depressing jobs out there!)
So, if you want a work from home job, why not consider some typing jobs that involve your laptop, internet and being a fast typist!
Before we get into the nitty-gritty of this post, let's go over what is a typing job, how I began to work from home, how you can learn to type faster and a list of legitimate work from home typing jobs you can start tomorrow!
What is a Typing Job?
A typing job is any job you do that involves typing. The most popular typing job is at home data entry, but you can gain other more profitable typing jobs online.
And don't think you'll be slaving away at typing either as Kermit does in this GIF!
Typing jobs from home doesn't mean you'll be stressed out trying to type fast and get your work done. There are deadlines, and as long as you create a schedule, you'll have no problem typing away!
All you need is a computer, keyboard and the internet to really get started with typing jobs. You don't need a degree, which means high school students and those in college can benefit from work from home typing jobs!
My Story on How I Began to Work From Home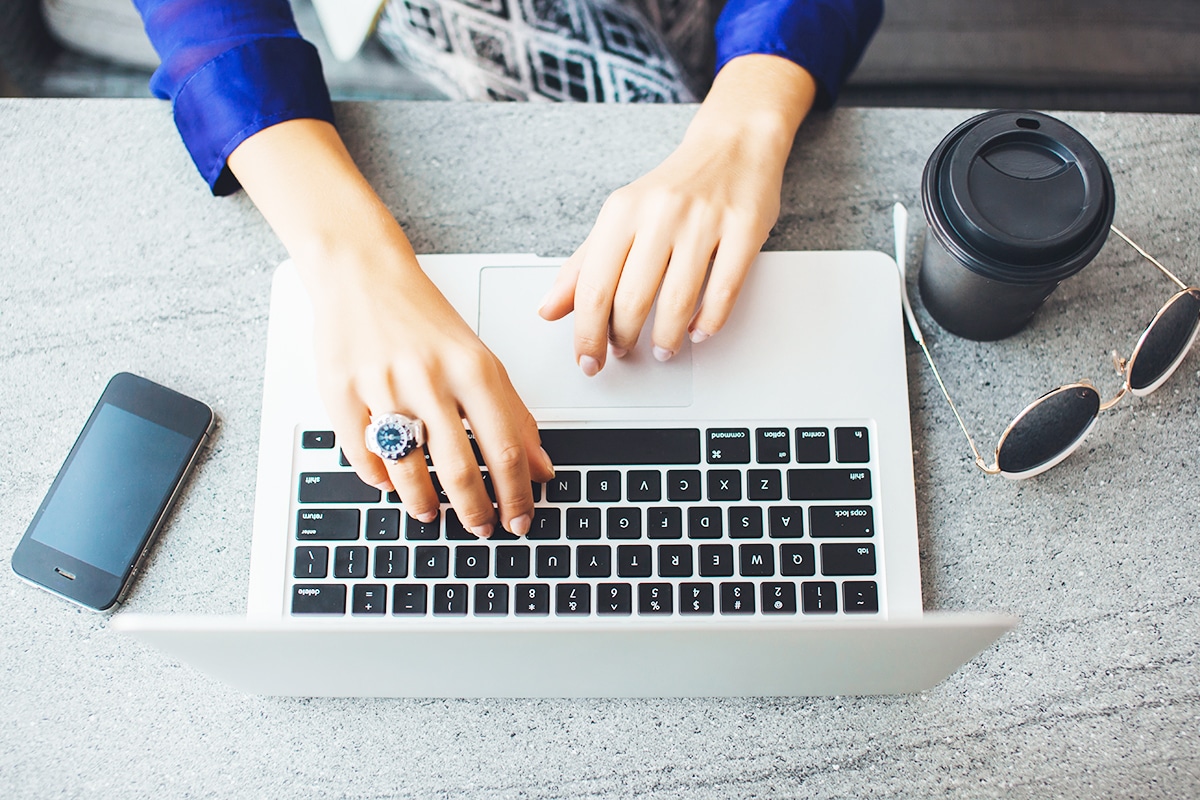 After my maternity, I had to find a way to contribute to our finances as a mom to twins. I tried working outside the home but found that my husband – who worked from home – couldn't do his work and had to take care of the twins while I was out.
I thought that was silly and knew this set up wasn't working for us. But, how could I contribute to the finances? My husband suggested I find online jobs and work from home jobs.
He told me many moms do this, and it's something I could try. So, I looked online and found that many moms had typing jobs, blogging jobs, freelance jobs and more!
Wow! I didn't know you could have a freelance writing business from home. I was hooked! If I could do this from home, then sign me up!
Within a few months, I was able to land my first freelance writing job and was on the road to making a living writing at home. And I know you can do it too (yes, I glided over that quickly, but this is a comprehensive post, and I want you to get through it!)
How do You Learn to Type Fast?
It's a good idea that before you start with a typing job that you are a fast typist. This is a learned skill and is important, so you're not spending 7 hours typing up a simple blog post.
When you are fast typer, you can pump out those writing projects easily and pick up more typing jobs so that you are making a healthy income every month.
Let's look at three simple ways to be a fast typist for your tying gigs.
1. Take Typing Tests
One of the things you can do to boost your typing speed is to take an online typing test. I use Key Hero to improve my WPM.

By trying to beat your score, you will naturally type faster. Be careful, this is addicting!
2. Type Every Day
Just as you would write every day, you should type every day if you want to be a freelance writer online. Become familiar with the key placements and eliminate writer's block by making it a point to type every day.
I have several blogs, and I try to write a blog post on each of my blogs once a day or a few a week. It's not always consistent, but when I don't type away a blog post, I type out an email, I type out some social media posts…you get the picture. This can be your typing test every day!
Strengthen your motor skills and creativity by typing something every day!
3. Challenge Yourself
Finally, to become a fast typist, you should challenge yourself. When I first started working from home, I made it a point to type out at least 500 words. This helped me type even more the next day as I would challenge myself to type out 800 words and so on.
With practice and pushing yourself with deadlines or challenges, you'll excel as an avid typer!
Legitimate Work From Home Typing Jobs
Okay. You definitely don't want to do data entry jobs, but what can you do with a laptop and computer? Check out these fun and easy typing jobs from home you can do as a beginner.
1. Freelance Writer
The most common typing job (next to data entry) is freelance writing.
As a freelance writer, you write content for all types of businesses. Solopreneurs like coaches hire freelance writers, entrepreneurs with multiple sites hire freelance writers, and huge brands hire freelance writers.
The types of writing projects you do vary from blog posts to sales pages to white papers and more.
So, find out what type of writing you like to do and what type of client you want to work for, and you can quickly start online freelance writing!
Tools & Equipment Needed: the best tool you can have is a writer website. This is a blog that exists online and helps you market your freelance writing service. You could also benefit from being on social media like Twitter and LinkedIn. As well, having a computer with Internet access and a work desk is a must. No typing jobs on the couch, please!
How much does freelance writing make? Freelance writers can make anywhere from a few hundred a month to thousands a month. The sky's the limit, but in general, freelance writers make around $5,100/month.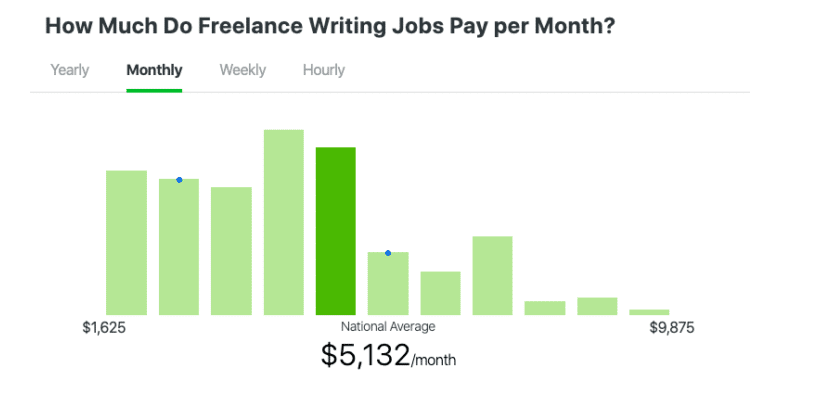 This salary is doable, but you have to have the right writing niche and the right clients and have the time to make this much per month.
If you need help with getting started, make sure to check out my video on YouTube.
In this video learn how to start freelance writing with no experience
2. Blog Writer
My main type of service as a freelance writer is blogging jobs. But, did you know you can make money just as a blogger? I own several other blogs, and each of those blogs makes me money.
There are several ways you can incorporate typing jobs into blogging, along with monetizing your blog.
After writing some content about my twins on one of my blogs, an editor reached out for a typing job. I was ecstatic that my blog content on my passion blog brought me this writing job!
Writing blog posts is a skill, but once you learn the basic steps and have a template, you can create different types of blog posts like how-tos and list posts.
Tools & Equipment Needed: As a blog writer, you do need a hosting plan like Bluehost to start your blog or writer website. You might benefit from an editing tool like Grammarly to help you with your grammar on your blog posts.
How much does blog writers make? I'm sure you've seen pins or posts on Facebook of bloggers making $100,000+ per month. Is this true?
Yup! It is, but most bloggers only earn hundreds or a few thousand a month depending on what type of typing gig or monetization strategy they use.
For more help on this type of writing, make sure to check out Freelance Blogging in a Weekend.
3. Editor
If you are a stickler for grammar, then why not try this typing job out? As an editor, you would look over other's content and check for spelling errors, sentence fragments, misplaces or dangling modifiers or wrong word usage.
As well, editors better organize the piece of content and make changes to make the piece easier to read.
Some editors also do developmental editing where they re-write sections of a piece of content if the piece is too fragmented and not cohesive.
You can find typing jobs as an editor online, on social media or in your city!
Tools & Equipment Needed: A computer is a must, but having Internet access isn't a must (but comes in handy). A great way to pick up typing gigs quickly is to have social proof or testimonials of your editing services. So, try to pick up some testimonials so you can gain more freelance gigs.
How much do editors make? Generally, you can charge around $24 an hour or earn up to $4,200 a month as an editor. Don't be afraid to charge even more per hour for bigger projects like books or if you do developmental editing.
4. Translation
Interpreter or translation typing gigs is a cool type of job to land. There is a lot of content online, and a lot of it isn't in English. However, many businesses want their content translated from one language to another.
One client I had was in the Smart technology niche, and they learned that they were growing rapidly in the Chinese market. So they hired someone to translate all the blog posts (i.e. transcription job) I wrote into Mandarin.
If you speak two or more languages, why not offer some translation typing jobs to International businesses? As a translator, you need excellent writing skills and have the ability to take a concept or words in one language and translate it accurately in the new language.
You can also pick up interpreting typing jobs, but this requires you to speak the content from one language to another language. These might benefit you with local freelance jobs.
What kinds of translation jobs could you do?
School records
Marriage certificates
Legal documents like depositions
Financial annual reports
Tools & Equipment Needed: Of course, being able to speak in more than one language is a must for these typing jobs. Having impeccable writing skills and understanding both languages for nuances and slang is a must. Having a set of headphones is something to consider if you have to listen to a speech to translate. Finally, building up your social proof is important, and you can do that with a website offering your translation services.
How much does a translator make? According to Ziprecruiter, translation jobs yield around $4,100/month. Since these are typing jobs, it's up to you to find these jobs, market your service and find the right type of projects to make this much.
5. Proofreader
While an editor's main job is to make the content piece better organized and easier to read, a proofreader does the basics of checking for spelling errors and grammatical mistakes.
Proofreading typing jobs are easier to do than editing, and this is a job you can do on the couch, while you're waiting for an appointment or when your child is napping. Some types of content you would proofread would be press releases, newsletters, blog posts, essays, resumes or menu listings.
Some places that hire proofreaders include:
American Journal Experts – This site mostly has editing jobs, but will occasionally have proofreading typing jobs
Prompt – You get to proofread college admission essays
CACTUS Global – requires Bachelor's/Masters/PHD for their editing and proofreading jobs.
Tools & Equipment Needed: As with editing jobs, you need Internet access and a computer. You also need to have a knack to notice proofreading errors and have a plan to find proofreading jobs. Use sites I've mentioned as well as job boards.
How much does a proofreader make? According to Ziprecruiter, online proofreaders earn around $4,419 per month.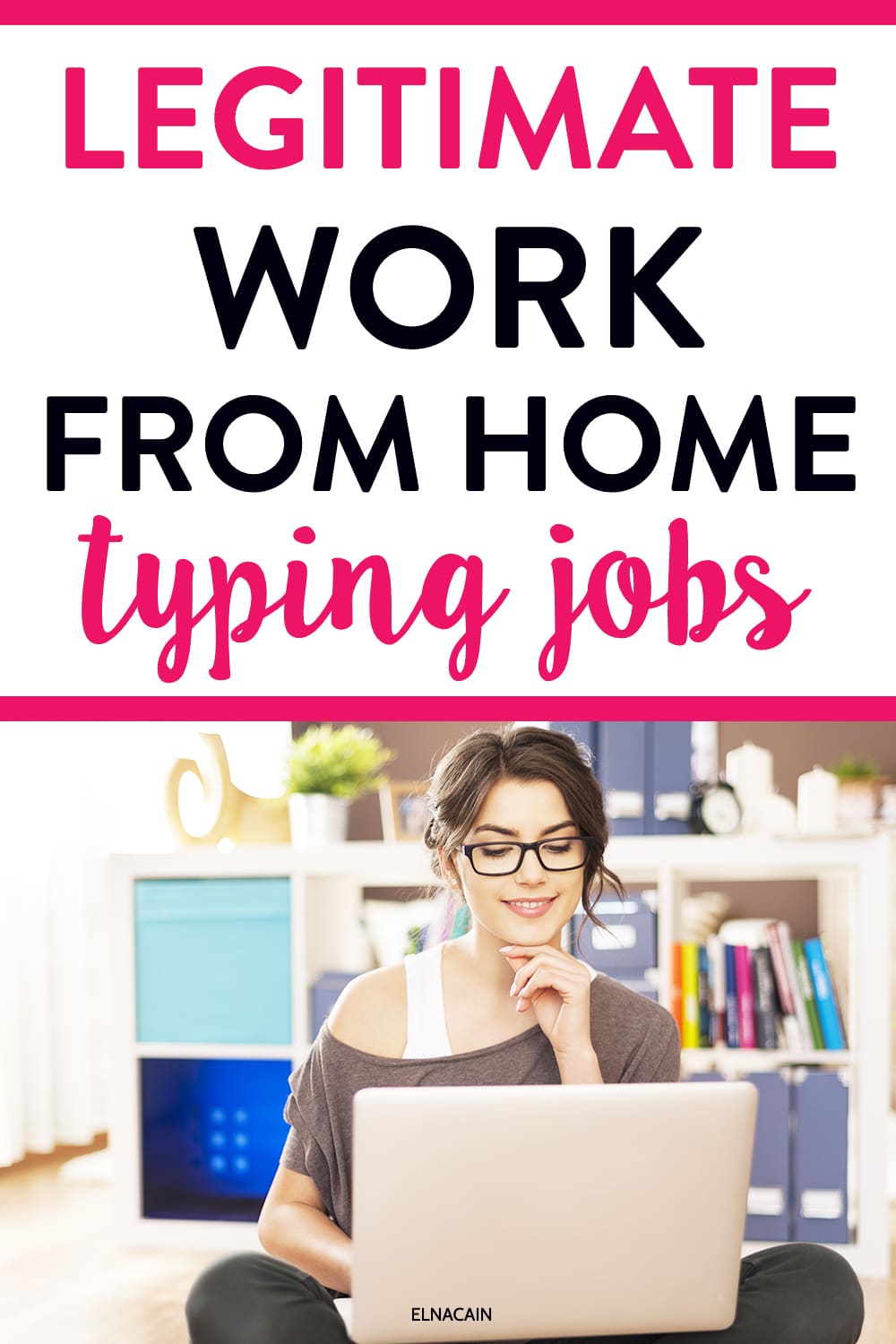 6. Virtual Assistant Jobs
Another typing job you can do is being a virtual assistant. This is a general job you do online that involves a variety of typing jobs from home like:
Writing blog posts
Editing and proofreading landing pages
Customer email support
Newsletter writing
Graphic design
As a VA, you can focus on a few services you provide and find solopreneurs or very small businesses that need that extra support with their daily tasks.
Tools & Equipment Needed: VA's might need some online marketing certificates for some of the services they offer. Hubspot offers free certificates that can build your credibility. You also need to be familiar with online tools and services if you decide to do social media automation, newsletter writing or landing page designs. Finally, Internet access and a computer is a must!
How much does a VA make? Rates vary between VA's since many offer different types of services. A typical per hour rate is between $10-20/hour.
7. Copywriter
Are you intrigued by human behavior? Copywriting focusses on the user and how they behave when reading content. What words convert readers to buy? What storylines connect better to a new customer?
As a copywriting typing job, you will be responsible for conversion writing, conversational writing and marketing aspects. Businesses often hire copywriters to tweak their existing copy for more conversions.
They may also hire a copywriter to write a sales page, landing page or a series of emails in their sales funnel. The simplest type of copywriting typing job is blog post writing. I often infuse copywriting principles in my blog writing jobs.
Tools & Equipment Needed: Having a basic understanding of copywriting principles is important as well as having great conversational writing skills. Your portfolio may have mock-ups of brochures, sales pages, landing page copy or even microcopy! Finally, having Internet access and a computer is a must!
How much does a copywriter make? According to Ziprecruiter, copywriting typing jobs yield around $4,896 per month.
8. Ghostwriter
Being a ghostwriter can be extremely profitable. For this typing job, you aren't credited for any of the writing you produce for clients.
Because you don't receive a byline, you can charge premium rates for your projects. Some of the best ghostwriting jobs are writing eBooks. You just need a few of these gigs to make a living!
Tools & Equipment Needed: The biggest tool you need for your ghostwriting is proof that you can ghostwrite. This is hard when you don't have attribution to your content. What you can do is title yourself as a ghostwriter all over social media. I would also create mock samples to show the quality of your writing. Having a writer website will be your biggest marketing tool.
How much does a ghostwriter make? According to Ziprecruiter, ghostwriters average around $5,378 per month.
9. Write on Medium
What?
This is a typing job? Yup. Did you know that every time you write on Medium, you can get paid for that? Medium has a Partner Program to help you earn from your writing.
This is a very passive way to make money with your writing, but it's just another form of a typing job that you can have.
After you sign up for Medium and their partner program, you can submit your pieces to the hundreds of publications they have.
If people read your content and engage with your content with claps and comments, you earn income. Currently, I make around $70 a month.
Tools & Equipment Needed: You do need Internet access and a computer to access Medium. You also need a strong following. You can use your Twitter followers on Medium, but I encourage you to follow other Medium users.
10. Scopists
According to World of Freelancers, a scopist is,
[A] person who creates final transcripts of trials, depositions and other proceedings, both legal and non-legal, which are typed onto a steno machine by a court reporter. A scopist is a person who creates final transcripts of trials, depositions and other proceedings, both legal and non-legal, which are typed onto a steno machine by a court reporter.
For many, this type of typing job isn't for them because you do need some experience as a court reporter, and the equipment to be a scopist is expensive.
Tools & Equipment Needed: The three biggest things you need are Internet access, computer and scopist software equipment. You might also need headphones. While there are online programs to help you learn this typing job, you can learn from other court reporters or DIY.
How much does a scopist make? Since this typing job isn't well known, Ziprecruiter shares that court reporters earn $4,481 per month.
11. Transcription
Currently, there are over 800,000 podcasts, with over 32% of people in the US listening to podcast episodes (up from 28% last year).
This tells me that podcast transcription services will be hot and a cool typing job!
I don't know about you, but I love listening to podcasts and even course lessons and Youtube videos. As a transcription typing job, you would be responsible for converting speech to text.
As more and more businesses are online, they are dabbling in different ways to reach their audience, and video and podcasts are it!
Tools & Equipment Needed: Having headphones can help you with transcription work if you are a stay at home mom or if you work in a busy environment.
How much does transcription work pay? According to Ziprecruiter, the monthly salary of transcription work averages $4,857.
Where to Find Work From Home Typing Jobs
So, I showed you eleven typing jobs that you can use to work from home as a beginner!
But where are these freelance jobs? Here's a starter list to help you find work from home jobs.
1. Glassdoor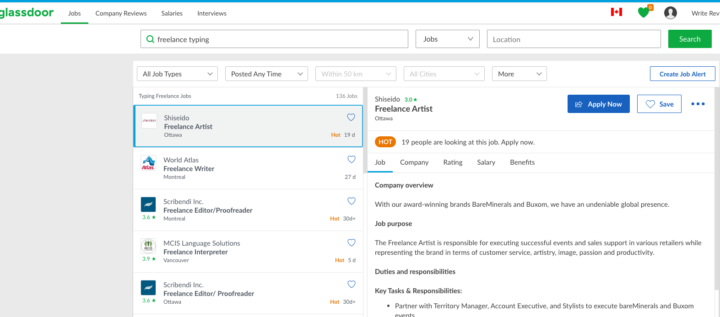 Glassdoor has many freelance typing or writing work for you! These are jobs you can do at home like:
Freelance interpreter
Freelance writer
Freelance editor or proofreader
These are all typing jobs I mentioned in this post and Glassdoor is showing that there are jobs RIGHT NOW that need this type of work.
2. Contena
Contena is a premium job board, but they curate many typing and writing jobs from all over the internet. It's a quick way to land a writing jobs for sure.

3. Twitter
You can use the hashtag typingjobs or freelancewritingjobs or a combination of online typing jobs to see what's out there on Twitter.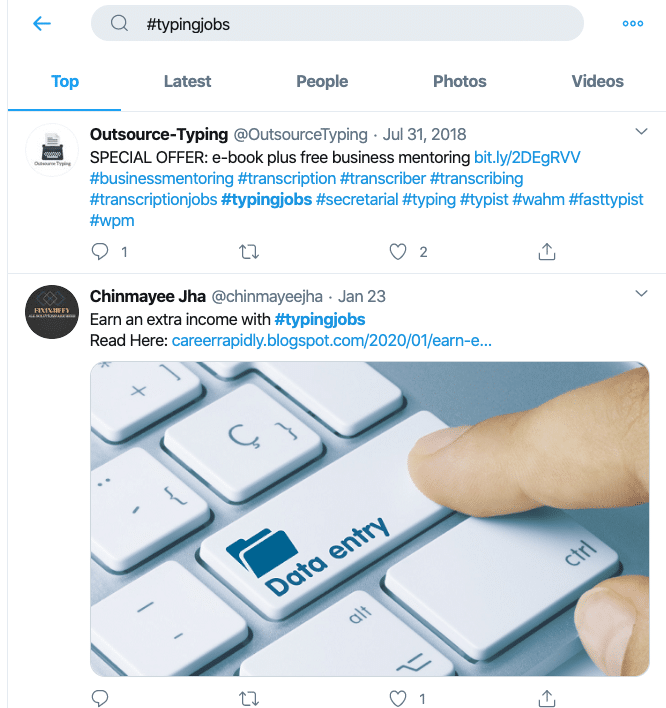 4. Blogging Pro
Blogging Pro is a job board only for blogging jobs. I like this job board because blog writing is what I primarily offer, and it's a versatile type of typing work.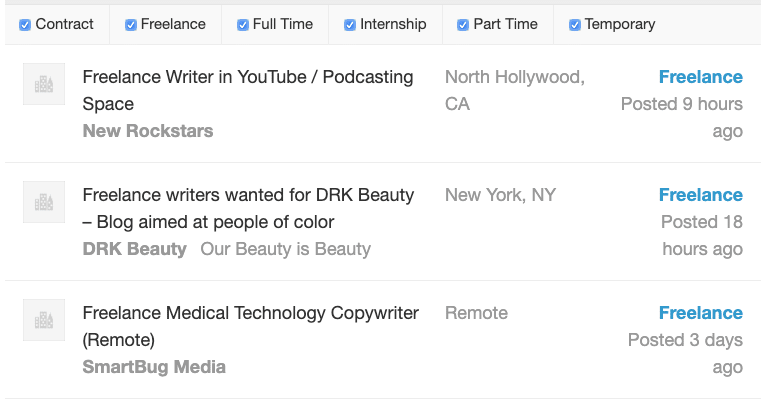 You can pick from freelance jobs to full-time, temporary, contract or internship jobs.
5. Freelancer
Freelancer gives you a variety of typing jobs, but many are low-paying. If you're new though, and only need some extra cash and expeirence, these are low-entry typing jobs that are easy to pick up.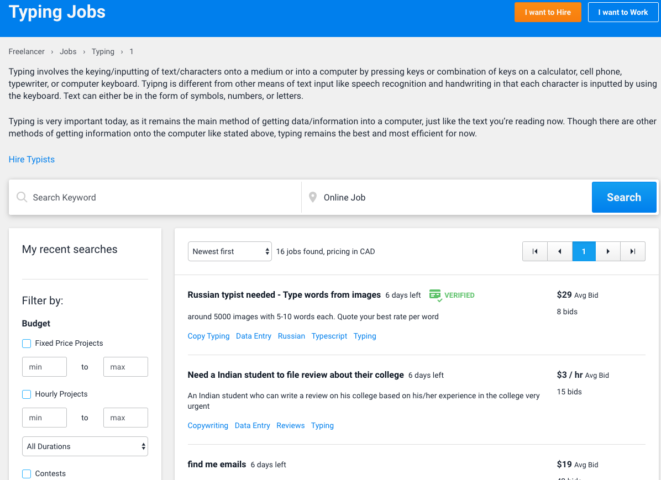 Typing Jobs from Home For You
There you go! I hope you found a typing job you can start learning about or find an online job you can do!
I'm a little biased and enjoy freelance writing for small businesses. It's stable, recurring, and I simply love writing blog posts. Make sure to check out my resources to help you work from home!
Over to you – what typing job interests you? Share with me in the comments!