It's 2023, and the world is still in a pandemic with social isolation and lockdown.
There are over 40 million people that have lost their job because of the pandemic. People are struggling, and many are finding alternative ways to make money from home.
There's been a 159% increase in remote work, online jobs, writing jobs and more between 2005 to 2017.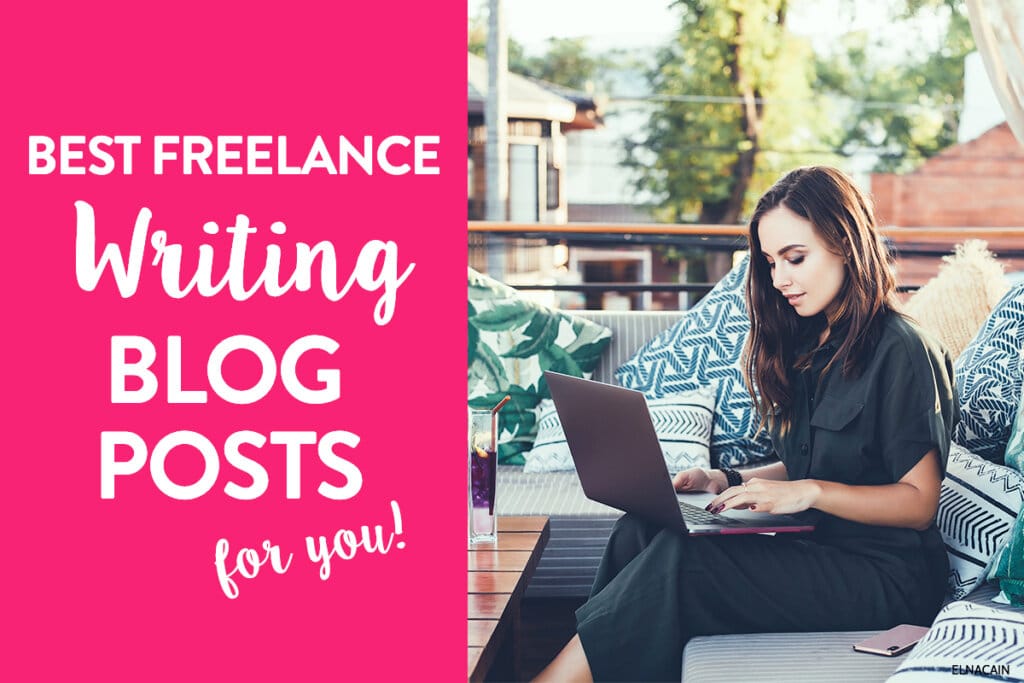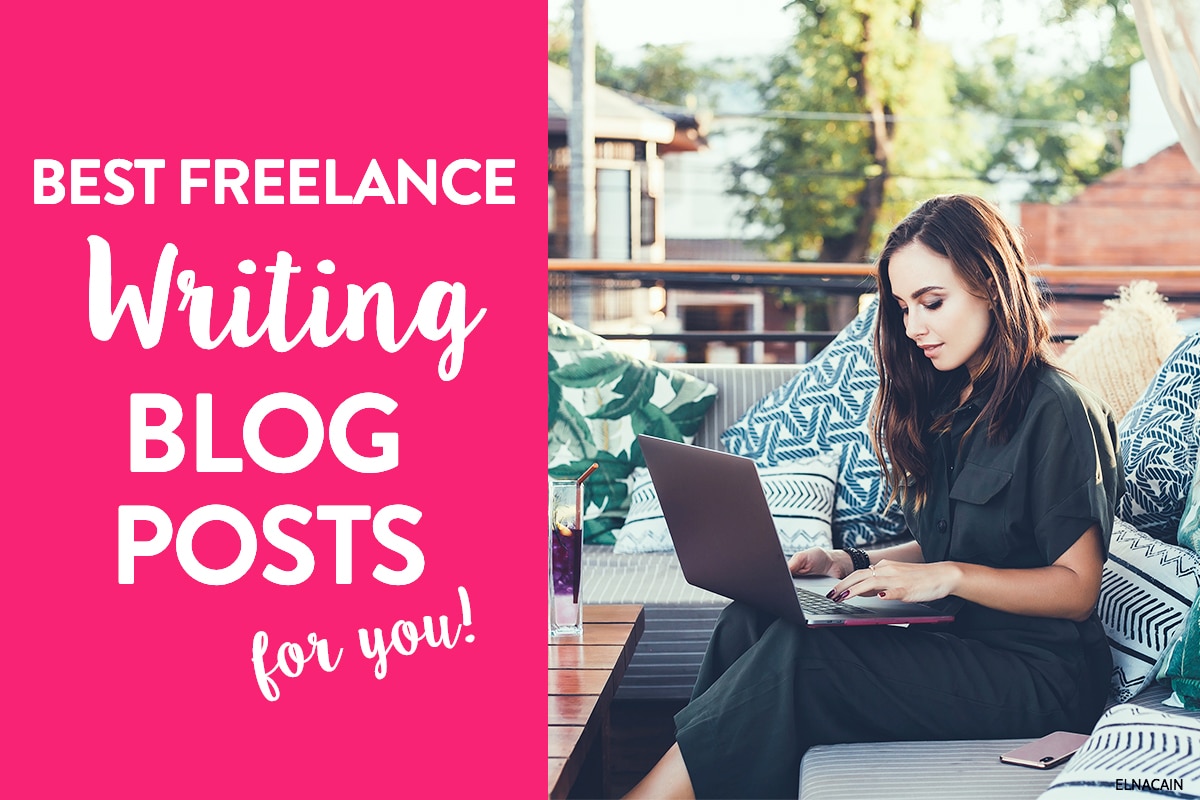 This tells me that working from home will be the new normal when everything is said and done with this pandemic.
I've been freelance writing for six years, and I don't plan on stopping. I'm fortunate that I lucked out and found out about becoming a freelance writer, landed freelance writing gigs and was able to stay home for good – and help my husband stay home for good too!
So, you've been searching online for something and found that freelance writing is something you're interested in.
That's great to hear! Out of all the online jobs out there, freelance writing is the #1 type of online work out there. Why?
Most people know how to write – they may need to improve their writing skills, but that's okay – have a laptop and internet connection and have the time NOW to start a new side hustle. It's never been easier!
The planets have aligned, and it's time to begin freelance writing.
To help you on this path, I'll share my best tips and freelance writing blog posts to get you started.
1. Overcome the Fear of Writing
The first freelance writing tip I can give you is to overcome any doubts or fear you have about writing. You are a great writer!
If you thought about doing some freelance writing, then you ARE a writer! Plain and simple.
In my post on overcoming fear, I share a Youtube video on my best tips to gain confidence when writing.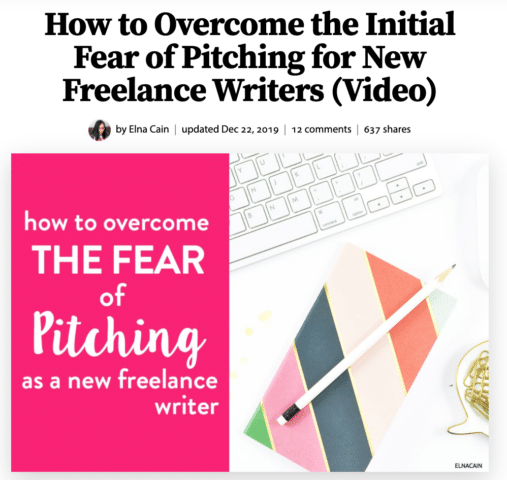 If you need more help, I have a post on the idea that you know you can write, but you fear that no one will like your writing.
The thing to remember in all of this is that you can improve your writing if you practice writing every day.
As a freelance writer, you will be writing every day, and I encourage you to write every day. You can have a blog on your writer website and write blog posts, and you can write social media posts, or write on Medium, etc..
This isn't my only blog. I have Twins Mommy, FreelancerFAQs, Imperfectly Perfect Mama and Smart Mom Ideas.
I flex my writing skills every day in different types of topics. This helps me become a versatile writer that can write on any topic a freelance writing client gives me.
2. Discover Your Writing Niche
Ahh – your writing niche.
It's the bane of your existence. You simply cannot find the right writing niche.
You like too many things – poetry, writing, gardening, coffee etc..
You've had many different jobs – nursing, sales clerk, assistant work, church coordinator, Brownie's leader, etc.
How do you pick a writing niche for your new freelance writing business?
The first step to begin as a freelance writer is to choose that writing niche.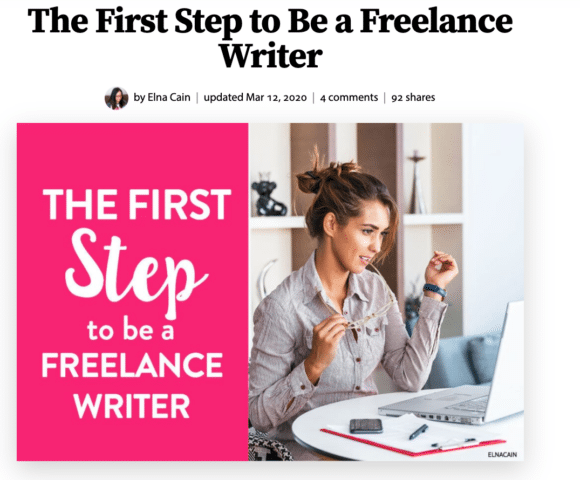 There are two types of freelance writing niches:
The topic of your niche
The service of your niche
You can focus entirely on your service and write in different niches. For example, you are a copywriter for small businesses. Or you're a B2B writer.
That's fine! You might find it fun to write about different topics and writing projects. However, deciding on a niche makes it a whole lot easier to find freelance writing jobs.
Imagine you marketed yourself as a Fitness Copywriter! Oh boy, prospects know who to hire to write up their healthy challenge freebie for their email list.
Or, if you're a B2B for Saas businesses! Oh, yea! That social automation service knows who to hire for their marketing blog posts about their service.
So when deciding on your writing niche, you can target your service and leave it or pick up to three niche topics and run with that.
3. Time to Write Writing Samples
Okay. You've picked a writing niche – celebrate! You're on your way to begin freelance writing.
The next thing you need to start doing is drafting up some writing samples. How do you write a writing sample?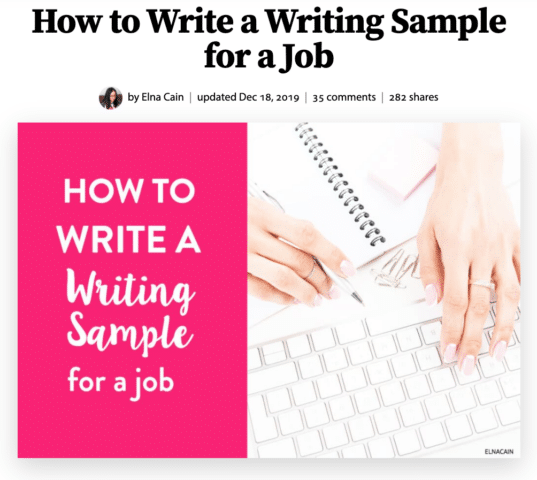 Depending on your service, you can do a mockup sales page, mockup press release or a blog post.
I write blog posts for my clients, so my portfolio shows my long-form SEO optimized blog content.
If you want to be a pet writer, creating blog posts is highly versatile, and it can show a pet business owner your quality of writing. They may hire you for their email campaigns instead of their blog. That's fine! Take what you can get.
For more writing sample help, check out this post on 2 ways to create a freelance writing sample.
4. Display Your Work on a Writing Portfolio
If you're looking for online jobs, then you need to be online!
Having a home like your writer website shows you are a professional and not a hobby writer.
So, to get paid to write, consider a writer website. It's more work than using a portfolio site, but it's worth it in the end.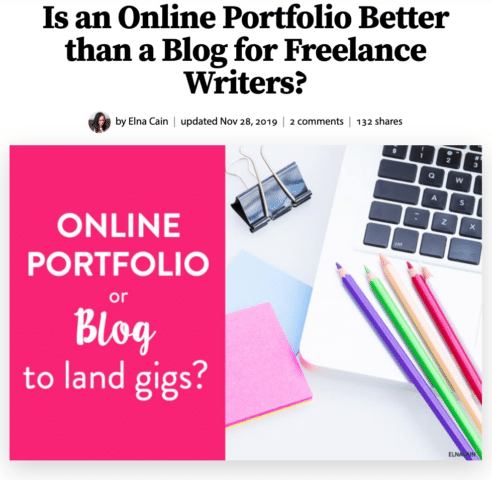 In my post above, I question whether a blog or an online portfolio is best for gaining writing jobs.
The answer – a dedicated writer website will help you make a living as a writer because it signals a legit writing business.
5. Create a Writing Pitch that Converts
This freelance writing tip might be hard for many.
Talking about yourself is hard for many of us. It is for me!
What I try to do when writing a pitch is to think about the business hiring writers. What do they want? Why are they hiring a writer? How can my writing help them?
If I start framing my pitch for them, it becomes much easier to write a pitch that converts.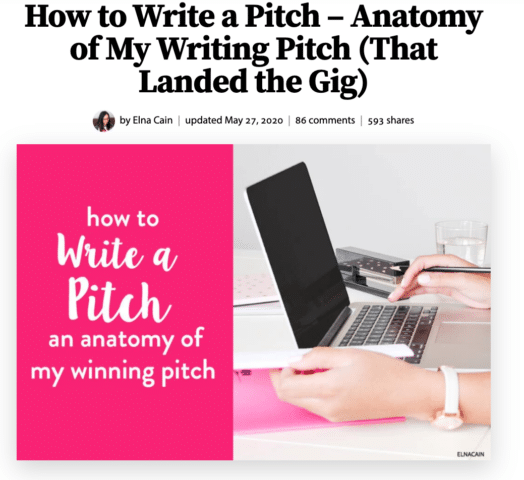 The thing to remember is to introduce yourself as the writer for them. If you have never been paid for your writing, don't mention that in your writing pitch!
Never mention that you're new to all of this. I made that mistake early on, and it didn't help me one bit in landing freelance writing jobs.
6. Find Freelance Writing Jobs
It's time to get paid for your writing! How do we do this?
Where do we find freelance writing jobs and not scams?
For new freelance writers, I always suggest job boards. Job boards can be hit or miss, but you just need to read each job ad and make sure it sounds legit. If it's too good to be true, it probably is.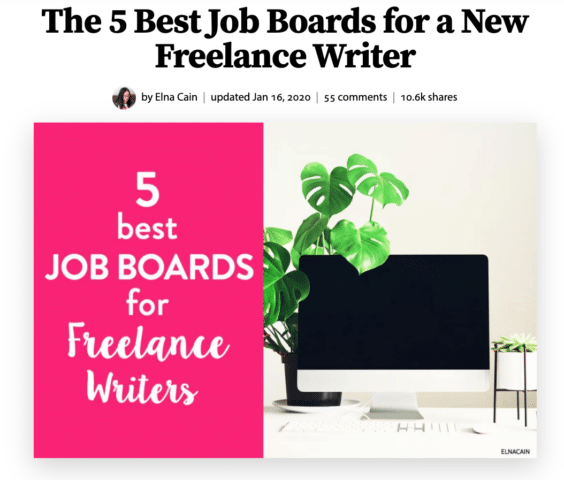 You might read that those job ads specify 3-5 years as a freelance writer. Who cares?! I mean really, you've been writing since you were three years old I bet. Sometimes you have to fake it until you make it.
In all honesty, are these owners going to hire the writer with three samples in their exact niche they need, or a writer that has 3-5 years writing for a company but has no online presence or no writing samples online?
I would choose the one with a portfolio filled with the content I want on my blog!
How else can you find freelance writing jobs?
You can cold pitch. Cold pitching means you find businesses that aren't actively seeking content writers and pitch them your service (or introduce yourself).
Many of my students in Write Your Way to Your First $1k, found cold pitching to be highly successful!
Can you find other writing jobs? Yes!
7. Set Your Freelance Writing Rate
Don't forget to decide on your freelance writing rate. For many of us, this is subjective and based on your comfort and where you live.
While there are rates for certain writing pieces – check out the Writer's Market for 2023 – for new freelance writers, I suggest you set your rate to $.10/word.
You can go up from there quite easily.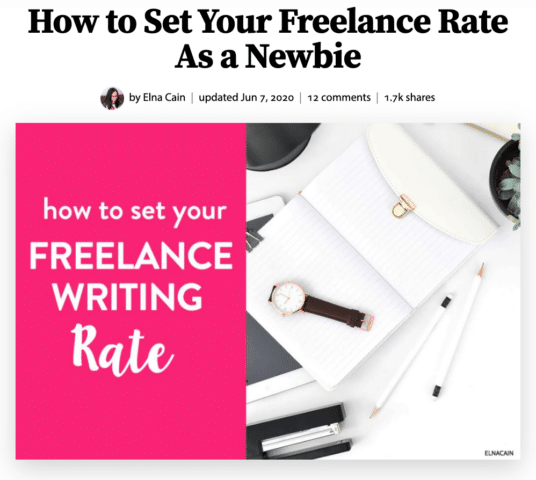 Some leads may negotiate a lower rate. If this happens, you have two choices – take it because they are more valuable in the long run with networking opportunities and more gigs or move on for better-paying gigs.
Look – I often take freelance writing jobs below my rate because I know that the relationship with this company or brand will help me make a ton more money down the road with networking opportunities or more writing gigs.
The goal is to keep increasing your rate so that you don't feel like you're hustling for nothing!
8. Write that Post
Your first client wants you to write an 800-word blog post. Easy peasy!
But what if you've never written a blog post before? That's okay. Writing online isn't like what you see in a book or newspaper. The thing to remember is to have a writing flow and to avoid writer's block whenever you can!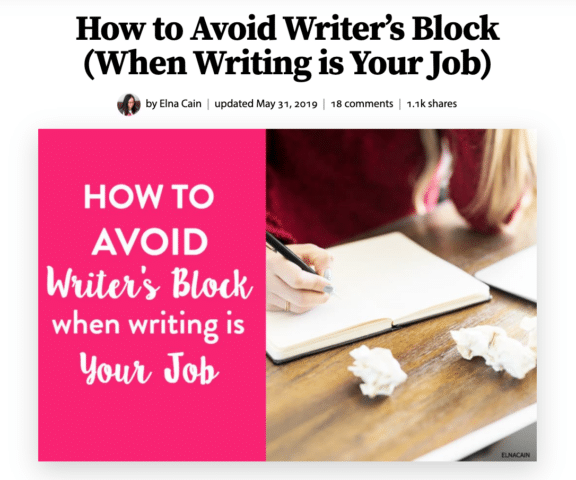 Whenever I get writer's block, I need to take a break, listen to music and get in the groove. Usually, writer's block happens to me if I have hand pain or stress in my life.
Having a dance party with my twins and taking a walk and a break from writing helps me overcome my writer's block. Sometimes your very first piece will be a challenge because you have no idea what to write – that's writer's block!
Create an outline and do some research about the topic you are assigned to write.
So, if my new pet client wants me to write a post on puppy-proofing my house, I will search that in Google.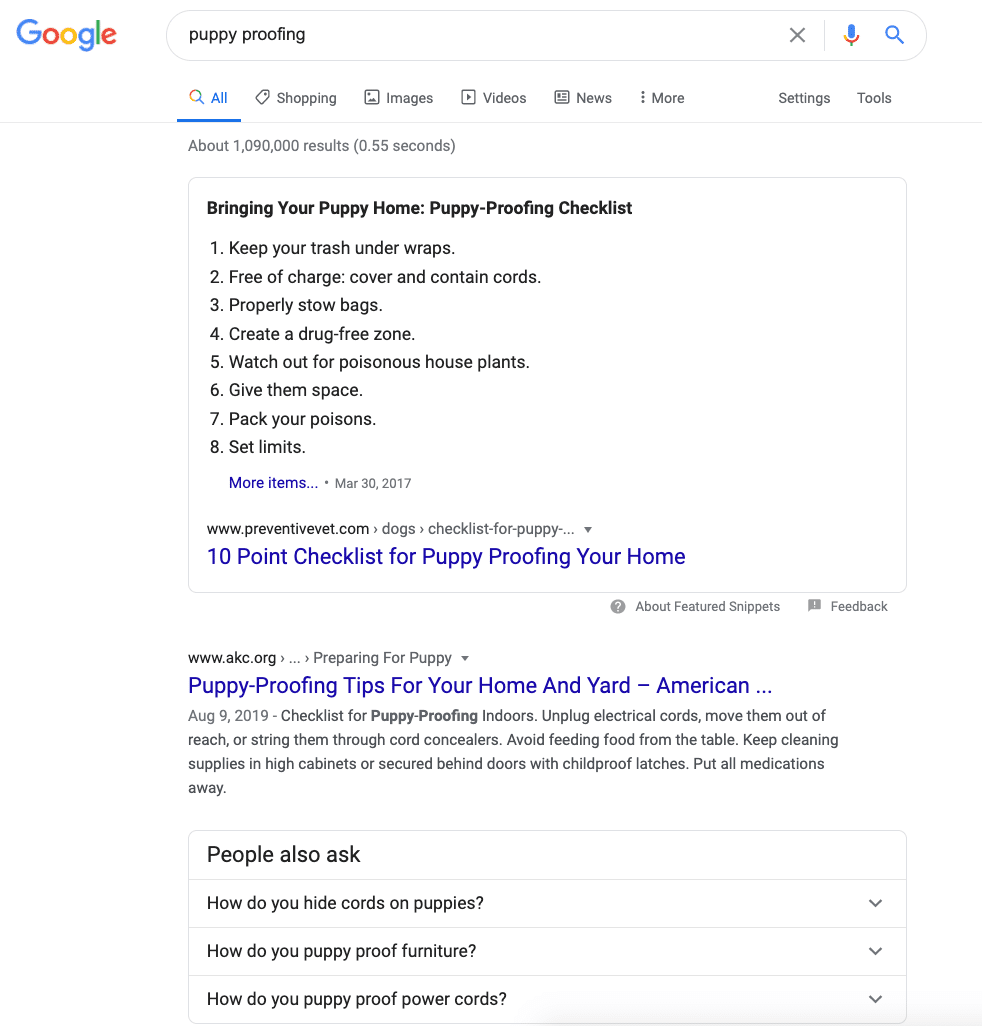 Google gives you the top results about that topic and what people are asking about that topic. This is amazing!
Now you can see the most pressing problem for this post – keeping your power cords and furniture away from new puppies.
Your blog post can now have subheadings around that topic. Go on and keep searching Google for other posts and see what they say, and from there, you can decide what angle to write your post!
You're on your way to getting paid!
When your blog post is finished, proofread it, edit it, and submit it to your client.
9. Keep Hustling!
Just because you secured one client doesn't mean you're all done! You can't make a living by having one freelance writing job.
You need to keep hustling to land work. Over time businesses will seek you out – Write Your Way to Your First $1k teaches you all this since I don't have time to keep on pitching with twins to take care of! – so you don't have to keep pitching.
Is it Harder to Begin Freelance Writing During a Pandemic?
You might be wondering if you can even land writing jobs during COVID-19.
Depending on the writing niche you choose, you can have great success with landing freelance writing work. I get leads in my inbox daily for writers that I can't take because my content schedule is full.
So, do you know what I do? I share them with my Writeto1k students!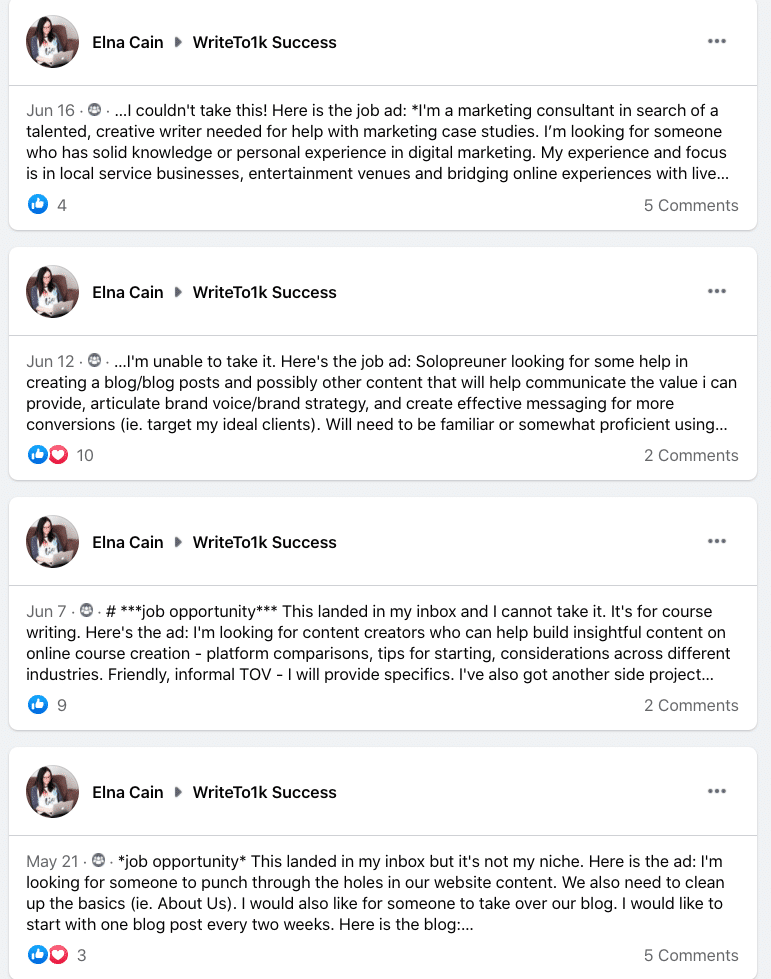 Many of these online job ads need qualified writers, and by the time you finish my course, you'll have the confidence to pitch to a course writing job ad or a digital marketing job ad or website copy job ads!
If you need more help, check out my video on what to do RIGHT NOW as a new freelance writer.
Over to You
It's your turn!
Share in the comments if you're new to freelance writing and what you hope to accomplish now that you might be forced to work from home or do remote work! I want to hear your stories!