Feel stuck?
Have no idea what the first step to freelance writing is?
You want to be a freelance writer, but with all the blog posts or videos out there, you are suddenly overwhelmed. There's just too much information.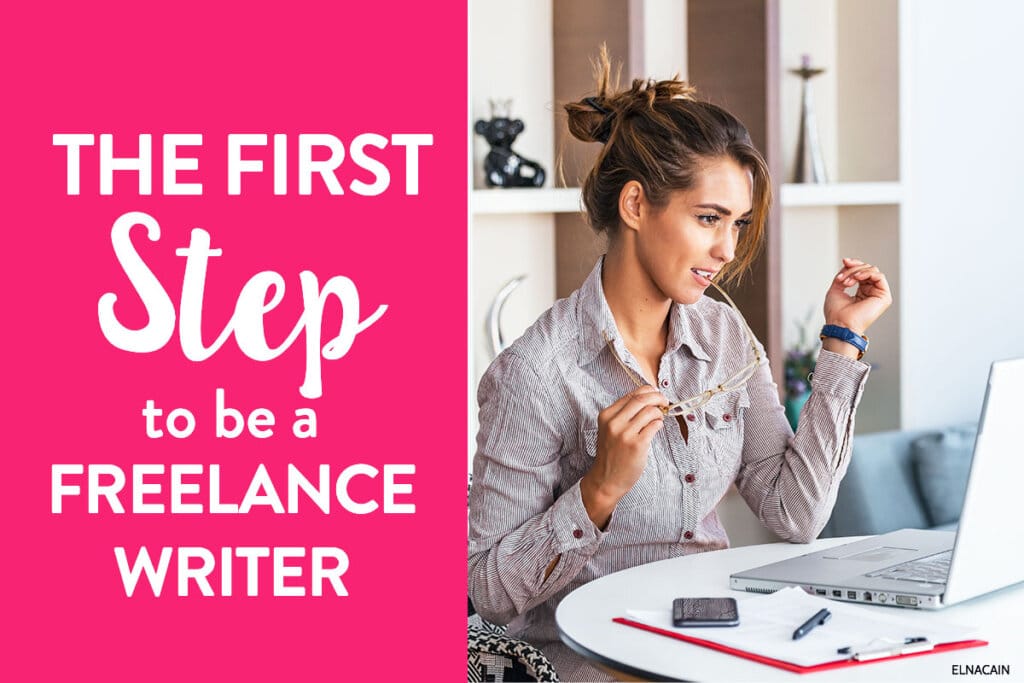 I should know – I've written a lot of that type of freelance writing information for people like you who want to work from home and be a writer.
It is a lot, but I thought for this post, I would strip it down to the absolute basic step to begin freelance writing.
By focussing on one thing, you'll land writing jobs quicker and be confident in how you present yourself to potential clients.
Because I want this whole start as a freelance writer journey to be easy for you because I've made far too many mistakes when I first started, lost confidence in the beginning and almost gave up my dream to work from home.
Being a freelance writer means more than just writing for blogs, magazines, publications or brands. It's handling an entire business and your marketing strategy.
But, I'm ahead of myself.
I want this to be easy for you! To be a freelance writer, you only really need to work on one thing….well after you figure out a few other things!
I created a Youtube video on the first thing you need to be a freelance writer. Please subscribe to my channel to get more videos just like this!
In This Video Learn The First Step to Being a Freelance Writer
While the video gives you an overview of the first step, I will go into more detail about each sub-step in this post, so you know exactly how to get started as a freelance writer.
Before You Start Out As a Freelance Writer
There are a few preliminary pre-steps before you start freelance writing.
I want to make sure you have your bases covered. The first thing is having the right mindset.
1. Have the Right Mindset
You'll quickly learn that fear and doubt will take over and knock down what confidence you might have.
This is exactly what happened to me. I had no idea if anyone would like my writing.
But that didn't stop me. I still guest posted and started a blog.
What stopped me was one other person on LinkedIn who commented on my post saying that my writing was junk food writing – that my writing didn't have substance.
I was deflated and wanted to quit right then and there.
I was already struggling with finding high paying freelance writing jobs so there was no point in keeping going, right?
Well, I'm so happy I didn't listen to myself! My husband helped me see that this was just one person and to not care about that one person's comment.
I had to keep going, and I did. I had to develop the right mindset of not quitting and to see this through.
I want you to make the same commitment – give freelance writing at least a year before you decide it's a no go.
Yes, it's a long commitment, but think about it. You're starting a business online. Most new companies give it three years before they pivot or move on.
2. Have a Place to Work
Please, oh please, don't start freelance writing on your couch or your kitchen table.
You need to have proper seating with a proper desk and chair, or else you might run into hand problems.
I suffer from carpal tunnel syndrome and need to sit properly all the time – which I don't always do!
If you don't have a spare room, see if you can have a makeshift desk in your master bedroom or even the living room. In our house, we have a desk and laptop in our living room for a change of scenery, but can be used if I can't work in my office.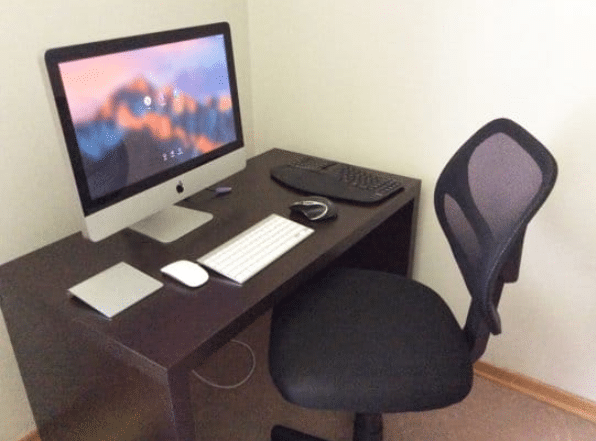 The place you decide to freelance write needs to be free of distraction. While the living room is always busy, when my twins are at school or at the grandparents, I have a few hours to write if I need to.
3. Make Time to Freelance Write
Try to get at least 10 hours a week to freelance write. This isn't a lot per day but it is enough to get started as a freelance writer.
You'll need time for:
4. PayPal Account and Email Address
You want to make money writing, right? To be a legit freelance writer, have a PayPal business account and professional email address.
I would keep your personal email address and anything else like social media profiles separate from your freelance writing business.
So, create a new professional email address and social media profiles for your freelance writing.
5. Writing Apps and Tools
Something to think about is using some writing apps or writing tools to help you with your writing and business.
Many are free to use and can really streamline your business and get everything organized for when you gain a lot of projects and writing jobs.
Okay – we made it through the pre-steps to starting out as a freelance writer.
Now, what is the first step?
The First Step to Being a Freelance Writer
You might think the first step is being able to write well. Do you know what?
You don't have to be the greatest writer to get paid for your writing.
You don't even need to be a journalist or have a degree in creative writing.
Nope!
The first step you should focus on in the beginning as a freelance writer is your writing niche.
That's it. Once you figure out your writing niche, then you can do all the other things to be a freelance writer like setting up your website, pitching and networking.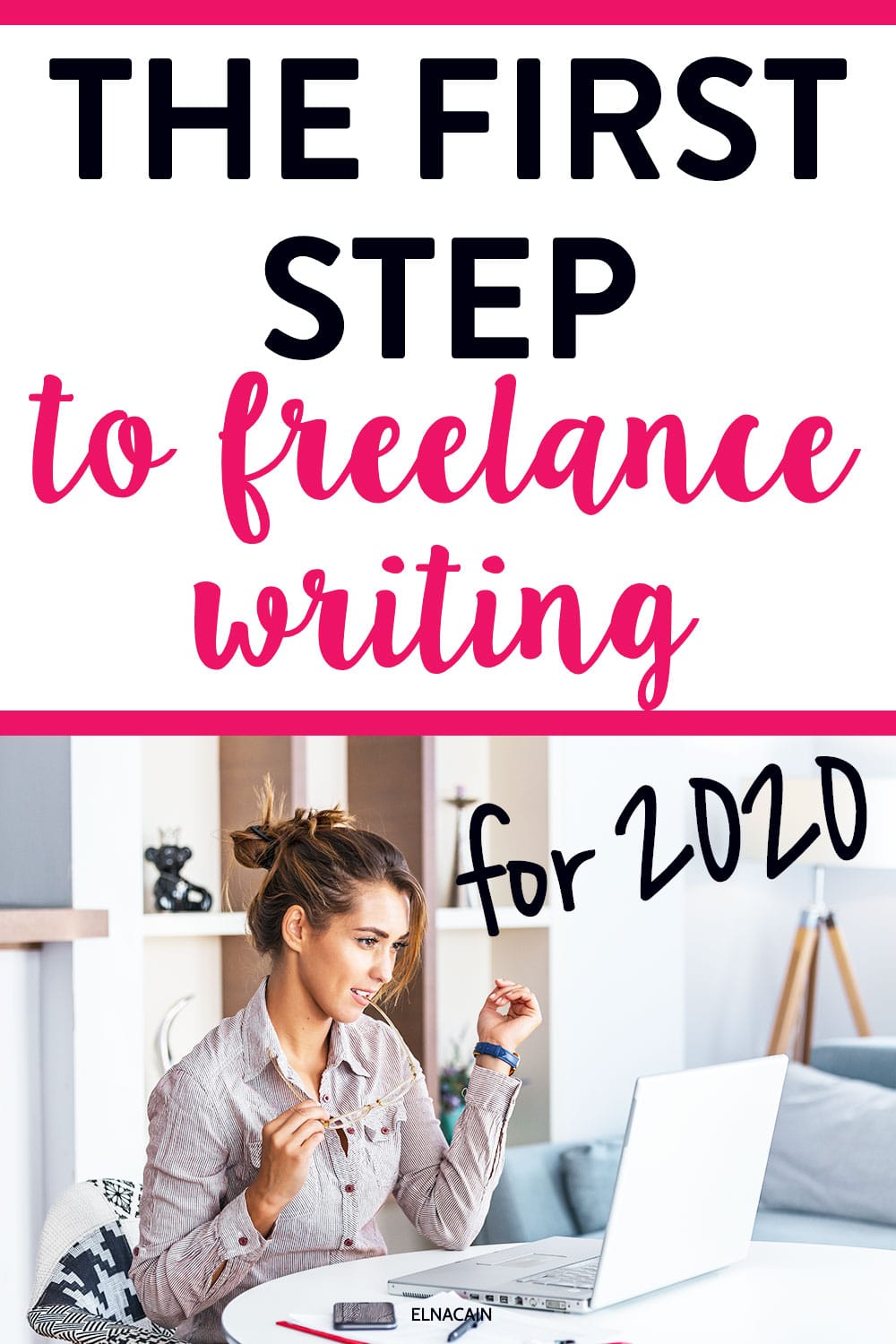 Your Freelance Writing Niche
A freelance writing niche is a topic or service you provide to other businesses. For example, you can be a pet writer for veterinary businesses.
Similarly, you can provide course writing to entrepreneurs who have digital courses.
The first example is a freelance writing topic, and the second example is a service.
Usually, writers choose a topic for their freelance writing niche, and over time, narrow down their service.
This is what I did.
When I first started as a freelance writer, I offered article writing, blog writing, site content as well as social media marketing and eBook cover designs!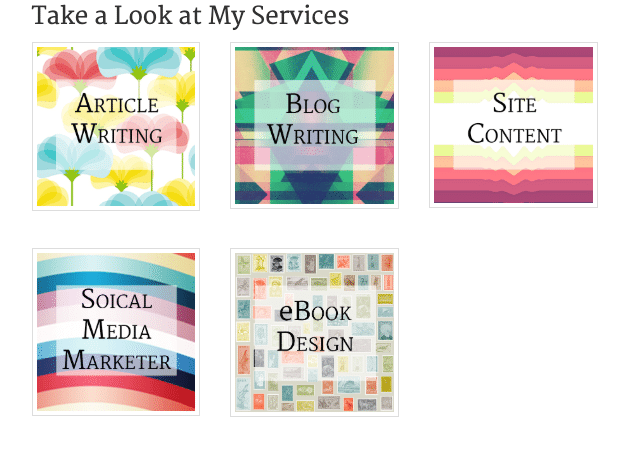 My actual writing niche topics were lifestyle, careers, education, mental health, relationships and more!
As you can see, I offered a lot in the beginning, and it was a challenge to land good freelance writing jobs.
I lucked out early on, however, and landed some writing jobs that helped me figure out my true writing niche – digital marketing blog writing.
This is the only niche I offer, and it has helped me raise my freelance writing rate over the years and has allowed me to command premium rates.
So, how do you find a freelance writing niche? Let's look at this from three perspectives.
1. Be a Freelance Writer By Looking at Work Experience
What's your current job? Many new freelance writers use their current or past work experience as a springboard to start out as a freelance writer.
This is a great strategy because:
You know inside and out the niche topic (ex: nursing, real estate, law, finance, education, etc.)
You have credibility in this niche with having a title
Finding freelance writing jobs is easier since you know your target client
So, let's look at some examples of work experience and how you can leverage this job for your freelance writing business.
Teacher
As a teacher or course instructor at a University, you can write educational content for curriculum courses OR write for an educational tool business OR work for a children's educational product business.
There are many app companies in the educational niche, and if you want, you can branch out to other sub-niches like:
Productivity
Careers
HR
Nootropics (emerging trend)
Customer Service in (Makeup)
If you are in customer service, you can get noticed on Instagram with your beauty tips and connect with makeup brands for content marketing OR find an eco-friendly makeup brand and write for them OR handle emails for a new makeup product.
See if you can use these examples in the industry where you do customer service. How can you leverage social media to be in front of your ideal target client?
Stay at Home Mom
You can definitely use your "job" as "mom" to find freelance writing jobs.
As a freelance writer, you can write for parenting companies OR you can start writing for mom bloggers OR you can write gift guides for big companies like I did.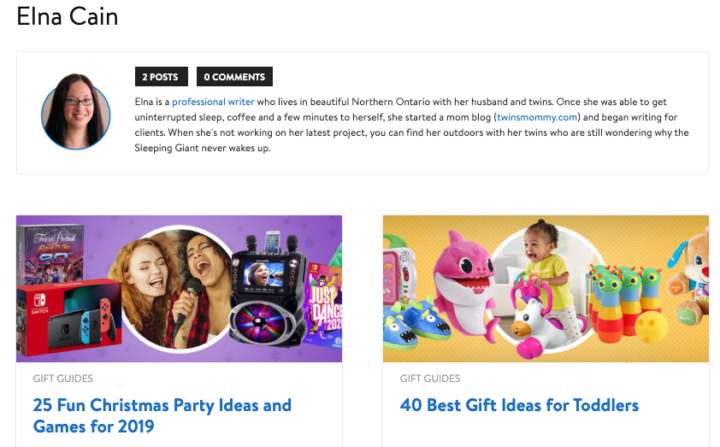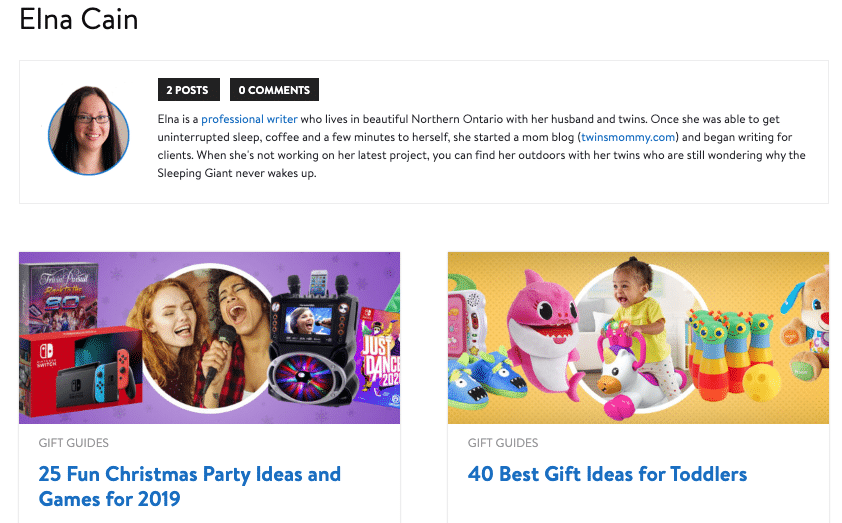 2. Be a Freelance Writer By Looking at Life Experience
Another way to figure out your writing niche is to look at your life experiences. This is a more creative way to find your writing niche as a freelance writer, and for many, this is a perfect way to step away from your current job you dislike to something fun and rewarding.
Let's look at some examples.
Enjoy Camping?
You can write for camping equipment companies OR write for eco activity brands OR outdoor product companies.
Sit down and make a list of different types of camping equipment and brands. From there, you can search on Google to see if there are websites for these products. Then you can see if they have an email list or a blog. If they do, then they need a freelance writer for their content!
Love to Knit?
Love knitting? When I was pregnant, I knitted a lot of baby hats and loved it!

Did you know you can write for yarn companies OR you can write for needlework companies, OR you can write for craft businesses?
If a hobby has products, then surely they have a website and some marketing aspects like an email list or social media presence. These are projects that need writers.
Love to Cook?
The food niche is a huge niche online, and there is a need for good quality writers.
You can write recipes or roundups for magazines like Reader's Digest OR write healthy recipes for health sites OR write cooking curriculum for brands.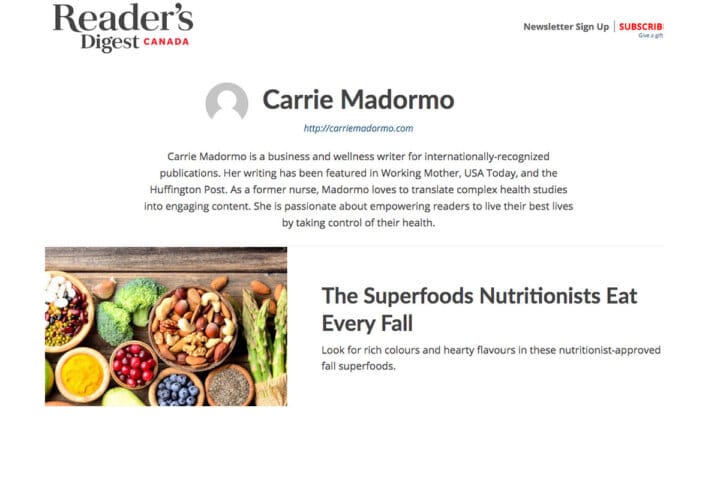 3. Be a Freelance Writer By Looking at What You Want to Learn More About
The last way to figure out your writing niche is my favorite way. I like the idea of your writing niche revealing itself to you during your journey as a freelance writer.
This is what happened to me, and it relieved any anxiety or fear I had when I first started. I just followed my gut during this process, and it proved successful.
While I chose three main topics for my writing niche, I knew I had to learn more about marketing my business as a freelance writer. I had to learn how to use Twitter and LinkedIn.
I had to find ways to get in front of my ideal clients. All of this, I was learning while I was blogging and I found that I actually LOVED learning about digital marketing aspects.
From there, I leaned towards writing in that niche, and I've been a digital marketing writer for several years now! So, if you find you love learning about WordPress or about eco-friendly living, you could use that as your freelance writing niche!
Start Writing Samples as a Freelance Writer
Okay, the first step is finished.
You found a writing niche – or few writing niches – to try out. But, I still want to help you be a legit freelance writer.
And, naturally, the next step is creating writing samples in your niche topic. This is actual proof that you are a real freelance writer!
Writing writing samples doesn't have to be hard. Google is your best friend for this (and social media too).
Let's look at some quick ways you can find topics for your writing sample.
1. Use Google
By far, the easiest is just to run a Google search of your freelance writing niche topic. Let's choose parenting for your niche.
Immediately, Google populates popular parenting searches.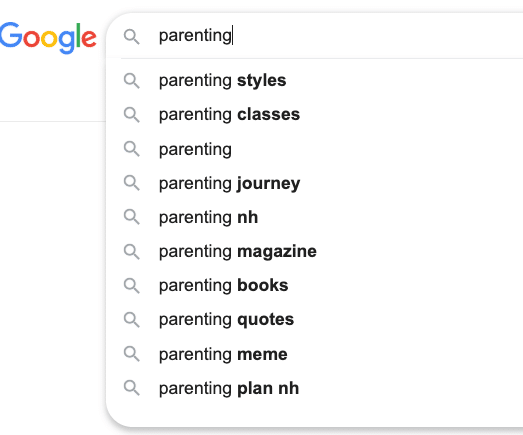 As for writing samples, many of these aren't the best to use, but I do see two that could work – parenting styles and parenting quotes.
Both of these could be a list-based post, or parenting styles can be an overview or breakdown of a few parenting styles.
Some titles for these writing samples might be:
The Parenting Styles To Raise Well Adjusted Children
4 Main Parenting Styles and What They Mean for Your Child
59 Funny Parenting Quotes For the Inner Child
67 Popular Parenting Quotes to Use
As you can see, these aren't "fluff" types of blog posts. As a freelance writer, you need to show your value as a writer, and that means going behind the basic list post or short blog post on a few tips or advice.
Writing samples should be at least 1,000 words to show value.
Since I write long-form blog posts, these blog posts would be over 2,000 words for sure.
If you need help with writing these types of content, check out Freelance Blogging in a Weekend – my premium writing course for more money.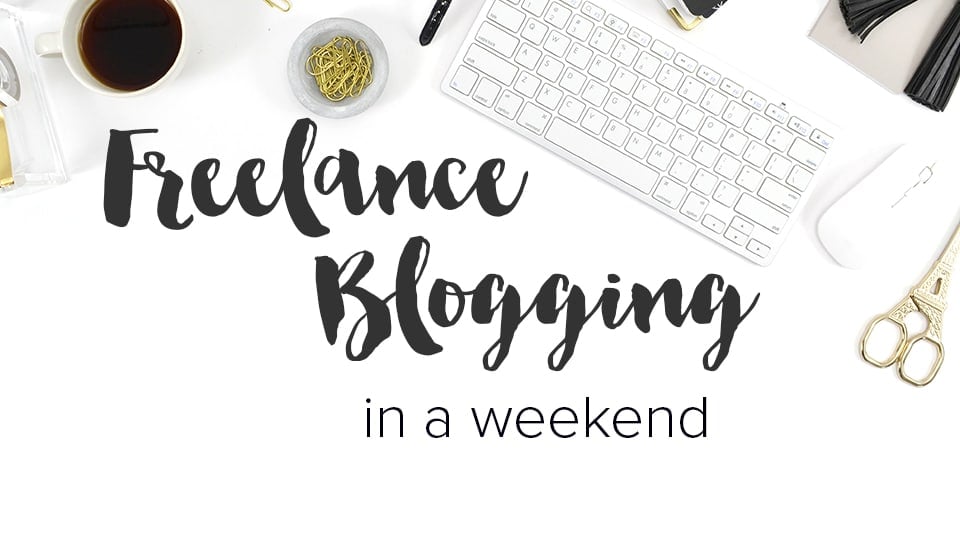 2. Use Answer the Public
Answer the Public is a cool free tool to find out what people are searching for in a particular topic. Going with the parenting topic, maybe you want to know something about saving for baby as new parents.
Answer the Public generates a visual list and a data list.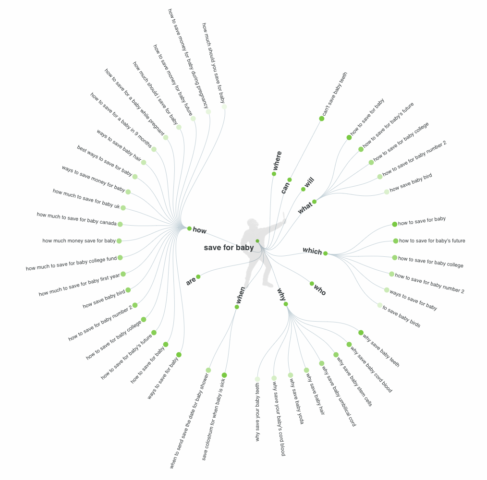 You can see there are many topics around saving for baby, and you can use that to find topics as a freelance writer in the parenting niche.
3. Youtube
A cool way to find writing samples as a freelance writer is to check the popular videos in your writing niche. This can spur some ideas to help you with creating samples.
So, if you know of a Youtuber in the parenting niche, check out their most popular videos and do this for a few Youtubers!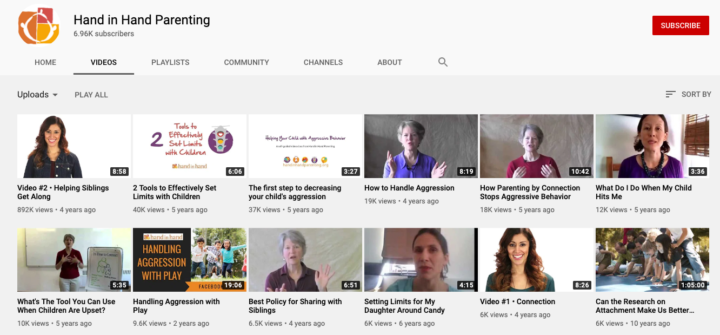 For example, the most popular videos for Hand in Hand Parenting are about:
Having siblings get along
Child aggression
Tools to use when a child is X
Sharing with siblings
Many of these topics are geared towards aggression and handling that in a positive way.
These are great types of writing samples you can write as a freelance writer. Why? Because you can pull from credible sources from doctors, parent coaches and authors.
That shows well in your writing samples!
Common Questions about Freelance Writing
When you start freelance writing, you're going to have a ton of questions. Here are the most common about being a freelance writer.
1. What Does a Freelance Writer Do?
As a freelance writer, you will be responsible for finding freelance writing jobs and delivering your writing to them. As well you are responsible for:
If you need more help, check out my post on 10 Things You Do as a Content Writer.
2. How do Freelance Writers Get Work?
There are many ways to find freelance writing jobs. The best way is to use job boards.
This is how I landed my first freelance writing job. You can also use cold pitching where you find businesses online and pitch them your services.
This has proved to be highly successful for many of my Writeto1k course students.
To help you find work check out these resources:
3. How to Freelance Writers Get Paid?
Most writers get paid using PayPal. So make sure you set up a PayPal business account.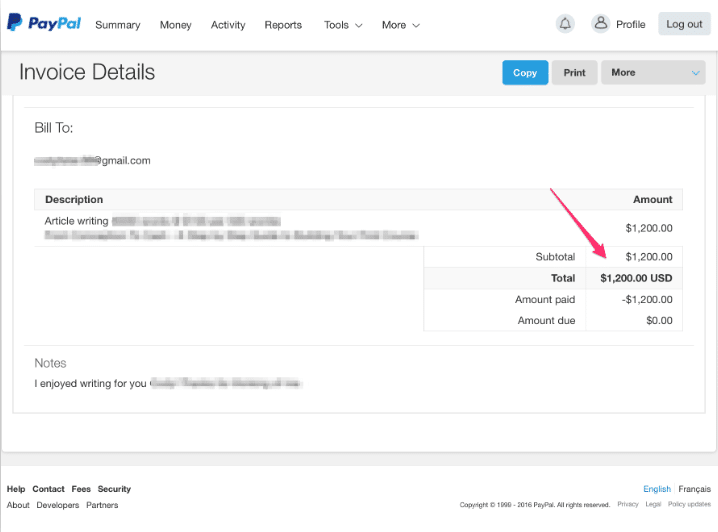 You can use free invoice templates, or you can create your own. I charge per 500 words. Other writers charge per project.
While you can charge per word, I would advise against that. Many clients will start to nitpick your word count, and that isn't fun!
I also wouldn't charge by the hour as this can hurt your productivity and make you less money if you're a fast typer.
The First Step to Freelance Writing
There ya go! You know what the pre-steps are and the first step and even what the next step is to be a freelance writer!
I don't want to make this hard for you, so if you need more help, check out my courses and resources!
Over to you – are you a freelance writer? Did I miss something? Share with me in the comments.
And, please remember to pin me!