Where are all the decent freelance writing jobs?
You've started as a freelance writer, but having no luck finding a client, let alone a good paying freelance writing job.
I get you.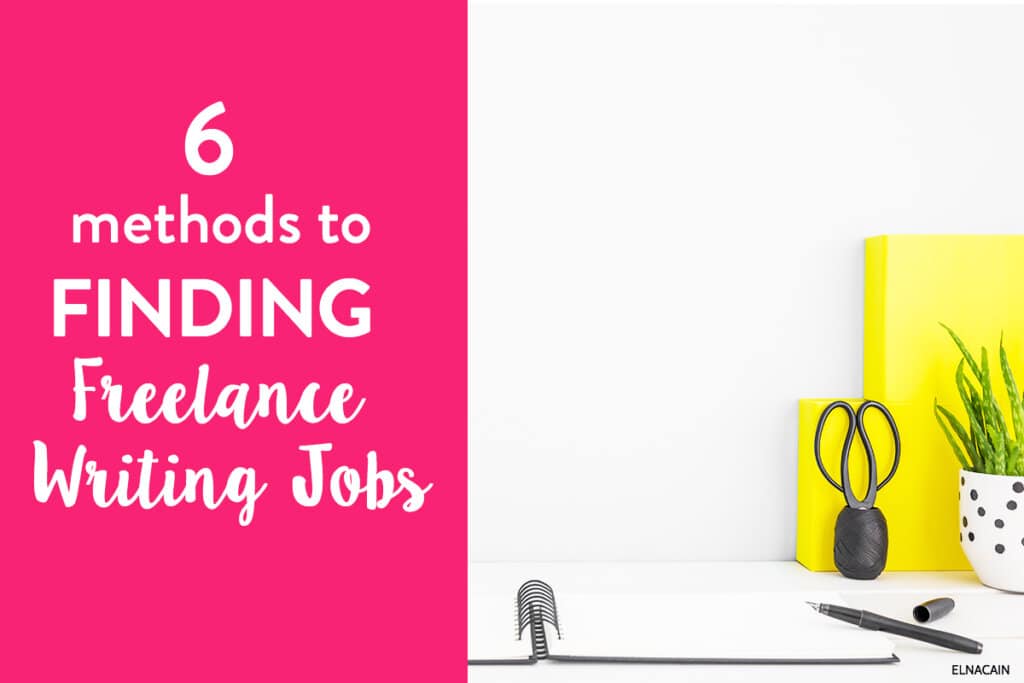 When I first started out, I made pennies. It wasn't until I figured out how to find and attract clients that I was landing gigs that paid $600+ a post or more!
When thinking back to it all, I found these six methods to yield me the greatest amount of work.
If you are trying to find a freelance writing job as a beginner, check out these ways.
1. Use Freelance Writing Job Boards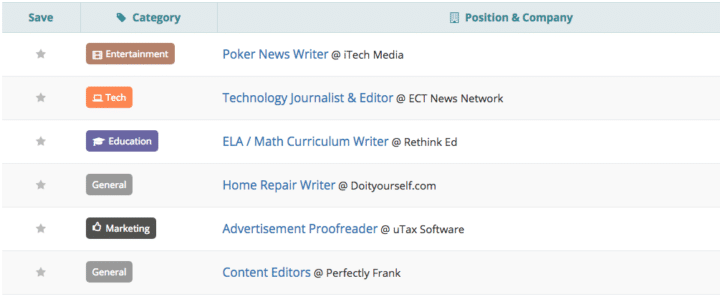 Job boards are an easy way to find freelance writing jobs. But, they may not yield the best jobs. But, you know what? That's ok.
I'd rather take the pressure off myself and land an easy, low-paying gig first to learn the ropes so to speak. Of course, don't take a gig that pays pennies per hour; try to find gigs that are at least $.15/word.
This is what I tell my students in Write Your Way to Your First $1k.
When scoping out a gig, research the company if you can. Get to know their message, brand and content. This can help you with your pitch to make it more customized to that gig.
Also, figure out how much content they need. If the job specified many posts a week or bulk content, then you know the pay will be lousy and the job will take most of your time.
Instead, find a gig that pays okay and doesn't take a lot of time each week. This is the best type of gig to have.
Here's how you can find a job insanely fast!
2. Use Social Media to Your Advantage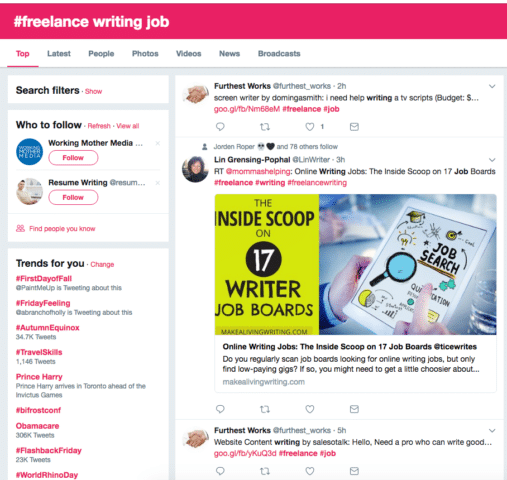 Social media is a goldmine for freelance writers. It can help you find jobs, help you connect with brands you want to write for, network with other freelance writers and attract clients.
It's the perfect and easy way to land ongoing work too!
For me, social media works by attracting clients and connecting with brands.
Attracting Clients
I use Twitter primarily to share my posts, my guest posts, and my client posts.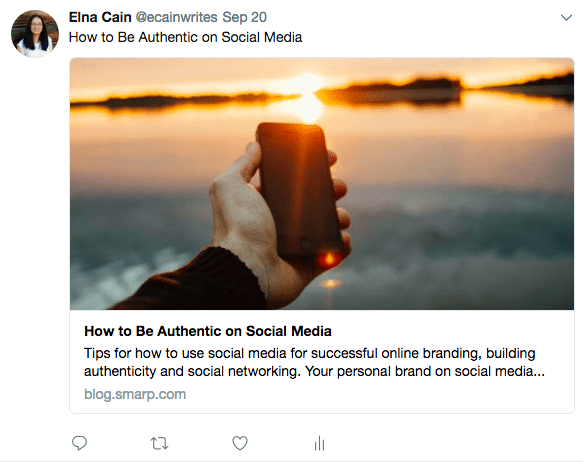 I use LinkedIn to also share my posts, guest posts, and client posts. But LinkedIn also houses my portfolio so if and when clients are interested in my service, they can see where I've been writing.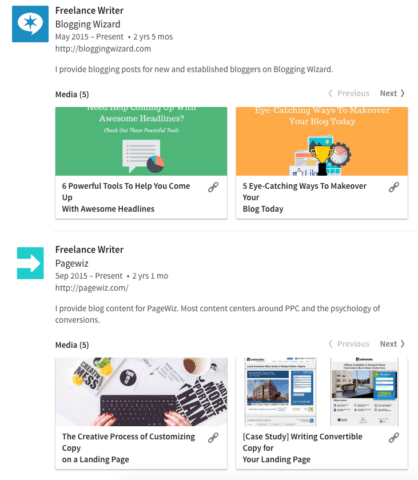 Both of these networks – Twitter and LinkedIn – has given me many gigs for sure!
Some tips to help you land gigs on social media:
Make it clear in your bio description who you are and what you do
Grow your followers by liking or following brands, other writers, and companies/blogs you want to write for
Share other blogger's content, brand content and content you want to write about
Connecting With Brands
If I want to connect with brands, I sometimes write about them in my posts or client posts. When that happens and I share that content, I make sure to "tag" them on social media.
This is usually denoted by "@."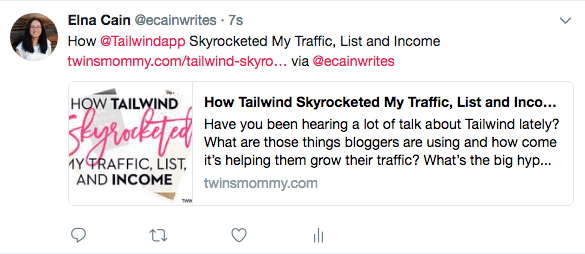 By tagging a brand they get notified and they may RT (retweet) your post or share your post if you shared it on your Facebook page.
When talking about other tools, companies, and products in your posts and then tag them on social media when you share them, you'll get one inch closer to being on their radar.
And to help with that I have a free course on getting paid to write online.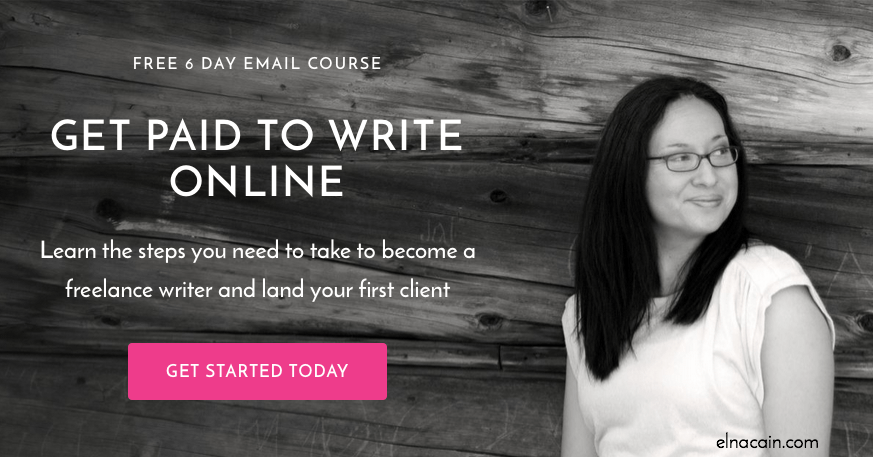 Sign up to my free six-day email course and get even more actionable tips to help you succeed as a freelance writer.
3. Use Cold Pitching
Ahh cold pitching. It's the "new" way to get gigs as a freelance writer. You know what? I don't really use cold pitching that much. I use other strategiest to get gigs, but for a lot of people, cold pitching is their #1 strategy to getting clients.
So, how does this all work?
Step 1: Create a Website
When you pitch a company or prospect, you need to give them a place to find more information about you and your services. The BEST – and my number one way of landing gigs – is to have a dedicated service-based website.
This is your way to promoting who you are and what you write about. It needs to capture a prospect's attention and get them excited to hire you.
As a writer, this should be easier than if you wanted to offer a Pinterest management service. We are equipped with engagement and persuasiveness in our writing capability.
Each page on your site should market your service and tell a prospect your niche.
But, how do you start a website? You need to find a reputable and popular hosting service. For me, that's Bluehost.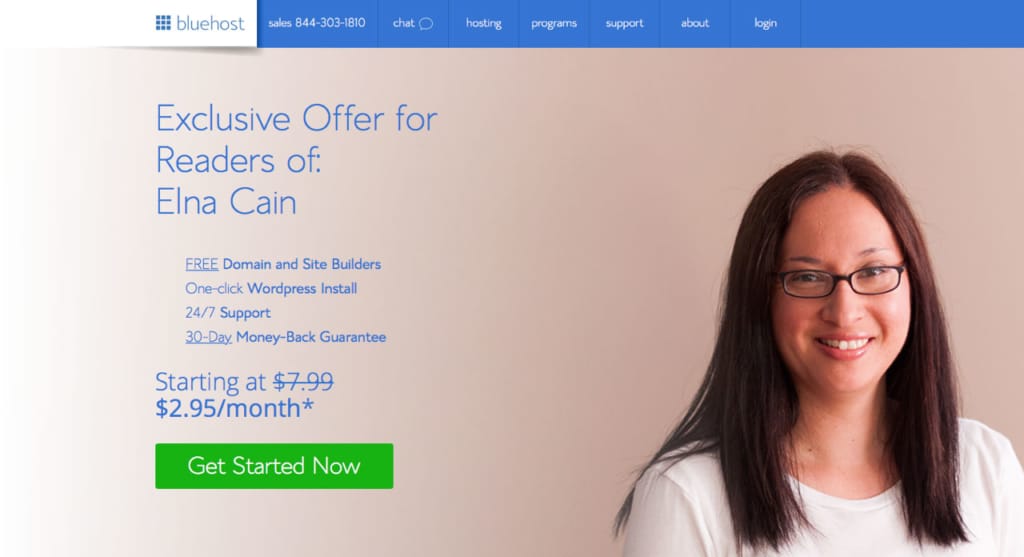 With 24 hour support and the fact that they have 1-click WordPress installation, it's perfect for your new business.
Since you want a service-based website, I highly suggest you take advantage of my exclusive offer of only $2.95/month – and that comes with a free domain! You can't beat that.
For a full tutorial on how to start a blog for your business and a video tutorial, click here!
Step 2: Create a LinkedIn Profile
I've seen a lot of writers be successful with cold pitching on LinkedIn. So, it's best you should focus your social media marketing on LinkedIn for cold pitching.
When setting up your profile, optimize it with keywords in your niche. For example, if you are a parenting writer, some keywords to use in your bio description and title:
Freelance parenting writer for hire
parenting magazine writer
Parenting and family blogs and businesses
Family-centered products
When setting up your resume, share your guest posts in your niche. You can also draft up samples on their publication platform, The Pulse.
Then you want to follow other brands and businesses. This is where you can check out prospects and search their website. Get to know them. You can also check out LinkedIn Jobs to search for companies that are hiring.
When searching, LinkedIn will draw from where you live.
Here are the results for Technical writer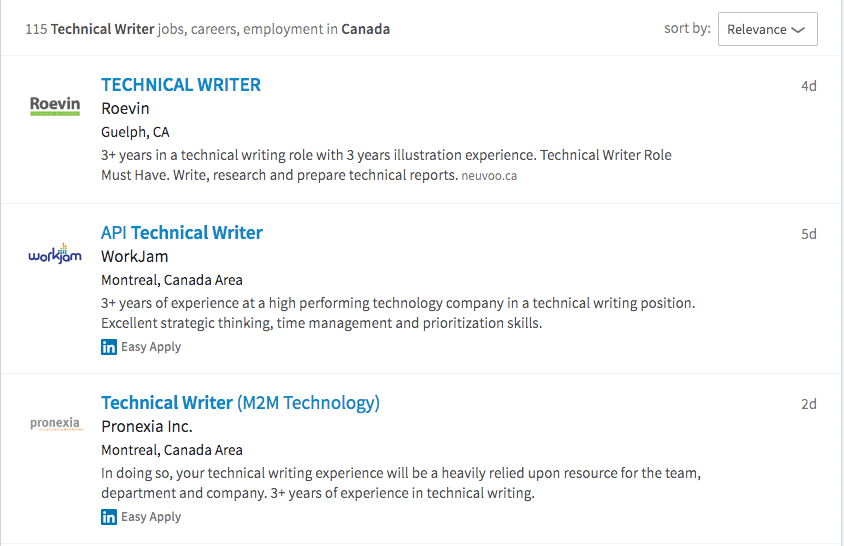 While you can apply within LinkedIn, you can try cold pitching too.
Step 3: Check Out Their Site
Now it's time to check out their site. Get to know their message, their copy and see their blog. The easiest gig to try out for is a blog writing job.
This is the first step for lead generating for a lot of businesses. They need a content to attract clients and you can be their writer. So see if they have a blog and what type of content they have.
Find out who the owner is and who is in charge of editing or content marketing.
Step 4: Time to Pitch
Once you find out where to send your pitch, it's time to draft up your pitch. In your pitch email, you need to introduce yourself first. Let them know who you are. Try not to come off too spammy.
I get emails all the time of SEO experts and graphic designers wanting to apply to their service or tool. I always throw these in the trash as they don't relate to me.
So, do your best of relating your service to their company. Talk about their blog and give some suggestions about what you can do to help them get more clients.
This is what they want to know – how hiring you can help them make more money.
If you can convey that in your pitch, I suspect you'll get a response and a Skype call or interview.
4. Use Your Website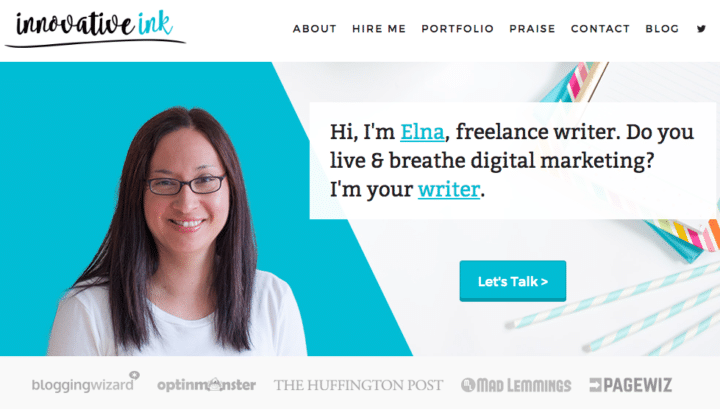 We touched a bit about using your website for cold pitching. I like to use my website to attract prospects. It's my marketing strategy and it's pretty passive. When you have an optimized website you will get inquiries for your service.
What pages do you need?
Services page – this tells visitors what you offer.
About page – this tells visitors about you and how you can help them with their business.
Portfolio page – showcases your best work
Testimonial page (optional) – share praises from others
Contact page – have a page with a way to contact you.
Blog (optional) – you can link to your personal blog or a blog in your niche. For me, I like to this blog on my writer website.
A picture of you! – Put your pretty face on your website! Preferably your homepage! Clients want to work with real people, not content marketplaces.
When your website is set up, you can link to it on your author bio when you guest post or when you have client posts. This is one of the ways I land clients (when they view my guest post or client post and then see my author bio).
My Blogging Wizard author bio has two links: one for my writer website and one for my free course on this blog.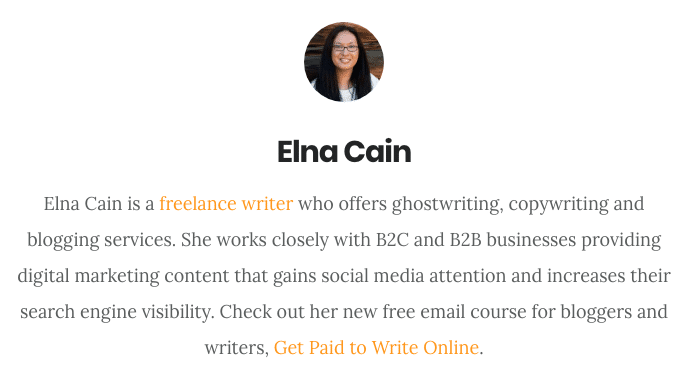 I also link to my website on my Twitter profile and other social media profiles. Let your website work for you by optimizing your website with copywriting. This is writing that's engaging and emotional. It gets in the head of visitors and makes them think, yes! That's it!
If you need help attracting clients with your website, check out this post, 5 Ways to Attract Clients With Your Writer Website.
5. Use Where You Live
For some freelance writers, their first gig happened to be local. Abbi did just that,
I got out the yellow pages and I called every marketing agency and graphic design firm that was listed. When someone answered, I said,

"Hi, do you outsource any of your writing?"

A lot of people said no, and that was the end of the conversation. Some people said they didn't know, and I asked if there was someone I could speak with who might know. Sometimes, they transferred me. Sometimes, they hung up on me. And some people said, "Yes, we do."

"Great!" I'd say. "I'm a freelance writer, and I'm new in town."

And then sometimes we'd have coffee, or sometimes they'd tell me to send an email, and pretty soon, I had a client. And then a second.

I met up with a graphic designer who admired my spunk and offered to build me a website in exchange for a few press releases.
I did the similar thing when I first started as a freelance writer. I contacted my local publishing and website companies and met up with them. Gave them my contact info and service page and I was able to land a couple of gigs. It doesn't hurt to ask and networking with local companies can land you some work later on!
When deciding to go local you do need some marketing materials like:
Here are some suggestions on where to go to pitch your services:
Visit your "business district" in your city.
Check out Yelp for businesses in your area.
Drop off your business card in places you visit like your gym, church or child's school.
Visit publication and printing companies.
Go to your local newspaper.
Go to your local college.
6. Use Networking
You can't be successful as a freelance writer without networking. This is your businesses fuel. It will help you land more gigs and have a sustainable business.
Spend some time, in the beginning, to follow other freelance writers either on Twitter or LinkedIn. Visit their blogs and comment on their posts.
Visit freelance writing blogs like:
You can find new writers to follow and network with.
When you start building a network of other fellow freelance writers, I can betcha that you'll get an email from one of them about taking on a gig that they can't fulfill.
This happens to me all the time – especially in the beginning. So get out there and network!
There Ya Go!
If you use these 6 methods, you should have no problem finding a client! Let me know in the comments which method yields you the highest number of gigs!