The other day I shared an old blog post on this blog to a writer that needed some advice on freelance writing.
I reviewed the post to make sure it answered her question and I was shocked!
My writing was horrible. I cringed at my writing back in the day.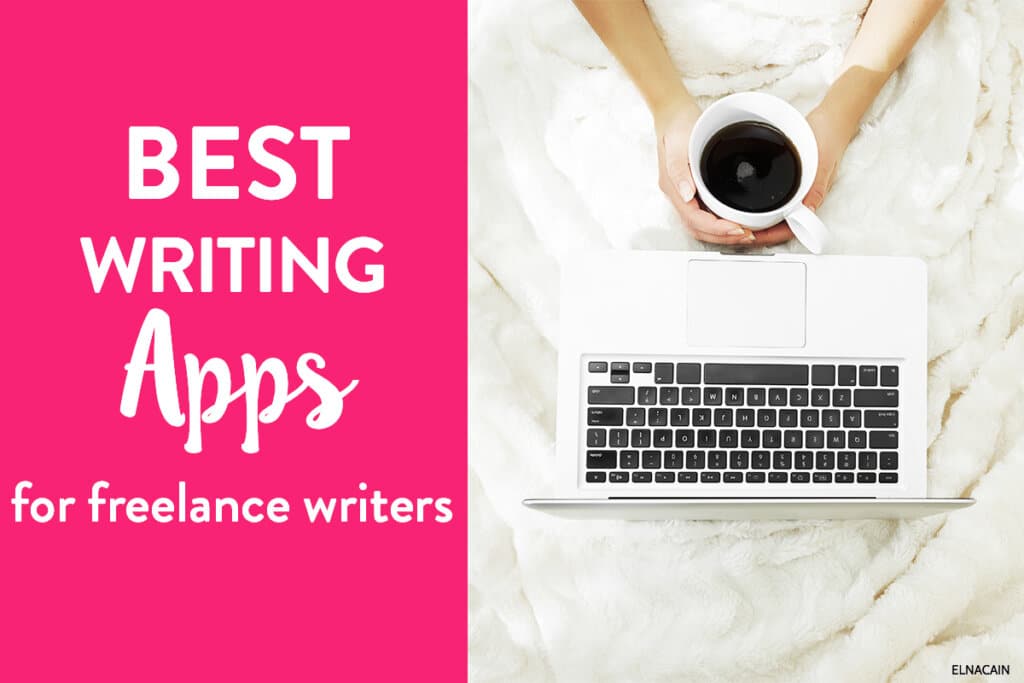 While the post did provide highly actionable tips I could overlook the poor way I structured my writing.
I mentioned this in my private Facebook group for course students, and one writer responded with,
If you cringe at the way you wrote things even 12 months ago, you are growing as a writer.
So, how do you improve your writing skills so that you can make hundreds of dollars per post?
While you can research all day about how to be a better writer, why not use the latest technology to your advantage to become the best freelance writer you can be?
No matter what type of writing you are doing, there are writing apps available to help you up your writing game.
Whether you're writing blog posts for a client or developing characters for your latest novel, these writing apps can help you to improve your writing, stay organized, and be uber-productive.
If you want to be a better writer, check out the list below for the best writing apps for freelance writers.
Writing Apps for Productivity
As a freelance writer, you need to be able to optimize your time in order to get the most bang for your buck. The faster you can write high-quality content, the more you can make.
While you can create a time management plan for yourself when you work from home, one of the easiest ways to get started is to use a writing app.
Here are some of the most popular productivity apps for freelance writers.
Calmly Writer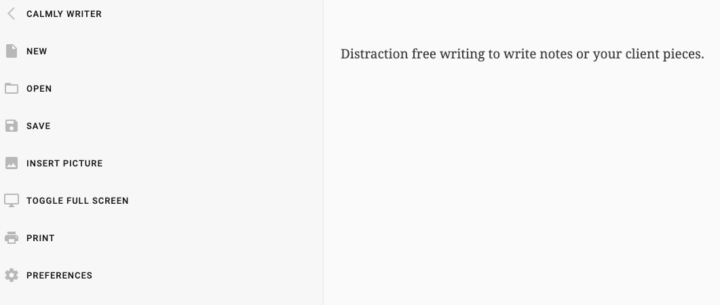 It can be pretty difficult to write to the best of your ability when you are constantly being distracted, and I'm not just talking about by your kids.
The Calmly Writer is a chrome writing app that helps to block out distractions and lets you focus on what's important, your writing.
The Calmly Writer app takes away all the distractions of a traditional word processing app.
It's like writing on a white piece of paper.
There is also a "focus" mode that only shows you the paragraph that you are currently editing. This is great if you are easily distracted and have a tendency to jump around in your writing.
The app also offers a variety of keyboard shortcuts to help make the editing fast and fuss-free.
If you are old-school and prefer to write with a black screen and white text, you can do that too. There is even the option to turn on a type-writer sound if you want to channel your inner Ernest Hemmingway.
ZenPen
ZenPen is another great minimalist writing platform for writers who are easily distracted. When you just need to focus on your writing and block out all those annoying pop-ups, notifications, and all too tempting Google search bar.
ZenPen's writing app also has the ability to perform simple formatting tasks, such as bold, italics, and adding URLs.
You can even add quotes with a few simple keyboard shortcuts.
Rescue Time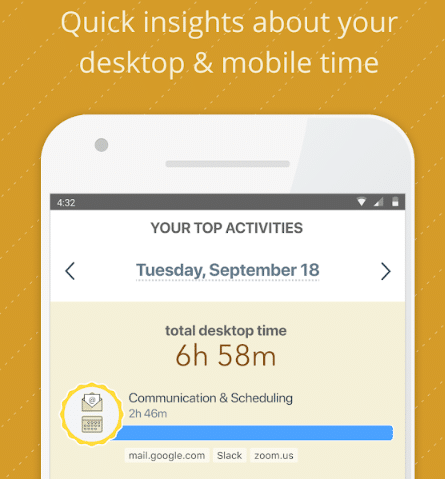 Ever have one of those days where you were busy all day but weren't actually productive? Been there, done that.
If you are having a difficult time staying on task, then Rescue Time will give you a detailed analysis of what you are spending your time on.
You can link up both your phone and your computer to get an in-depth report on the tasks that you are spending your time on. This is great for both new and seasoned freelancers to make sure they are maximizing their time to the best of their abilities.
Rescue Time also allows you to set daily goals for yourself, such as "spend 4 hours per day on client work."
It will send you a notification of your goals and how you are doing on them. There is even the ability to log off-line tasks as well, such as a meeting with a client.
Toggl
There are a ton of different time tracking and invoicing apps out there. Toggl is by far the easiest way to track your time and organize all of your projects.
With a handy chrome extension, you can easily track each project that you are working on without ever having to leave your work platform.
Not only is Toggl a writing app but it's also a convenient time tracking tool. You can also invoice clients directly from the platform. You can track both your billable and non-billable hours that you are spending on projects and get an overview of how much time you are spending on each one of your tasks and projects.
Writing Apps for Creativity and Better Writing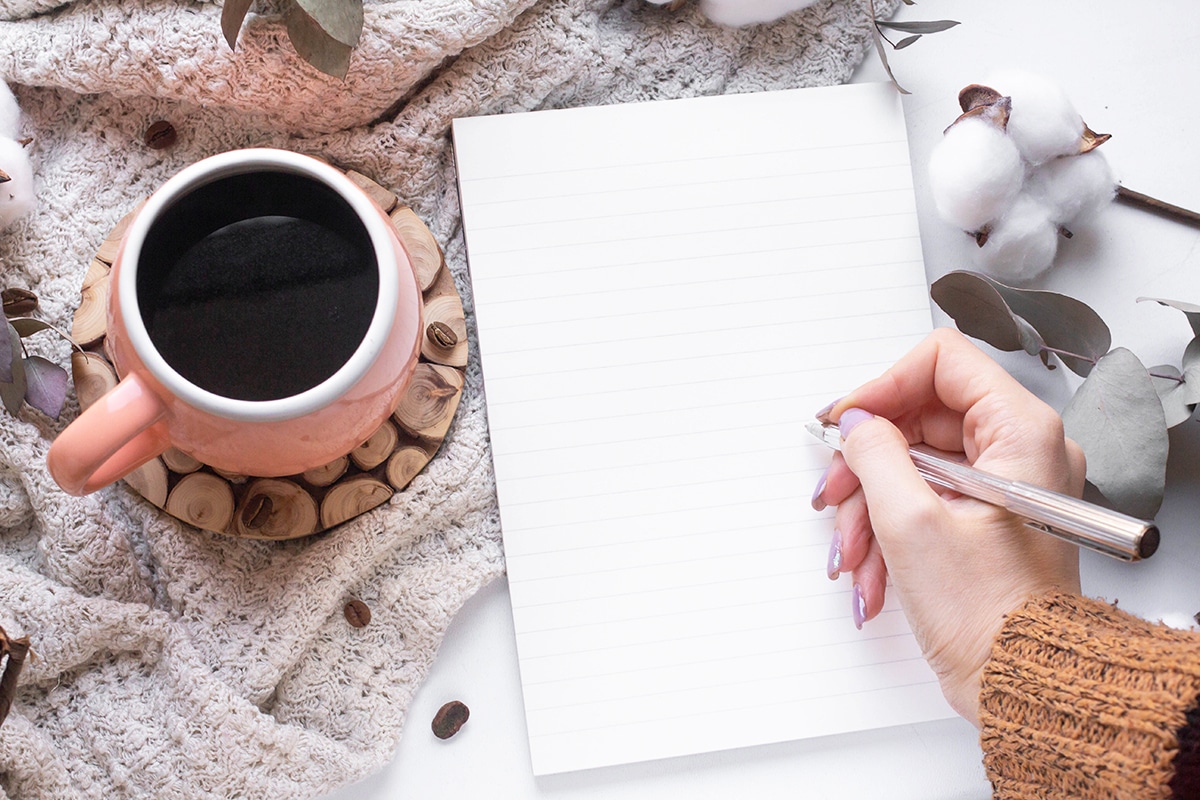 Writing is a muscle that needs to be flexed and worked out just as with any other skill.
As a way to become a better writer, you need to challenge your writing skills and ensure that you are also doing things correctly (like spelling, grammar, and the tone and voice of your writing).
Below are some apps to help you catch those writing mistakes and boost your writer's brain through creative writing exercises.
Grammarly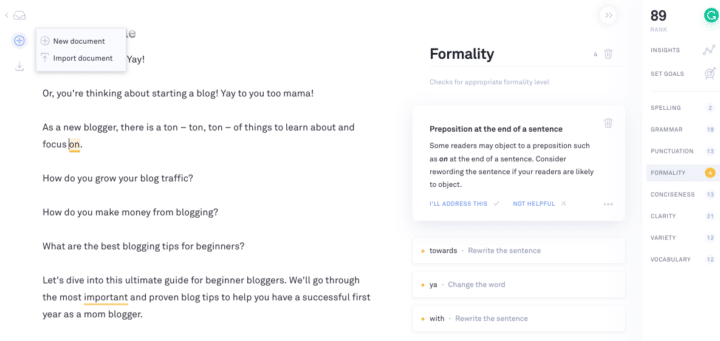 Grammarly is probably one of the most well-known writing apps on the market.
While most writers use it for writing on a computer, there is also a smartphone app available. The Grammarly keyboard app helps to correct your grammar, spelling, and punctuation with anything that you type on your smartphone or computer.
This can be especially helpful if you are writing emails on your phone to catch any silly errors.
I personally use the desktop version of Grammarly for my writing and love it.
I'm not the best writer out there and often make grammar mistakes with my writing. Grammarly is there to help me fix my writing quickly.
*For more information check out my full Grammarly review.
Writing Challenge
A fun and productive app for creative writers, Writing Challenge will have you mastering creative writing in no time. This iOS app is set up to be a fun writing challenge that gives you three steps of creative writing prompts.
Step one: begin the sentence with [sentence].
Step two: add a character that [action].
Step three: add a scene that takes place in a [place].
Each one of the steps has a timer to keep you moving, staying creative and motivated to write. Simply press start and start writing.
Don't worry about grammar, spelling, or proper sentence structure with this app, just worry about the writing and getting that creativity down on your digital paper.
This app is meant to allow you to have fun with your writing and to be able to get in some writing just about anywhere.
Waiting to pick up the kids from school? Sitting at the waiting room in the doctor's office? Spend a few minutes in the Writing Challenge app.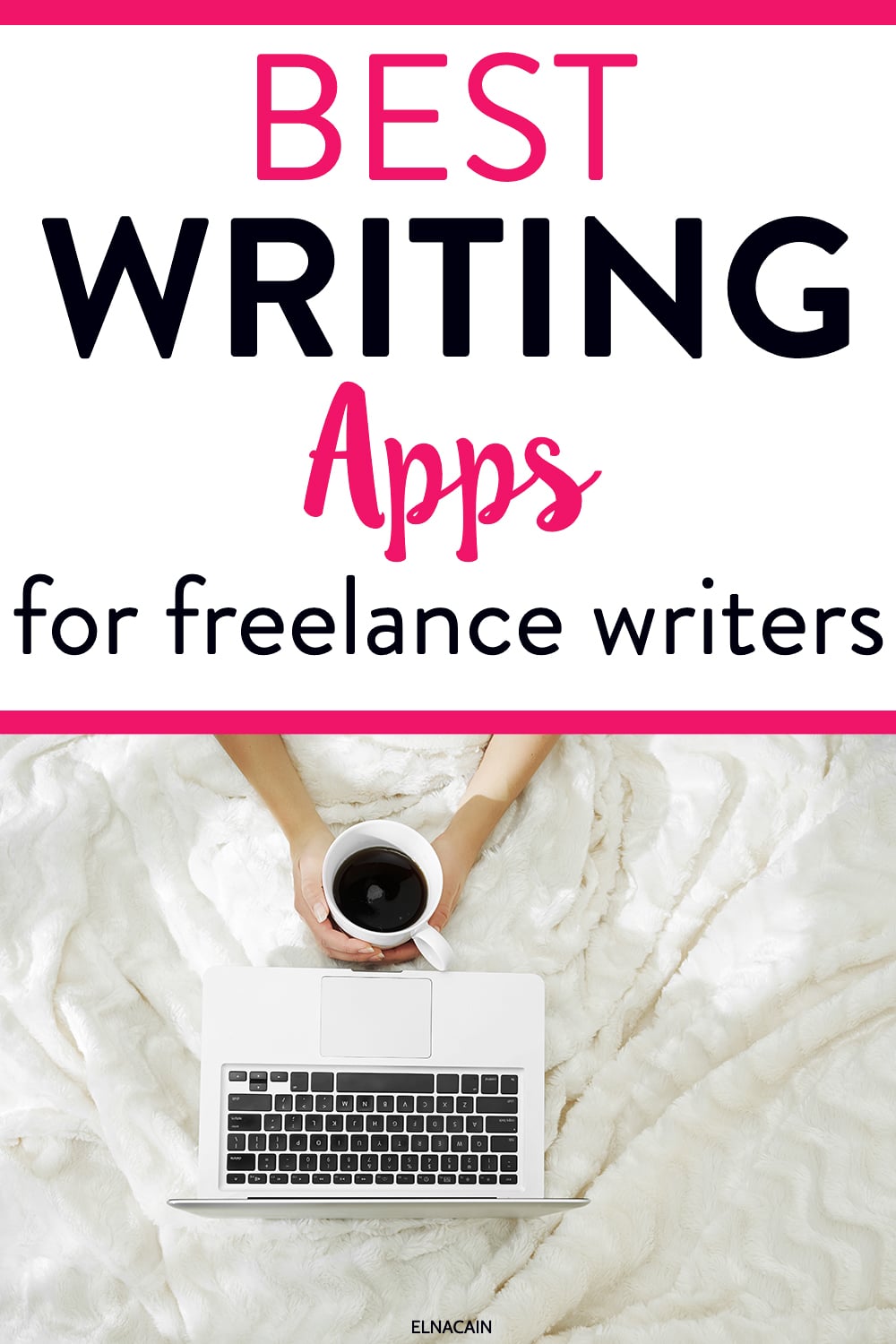 iDeas for Writing
Bust through your writer's block with creative writing prompts from iDeas for Writing.
Similar to the Writing Challenges writing app, this iOS app provides a variety of different writing prompts to get your creative juices flowing.
There are five different writing prompts within the app to help you get started. The creator of first lines, creator or titles, creator of characters, creator or random words, and writing exercises.
These exercises help you to start writing now, build characters, master your writing technique, and give your characters a voice while creating an atmosphere for your stories.
Keep your writing app "notebook" with you at all times so you are never out of luck when inspiration strikes. There is also a section for writing tips to provide advice on your daily writing.
Lists for Writers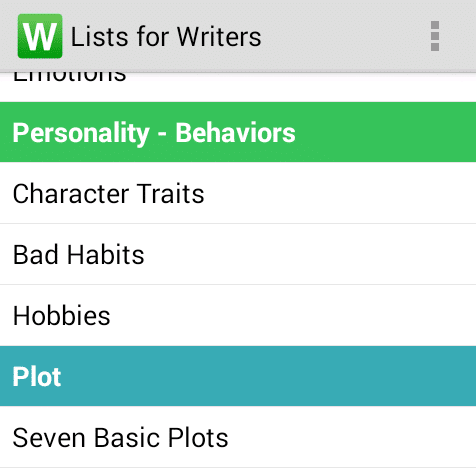 For those that are creative writers, Lists for Writers is a great app to help you come up with just about anything you would need to add to your writing. From character names, physical descriptions, to geographical settings, you will never run out of ideas to add to your stories.
Squibler
Squibler is a fun writing prompt app to help you get your creativity flowing.
As a writer, you need to be flexing your creative muscles daily to improve your skills. Squibler helps you by providing writing prompts.
For example, "it was the trip of a lifetime, yet…"
You can set your writing time from anywhere between three and 60 minutes. There is even a hardcore mode that blurs out your writing so you don't have to worry about fixing your spelling mistakes and you can just focus on the writing.
Scrivener
Scrivener is especially helpful for writing longer documents, such as ebooks or manuscripts.
You don't have to worry about finding the right spot when an idea strikes, you can write it down and go back and organize it later. Want to switch chapters around?
Don't worry about copy and pasting pages of text, just drag and drop the chapter into the section you want to move it to.
You can easily add Scrivener's writing app to all of your devices and write wherever and whenever you want. You don't have to worry about having your ideas all over the place, you can organize your research, images, and videos all in one place within your document.
Writing Apps for Organizing Your Projects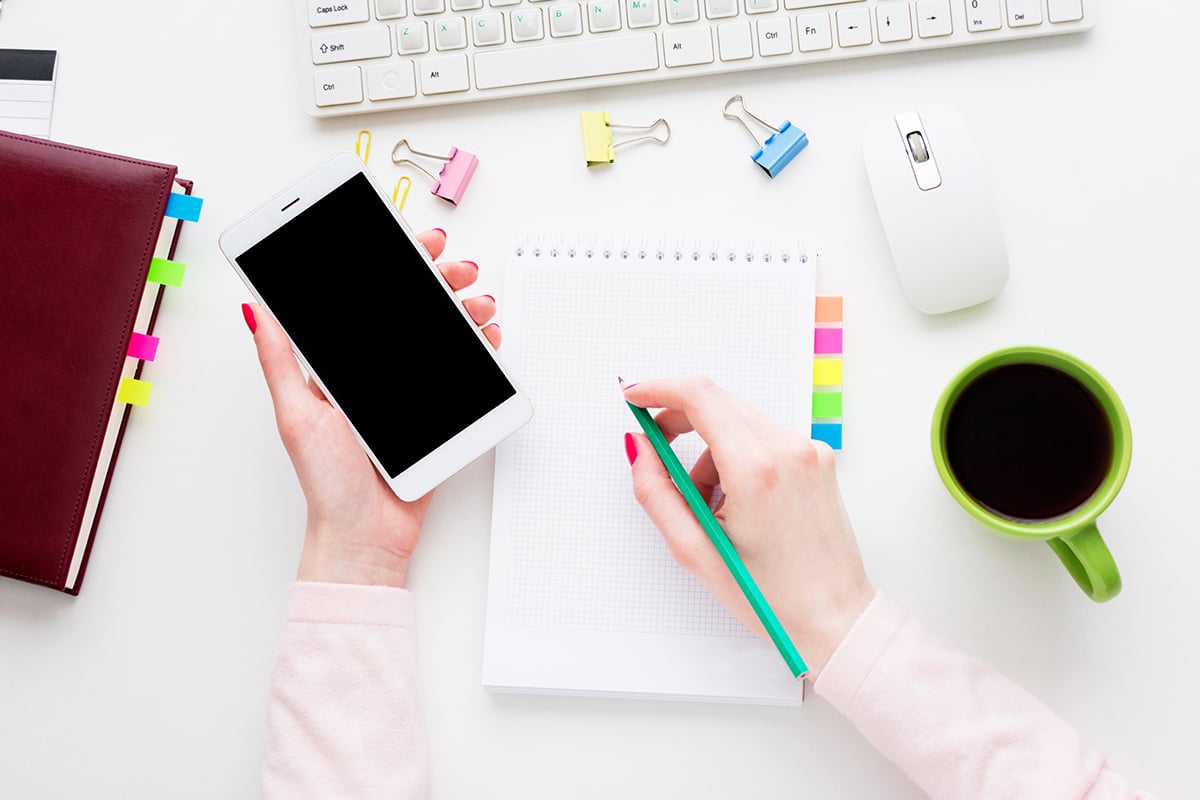 Being an organized freelancer is paramount to your success. The apps below will help you to keep all of your deadlines and notes where you need them for easy access.
Trello
Trello is one of the simplest to use project management tools and is a writing app. It is comprised of cards, which you can easily organize by dragging and dropping into place. Organize your client projects using categories like pitches, in production, completed, awaiting payment, and so on.
You can easily link documents, images, and add deadline dates to your projects.
You can even share your Trello boards to a calendar so you never have to worry about missing a deadline.
Evernote
Do you ever notice that some of your best ideas tend to come when you are away from your computer? Evernote is a great writing app that helps you to organize all of your thoughts and ideas in one central location that you can easily access from any device.
From saving articles, jotting down quick notes, and saving images to use in documents later; Evernote is your go-to organizational app for whenever inspiration strikes.
Best Writing Apps for Writers
There ya go!
Twelve best writing apps to help you become a better writer.
While I'm pretty low-key with my writing, I do use Grammarly and at times, Evernote and Trello (if I have many projects at hand).
Tell me in the comments what writing app you like to use to help you with your writing or for client pieces!
Remember to pin me!