Content writer jobs are everywhere, but you would never know that, right?
Because all you find is…nothing…no blogs wanting freelance writers or no sites that advertise writing jobs for you.
How can you start freelance writing when content writing jobs are nowhere to be found?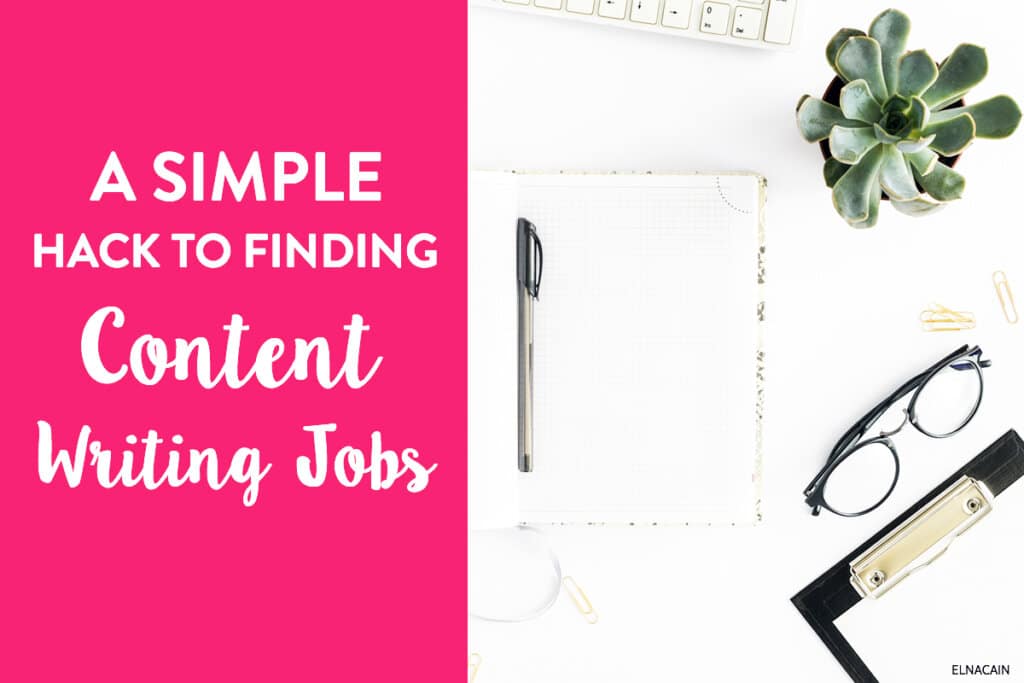 Can I share a secret with you?
There's a much simpler and easier way to find writing jobs online. And, believe me, once you learn this simple hack for finding freelance jobs, you won't have any shortage of work.
So, what is it?
Its cold pitching…with a twist.
Cold pitching involves you actively seeking blogs and business that may or may not be looking for a content writer and pitching your services to them.
This might seem overwhelming and fearful, but the way I will share with you is harmless and even a tad fun!
So, let me show you!
If you don't have time to read the post, make sure to check out my video and subscribe to my YouTube channel!
Check Out My Video on Content Writer Jobs
Content Writing Jobs Hack
As a freelance writer there are several different types of writing you can do. Some writing jobs are more profitable than others. Similarly, the type of client you have can have a huge impact on your income potential.
Writing for huge brands means you can charge premium rates than if you took a gig for a blogger.
But, I don't want you to knock writing for bloggers.
In fact, this hack for finding content writing jobs involves only looking at bloggers with more than one blog.
The more blogs a blogger owns, the more content they need to write. It only makes sense that over time, these bloggers will outsource their writing work to content writers.
You can be that content writer!
So, how do you find bloggers with more than one blog?
1. Search Pinterest
Pinterest is a visual search engine and it's a great platform to search for new blogs to check out.
Go to Pinterest and search for "income report."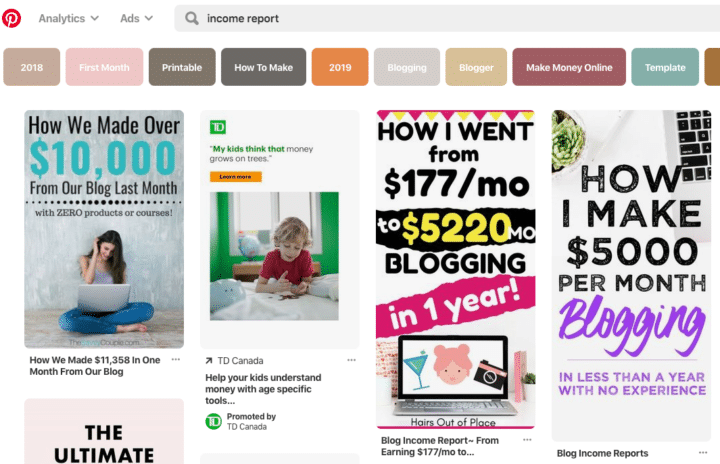 You will see many pins stating how much money a blogger earned in a particular month.
Visit these income reports and read them.
See their expenses and whether they outsource tasks like writing or copywriting.
The income reports might also tell you what their plan is for the next month or next quarter.
For example, this blogger shared that they are interested in hiring a freelance writer for their other blog.

If you see something like this, you can contact the blogger, mention you are a reader of their blog and love what they are doing and inquire about writing for their other blogs.
Blogging content writing jobs aren't that profitable, but you can earn at least $50 a post and this can help build your portfolio instead of guest posting for free.
What if a blogger doesn't share that they are seeking a writer?
For example, Caroline is a parenting blogger, but she has a blog about blogging and shared her income reports.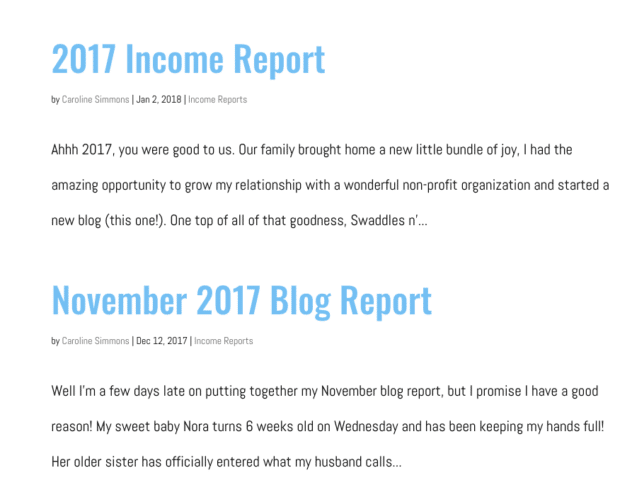 These reports are old and doesn't mention if she hires writers.
What you can do is visit the blog she's talking about (her other site) and look at the content. Is the content sparse? Is it updated? How far apart are each blog posts? 1 week apart? 1 month apart?
This can tell you if this blogger is struggling with keeping up an editorial calendar for their second blog.
2. Use Google
If Pinterest isn't your thing, then feel free to use Google.
You can Google, "income report" and get roundups of income reports.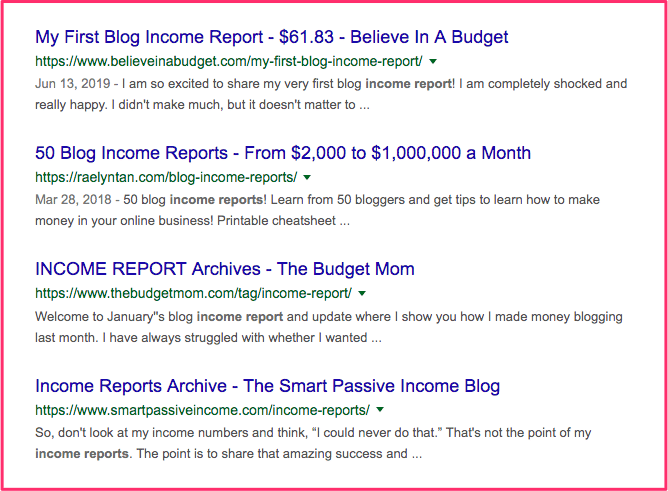 Clicking on the second results gave me 50 income reports from 50 sites.
I can use this resource to find several sites and check to see if they have more than one blog and cold pitch them my services.
Make sure to avoid pitching to blogs that make A LOT of money (1 million dollars).
These blogs probably have a team in place with content writers and VA's and SEO experts.
I would focus on the smaller income blogs because they are still in the growing phase of their blogging journey.
3. Reach Out to Solopreneurs
I've stated that this cold pitching idea is mostly for bloggers that have more than one blog.
But, you can also try out solopreneurs that have a very small business – team under 10 people.
Many of these bloggers put out income reports and you can visit them to see about content writing jobs.
Miranda is a VA and she has a systematic marketing service for female service providers.
She stated in her income report that she hires 3 copywriters. Once you know this, you can follow Miranda and sign up to her email list.
She may alert her list that she's looking for a new copywriter and, if you're on her list, you can reach out to her easily!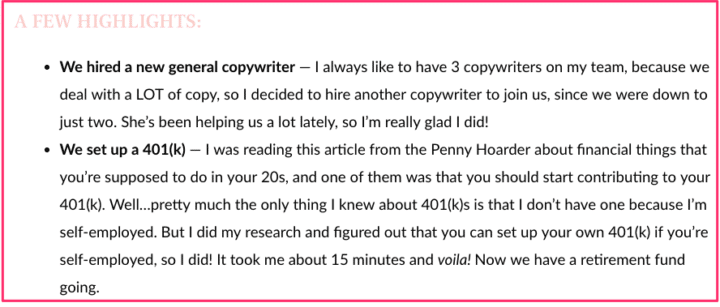 4. Search Blogs in Your Niche
Finally, you can search for blogs in your niche that make money.
For example, if I Google, "mom blogs that make money" my Twins Mommy post is the #1 search result.
You can view this blog post and see 7 mom blogs that make money with their blogs.
Reach out to these bloggers – if this is your niche – and see if they need a content writer.
Common Questions About Content Writer Jobs
1. How Much Money Can You Get With Content Writer Jobs?
Most of my freelance writing work is content work for brands and digital marketing blogs.
I write content – primarily blog posts – in the digital marketing niche.
For my particular niche, it's not unheard of to get $600 or more for writing a client post.
2. What is a Content Writer Job Example?
The type of blog posts I write for my clients are long-form. These are content posts that are 2,500-5,000 words long.
Here are some examples of content writing:
But, you don't have to be a long-form content writer if you feel you can't product that type of content.
There are many content writer jobs that want 800-word blog posts or email newsletters that are 500 words long.
What's great is that content writer jobs are varied and you can find one to your liking easily!
3. What Skills Should a Content Writer Have to Land a Content Writer Job?
My post on what a content writer is can help you figure out the skills you need to land your next content writing job.
But, basically, you need a firm understanding of user intent online and how to write for an online audience.
This is a learned skill, so starting a blog is the easiest way to practice content writing.
Make Money the First Time as a Content Writer
This out-of-the-box idea is a great start to making money as a freelance writer.
Instead of writing for free on guest blogs, you can actively pitch and find blogging gigs and have your writing published that month.
And what's great is that blogging is a recurring gig! If you wow your clients and produce stellar content, they will continue to hire you for more content jobs!
Over to you – have you used this approach to find content writing jobs? Or, is this a new hack for you? Tell me in the comments!
Remember to pin me!