How the heck do you get your first writing job online?
You know you can write, you love writing, and you want to get paid for your writing.
So, why is it so hard?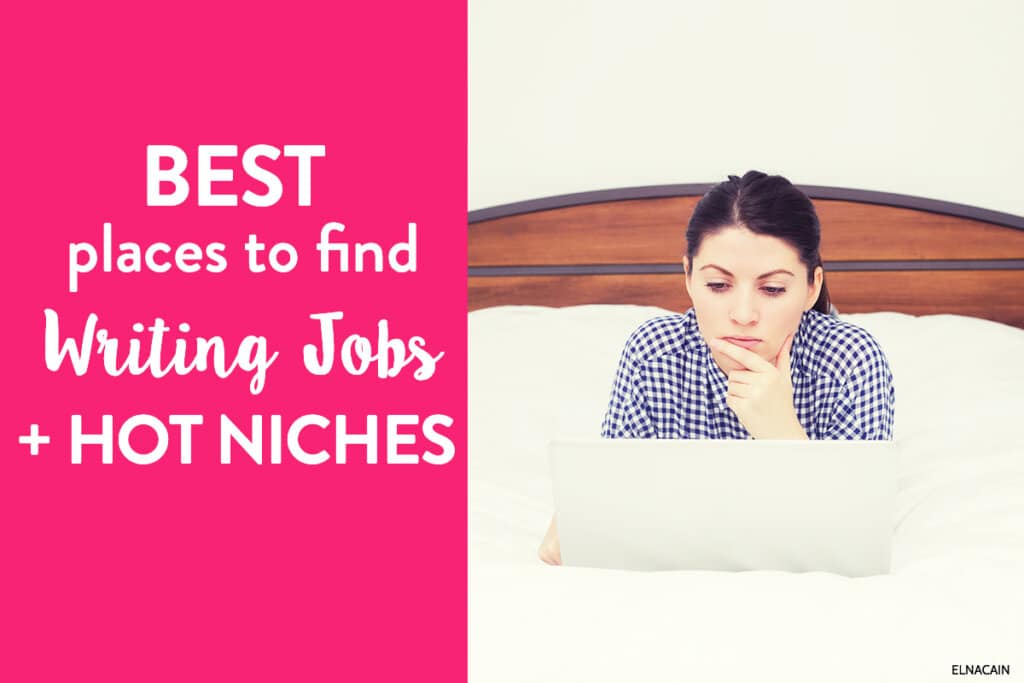 Freelance writing will be huge in 2024.
Thousands of businesses are going online and finding a way to grow their brick and mortar business on the Internet.
Whether they closed their business and pushed it online or they start out as a digital service or product, what they need help with is gaining customers with their site, and that site will need pages upon pages of writing.
That's where you come in! You can scoop up writing jobs online easily by promoting your service and showing potential clients how great of a writer you are!
I've been a freelance writer for many years, and I know where you can find writing jobs.
These aren't hacks or trendy places.
These are legit ways to find writing jobs online. It's that simple.
So if you're new and you need help, here is my guide on the best places to find writing jobs and the exact niches (RIGHT NOW) that need freelance writers.
1. Job Boards
There are lots of job sites and boards that ONLY post writing jobs!
What's great about using a job board is that it is a low entry, meaning anyone new to freelance writing can pick up a writing job online. Job boards are also updated frequently and have hundreds of potential leads.
This is good for you if you have limited time to work on your freelance writing business.
The big downside to this is that there are writing jobs that aren't legit and many are low-paying.
However, I got started using job boards and was able to make good money with the writing gigs I picked up. I also feel it's perfect for brand new writers that want to make money with your writing.
Some popular job boards for writers are:
Go ahead and try these job boards out and search for some topics you enjoy writing about.
If you find there aren't any jobs in those topics, try broadening your search. For example, if you know a lot of essential oils but can't find any writing jobs for that topic, try searching for wellness, health or natural health.
To help you out, make sure to check my Youtube video (and subscribe to my channel!) on how to use job boards so you can gain some writing jobs quickly.
Learn in this video how to use job boards as a beginner
2. Cold Pitching
Cold pitching is when you reach out to an online business and ask them if they need a writer for their content marketing strategy.
This can be daunting and scary, but it's one of the best ways to find writing jobs. Many writers contact the person in charge of a brand's marketing or content strategy and introduce themselves in an LOI (letter of introduction).
In this LOI, you can also mention your writing services.
Other writers – especially course students of Write Your Way to Your First $1k – find it more converting to email a cold pitch.
Here is one of the many cold pitch templates from the course (something I've NEVER EVER shared before) that has helped thousands of new writers land writing jobs.
Hi (name),
My name is (name), and I'm a freelance writer with experience in (your niche).
I found you on Google (or through a friend, using your product, etc.)
Now, wait. I know what you must be thinking –
Here's another pitch with cookie-cutter copy.
Oh, no, you didn't! As a freelance writer, I know how to capture a reader's attention and help begin your inbound strategy on your blog.
With my (#1 years) experience in (niche), I can really help grow your brand and bring that loyalty with your audience by providing emotional-based copywritten content.
I see from your site that you're selling X/writing about X/, and I'd love to help bring the masses to your service/product. I already have several content ideas that can help you reach your target market. Hear a few of them:
Idea 1 | Idea 2 | Idea 3
I'd be more than happy to discuss this further – just hit reply!
Thank you for your time,
It's a simple cold pitch template that you can adapt and tweak to your own way of writing. It also shows some cheekiness, and if this isn't your brand, then don't use that part of the pitch.
But to use this pitch, you need to find places for writing jobs. How do you do that?
Make sure to check out my Youtube video on a cool cold pitching strategy that actually works!
Learn in this video how to do cold pitching
3. Medium
Medium is a free blogging platform that you can use to create your portfolio, write about any topic you want to create easy-to-read writing samples, and gain some money for your writing.
I like using Medium because it's easy to make money with your writing.
After you create a Medium profile, sign up to their Medium Partner program to start getting paid for your writing. As well, many publications on that site want you to be in the partner program so you can get paid.
You earn income from your writing when people view your post and engage with your post like giving it a clap or commenting or highlighting text.
Depending on how fast you write and how much time you spend on the platform, you can earn a good chunk of income from writing without even landing your first freelance writing client!
4. Friends and Family
If you want to ease into finding freelance writing jobs, then an easy way is to simply ask friends and family if they need help with a project like their resume, an email campaign, a brochure or a landing page on their website.
You won't know if your services are needed unless you ask!
So take that first step by asking your uncle or sister or little cousin!
5. Writer Website
Okay!
Here is where it can get serious for you. If you truly want to make a go out of being a freelance writer, then I suggest you create an online presence, and to do that is to create an optimized writer website.
This is a dedicated service-based writer website that showcases your writing skills and shares what areas of writing you do.
Here is what mine looked like when I first started as a brand new freelance writer.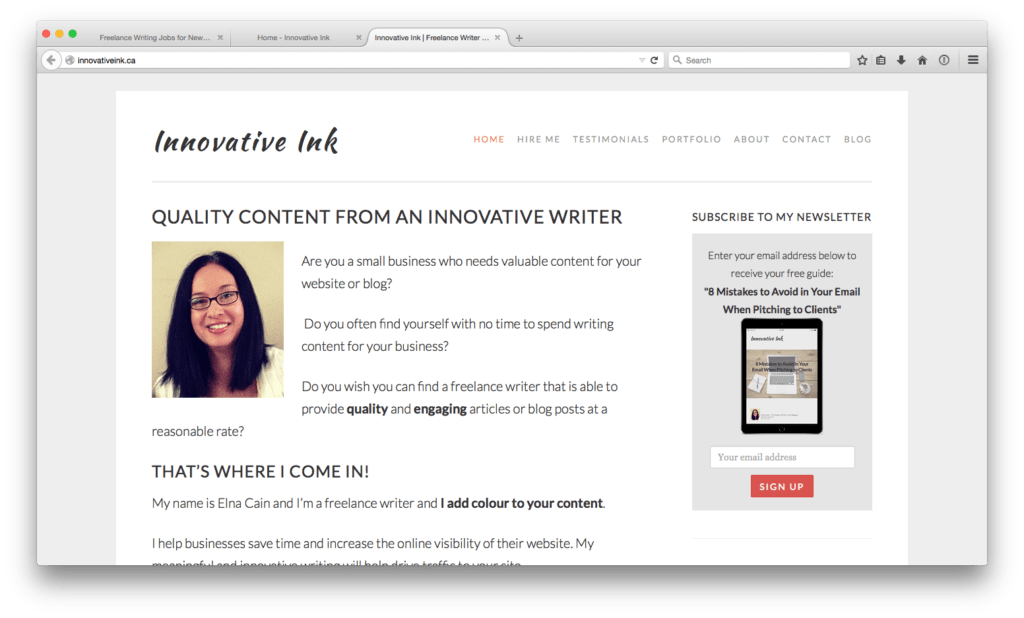 The site was simple and easy to read. If you read what I wrote on my homepage, you will see that I didn't have many qualifications, and I didn't niche down my writing topic.
However, simply having a professional writer website allowed me to market my business and land some great writing jobs.
Over the years, I've changed the look of my writer website and I've updated the copy to showcase one type of client I work with. Here is what it looks like now.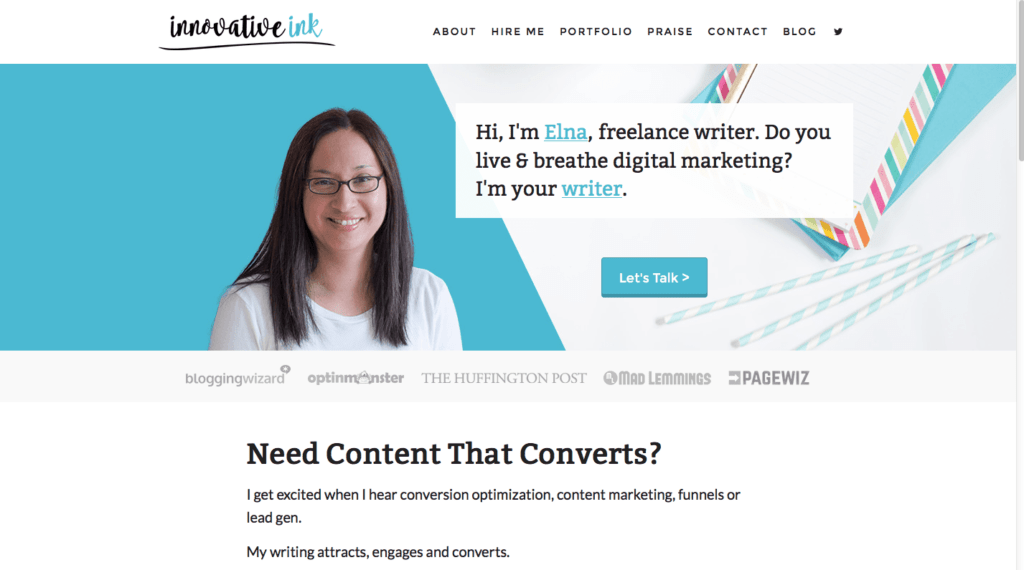 If you need help setting up your writer website, make sure to check out and follow my video tutorial on how to start a blog for your business.
6. Social Media
Social media!
It's there, and it can be a huge distraction, but if you know how to leverage social media, you can land amazing writing clients.
I landed a huge brand on Facebook.
An editor saw my pin on Pinterest and hired me for some parenting content.
A digital marketer for a SaaS company saw my LinkedIn profile and hired me for their ghostwriting content.
There is a goldmine of money waiting for you!
I suggest focussing only on two social media platforms – LinkedIn and Twitter.
These two have yielded me the most writing jobs out of any other social media platform. It's also a great way to network with businesses you want to write for.
If you need help on using these social media platforms, check out my guides: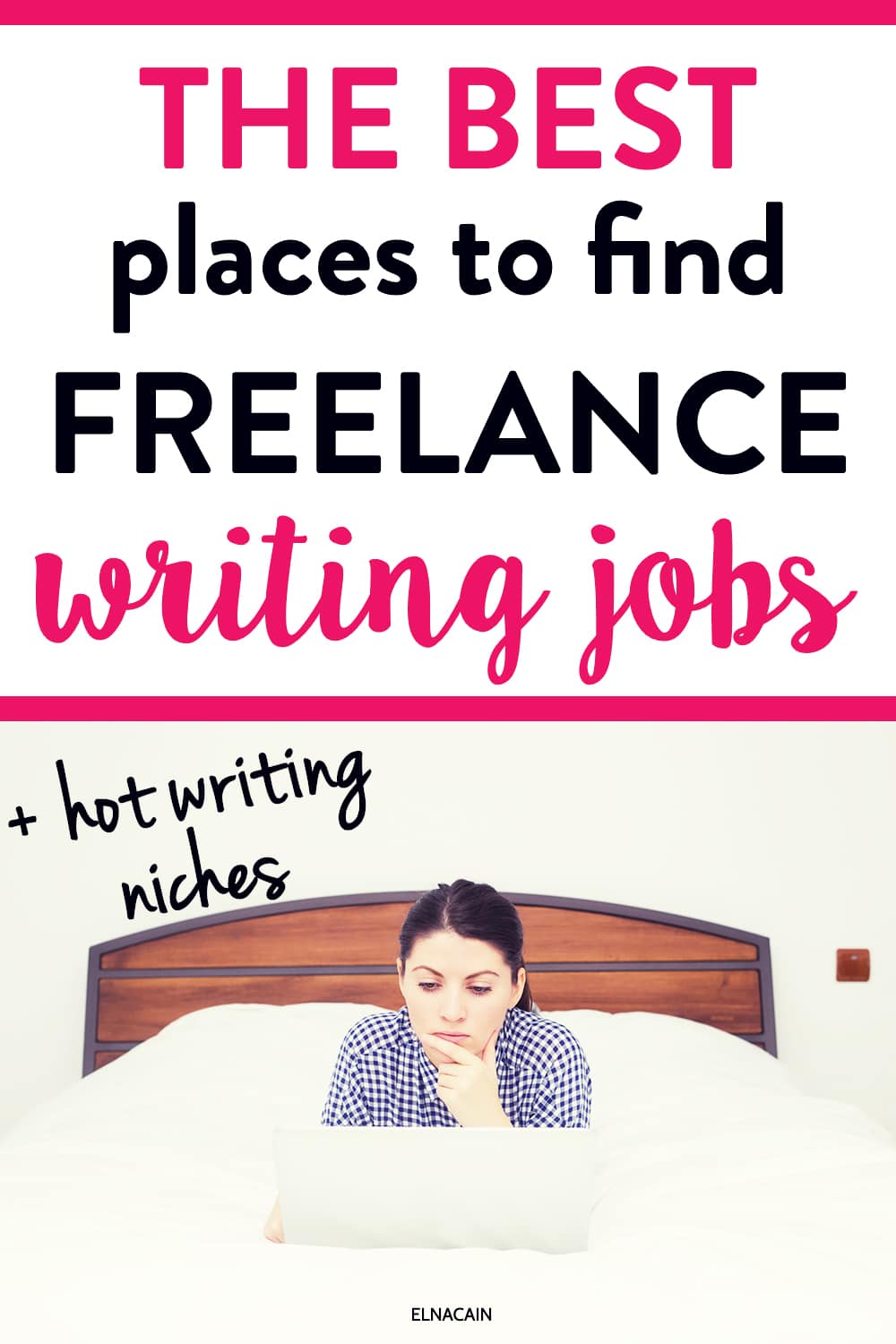 7. Use Resources Online
When I first started as a new freelance writer, I looked to other writers that have been doing this for a long time and learned from them. I signed up to their email list, read the blog and checked out their products.
I even reached out to them to see if they would help me with some parts of my business, like setting my freelance writing rate.
And over the years, I've worked hard on this blog to help you navigate the freelance writing world.
To help you find writing jobs, please check out these resources.
As well, I have a Youtube channel with videos that walk you through many processes, services and tips to help new writers. I would love it if you subscribed to my channel and checked out these videos.
Writing Niches That Need Writers Right Now
With recent events going on in the world, more and more people are staying home and are finding a way to work from home.
If freelance writing is for you, the best thing you can do is use what is going on right now and find writing niches that are needed.
Learn in this video what you need to do RIGHT NOW as a freelance writer
Finding relevant writing niches will make it a cinch to find writing jobs quickly for you.
Below, I share with you six writing niches in need.
1. Remote Jobs
More and more people are searching for remote jobs and working from home. People are laid off, or they are stuck at home and want to find a way to earn some money.
This means the remote job industry is booming and will need freelance writers for their content plan.

What You Can Do
Go ahead and search for career sites, job sites and anything related to remote jobs or working from home.
Take a look and see if they have a blog, an email list, social media profiles and pages on their site.
If they do, then you can market your blog writing service, copywriting service, white page writing service, ghostwriting service or web copy service.
2. Finance/Budgeting
The finance industry is booming right now as more people are unemployed and need to budget to save money.

What You Can Do
Start looking up financial companies, budgeting blogs and credit card blogs/companies and start cold pitching your writing services to them.
Some examples are Dollar Sprout, Wise Bread and MoneyGeek.
3. Entertainment
With people bored at home, there is a need to be entertainment. From gaming to learning how to paint or finding the best comedy movie, people everywhere are using Google to find blog posts, web pages or companies that supply entertaining content.

What You Can Do
If you enjoy journalist writing, why not hit up big news sites like Buzzfeed to pitch your entertainment writing topics?
You can also search for companies that provide streaming services like Netflix to see if they have a content plan and need writers.
4. Mental Health
With people bored, they get angry, anxious, scared, and their mental health suffers.
Single moms have to take care of their children every day and are losing money because of being laid off. She's stressed, sad and anxious.
Or a young traveler is forced to stay in a country that isn't her own and has to find a way to live away from family and friends. She might be scared and angry.
Whatever the case is, many mental health apps, companies and resources are being used online.
This is a profitable writing niche for sure.

As a freelance writer, you can share your mental health writing to these companies.
Also, think about at-home exercise companies and other companies that cater to health in all areas.
5. Creative Niches
There are a ton of creative writing niches that you can dive into and find some great writing gigs.
As people sit at home, they want to be productive, and what better than to pick up a hobby?
Fish tanking anyone? Caring for your hedgehog? Or how about puzzles?

Examples of Creative Writing Niches:
You can even offer other types of services like online editing, proofreading, and transcription too.
What You Can Do
Search Google for various creative niches that you enjoy doing like gardening, party planning, drawing, art and more.
Then start finding companies that cater to that creative niche and see if you can cold pitch them!
6. Entrepreneurship
One of the greatest things that has come out of this social isolation world is the fact that there is a goldmine of online learning potential. People can start a business easier today than they could ten years ago.
And more and more people realize this.
Entrepreneurs online are seeing a boom in traffic and need writers to help them with their blog content or creating landing pages for new products.

What You Can Do
Do you listen to podcasts or visit a blog to learn a new skill?
Why not network and reach out to these solopreneurs and see if they need help with their content marketing strategy?
The Best Places to Find Writing Jobs Online
I've been a freelance writer for many years now, and I absolutely love it.
My husband works from home also and helps me with my business.
My twins have only seen their parents stay home and work from home.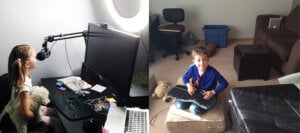 We have created the family and the lifestyle we've always wanted.
Now it's your turn.
I hope you found these places to find writing jobs online helpful. Take the time to watch each video, take notes and feel free to email me if you have a question.
Also, figure out what writing niche you want to try out. Try out a few and flex your writing muscles to find which niche fits you better.
It is trial and error for many, and it was for me too!
Over to you – are you interested in freelance writing? Share with me in the comments what writing niche you want to have and what method you'll try to find some online writing gigs!