Did you know that Cracked, Reader's Digest and The New Yorker all have comedy writing jobs for you?
Whether you want to write comedy for TV, have a column of humours stories in a magazine or assist in some way to make people laugh online, getting paid to write comedy is a legit and fun job to have.
Check out different comedy writing jobs and places to find jobs online.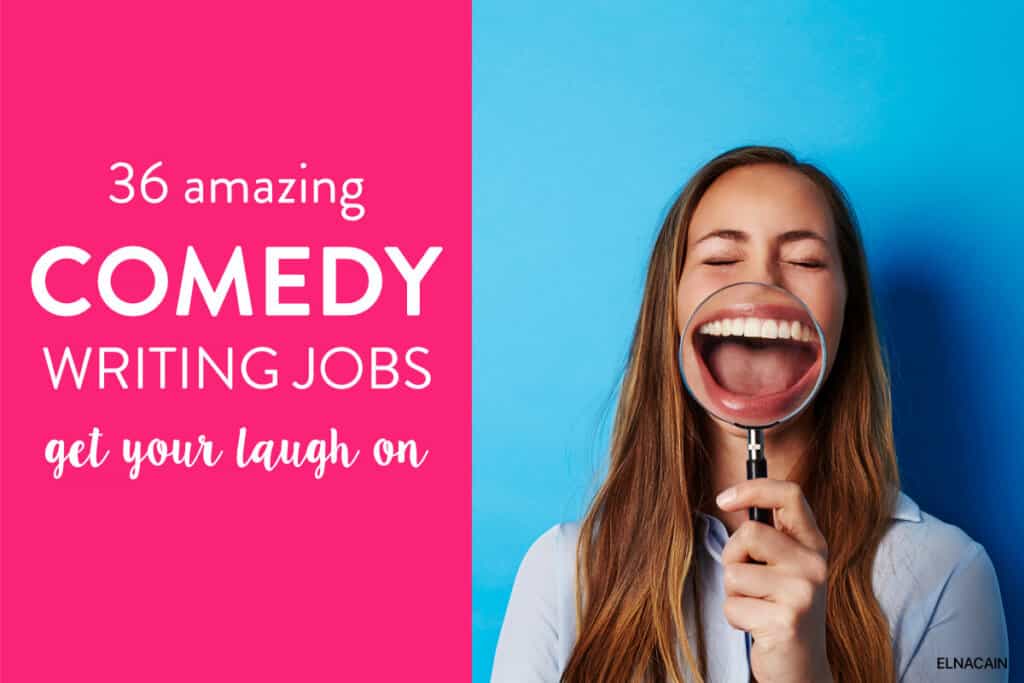 Do you love comedy?
Do you want to work in the entertainment industry being a writer and making people laugh?
If so, then a comedy writing job might be your best bet.
Here, we'll explore some of the different types of jobs available for those looking to break into comedy writing. We'll also go over how much money you can expect to make and necessary qualifications.
Comedy writers can also be called, script editor, sketch-writer, TV writer, or humor writer.
How to Write Comedy for Your Job (Are Comedy Writing Jobs for You?)
The comedy writer's job is writing humor.
They create the funny scenes, dialogue and sketches that make their audience laugh. It takes skillful writing for a comedy writer because they often have to come up with creative new ways of making people laugh.
While not all comedy writing jobs require years of experience, you should have a solid portfolio to be able to display your comedic writing abilities to potential clients.
The act of writing for fun and to make people laugh is a writing skill you must know.
Practice by writing for other people, reading humor books and watching comedy movies.
Once you've got the basics down pat, it's time to practice comedy writing by starting a blog, guest posting or writing on Medium.
To become a comedy writer, usually a degree in the arts is suggested; some writing experience can be substituted for degrees and vice versa (depending on what position you're applying for).
In either case, as with any other freelance writing job out there, you need to show online your credibility and have samples to build trust and land some good comedy writing gigs.
Where to Find Comedy Writing Jobs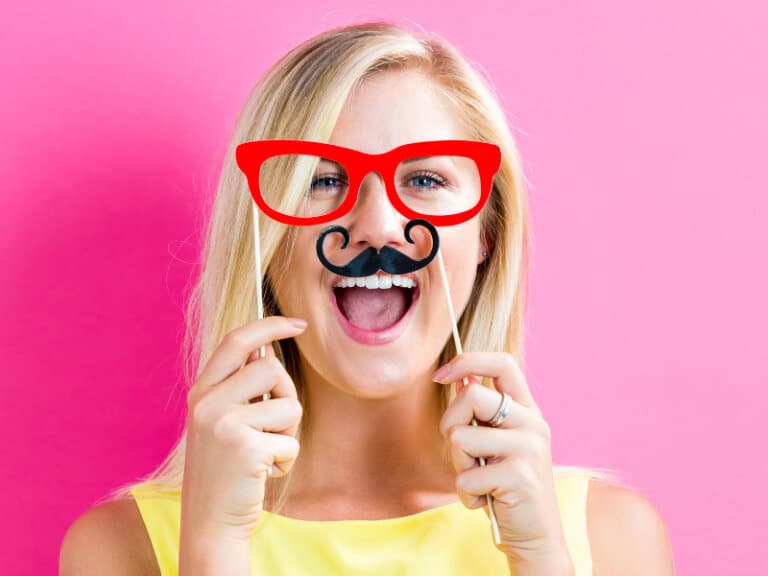 You may think that comedy writing is a limited career field, but the reality is that it's booming. There are many different opportunities to find work in this industry and there's no better time than now to get started!
To help you navigate what can seem like an overwhelming industry, here are a few places to look for comedy writing jobs.
1. Glassdoor
Glassdoor is an easy to use job search platform where you can find just about any type of writing job, including comedy writing jobs.
While the comedy writer jobs might be a little less common, you can still find legit gigs there, like this staff writer position from Bored Teachers.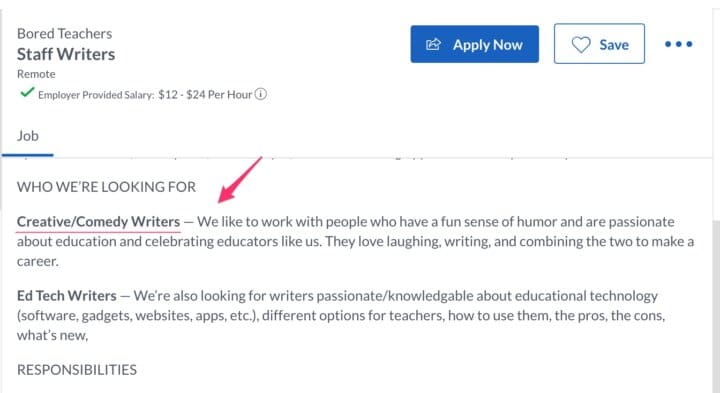 2. Mediabistro
On Mediabistro you can find positions that involve writing for TV and script writing jobs. And example is this job with Looper for a movie and TV feature writer.
Check Mediabistro daily for fresh leads on other script writing jobs.
3. Reader's Digest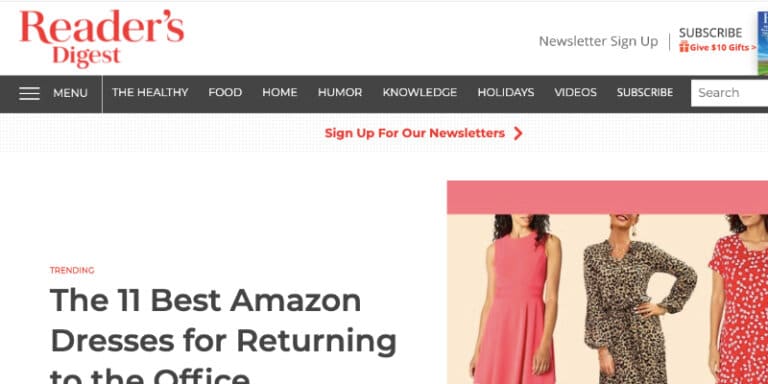 The magazine was once a staple in American households, but now it needs to change with the times.
They can't rely on simple jokes and gags anymore- they need some new comedic material from reliable freelancers like you.
4. Saturday Evening Post
Besides being one of the few magazines in America to have survived for more than a century, The Saturday Evening Post has been known as an outlet that features humor. It comes with a regular feature called "The Lighter Side."
You are judged on your wit. So study the guidelines and past articles for The Lighter Side, then pitch an idea to our editorial team!
5. Mother.ly
If you're a parent and you have some funny insights to share, then consider making a submission to Mother.ly. Motherly stories are reflective and insightful first person stories of the wisdom and humor of motherhood.
6. The New Yorker
What a thing to have on your freelance writer resume! The New Yorker has been around for a very long time and takes submissions for several different humor categories.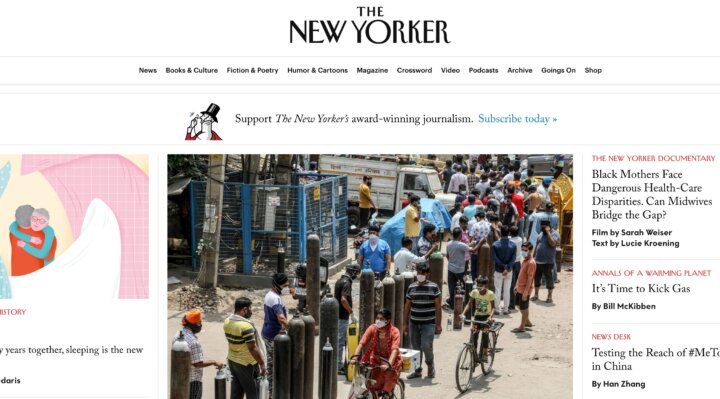 7. The Imperfect Mama
The Imperfect Parent is an entertaining, witty take on parenting that will make you think and laugh about topics only other parents will get.
They focus on the lighter side of parenting while keeping a smile on the readers' face.
They will pay a small honorarium for certain pieces.
8. Funny Times
Funny Times has been around for 35 years in both print and web.
The world's funniest print publication will make you laugh no matter what it pokes fun at: from religious beliefs to political views to life or living among animals who can only tell us their thoughts through haiku poems about how terrible a house guest they are.
This magazine has something for everyone with an ounce of sense of humor inside them!
9. Cracked
Cracked has been around for some time but discontinued in print in 2007. However, it's still alive and thriving online. There is a wide variety of topics on Cracked, similar to Buzzfeed, and they pay anywhere from $100 to $250 per article.
From crazy fan theories to weird and funny facts you don't actually need to know, there is something for every budding comedy writer to write about.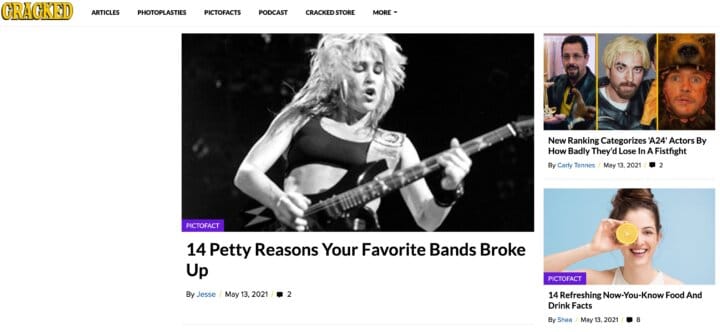 10. Clubhouse Magazine
The Clubhouse magazine is part of the Christian centered Focus on Family brand.
The audience for this is 8-12 year old kids that enjoy reading humorous fiction and non-fiction stories.
This can include humorous how-to style articles and short, fiction stories that teach a valuable lesson. Accepted submissions can earn anywhere from $150 to $200.
11. Buzzfeed
Just about any type of writer would be happy to write for Buzzfeed. As of March 2020, Buzzfeed and BuzzfeedNews collectively brought in 1.2 BILLON page views that month! So there's a good chance people are going to see your article.
While they get a ton of submissions, you should hear back from them within two weeks as to whether or not your article was accepted.
12. Ed2010
Ed2010 shares brand writing jobs for big publications and website publications and magazines. Many of the writing gigs on this job board lean to comic writing with pop culture writing.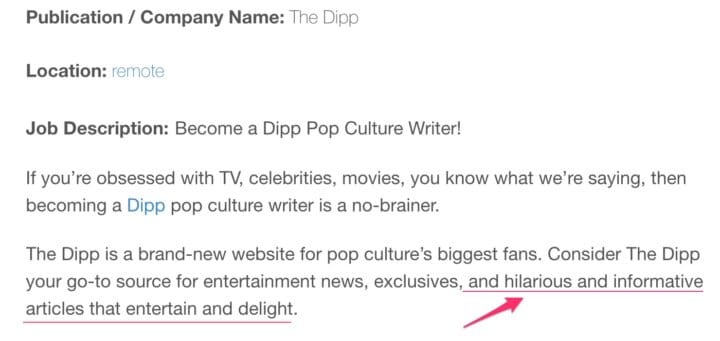 13. Indeed
Of course, there is always Indeed. While you might not find much just typing in "comedy writer," try other terms, such as script writer, copywriter, and content writer and filter from there.
14. LinkedIn
LinkedIn is another great place to look for comedy writing jobs. There are a lot of big, reputable companies that hire talent through LinedIn.
A pro tip for looking for and applying for jobs on LinkedIn, be sure that your title in your profile reflects the positions that you are applying for.
So if you are looking for comedy writing jobs, then put "comedy writer," or "comedy script writer," in your portfolio title.
15. Filter Free Parents
Filter Free Parents is a contributor blog that looks for fresh voices and humorous perspectives on the realities of parenting.
They will pay $50 for original guest pieces upon approval.
FFP loves posting funny stories about mom life as well as the hilarious things kids do and say. Perfect if you're in the parenting niche!
16. The Laugh Button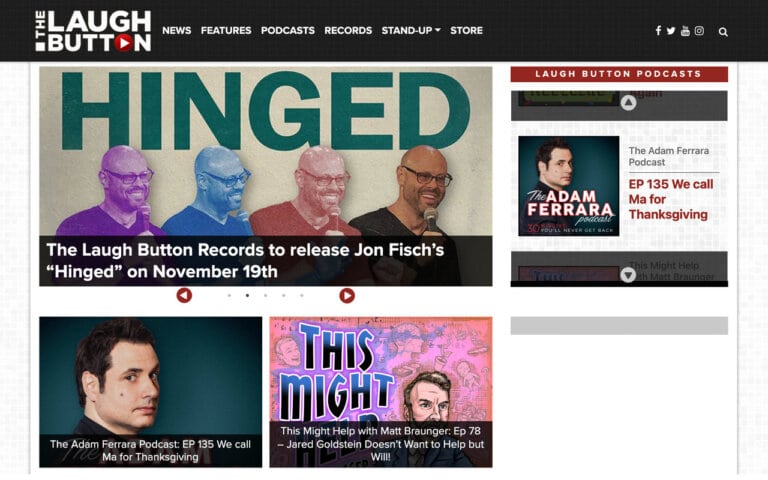 The Laugh Button is a huge comedy website that periodically hires freelance comedy writers to provide unique perspectives on everyday life.
They like to see content that highlights how comedy can be found anywhere and at anytime.
You can email them with your resume writing samples and pitch ideas.
Click here to check out their job postings for more details.
17. Chicken Soup for the Soul
You've heard of Chicken Soup for the Soul, right? These feel-good stories have expanded into a website that accepts humorous stories from writers!
They prefer stories that are less than 1200 words and you can earn up to $200 per piece (depending on the quality of your content).
Click here to learn more about their submission guidelines.
18. McSweeney's Internet Tendency
McSweeney's is a nonprofit publishing company that also operates a daily humor website.
Their sense of humor is whacky and fun and they welcome satire and comedy submissions from, as they put it, "complete strangers such as yourselves".
They prefer short submissions with a maximum of 1200 words. They will pay around $30 per article.
19. Freelancer
Freelancer is a job board specifically focused on jobs for freelancers (obviously).
Here you can find a variety of freelance writing jobs including comedy writing.
Check out the job listings here.
20. Entertainment Careers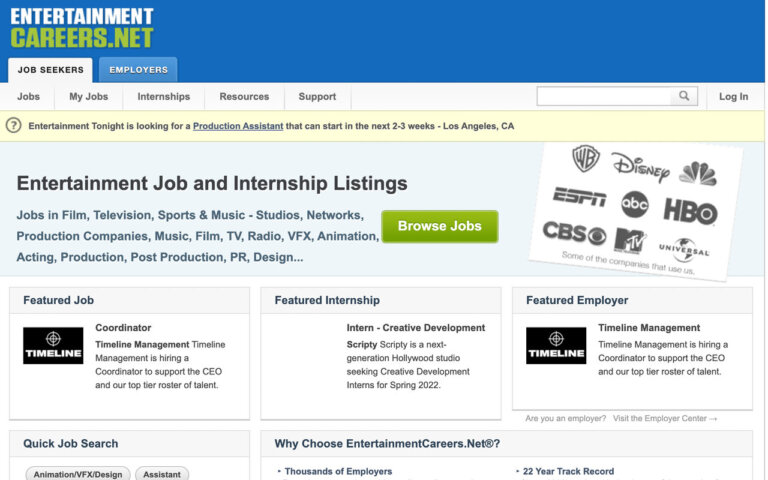 Entertainment Careers is a job board that posts available positions within the entertainment industry – including comedy writing!
They deal with some pretty big employers such as Disney, Fox, and HBO.
You can take a look at their freelance comedy writing job listings here.
21. Funds for Writers
Funds for Writers is a site for writers that offers tips on the business end of things like how to become a writer and make money.
When it comes to comedy writing, they love uplifting and humorous articles and will pay $50 for original articles.
Check out their submission guidelines.
22. Fiverr
Fiverr is unique because it's not a job board. It's a gig economy where you create a profile, post the services you want to offer, and wait for buyers to pay you for them.
This way, you don't spend time sending out pitches and responding to job ads. Just fill out your profile, link to your portfolio, and add some catchy graphics.
Then wait for the comedy writing jobs to roll in!
23. Bitch Media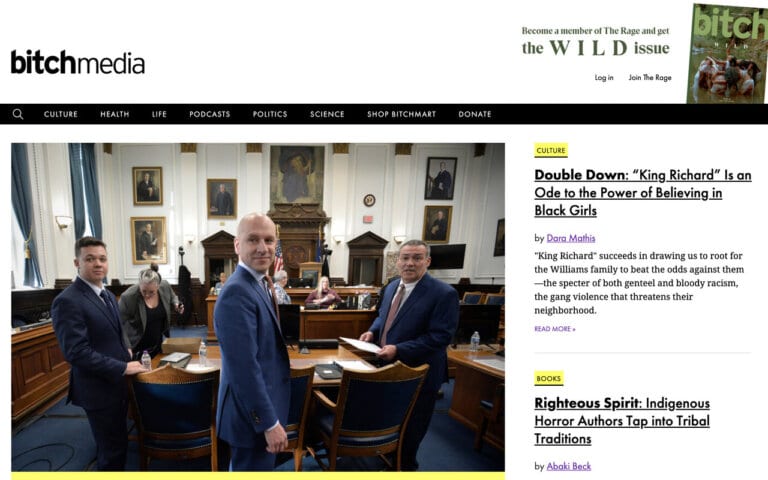 With a name like that, you know this site will appreciate some good humor!
Bitch Media runs a magazine and blog that focuses on cultural attitudes, social trends, and pop culture from a feminist perspective.
They look for witty and discussion-provoking content and will pay at least $150 per article.
24. Write for Saturday Night Live!
A person can dream, right? Who's to say that your comedy writing career can't go this far?
Christopher Kokoski posted this comprehensive guide to becoming an SNL writer and it's worth checking out! Remember, you miss 100% of the shots you don't take!
Types of Comedy Writing Jobs
You might think the only place you can get paid to write comedy is with a sitcom or on TV, but there are actually many different types of projects you can do with your comedy writing.
1. Podcasts
Comedy podcasts are one of the things I love listening to when I'm doing my chores. Right now I'm really loving Howie Mandel's podcast. It's done with his daughter and they prank call and do fun stints and it's hilarious.
One type of comedy writing job is writing out podcast episodes for comedians or aspiring comedians.
2. YouTube Video Scripts
Did you know there are entire Youtube channels dedicated to comedy and making people laugh?
Some channels are discussions, others skits, and still others share funny stories. As a comedy writer you can pitch your service by doing some comedy transcription jobs.
For this online writing job you aren't creating comedy pieces, but you are network and learning from other great comedians.
3. Blogs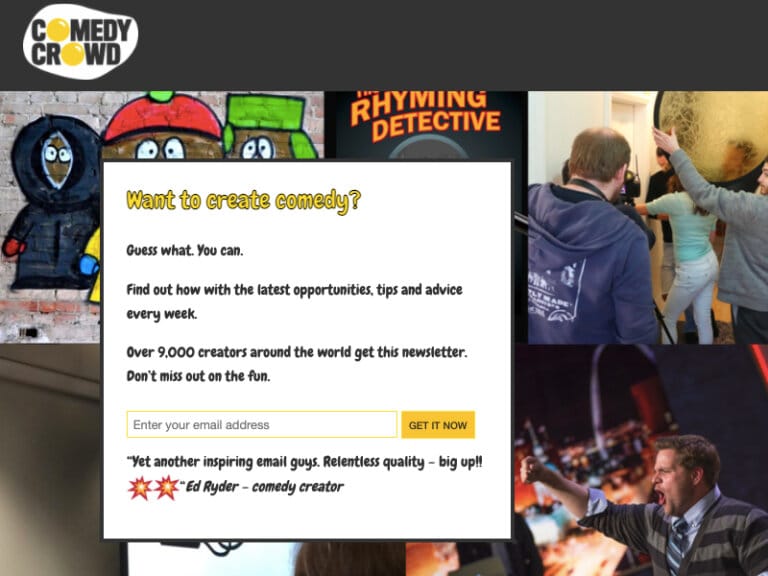 One great freelance writing niche you can have is writing blog posts for other businesses. This is what I have been doing for many years and it's a lucrative niche to get into.
Similarly, you can build your portfolio by guest posting on comedy publications. Here are a few places that accept humorous comedy writing.
Later in the post I will share places to find comedy writing jobs that pay.
4. Books
Have a lot of fun jokes you made up? Why not bundle that into a joke book for kids or a joke book for dads?
Similarly, you can ghostwrite comedy books for others and gain experience on the job. This can help you land bylined comedy writing jobs via referral business and networking.
5. Magazines
Just as there are comedy podcasts and Youtube channels, there are funny magazines and many of them pay for comedy writing.
Flex your comedic writing and land some gigs for magazines that pay comedy writers. You might luck out and find the perfect publication to publish your funny stories.
While I do share publications that pay for funny stories later in the post, here are some magazines that you and submit your stories for pay.
6. Social Media
With funny skits on Tik Tok and quick stories on Instagram Reels, as a comedy writer, you can gain a writing job on social media.
Help TikTok influencers perfect their comedy with your help!
Other video platforms like Instagram and Facebook can be sources for comedy writing jobs. Do you research and follow influencers on TikTok and Instagram to gain leads.
7. Screenwriters
Screenwriting is probably the main type of comedy writing job you are thinking of. I hope this posts opened your eyes to the possibilities of other types of freelance writing jobs available online.
There are many job boards that publish screenwriting jobs – I'll mention some in the next section – so make sure to check these sites daily for fresh leads.
8. Performance Writing
Many stand-up comedians write their own stuff but that's not to say they won't hire a comedy writer to come up with new material or polish their routine.
Check out your local comedy scene and reach out to comedians who may need a hand writing their hilarious material.
9. Greeting Cards
Writing for greeting cards may seem like an unusual job for a comedy writer – but the best greeting cards are the funniest ones!
This is a super easy job you can do from home but finding them may take a little research.
However, you can always start with companies such as Calypso Cards, RSVP, and Blue Mountain Arts.
10. Speechwriting
Have you ever heard someone give a captivating speech? It's likely that they didn't write it themselves.
Most people who give speeches hire writers to produce their material, looking for those who have a flair for the dramatic and know how to influse humor into the speech.
11. Copywriting
While you may not think there's any jobs for comedy writers in the marketing niche, there's definitely companies and businesses looking for copywriters with a sense of humor!
Look at big brands like Wendy's and Taco Bell, especially on Twitter. Their social media posts and replies are witty and engaging.
You may even find some work writing funny advertising campaigns or slogans.
12. Joke Writing
Satire sites and even late night talk shows need humorous writers to craft their jokes.
If you have a penchant for punchy punchlines, consider looking for jobs where you write jokes for websites, comedians, and media personalities
How to Write a TV Show As a Comedy Writing Job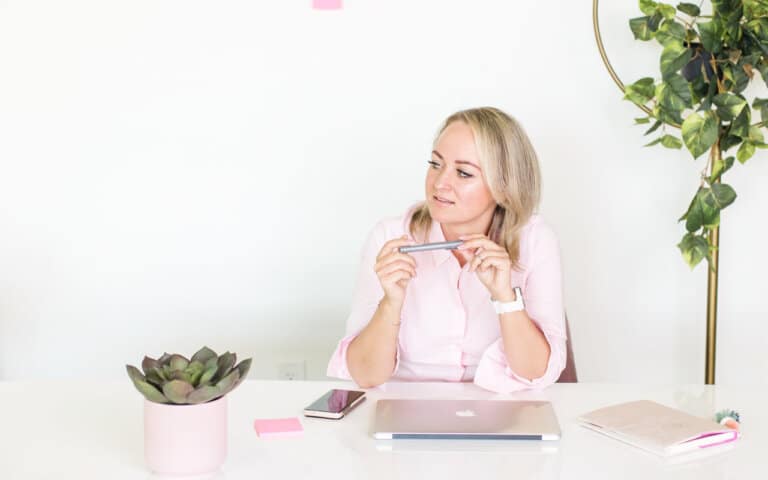 One of the most popular TV genres is comedy and writing for TV sitcoms and comedies is a very popular niche to get into.
The best way to be a successful comedy writer is by working your way up from entry level jobs until you can write scripts or episodes on your own.
When looking for an entry level comedy writer position, look for opportunities in production offices which might involve helping with story ideas or pitching jokes.
This type of job may require interning first before being hired as a full time comedic writer because it can take years to build enough experience and establish connections that make you indispensable in the industry.
According to Glassdoor, the average salary for a comedy writer ranges anywhere from $30,000 to $115,000 per year and averages around $53,000.
This varies greatly depending on who you are writing for and if the writing position is remote or not.
Some of the best-paying jobs are those in Hollywood with high pay rates and long work hours. Median-entry level comedy writing jobs pay between $25-$30 hourly.
Writing a Comedy TV Show
Through the process of figuring out the style of humor you want to write, you might decide that script writing is what you want to do.
Breaking into TV writing is a bit of luck and determination. The places for comedy writing jobs like Ed1020 or Glassdoor have TV script writing jobs so make sure to pay attention to those job boards.
The one thing to remember with script writing is that writing for comedy is all about timing.
As you work through the process of writing for a pilot, try to remember that it's not just what you put in but also where you place your jokes that really make an audience laugh.
It can be a delicate balance between playing up characters and their quirks while still driving the plot forward with each line on screen.
If something needs to happen or someone needs some dialogue, don't forget why they're doing it!
Remembering who these people are (or aren't) will help create memorable punchlines without distracting from the story as a whole.
There are many comedy writing jobs within the entertainment industry, and they're in high demand. You can find entry level comedy writing jobs as well as more experienced opportunities.
If you want to work on TV projects like sitcoms, your best bet is to pursue an internship at a major network or work with a well-known online comedy influencer.
A successful comedy writer needs excellent dialogue skills that make their scripts sound natural while also capturing strong comedic moments.
Learning to Make People Laugh With Your Comedy Writing
Now that you learned of paying markets for comedy writing jobs, if you want to know how to be a successful comedy writer online, you need to understand what makes people laugh.
There are as many as 20 different styles of humor. While you don't have to be well versed in every one, you should be familiar with them in case your client needs a certain type for a project.
Here are just a few examples:
Self-deprecating – making fun of oneself to make others laugh.
Sarcasm

– one type that has a more negative connotation, but is often desired in comedy writing jobs.

Dry – a very matter-of-fact form of comedy writing
Hyperbolic – extreme exaggeration with your humor writing
Once you figure out the style of humor you enjoy writing the most, you can start writing in that style for your blog and for guest posting opportunities.
The Best Comedy Writing Jobs to Help You Make a Living
There you have it!
Amazing and awesome comedy writing jobs to make people laugh!
Tell me in the comments if comedy writing is your niche and if you enjoyed this post!
Please pin me!