You're a new freelance writer!
You've made the decision to follow your love of writing and get paid for that writing.
That's awesome! But, after learning about freelance writing, you're probably wondering the best way to land a freelance writing job.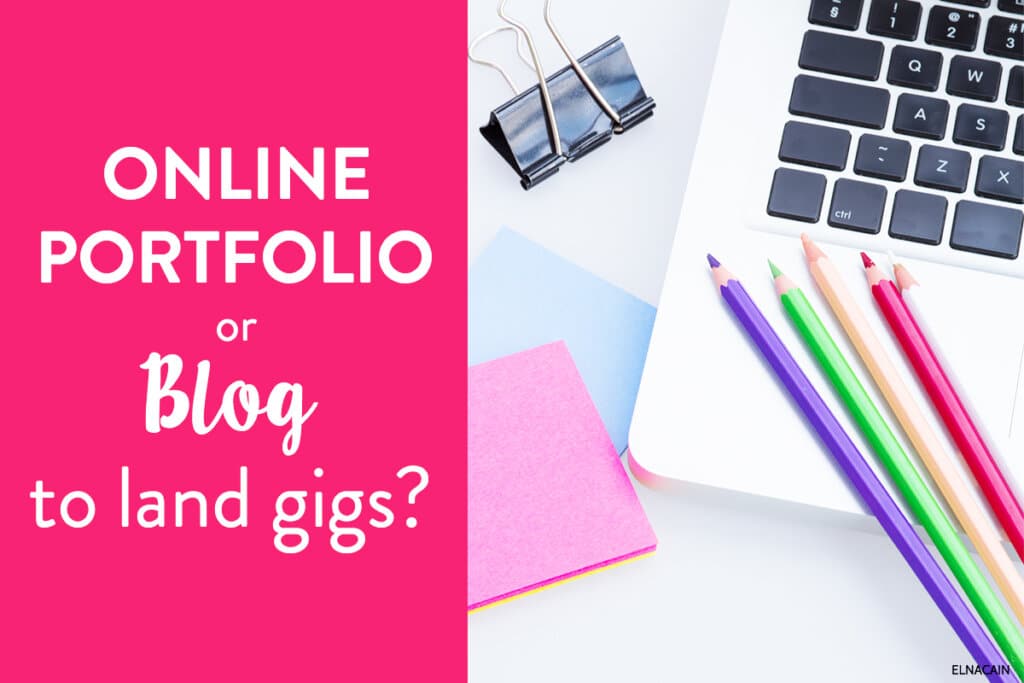 There are many ways to find a freelance writing job – from using job boards, to social media to cold pitching or just asking friends. Landing a gig doesn't have to be hard.
But, for many new writers, it can take months to find a freelance writing job and even then, the job isn't high-paying.
What gives?
Why is this happening to you?
Can I share a secret? A quick way to land your first freelance writing gig is to have a website that's dedicated to your service!
Yes! It's that simple.
Let's look at two ways your website can help you land clients – your online portfolio and your blog.
Before we get into this post, you can check out my YouTube Video. Don't forget to subscribe to my channel!
Your Freelance Writing Online Portfolio
On your writer website you have an online portfolio page where you share your best writing samples.
These samples can come from clients of yours, guest posts, blog posts from your personal blog, or mock samples of certain services such as white paper writing or press release writing.
There are different ways you can display your portfolio too on your website.
What I tell my students in my courses is to use a WordPress plugin.
I feel this is the best way to showcase your portfolio as it makes you look more professional as a writer.
This is what it looks like on my demo site: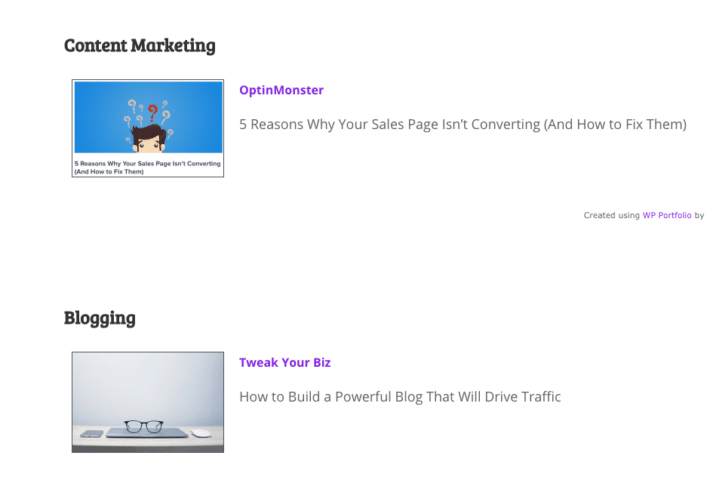 You can create subtopics on your writing portfolio page to show different niches you write in or just subtopics within a niche.
For example, I write for the digital marketing niche and there are many subtopics in this niche like blogging, email marketing, content marketing etc…
All in all, having an online portfolio page on your writer website is essential. This is where prospects can quickly see where you've been writing and look at your writing quality.
They can also assess your credibility in a niche topic.
For example, if you promote yourself as a WordPress freelance writer, samples in your online portfolio should show sample pieces in that niche topic.
But, more importantly, it should also show different blogs you've written on that are WordPress specific.
Landing a guest post is by far the best way to build your writing portfolio and should be a top priority if you're brand new to freelance writing.
And your portfolio page can show that perfectly.
But, did you know that your blog can also help you land a freelance writing job?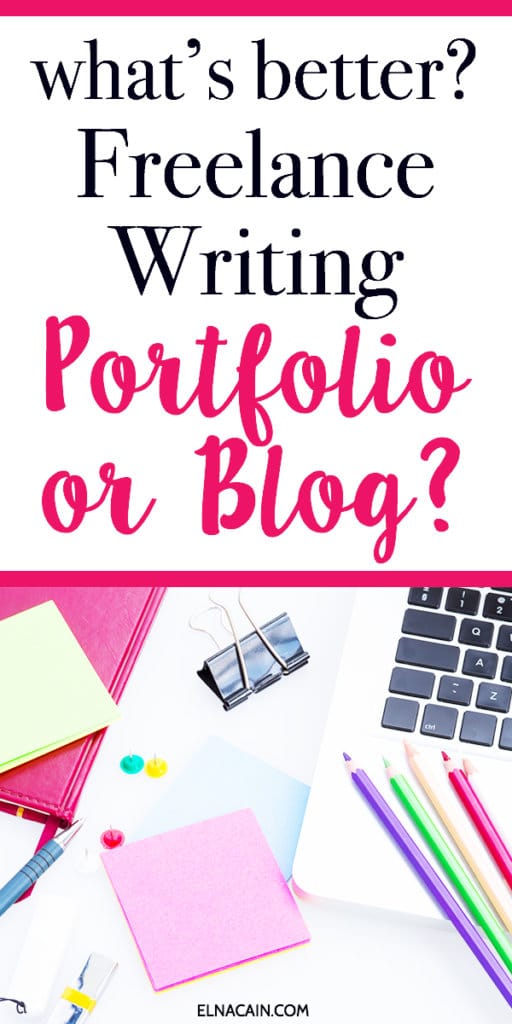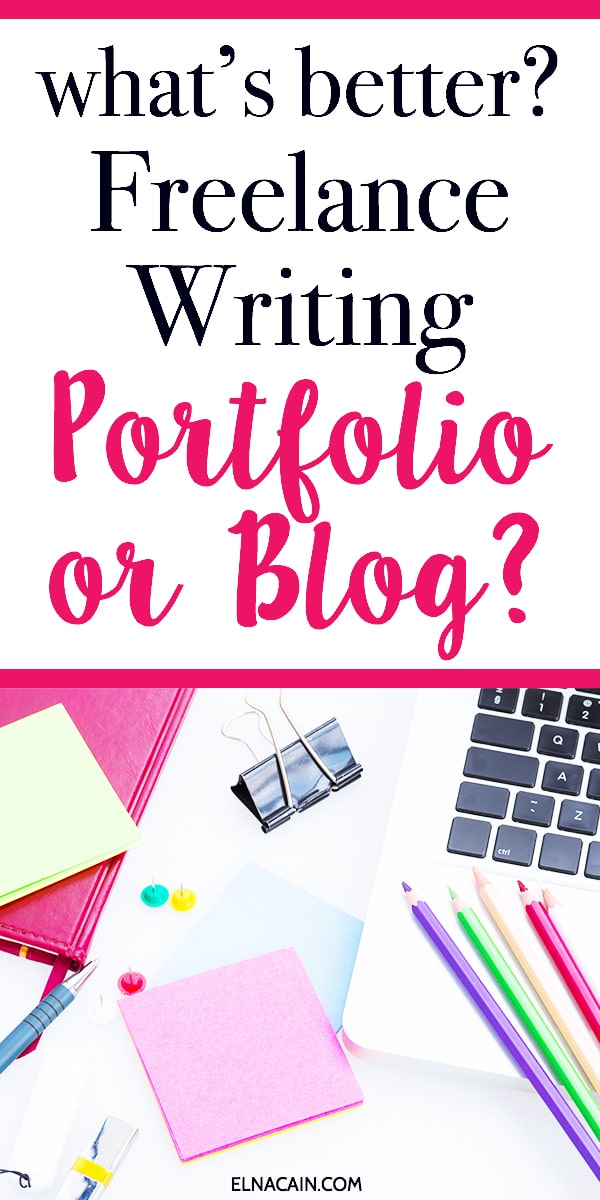 Your Freelance Writing Blog
Your blog for many of us is a personal blog. This is a blog you share your thoughts and writing for your friends and family.
You may talk about life on a farm or the trip you took with your family this past summer.
This is all fine and dandy, but that writing on that blog won't help you land a freelance writing job.
Your blog has to be audience driven (not self-driven) and it has to help an audience.
In essence, your blog content must look like what you would write for a client.
Does it have to be in the same niche as your freelance writing niche?
Yes and no.
This blog – Elna Cain – has helped me pick up some gigs, but so has my Twins Mommy blog.
Both of these blogs are NOT my freelance writing niche!
For others, their blog content was their freelance writing niche and it helped build their online portfolio as well as pick up some new clients.
But, I must warn you about your blog niche being your freelance writing niche.
You may burn out quickly! Writing on the same topic for your clients and then for your own personal blog might be too much.
You can only write about one topic soo much!
An easy way to ensure this doesn't happen is to pick a different blog niche. For example, if you want to be a women's health writer, your blog might be a parenting blog.
On this blog you can have some topics or ideas that merry nicely with women's health, but the entire blog content isn't focused on women's health.
Rather, you can blog about topics under women and being a mom.
But, there are great freelance writers that have enough writing juice to write in the same 'vein' on their blog and for their clients.
A great example is David Hartshorne.
His content on his client blog's are similar to the content he shares on his blog.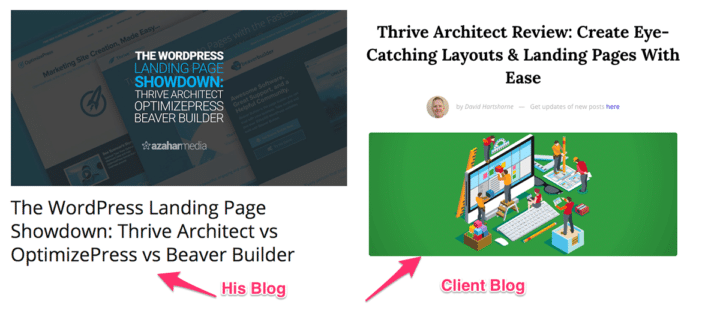 So, what's better for new freelance writers?
What's Better? Online Portfolio or Blog?
I personally feel your online portfolio or body of work is what will seal the deal and make you look like a professional.
Look – Prospects can hire a blogger or a freelance writer.
There are many bloggers that have a "hire me" page on their blog and list different services like:
Writing
Pinterest marketing
Answering emails
Creating social media graphics
But what shows the professionalism of freelance writers is their dedicated website for their service.
It shows an online portfolio page, a hire me page, a contact page and a blog that shows exactly what a great writer they are.
And, the cherry on top is the copy on your writer website.
This is where your skill can shine!
How Do You Get Started Freelance Writing?
Understanding the best way to land a freelance writing job is great but if you don't have that sample, you can't apply any of this.
So, the first step to getting started is writing that first sample.
I suggest you write up to three samples in the topic you want to get paid for.
For example, if parenting is your freelance writing niche, but you're open to writing about personal development, women's health, mental health and yoga, your samples can have these topics under the parenting umbrella.
10 PostPartum Depression Signs New Moms Need to Know
5 Easy Ways to Include Kids in Your Yoga Routine
The Simple Thing Moms Can Do to Smash Their To-Do List Every Day
These three samples can show prospects your wonderful writing, fact-checking, and overall engagement in various niches if you decide to pitch to a health gig or a personal development gig.
Start Your Online Portfolio Today!
Are you ready to become a freelance writer?
Tell me in the comments if you landed a gig using your online portfolio or blog?