Did you know that some of my absolute favorite writing jobs are copywriting jobs?
Copywriting is such a fascinating form of writing, but it can take time to develop the right skills to become a successful copywriter.
And companies will pay big bucks for copywriters who are good at what they do!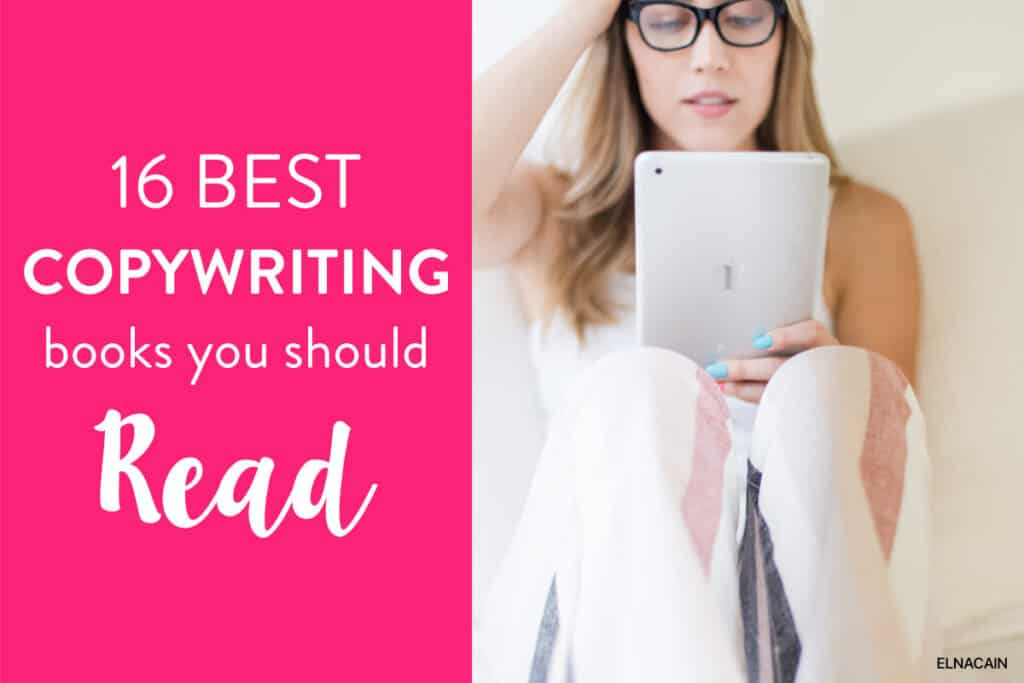 Think about it: Everywhere you go, you see some form of copywriting.
Whether it's the junk mail in your mailbox or ads that pop up on your phone.
This content isn't just thrown together last minute.
It's carefully thought out and uses emotion and storytelling to grab your attention and pull you in.
That's one of the reasons I decided to add copywriting to my services.
So, if you're a freelance writer and want to take this path, it's time to get learning!
In this article, I've put together a list of the best books on copywriting to help you on your journey.
Whether you are just starting out or looking to perfect your craft, there is a book here for you!
Ready to get started?
What is Copywriting?
I'm not going to go into a lot of details here, but if you want to learn all about copywriting, you should check out my definitive guide here!
Copywriting is a type of writing that is persuasive and highly engaging in order to promote a brand and motivate people to perform an action such as buying a product, scheduling an appointment, or signing up for an email list.
Want to see a fun example of copywriting?
Just look at your Promo tab in your mailbox!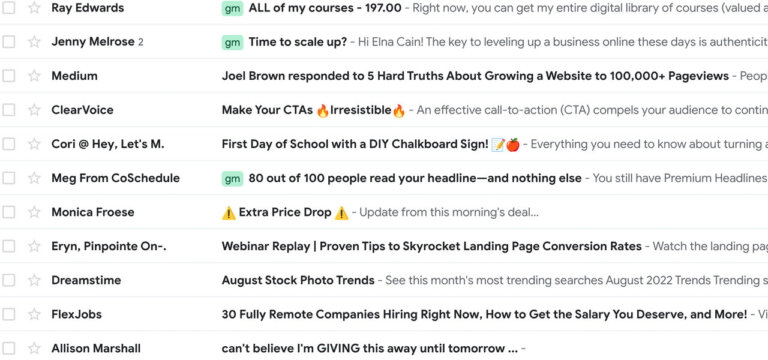 While copywriting exists in the real world, it's huge in the digital realm!
Landing pages, sales emails, email opt-ins – that's all copywriting.
Copywriters are the writers responsible for creating this content as well as things like research, editing, and planning and implementing marketing campaigns.
I get hired to write email welcome sequences and sales funnels, but I'm open to doing SEO website copy, landing page copy and more as a way to grow my copywriting skills.
Part of a copywriter's role may also involve SEO strategizing and social media planning.
How Can Reading Books Make Me a Better Copywriter?
To be fair, reading can make you better at anything!
However, when it comes to being a writer, you can better master your craft and improve your skills by reading.
Reading copywriting books will help you focus on your writing style and learn tips you can implement to strengthen your copy.
I know for me, the more I read about copywriting formulas or look at copywriting swipe files, I take what I learn and infuse it into my own writing style. I don't regurgitate the formulas or principles for my clients.
Instead, I absorb the lessons and adapt them to how I write copy.
Overall, checking out the best copywriting books will help you improve your writing skills and how you approach copywriting to create content that clients and customers can't resist!
Are you ready to check out these best books about copywriting?
Let's get started!
The Best Copywriting Books
If you're looking for the best copywriting books that explore all aspects of writing, here are a few I suggest checking out.
These are the best selling books on copywriting you can get!
1. The Copywriter's Handbook by Robert Bly
This book made it to the top of my list because it is the absolutely best copywriting book out there!
Author Robert Bly covers every copywriting technique you can think of in The Copywriter's Handbook, making it great for both seasoned copywriters and beginners.
He goes over sales techniques used in copywriting and modern copywriting applications such as landing pages and emails.
2. Copy that Sells
This excellent copywriting book by Ray Edwards is an easy read and teaches you the fundamentals of copywriting that sells.
I have this book and shared it on Instagram and I always go back to Ray's chapters on conversion writing to help me with my copywriting!
Make sure to check out this book.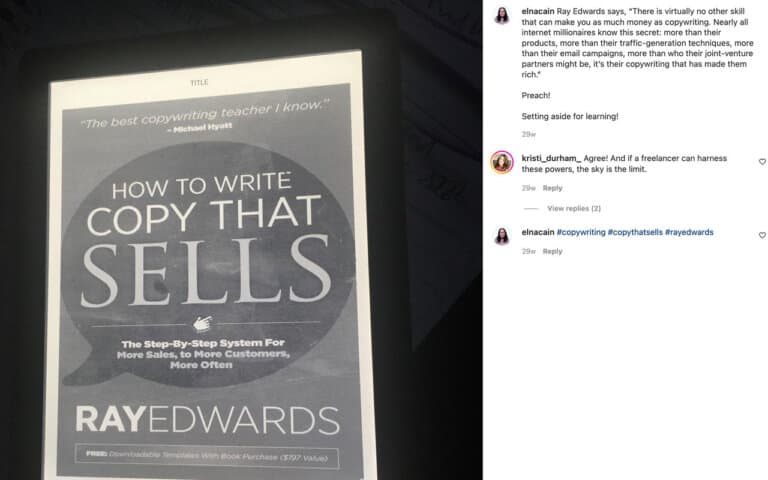 Bonus:
I just picked up The Greatest Salesman in the World and can't wait to read it!
3. The Copy Book by D&AD
This book contains essays from over 50 copywriters and creative professionals that provide solid advice and inspiration for experienced or budding copywriters.
While this isn't a guide to read from cover to cover, it's a great book to have if you need some words of wisdom during your copywriting journey!
4. How to Launch a Freelance Copywriting Business by Jules Horne
This practical copywriting guide will walk you through how to adapt your copywriting skills into a business and how to start your business from scratch.
It includes tips for finding clients, time and money management, and how to live the freelancing life.
Best Copywriting Books for Beginners
If you're just getting your feet wet and starting your copywriting journey, here are the best copywriting books for beginners.
5. Hey Whipples, Squeeze This by Luke Sullivan
Yes, there's a joke in the title! Go ahead and Google it if you're too young to remember this marketing campaign.
Otherwise, check out this book by Luke Sullivan.
Sullivan is an award-winning copywriter that developed wildly successful marketing campaigns for brands such as Miller Lite and Time Magazine.
This practical guide includes lessons on making ads, advertising examples, and getting work as a copywriter – making it one of the best copywriting books for beginners!
6. Content Rules by Ann Handley & C.C. Chapman
If you're looking for a copywriting resource for beginners, this book has all the basics you need to get started!
In Content Rules, you'll learn everything you need to know about creating impactful content and building your brand voice.
There's also a huge focus on social media and content marketing, which is imperative nowadays when it comes to creating successful copy.
7. How to Write Magnetic Headlines by Copyblogger Media
As a copywriting beginner, there are many skills you will develop on your journey to success. One such skill is how to write eye-catching headlines.
This guide by Copyblogger goes beyond simply giving you headline examples.
It digs into why certain headlines work and how you can write magnetic headlines that will give your copywriting some attention-grabbing oomph!
8. Read Me: 10 Lessons for Writing Great Copy by Roger Horberry
The ten distinct lessons in this book will help you start a copywriting career and improve your writing.
The practical techniques and exercises will help any beginner develop persuasive writing skills while exploring the challenges of writing copy for brands.
The author includes inspiring contributions from professional writers so you can get a real-world feel for what copywriting is all about.
Best Books on Advertising Copywriting
While all copy is a form of advertising, knowing how to write content that sells is an important skill for a copywriter!
Here are some of the best books on advertising copywriting.
9. The Advertising Solution by Craig Simpson
Taking the principles of legendary marketers like David Ogilvy and John Caples, The Advertising Solution explores direct marketing and advertising copy.
In this book, you'll learn about creating brand awareness, selling products, and how to keep customers engaged.
There's lots of great information here to help you hone your copywriting skills so you can create effective copy that increases profits!
10. Copy Logic! By Mike Palmer and Michael Masterson
This quick and methodical guide by direct-marketing experts Mike Palmer and Michael Masterson will teach you how to turn average copy into copy that sells.
It's a short read, but it walks you through the process of writing, reviewing, and improving your copy, so you're not wasting your time revising drafts.
11. Scientific Advertising by Claude Hopkins
I find this book fascinating because it was written in the 1920s but still provides valuable insight into the psychology of consumer behavior!
While Scientific Advertising certainly doesn't delve into the world of digital marketing, it's a must-read when it comes to understanding advertising techniques when it comes to marketing a product through copy.
12. Ca$vertising by Drew Eric Whitman
Here's another great book about the psychology of customer behavior – my favorite subject for this B.A Psych major!
Instead of focusing solely on copywriting principles, author Drew Eric Whitman delves into what motivates people to convert into buying customers.
It's an easy read and goes over copywriting principles such as the use of social proof, urgency, and testimonials to improve your copywriting skills.
13. The Advertising Effect by Adam Ferrier and Jennifer Fleming
If you know anything about advertising, then you know it all has to do with influencing other people's behaviors.
The Advertising Effect looks at ten advertising techniques used by huge brands worldwide and how they work.
You can use these examples and explanations to strengthen your skills when writing advertising copy!
Best Persuasive Books for Copywriting
Copywriting is all about using words and storytelling to persuade the reader to take action, such as buying a product or clicking a link.
However, persuasive writing has to be ethical and honest.
To learn more about this style of writing, check out these best persuasive books for copywriting:
14. How to Write Seduction Copy by Henneke Duistermaat
Check out How to Write Seduction Copy – it's a straightforward six-step process for writing persuasive copy.
I love how Henneke writes and her storytelling is funny and memorable!
You'll also find common copy mistakes, writing tips, and an editing checklist.
So, if you're a copywriter looking to improve your persuasive writing, this book is for you!
15. Wired for Story by Lisa Cron
I wasn't sure where to place this book on the list, but I think effective storytelling is a huge part of persuasive writing!
In Wired for Story, author Lisa Cron goes over the art of hooking readers by exploring the neuroscience behind reading.
She then translates the science into tips for writing compelling copy.
16. Influence: The Psychology of Persuasion by Robert B. Cialdini
While this copywriting book doesn't directly address copywriting, it goes over some fascinating principles regarding the psychology of persuasion.
Which, to be honest, can be extremely helpful to a copywriter!
Thankfully, the author does speak against unethical influence attempts so that you can rest assured the tips in this book are not manipulative.
Let's Get Reading The Best Books to Learn Copywriting
I'll admit, even as a paid copywriter, I never hesitate to pick up a good copywriting book to expand my knowledge and improve my skills!
I feel these are the best copywriting books for 2022 you should read!
So no matter where you are in your journey, it's well worth checking out these best books about copywriting.
And if you want to fill your library with more books about writing, check out these posts:
That's it for now!
Let me know in the comments if you've read any of these books or if you have a book you'd like to suggest.