Are you planning on starting a freelance writing career? Or are you hoping to transition your side-hustle into a full-time gig?
Before you jump into the world of freelancing and self-employment, it's important to be prepared.
Doing so involves more than creating a blog and responding to job postings.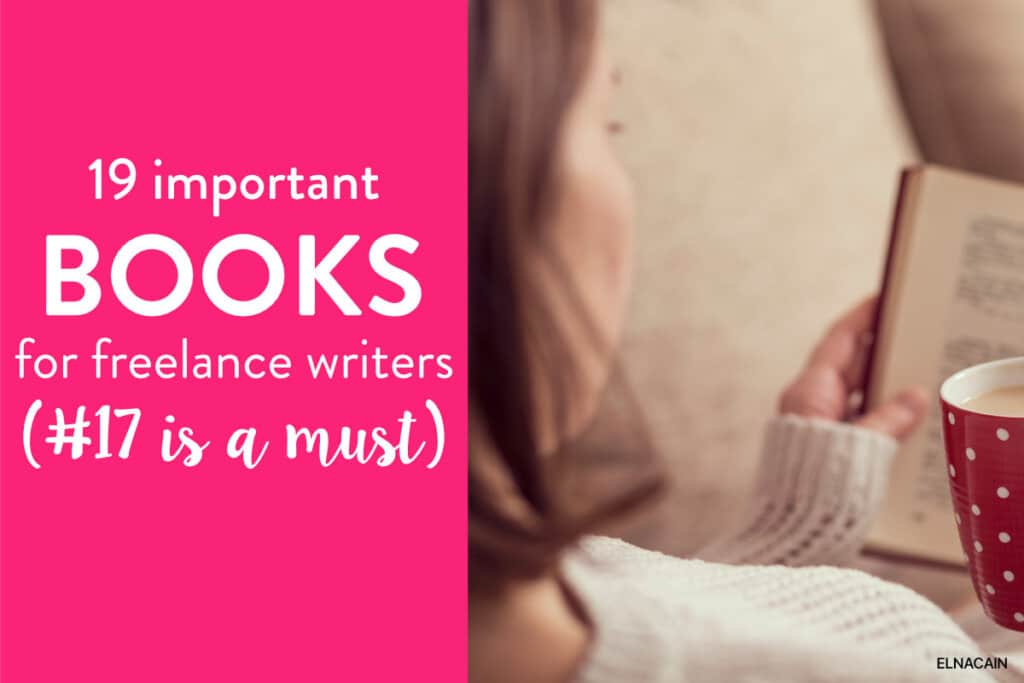 The more knowledge you can gather about becoming a full-time freelance writer, the better you will be able to navigate this lucrative career.
And, that's why freelance writing books are the help for you.
While I certainly strive to provide as much valuable information on this site as I can, there's no denying what you can learn from a good book or two!
Plus, reading about what you are interested in will help you determine if freelance writing is the right career path for you.
In this list I've included books that will help you get your freelance writing business off the ground as well as ones that cover to how to establish a work-life balance, how to improve your writing skills, and how to handle your money and finances.
Freelance writing as a full-time career is a wonderful but sometimes challenging process. Check out these books to help you get started.
Freelance Writing Books About The Freelance Writing Business
Definitely the hardest part about starting a freelance writing business is actually getting started! There's so much to consider from writing sample pieces, query letters, cold pitches, etc.
These books will help you get started on your freelance writing path and build a successful business:
1. Writer's Market 100th Edition by Robert Lee Brewer
The 100th edition of Writer's Market explores the process of getting your content published as a freelance writer. It includes lists of book publishers and magazines as well as contests and awards you should check out.
Apart from the listings, there are articles that will help you with your writing business as well as ways to promote your work.
You'll also find some sample query letters to help you pitch your freelance writing services to potential clients.
2. The Essential Guide to Freelance Writing by Zachary Petit
The Essential Guide to Freelance Writing will answer a ton of questions you probably have about being a freelance writer, such as whether you should freelance full-time or part-time, who you should write for, and how to successfully pitch your services.
This guide also gets into negotiating contracts, building relationships with clients, and getting steady work – all starting with the basics of the business and working you through the path to a successful freelance writing career.
3. Warm Email Prospecting by Ed Gandia
It's hard to find freelance writing clients if you're not ready to pitch your services. That's why Warm Email Prospecting is a must-read – it provides a fast and simple way to hustle for clients for those that don't enjoy pitching or don't have the time.
Warm email prospecting is a bit different from cold-pitching and this book will guide you through the process with samples, templates, and step-by-step instructions.
4. Productivity Planner for Freelance Writers by A. Eneriz
The Productivity Planner for Freelance Writers is a great planner for beginners and one that I use for my writing business.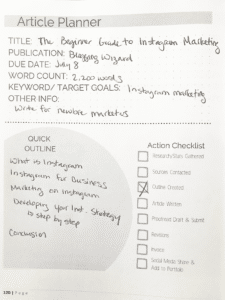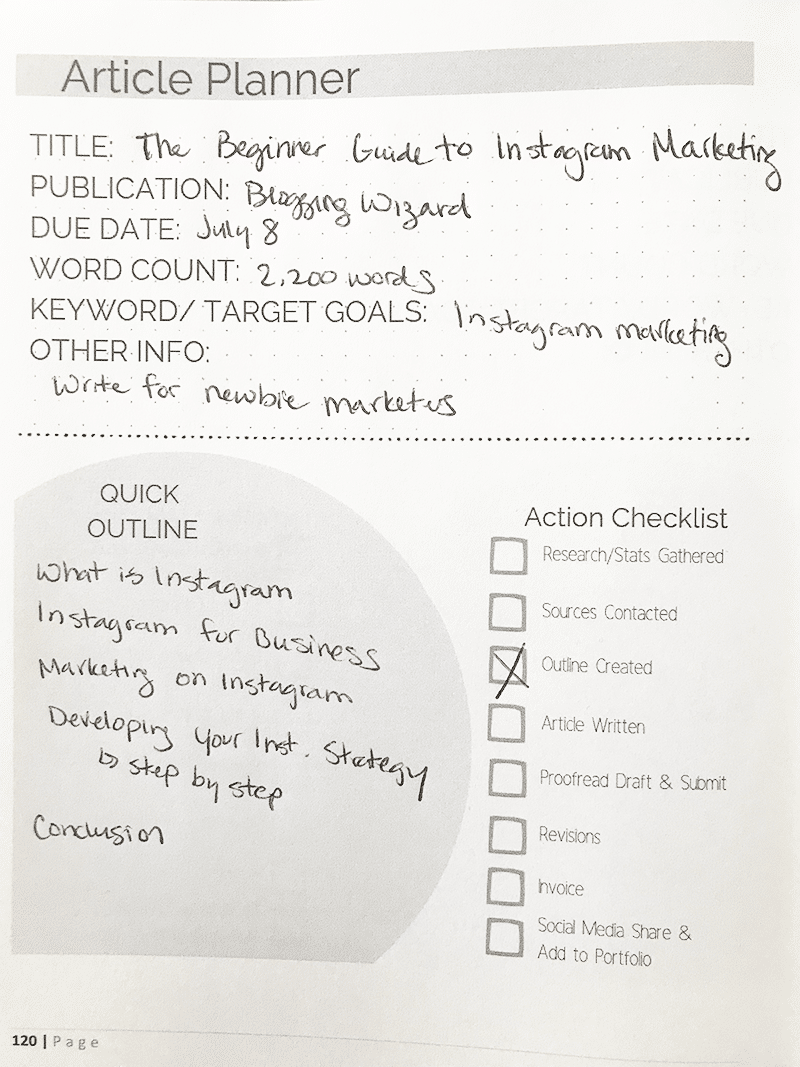 It will help you organize every aspect of your freelance writing career, allowing you the time and energy to focus on building a successful business.
This book provides enough planning sheets for an entire year and helps you reach your business goals as well as track your income!
5. The Freelance Content Marketing Writer by Jennifer Gregory
Jennifer Gregory's book The Freelance Content Marketing Writer shares tips and information for growing a freelance content marketing business through proven ideas, step-by-step processes, and templates.
These methods can help you find high-paying clients, increase your income, and create a successful business. It gets into how to find your niche, write good content, and create a website.
6. The Freelancer's Bible by Sara Horowitz
The Freelancer's Bible is a great book to learn the ropes of freelance writing for those who are just starting out. It will also give insight to freelance writers who have been doing it for a while and are looking for ways to grow.
This book looks at how to get clients, how to keep the clients happy, how to set your fees, and how to get business to pick up after a dry spell.
It will also guide you through setting up a home office, how to write a contract, and how to negotiate with clients.
Freelance Writing Books About The Work-Life Balance
Being a freelance writer is vastly different from working a 9-5 job – even if you do keep these hours as you work from home. It can feel isolating and regular household and family responsibilities can be distracting.
Here are some books that will help you find that balance:
7. Lead With Balance: How to Master Work-Life Balance in an Imbalanced Culture by Donnie Hutchinson
Lead With Balance isn't specifically geared toward freelance writers but it does offer some great insight into creating a work-life balance.
Even if you're working from home, it can be difficult to differentiate between work-time and home-time. This book addresses that issue and explains how you can properly manage all important aspects of your life.
8. Juggling on a Hire Wire by Laura Poole
In her book Juggling on a Hire Wire, Laura Poole addresses a common struggle faced by freelancers: when you work from home, you feel like you're working all the time.
She explores how to find a work-life balance when you're your own boss.
This book is filled with strategies to help you create a work-life balance as well as time-management tips and dealing with non-work issues such as your personal needs and parenting.
9. The Self-Employed Life by Jeffrey Shaw
The Self-Employed Life is a guide that can help you as a freelance writer strategize both your business and your personal development. This includes removing limited thinking, marketing, and developing efficient daily habits.
Overall, this book provides a holistic approach to running your own business and being self-employed as a freelance writer. Through balance, you can create an environment that attracts business success!
10. Your Work From Home Life by Becca Anderson
Your Work From Home Life addresses the challenges of working from your home and helps you reorganize and redefine your career. For remote freelance writers, there's lots of tips from how to be productive to even what colors you should choose for your home office!
In this book, you'll find advice for achieving your professional and personal goals, creating a budget as well as how to avoid distractions. It also includes bonus checklists and templates.
Freelance Writing Books About How to Write
Freelance writing can be a competitive field, so it's important that your hone your skills so you can stand out to potential clients and earn more money. Even the best writers can brush up on grammar and spelling from time to time!
Check out these books about improving your writing skills:
11. The Elements of Style by William Strunk Jr.
The Elements of Style is a super popular book for writers of all walks of life – from authors, to content writers, and even high school and university students.
It contains information such as rules of usage when it comes to language and commonly misspelled words. This book will ensure that your content is high-quality and free of spelling and grammar errors.
12. 100 Ways to Improve Your Writing by Gary Provost
100 Ways to Improve Your Writing is a guide for all writers and is filled with professional tips and instructive examples. This book will give you solid building blocks on which you can build good writing skills for your freelance writing career.
The information includes how to use proper grammar and spelling as well as punctuation and topic sentence. It will also guide you through writer's block and creating a strong title for your content.
13. How to Write Non-Fiction by Joanna Penn
Joanna Penn's How to Write Non-Fiction is more geared toward writing a book but will help you get into a writing mindset by addressing issues such as originality, fear, and self-doubt.
It will also guide you through building a writing business by identifying your audience, researching your content, and self-editing your work.
The marketing section of this book covers building an author site as well as an email list.
14. Everybody Writes: Your Go-To Guide to Creating Ridiculously Good Content by Ann Hadley
Everybody Writes is a guide to marketing your content and attracting clients. It looks as words as currency and stresses the importance of using good writing to place value on yourself as a freelance writer.
The lessons in this book apply to all kinds of online content such as web pages, blogs, emails, and social media posts. It goes over topics such as how to write better, how to use grammar, and how to tell a story as well as content tools to make your job easier.
15. The Art and Business of Online Writing by Nicolas Cole
A huge part of writing high-quality content that clients will pay for is knowing how to write content that will get noticed. The Art and Business of Online Writing offers a toolkit of writing strategies, headline structures, and online formats.
This book goes further by outlining strategies to go viral on social media, generate endless content ideas, and how to position yourself as an influential voice in your industry or niche.
It also gives ideas of how to turn online writing into other money-making assets such as books and ebooks.
16. Letting Go of the Words by Janice Redish
Another huge part of writing paid-for content is knowing how to use SEO to optimize online content. Letting Go of the Words will teach you about SEO (search engine optimization), social media optimization, and content strategies for websites.
This is a good book to own if you want to optimize your writing for the web and attract high-paying clients.
Freelance Writing Books About Money and Finances
While you can make a lot of money as a freelance writer, how you handle that money is key to the success of your business.
In order to navigate the intricacies of being self-employed and earning a full-time income, here are some books you should check out:
17. The Money Guide for Freelance Writers by Alexis Grant and Richard E. Grant
The Money Guide for Freelance Writers is an amazing book that lays out the money side of having a freelance writing business. Many freelance writers don't realize that this job involves more than writing – there are taxes, invoicing, retirement savings, etc. to worry about.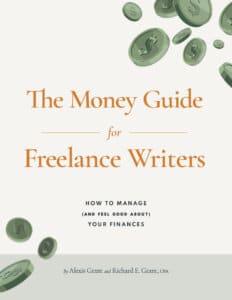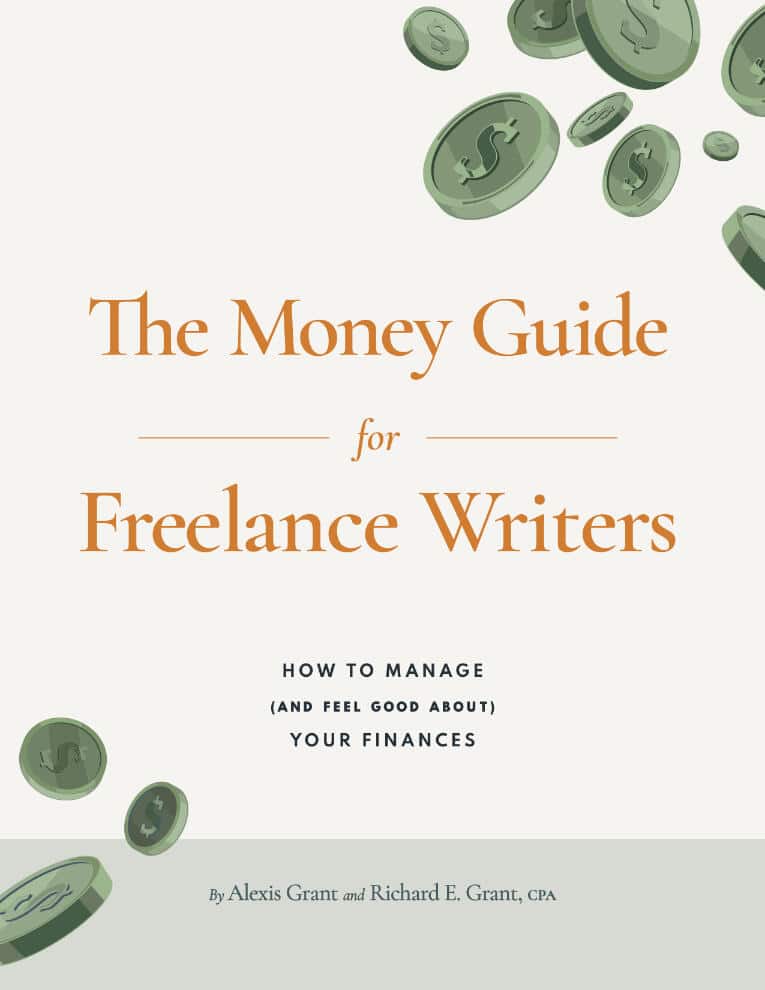 But this book goes over everything!
From making sure you're earning enough to cover living expenses and taxes to how to use value-based pricing to increase your income.
You'll also learn about the difference between a sole proprietorship and making your business an LLC.
This is definitely a book you need if you want to be a full-time freelance writer and it's one I recommend to all my students!
18. The Money Book for Freelancers, Part-Timers, and the Self-Employed by Joseph D'Agnese and Denise Kiernan
The Money Book for Freelancers is aimed at those who work for themselves and make money through gigs, assignments, and clients. It describes a system for earning, spending, and saving as a freelance worker.
Some of the topics covered include managing your cash flow, keeping track of what you're earning, getting out of debt, saving money, and even dealing with clients that don't pay.
19. Small Business Tax Facts by Ronika Khanna
Small Business Tax Facts is a guide for Canadian small business owners or those who are self-employed.
It helps you stay away from simple errors and miscalculations while only paying for what you owe.
For Canadians, this book will show you what deductions and expenses you can claim as well as how to prepare your tax return and calculate your CPP contributions.
Over To You!
Are you ready to take on the life of a freelance writer? Hopefully, some of these books will get you started on an amazingly lucrative career path!
Keep in mind that becoming a full-time freelancer can be a challenging road but, with passion and knowledge on your side, you will find success.
For more help, check out my list of copywriting books, editing books, books about writing and books written by other freelance writers!
Are there any good books you've read about freelancing that I missed on this list?
Is there a topic you wish someone would write about? Let me know in the comments!