If you're a new freelance writer, one of the hardest decisions to make is determining your rates. Oftentimes we undervalue ourselves and end up taking low paying jobs just to get by.
Learning how to get paid what you're worth is what my blog series, Freelance Writing Jobs for Newbies, is all about. I want to help new freelance writers start out on the right foot, earning big bucks when opportunity arrives.
Part One, Landing Your First Client, helps newbies navigate the path to landing their first high-paying client.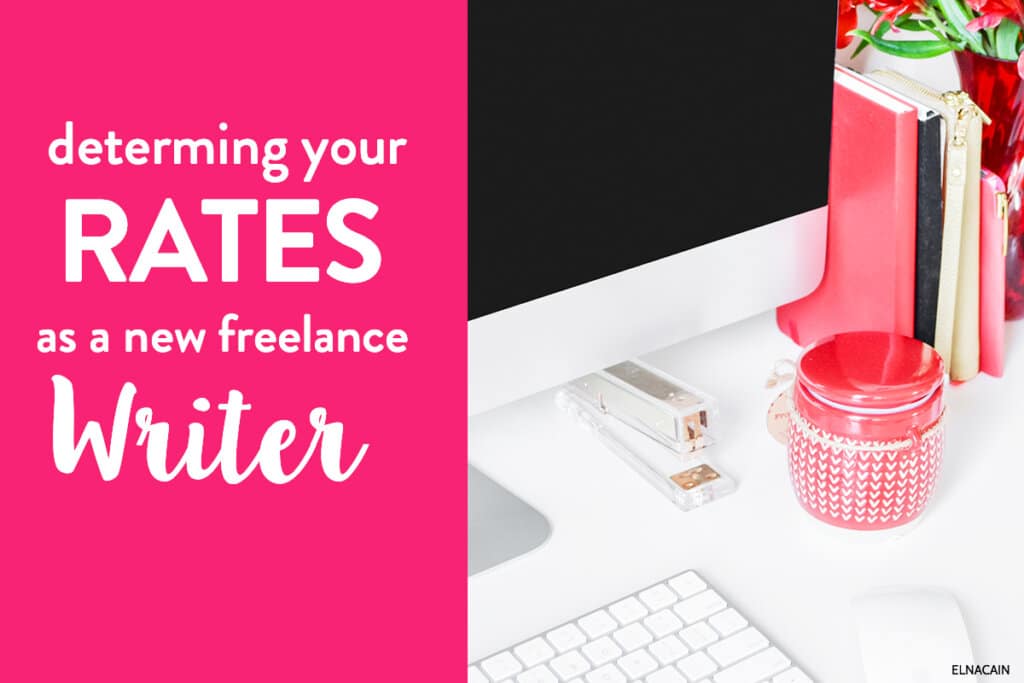 Part Two, 10 Questions to Ask a Prospective Client, gives the new freelance writer key questions to ask during an interview.
In this post, I'm going to lay out what you need to know when deciding your rates.
How do you know if you're charging too much or too little?
What's the going rate for freelance writers?
How much should you ask for your writing?
When I first started freelance writing, I asked myself the same questions.
At an attempt for answers, I started asking other freelance writers what their rates were and looking at freelance writers' websites, seeing if they posted their rates. I wanted to know if there was a standard.
I learned quite quickly that there isn't one and I shouldn't base my pricing on what other writer's charged.
Every Writer is Different
Before deciding on a precise dollar amount, you must take into account that every writer brings something different.
Some considerations you should look into when figuring your rates are:
1. Level of Experience
While you don't need a journalism degree to be a freelance writer or blogger, the more experience you have in this profession, the better you have at getting away with charging $800 a blog post. Having a degree in writing also doesn't hurt. It helps add credibility to your brand.
2. Niche Expertise
Some niches, like finance and business, are more lucrative than others. Try to use your past experiences to add to your established niches.
For example, as a mother I suddenly became concerned with all the bad chemicals I used every day from washing my hands with triclosan to putting on lotion filled with parabens.
Having children opened the doors for me to learn everything there is about green products and natural living.
Because of my new interest, I can now say I have expert knowledge in green living.
3. Type of Writing
Your price should also be reflective of the type of writing your client requires. I don't want you to think you have to have one overall price point as a freelance writer.
Each client and each writing assignment should be looked at individually.
For many writers, technical writing usually warrants a higher price than let's say a blog post on pet products. While most technical writing requires the writer to be familiar with industry related terminology, don't let that stop you from trying to get your foot in the door.
4. Familiarity With the Topic or Product
If you are fortunate enough to have clients that provide services or products within your niche, you can often price accordingly. Usually, for known topics and products, writing comes a little easier and faster for freelance writers.
Because of the familiarity, many, if not most, freelance writers will quote a lower price than they would for an unfamiliar niche or product.
5. The Turnaround Time
Clients often need fresh new content yesterday. When you know how often they need content, you can judge whether the time frame fits your schedule and base your price off that.
For instance, if a client wants a 1,200 word article on a known niche in 2 days, I will add a predetermined percent to my price. I will also let the client know this in case they want to adjust their turnaround time frame.
How Does a New Freelance Writer Charge a Client?
Do you charge per hour, per word or quote a flat rate?
What are the benefits of using one or the other?
Pricing Per Hour
I highly suggest you don't limit yourself to pricing per hour. In the end, you will be making less than what you actually deserve.
Per hour rates also doesn't apply to many freelance writers. For me, I'm a WAHM with many distractions throughout the day. I'm lucky if I can type for more than 2 hours at a time without interruptions from my children, husband or chores (cooking, laundry etc..).
Also, you don't want to scare off clients by telling them you charge $300/hr. For many people, that's crazy talk!
But if you instead, give an overall price of $300 for a writing assignment, it's easier to back that up by saying you'll do extensive research, interviews and that you have expert knowledge in the industry and…yada yada yada.
Look at it this way, if you are a fast writer, charging by the hour will result in less earnings. You're essentially penalizing yourself for being a fast writer!
As well, other types of online jobs do offer per hour rates like: transcription jobs, online editing jobs, and proofreading jobs.
Pricing Per Word
Pricing per word is common for journalists and freelance writers.
Publications also quote a per word price point when advertising for a writer.
Online writing can yield you anything from $.01/per word to $.80/per word or more.
But if you do print publications or write articles, don't be surprised to see price points starting at $1.00/per word.
As a new freelance writer, you may think that if you quote a low rate, you will get more clients.
What you will actually get is clients that don't value content creation and will treat you like a content mill worker.
To get out of that mindset, aim higher.
Of course, without any experience you must start somewhere, but don't start at the bottom! Ultimately, if you're a good negotiator, you can get what you deserve.
Pricing a Flat Rate
For me, I'm starting to lean towards flat rates for my freelance writing clients and copywriting clients.
I think it's easier for them to justify what they are paying and makes it easier for them to budget for your services.
One thing I've seen other freelance writers do is advertise service packages for their content that includes social media marketing, number of outbound links and the use of images.
So for example, you can charge $400/month for 1 blog post a week with active social media marketing, free creative commons images and 3 outbound links.
The same package without social media marketing and images can be $300/mth.
What I am starting to do is have a base rate for certain types of content. For example, some types I've included are:
Formal content that requires a writing style guide
Casual content without restrictions
Product review
Personal storytelling
I generally price less for content that is familiar to me or that uses my own experiences as the focus of the writing.
Pricing Based on Your Previous Rate
One more thing that freelance writers also do when considering their rate is to base it off their hourly rate from their previous job and inflate it a little. This is to account for self-employment taxes and any other expenses for your business.
You could then use this minimum rate as an indicator whether or not to take on a client or writing assignment.
Putting It All Together
It's important before determining your rate as a freelance writer to take into account all the considerations that influence one's rate.
Are you ready to put it into action? Figuring out your rate can be a tough one. Try to turn your back away from content mill rates and instead, show clients you are a serious and professional writer!
In my next post for Freelance Writing for Newbies, I'm going to talk about the importance of having a contract in place.
So readers, enjoying the series? I hope so! Let me know in the comments below how life of a freelance writer is treating you!