You're a new freelance writer.
You've read tons of articles, posts, seen videos and webinars and you have it all figured out. But, one things missing – you haven't landed your first client.
I get it: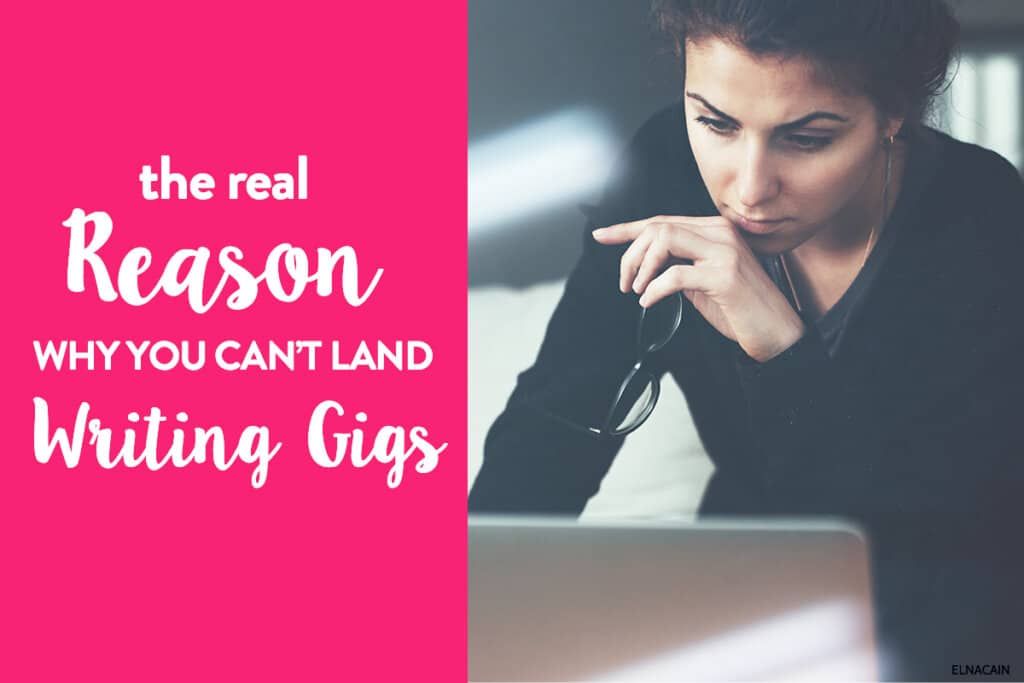 I was once in your shoes. I had no portfolio, no one knew I was a freelance writer on social media and all the pitches I sent didn't pan out.
So, what happened? What changed that newbie freelance writer back then into a professional writer with a ton of credibility now?
You Might Be Overwhelmed
There's so much information out there, which one do you focus on? Which post tells you what really goes on as a freelance writer? Which blog gives you the best tips on how to navigate this profession?
After reading so much information on what to do, you become paralyzed, unable to do anything.
This happens to a lot of new freelance writers. With so much information, they lose track of what's really important – to get out there and take action.
Suddenly, fear starts to settle in. This is what happened me and it almost ruined my career. You start to doubt yourself in your ability to be a freelance writer.
You question if you really are a writer and wonder if you're really cut out for this.
Why You Can't Land Freelance Writing Work
It's not because you might be overwhelmed.
It's not because you don't have a portfolio.
It's not even because you don't have a good pitch.
It's because you're not confident.
Having a hard time as a new freelance writer putting yourself out there to getting noticed? My course, Write Your Way to Your First $1k, gives you a proven system to squash fear and give you the kick in the butt you need! Check it out!
And it seeps into all areas of your business. You might be negotiating with a client and instead of being sure with your rate, you end up saying something like,
"I can write that blog post for $50, if that works for you."
See what happened? By saying, 'if that works for you' you open the door to a lower price. All because you weren't confidence in the value you have as a writer.
Clients are investing in you, not spending money on you. They want your expertise, knowledge and social influence to help them with their business.
Maybe as a new writer you haven't gotten this far in a pitch. Maybe you're stuck in the whole, "I'm a freelance writer, who's going to hire me?" thinking pattern.
I know, it's tough. You think there's no way they're going to pay a mother with a psychology background to write an expert post on starting a content marketing strategy for a B2B business. She's not even a writer!
Maybe you think like this because you have nothing to show of your writing. This all goes back to taking action. You'd rather read about freelance writing than do freelance writing.
You'll gladly spend an hour perfecting your pitch, but never send it because it needs just one more tweak.
And you don't bother creating a writer website because, hey, you're not even a writer, right! With only a (insert your training) background, no business is going to look at you and say, 'hey, that woman with an event planning background will be perfect for my content needs.'
But, you know what? If you promote yourself as a writer, you'll get hired as a writer. Don't ever think you're not a writer. You chose this profession because you enjoy writing, like reading blogs and want to earn some extra cash on the side or stay home and raise your child.
Lack of Confidence Stinks
I said your lack of confidence seeps into all areas of your business….and you know what? It also stinks. Clients get wind of it, it shows in your writing and in your overall brand message.
Who would want to work with that stinky writer?
Who would pay them their rate?
So, you see, when you don't have confidence, it shows. And this doesn't only happen to new freelancers. It also happens to seasoned ones. I'm not going to lie and say it hasn't happened to me now that I've been doing this for a year.
When I have those feelings of doubt and am not confident, it's usually when I land a client in a new niche. For example, I'm looking into doing some copywriting and I landed my first copywriting project. I had to stop for a second and realize what I had to do. Since I'm new to the whole world of copywriting, I started doubting my ability to do this project.
But, all I had to do was give myself a pep talk and tell myself I can do this. I've already done it on my course page and coaching page.
But, for newbies, how can you shake those feelings off of you?
Freelance writing is tough.
It's your own business and if you fail, that means you failed your business.
Let's look at three ways that helped me when I first started freelance writing.
1. There's Room for You
A big reason many freelance writers fail is because they don't think they are anything special. They learn there are a ton of freelance writers out there.
But, you know what? The internet is big and there are more companies, businesses and soloprenuers who need content writers.
You have to work on finding these clients (or better yet, have them come to you) and creating a solid brand.
Your brand will help stand out and be unique. Whether you're the veterinarian who turned freelance writer or the mom of twins who's making it as a freelance writer (yup, that's me), find your "shtick" and run with it.
2. Put Yourself Out There
How often do you pitch and promote yourself? How many guest posts have you landed? These are the things that will get you freelance writing work.
For me, when I find I don't keep up with my social media, guest posts and if my client pieces aren't published until much later than I had thought, I don't receive any queries about my services. The internet "forgot" about me.
That's why it's important to keep up with your online presence and put yourself out there. Pitch, guest post and blog!
If you're not confident yet about your pitch and landing a real gig, try guest posting. It's a lot less intimidating and it's often easy to get published if you know the right blogs to guest post on.
3. Hone Your Craft
Sometimes our lack of confidence really stems from our perception that we aren't genuine writers. We don't have a journalism degree and the last writing class you took was in high school.
If this is you, maybe all you need is to brush up on your writing skills and grammar rules. For me I found these places have helped me strengthen my skill as an online writer:
Take Action
Make this time the time you take action and learn the steps to becoming a successful freelance writer. Enroll in my course!
Anyone can be a freelance writer. But, not every freelance writer can be successful. To truly be successful you have to really want it and go out and get it.
For me, this has to work. I want to stay home with my twins so I have to contribute to our income. If I don't put myself out there and take action, I don't get paid.
So, are you ready to get out there and own it?
You're in charge!