One of the things I did before I became a freelance writer was spend time on Facebook. I would post pictures of the twins or of what we did for the summer. I also connected with family and friends.
But, since becoming a freelance writer, I quickly learned how to market my business as well as network with potential clients on Facebook.
How? With Facebook groups. And did you know there are groups for freelance writers or ones that would benefit them? By joining a Facebook group you can:
Answer questions related to your niche and service
Invest in warm pitching
Start networking with other freelancers and prospects
Share your client posts, guest posts, and blog posts to grow your reach
And when you do those things, you get more clients and grow your income! Win-win!
So, there are definitely many benefits to joining Facebook groups. To help you succeed faster at freelance writing, I'd though I'd share the 12 best groups just for freelance writers (psst…some of these are for female writers or moms).
1. Freelance B2B Writers
Hosted by a freelance writer, Andrea, this Facebook community for B2B writers are for business writers that write for other businesses. In her group you'll find resources for your industry as well as other writes in your niche that can help you out!
This is what Andrea says about the group,
We're ambitious marketing content writers building a high-income, high-value freelance business.
2. The Freelance to Freedom Project
Leah, a freelancer, is the host of this group. You do have to sign up to her list to join her lively group. Connect with freelancers of different industries so you don't have to do this alone.
This is what Leah says about her group,
The Freelance To Freedom Project the amazing community it is. You inspire me every. single. day. and I'm so grateful for that.
3. Creative Freelancers Unite
This group is hosted by Lizzie, a freelance writer. I love this group and I am a follower of Lizzie. She has FB live sessions to answer questions in the group as well as tips to help you as a freelancer. She does a promo day in the group where you can share your work!
This is what she says about the group,
This is a community where like-minded individuals can learn, share, and grow their kick-ass businesses!
4. Female Freelance Writers
Female Freelance Writers is a group specifically for women writers. It's hosted by Shelby Deering, a freelance writer. This is a great FB group as it has new freelance writers and experienced ones. There are discussions about your portfolio, your rate and more.
This is what Shelby says about the group,
This is a place where female writers, like myself, can ask questions, promote work and other things that you're up to, and simply support one another.
5. The Careful Cents Club
Carrie of Careful Cents has a great Facebook group to help freelancers connect and get their questions answered. This was one of the first freelance type groups I joined and I haven't been disappointed. You do have to sign up to her list to join this group, but there are a lot of perks when you sign up!
This is what Carrie says about the group,
Deciding to quit your job and freelance full-time can be a lonely (but rewarding!) journey. You're not alone! Use this private Club to connect with other like-minded freelancers who offer support and can relate to what you're going through.
6. The Cult of Copy
Are you into conversion copywriting? This group talks all about that and selling. If you want resources, guiding and help, join this group.
This is what the group is about,
Do you like copywriting and persuasion and mind control and all that sneaky kind of stuff? Me too. Let's chat about it. From ad men who sell stuff with words, to mad men who control cults with psychology, to bad men who manipulate masses with influence – what is taboo and forbidden elsewhere is dragged out into the light and dissected here for fun and profit.
7. The Write Life Community
The Write Life Community is a fabulous community of writers. Whether you're an author, indie writer, academic writer, freelance writer or blogger, you can benefit from this group.
This is what the group is about,
Giving writers a place to connect, so we can all help each other earn!
8. Sisterhood of Hustlin' Mamas
Carrie is a mom and freelance writer and her mom-focussed group is a motivated and supportive place for you! I love this group and I love how Carrie is so inspiring. Her Facebook Live videos are amazing and she gives great tips to get you on the right foot as a huslter!
This is what Carrie says about the group,
This is a place to escape the constant deadlines, emails, and piles of laundry. A place where you can grab your (still hot) cup of coffee and truly connect with fellow sisters who get it.

Building a business or new career from home is exciting and freeing and … kind of isolating. This group is meant to be a virtual yoga class or coffee shop where you can run into your favorite mom friends who always know just what to say.

We are here to support one another while lifting each other up.
9. Writing Revolters
Jorden is an amazing freelance writer and she stands behind cold pitching and valuing your worth as a writer (she's my kind of writer for sure!). Her Facebook group is brimming with exciting new writers and experts.
This is what she says about her group,
This is THE place to hang out if you're a freelance writer or blogger!
10. The Lightbulb Club
I just love Martine! Her voice is beautiful and enchanting and I'm in love with her podcast. So, when I found out she also has a FB group, I signed up!
Martine is a course student of mine and I'm so proud of her accomplishment as an entrepreneur!
This is what she says about the group,
The Lightbulb Club is an exclusive, closed group for creative bloggers, makers, artists and small business owners looking for community and support developing their presence online. It's a safe space to meet like-minded individuals, chat, get feedback and learn.
11. Writeto1k Success
Okay.
I know all these Facebook group are all FREE, but this one, Writeto1k Success, is a paid Facebook group. This group is specifically for course students of Write Your Way to Your First $1k.
I didn't want to make a course without having a solid and supportive community behind it. Course students can ask any question and other students will answer them and help them out.
I also go in the group as much as I can to help out and answer questions.
I also have Facebook Live videos of lessons or tips to help students. I recently started a Q/A Live session to answer newbie questions and I'll continue to do this once a month as this really helped brand new course students.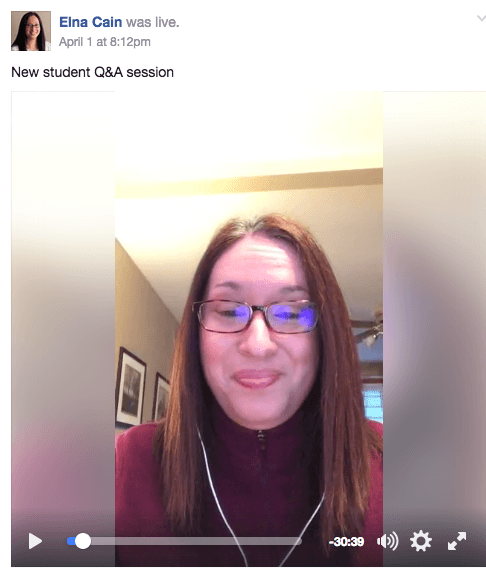 If you are new and want me to hold your hand through this (because the course is a hold-your-hand type of course you know) plus have a supportive community and lifetime access to the course and meeeeeee! then come join us today!
There Ya Go!
Go have fun and connect with other freelancers. Tell me in the comments your favorite Facebook group!
Make sure you grab my resource on how to Accelerate Your Freelance Writing Income in 7 Easy Steps!