As a freelance writer, do you feel like you're spinning your wheels every day trying to make a steady income?
It can definitely be stressful, feeling like your financial situation depends on picking up a handful of clients after spending hours pitching and applying for writing jobs.
Your mind immediately starts to wonder what happens once the work with the client is done.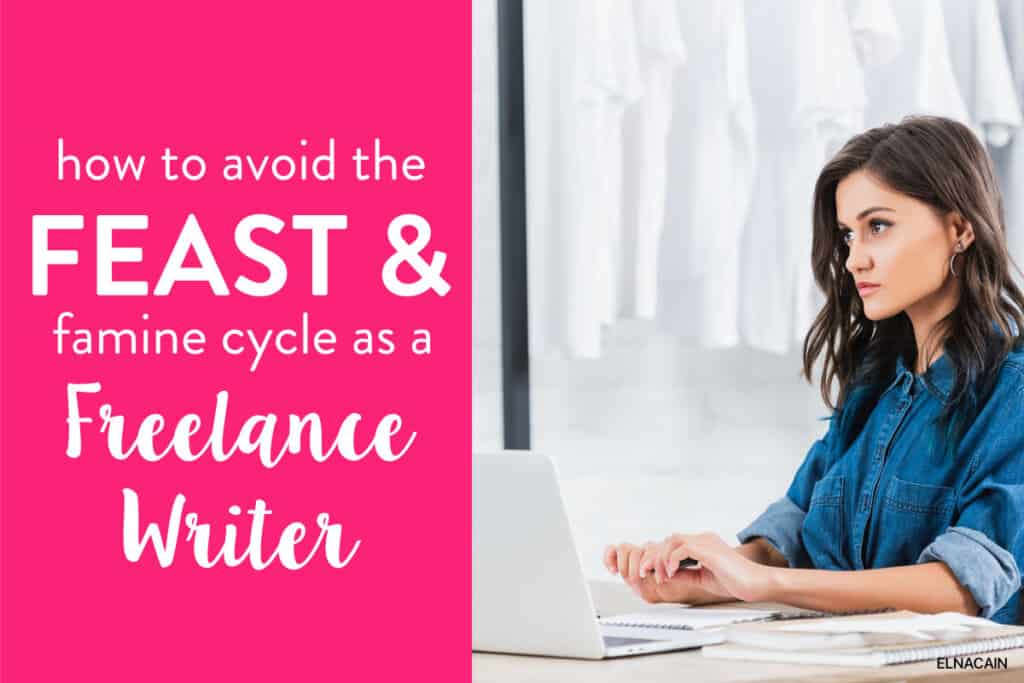 In the world of freelancing, we call this the "feast and famine" cycle where some months are lucrative and earn you a liveable wage while other months have you feeling like you should throw in the towel.
This is a very real thing that happens to freelance writers but there are ways to avoid it.
If I've been freelance writing for over seven years, work with a handful of top paying clients, I know you can definitely get started and be a freelance writer for years to come!
I'd hate to see you give up on your dream of becoming a freelance writer because the work and pay are inconsistent.
To help you out, here are some ways you can avoid the feast and famine cycle as a freelance writer.
1. Structure Your Writing Packages For More Consistent Work
While offering a one-off pricing structure for your freelance writing services can certainly attract new clients, it's no guarantee that these clients will stick around.
Many clients prefer a package deal that helps them develop a strong and long-lasting content strategy.
For example, you may be offering your writing services as "$X for a 1,500-word article." This is a solid strategy to attract freelance writing clients but they may simply pay for that one article and be on their way.
Instead, offer a package deal that includes:
3 blog posts per month
1 feature interview
3 editing posts
5 Facebook posts
Or you can do something like:
4 blog posts per month
6 editing posts
1 interview or 1 case study per month
10 Facebook and Instagram posts
Ultimately, as a freelance writer, you get to decide what writing services you want to provide!
As well, you can price your packages based on what you want.
A Writeto1k course student wrote up a proposal for a prospect that wanted 40 blog posts and social posts.
Since this is a large project, this student priced the highest package at $10,000.
By positioning your services as package deals, you can attract more clients, bigger clients, and long-term clients.
Personally, I don't publicize any bundles and packages but when I negotiate with a potential client, I ask them if they need any additional services such as featured images, Instagram posts, etc.
I like this approach because if I have a lead that wants a lot of content or has a big campaign, I can offer a bundle deal and land recurring work!
Make sure to have your "packages" figured out when pitching to freelance writing jobs.
That way you have a framework to refer to during the negotiation process.
2. Do Regular Outreach to Stay Relevant
As a freelance writer without any jobs, you need to start doing regular networking to connect with potential clients.
How do you do this?
With social media!
For me, Twitter and LinkedIn has brought in most of my writing work in regards to social media.
Here's a recent lead for email copywriting – my new service.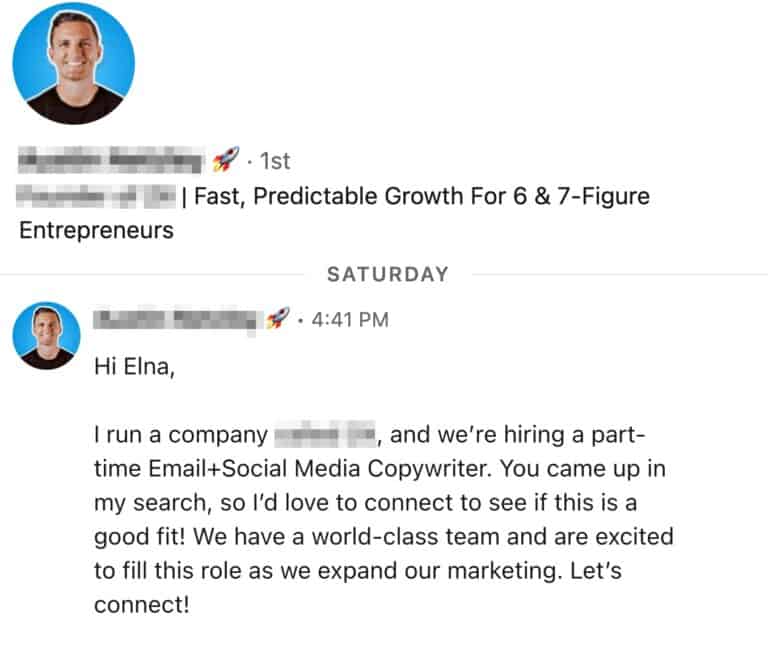 Instagram is still new to me, but I have been getting traction much easier than any other social media platform.
To begin outreach, start following the businesses, coaches, authors, influencers and bloggers that you want to eventually collaborate with.
Make sure to also listen to podcasts of those you are following.
Simply listening to how a potential client can help you learn insider tips and craft a a more optimized pitch.
You can also start following your existing clients and see who they are following.
Go ahead and follow those businesses!
Make sure to maintain regular connections and networks by sharing their content, replying to their emails and more.
For example, in Facebook groups you might see SEO experts, VA's or business coaches.
Go ahead and refer them to your network and you never know, they may hire you or refer you to one of their clients!
The point is to be available and helpful and this can help you avoid the feast and famine cycle.
3. Pay Attention to Seasonal Fluctuations
Things notoriously fluctuate in the online world!
People will search for a topic less or spend less time online when the weather is nice.
Paying attention to the tide of the year will help you yield better freelance writing jobs and have consistent income every month.
For me, the end of the year is the best time to land new writing gigs.
Companies are preparing for the New Year, allocating a larger budget for content marketing.
If you network with companies in December, there's a good change in January they will remember you and hire you.
This doesn't mean you should ignore your freelance writing business when things aren't booming online.
You can spend the rest of the year focusing on your business and doing freelance writing tasks such as:
Optimizing your writer website in the fall
Cold pitching and sourcing leads in November
Offering a new service in the spring
Ramping up your guest posting in the spring
You can also offer a discount for bulk projects in the slow months.
For businesses looking for content in bulk, this may appeal to them no matter the time of year.
While you don't have to offer deals on your services, this can really help with conversions during the summer – and ensuring you can continue to have an income from your freelance writing.
4. Incentive Referrals
When it comes to avoiding the feast and famine cycle as a freelance writer, it's important not only to nurture your existing clients to get repeat business but to onboard new clients as well.
You can do this by offering a referral incentive to your current clients.
Tell them they will get a deal or free content for a month if they refer you to their network and you land a gig.
Think of it as a sort of affiliate marketing for your freelance writing business but it's more personal because you're offering something special directly to your current freelance writing clients.
Not is it only a simple way to secure ongoing business as a freelance writer, but you're also showing your clients you appreciate working with them and trust you will have a pleasant experience with anyone they recommend.
What I love about this idea is you can then offer a referral incentive to those new clients!
It's a sort of domino effect that can assure you have clients to work for on a regular basis.
5. Create Diversified Income Streams
Money won't be an issue if you're always making an income as a freelance writer by diversifying your income stream.
This means finding ways of making an additional income in case your writing income tanks.
You can do this in a variety of ways including:
Monetizing Your Blog: If you have a blog with really good traffic, you can make money by placing ads and signing up for affiliate programs where you make money promoting other company's products (think Amazon, for example).
Selling Courses: If you have a specialty or extensive knowledge of a subject, you can put together and sell online courses to teach others what you know.
Coaching and Consulting: Instead of selling courses, you can offer to coach and consult directly with others who want to achieve a certain goal.
Selling Digital Goods: You can branch out from writing by selling digital goods such as web graphics, infographics, planners, eBooks etc.
When it comes to diversifying your income stream as a freelance writer, it's important not to spread yourself too thin.
You don't want to focus so heavily on another source of income that you don't have to time complete projects for clients.
But with the right amount of balance, it's totally doable!
You can also split your income between various types of writing to avoid losing income when things are slow.
For example, if there's a decline in jobs for writing blog posts, you can offer social media content writing as well.
The same goes for your writing niche.
If you find there isn't a lot of freelance writing jobs in your niche, consider exploring another one.
Just make sure you stick to something you know in order to maintain your credibility and expertise!
You can also expand your client base and work with a variety of clients so you're not putting all of your eggs in one basket.
I like to work with no more than 3 regular clients and one or two ad hoc clients.
This still gives me time to write content on my two blogs and help any of my course students!
6. Learn How to Save Money and Budget
While this is more of a practical life suggestion, it's an important one you should learn as a freelance writer – especially when you are just starting out.
With definite ways to avoid the feast and famine cycle as a freelance writer, you need to be prepared just in case.
In fact, having a good savings account may save your bacon when the work does decline. So, in a way, you are avoiding the famine even if work is slow!
I tell all my Writeto1k students to make sure and pick up Alexis Grant's book, The Money Guide For Freelance Writers.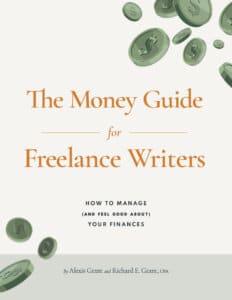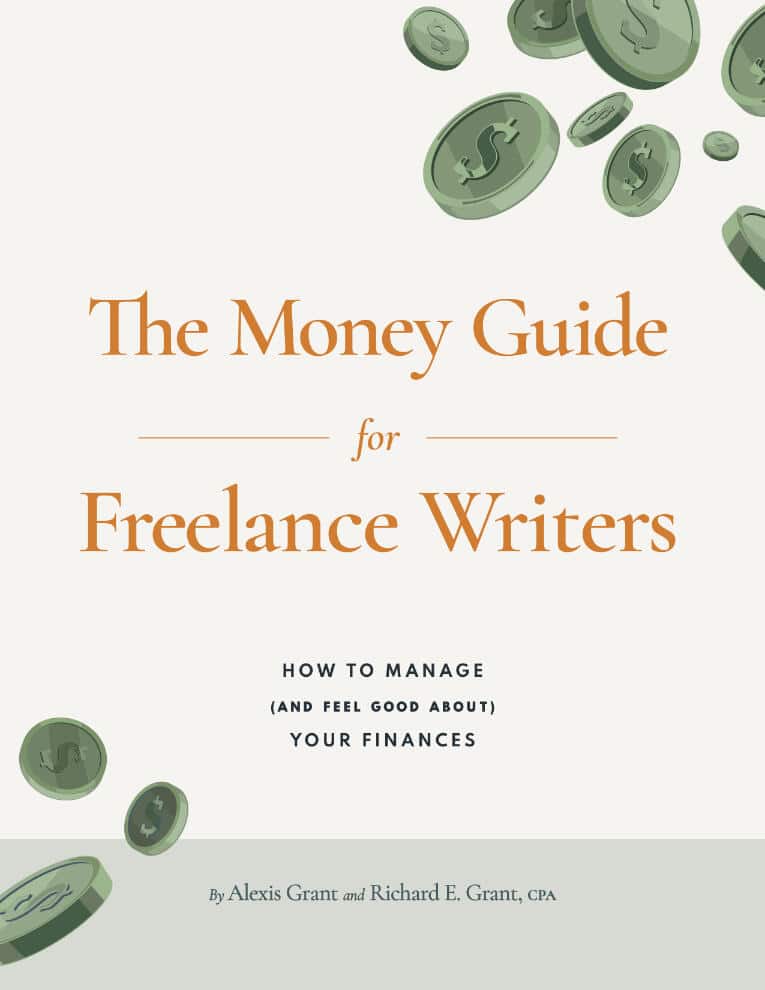 Here are some tips to get you started on budgeting and saving money as a freelance writer:
Write down your fixed expenses. These include your rent/mortgage and monthly recurring bills. You can guesstimate other expenses such as groceries and gas.
Look at your leftover income. See how much you can put into savings while still having some money for non-fixed expenses (such as new clothes, entertainment, etc.)
Write down everything you spend. This will help you determine if there are any unnecessary purchases you can cut out to save more money.
During your "feast" months where you are making a healthy income through freelance writing, try to plug more away into your savings account.
This way, during your "famine" months, you can dip into that savings if you are running short during the month.
Just don't look at dipping into your savings as a bad thing – think of it as paying yourself!
By learning how to save money and budget, you can ensure that you are never going to be short on cash as you grow your freelance writing business.
And the less time you spend stressing about your income, the more time you can spend focusing on gaining new clients and securing long-term work!
Don't Give Up!
Getting started as a freelance writer can be really frustrating when your income is inconsistent – but you have to believe things will get better as you gain more experience and clients.
Because it will!
As you're following the tips in this post, make sure you are focusing your downtime on growing your business.
By establishing and marketing yourself as a professional writer, you'll eventually have a steady flow of clients and won't have to worry about the feast and famine cycle again!
This happened to me within months of landing my first clients, so don't think this will take you years!
Finally, don't forget to get into the habit of saving and budgeting your money – this will also help financially protect you against any unforeseeable circumstances.
Do you have any advice to share to avoid the feast and famine cycle as a freelance writer?
I'd love to hear it! Leave your words of wisdom in the comments.
Please pin me!