Making money by doing what you love sounds great, doesn't it?
I know I got into freelance writing because I absolutely love it.
It's an opportunity for me to follow my passion, earn an income, and work from home.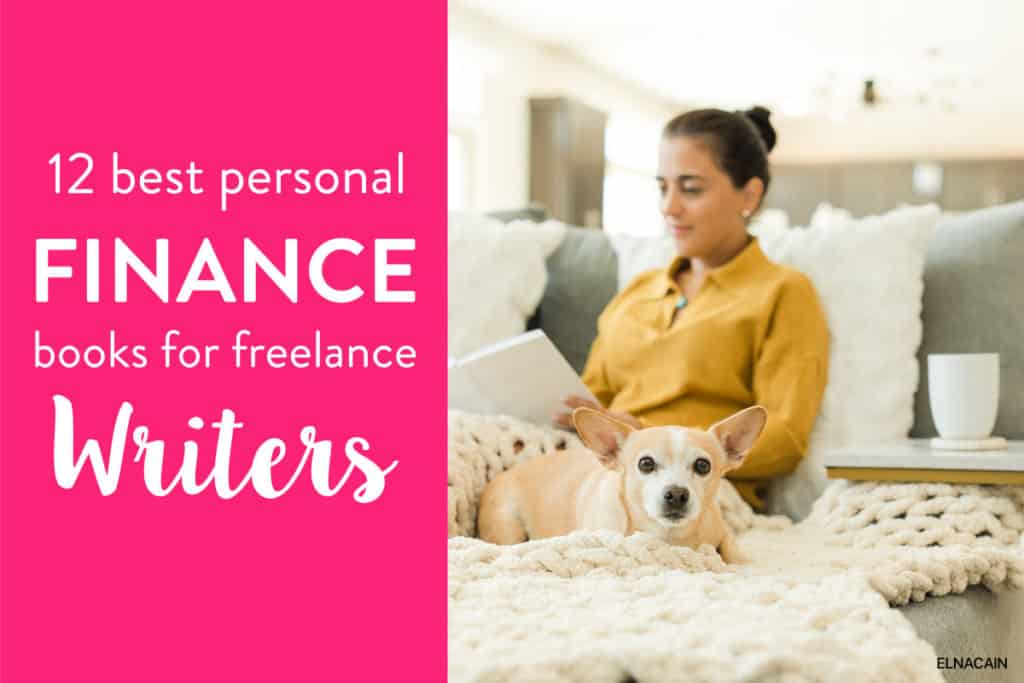 But part of being a successful freelance writer is not how well we write or how many clients we have – we also have to understand the money aspect of our business.
Between savings, invoices, taxes, and retirement, addressing your personal finances as a freelance writer can be overwhelming.
I'll be honest, when I started as a freelance writer, I was stressed out about money.
I was anxious about working for myself and making enough to support my family.
I remember thinking: "I wish there was a book about this!"
Thankfully, I did find a book about this and many more that can help freelance writers at any stage of their career handle their money and discover financial freedom!
Even if you're not stressed out about money now, getting ahead of your personal finances as a freelance writer will help you avoid monumental headaches down the road.
Trust me – I know!
So to get you started, here are some of the best personal finance books for freelance writers to get you on track!
Why is Personal Finance Important for Freelance Writers?
Earning money as a freelance writer is often known as the cycle of feast or famine.
This means that some months you could be making more than enough money to cover your finances, while others you are scrambling between invoices.
Even if you do have a steady stream of client work, it's important that you pay attention to your finances to ensure that you don't run into money problems.
Regular Versus Irregular Income
A regular income is one where you know how much money you'll be getting on payday – or roughly, if your hours fluctuate a bit.
Irregular income is an income that is harder to predict because it can change week to week, especially when you don't get paid per hour.
Freelance writers typically make an irregular income.
For example, Jessica of Freelance to Fortune posts her income streams each month and they are awesome, but they fluctuate throughout the year.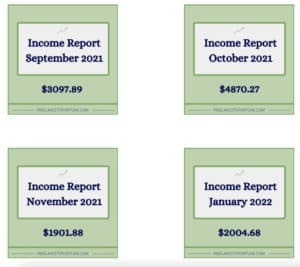 How much you earn can change depending on your work load and what your clients need.
This is the main reason why it's important for freelance writers to pay attention to their personal finances.
Tracking and Understanding Finances
In order to work around your irregular income, you have to understand finances and know how to track your money.
Doing so is more than just looking at what's coming in versus what's going out!
You have to take into consideration things like building a savings, tackling your debts, and properly filing your taxes.
That's why it helps to grab one of the best personal finance books in this list!
Minimizing Expenses
One of the best ways to address the feast and famine cycle of freelance writers is to get into the habit of minimizing your expenses.
Yes, it's nice to treat yourself when the money is flowing in, but if you can pare down your regular expenses, you'll have an easier time surviving when your income is low.
This involves budgeting and looking at ways to cut costs, which these books will help you do!
Best Personal Finance Books for Freelance Writers
1. The Money Guide for Freelance Writers by Alexis Grand & Richard E. Grant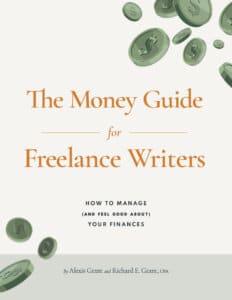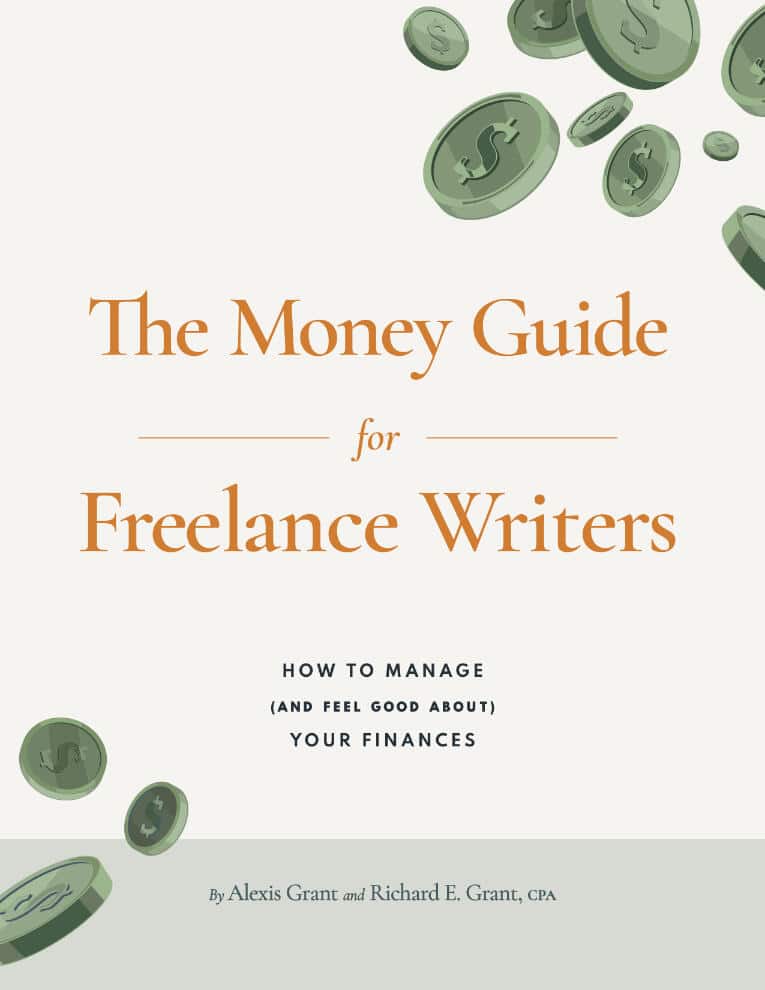 The Money Guide for Freelance Writers is one of the best personal finance books that covers how to make sure you have enough money for your living expenses, how to save for your taxes, and how to increase your income without losing clients.
It offers valuable tips and is a must-have guide for freelance writers!
Follow this link to learn more about the book – and use the discount code ELNA for 20% off!
2. Achieving Financial Independence as a Freelance Writer by Raymond Dreyfack
Achieving Financial Independence as a Freelance Writer is all about looking at your writing career through a financial lens by using practical business sense to survive in the freelance market.
This complete game plan will help you break into the market and find financial success.
3. 7 Money Mantras for a Richer Life by Michelle Singletary
This book by financial planner Michelle Singletary is not geared specifically toward freelance writers, but it provides great practical personal financial advice and will help you learn how to live on a budget.
It focuses on eliminating wasteful spending, saving, and investing.
4. Personal Finance for Dummies by Eric Tyson
I love the Dummies series of books because they provide a no-nonsense look at how to achieve your goals, such as organizing your personal finances.
Personal Finance for Dummies explores financial tips and advice to help you improve your financial well-being and will help you look at your financial situation from a new perspective as a freelance writer.
5. Money-Smart Solopreneur by Laura Adams
Being a solopreneur means making money by choosing the work you love, and this book by Laura Adams will help you avoid the pitfalls of being your own boss!
It covers financial, legal, and tax issues to help you stay out of trouble, as well as how to live on a variable income.
6. The Money Book for Freelancers by Joseph D'Agnese & Denise Kiernan
The Money Book for Freelancers addresses the feast and famine cycle and how to live on an irregular income.
In this book, you'll find an easy-to-follow system that will guide you through building financial security without sacrificing your career as a freelance writer.
7. Gig Boss Money: How to Manage Irregular Income Like A Boss by Katie McCarthy
Freelance writing can be so much more than a side hustle for extra money, and Gig Boss Money addresses how to approach a freelance writing career from a financial viewpoint.
It'll help you create a financial cushion for the unexpected and understand the importance of diversifying your income sources.
8. How to Be Good With Money by Eoin McGee
Eoin McGee's book How to Be Good With Money explores ways to best spend the money you have, start a savings, and get out of debt.
It goes over the rules of spending and saving, so you can feel safe about your financial future and know that the money you make will support the life you want.
9. Real Life Money: An Honest Guide to Taking Control of Your Finances by Clara Seal
Real Life Money offers a holistic approach to personal finance that goes into the deeper causes of debt and financial struggles.
This book is part memoir, so you are taken on the author's journey as she discovered how to deal with money anxiety and set realistic budgets.
10. Save Money and Work from Home During and After the Economic Crisis by Dana Wise
This finance book focuses on how to save money while working from home as a freelancer. It will show you how to find freelancing jobs, as well as how to save money and improve your financial health.
It also describes many common freelance pitfalls and how to overcome them.
11. Financial First Aid: Tools for Confident, Secure Money Management by Alyssa Davies
In her book Financial First Aid, author Alyssa Davies offers a practical guide for handling financial emergencies whether you are strapped for cash or a meticulous budgeter.
The actionable advice offered is great for freelance writers who are anxious about their irregular income.
12. Wealthing Like Rabbits by Robert R. Brown
If you're looking for a personal finance book that is funny, entertaining, and practical, check out Wealthing Like Rabbits by Robert R. Brown!
It explores money management in a way that is both useful and humorous by using pop culture to shed light on the most mismanaged aspects of personal finance.
Tips to Manage Your Finances as a Freelance Writer
In addition to the valuable advice you'll learn in these best personal finance books, here are some other tips to help you out:
Work on building your clientele and workload so that you can expect more income from your freelance work. Focus on marketing yourself as a writer and connecting with long-term clients.
Create a writer's contract with your clients that outlines when and how you will be paid. This will help you avoid those situations where you're waiting on a client's payments.
Speaking of invoices, make sure you bill your clients immediately! Don't be afraid to send the bill along with the finished content.
If you're having problems with cash flow, start tracking your spending to see where you're money is going. You'd be surprised to see where money is being wasted!
The Best Personal Finance Books for Freelance Writers – Which One Will You Read?
Remember, the sooner you start focusing on your personal finances as a freelance writer, the healthier your financial situation will be!
And if you're looking for more books to help you in your freelance writing career, check out these ones:
And if you've read any of these personal finance books, let me know what you think in the comments!