Did you know that I'm only doing this part-time after eight years of being a freelance writer?
While it's not technically a side hustle writing gig, I have more than freelance writing as a business (i.e., other sites and products, and I'm also a stay-at-home mom).
For you, though, you may have a full-time job or you might be going to school full-time.
So, starting a writing side hustle is only an idea at this point.
After reading this guide, I hope it will become the next thing in your life.
Because for me, I have no idea what my life would look like without freelance writing.
Would I even have twins? Would I own a house?
Would I be able to go on a vacation, renovate my house, and buy a new car all in the same year?
I'm pretty sure my full-time job would be in social work or working with children with autism in a school setting.
Not a bad job, but I know I wouldn't be full-filled.
I know I would be torn leaving my children while I went to work every day.
So, if you feel the same way – stuck at a dead-end job, unfulfilling life or hate leaving your child – then pay attention and commit to yourself – say that you will start a freelance writing side hustle by the end of the year!
To get you prepared, let's go through getting a writing side hustle for you!
Is a Freelance Writing Side Hustle A Good Way to Make Money?
In my most recent Freelance Writing Stats and Reports Survey, I polled 530 freelance writers and copywriters on the state of freelance writing.
One question I asked them was how much money they are making from writing.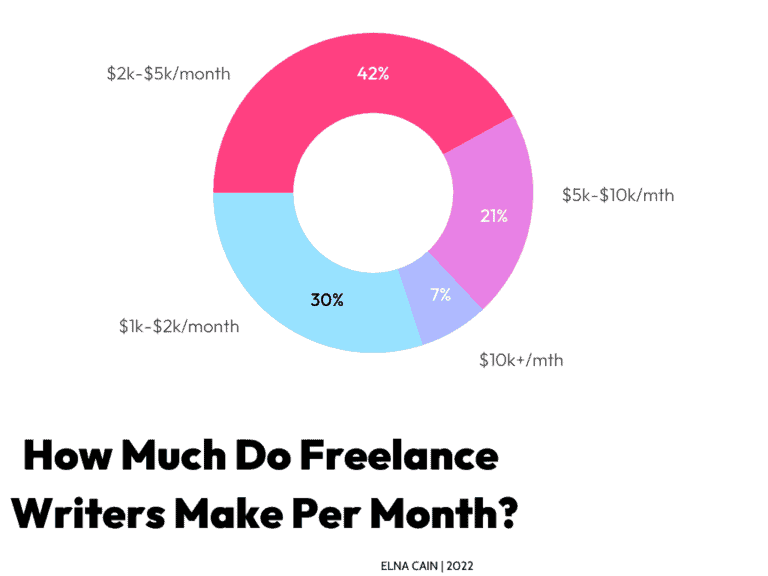 Forty-two percent make between $2-$5k per month with their freelance writing jobs.
And 60% are doing this part-time (10 hours a week).
So, yes, you can make money with your writing side hustle.
But there's more to this!
Did you know that since you love writing, there are many side hustle ideas just for you?
Online is where it's at (don't think of doing the whole gig economy thing driving around town doing tasks), and in my Youtube video, you can check out all the side hustles you can do right now!
Okay –
So what are the steps to help you gain a copy writing side hustle or a grant writing or technical writing side hustle?
1. Set Your Freelance Writing Rate High (And Mean It)
Look –
If you want to learn how to make writing your side hustle, you need a high rate to make a living, right?
But what's a good freelance writing rate?
If you look at content mill jobs – companies that don't value content writers and pay very little – you'll see gigs like $15 for a blog post or $10 for an email.
Ouch!
Those are NOT typical freelance writing rates for writing gigs as a side hustle.
Instead, follow what my Writeto1k students do:
Set a starting rate and a top rate
Increase your rate with each new client you land
Setting your starting rate can be up to you or what you hear other writers are charging.
I suggest charging $.10/word and going up from there.
With each new inquiry you get for your writing, you can increase your rate until you are happy with what you are getting.
2. Only Pick a High-Paying Writing Niche
Learning how to make writing your side hustle means setting your rate and knowing what to write about. This is called your writing niche.
The nice thing about your freelance writing niche is that you can change it anytime you want!
This is what I did when I first started.
It's a good way to help you find your highest-paying freelance writing niche.
For me, I started with natural health, parenting, and psychology.
Over time I switched to digital marketing.
The key is to pick a high-paying niche for your best side hustle.
And you're in luck! I put together dozens of high-paying niches that need writers RIGHT NOW! Yay!
3. Also, Pick the Right Client
Now that you have your rate and a profitable writing niche, you also have to think about your clients.
Many new freelance writers miss this point.
Even if you pick a high-paying writing niche, it doesn't mean you will get top dollar as a writer.
Take my niche – SaaS digital marketing.
When I started in this niche, a 1,000-1,500- word blog post ran around $200.
This slowly increased to $400, then $600, and now over $1,000.
Much of this increase had to do with the client.
I first started writing for solopreneurs in the digital marketing niche. These were people who had several sites and needed writers.
I then moved to B2B businesses with less than 100 people.
Finally, I moved to notable brands in the digital marketing/SaaS industry.
So, make sure you know the client you want to work for.
You can aspire to work for your client, and as long as what you are doing will get you to your ideal client.
4. Optimize Your LinkedIn Profile to Attract Work
Look –
Whether or not you want to be writing books as a side hustle or do ghost writing side hustle work, you will need a LinkedIn profile to attract work.
If you don't already know, LinkedIn is like Facebook for businesses.
I never had a LinkedIn profile until I started freelance writing.
To get started (it's free, BTW), sign up and fill out your profile. Here's some help if you need it.
If you don't know much about LinkedIn, you can find businesses, jobs, and people to pitch to once you have a profile.
You can add past writing clients (I would only use your LinkedIn profile for your freelance writing business) and as a portfolio since you can write articles under your name.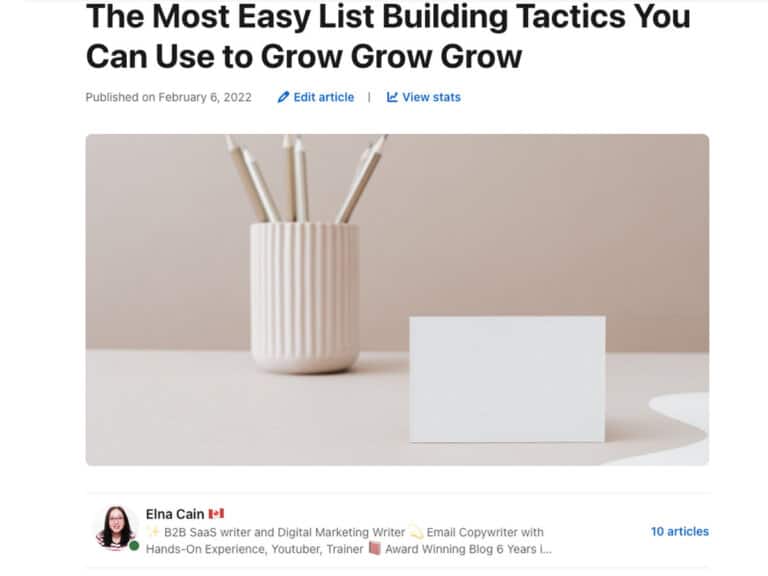 This can help you attract the right client and writing job for you. Most of the time, just update your profile and pay attention to the words in your freelance writer title.
5. Write a Sample and Use Medium
If you want to know how to make writing your side hustle, you need all the right pieces for your freelance writing business.
One big piece is your actual writing!
These are your samples or clips. And the best type of writing sample is to have it published.
Medium is a great place to start your portfolio. There are publications on Medium like Better Marketing, The Startup or The Writing Cooperative where you can submit your stories and get paid for them over time.
It's not a lot, but it's a start, right?
If you are unsure how to write an online writing sample, check out my 1-hour masterclass.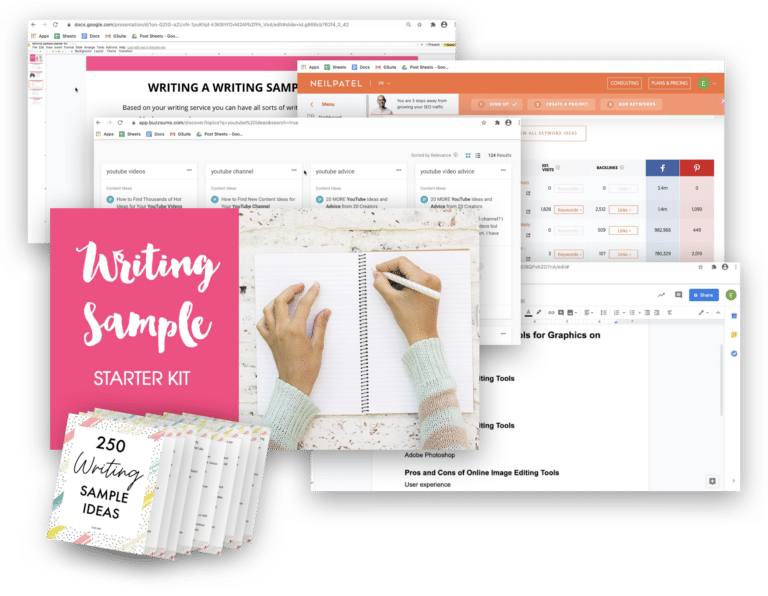 6. Start Looking for Jobs on Writers Work
There are many job sites and job boards for freelancers.
With all the choices, it can be challenging to do this as a side hustle. With your limited time, you need to look for jobs while still working your 9-5 job.
To shortcut your prospecting, check out a budget-friendly job site called Writers Work.
When you invest in a job site, you know that the quality of jobs is better than the ones on free sites, and the job site backs up their gigs.
I like Writers Work because it's great for beginners and entry writing jobs.
They even have side hustle writing jobs. Just tick "part time" to find them.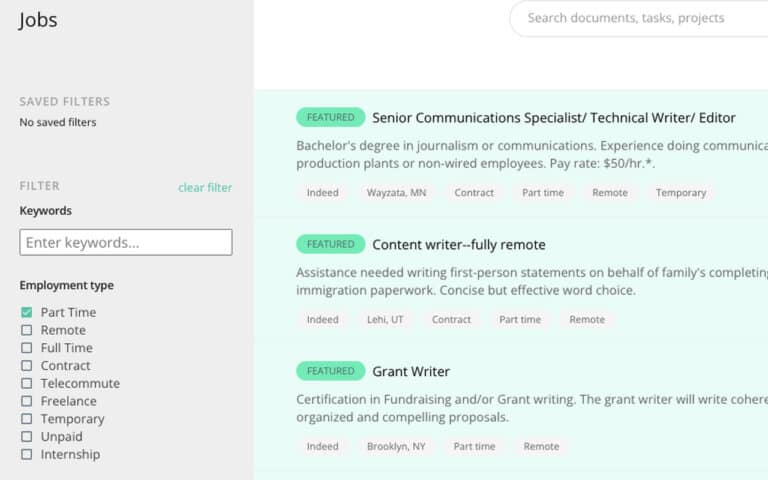 Are There Shortcuts?
Yes, there are some shortcuts once you have the basics (that I laid out earlier).
Here are three shortcuts to helping you gain the best side gigs.
1. Use Reddit
One of my Writeto1k course students, Aaron Nolan, used Reddit to find freelance writing jobs easily.
He was able to tap into this area of the internet and gain some product description jobs and more.
Read about his success in this post.
2. Start Cold Pitching
I know pitching might seem scary and daunting for you.
It was for me when I first started!
While I mostly did job board pitches, many of my Writeto1k students found success with cold pitching. I have two lessons on cold pitching in my course (if you need more guidance).
If you are unsure about what cold pitching is, it's the process of introducing yourself with an LOI and refereeing your title and knowledge as a writer.
Your cold pitch can also be an outright – "I'm a writer and would love to help you with your content" sort of thing too.
Whatever works for you!
3. Twitter
Are you using Twitter for business?
If not, you should!
I've landed dozens of writing jobs on Twitter! It's a goldmine for your side hustle.
I follow brands and editors and other freelancers like graphic designers and copywriters.
You can also search for jobs by searching on Twitter using a hashtag like #freelancewriter or #writingjob.
How Many Freelance Writing Jobs for a Writing Side Hustle?
No more than 3 clients.
Charge up to $300 a post.
Writing job 1: $250 post (1800 words)x4 = $1000
Writing job 2: $150 post (1500 words)x2 = $300
Writing job 3: $300 4 emails a month = $1200
Total: $2,500/month.
You're on your way to $5,000/months with a side hustle!
How Much Time To Devote to My Writing Side Hustle?
If you can devote at least 2-3 hours daily M-F, and if you are a fast typer, you can have these types of jobs and happy clients.
The goal is to write shorter pieces of content for more money.
This is the strategy I am using right now. I dropped from writing 2,000-word blog posts to 1200-1500 word posts, and I upped my rate from $.20/word to $.45/word-$.50/word.
Increasing my rate and finding those high-tier clients didn't come easy. I learned a system to help me and help over 3,000 writers in Writeto1k.
Wrap Up
I hope this guide helped you see that writing as a side hustle can help you make a living as a writer! Yeah, you can quickly quit your 9-5 and use your time to write for clients and then write a book if you want!