"Man, that came out of nowhere!"
One of your oldest clients suddenly tells you via email that they are pivoting to more videos and podcasting and doesn't need your services anymore.
Of course you fight for your job and let them know you are more than happy to transcribe videos and podcasts, but they don't budge.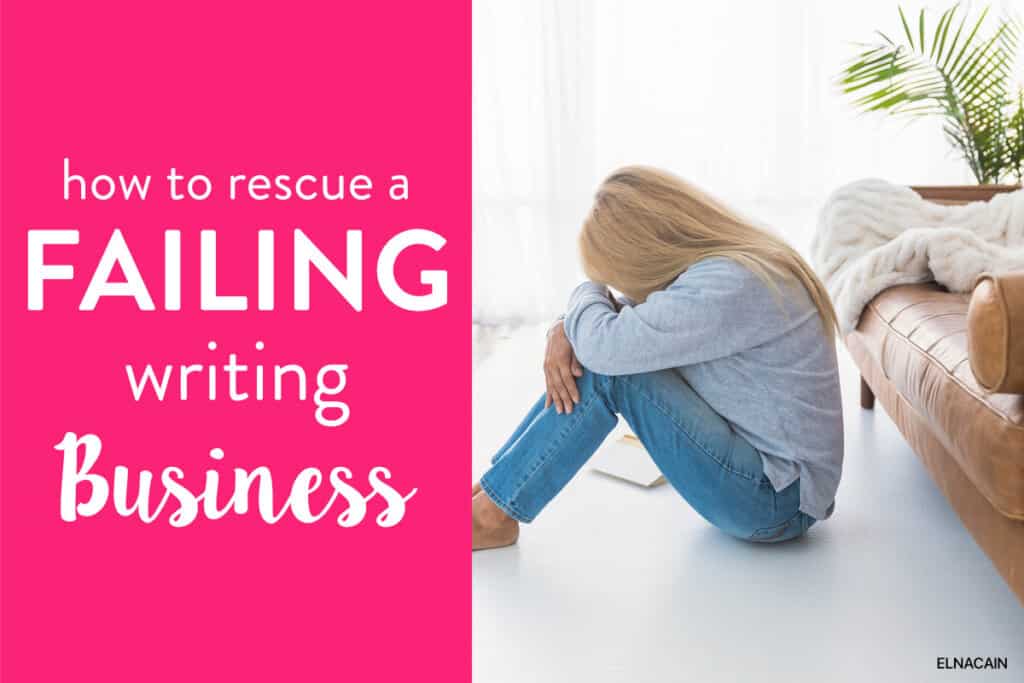 $1,500/month gone like that.
What is happening? Your freelance writing business is failing and if you don't act quickly, you might never recover.
Fortunately you haven't hit a dead-end yet, which means you can do these things I'll share in this post to grow your business and book more writing jobs.
That is, if you know these three things:
You need to avoid mistakes
You need to know the real reason you aren't keeping work
You need to know why you're failing at this
So let's dissect these, and then I'll go into what you can do fix a failing freelance writing business.
If You Know, You Will Recover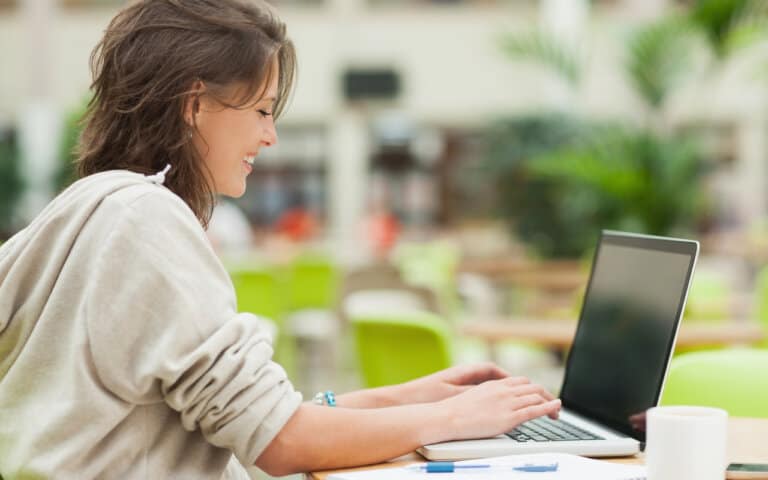 For freelance writers that have been doing this for a while – let's say for more than a year – there are a few things I'm sure you know or at least know that you need to know!
Check out these three signs that a business is failing.
1. Avoid Common Mistakes
As a new beginner writer, I know that making mistakes can happen for sure.
But to avoid these signs of a failing business, you HAVE to avoid common mistakes.
Mistakes like:
You've been around the block so these mistakes should be easy to avoid!
2. Know the Real Reason You Aren't Landing Work
No matter what planners you use, what onboarding process you set up or how dedicated you are to your business, if you lack confidence, you won't be landing work anytime soon.
Yup! That's the real reason for sure!
And I know gaining confidence takes time. When I first started online writing, I had another journalist tell me my writing was like "junk food writing."
This meant it wasn't sustainable.
Ouch!
I seriously wanted to quit right then and there. But, fortunately, my husband talked me out of it and basically told me to forget that person and to keep your head down and write.
That experience gave me a tougher shell, and helped me realize that just because ONE person doesn't like my writing meant I couldn't be a freelance writer.
There are thousands of other people – and clients – that love my writing (and they told me too!).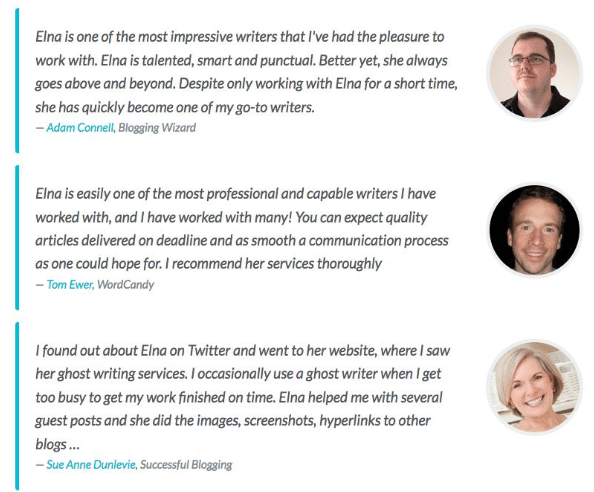 So, if you're saying "my business is failing," it might be because you aren't that confident to begin with!
Do these tasks to help you be more confident:
3. Know Why You're Failing at This
Look –
I just gave you two good reasons why you might be failing being a freelancer but you really have to dig deep if you want to succeed as a freelancer.
Go ahead and create a list of the reasons why you want to be a freelance writer, and also write down your goal you want to achieve.
This can be your BHAG or a SMART goal.
Examples might be:
"In six months I want to replace my full-time income with freelancing part-time"
"I want to earn $2,000 per month from my freelance writing by the spring"
"I want to quit my full-time job in 9 months"
"I want to have 6 months of income before I start freelance writing"
Okay.
So, with these out of the way, let's look at six ways you can rebuild a failing freelance business.
6 Ways to Recover a Failing Freelance Writing Business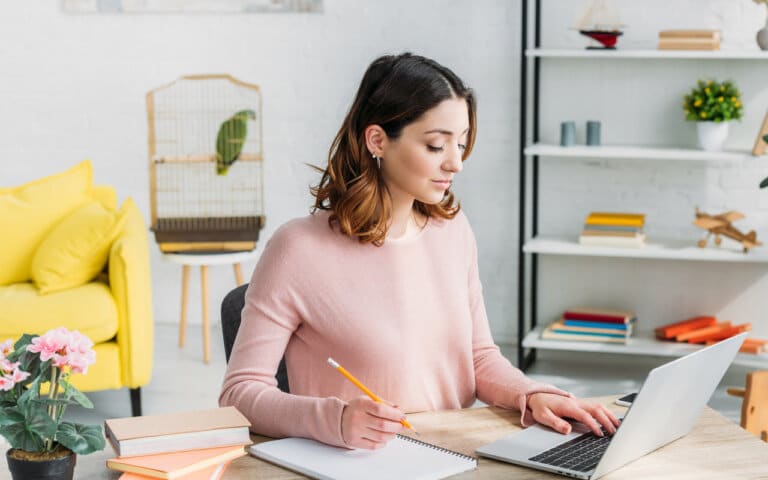 So, you want to turn around a failing business, right?
There are specific things you do that will help you go in the right direction and be on the way of making money from your writing.
1. Ask for a Raise
Scary, right?
How do you ask for a raise when you just lost a client?
You just have to! You need to make up the loss income but at the same time, this will be a risk.
The client you ask may be upset and drop you simply for asking (yes, there are bad clients out there).
Or, the client will say no and now there's this awkwardness between the two of you.
But, with the other things I will share, this will be the right call.
Simply state the value you provide and let them know for next quarter or for the New Year or starting from X date, your rates will be X.
Negotiate with one or two clients. A 20% increase isn't crazy, so when raising your rates, think incremental.
2. Do a Pitching Challenge
A great motivator is to give yourself a deadline or challenge to complete.
In my Writeto1k course, I have a Book Clients in 30 Days challenge that helps new course students pitch regularly to find work.
Doing some kind of pitching challenge will help you develop a solid pitching process, onboarding framework and more.
A simple pitching challenge is to tell yourself that you will pitch 10x every day for 10 days.
Give it a try!
3. Tweak Your Brand
Your brand is how others perceive you online.
For my brand, I:
Use pink
Am a mom to twins
Am Helpful
Am Prolific
For your freelance writing business, what does your brand say about you and your writing?
What visuals are you using to show who you are as a writer?
These elements are important to help you LOOK like a professional and not a hobby writer.
This might mean changing up your WordPress theme, your graphics, or the copy on your writer website.
For example, I really enjoy Katie Jensen's blog, The Quiet Type.
Her WordPress theme as well as the stock photos she uses compliment each other and makes everything cohesive.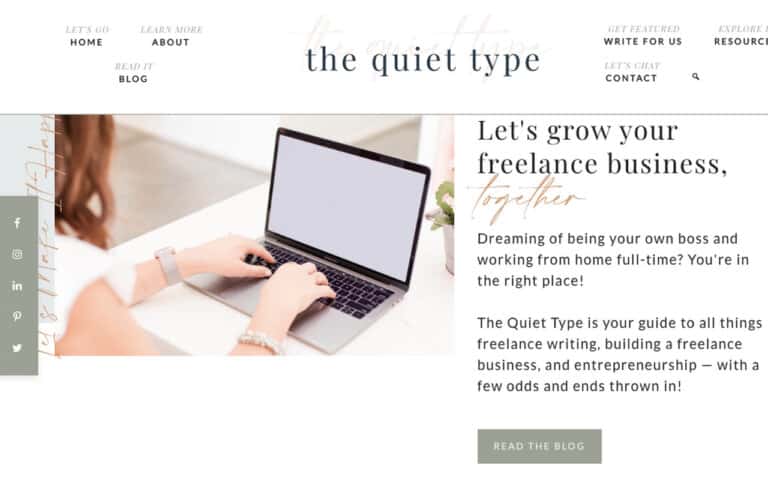 So, if all you have is a default WordPress theme, simple copy, no headshot and your Hire Me page doesn't sell your service, then it's time to go look at your brand and tweak it.
Use my free freelance writing business plan to figure out your brand and brand message + more!
4. Be Better at Marketing
I bet one of the top reasons your business failed was because you weren't hustling and marketing it!
Amiright?
I keep hearing that writers aren't marketers, but you know what?
You have a freelance writing business and with any business, you need to sell your business to others.
This means marketing it the right way to get in front of your ideal clients.
You can definitely start small – like creating an author bio with links to your hire me page – but to make an impact and recover your failing freelance writing business, you have to hustle.
This means actively pitching – cold pitching, job board pitching and social media pitching.
It might also mean networking with other freelancers and letting them know you have room in your content schedule to pick up one more client.
Small steps at first!
5. Become a Better Researcher
Over the years, I've learned to become a better researcher.
In the beginning, I mostly cited what other blogs already cited.
Couldn't hurt, right?
Well, over time I realized my writing was bland and unoriginal.
I wanted to wow my clients and to do that I had to find better stats, better facts and better sources.
And for many other writers, this could be a major reason why clients are dropping you or you're not making more money with your writing.
In my post about credible sources, I constantly update it with new sources and links to help you – the new freelance writer – build a solid swipe file.
Are there other ways to become a better researcher?
Yes!
One way is to listen to podcasts or Youtube videos.
I always find new tools, new services and new places to check out from other influencers.
And, you can listen to these episode while cooking or doing chores, which helps me save time!
Another way to research is to read more about your writing niche.
When I chose digital marketing, I had to constantly read about digital marketing from the big guys like Hubspot, Social Media Examiner, Sumo and more.
I also started reading books about freelance writing, copywriting and more.
This helped me be a better business person and writer and that ultimately helped me write better content for my niche!
6. Become a Better Writer
Yes – writing is a skill that can be improved.
As a content writer online, it's our job to continually improve our writing.
I think that is why I started writing more on Medium. I needed an outlet and just to "free write" and Medium was the place for that. This helped me streamline my writing process and I was able to write faster and produce content regularly.
For you, this might mean starting a blog (or two like me!), being on social media or taking a course like Freelance Blogging in a Weekend.
This course is my writing course and teaches you different high-paying writing skills.
The point is to practice writing every single day.
Don't Panic!
Above all, don't panic if your freelance writing business is struggling.
No one said that owning a freelance writing business would be easy, and it's definitely not.
But if you're willing to put in the hard work, there are ways to rescue your business from failing. Start analyzing on what happened and start using these tips in my post to fix the leak and help you book more clients.
Got a story to tell? Share it in the comments! I'm sure it'll help others recover quicker!
Please pin me!