Look –
What's the fastest way to build your freelance writing business when people are losing their jobs everywhere you look?
The tech and media industries are laying off thousands of workers.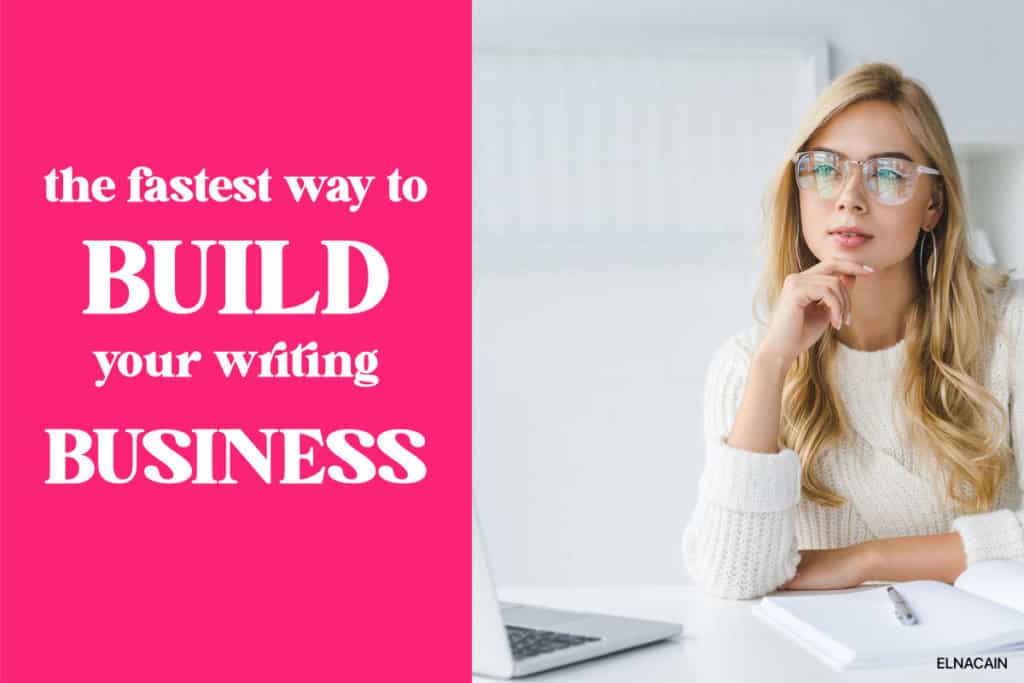 All over Twitter, I'm seeing posts from writers sharing about the latest layoffs.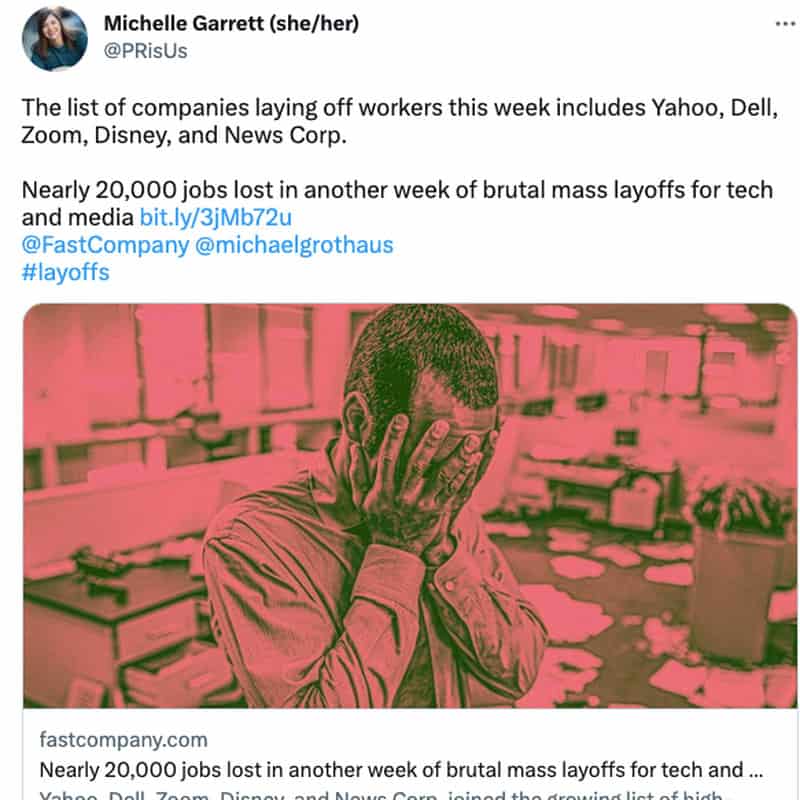 In the past few weeks, Google's parent company, Alphabet, laid off 12,000 workers, representing 12% of its workforce.
This is a result of a slow economy and over-hiring (due to the pandemic) and is impacting tech and media jobs hard.
But, because of what is happening offline, it's actually improving chances for new freelancers.
A Digiday survey found that 71% of in-house marketers and 68% of agencies arenow hiring freelancers for content.
There is massive potential for YOU to build a successful freelance writing business FAST because…there are tons of freelance writing jobs available.
tech writing jobs too!
Here is Problogger's job board.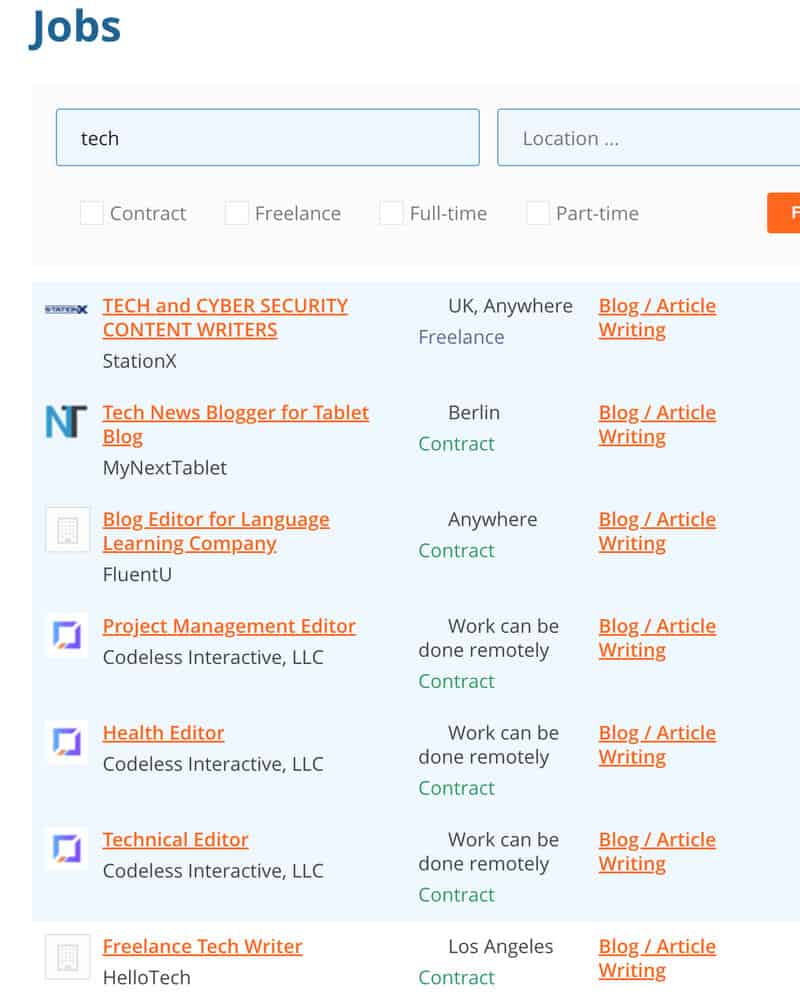 Here's Writers Work job board.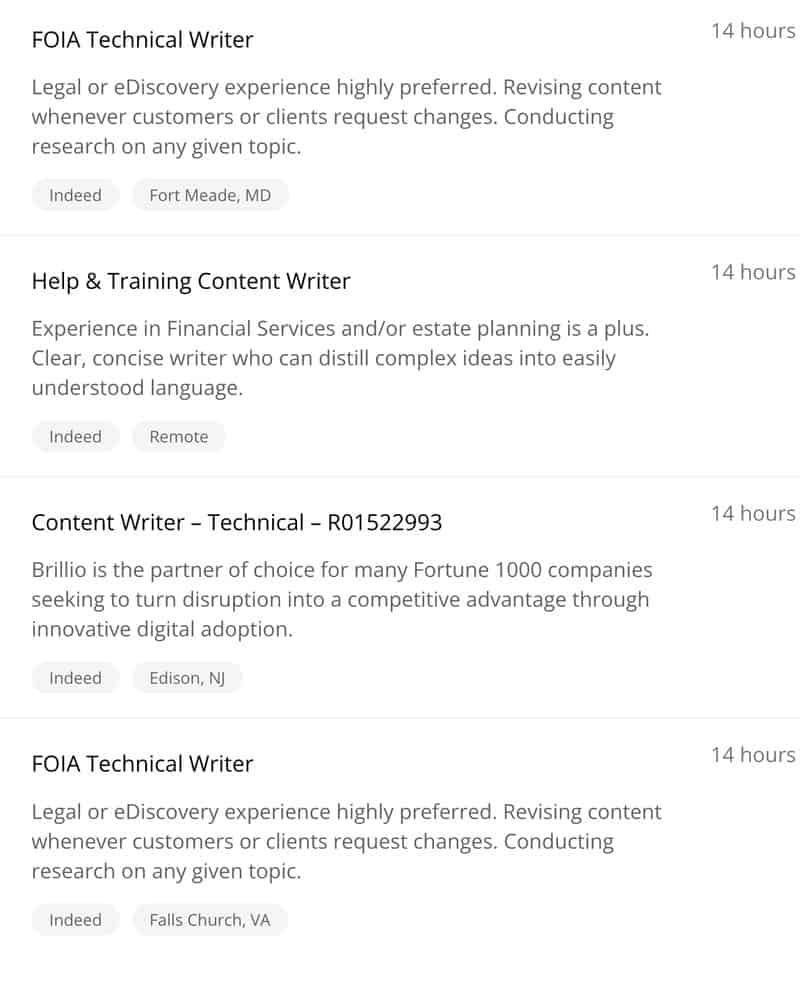 Here's Contena's job board.
(you can click on the image to see it bigger!).
This is good news for you! You can start your freelance business quickly, even when you see layoffs everywhere in the news.
Let's go through my proven minimally viable method for finding your first freelance writing client.
Take a course
Create on-spec pieces
Market your freelance writing business on social
Use job boards
Try cold pitching
Gain the right skills
Understand your niche
Understand SEO content
Develop a fast writing process
1. Take a Course
Let's cut to the chase.
While it's possible to start freelance writing by hacking together methods and strategies you see on Twitter, LinkedIn, or Instagram, you will make mistakes and it will take forever.
When I started in 2014, I made many freelancing mistakes.
One time I just forgot to invoice a client because I didn't have a project management system.
Another time, I wasn't communicating with the right person for content. And this delayed my start with this company for weeks!
So, take it from me, if you want to bypass the mistakes and headaches, it's best to take a course.
I have a free email course called Get Paid to Write.
Try it out – it's free and fast to get started!
When you take a course, you follow someone with a proven track record, which will quicken your journey to freelance writing.
2. Create On-Spec Pieces
No one will hire you for a writing job if you can't prove you can, well, write!
Spec pieces are super easy to create.
An on-spec writing sample is when you take a current company and create a timely piece about the company or its product or service.
For example, I recently adopted a kitten, and we've been purchasing Catit products.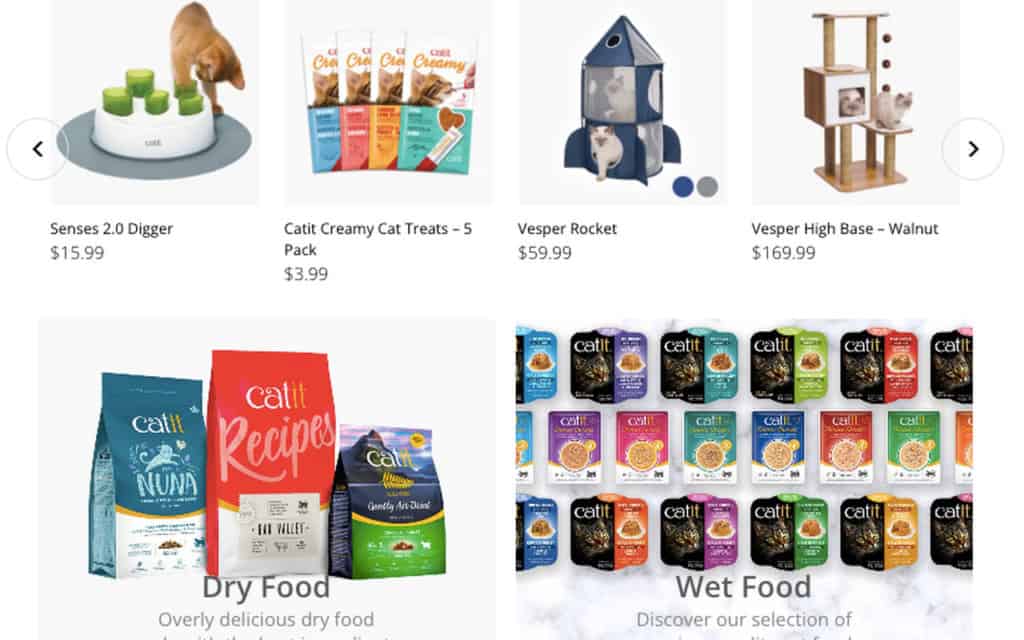 I can take some time to research one of the products I own (Senses 2.0 Digger) by going to Youtube and reading reviews to get a complete idea about the features and benefits of that product.
From there, I can create a spec piece about this product and use it to gain a freelance writing job for Catit.
Writing on spec is seen more for magazine writing, where you pitch your article to magazine editors, and if they bite, they will buy your on-spec piece. If not, you pitch it to another magazine.
Doing this might be a faster approach to landing client work and building your writing business one spec piece at a time.
But it may not be for everyone! I know I like the time it takes to cultivate writing clients so that I can work on pitching topics for them or have them tell me what to write.
3. Market Your Freelance Writing Business on Social
How about LinkedIn?
One of the best ways to use social media is to promote your freelance writing business.
Let others know you have room for other clients.
Juliet John uses Twitter to promote her freelance writing service.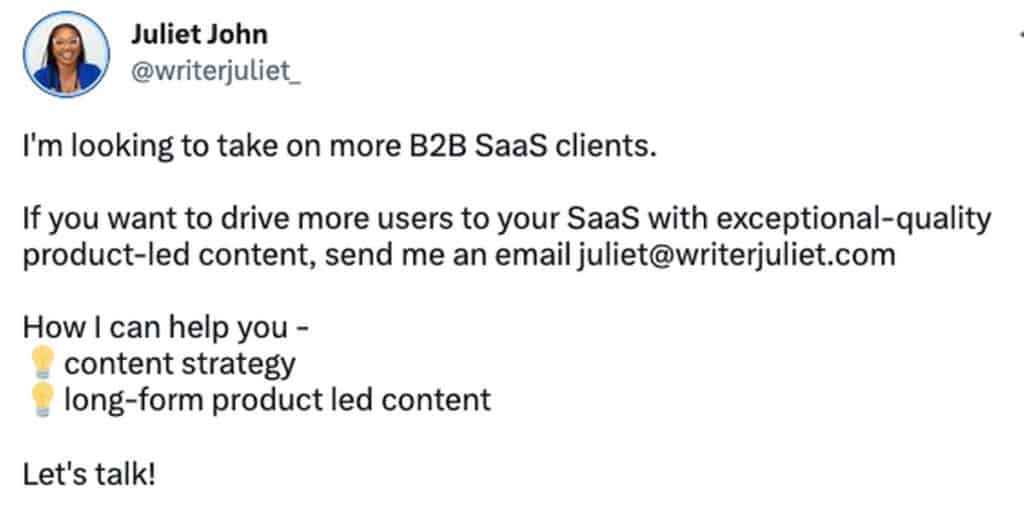 You can use this approach on LinkedIn, Facebook, and even on Instagram.
When posting, make sure to share the following:
The type of freelance writing client you enjoy working for (ex: B2B sales technology clients)
How your writing can help a business meet its goals (ex: my writing can gain leads with SEO traffic)
The exact services you provide (ex: long-form SEO blog posts)
A call-to-action (ex: contact me today)
You can use emojis to make your post stand out
Another way to market your writing business is to share actionable advice around freelancing, writing, or your niche topic.
This is what B2B writer Nidhi Kala shares when she tweets.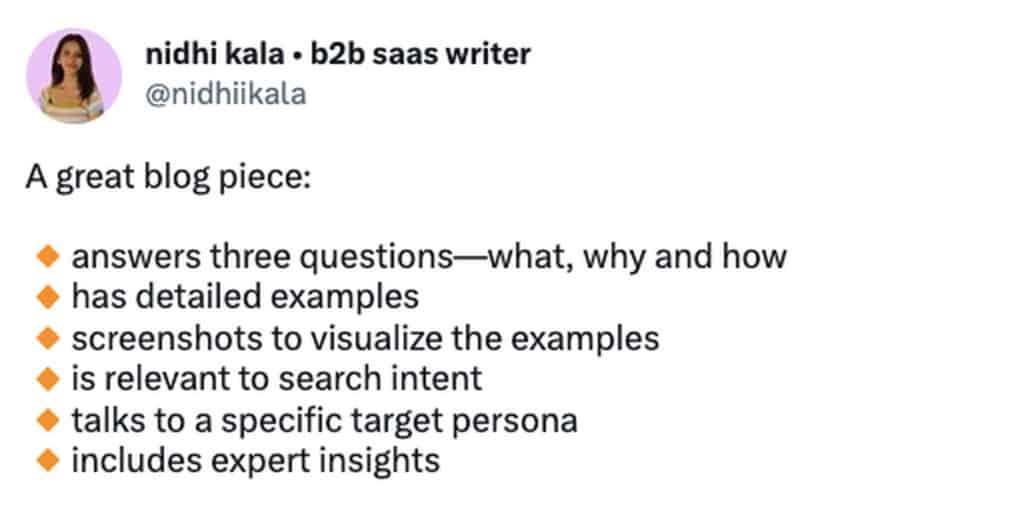 Some examples of social media posts you can create around your service and niche topic are:
Sharing your thoughts on a trending topic or news item
Giving writing or content marketing tips
Sharing a testimonial from a client
Posting what your ideal client looks like
4. Using Job Boards
Job boards were the way I landed my first writing client, and even today, I like to check out different job sites.
Freelancer Gilbert says, "A bonus to using job boards over a freelance marketplace like Upwork or Guru to find a writing gig is there isn't any bidding."
All you do is visit a job board, look through the listing, or filter the listings based on a criterion (your niche or if it's contract or part-time) and check out the responsibilities and requirements.
There's no need to bid and compete with other writers in this manner.
For example, here's a job description for a freelance writer for digital marketing.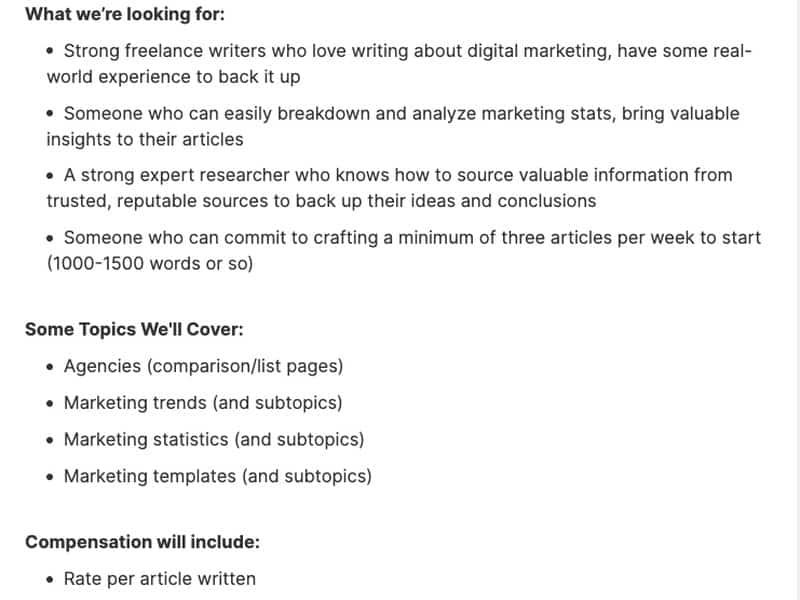 The ad provides a link to a form. The form has basic questions like how many articles you can write per week and what you know about the digital marketing niche.
So, as you can see, using job boards is ideal for new freelance writers that don't have much experience or samples.
Spend two weeks or a month going to different job sites and creating pitches or filling out forms to gain a writing gig quickly.
5. Cold Pitching
Many freelance writers say they landed a writing job fast by sending out a few cold pitches to companies.
Cold pitching means finding companies you want to write for and pitching them your services or sending them a letter of introduction (LOI).
Traditionally, cold pitching is a lengthy process. It can take hours to find the companies you want to pitch to and then to read through all the marketing materials for each company to craft a pitch or LOI.
My suggestion to create a freelance writing business fast is to find a list of leads.
There are a few ways to do this.
1. Use Contena's Leads List
Contena is a premium job board for freelance writers. They have an academy to help you be more successful, a writing platform to write your samples, a job board, and a list of leads for cold pitching.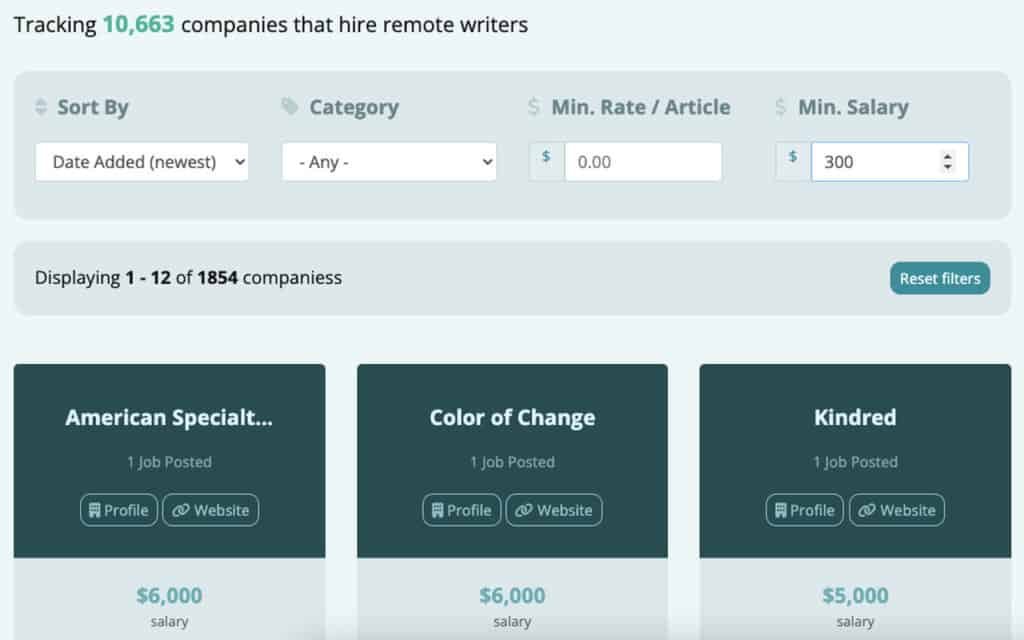 The companies Contena lists have hired writers in the past.
This makes sourcing well-paying leads a fast process.
2. Use Youtube
Youtube is the world's second largest search engine and is a fast way to find companies to pitch to.
How?
By finding videos of people talking about tools, services, and products.
For example, a little trend for some review Youtubers is to share overly sponsored products.
You know the ones that you see ALL.THE.TIME on Instagram or Tik Tok? Those ones.
These are usually (but you will see big name brands too) from new start-ups with a fairly good marketing budget.
They may blast Instagram and hire micro-influencers to share their products.
On Youtube, you can find round ups of these types of sponsored products.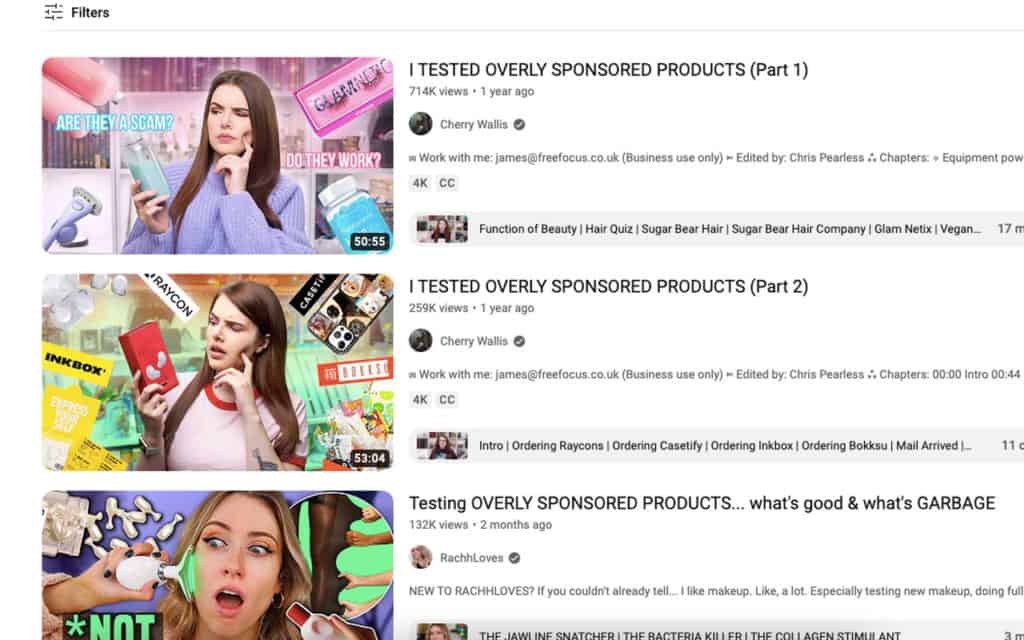 Find videos that were recently published and check out their description.
Many of these creators will list the products they mentioned or reviewed in the video.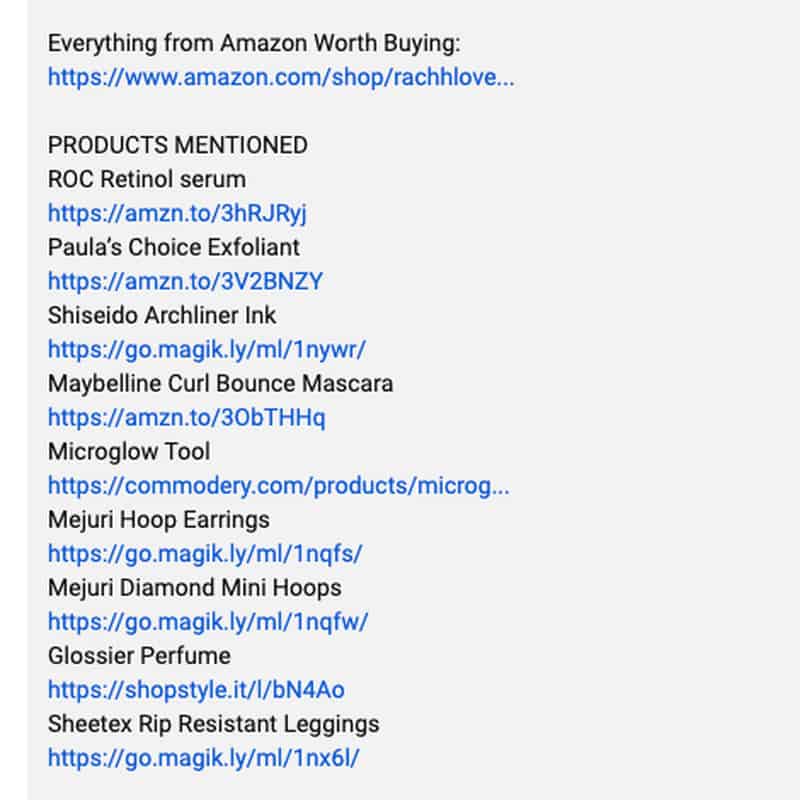 BAM! You got your list right there!
6. Gain the Right Skills
I don't want to alarm you, but there are 1.57 billion freelancers in the world.
That means you need to find a way to stand out…and do it quickly if you want to succeed.
You can do this by building up your skills.
What skills should you focus on?
Researching
Networking
Understand your niche industry
Understand how to write SEO content
Developing a fast writing process
1. Researching
Researching for your blog writing or copywriting projects is something writers need to learn and know how to do well.
It's not enough to just Google what you need and accept the top ranking content if you aren't familiar with your writing niche or topic.
There are many ways to find credible sources for your articles to make your writing more valuable to the client.
Here are my top fast methods to get you started as a freelance writer.
One method to finding relatable content for case studies, comments, or opinions is using Twitter, and LinkedIn.
Social media is great for finding trends, new and fresh takes on known tactics and current event news.
One thing to note is that while the information is sound on social media, if the quote you see isn't linked to sources for stats in the post, then this is just personal opinions.
But, those opinions hold merit if the person saying them is a well-known thought leader or influencer.
For example, I highly regard any information about Google, SEO, EEAT, and now AI from Dr. Marie Haynes as credible.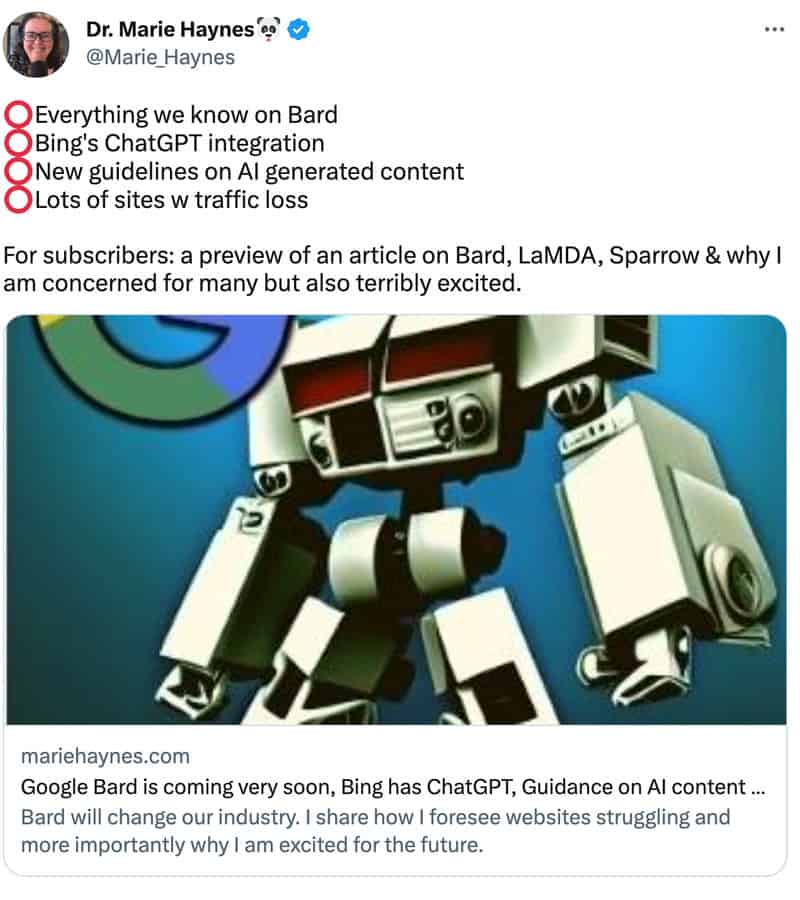 Her Tweet shares her latest newsletter, and her take on current events with AI and Google.
If I were writing a client piece about AI, ChatGPT, Bing, or Google, I could use quotes from Marie Haynes' newsletter for my article.
For LinkedIn, you can search industry leaders in the posts section or look at events or groups to find parallelism, metaphorical writing, and quips.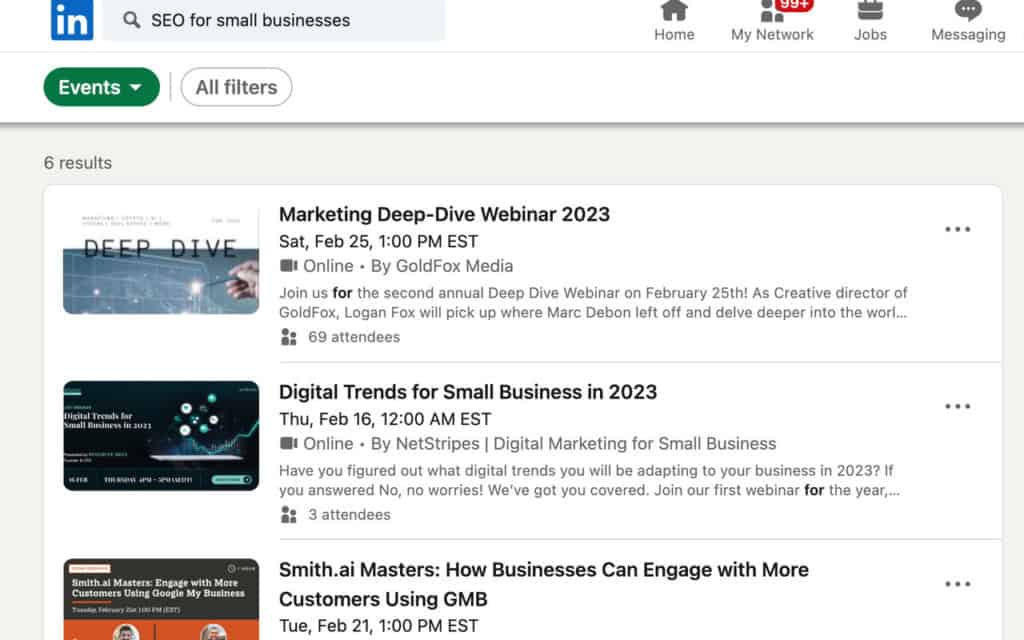 The other method I use to find useful comments and insights fast is with podcasts.
To make this process quick, use your outline to dictate what podcast will have the information you need.
For example, if I was writing a client blog post on content marketing trends and one of my subtopics are mistakes in content marketing, I can search that term in Google to find a podcast.
I found an organic ranking consulting firm Fractl and their podcast episode on common mistakes in content marketing.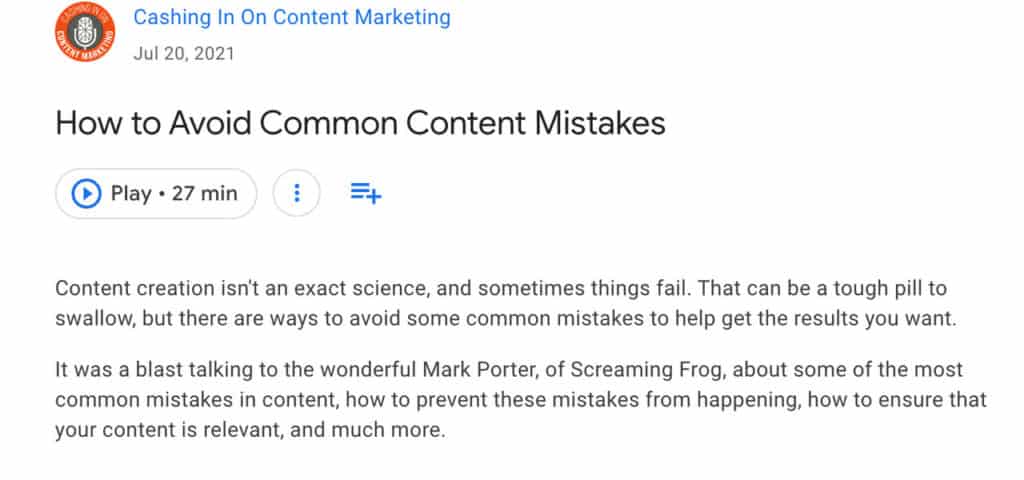 You can take the time to listen to the podcast interview or grab the transcripts to access the information quickly.
2. Networking
Networking can take time to build, but it can save you hours and even days of finding clients, researching facts, and gaining referral business.
To start this process, I would work on following other freelancers, editors, content managers, and influencers on social media.
Start sharing those people's content, get on their email list, and be friendly to them online!
When you share their content, tag them on social media so they know!
To speed up the process, reach out to them via a cold email letting them know you found their podcast or Youtube channel helpful and let them know what you want (an introduction, collab opportunity, interview, etc.).
Being able to network with other professionals is a required skill as a solopreneur, so better start now!
3. Understanding Your Niche
As a beginner, the best way to find freelance writing jobs right now is to have more than one niche.
But guess what?
With the advancement of AI writing tools like ChatGPT and Jasper AI, many businesses are scrambling to let their writers know NOT to use AI, while other companies welcome it but won't pay more than a content mill client would (which is like $50 for a 2,000 word blog post).
But still, other clients still understand that AI writing tools are assistant tools and are more than happy for their copywriter to use them for ideation or research purposes.
You can use your copywriting rate for this type of client and not have to devalue your skills.
So, as a new freelance writer that wanted to gain a writer gig yesterday, what are you supposed to do?
Pick ONE niche and narrow it down as much as possible.
I share my strategy in this video.
The one thing to understand is to pick one writing niche that needs writers right now.
Those niches are:
SaaS – software as a service
AI – believe it or not but AI businesses NEED human writers too!
Technology – as I started this post mentioning tech layoffs, the online landscape is the complete opposite. You'll find hundreds of potential technology writing jobs for you
Finance – finance will always need writers to write about personal finance topics

And dozens more niches need writers.
4. Writing SEO Content
SEO refers to search engine optimization.
New online businesses need to be visible, and an easy way to do that is to write content that will rank in the SERPs (search engine result pages).
But, many new writers haven't a clue how to write SEO content since their background is in academic writing.
Here are some easy ways to make your content visible to Google:
Use the keyword in the front part of the headline
Include the keyword in the first 150 words of the introduction
Use related keywords throughout the content
Make 20-30% of your subtitles optimized (i.e., with a keyword)
For example, my post about the differences between Pine Sol and Fabuloso ranks #4.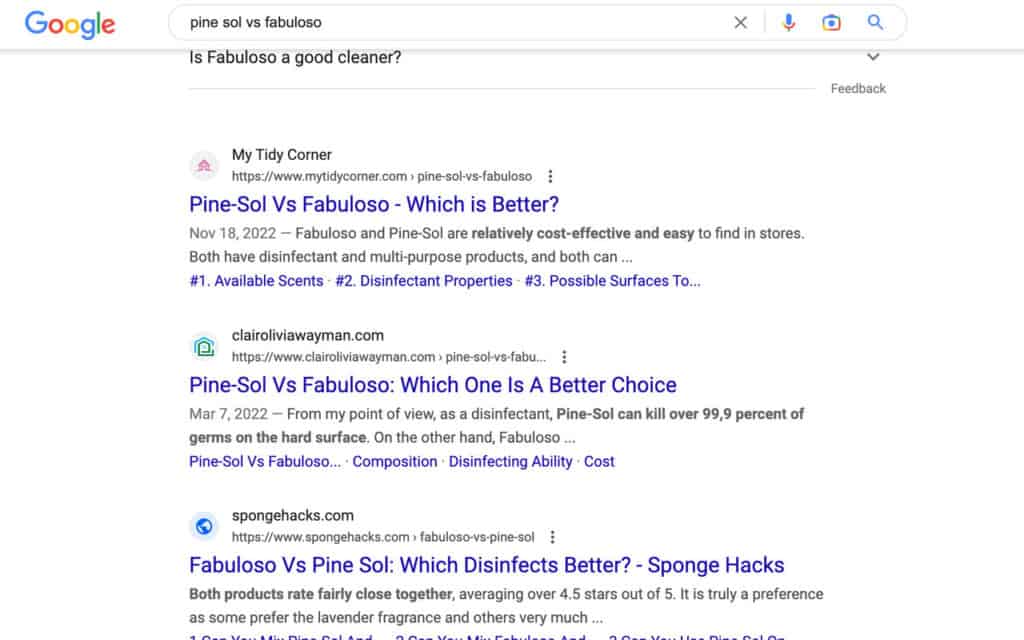 This website is under a year old, so for it to rank on the first page of Google is all due to optimizing the content to rank in Google.
Of course, the primary intent of this post is to help users understand which product disinfects better. This is helpful content for them to make better buying decisions.
So, as an SEO content writer, businesses will hire you to write a blog post that ranks on the first page of Google.
If you need help writing SEO content, check out Fast Track to SEO Writing masterclass.
5. Developing a Fast Writing Process
And the last way to ramp up your freelance writing business is to create a fast writing process.
I mean, we are the writer, so we have to have processes in place to make our job easier and faster.
That way, you can pick up more writing jobs and have time for maybe some side hustles too.
The way to create a writing process is to use outlines and AI!
Outline Creation
For every writing piece you create, always start with an outline in mind.
This should have the working title and subtopics you want to discuss.
Here's an outline for one of my niche websites on fall cleaning tips.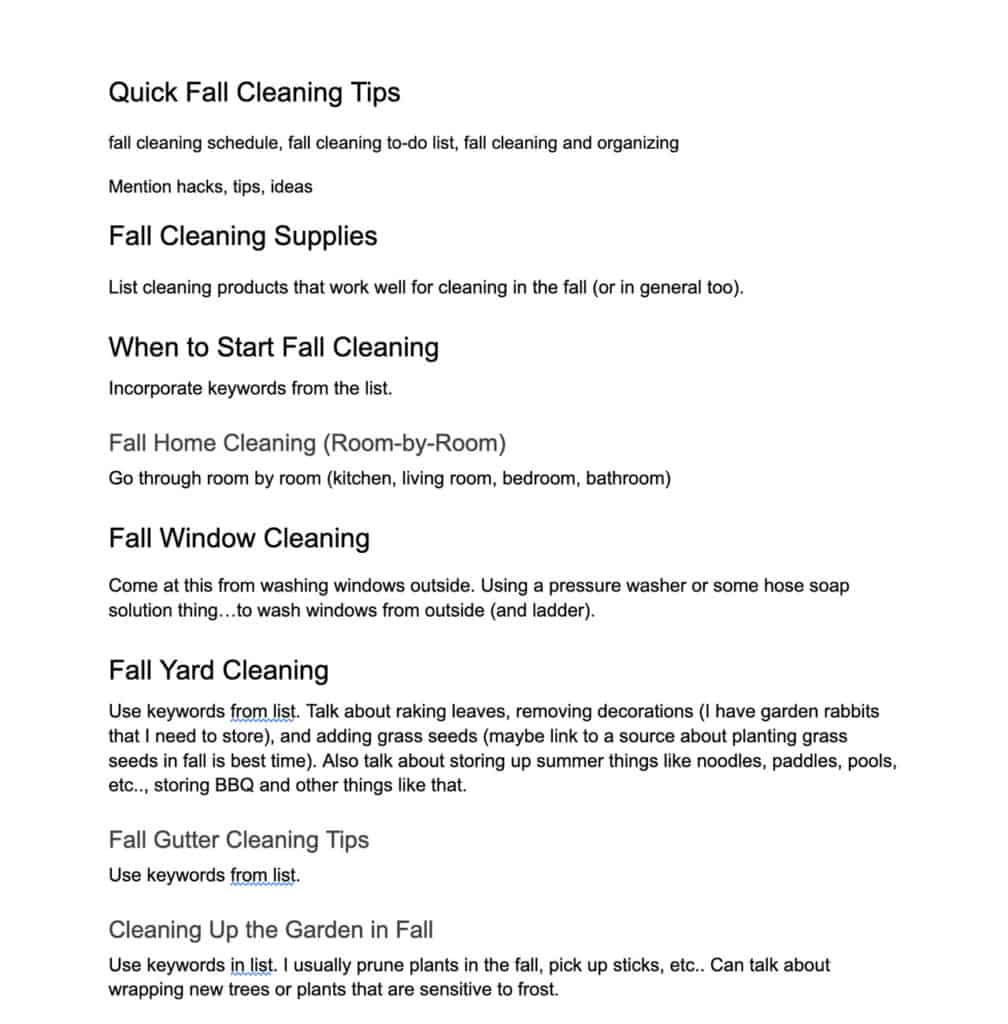 Whenever I create an outline, I always add notes to each subtopic so I won't forget what I want to add or talk about.
For client work, I may add links to stats and podcasts or paste them in comments from an interview or social media.
Sometimes, having all of that filled out almost completes the entire post!
I just have to edit the sentences and ideas!
Fast, quick, and simple!
AI Help
At the moment, AI writing tools will either be used for client work or not.
Either way, it's in the best interest of a new freelance writer to try out these AI writing tools.
Get to know their limitations and what they can do to speed up your writing.
For example, I use Jasper AI for my other blogs. Since I have multiple sites, I can't spend 24 hours a day every day writing content for those websites.
Instead, I hire writers, AND I use Jasper to add more to a writer's content or create outlines and product descriptions for me.
If I need help coming up with ideas for an article, I can use Jasper AI to help me.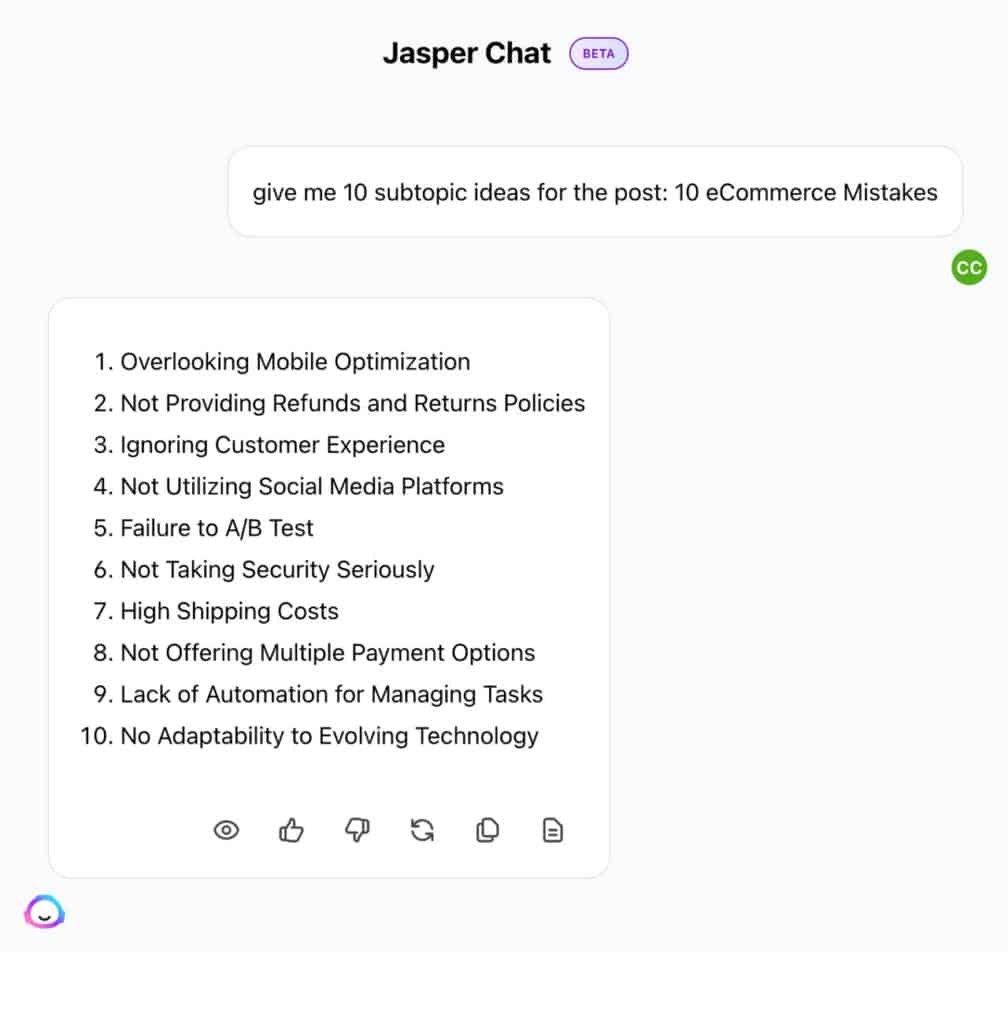 If you need more help, check out my Jasper AI Writing Prep class, where I teach you how to add more services and use Jasper the right way as a writer.
Now is the Best Time to Start a Freelance Writing Business
I know you want to start this freelance writing biz fast, but just because you follow these ideas doesn't mean you'll land a job tomorrow.
Freelance writing is a career, and with any new job, it will take some time to perfect.
I've been freelance writing since 2014, and during that time, I've worked with start-ups, coaches, brands, and large companies.
And one thing that helped me secure a writing gig fast is that I took action and did it!
I did the work, and businesses noticed!
So, tell me in the comments, is there something I forgot to add? Let me know!