According to Inc., in April alone last year, up to four million people quit their job for good.
The Great Resignation is upon us and people are realizing that freelancing, starting a side hustle or just working for themselves is the ultimate job to have.
Are you part of the "I Quit" crowd of four million and counting? Looking to start freelance writing perhaps? Well, it's not as easy as looking at Upwork or Fiverr for writing jobs that can pay the bills.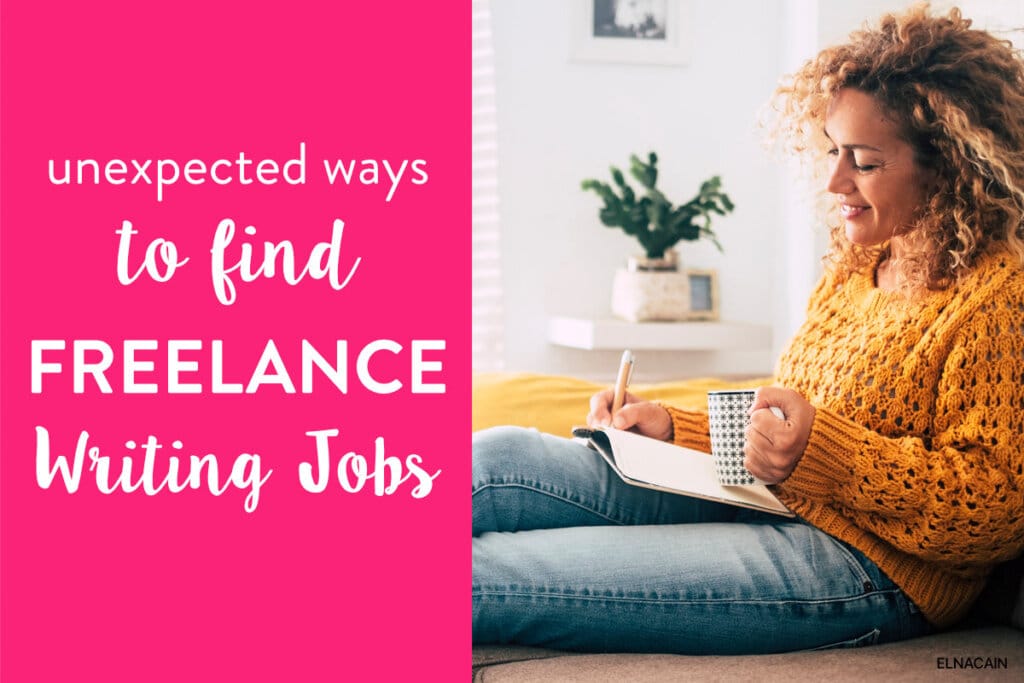 Those types of writing jobs aren't high-paying.
But, there are unexpected ways and places that a brand new person – you – can find freelance writing jobs.
These aren't ones that pay $25 a post or are based on the amount of views you receive from your writing. No, I'm not talking about those types of gigs.
I want recurring gigs, ones in my writing niche and a freelance job that builds my business and helps me make money writing.
Where are those freelance writing jobs? Well, over the years of freelancing and teaching others to freelance write, I've come across hundreds of ways to find a writing job.
Here are seven unexpected ways you can "luck" into a freelance writing job.
1. Use Twitter's Explore Tab
Are you on Twitter?
You should be! If you want to be a freelance writer then getting on social is a solid way to build your business, connect with future clients and land some amazing writing gigs.
One way is to use the explore tab on Twitter. Go there and search for, "looking for a writer," or "freelance writer." From here you will get results with those terms.
Most of them won't be great jobs for you, but take your time scrolling through the feed to find hidden gems like these ones I recently found.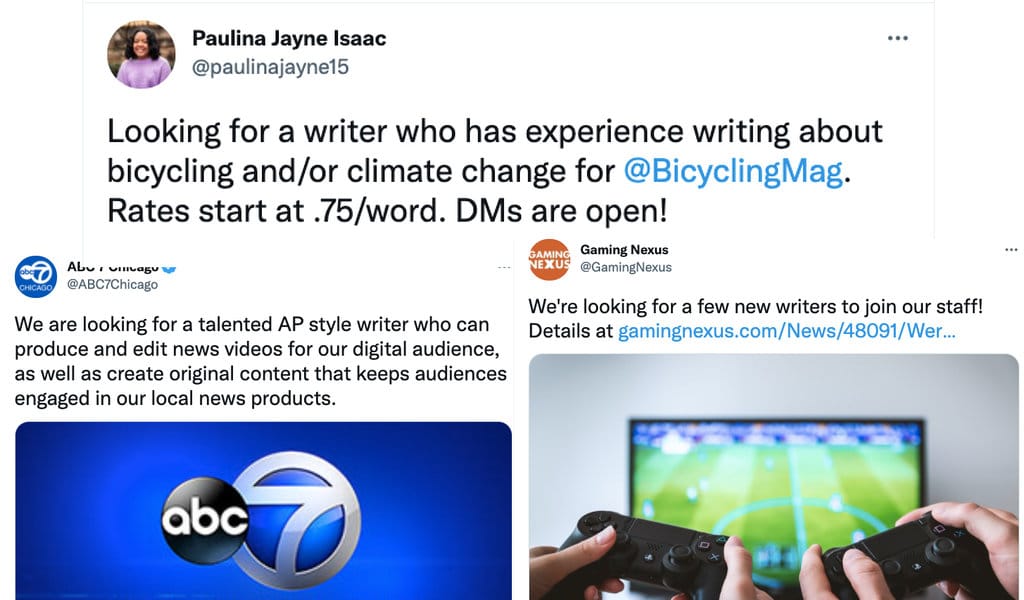 As you can see, no matter what writing niche you are in – video game writing or script writing – Twitter may help you find freelance writing jobs for you!
2. Around Your House
A highly unexpected method to finding writing jobs is to just look around your house or apartment. Take note of the products you use, wear, or consume.
I would take time out of your day to make a list of products you enjoy. For me they might be:
Lululemon
eCamm
Zenni
WEMO
Once you make your list, spend time searching for the companies online. Look to see if they built out their online platform, i.e. they are on social media, they have an email list and they have a blog.
Look at their content online and see if they could benefit from a freelance writer. For example, maybe their blog hasn't been updated for 6 months or their About page is weak or their product pages need some sprucing up. Whatever it is, maybe there's a freelance writing job for you there!
Once you find those companies, go ahead and craft a compelling cold pitch or letter of introduction. This is the time to showcase your stellar writing samples and connect with them by detailing why you would be the perfect writer for them!
3. Facebook Groups
Facebook groups are under utilized! I'm amazed at how easy it is to find freelance writing jobs. I own a Facebook group for mom bloggers and every few weeks there are writing jobs available.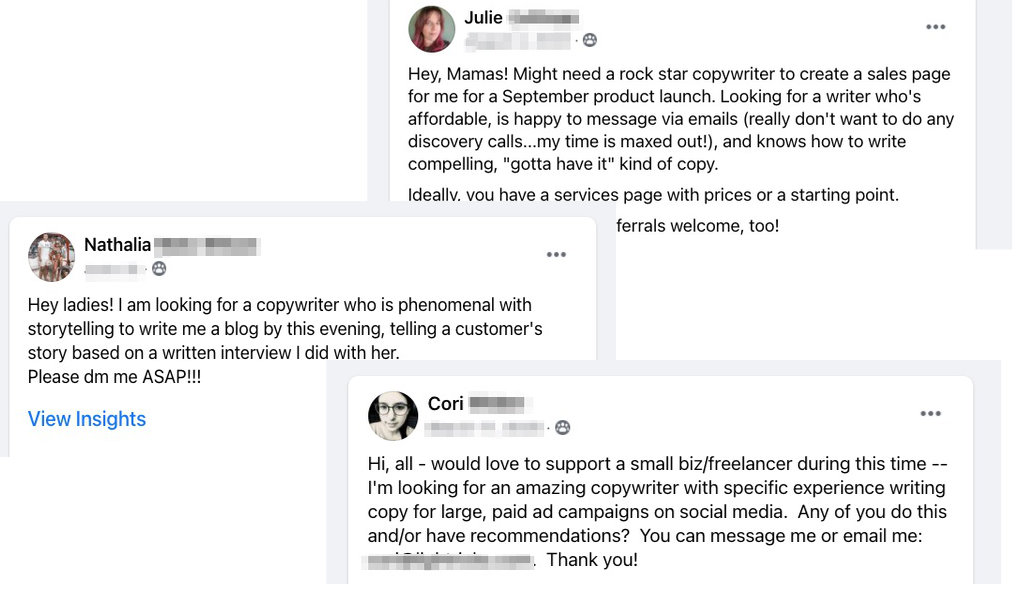 From copywriting to SEO writing to editing or blog writing, my group posts these jobs and more.
To find these types of writing jobs for you, go ahead and join relevant Facebook groups where your potential client might hang out. For my group, there are mompreneurs with an Etsy shop or blog with courses or something that they promote and sell.
As a copywriter you can work with other mom entrepreneurs so a Facebook group of entrepreneurs or mompreneurs would work for you!
Join the group and become helpful when you post. Answer questions and provide value and over time you may see freelance writing jobs posted or you can let others know you are available!
4. A Blog Post
How meta eh? In your Google search I'm sure you've come around blog posts that help you find a freelance writing job – like the post I'm writing right now!
Well, many of those articles share amazing ways to find your first freelance writing job. To help you get a jumpstart on this process, check out some of my blog posts for finding legit freelance writing jobs.
And, I even have very specific writing jobs if you are into health, fashion, tech and more!
So, take the time to read these guides, take notes and start researching these places I share. You never know, that first writing pitch you send could lead you down the path to creating your own financial freedom!
5. A Guest Post
So, while you can search on Google for blog posts about freelance writing jobs, you can take a tiny bit of action and start guest posting.
Guest posting means publishing your article in a publication. So, for example, I wrote a guest post for Psych Central, and Thrive Global.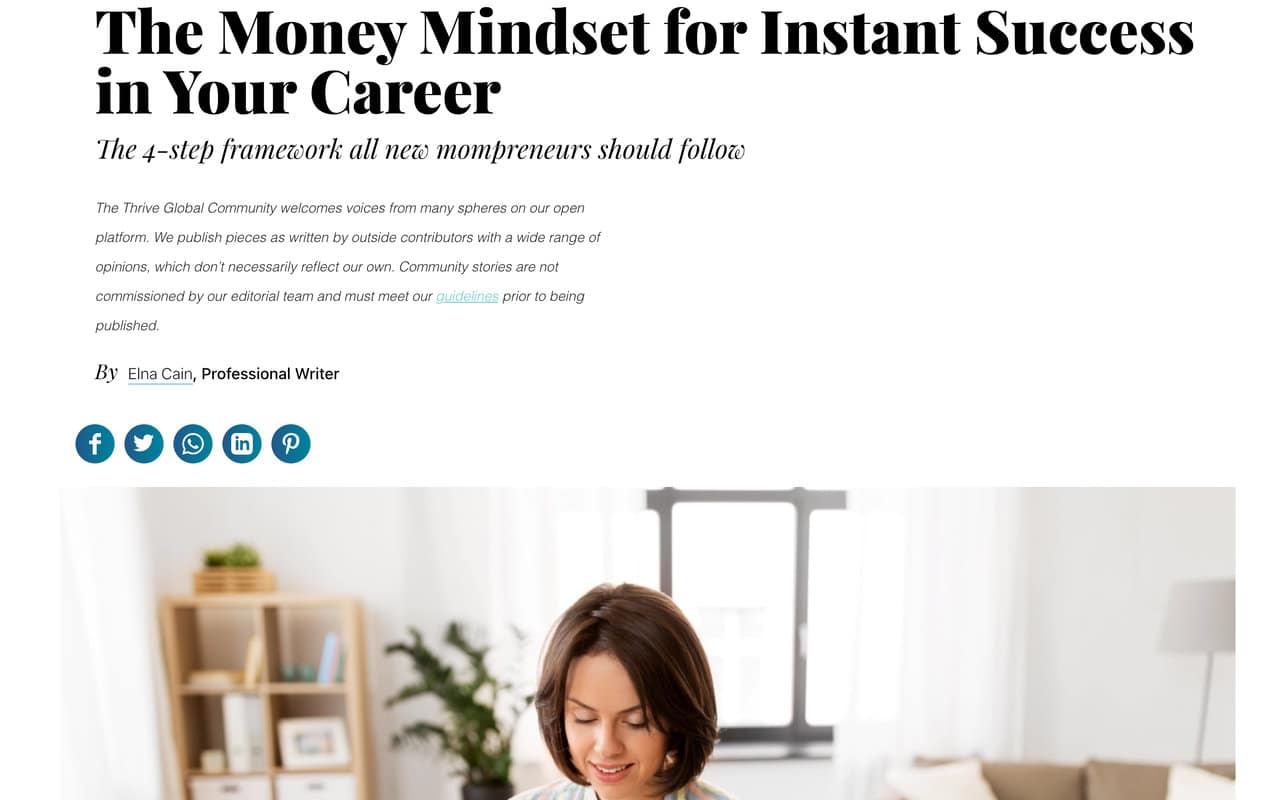 In my freelance writing course, Write Your Way to Your First $1k, I share with you very popular brands you can write for and get published immediately.
Guest posting is a great method to get in front of your ideal client and secure some consistent and recurring freelance writing jobs. This is exactly what I did and I turned a guest post into a paid writing job.
You can easily search for places to guest post based on the type of writing you want to do.
For example, if you want to write about cybersecurity just plug in, "cybersecurity write for us" and get tons of places you can guest post to build your portfolio and get in front of your ideal client.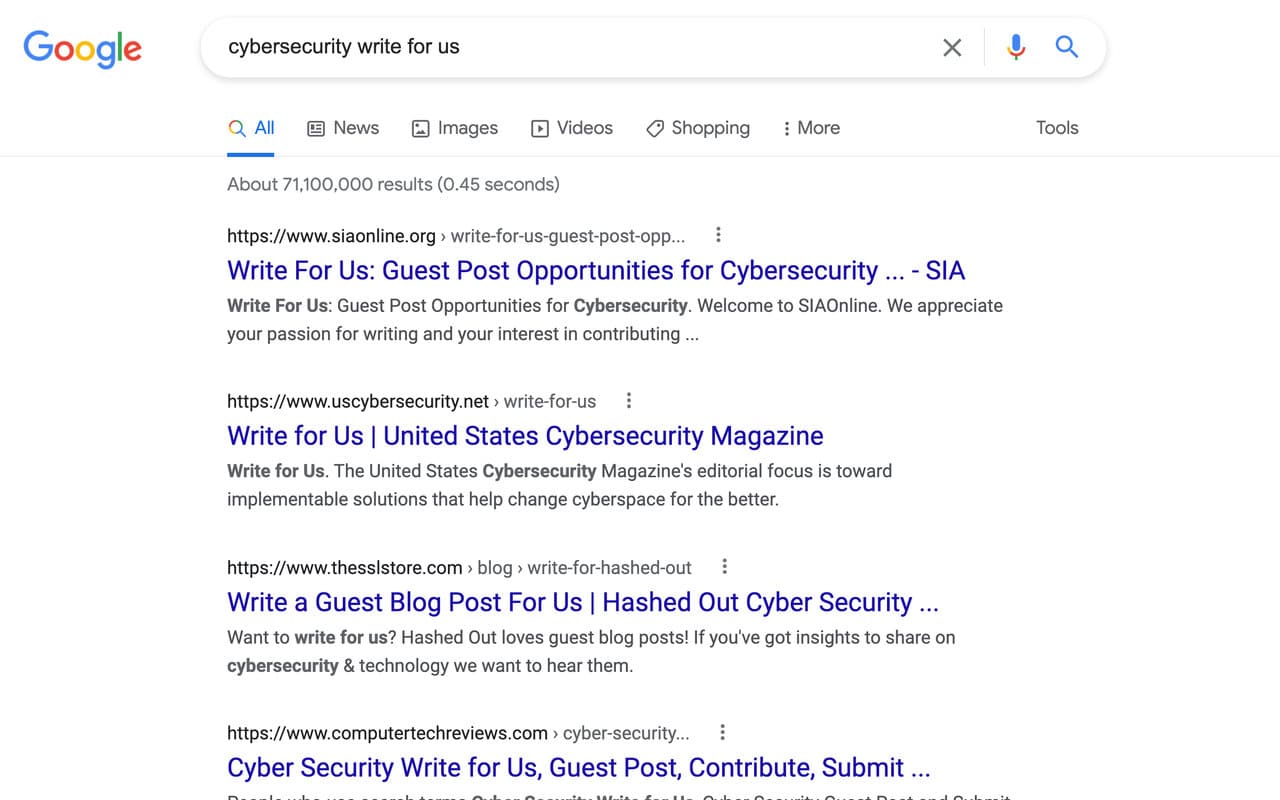 You can also use these terms to find guest posting sites: "contributor site," "guest post," or "submit writing."
6. In the DM's
I don't know about you but pitching in the DM's isn't one of my favorite things to do! But it works!
If you already have an Instagram account or Twitter account or even a Facebook page, then you can work on getting to know your potential clients and DMing them for a freelance writing jobs. For me, I like to pitch to people I already know or they know of me. These might be followers, subscribers or people I was in a course with.
After I send them a little introduction and my services I will get a response similar to this one from a Facebook DM: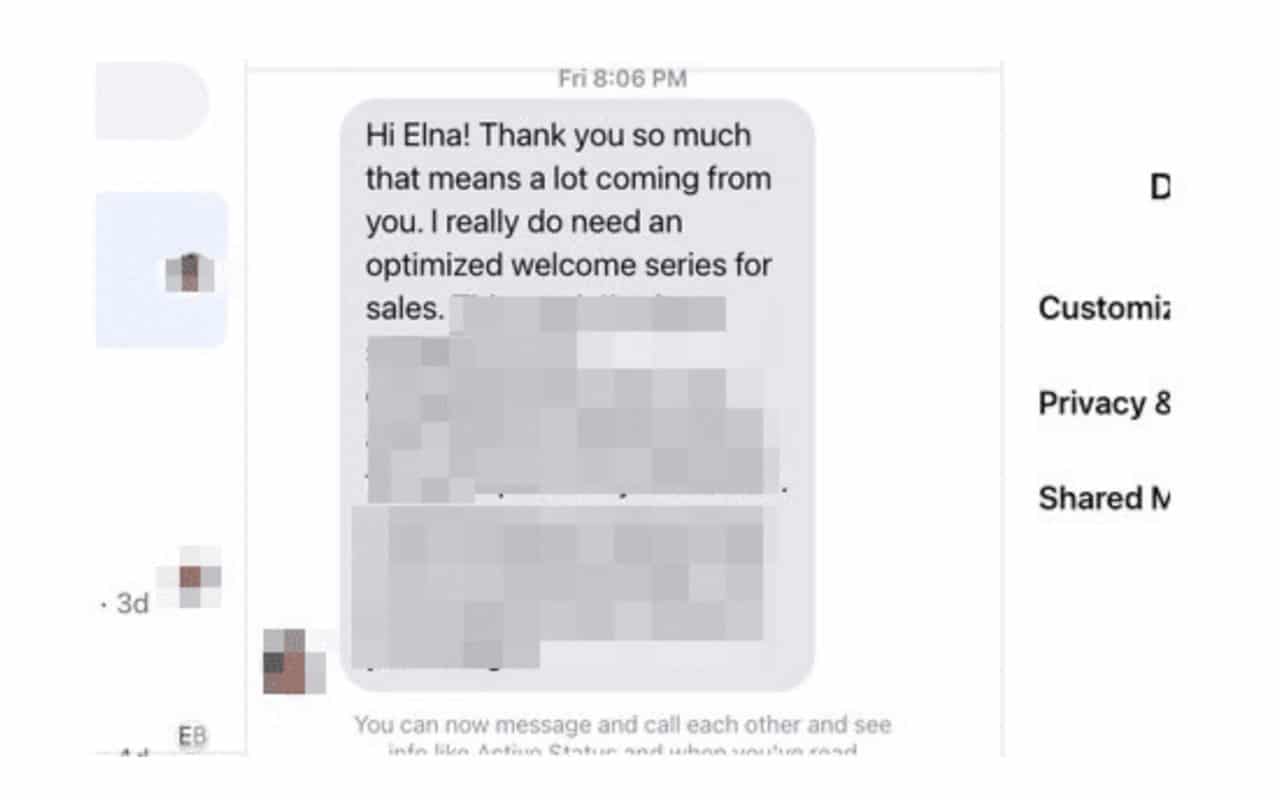 This method is more time consuming and requires a lot of pitching to make it work. So if you aren't into the hustle culture like me, then this method may not help you make a living as a writer. But, it will help you land a freelance writing job!
7. With a Newsletter
While you can go searching all over the internet for freelance writing jobs or go local to find writing jobs, why not let the jobs come to you?
There are two newsletters that I recommend to my students. One is the Morning Coffee Newsletter.
Here is a sample Morning Coffee Newsletter.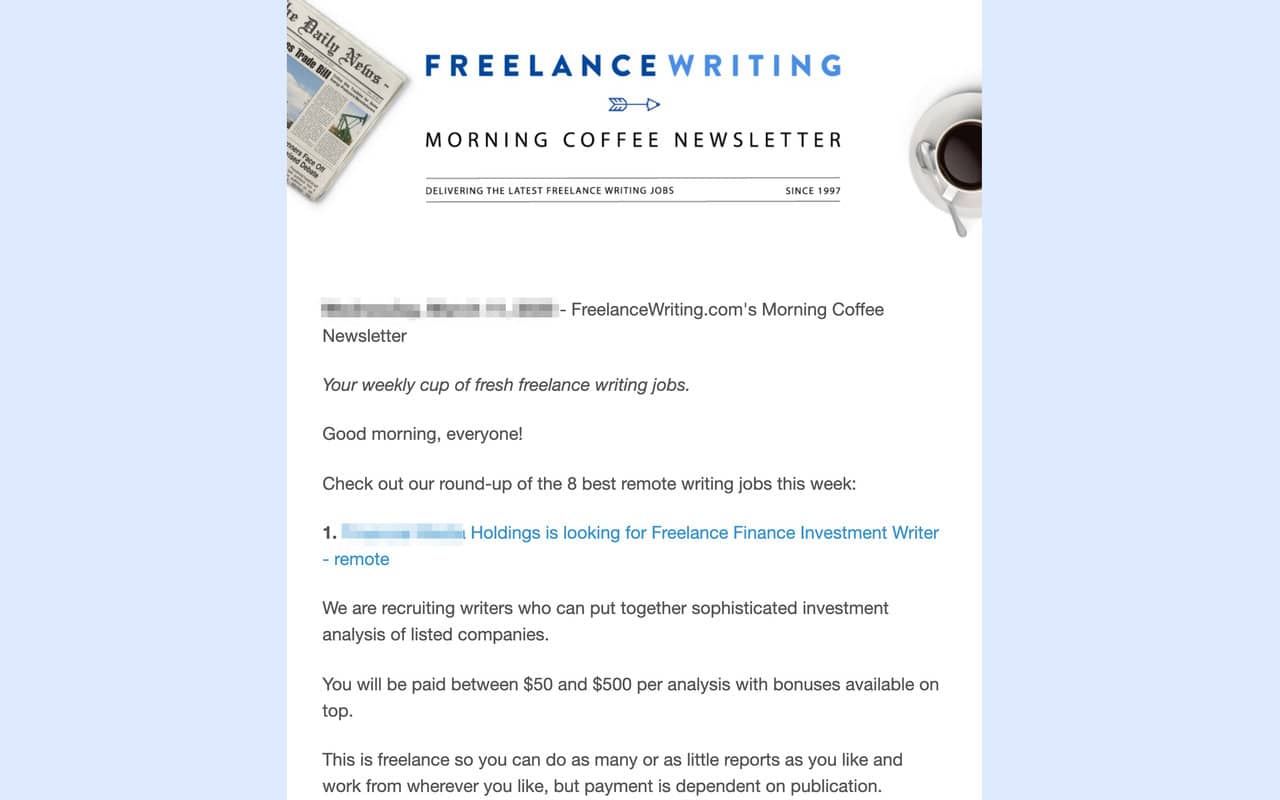 While these newsletters don't come every day, you can still use them to collect and by the end of the week you can use these listing as well as other listings you've sourced and have a plan of attack!
The other newsletter is Opportunities of the Week newsletter.
This is run by Sonia Weiser and is a paid newsletter. If you want to get ahead as a freelance writer, then investing in yourself is the way to go, in all honesty.
More Unexpected Ways to Find a Freelance Writing Job in 2024
In my course, Write Your Way to Your First $1k, I share even MORE unexpected ways to find gigs that I never have shared before.
I work hard at updating my course and sharing the best ways to land a writing job and make an actual living as a writer from home!
So, are you ready to quit your job and start freelance writing?
Come join me and thousands of my students on this wonderful journey!
Over to you – tell me your story of wanting to freelance write or share how you tried one of these methods!