Ever thought of writing jobs in fashion?
When I read Kinsella's book, Shopaholic, I always felt a bit anxious by how much Rebecca Bloomwood would buy, but I love that she was able to turn her passion for shopping into a huge career shift.
Your love of fashion and shopping can help you earn money from home too through remote freelance writing jobs in the fashion niche!
You can land some cool online fashion writer jobs!
Remote freelance writing jobs are becoming more and more popular for stay at home moms or women who no longer want to commute long hours and just want to be home with their little ones.
And, what's great about these types of writing jobs is that you can find many different ones in the fashion niche. Before I had my twins, I was on point with fashion. From buying the magazines to watching the shows, I loved learning about fashion (and wearing it).
I can use that knowledge and passion to find some work!
If you are the same, then maybe try these six fun remote freelance writing jobs!
Remote Freelance Writing Jobs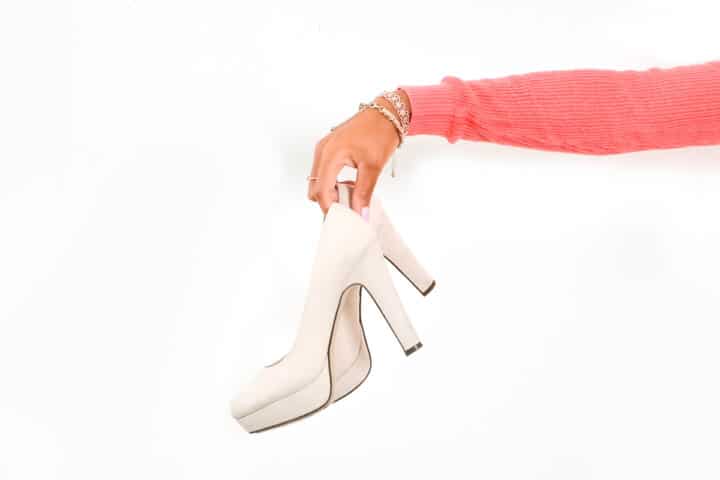 Let's look at six different types of fashion-based remote writing jobs that you can start doing whether you are just getting started with freelance writing or you want to add a new writing niche to your service.
1. Fashion Writing for Brands
One way to land online fashion writer jobs is you can start pitching to established fashion brands and sites to find fashion gigs.
Make sure to not just pitch to style blogs – reach out to labels and online boutiques as well. This will give you a bigger pool of potential remote freelance writing jobs you can land.
For many freelance writers, this is one of the ways they get their start in the online writing world.
Here is an example on the Contena Job board for a high-paying fashion writer.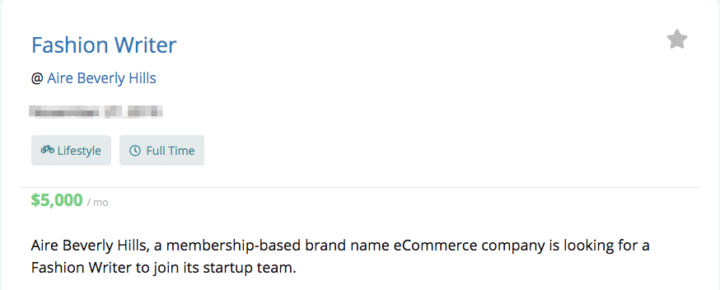 For example, you might see an online baby boutique offering $0.25 per listing/product copy created. By seeing this remote freelance writing job offer, you can validate the fashion writing niche and offer your service to other online baby boutiques.
As a new freelance writer, if you set an entry rate, you can easily pick up a few clients to agree to a blog post every week.
A lot of style sites need longer buying guides rather than quick posts, and are willing to pay for them.
I've learned that the gift guide writing niche is highly profitable and you can incorporate this type of writing as a fashion writer.
Brands and online stores need help creating constant copy for their site, product, blogs, and social media, – these are freelance writing jobs you can easily land!
2. Fashion Writing for Your Blog
Another way to use your fashion writing to land online fashion writer jobs is to start your own blog and grow that from the ground up.
How is this a writing job? Well, it is indirectly.
You can definitely use your blog to land some remote freelance writing jobs. It's happened to me and it can happen to you!
But, this way is more challenging and it can take a longer time to land gigs. My suggestion is to blog on the side of finding writing work.
3. Fashion Social Media Influencer for Gigs
The fashion world is competitive, but what's neat about social media is that there's a place for every body shape and age.
A college student modeling cute styles doesn't appeal to me because #momhips.
My favorite fashion accounts I follow are from moms that share Amazon finds. Amazon can be a hit and miss in the fashion department, so it's refreshing to see a real woman wear and review clothes from the site.
Whatever your current season of life is, you use social media to share your favorite outfits or style ideas.
The best way to market this is through affiliate sales, especially through Amazon, and sponsorships.
Sponsorships occur when a brand reaches out to you to sponsor their product on your blog or in social media. Together you work on a rate and fulfill that task. Some bloggers make thousands writing sponsored content, while others make money sharing it on social media.
Ideas that will always be popular are celebrity/popular show fashion copies, fashion for body's that are hard to dress – i.e. not just plus size, but even dressing larger chests or pieces that work off the shelf for petite women.
The smaller you make your focus, the more success you can have in the fashion niche.
A great place to try this out is on Instagram. Students in my Writeto1k course landed amazing remote freelance writing jobs just by using Instagram and posting quotes, graphics and using stories.
4. Remote Freelance Writing Jobs from Companies
There are several companies hiring for remote freelance writing jobs that might interest you. They are name brands and can boost your credibility in the freelance writing world.
These companies can help you make money with your writing in a topic you love!
Neiman Marcus
Neiman Marcus hires digital stylists to communicate with their best online-only customers.
As a digital stylists, you will offer styling advice, outfit recommendations and inside access to exclusive perks via email and text.
They want full-time, at-home workers who have access to a Neiman Marcus location. If you cannot see any listings on Neiman Marcus' website, try searching "Neiman Marcus remote stylist" on Google to find recent listings for these remote freelance writing jobs.
FabFitFun
If you live in travel distance to West Hollywood, FabFitFun often hires editorial coordinators to write and plan projects for their print magazine. While they make seek in-house writers, you can still pitch to them as a freelance writer and see about picking up a remote writing job.
Nordstrom
According to Glassdoor, Nordstrom does occasionally hire UX writers to write for their mobile apps, and improve end to end customer experiences.
5. Fashion Editor Jobs
Another remote freelance writing job you can do in the fashion niche is fashion editing.
Most of these fashion editing jobs will be for print fashion magazines and will be location-dependant. Places like Refinery29 often hires editors or Sephora hires copywriters.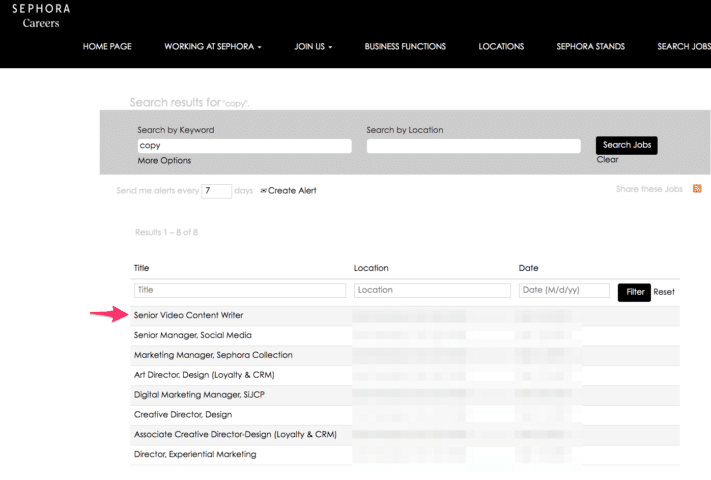 If you want more information about how to become a fashion editor, check out this guide.
6. Fashion Email Writer
Many fashion brands send out marketing emails to potential customers and past customers.
You can be their fashion writer for all their email marketing campaigns. Email writing is a high-paying writing niche and if you niche down to only working with fashion brands, you can easily become the go-to fashion email writer!
Get Paid With These Remote Freelance Writing Jobs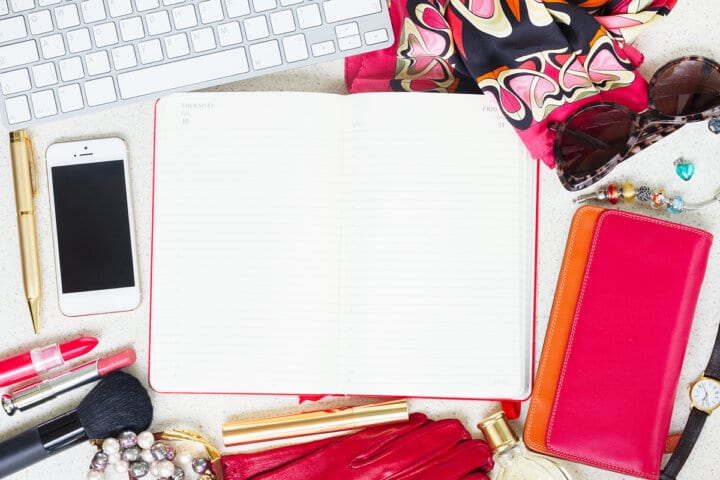 There ya go!
Here are six writing jobs in the fashion industry that you can try out and start making money! These are amazing online fashion writer jobs you can start doing as a beginner.
While many of these gigs do require a degree in fashion or some sort, by having a strong writing portfolio in the fashion niche can often sway companies.
The point is to get out there and pitch!
Over to you – are you a fashion-holic? Do these gigs interest you? Let me know in the comments!