Guess what?
Stepping into the world of freelance writing can be like opening Pandora's box!
Making money from home as a freelance writer involves so much more than tapping your fingers on your keyboard and putting words together.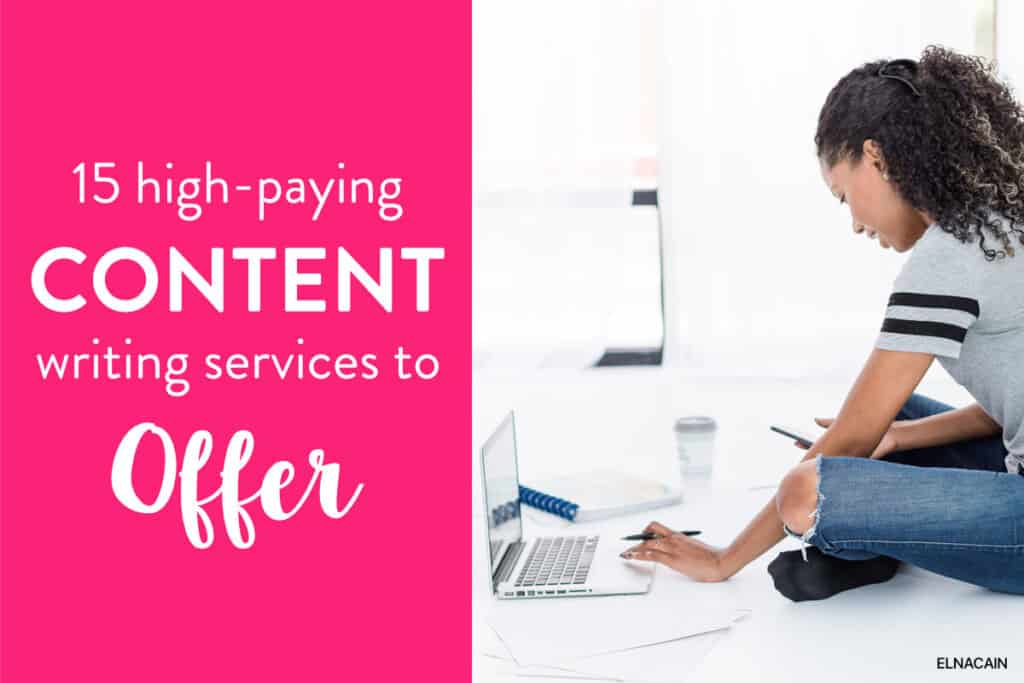 One aspect of freelance writing that is important to understand is the different types of content writing services you can offer.
Starting out as a freelance writer, you may stick to services such as blog writing or ghostwriting.
However, if you want to expand your business, there are many other writing services you can offer as well!
The best part? You don't have to choose only one!
The more you can gain skills and experience when it comes to different styles of writing, the more you can offer potential clients and increase your value as a writer.
I wouldn't recommend offering too many content writing services at once.
Start with one or two and then gradually expand your services to those you are comfortable and confident offering.
For example, most of my freelance writing career I offered blog post writing, but then I moved to SEO long-form writing and now, I'm adding email marketing writing to my services!
The world's your oyster when it comes to freelance writing!
Before we look at the content writing services that pay big in 2023, let's go over what content writing is.
What is Content Writing?
Content writing is a type of marketing writing in which you create content for an online audience.
For instance, businesses publish online content, also known as copy, to increase traffic to their sites, gain more customers, or let their customers know of new products.
To learn more about the differences between content writing and other forms of writing like blogging, check out my video (and make sure to subscribe to my channel!).
Businesses will use online content to reach their target audience and will hire content writers to write it!
When it comes to being a content writer, some write on a variety of topics while others specialize in a niche.
It's okay if you don't write for one specific niche.
Personally, I write about freelance writing on this site and running a blog on my other site.
So when it comes to content writing for money, I write about either.
Just remember that content writing involves:
Optimized SEO headlines
SEO sub headlines
Images to enhance your writing
Conversational SEO writing
I do recommend starting with a writing niche if you can.
For example, fintech writer or B2B legal writer.
Your writing niche is something you are knowledgeable about and can focus on building your writing skills that will help you improve your skill and knowledge in your writing niche.
If you don't choose a writing niche, you'll spend hours and hours doing tons of research on topics you know nothing about.
Of course, you can be a generalist writer if you find learning new topics easy and quick, then by all means, get paid to write about anything!
Once you get going, you can then expand to include other writing niches and widen your net when looking for clients.
With content writing out of the way, let's look at some of the best content writing services that pay big in 2023.
Content Writing Services You Should Check Out
1. Blogging
Yes! Blogging!
This is how my whole writing career started – I started writing for my own blogs and eventually was able to transfer my skills into freelance writing.
And, that switch helped me find writing jobs that pay money.
Because I had experience writing for my own blog, it wasn't difficult for me to find freelance writing jobs for other peoples' blogs.
For example, I have three pages of blog posts I wrote for Blogging Wizard – a paid client.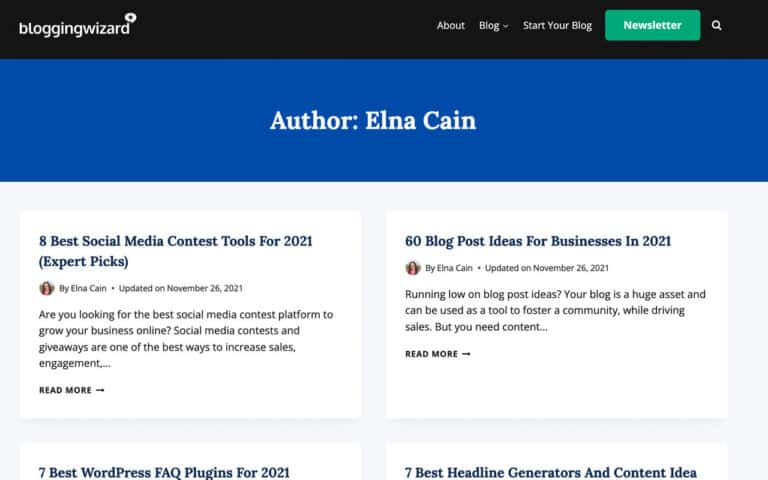 Blog posts are the staple of content writing and help businesses boost their SEO rankings.
Fresh, well-written content helps them appear closer to the top of search results and attracts more visitors to their site.
If you're interested in becoming a blog writer, I suggest you brush up on your SEO know-how and gain a good understanding of keywords as well as the audience you are writing for.
You check out my masterclass, Fast Track to SEO Writing for help on content writing.
2. Copywriting
So while blog writing focuses specifically on blog posts, copywriting encompasses other forms of content writing such as website copy on homepages, product descriptions, and infographics – often short forms of copy that pay hundreds and thousands.
Writing these forms of content involves more than slapping a few words together.
You have to know how to strategically craft a message that will draw people in and compel them to perform an action such as buying a product or signing up for an email list.
Copywriting involves writing content to advertise and market something. It is content written to increase brand awareness.
You will see copywriting with content writing in the form of:
Blog posts
Landing pages
Sales pages
Emails
Social media posts
While you can write a general social media post such as, "Check out the latest stats in eCommerce" for a client, why not use a copywriting principle like PAS – problem, agitate, solution – to create a highly optimized piece of copy:
"Your eCommerce store on a downward trend? Fewer sales or no sales at all? The latest eCommerce Trends shows how to flip your sales. Download your FREE eCommerce Trends Report and start planning for Q1."
Yes, it's a longer than the first social media post, but with more editing and paring down, this PAS social media post for Twitter or Facebook will grab the attention of failing eCommerce brands and want to grab a free report to help them for more growth.
3. Technical Writing
If you're already a freelance writer, have you ever tried to explain to someone what it is you do?
Sometimes, I find it difficult to clearly explain everything involved in freelance writing to people who don't know what it is!
When you know something so well, it can be difficult to explain it clearly to someone else.
For this reason, businesses will pay writers for what is known as "technical writing" – which includes instruction manuals, how-tos, and white papers.
They need someone who can explain how their product or service works in a way that makes sense to customers.
Technical writing is used to educate customers as well as show them how the product or service can be applied in their life.
So if you are good with details, technical writing could be a great content writing service to offer!
4. Long-Form Writing
When it comes to long-form writing, this content writing service can really incorporate a variety of content types from white papers to ebooks and from case studies to data studies.
I included this as its own content writing service because offering it is all about stamina! Long-form content is, well, long (2,000 – 7,000+ words) and you have to have the time, skills, and patience to pull it off on a regular basis.
For this reason, I made sure to show the value of my writing niche – long-form SEO digital marketing writing for Saas – so businesses understand they are getting a lot from me that is all long-form.
A lot of companies out there want long-form content and are willing to pay writers big bucks to produce it! Feel free to charge $100-$300 per 1,000 words depending on if it's journalistic in nature or a white paper or part of an SEO campaign.
5. Social Media Writing
Social media is huge nowadays and businesses are almost always expected to have a social media presence.
Many people turn to major platforms such as Facebook, Twitter, and Instagram to find products and services. I mean, I do too!
For this reason, companies need to be smart about what they post on their social media platforms.
Just look at Fitbit's social copy that converts.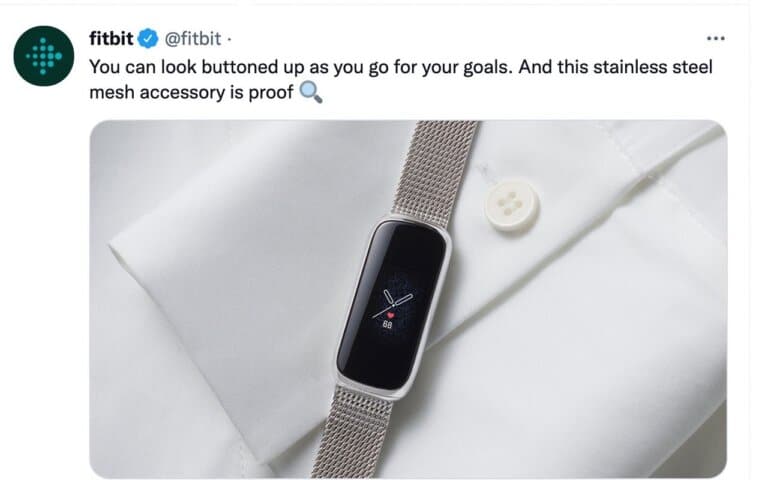 Enter the social media writer!
Writing for social media involves being relevant and in touch with the audience while producing content that is short and punchy.
To offer social media writing as a content writing service, you need to have a good understanding of each platform you are writing for.
Twitter, for example, is used to share quick and attention-grabbing content while Instagram is highly visual.
And, a white paper may not perform well on Facebook but could gain a lot of attention on LinkedIn.
6. Emails and Newsletters
There is a slight difference between writing emails and writing newsletters but both require persuasive writing skills.
Emails are typically sent out to people who are unfamiliar with a brand.
Therefore, you need to introduce the company's service or product as a solution to the reader's struggle.
When it comes to newsletters, these are sent to customers and readers who are familiar with the brand and have signed up to receive updates.
For this audience, it's more about easing them into taking action by providing valuable information and insight.
Both, however, are great content writing services to offer and companies will pay you to write them!
This is the service I picked up last year and I love it.
The writing is easy, short and pays well.
Here's an example of emails I wrote for my clients.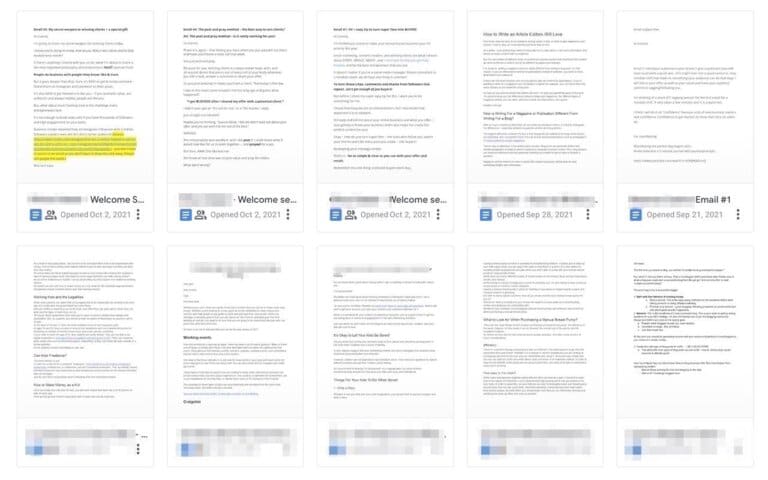 7. Content Marketing
Content writing is kind of all about marketing in a way but content marketing as a writing service is more focused on earning the trust of potential customers – who are more hesitant nowadays to believe in online marketing copy.
This form of content writing includes blog writing, SEO writing, copywriting, and long-form writing – my jam!
Some of the skills necessary to produce good marketing content include knowing how to craft lead magnets (offers that draw in customers), Facebook content, sales funnels (a strategy that gently leads readers to make a purchase), blog posts, and social promotion.
This is one of those content writing services that incorporate different types of writing but when you offer it as a sort of "package deal" to clients, they are more likely to pay for your services!
8. Press Releases
Press releases are short pieces of content that allow businesses to announce a new feature or product to the media.
This way, companies don't have to wait to be approached by reporters and media outlets – it's a notification to journalists that provides them with key information for their stories.
Writing press releases isn't difficult and can be a great content writing service to offer – companies will pay anywhere between $200 and $2,500 for press releases!
Check out this post on how to write press releases.
9. Ghostwriting
Ghostwriting is, again, one of those content writing services that include many different types of content – but it can definitely earn you some good money!
A ghostwriter is someone who produces content for someone else and that someone else gets to put their name on it.
For instance, someone may hire you to write an eBook but use their name as the author when it's published.
Companies will pay ghostwriters to write their content when they don't have the time or skills to do it themselves.
Along with all of the skills necessary to be a good freelance writer, being a ghostwriter requires you to take on the voice and tone of someone else – you need to write as that person.
10. Scriptwriting
No, I'm not suggesting that you pack your bags and move to Hollywood to become a scriptwriter.
Scriptwriting is a growing content writing service that is gaining momentum in the world of multimedia.
This of all the visual and audio content you come across online.
While some of it is improvised and off-the-cuff, a lot of it is scripted and these scripts are written by freelance writers!
As a scriptwriter, you need to combine storytelling with messaging strategy.
This means that you have to write something engaging that also clearly defines your client's message.
Scriptwriters are used for creating content for explainer videos, course lessons, podcasts, YouTube videos, advertisements, and even chatbots.
For example, I get asked often to provide this service, but it's something I'm not too keen on and often pass it to my Writeto1k students.

11. Ad and Promo Writing
Much like social media writing, this content writing service focuses on crafting short and powerful messages that focus on a call to action (getting the reader to do something like buying a product or visiting a website).
When it comes to offering an ad/promo writing service, you can focus on writing advertising copy, landing pages, promotional blurbs, and product descriptions.
Product description writing is a profitable writing niche if you can either write about jewelry, shoes, lawn mowers or energizer drinks and more.
Here's an example of Lime Crime – a cruel free vegan beauty line – and their product descriptions.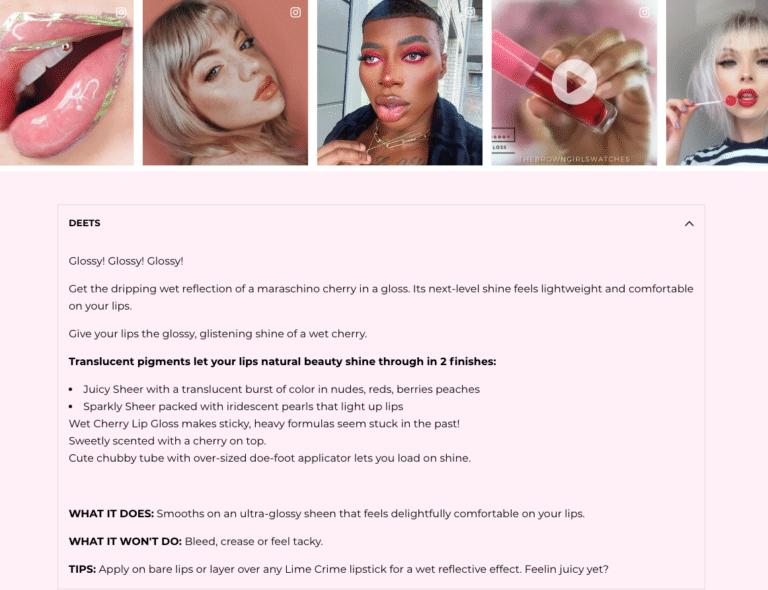 12. SEO Writing
I talked about SEO writing earlier in this article when it came to blog writing it is often used as a separate content writing service.
SEO writing involves everything from making Google happy by using keywords and posting fresh content as well as making the readers happy by writing easy-to-read and well laid out content.
Offering SEO writing as a content writing service means providing your clients with the full scope of SEO optimization, from properly structuring permalinks to utilizing strong backlinks and researching keywords for the content.
I use Ahrefs for finding competitor keywords and relevant keywords for my sites.
For example, on my demo site I used for Writer Website in a Weekend 3.o, I share what I do when clients hire me for SEO writing.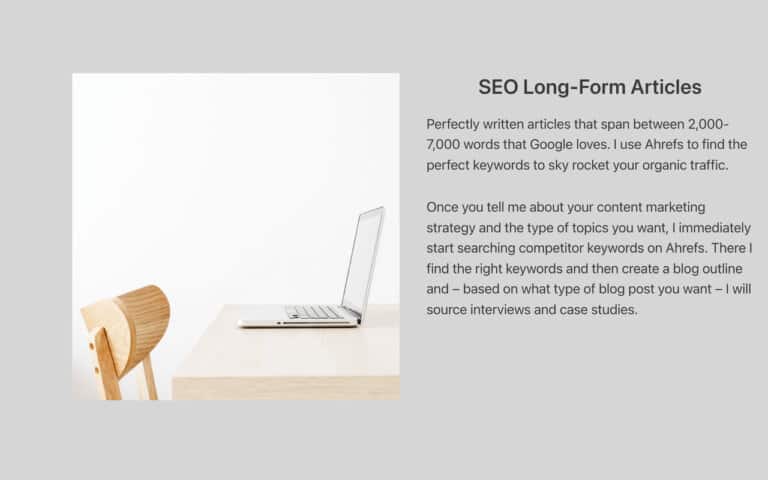 13. Research Paper and Essay Writing
Writing research papers and essays is a fast-growing content writing service.
Many students turn to freelance writers to help them with their post-secondary school assignments.
But, wait, isn't that cheating?
If you were to write the entire paper and have the client hand it in word-for-word, it would be.
However, essay and research paper writers simply take the client's research notes and ideas and compile them into a well-written document.
Some people have great ideas and knowledge but can't articulate through writing.
That's where this content writing service comes in handy!
But, I would be extremely careful about offering this as a service.
14. Online Course Writing
Online course learning will be a $325 billion worth industry by 2025.
This industry is growing exponentially since 2017 and has not sight of stopping.
Many people have a wealth of knowledge and experience but struggle to write it all down – practically ALL bloggers, entrepreneurs coaches and more.
They want to share what they know online but can't organize their thoughts into a course.
As an online course writer, you will take their information and ideas and organize everything into documents, presentations, workbooks, video scripts, modules, etc.
And because selling online courses is considered a form of passive income (the course provider posts the course and sits back and makes money), this can be a very lucrative content writing service to offer as a freelancer!
Here's an example of course lessons in my Write Your Way to Your First $1k course.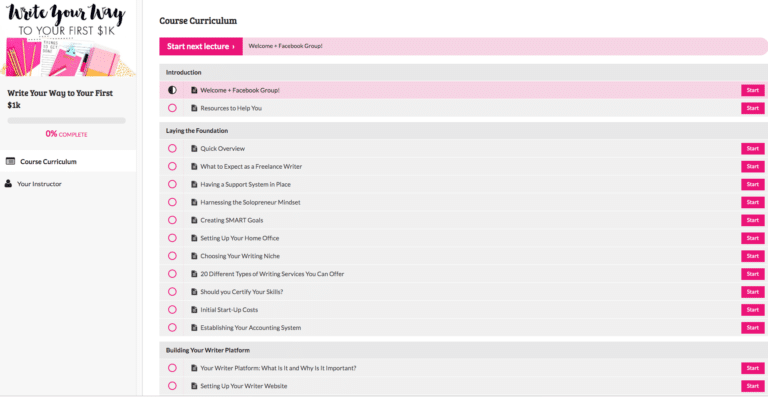 15. Guest Post Writing
One service you can add on when pitching to clients is offering guest post writing.
What this means is if a client of yours has access to Convertkit or Entrepreneur or FastCompany, they will hire a freelance writer to provide the content for these guest sites.
The client will give you the topic and you write the post for the client. The client then submits that post to Forbes or any guest site they secured.
One thing to point out (as I did for the previous content writing service) is that you are NOT responsible for securing these guest spots.
It's in nearly impossible for a freelance writer to do this as they would need to network extensively (this might take years) and build authority in your field.
So, for a brand new freelance writer, make sure to stipulate this in your pitches!
Which Content Writing Service Will You Offer?
If you stumbled upon this article thinking that your freelance writing career was limited to blog posts, I hope you were pleasantly surprised!
And there are so many other types of content that will earn you money as a freelance writer – these are just the popular ones that pay big.
So, which one piques your interest? Which ones do you offer already? Let me know in the comments!
And don't forget to pin for later!