Nowadays, more and more businesses are hiring writers to create UX content for their sites, apps, and other digital products.
In fact, the Business Bureau of Labor Statistics says the demand for industrial designs has seen a 3% growth year after year since 2018.
So, if you want to become a UX writer, now is the time!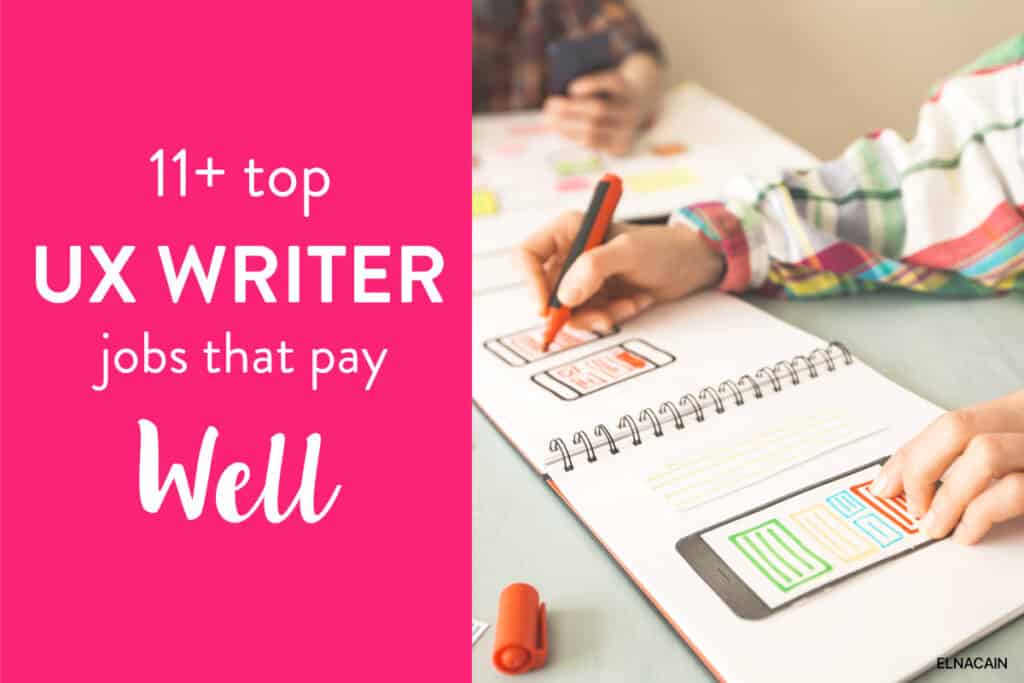 With a steady flow of new websites, apps, and more, UX writers are in high demand, and if you have the right stuff, you are likely to get hired by top jobs that pay well.
But before we get into these top UX writer jobs, you're probably wondering:
"How do I get started?"
You're in luck because I'm going to go over what UX writing is, the skills you need, and where to find the best UX writing jobs.
Let's get started!
What is UX Writing?
UX stands for "user experience," and UX writing is a style of writing that navigates users to a product or service.
It makes it easy for users to understand what they are using and help them use the app or product.
Think of a fitness app and using their tracker to count your steps.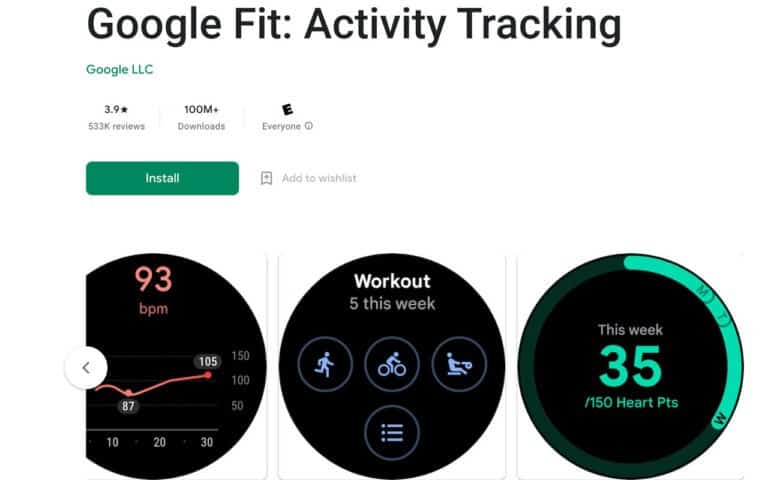 They produce what is known as "microcopy," which includes things like the words used in a website menu, product descriptions and definitions, labels, error messages, and buttons.
Microcopy is more than simple words – it is intuitive to the user and matches the brand's voice.
It has to be easy to understand – it's clear, concise, and makes sense.
All types of people – including seniors (your grandparents) – might come across digital products like Zoom or Google Maps and the user face has to have clear copy.
Simply changing the word on a button can improve conversions for a product or service.
UX writing often coincides with the work of other writers such as content strategists, technical writers, and copywriters.
However, UX writing jobs are not as in-depth as these types of jobs.
For example, a content strategist creates a content plan based on a business's needs, while a UX writer would use those guidelines to create their content.
Overall, a UX writer focuses on the written aspects of an app or website with which users interact directly.
Types of UX Content
When looking for remote UX writer jobs, it's important to consider what type of UX content businesses are looking for!
Here are the specific types of content UX writers can create:
Menu labels
Form field labels and lists
Buttons and CTA's (call-to-action)
Settings labels
Confirmation messages
Error messages
Contextual tips
Pop-up ads
Chatbot conversations
Overall, UX writing is used to help users navigate a digital product so that each step is clearly outlined.
For example, if you had a UX writer job at Tinder, you would have to come up with short and concise content for each step through their experience: signing up, finding matches, being alerted to new matches, new messages, etc.
This must be done using the brand's tone of voice and language that resonates with the target audience.
What is Microcopy?
I already mentioned microcopy, but let's check it out in more detail!
Again, these are little tidbits of writing that you find on websites, apps, and products.
These short snippets address user concerns, instruct a user on what to do, and help to tell a story about the business's brand and product.
Microcopy has to be brief as well as provide content to the user and prompt them to take an action.
Here's an example of microcopy from MailChimp: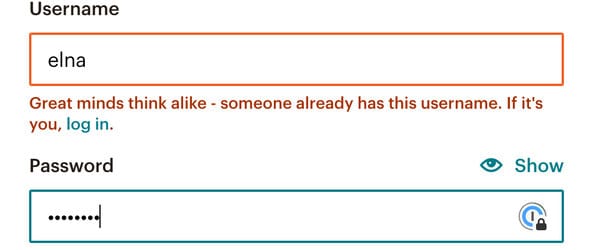 See that little blurb in orange?
That's microcopy that is short, amusing, and friendly – the tone of voice of Mailchimp.
It's very important for the UX writer that the microcopy is extremely clear and easy to understand.
The other day, I was on Medium, and Medium announced they introduced tipping for writers.
When you click to enable it, I get a paragraph of text and a line to put in a URL.

I don't know about you, but I was clueless on what to put. My Paypal address isn't a URL so for a second I was confused.
Maybe because I'm "old" or something but if you get hired to do UX writing you have to take into account, all types of people reading the copy for an app or website.
How to Get Started as a UX Writer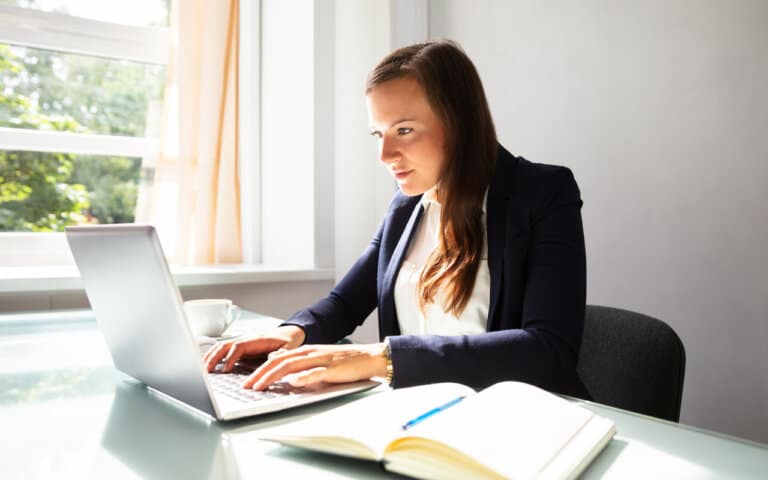 While there are many entry-level UX writer jobs, it's helpful to have a few skills tucked in your belt before you get started!
You should also focus on building a portfolio and gaining some experience.
What Skills Do I Need to Become a UX Writer?
Here are some basic skills you will need to get started:
Writing: Obviously, you will need to know how to write using proper spelling, grammar, and punctuation. However, you will also need to know how to write short, clear, concise, and compelling content.
Research: It's important to understand your client's audience in order to create microcopy that draws them in and inspires them to buy a product or service. You should also have an understanding of A/B testing and user testing so that you can deliver effective UX writing to your client.
Digital Design Programs: Not all UX writers use design programs, but knowing how to use programs like Figma and Sketch will give you a competitive edge and allow you to create some amazing samples for your writing portfolio!
How Do I Create a Writer Portfolio?
Creating a writer portfolio is key when you are looking for any type of writing position!
To create a portfolio as a UX writer, start a simple website where you can showcase your work, allow potential clients to contact you, and provide enough information about yourself to demonstrate your value.
Here's an example of what my portfolio looks like on my writer website: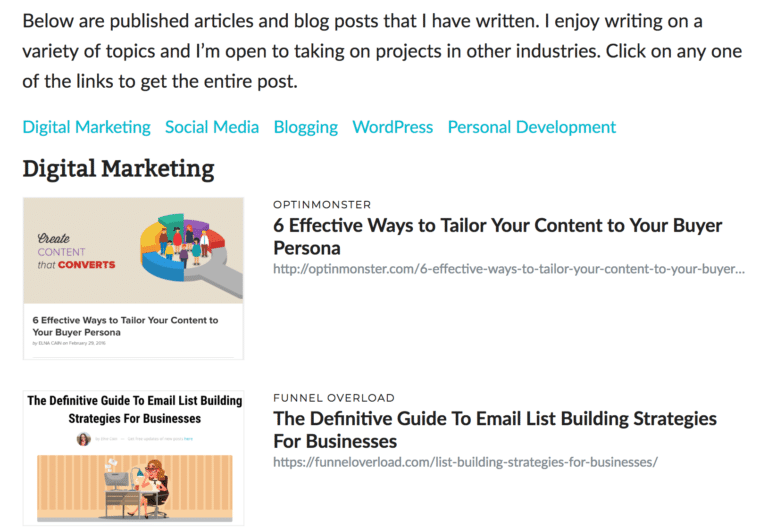 Check out my course on how to create your own writer's website in a weekend!
But, you might be wondering what to put on your writer portfolio.
Just like with a copywriter, it might be a good idea to make a mock sample of some UX writing. You can create images on Canva or any other image editing tool to show a button and button copy.
But, I would also create blog posts about UX writing and in those posts you can also share your Canva designs!
For more help on this idea, check out my video on how to create a mock sample.
How Do I Get Experience as a UX Writer?
When looking at UX writer job descriptions, you'll probably notice that many businesses look for past experience.
So how do you gain experience if you're just starting?
You can always start in another writing niche, such as copywriting and technical writing to get your foot in the door with a client.
That way you can build a teach or copywriting portfolio and it will make it easier to pitch your UX writing to those clients.
Or you can offer UX design services, which involve designing websites that are user-friendly.
Here is Marcos Rezende's UX design website for example.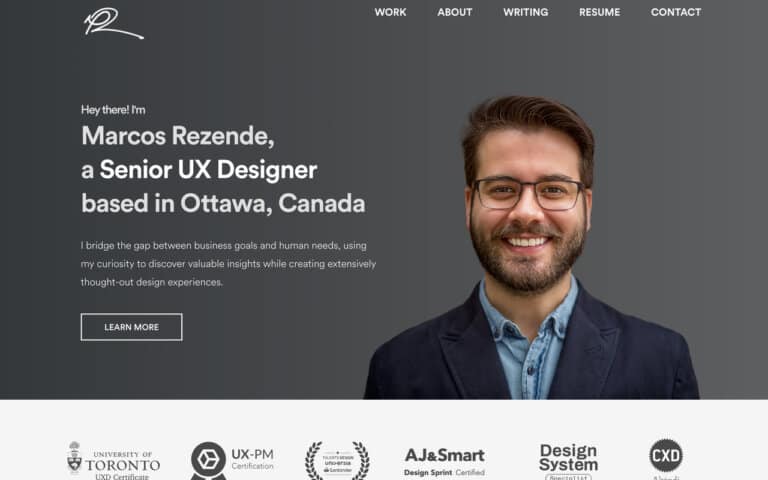 Or, perhaps you can network with UX designers and introduce yourself as a UX writer. By establishing a working relationship with other designers, you can be assured that if they need copy, your name will be at the forefront of their mind!
Otherwise, you can use your portfolio to showcase mock websites and apps to demonstrate your abilities!
Top UX Writing Jobs – Companies That Are Hiring
I took the time to find actual companies that are in need of UX writers. This may not be always the case (i.e. UX writer job already filled), but knowing that these companies hires UX writers you can always seek them out later or find similar companies. For example, other banks, other tech stores or other app companies.
1. Contena
Contena is an exclusive job board for freelance writers.
They curate job ads from all over and often have UX writing jobs.
Here is an example: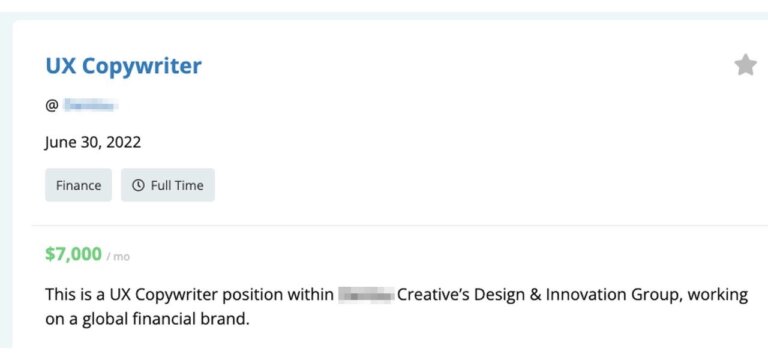 To learn more about Contena, check out my review.
Contena often has high-paying freelance writing jobs for UX writers and copywriters!
2. Royal Bank of Canada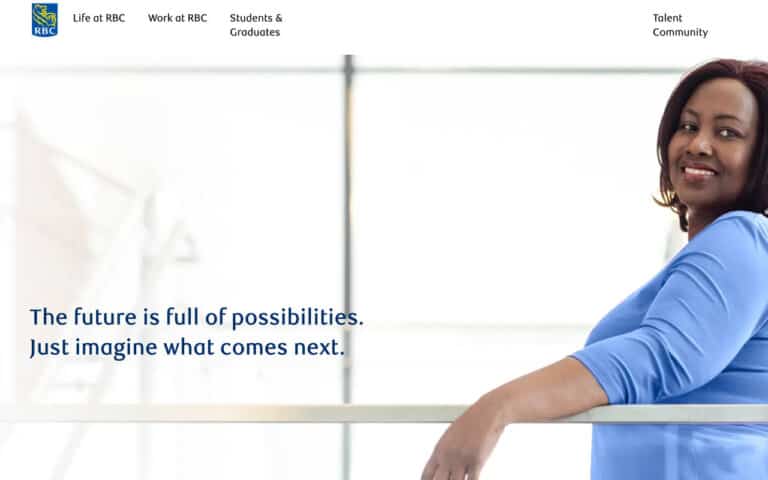 RBC hires full-time UX writers to create content strategies to help their users understand the digital products they offer.
This involves writing as well as collaborating with different teams such as their Design Research team to research users and test activities.
Because we're talking a big bank here, they do look for post-secondary education and at least 2 years of experience in UX writing.
Check out their job post here.
3. Best Buy Canada
Best Buy is looking for a UX writer to develop content strategies, define customer needs, design content, and collaborate with other departments.
Fortunately, they do not require any fancy education!
While the job post does ask for 1+ years of experience, if you have the skills, it's worth sending along your portfolio.
Take a look job postings here.
4. Loblaw Digital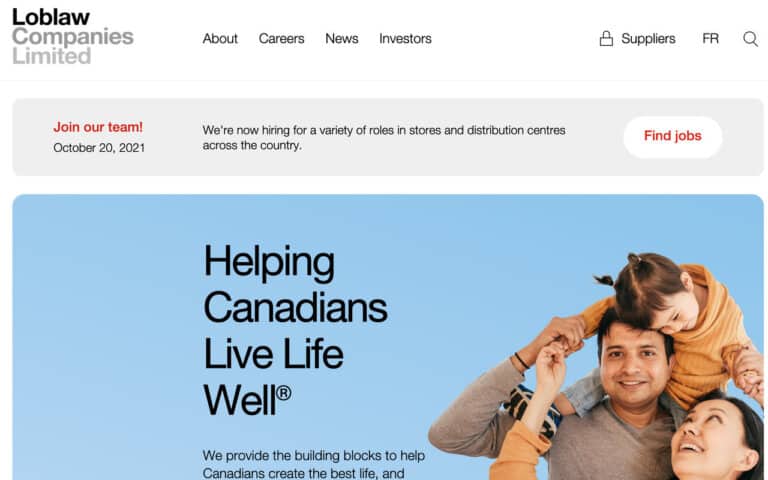 Loblaw Digital builds and operates online businesses throughout Canada, including pharmaceutical services.
They hire UX writers to write content for their navigational systems, onboarding campaigns, error messages, and more.
They require a portfolio of your work and experience in product writing and/or copywriting.
5. Toptal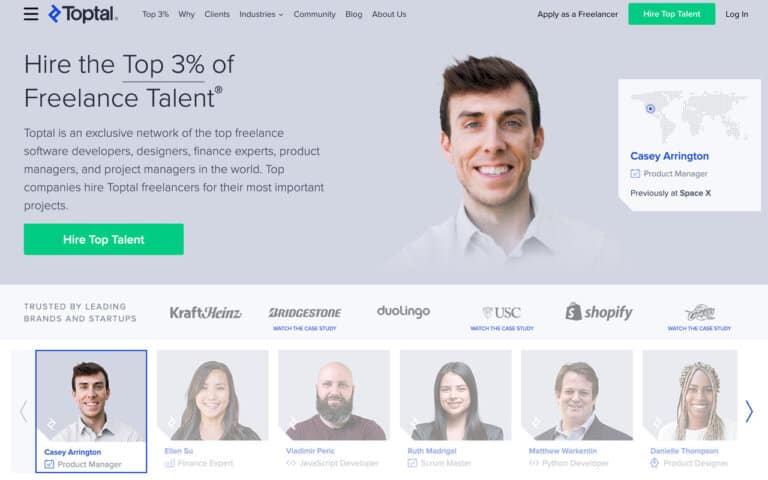 Toptal is a freelance talent network that provides a support structure for virtual teams.
They hire UX writers to develop conversion-focused copy for their products and platforms.
They do look for a Bachelor's degree but will also consider equivalent practical experience.
Take a look at the job posting.
6. TheAppLabb
This Canadian product innovation firm focuses on designing and developing apps for companies such as RBC, Samsung, Dell, and more.
Their UX writers are part of a design team and create content for onboarding screens, product pages, status messages, and emails.
Here's the job post for more information.
7. SunLife Financial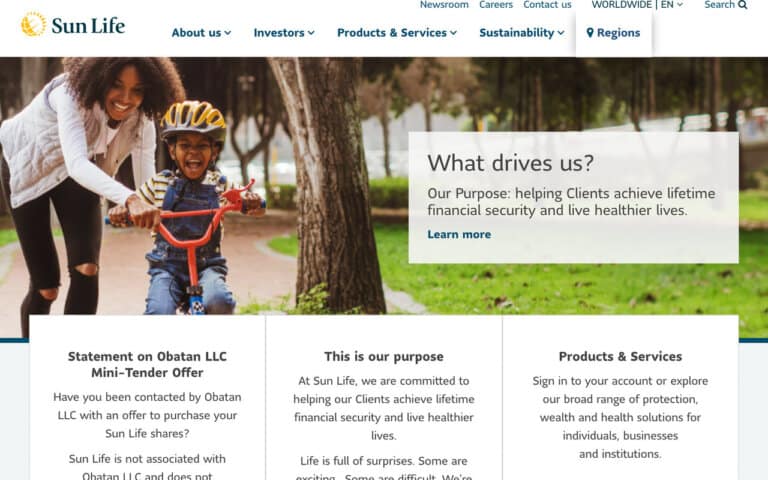 SunLife Financial is hiring writers to create user-centered UX content for their digital products and mobile apps.
This position involves collaborating with various departments, including marketing, legal, compliance, and operations.
Check out the job posting here.
8. Procom
Procom is looking for a UX writer to focus on short copy for their mobile banking app.
They are looking for experience and post-secondary education.
It's also advantageous to have experience with Figma or Sketch.
Here's more information in the job post.
9. Tech Talent Link, Inc.
Tech Talent Link is looking for a UX writer on behalf of their client to create content for their client's product suite.
They are looking for those with experience in technical and SaaS B2B writing – but you don't have to have any experience in UX writing!
10. Hunter International Recruiting
This recruiting firm is looking for a UX writer to take complex topics and create content that is easy to understand.
You need at least three years of digital copywriting experience and a portfolio of samples.
11. Google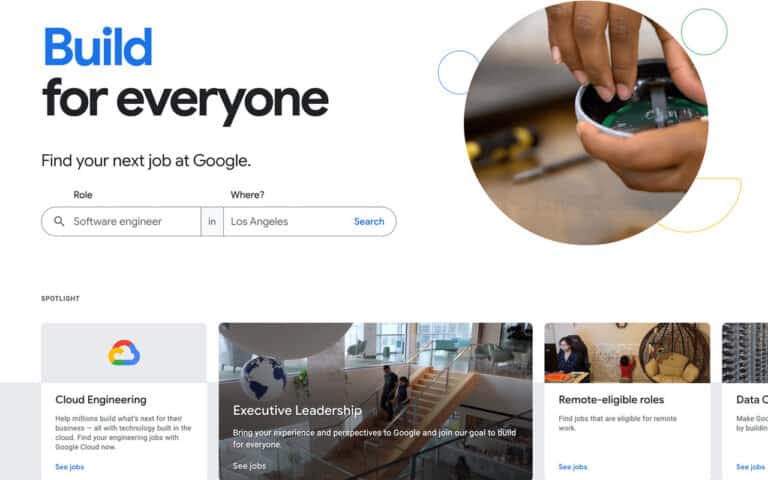 Google UX writer jobs are in hot demand right now!
They are looking for UX writers with Bachelor's degrees and experience writing user-focused content.
Their UX writers work with designers, researchers, content strategists, and program managers to gather insights into the behaviors of people who use their products.
Check out their job posting here.
How To Find UX Writer Jobs
UX writing jobs at big companies come and go.
For a more ongoing process for finding jobs, check out these other job sites to find UX writing jobs (aside from using Contena).
1. UX Job Boards You Should Check Out
If you want to connect directly with businesses hiring writers for UX content, you can always check out some UX job boards.
Check out the UX writer job descriptions to check for qualifications and requirements!
2. Reach Out Locally for UX Writer Jobs
Every business that has online content needs a content creator!
Look in your area for businesses that have websites, apps, and software.
Even if they aren't advertising UX writing jobs, it's worth reaching out.
You can pitch your services to local businesses and express your interest in crafting their UX content.
3. Research Tech Companies
Tech companies are notorious for hiring writers for UX content.
Research some tech companies and check out their website's "careers" or "work with us" sections.
Even if you don't want to work with a tech company, you'll get a feel for what UX writing involves by looking at their job descriptions.
Feel free to search on Google for the top tech companies or startups in tech.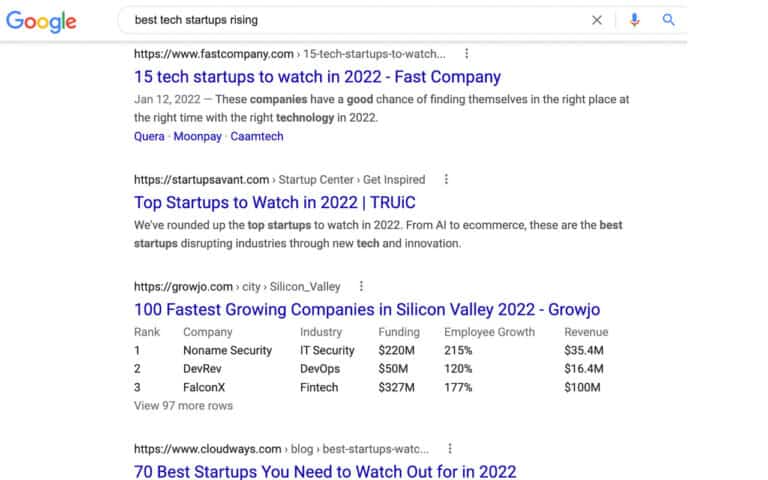 Check out each company and get to know what their:
Brand message is
What they sell or offer as a service
What their social media looks like
From there you can craft a personalized pitch to sell your UX writing service!
4. Check Out UX Content Manager Social Media
Many UX content managers will use social media platforms such as LinkedIn and Twitter to post open UX writing jobs.
Start following these individuals, looking for people at the places you want to work for.
For example, I can check out a tech company I researched in Google and see if they have a LinkedIn page. If they do, I will follow them and see who works for them.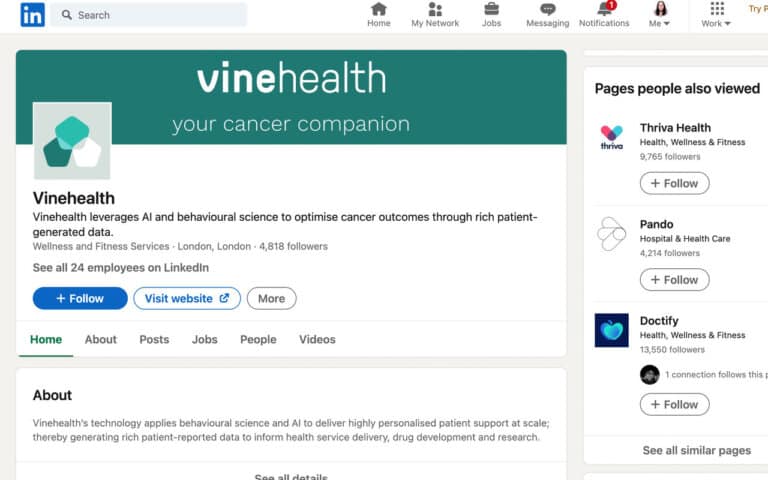 You can also network and build relationships with other UX writers who can point you in the right direction when it comes to UX writing jobs!
Top UX Writing Positions for 2023!
So there you go!
If you're interested in becoming a paid UX writer, you now have everything you need to get started!
I'm very excited to see where this type of content goes in the next few years.
Over to you – is UX writing something you are interested in doing?
Have you tried it before?
Tell me your story in the comments!
For more ways to find writing jobs check out these articles:
And don't forget to pin!