It's been days and you've been researching on how to make a living from online writing.
This is what you want – writing online – but with a full-time job, a family to take care of, you're not sure if this is a viable option for you.
You hear stories of struggling authors and their big break 10 years later.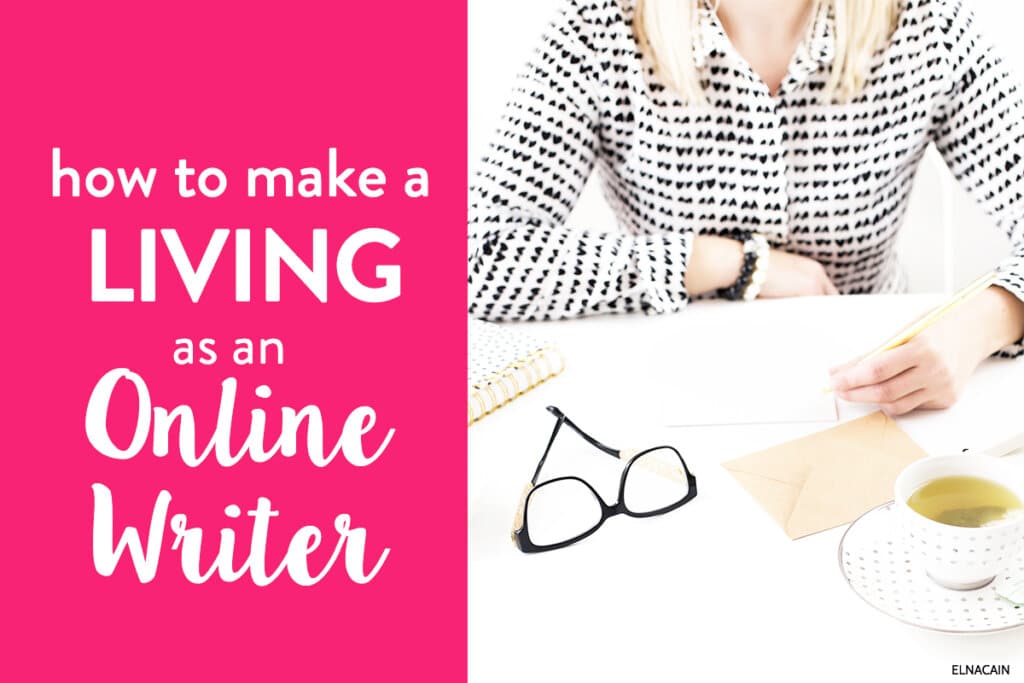 Or you hear that online writing make pennies on content mills. This is NOT what you want.
You want to be able to make a living as a writer, quit your full-time job and live out your passion.
But, how do you do online writing? What are the steps to make money as a writer?
I'll share my story of how I make a living writing and then give you steps to get you on the way!
Online Writing for Beginners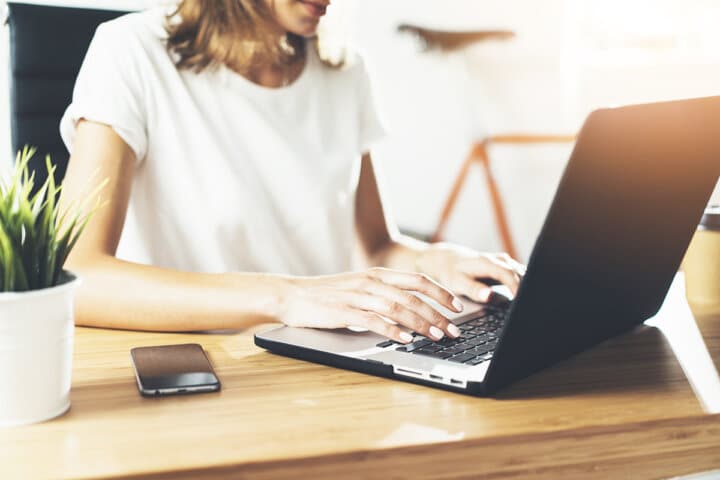 I've been a stay at home mom since I had my twins over five years ago. But, when they were around 1.5 years old, I was getting…bored..with the day-to-day tasks of taking care of my twins.
I wanted more than changing diapers and cleaning up after messes. I needed a creative outlet.
This was also the time I needed to start contributing to our finances.
Where I live you get a year off of maternity, so my year was up and I needed to scramble to make money at home.
My husband introduced me to finding work online, specifically writing online to get paid. I read blogs from other moms and learned about freelance writing from them. They were getting paid to write!
How fantastic is that?
This was my creative outlet – writing online.
I've always enjoyed writing when I was younger, so this was a great opportunity for me to profit from my passion.
I started researching about where to find freelance writing jobs and learned about content mills (although I didn't know about content mills back then).
I signed up for a profile and got my first assignment.
I was excited but not ecstatic as the job was less than $2 for 300 words. But, you know what? That gig took me hours to write (300 words!!!).
I was soo new and had no idea how to write non fiction content that the research alone took most of my time.
I got paid, but decided this is not how you make a living as a writer.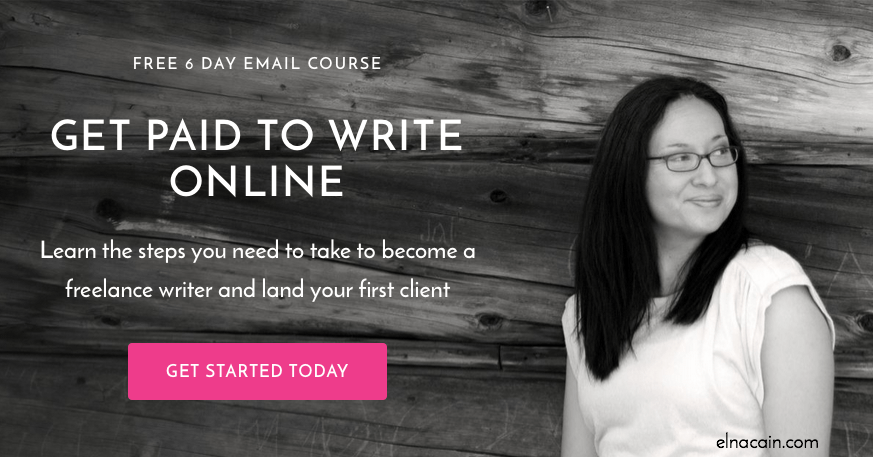 I knew I didn't want to write books and be an author, but I also didn't want to get paid pennies for my writing.
I decided to try freelance marketplaces like Upwork – but found no success on those platforms (and I'm glad!). Places like Upwork value bulk content for the cheapest rates. And, your writing is mostly ghostwritten, so you can't build your portfolio with Upwork.
I was failing.
I didn't have the time to keep looking for ways to be a freelance writer; I had twins to take care of and a house to manage. I needed to find a different way to make enough money to contribute to our household finances.
And within six months of changing my strategy I was making a living as a freelance writer!
Now, five years later, I am able to stay home and write for a living. I write for digitally native brands and can make up to $600 a blog post.
If you want to do the same, here are the steps I took to start writing online.
1. Start a Website + Practice Online Writing
The first thing I did to change my strategy was start a blog. I needed to house my freelance writing service and I found a website to be the BEST place to market your business.
You may not think you really need a website to start freelance writing. Check out my video where I answer if you really need one or not to succeed as a freelance writer. Plus, make sure to subscribe to my YouTube channel!
Your freelance writing website is a place to show your credibility as a freelance writer – even if this is your FIRST DAY! or you JUST landed a freelance writing job. And it will be how you make a living as an online writer.
Use your blog to practice your writing. While you can use other platforms like Medium or LinkedIn, I see no harm in creating blog posts as a way to practice your writing.
This is exactly what I did when I started this blog! And you know what?
I created posts about being a freelance writer (even though I wasn't technically a paid writer at that time).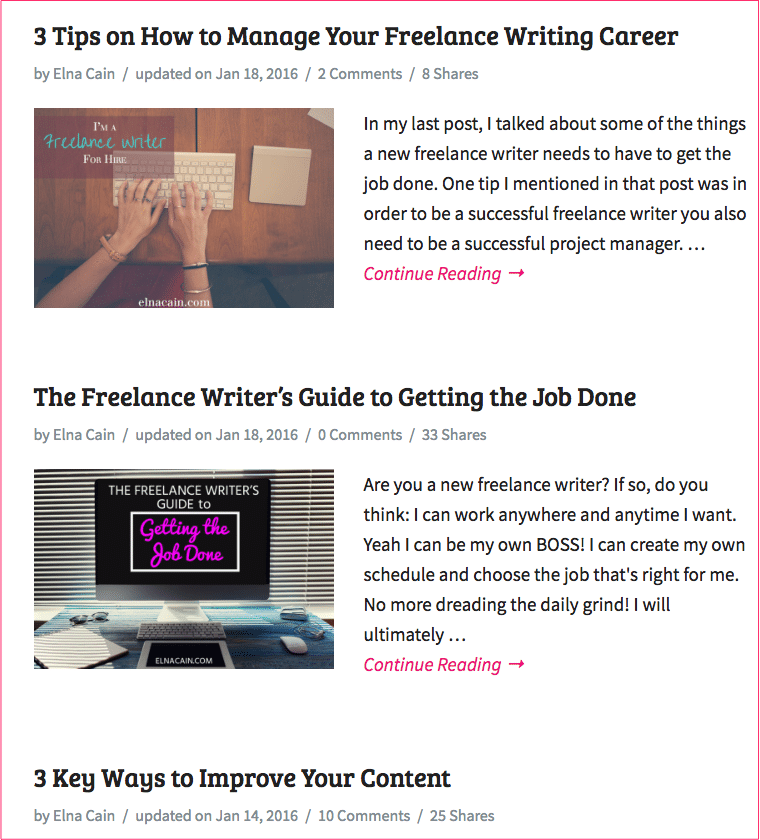 I didn't blog in my paying niche (since I didn't know at the time what my niche was going to be) and I didn't have a schedule of blog content. I just created blog posts of what I was learning at the time.
I practiced:
Creating value-driven headlines
Engaging writing tactics like speaking to your reader when you write
How to site sources

These are all great writing skills online writers need.
So, start your blog today and start creating blog posts to help you write for an online audience.
2. Start Creating Writing Samples
You need to remember that online no one knows you exist yet. You have to show everyone what you are capable of as a writer and this means having writing samples on your website (or other places).
While I created samples and placed them on my blog, the best way to build your portfolio is to guest post.
Guest posting means you create a blog post that will be published on someone else's blog. You can guest post on popular sites or lesser known sites. The point is you want to have a "live link" of your work to share to prospects when you pitch to a job ad.
But, what if you don't know your niche?
I suggest you pick a few topics you are interested in and start creating blog post ideas that you would create for your clients. Here's an example. Let's say you enjoy health. You run, practice yoga and eat a low-carb diet.
You can pitch to health guest blogs or just create health content for your freelance writer website.
5 Ways to Lose Weight Without Exercising
How to Easily Lose the Last 20 Pounds Without Dieting
10 Delicious Keto Snacks for the Busy Mom
To find more blog post ideas, check out my video!
3. Have a Lead Generation Strategy
To make a living with writing online, you need to have an inbound strategy whereby prospects come to you for your writing service. The writers that fail or don't make enough money to quit their full-time job spend most of their time pitching and hustling.
As a mom to twins, I had no time to cold pitch or find freelance writing jobs month after month.
Yes, I did do this in the beginning and I was successful; but that is only a short term strategy.
Your long term strategy is lead generation. How will prospects find you?
How will they decide that you are the writer for them?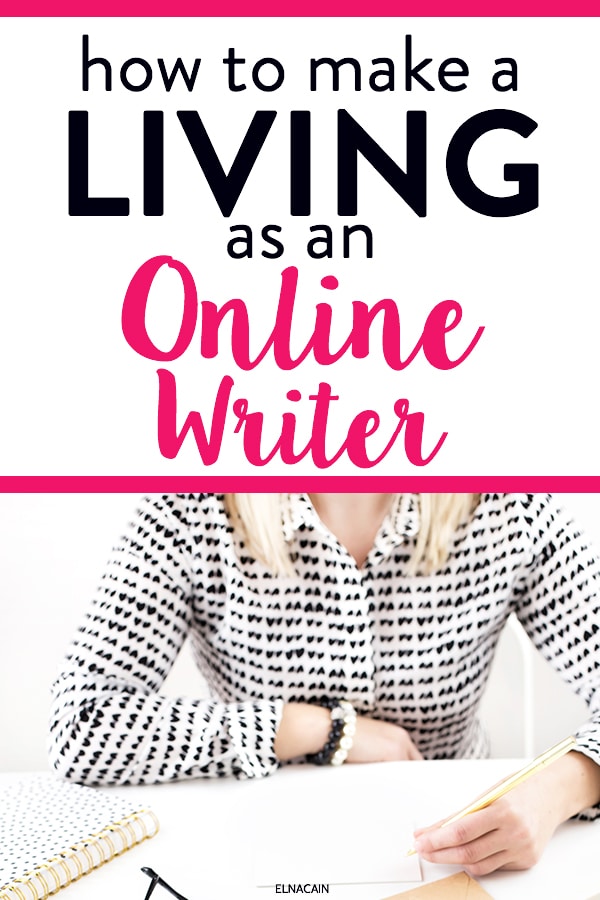 To be successful with the inbound process, you need to effectively market your freelance writing service.
Funnily enough, when I first started understanding the marketing side of business, I fell in love with what I was learning.
And this eventually lead to my freelance writing niche.
The best ways to attract freelance writing clients is to start using some copywriting techniques. This means speaking to your readers and talking about the results of hiring you, rather than all the features of your writing.
You can get a feel of this by checking out other freelance writing websites.
Learn how they speak to their ideal freelance writing client, what pages they have on their website and how they speak about their writing services.
From there, you can start marketing your website online. To help you get started, check out my…..video!
4. Start Pitching
In the beginning, the fastest and easiest way to find a freelance writing job is to use freelance writing job boards.
While these jobs may not be the best types of jobs out there, they usually pay well ($50 a post) and will get your foot in the door.
Go to a job board and see what types of jobs there are.
Get a feel of what's out there. Some job sites have a search option where you can search your niche topic. While there are other ways to find a freelance writing job, first go to job boards and then try other places.
When you find a freelance writing job that you are interested in, it's time to send your pitch. Your pitch should mention where you found the ad, who you are and how you can help the prospect.
Here is the pitch that helped land my first freelance writing gig.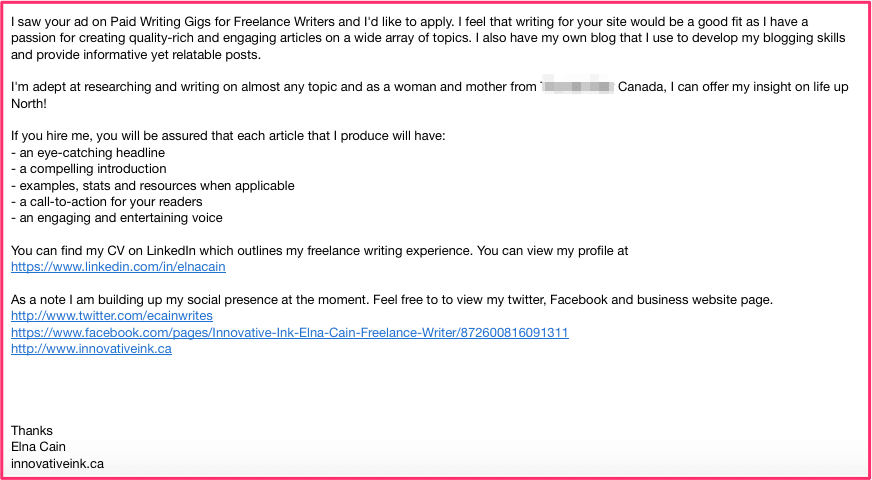 When pitching, try to have a process so that you stick to it, and make it part of your hustle strategy.
For some new freelance writers, sending that first pitch brings a lot of fear. Fear in pitching doesn't have to cripple you and stop your dreams of making a living as a freelance writer.
Check out my video to help you overcome your fear of pitching!
5. Increase Your Rate (All The Time)
Okay.
To make a living from all of this you need to have a high rate for your writing.
But you can't just claim a high rate; your online writing has to show that. So from the time you land your first client to your 10th client, your writing HAS to improve.
When I started in the digital marketing niche, my rate was $.12/word.
Whenever I got an email from a prospect I increased my rate. Most times I never landed the gig, but there were times I did.
So, my rate increased to $.15/word.
I would repeat this until I was comfortable with a rate that can help me make a living out of this. Currently, my rate is $200 per 500 words for byline content.
This strategy only works if:
You land high-paying clients or big brands/influencers
Your writing gets better (more in-depth content, different types of content, long-form content, case studies, etc..)
To help you with more strategies to increase your rate, check out my video!
6. Bonus: Diversify Your Income
By this time, you are making money writing for small businesses or big brands.
But, you might notice that you are still spending a lot of hours writing and less time with your children or family.
For me, I wanted to balance my work and home life.
I felt I was spending too much time writing and researching. So I had to find other ways to make money that didn't involve a lot of my time.
While I did start coaching aspiring writers, I didn't do that for long since that took a lot of time out of my schedule too!
What I ended up doing to diversify my income (and increase my income) is:
Affiliate Marketing
Course creation
Affiliate Marketing
Affiliate marketing means promoting a tool, service or product like an eBook or course on your blog or on social media.
You get a special link that you use when you talk about this product and if a reader clicks on that link and purchases from you, you get a small commission.
I promote around 7 affiliate products that helps me supplement my freelance writing income. Here is a snapshot of only one affiliate product: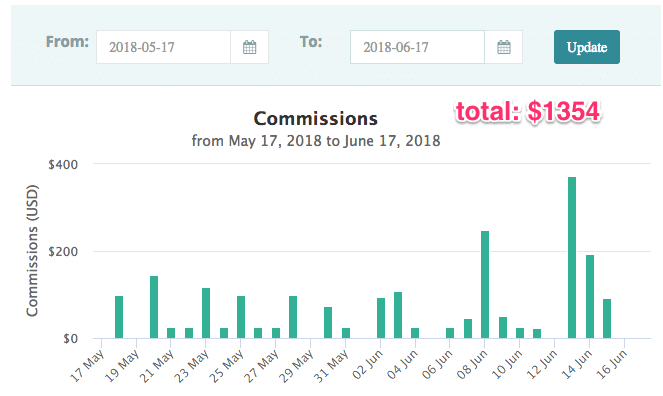 The biggest thing to remember when you start affiliate marketing is that you are authentic.
You used these products or services and they helped you and that is why you are suggesting them to your audience.
Course Creation
The other way I make money online is by creating my own products – specifically courses or masterclasses. These are online and either in video or as written lessons.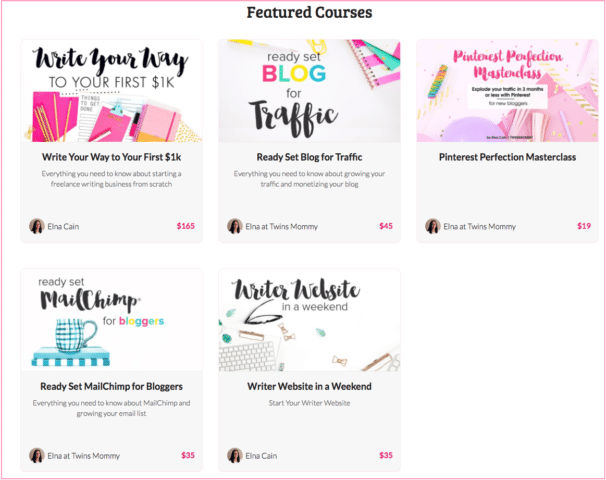 I have some courses for bloggers and some for writers. I plan on continuing creating products for both my audiences of bloggers and aspiring freelance writers as this is lucrative and doesn't involve a lot of my time.
But, it does involve upkeep and maintenance. And this can involve more time, but it's a one-time thing once a year.
Get Paid for Online Writing
Freelancing is becoming bigger and bigger each year and it's projected to be a poplar choice for the masses.
And with the internet and ease of access, it's easier than ever to start a blog and make money from your blog by offering your writing services.
So, come join me today and become an online writer!
Check out my free course to help you find your first freelance writing job!
Click the Image Below and Land Your First Freelance Writing Client as a New Writer